Updated on January 12, 2022
As you near the peak of the rugged mountain, eager for the spectacular view that awaits you at the top, you find yourself cursing the growing blister on the side of your foot. To make matters worse, you know that you won't even be able to enjoy the view because you'll be too busy thinking "maybe I should've gone with the wider pair of boots. " Perhaps you are one of the many people who are on the market for a new pair of hiking boots; yet you constantly find yourself pulling your hair out in what can feel like a futile effort to find the best hiking boots for wide feet. Well, look no further, because your old pals at The Adventure Junkies will soon have both you and your feet covered.
For a complete analysis of all hiking boots, check out the buyer's guide Best Hiking Boots.
Quick Answer

-

The Best Hiking Boots for Wide Feet
Merrell Moab 2 Mid Ventilator

Salomon X Ultra 4 Mid GTX Wide
Comparison Table

-

Best Hiking Boots for Wide Feet

For the best experience turn your device horizontally
Weight is shown for a men's pair.
Price is shown for the men's models size.
Reviews

-

The Best Boots for Hiking with Wide Feet
Merrell Moab 2 Mid Ventilator
View Women's Version
Specs
Height

:

Mid-cut

Weight

:

2.1 lbs

Upper

:

Leather

Waterproof?

:

Yes

Outsole

:

Vibram

Midsole

:

EVA
Features
Air-cushioned Heels (for softer heel-impact)
Nylon Shanks (for arch support)
Vibram Outsoles (for superior tread)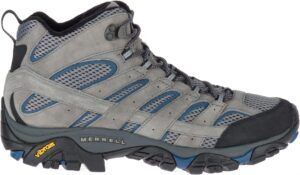 BEST HIKING BOOTS FOR WIDE FEET
The Merrell Moab 2 Mid Ventilator is a lightweight boot that is a great option for day hikers who are on a budget. They don't have a waterproof membrane which makes them extra breathable and ideal for walking in warm weather.
What we like the most about these boots is they are roomy and come in a specific wide version, making them a good choice for people with big feet. We also found the price point appealing, especially for beginners and weekend warriors who might not want to splurge on a high end boot. The sole is pretty flexible and light, and they didn't require a whole lot of time to break in.
What the Moab 2 Mid Ventilator gains in breathability it lacks in waterproofness, which makes them less versatile if you hike in all seasons. One advantage of not having a waterproof lining is that they do dry out fast if they do get wet. Also, the low price tag comes with reduced durability. We noticed significant wear after only one week of use. This might not be an issue for someone who only plans to hike a few times a year but if you are a serious hiker who likes to tackle tough trails, consider upgrading to one of the higher end models on this list.
If you like the idea of the Merrell Moab but wish it was waterproof, you're in luck. This boot comes in a waterproof version as well.
This boot is also available in a women's version in both the ventilator and the waterproof model.
Timberland Mt. Maddsen
View Women's Version
Specs
Height

:

Mid-cut

Weight

:

3.0 lbs

Upper

:

Leather

Waterproof?

:

Yes

Outsole

:

Rubber

Midsole

:

EVA
Features
Thermoplastic Polyurethane (TPU) Shanks (for arch support)
High-durability
Recycled Outsoles (for lightweight tread)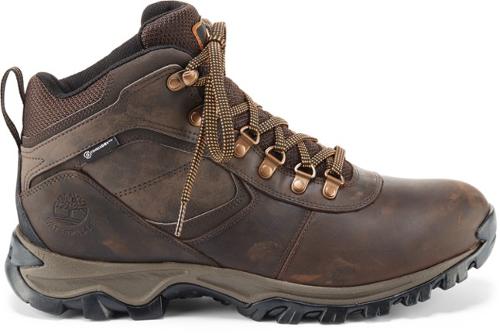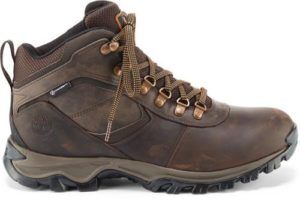 BEST BUDGET HIKING BOOTS
If you're looking for a comfortable, grippy and sturdy mid-height boot that won't blow your budget, the Timberland Mt. Maddsen Mid is an excellent choice.
What we love the most about these boots were their overall value. At $99 (depending on where you buy), they are one of the most affordable boots on our list. They are made of full grain leather and use Timberland's own Timber-Dry waterproof membrane. We also like the classic look and feel of these boots, just from first glance they don't look cheap.
While these are great boots for casual hikers on a budget they do come with some drawbacks. They are not as durable, comfortable and waterproof as many other boots on this list, which does explain the price point. We noticed the rubber at the toes started to peel away after two weeks of regular use which lets water in wet weather. Also, the arch support could be better and the laces are too long. The latter isn't a huge issue as laces can easily be swapped out.
This boot is also available in a women's version.
Lowa Renegade GTX Mid
View Women's Version
Specs
Weight

:

2.4 lbs

Upper

:

Leather

Type of Waterproofing

:

Gore-Tex

Outsole

:

Vibram

Midsole

:

Polyurethane
Features
Nylon Ankle Bands For Comfort and Flexibility
Increased Stability
Suitable For Long Hikes And Backpacking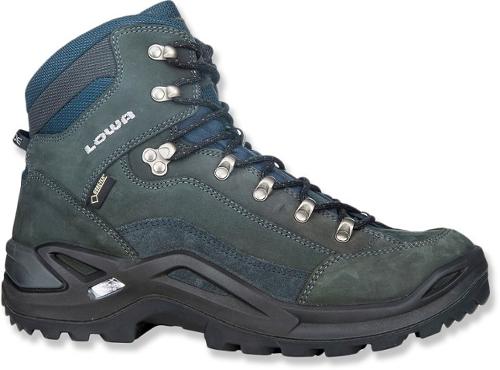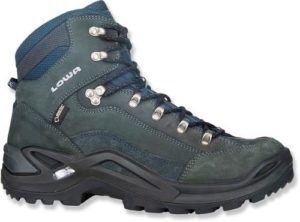 BEST WATERPROOF HIKING BOOTS
The Lowa Renegade GTX Mid is a classic style mid-cut hiking boot that combines a full leather upper and a waterproof membrane that offers excellent waterproofing and breathability. It's our pick for the best waterproof boot.
What we loved the most about the Renegade is its ability to keep your feet dry even in the wettest, soggiest conditions. The leather upper did a great job at repelling water while being breathable enough to not leave our feet swampy after hiking in warm weather. We also appreciate the generous cushioning around the ankle and the soft collar for added comfort when being fully laced. The Renegade is available in a wide range of sizes and comes in narrow, regular and wide widths. Both the men's and women's models come in a variety of color schemes, some are quite elegant, which isn't something we can say about many other hiking boots.
One minor downside to a leather boot is that it does require slightly more maintenance to keep it waterproof compared to synthetic options. When it is made, a waterproof coding treatment is added to the leather which wears off with use and washing. The good news is, maintenance is simple, just clean them and apply a waterproofing spray or wax like Nikwax from time to time.
A close competitor to the Renegade is the Asolo Fugitive. But, the Fugitive loses points when put head to head with the Renegade because it is heavier, stiffer, more expensive and takes longer to break in. However, the Fugitive's stiffness and more robust build make it a better option for those who want to tackle some off-trail routes or mountaineering.
This boot is also available in a women's version.
Salomon X Ultra 4 Mid GTX Wide
Specs
Height

:

Mid-cut

Weight

:

1.9 lbs

Upper

:

Leather

Waterproof?

:

Yes

Outsole

:

Contagrip

Midsole

:

EVA
Features
Dual-rubber Outsole (for high durability)
High-performance Chassis (for exterior support/protection)
Gore-Tex Wrapping (for waterproofing and ventilation)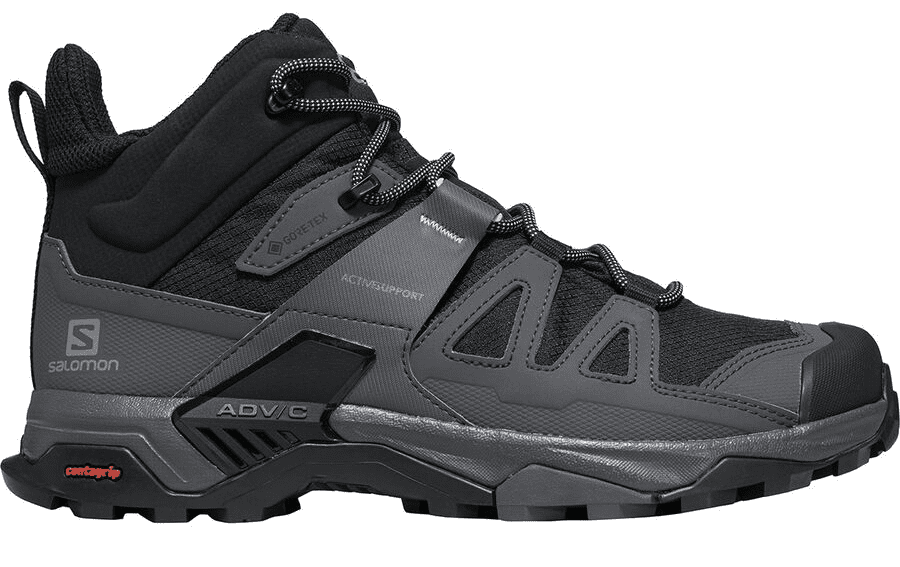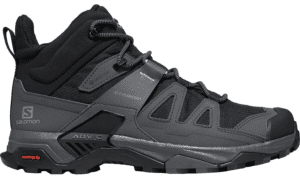 The Salomon X Ultra 4 Mid GTX Wide is the newest generation of the X Ultra line of hiking boots that has improved significantly since its earlier models. This boot is perfect for anyone looking for a wide-fitting hiking boot meant to endure long distances. It achieves this praise by offering intense breathability and waterproofing from its Gore-Tex wrapping and an outsole that offers fantastic grip and durability due to its dual-rubber composition. Moreover, the X Ultra 4's advanced exterior chassis provides unwavering support by wrapping the entire boot in a protective frame that creates a solid structure for the foot.
The X Ultra 4 is one of the more highly rated hiking boots on the market, and for good reasons. The best part is that Salomon has not only improved the design in the X Ultra 4, but it also flashes a lighter price tag than its predecessors, making it a strong contender for hikers of any experience level.
KEEN Targhee III WP Mid
View Women's Version
Specs
Gender

:

Men's

Weight

:

2.1 lbs

Upper

:

Leather

Waterproof?

:

Yes

Waterproof Type

:

Yes

Outsole

:

Rubber

Midsole

:

EVA
Features
Waterproof/breathable protection
Toe and mud guards add durability
4 mm multidirectional lugged soles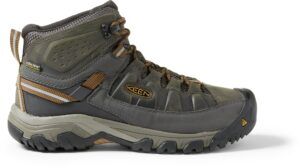 The KEEN Targhee III WP Mid is KEEN's third generation of their extremely popular Targhee line that is known for being a comfortable boot that is terrific value for money. It has taken the best of its predecessors and added a new look and upgraded materials.
What we love the most about this boot is how comfortable and durable it is for its price point. The Targhee is made out of oiled nubuck leather, making it much more durable and flexible than its competitor the Merrell Moab 2 GTX, which opts for synthetic leather instead. The difference in materials also translates to added comfort, nubuck leather is less rigid, allowing the boot to flex. This explains why the Targhee feels more like a shoe than a boot.
While the Targhee Mid III does provide decent stability and ankle support when carrying a lightweight pack on well maintained trails, we wouldn't recommend it for long trips that require carrying heavy loads over rugged terrain. If you're looking for a boot that can give you the support you need for challenging routes, check out the Lowa Renegade or the Salomon Quest 4.
As we mentioned, the Merrell Moab 2 GTX is another option if you are looking for an affordable boot. While the Targhee is the more durable choice, the Moab is also very comfortable and costs 30 bucks less. If you're having trouble deciding between the two, keep in mind that the Targhee has a wider fit.
The Targhee Mid III also comes in a non waterproof, vented version which is better for summer hiking.
This boot is also available in a women's version in both a waterproof and non waterproof model.
THINGS TO CONSIDER WHEN BUYING HIKING BOOTS FOR WIDE FEET
Far too often eager hikers find themselves halfway through a hike only to have to stop to wrestle with shin splints or prevent a blister due to poor quality hiking boots. Finding the perfect hiking boot for you can already seem like a daunting task, and no one struggles more with finding the best fitting boots than those with wide feet.
With so many variables to consider, it doesn't take long for novices to find their heads swimming over something as menial as laces. But finding the best possible hiking boots for wide feet can be easier than it seems, provided you know what to consider before making your final decision.
FIT
Not all boots are manufactured to be the exact same dimensions in their fit. Some boots have a tendency to run small while others tend to run larger than the size chosen. The fit of the boot is especially important to consider if you are searching for a boot to fit wide feet, as some boots run especially narrow. The trueness of the fit can be easily assessed by reading reviews from previous customers online, but remember that not everybody's feet are made equal.
WEIGHT
When shopping for hiking boots, it is important to consider what type of distance you are looking to put your new boots towards. Therefore, it is crucial that you pay attention to the weight of the boots you are looking to purchase. When going on a long-distance hike, it is preferable to use a lightweight boot.
However, keep in mind that a boot that's too lightweight may affect the stability of your step. The average weight for hiking boots typically runs between 2 ¾ pounds and 3 ¼ pounds, however, many manufacturers create lightweight boots for longer distance usage. Because of this, consider what distance and terrain you will be applying your new boots towards in order to find the optimal balance of comfort and stability.
TREAD
The depth of the lugs (the rubber bumps on the outsoles of your boot that grapple the ground) on your outsoles will directly affect your ability to grip a wider variety of surfaces when hiking. However, deeper lugs will almost always add more weight to the boot, which makes it easier said than done to decide your preferable tread.
The material of your outsole will also affect both weight and durability, as some forms of rubber are able to endure super rough or uneven surfaces better than others. Recycled rubbers will never achieve the same durability as something like Vibram, but Vibram will likely weigh more than a recycled rubber; again, it is all about striking that fickle balance.
COST
Of course, the pretty pennies that you are willing to drop on a new pair of boots is of utmost priority. More sophisticated technologies and materials will increase the cost of a boot, so consider what types of terrains and environments you will be using the boots in to avoid overspending on unnecessary features.
VENTILATION
Nobody likes stinky, sweaty feet, especially in thick socks! Poor ventilation in a hiking boot can lead to surprisingly unpleasant consequences as well as general discomfort during usage. Typically, the tradeoff for ventilation is waterproofing, but thanks to recent technologies like Gore-Tex and other mesh materials, this problem is beginning to become less difficult to overcome when shopping around.
COMFORT
As is the main objective of shopping for almost any type of shoe, the comfort of a hiking boot is dire. Whether they will be used for short or long distance hikes, you'll want to be sure to have a boot that doesn't irritate and blister your feet. This can also be assisted with more sophisticated socks, yet it still remains vitally important to consider the amount of padded support your new boots will offer.
FEATURES EXPLAINED
OUTSOLE
The outermost layer of the boot, which comes in direct contact with the ground.
UPPER
The topmost layer of the boot that faces upward which adds support and protection from the elements.
HEIGHT
The level the mouth of the boot reaches in relation to the ankle.
GORE-TEX
A common mesh material sewn within the boot that offers waterproofing without sacrificing poor breathability. Learn more about Gore-tex here!
SHANKS
A flat, short insert located within the midsole that offers support to the arch.
VIBRAM
A form of vulcanized rubber used in the outsole that offers intense grip while remaining lightweight.