Updated on November 9, 2020
As you near the peak of the rugged mountain, eager for the spectacular view that awaits you at the top, you find yourself cursing the growing blister on the side of your foot. To make matters worse, you know that you won't even be able to enjoy the view because you'll be too busy thinking "maybe I should've gone with the wider pair of boots. " Perhaps you are one of the many people who are on the market for a new pair of hiking boots; yet you constantly find yourself pulling your hair out in what can feel like a futile effort to find the best hiking boots for wide feet. Well, look no further, because your old pals at The Adventure Junkies will soon have both you and your feet covered.
For more of our top hiking footwear recommendations, check out the Best Hiking Boots.
Quick Answer

-

The Best Hiking Boots for Wide Feet
Timberland Earthkeepers Mt. Maddsen
Comparison Table

-

Best Hiking Boots for Wide Feet
Reviews

-

The Best Boots for Hiking with Wide Feet
Merrell Moab 2 Mid
View Women's Version
Specs
Height

:

Mid-cut

Weight

:

(Pair): 2 lbs 4 oz (men's)

Upper

:

Nubuck Leather

Waterproof?

:

Yes

Outsole

:

Vibram TC5+
Features
Air-cushioned Heels (for softer heel-impact)
Nylon Shanks (for arch support)
Vibram Outsoles (for superior tread)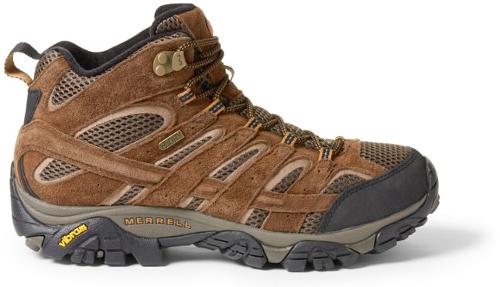 BEST FOR: OVERALL COMFORT
Merrell's MOAB 2 is quite possibly the "household" model in the hiking boot community, though certainly not the be-all end-all boot.  The combination of mesh and nubuck leather in the upper (often called buffed-leather suede) helps this boot achieve maximum durability without sacrificing too much in breathability, unlike many other forms of leather uppers.  This boot also has incredible grip due mostly to the 5mm outsole lugs made of Vibram rubber, which offer superior grip without the extra weight that deeper treads tend to add.
It is important to note that nubuck leather often takes longer to break-in than other common boot materials, and the MOAB 2 is no exception to this.  But, once these bad-boys are broken in, the MOAB 2's air-cushioned heels, contoured footbeds and foam tongue make for one of the most-comfortable and long-lasting hiking boots on the market.  And best of all, the MOAB 2 is available in a wide-model for all sizes and colors.
Timberland Earthkeepers Mt. Maddsen
Specs
Height

:

Mid-cut

Weight

:

(Pair): 3 lbs (men's)

Upper

:

Full-grain Leather

Waterproof?

:

Yes

Outsole

:

Recycled Rubber
Features
Thermoplastic Polyurethane (TPU) Shanks (for arch support)
High-durability
Recycled Outsoles (for lightweight tread)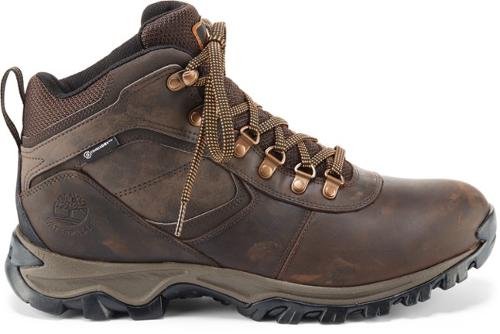 BEST FOR: VALUE
If you're looking for a boot that will accommodate your wide feet and not break the bank, Timberland's Earthkeeper Mt. Maddsen should be near the top of your list.  The full-grain leather uppers give this boot intense durability and waterproofing. The flexible yet durable shanks made of thermoplastic polyurethane (TPU) offer amazing arch support while remaining lightweight and reliably strong. Finally, the debris-blocking tongues protect your feet from rocks and other irritants that seem to sneak into boots like a virus.
All together, this boot exceeds at hitting all the necessary facets of a hiking boot while remaining below the average price. The Earthkeeper Mt. Maddsen is durable, comfortable and protective; what more could you need in a hiking boot?
Lowa Renegade
View Women's Version
Specs
Height

:

Over-the-Ankle

Weight

:

(Pair): 2 lb. 7 oz. (men's)

Upper

:

Nubuck Leather/Nylon

Waterproof?

:

Yes

Outsole

:

Vibram Rubber
Features
Nylon shanks (for arch support)
Vibram outsole (for abrasion/slip resistance)
Gore-Tex wrapping (for waterproofing/ventilation)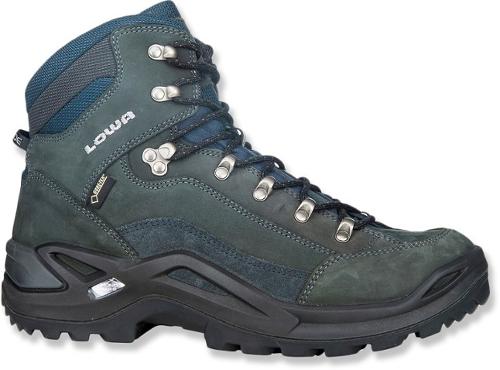 BEST FOR: BREATHABILITY
While it might not carry the lightest price tag, the Lowa Renegade is a boot with a lot of bells and whistles that come together to make for an excellent hiking boot for wide feet.  These boots are perfect for both casual strolls and long-distance hikes. With their super sticky Vibram rubber soles, there is no surface that these boots can't handle.
The Renegade boot also achieves high breathability and waterproofing thanks mostly to its Gore-Tex wrapping.  Lastly, the Lowa Renegade offers amazing support from its nylon shanks as well as Lowa's signature Monowrap technology that creates a rigid exterior frame for support. All-in-all, these boots get you where you need to go without making the trip cumbersome and sweat-inducing.
KEEN Gypsum II
View Women's Version
Specs
Height

:

Above-ankle

Weight

:

(Pair): 2 lb. 6.4 oz (men's)

Upper

:

Nubuck Leather

Waterproof?

:

Yes

Outsole

:

Non-marking Rubber
Features
Rubber Toe Guards (for toe protection when hiking over rocks or roots)
Padded Tongue (for extra comfort)
Heel Support Structure In Boot (for long lasting foot support)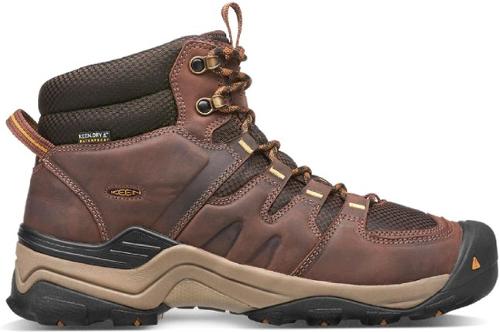 BEST FOR: SUPPORT/PROTECTION
Lightweight, heavily cushioned, well-ventilated and designed to be wide – what more could a person need in a wide-fit hiking boot?  Keen has been a staple brand to the hiking shoe community for quite some time, and their Gypsum II is a clear example of why they've achieved their exceptional reputation. These boots hit all the marks of a standard hiking boot yet carry a more-than fair price tag.
Keen's signature "ESS" shanks offer immense stability in the midfoot and protection against torsion while not compromising in weight. With the addition of a rubber toe guard that wraps up above the toes, it's clear to see that these boots will guard your foot like Fort Knox.  Best of all, these boots are manufactured to be naturally wider in the toe box than most other boots, making it a worthy contender for those looking for a wide-fit hiking boot.
Salomon X Ultra 3
View Women's Version
Specs
Height

:

Mid-cut

Weight

:

1 lb 15 oz (men's)

Upper

:

Leather

Waterproof?

:

Yes

Outsole

:

Contagrip Rubber
Features
Dual-rubber Outsole (for high durability)
High-performance Chassis (for exterior support/protection)
Gore-Tex Wrapping (for waterproofing and ventilation)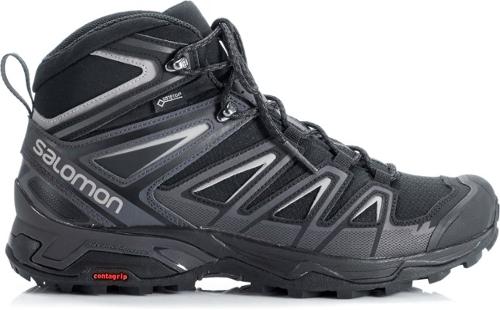 BEST FOR: LONG-DISTANCE
The Salomon X Ultra 3 is the newest generation of the X Ultra line of hiking boots that has improved significantly since its earlier models. This boot is perfect for anyone looking for a wide-fitting hiking boot meant to endure long distances. It achieves this praise by offering intense breathability and waterproofing from its Gore-Tex wrapping and an outsole that offers fantastic grip and durability due to its dual-rubber composition.  Moreover, the X Ultra 3's advanced exterior chassis provides unwavering support by wrapping the entire boot in a protective frame that creates a solid structure for the foot.
The X Ultra 3 is one of the more highly rated hiking boots on the market, and for good reasons. The best part is that Salomon has not only improved the design in the X Ultra 3, but it also flashes a lighter price tag than its predecessors, making it a strong contender for hikers of any experience level.
THINGS TO CONSIDER WHEN BUYING HIKING BOOTS FOR WIDE FEET
Far too often eager hikers find themselves halfway through a hike only to have to stop to wrestle with shin splints or prevent a blister due to poor quality hiking boots. Finding the perfect hiking boot for you can already seem like a daunting task, and no one struggles more with finding the best fitting boots than those with wide feet.
With so many variables to consider, it doesn't take long for novices to find their heads swimming over something as menial as laces. But finding the best possible hiking boots for wide feet can be easier than it seems, provided you know what to consider before making your final decision.
FIT
Not all boots are manufactured to be the exact same dimensions in their fit. Some boots have a tendency to run small while others tend to run larger than the size chosen. The fit of the boot is especially important to consider if you are searching for a boot to fit wide feet, as some boots run especially narrow. The trueness of the fit can be easily assessed by reading reviews from previous customers online, but remember that not everybody's feet are made equal.
WEIGHT
When shopping for hiking boots, it is important to consider what type of distance you are looking to put your new boots towards. Therefore, it is crucial that you pay attention to the weight of the boots you are looking to purchase. When going on a long-distance hike, it is preferable to use a lightweight boot.
However, keep in mind that a boot that's too lightweight may affect the stability of your step. The average weight for hiking boots typically runs between 2 ¾ pounds and 3 ¼ pounds, however, many manufacturers create lightweight boots for longer distance usage. Because of this, consider what distance and terrain you will be applying your new boots towards in order to find the optimal balance of comfort and stability.
TREAD
The depth of the lugs (the rubber bumps on the outsoles of your boot that grapple the ground) on your outsoles will directly affect your ability to grip a wider variety of surfaces when hiking. However, deeper lugs will almost always add more weight to the boot, which makes it easier said than done to decide your preferable tread.
The material of your outsole will also affect both weight and durability, as some forms of rubber are able to endure super rough or uneven surfaces better than others. Recycled rubbers will never achieve the same durability as something like Vibram, but Vibram will likely weigh more than a recycled rubber; again, it is all about striking that fickle balance.
COST
Of course, the pretty pennies that you are willing to drop on a new pair of boots is of utmost priority. More sophisticated technologies and materials will increase the cost of a boot, so consider what types of terrains and environments you will be using the boots in to avoid overspending on unnecessary features.
VENTILATION
Nobody likes stinky, sweaty feet, especially in thick socks! Poor ventilation in a hiking boot can lead to surprisingly unpleasant consequences as well as general discomfort during usage. Typically, the tradeoff for ventilation is waterproofing, but thanks to recent technologies like Gore-Tex and other mesh materials, this problem is beginning to become less difficult to overcome when shopping around.
COMFORT
As is the main objective of shopping for almost any type of shoe, the comfort of a hiking boot is dire. Whether they will be used for short or long distance hikes, you'll want to be sure to have a boot that doesn't irritate and blister your feet. This can also be assisted with more sophisticated socks, yet it still remains vitally important to consider the amount of padded support your new boots will offer.
FEATURES EXPLAINED
OUTSOLE
The outermost layer of the boot, which comes in direct contact with the ground.
UPPER
The topmost layer of the boot that faces upward which adds support and protection from the elements.
HEIGHT
The level the mouth of the boot reaches in relation to the ankle.
GORE-TEX
A common mesh material sewn within the boot that offers waterproofing without sacrificing poor breathability. Learn more about Gore-tex here!
SHANKS
A flat, short insert located within the midsole that offers support to the arch.
VIBRAM
A form of vulcanized rubber used in the outsole that offers intense grip while remaining lightweight.
READ MORE
For more of our top hiking & backpacking gear recommendations, check out these popular articles: