Updated on May 24, 2020
Do you want to get into hiking but find yourself hesitating because of your chronic foot pain due to flat feet? Well, look no further! Flat feet don't have to stop you from getting out there and taking to the trails. All you need is the proper footwear – the best hiking shoes for flat feet – with support in all the right places.
Maybe you didn't even realize that there are hiking shoes out there tailored to your condition. Well now you're about to get some insider tips, because The Adventure Junkies have compiled a list of our favorite hiking shoes for those with flat feet. Take a look, pick a pair, and get out there!
For more of our top hiking footwear recommendations, check out the Best Hiking Shoes.
[thrive_leads id='68005′]
Quick Answer

-

The Best Hiking Shoes for Flat Feet
Comparison Table

-

Best Hiking Shoes for Flat Feet

For the best experience turn your device horizontally
[thrive_leads id='56126′]
Reviews

-

The Best Shoes for Hiking with Flat Feet
Merrell Moab 2 WP Low
View Women's Version
Specs
Weight

:

2 lb. 1 oz. (Men's), 1 lb. 12 oz. (Women's)

Upper

:

Suede Leather/Mesh

Water Rating

:

Waterproof
Features
Contoured Footbeds (providing for above-average arch and heel support)
Air Cushion Heel (to feel like you're walking on air)
Midsole Designed Specifically for Support and Comfort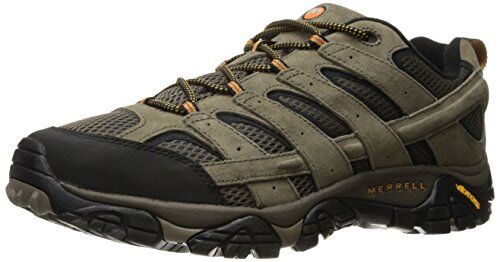 BEST FOR: SUPERIOR COMFORT
If comfort is your ultimate priority when searching for a pair of hiking shoes, look no further. Merrell designed the Moab 2 for people like you. They say Moab stands for "Mother of All Boots," and here's why: you won't want to take these hiking shoes off, even when you get off the trail!
These shoes feature a unique design that allows them to comfortably hug and support each individual zone of your foot. Another highlight is their air cushion heel, which absorbs shock and increases stability. The Moab 2's get stellar marks across the board in all categories of comfort. If you want to ensure happy feet after a long day of hiking, choose these.
KEEN Voyageur
View Women's Version
Specs
Weight

:

15.6 oz. (Men's), 13.3 oz. (Women's)

Upper

:

Leather and Mesh

Water Rating

:

Water Resistant
Features
Odor Control Technology
Contoured Heel Lock and Superior Arch Support (for comfort and support)
Environmentally Friendly Leather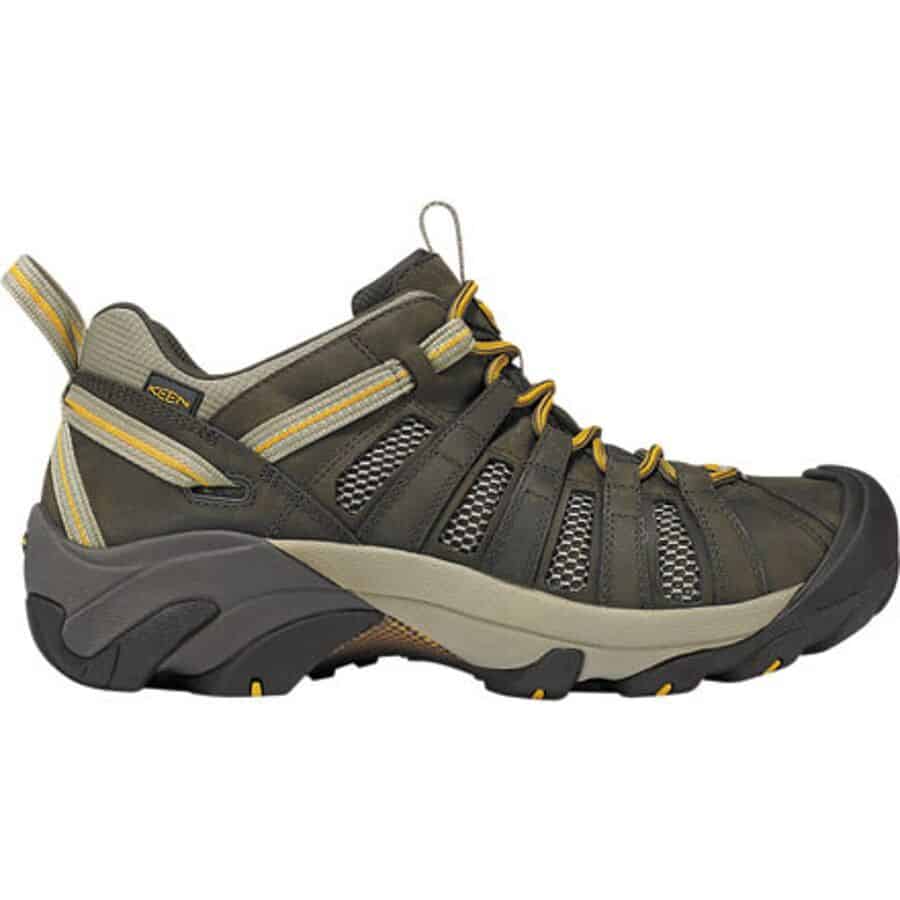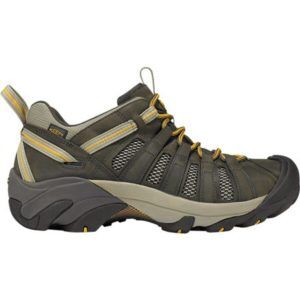 BEST FOR: RUGGED TERRAIN
This breathable pair of hiking shoes is the Adventure Junkie pick for overall flat feet hiking shoe, especially if you plan to tackle some tougher terrain. It features superior arch support and stability, breathable yet water resistant material, and a comfortable midsole to keep you going all day long!
Plus, you can feel good about your purchase's effect on the environment. Keen recognizes the impact that adventuring has, and they only use tanneries that take steps to reduce their chemical impact on mother earth.
Chaco Zvolv 2
View Women's Version
Specs
Weight

:

1 lb. 12 oz. (Men's), 1 lb. 7 oz. (Women's)

Upper

:

Polyester Jacquard Webbing

Water Rating

:

None
Features
Grid-Like Sole Pattern (for increased traction)
High-Tensile Webbing Heel Risers (for extra support on your heel and achilles)
Signature Eco-Tread (25% recycled rubber that offers great grip!)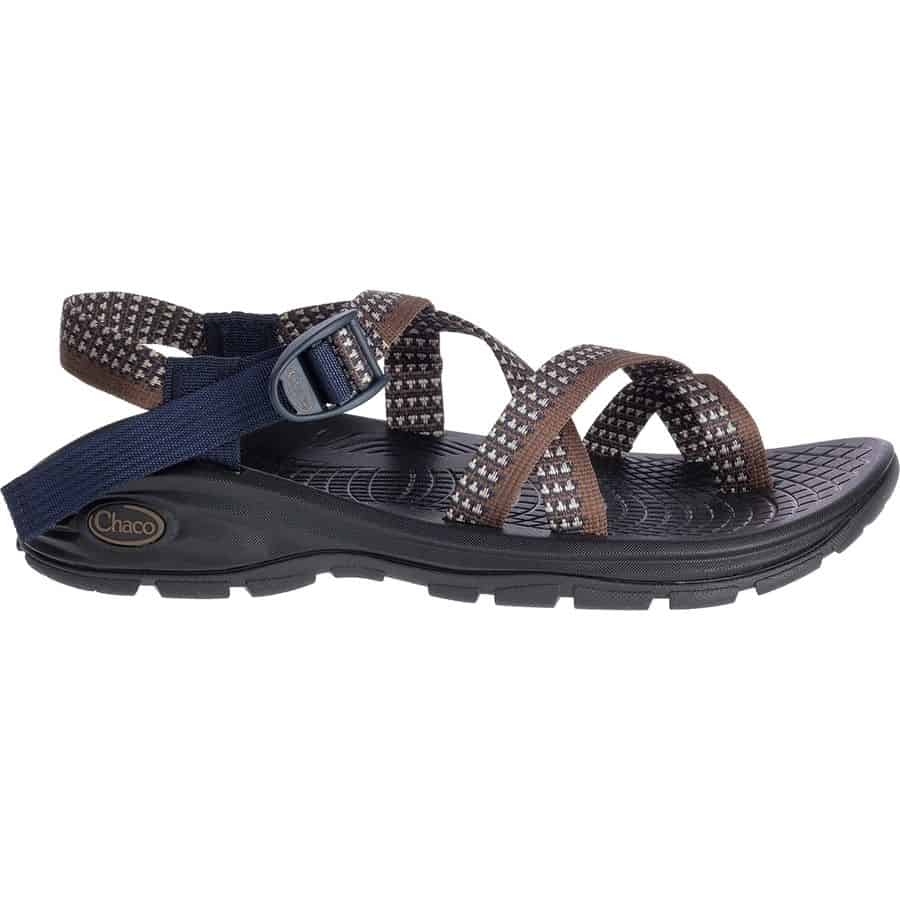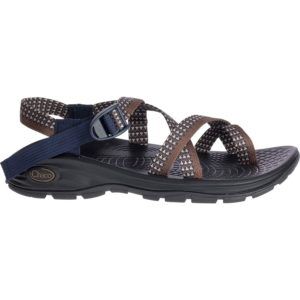 BEST FOR: SUMMER AND WATER
We had to include a hiking sandal pick for this list. Extremely lightweight and breathable for obvious reasons, the Chaco Z Volv 2's are a great hiking shoe for flat feet if you will be doing desert or river hikes.
Your feet will stay cool, but more importantly, they'll stay comfortable! The Z Volv 2's are lighter than the classic Chaco. Plus, it has an airier footbed to make you feel like you're walking on clouds. Slip these on and trek through summer terrain for miles without pain.
Vasque Talus Trek Low
View Women's Version
Specs
Weight

:

1 lb. 3 oz. (Men's), 14 oz. (Women's)

Upper

:

Nubuck Leather

Water Rating

:

Waterproof
Features
Combo Leather Uppers and Mesh Lining (to keep your feet cool but dry)
Molded EVA Footbeds Complete With Thermoplastic Urethane (TU) Shanks (add cushioning and stability on short and long hikes)
Lightweight Sole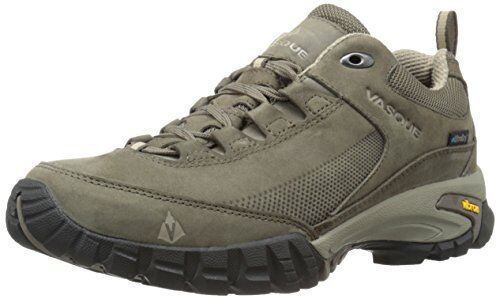 BEST FOR: VERSATILITY
The Vasque TalusTrek Ultra Dry Hiking Shoes are a great pick for many different hikers. Lightweight and breathable, yet supportive and waterproof, these shoes are sure to keep you going no matter what kind of terrain you're tackling.
It can be hard to find shoes with as many features as the Talus Treks have. Their molded EVA footbeds are complete with thermoplastic urethane (TU) shanks, which help to stabilize your heel and arch while keeping your foot cushioned and comfortable. They are waterproof, but won't weigh you down either. If you expect to be hiking in lots of different conditions and versatile terrain, these are a great pick.
Dunham Cloud
Specs
Weight

:

1 lb

Upper

:

Leather

Water Rating

:

Waterproof
Features
Stability Cradle (for increased arch support)
Toe Guard
Slip Resistant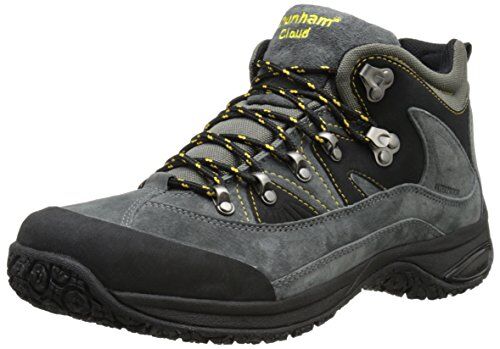 BEST FOR: EXTREME ARCH SUPPORT
The Dunham Cloud boot is another great pick for rugged terrain. These shoes feature a super comfy footbed and are completely waterproof and slip resistant, which means they are perfect for those wetter hikes and stormy weather.
A specially designed stability cradle will keep your foot in place while providing above-average arch support, so you can keep going all day without having to think about your feet.
[thrive_leads id='59716′]
THINGS TO CONSIDER WHEN BUYING HIKING SHOES FOR FLAT FEET
COMFORT
If you often experience pain from the (very common) condition of flat feet, you need to ensure that you select a hiking shoe that is going to keep you comfortable. Most importantly, you should look for shoes that provide arch/heel support and a comfortable footbed. Oh! And don't forget a comfortable pair of socks to go with your comfortable hiking shoes! Learn more about how to choose the right sock for your new shoes here: How to Choose Hiking Socks.
PURPOSE
You probably wouldn't want to wear a pair of open sandals hiking if you plan to tackle rocky terrain, and similarly, you don't want to wear a pair of heavy duty hiking shoes if you plan to be hiking through water. Consider the kind of terrain you will be tackling and look for a pair of shoes with an appropriate style to do it.
WEIGHT
Weight is a significant factor for comfort on long hikes. If you plan to be an all-day trekker (or even if you plan to wear your shoes all day on and off the trails), think light! For tougher terrain and backpacking though, you may want to choose something a bit heavier and therefore more durable, since it will have to take more wear and tear.
UPPER, MIDSOLE, AND OUTSOLE MATERIALS
The upper, midsole, and outsole are the three main components that make up your shoes. You should look for these to be made of components that match your needs. For example, if you want something lightweight and breathable, look for a mesh upper. If you want something extremely comfortable, look for a cushioned midsole. Try to find a combination of the three that work for you. For more information on make and fit, check out this handy guide from REI: How to Choose Hiking Boots.
FEATURES EXPLAINED
UPPER
The innermost part of your shoe which touches your foot, this material determines the breathability of the shoe.
OUTSOLE
The bottom of your shoe, which contains tread and determines grip.
MIDSOLE
The middle part of the bottom of your shoe. You can't see the midsole because it is inside, but it is really important. A soft or cushioned midsole makes for a comfortable hike.
EVA
EVA stands for Ethylene-Vinyl Acetate, a special material used in the soles of shoes to help absorb shock.
TOE GUARD
A durable spot around the front of your shoes to protect from hurting yourself on rocks or stumps, or other obstacles.
HEEL COUNTER
The back of your shoe where the heel sits. A good heel counter provides cushioning and support for your heel and Achilles.