Updated on November 9, 2020
Whether you're deciding between hiking boots or hiking shoes or are a long-time proponent of low-cut trail shoes, waterproof footwear will keep your feet dry and comfortable when you're crossing streams or preparing for rain. We've pulled together a list of the best waterproof hiking shoes so your feet will be happy on any day hike or backpacking trip, no matter the weather forecast.
For more of our top hiking footwear recommendations, check out the Best Hiking Shoes.
[thrive_leads id='68005′]
Quick Answer

-

The Best Waterproof Hiking Shoes
The North Face Hedgehog Fastpack

The North Face Ultra Fastpack IV
Comparison Table

-

Best Waterproof Hiking Shoes

For the best experience turn your device horizontally
[thrive_leads id='56126′]
Reviews

-

The Best Waterproof Shoes for Hiking
Salomon X Ultra 3 Low
View Women's Version
Specs
Closure

:

Single-Pull Lace

Weight

:

1 lb 10.8 oz (Men's)

Upper

:

Textile/Synthetic Leather

Type of Waterproofing

:

Gore-Tex
Features
Mud Guards
Rubber Toe Caps
Flexible Outsoles (to decrease foot fatigue)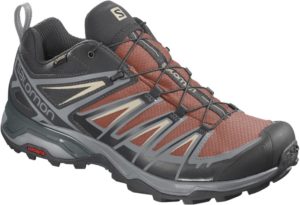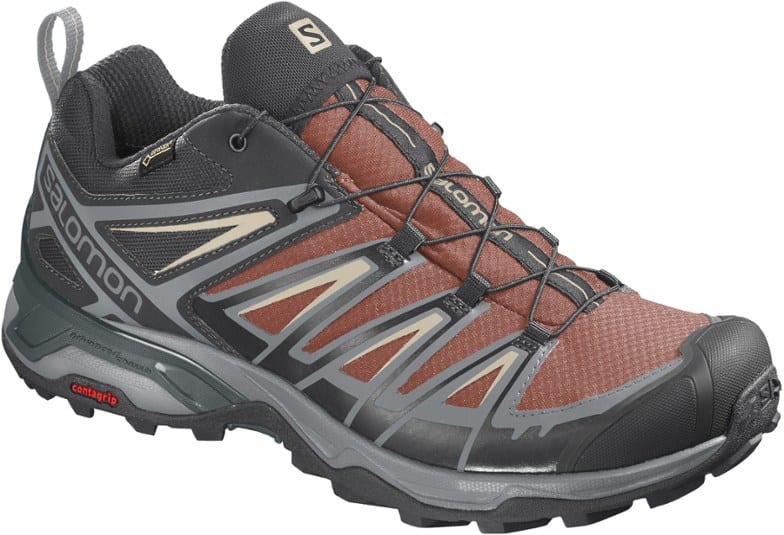 BEST FOR: BREATHABLE COMFORT
Waterproof Gore-Tex liners in these hiking shoes keep your feet ventilated while still protecting them from foul weather. Foam cushioning in the footbed adds extra comfort, connecting directly to the soles of your feet to help stabilize your heels. OrthoLite, a brand known for comfortable insoles, provides the contoured insoles, whose soft textile material wicks moisture away from your feet.
The Salomon X Ultra 3 shoes offer outer protection to match their inner comfort, including integrated rubber toe caps that prevent roots and rocks from bothering your feet as you hike. The outsole pattern combines two types of rubber to help grip more effectively, along with specifically placed lines that help decrease foot fatigue and help you to keep going faster and longer outside.
Oboz Bridger Low BDry
View Women's Version
Specs
Closure

:

Lace-Up

Weight

:

2 lb 3 oz (Men's)

Upper

:

Leather/Textile

Type of Waterproofing

:

Proprietary Material
Features
High-Traction Rubber Outsoles
Webbing Eyelets (to prevent pinched toes)
Well-Defined Footbeds (for arch support)
Abrasion-Resistant Upper Material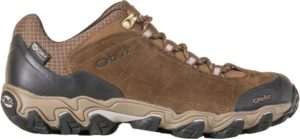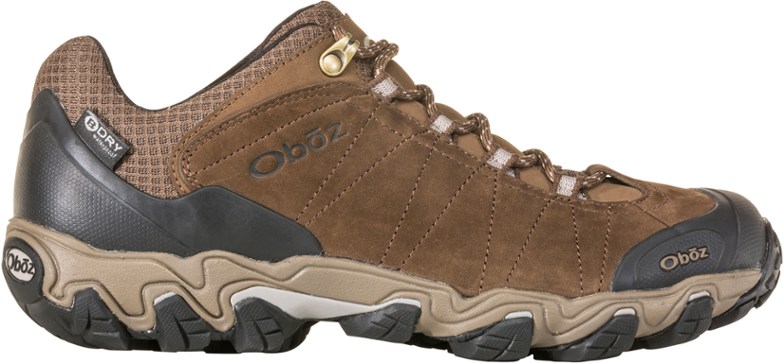 BEST FOR: STABILITY OVER ROUGH TERRAIN
Not only is Oboz a cool company – they plant a tree for every pair of shoes sold – but their hiking shoes get the job done, and done well. These Bridger Low shoes incorporate Oboz's proprietary BDry waterproof and breathable membranes, which keep water out but allow water vapor to escape, creating a cool, dry, and comfortable experience for your feet.
Breathability is further enhanced by the nylon mesh linings, which wick moisture away from your feet and dry quickly. The upper materials – waterproof nubuck leather and abrasion-resistant textile – are also breathable, but still offer plenty of protection against any rocks, sticks, or mud that come your way. A well-defined arch in the insole provides support and comfort, while the midsoles add extra cushioning while remaining light and flexible. This shoe's support structure will keep your foot stable on all sorts of terrain, while the grippy rubber outsoles will ensure your surefootedness from ridgelines to canyons.
The North Face Hedgehog Fastpack
View Women's Version
Specs
Closure

:

Lace-Up

Weight

:

1 lb 14 oz (Men's)

Upper

:

Leather

Type of Waterproofing

:

Gore-Tex
Features
Abrasion-Resistant Lining
Heel-Stabilizing Technology
Thermoplastic Support (for structure and protection from sharp objects)
BEST FOR: STRONG FOOT SUPPORT
From its waterproof membranes to its structural support, The North Face's Hedgehog Fastpack hiking shoe will keep you light and fast on the trail – much like a certain famous hedgehog. Gore-Tex membranes will keep water out while maintaining breathability, while the textile mesh linings increase ventilation and resist abrasions from any sharp objects you encounter on the trail. Combined with comfortable, compression-molded midsoles and grippy Vibram outsoles, this shoe's heel stability technology will help you feel stable underfoot no matter how rugged the terrain.
Merrell Moab 2
View Women's Version
Specs
Closure

:

Lace-Up

Weight

:

2 lbs 1 oz (Men's)

Upper

:

Suede Leather/Mesh

Type of Waterproofing

:

Proprietary Material
Features
Protective Rubber Toe Caps
Contoured Footbeds (for arch support)
Cushioned Heels (for shock absorption and stability)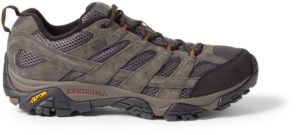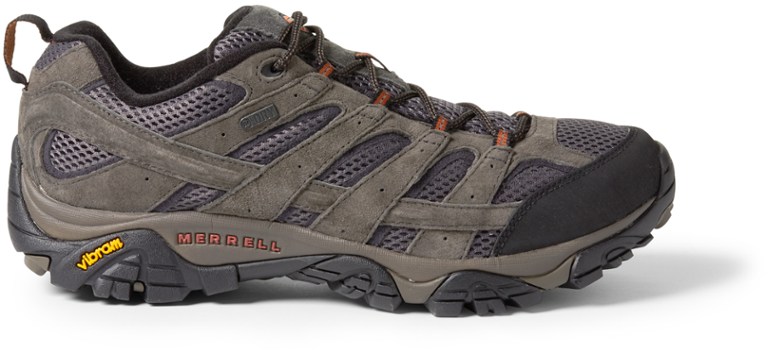 BEST FOR: GRIPPY TRACTION
This hiking shoe was made for slick conditions, from the protective rubber toe caps to the deep traction on its Vibram outsoles. Performance suede leather uppers offer added protection, while the mesh upper and inner lining keeps it breathable. The waterproof membranes will keep any unwanted wetness out, and the foam tongue will do the same for trail debris.
Comfort extends to the inside on the Merrell Moab 2, which features contoured footbeds that target arches and heels for additional support. Merrell's air cushion technology in the heels adds further stability and absorbs shock, so you'll be feeling nimble no matter how many miles you have left to go.
La Sportiva Spire
View Women's Version
Specs
Closure

:

Lace-Up

Weight

:

1 lb 12.8 oz (Men's)

Upper

:

Mesh/Polyurethane

Type of Waterproofing

:

Gore-Tex
Features
Abrasion-Resistant Mesh
Footbed and Midsole Ventilation
Durable, Non-Marking Outsoles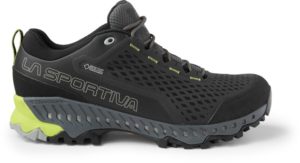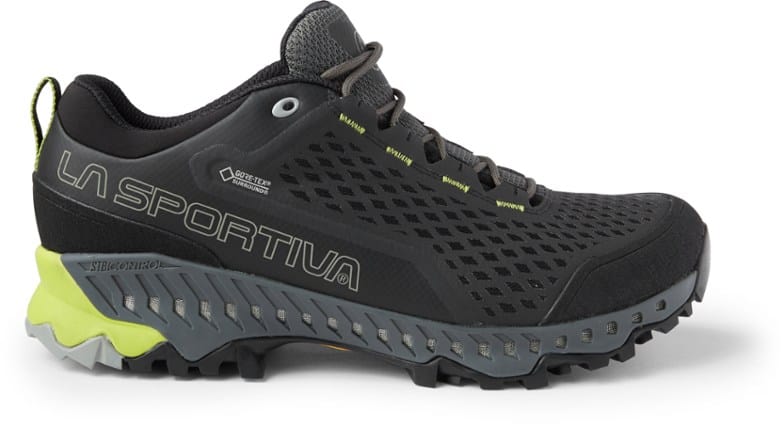 BEST FOR: PROTECTION FROM THE ELEMENTS
Whether you live in a region known for its mud season or rocky terrain, La Sportiva has your feet covered and protected with these hiking shoes. The mesh uppers resist abrasion while the main structure maximizes breathability, working in tandem with Gore-Tex aeration channels in the footbed and midsole to completely surround your shoe with ventilation and waterproof protection.
Along with being breathable, the midsoles on this shoe provide structure and torsional stability for a sung, secure fit. With Vibram outsoles for traction, you'll be cruising down the trail in ultimate comfort, rain or shine.
Salomon OUTline Low
View Women's Version
Specs
Closure

:

Lace-Up

Weight

:

1 lb 8.6 oz (Men's)

Upper

:

Textile

Type of Waterproofing

:

Gore-Tex
Features
Midfoot Shanks (for added stability)
Antimicrobial-Treated Footbeds
Protective Toe Cap Guards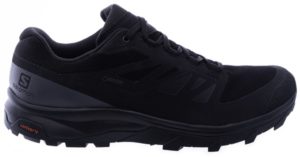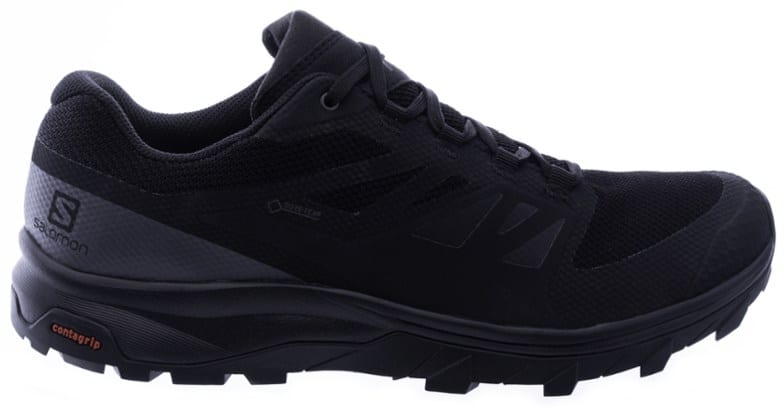 BEST FOR: AGILITY ON THE TRAIL
Salomon is a brand that makes great running shoes, and it shows in their construction of the Outline Low hiking shoe. This shoe's flexibility makes for a nimble, sleek hiking experience, while waterproof Gore-Tex liners offer breathability while keeping your feet dry. Shanks at the midsole stabilize your foot further, but don't restrict its movement.
In terms of protection, outer toe guards protect your feet from any rocks or roots on the trail, while the tongue is designed to keep debris out – because no one needs a pesky rock in their shoe. Remove the Ortholite insoles if you need a more customized footbed, or leave them in for ultra comfort and shock absorption. An antimicrobial treatment will also prevent odor-causing bacteria from devastating your shoes (and your hiking partners' noses). With deep, grippy outsoles that will gain traction on slippery surfaces, this shoe will take you further, staying agile the whole way.
Oboz Sawtooth II Low
View Women's Version
Specs
Closure

:

Lace-up

Weight

:

2 lbs 2.8 oz (Men's)

Upper

:

Leather

Type of Waterproofing

:

Proprietary Material
Features
Dual-Density Midsoles (for extra cushion)
Abrasion-Resistant Heel Counters
Asymmetric Collars (to move with your unique ankle motion)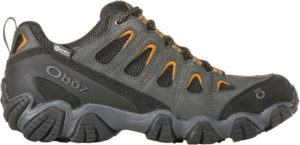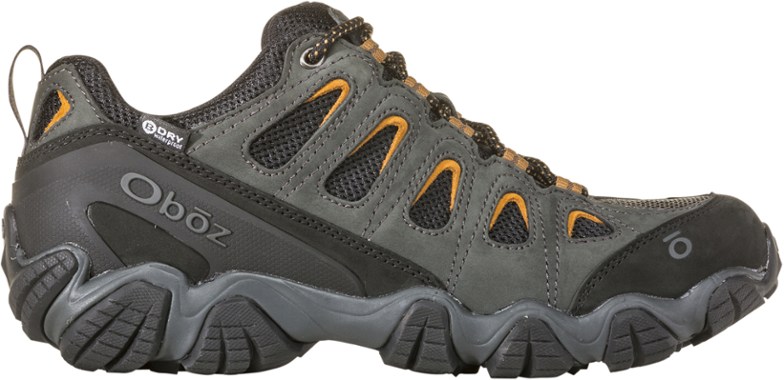 BEST FOR: STABILITY ON UNEVEN TERRAIN
Like the Bridger Low shoes above, the Sawtooth II's offer Oboz's proprietary BDry waterproof and breathable membranes, preventing water from entering your shoes while allowing water vapor to escape for a cool and dry experience. Nubuck leather uppers are also breathable and waterproof, while the protective mesh liners wick moisture and increase ventilation.
These hikers offer excellent comfort thanks to well-fitting insoles and cushioned midsoles, keeping your feet nimble yet sturdy as you travel through rugged environments. The Sawtooth II is rugged itself: nylon shanks provide further protection and surefootedness, while abrasion-resistant heel counters and protective toe overlays will keep these shoes in good shape no matter what you throw at them. Asymmetric shoe collars adapt to your ankle motion, accommodating for the fact that feet structures vary and ankle bones aren't always in the same place. Stay stable and secure with high-friction rubber outsoles as these hiking shoes carry you safely over any terrain you explore.
Tecnica Plasma S
View Women's Version
Specs
Closure

:

Lace-Up

Weight

:

1 lb 14.24 oz (Men's)

Upper

:

Polyamide/Thermoplastic Urethane Laminate

Type of Waterproofing

:

Gore-Tex
Features
Heat-Moldable Uppers and Footbeds
Self-Locking Laces
High-Traction Rubber Outsoles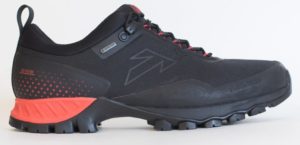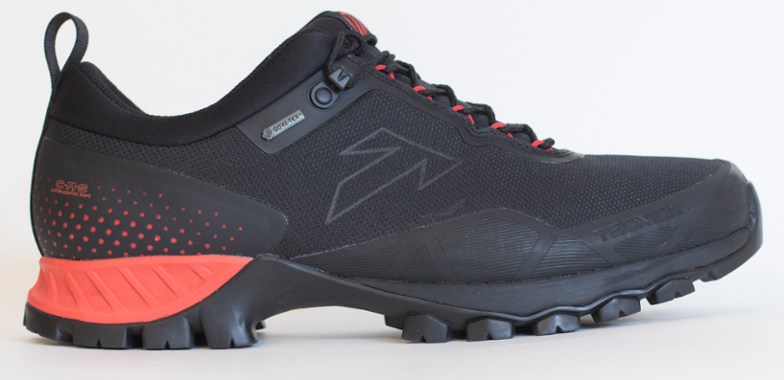 BEST FOR: THE ULTIMATE CUSTOMIZED FIT
While certainly pricey for a low-cut hiker, the Tecnica Plasma delivers on cutting-edge technology. The uppers and footbeds can be heat-molded using a special machine, shaping the shoe to your unique foot anatomy. If you suffer from blisters every time you hike or have always settled for a less-than-perfect fit, this hiking shoe may be your best bet. Note that heat molding can only be done in select stores, so call your local REI or other outfitter for options before ordering.
This shoe was clearly designed for comfort, with self-locking laces that enable easy micro-adjustments during your hike and an overlapping tongue that reduces ankle friction. The waterproof and breathable Gore-Tex membranes will help keep your feet dry, and the Vibram outsoles mimic the traction of an approach shoe, so you'll feel secure on any wet terrain. For a great out-of-the-box fit that only gets better, the Plasma absolutely delivers.
The North Face Ultra Fastpack IV
View Women's Version
Specs
Closure

:

Lace-Up

Weight

:

1 lb 8.8 oz (Men's)

Upper

:

Woven

Type of Waterproofing

:

Gore-Tex
Features
Abrasion Resistance in High-Wear Zones
Protective Toe Caps
Dual-Density Midsole (for stability and comfort)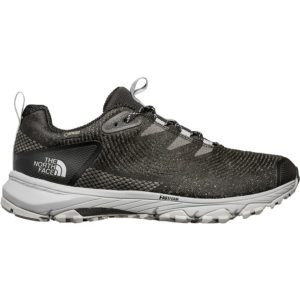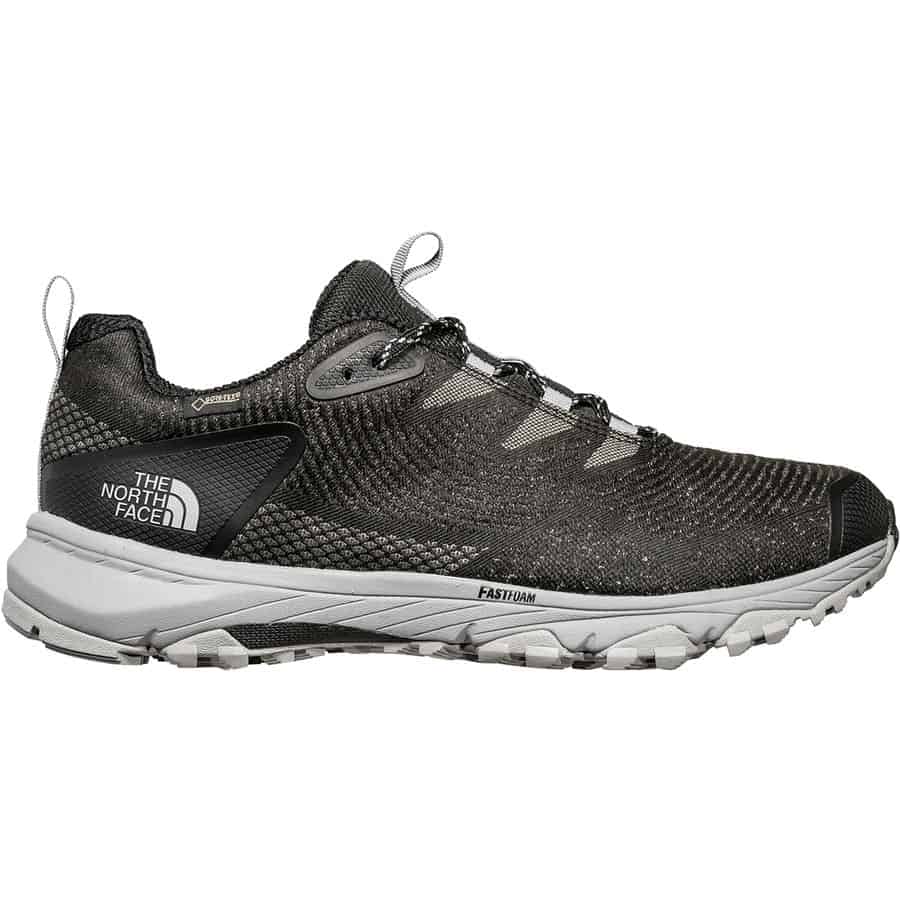 BEST FOR: LIGHTWEIGHT COMFORT
They don't include "ultra fast" in this hiking shoe's name for nothing. Grippy Vibram outsoles keep you surefooted on slick terrain, allowing you to cover more ground. Combine that with the dual-density responsive midsole that creates stability for your feet, along with comfortable Ortholite insoles, and you'll be feeling light and nimble for long hours on the trail.
When the weather turns south, waterproof Gore-Tex membranes offer breathable protection, while the toe caps will guard your feet against trail hazards so you can focus on moving quickly. Woven upper materials offer ultimate abrasion resistance in zones prone to high wear, increasing durability and ensuring these shoes will last you for many hiking miles to come.
KEEN Gypsum II Low
View Women's Version
Specs
Closure

:

Lace-Up

Weight

:

2 lbs 6.2 oz (Men's)

Upper

:

Leather/Mesh

Type of Waterproofing

:

Proprietary Material
Features
Contoured, Removable Insoles
Heel Support Structure
Natural Odor Control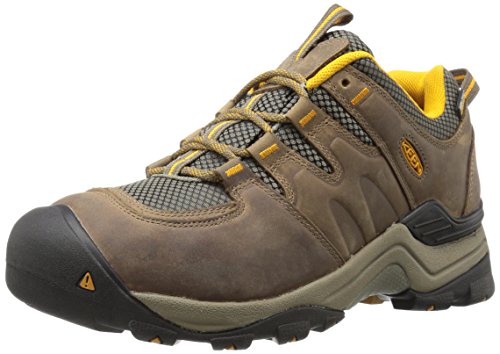 BEST FOR: STAYING FRESH AND DRY
Although among the heaviest shoes on our list, the Keen Gypsum II shoes have the structural support to carry you through long miles without feeling every rock or stick on the trail. These hikers include Keen's propriety waterproof and breathable membrane known as KEEN.DRY, which will keep your feet from getting hot and sweaty by allowing water vapor out.
The inner support structure of these hiking shoes also optimizes comfort, with heel support that maximizes stability over varying terrain and cushioned insoles that absorb shock. The insoles are also designed for optimal arch support, or they can be removed if needed. Reliable traction on slick surfaces comes in the form of multidirectional lugs on the outsole, keeping you sturdy from stream crossings to scrambling. Finally, the Gypsum II's include natural odor control, so you can focus on the trail rather than worrying about permanently absorbing nasty odors.
[thrive_leads id='59716′]
THINGS TO CONSIDER WHEN BUYING WATERPROOF HIKING SHOES
WEIGHT
Many hikers opt for hiking shoes because they're more lightweight than hiking boots, but still offer durable protection from the elements. Weight is a key factor in deciding which hiking footwear is best for you; heavier boots can be fine for light day hiking or if you really need the extra ankle support, but there's a reason so many thru hikers hike in light trail runners – moving fast and avoiding foot fatigue can make a difference over many miles. The old adage "a pound on your feet equals five pounds on your back" has some scientific truth to it, so if you're down to work on your ankle exercises, a lightweight pair of hiking shoes can strike a happy medium.
PRICE
Many hiking shoes are on the pricier side, which is standard for options that don't compromise on durability or weight. Waterproof hiking shoes can bring up the price thanks to their membrane technologies that keep water out, but if you don't need other, fancier features such as a heat-moldable design, opt for the lower-priced shoes that just cover the basics.
TRACTION
Hiking shoes can be a great balance between hiking boots and trail runners because they're more lightweight than boots, but still have rugged, protective soles for support and grip on rugged terrain. Look for hiking shoes that have ultra-grippy soles like those from Vibram or proprietary rubber soles that still run deep and focus on traction.
MATERIAL
The type of material your hiking shoes use will impact their durability and breathability, which you can use to decide what type of hiking shoe is best for you. The main options are synthetic or leather materials; leather offers strength and durability, while synthetic materials like mesh are typically more breathable.
Leather will be less ventilated, but better at protecting your feet, while synthetic will let your feet breathe, but may not stand up to trail conditions as well. Many hiking shoes also incorporate synthetic leather if you're looking for a vegan option that still offers waterproofness and durability.
FEATURES EXPLAINED
COLLAR
The "collar" on a shoe is the part that fits around your ankle. Because your ankle bones are different sizes (the bone on the outside is always larger than the bone on the inside), most shoe collars are designed to be asymmetrical, to provide the best support for your ankles while you walk.
GORE-TEX (GTX)
GORE-TEX, often abbreviated as GTX in product names, is a brand that offers excellent waterproofing technology in its products. For waterproof hiking shoe membranes, GORE-TEX material is often considered the gold standard.
INSOLE
Also referred to as the footbed, this is the inner section of the shoe that connects with your foot. Some hiking shoes come with removable insoles if you have orthopedic needs that warrant replacing them.
MIDSOLE
Between the insole and the outsole, this part of the shoe determines its comfort and stability.
OUTSOLE
The outer part of the shoe that connects with the ground. Most hiking shoe outsoles are rubber and provide traction based on the lug pattern.
LUGS
Lugs are the rubber bits on the outsole that help your foot move through trail conditions; the deeper the lugs, the greater the traction that shoe will provide.