Updated on October 2, 2020
If you don't wear your helmet when you climb, you better not come home! Sound familiar? It's only because people love you and helmets undoubtedly save lives. So now that you are playing on water ice, it's time to find the helmet that is right for you to go out and enjoy your climbing. And of course we here at The Adventure Junkies make that choice simple with our list of the ten best ice climbing helmets.
Ice season is short in some areas so you need to get out there and chase those ice waterfalls while you can and start sending some hard ice. And have some fun too. Just don't forget your helmet!
For more of our top ice climbing gear reviews, check out Best Ice Climbing Backpacks.
Quick Answer

-

The Best Ice Climbing Helmets
Comparison Table

-

Best Ice Climbing Helmets

For the best experience turn your device horizontally
Reviews

-

The Best Helmets for Ice Climbing
Black Diamond Vapor
Specs
Material

:

EPS Foam with Polycarbonate Shell

Weight

:

7.02 oz (M/L)

Headlamp Clip

:

4

Number of Sizes

:

2
Features
Headlamp Clips Are Removable
Offered In 4 Colors
Interior Padding For Extra Comfort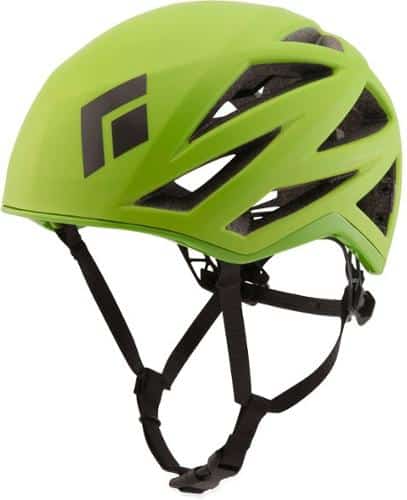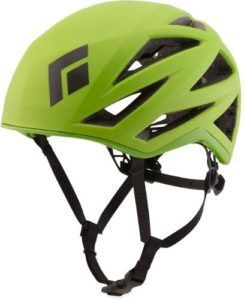 BEST FOR: COMFORT
One of the lighter helmets out there, the Black Diamond Vapor still maintains a "traditional" look of a standard helmet, not cut back a lot as some other lightweight helmets. Designed with ventilation in mind, this helmet has 12 total vents for optimal air flow. While there are no vents on the forehead, the interior padding is recessed from the forehead to promote airflow to the side vents. The rear adjustment band cradles the occipital bone on the back of your head and pushes your forehead into the front sweatband, ensuring a snug fit with great protection.
While super durable, the material does tend to get dimpled more easily, showing spots of impact, but does not lessen its safety. And while not the cheapest helmet out there, it makes up for it in weight and fit.
Petzl Meteor
Specs
Material

:

EPS Foam with Polycarbonate Shell

Weight

:

8.46 oz (size M)

Headlamp Clip

:

2 Side Clips and Rear Bungee Cord

Number of Sizes

:

2
Features
Foam Pads To Comfort Head
Magnets In Chin Strap To Help Clasp Strap Shut And Keep It Closed
Elastic On Rear Of Helmet Is Compatible With Ski Goggle Headbands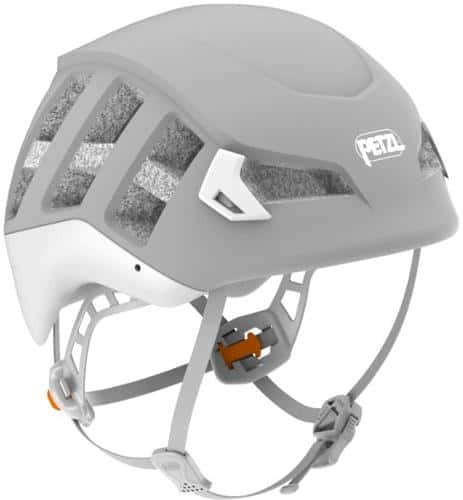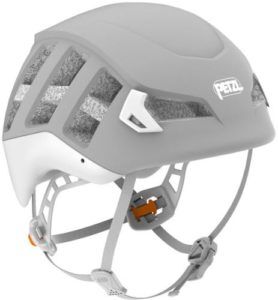 BEST FOR: VENTILATION
Very reasonably priced at around $100, the Meteor is a very affordable helmet choice for ice climbing. Made with an outer EPS shell, it is lighter material that helps contribute to the overall minimal weight of this helmet. But not to worry, the polycarbonate under layer makes this helmet durable as well to handle any ice shards that may hit it.
Ice climbing is hard and let's face it, we are going to sweat. And with sweating, we can lose body heat. But with the Meteor, there are 21 ventilation holes, so a breeze can always pass through, helping to cool you down and prevent your head from getting wet and thus cold. There are two large and wide vents in the front of the helmet for a cross breeze as well.
Equipped with 2 side clips in the front, a headlamp easily attaches. For further security, the V-shaped bungee on the back of the helmet keeps the headlamp strap in place. This strap can also be used with ski goggles, making this a great helmet for all winter adventures!
Black Diamond Half Dome
View Women's Version
Specs
Material

:

EPS Foam with ABS Shell

Weight

:

12.7 oz

Headlamp Clip

:

4 plastic clips

Number of Sizes

:

2
Features
Various Straps To Adjust For Best Fit
5 Ventilation Holes On Either Side Keeps Your Head Cool
Pony-tail Friendly Women's Design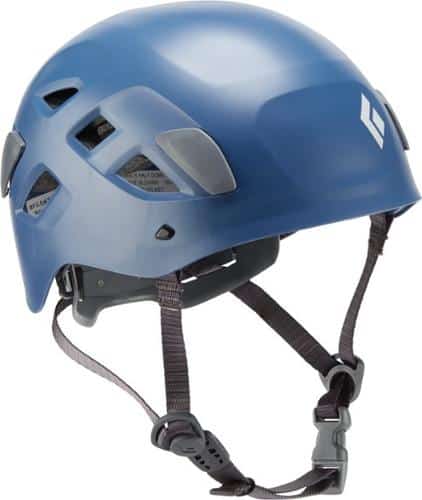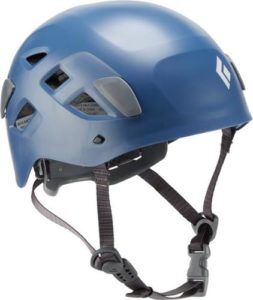 BEST FOR: BEGINNERS
While not the lightest helmet on the market with a heavy duty ABS shell, the Black Diamond Half Dome is super durable and able to withstand a hit. With many positive reviews over the years, this helmet has won its place in safety, so it is certainly a good choice for anyone getting into the sport. And just under $100, it is also an affordable choice.
It's super simple to fit this helmet to your head with the rear wheel dial on the back of the head that easily loosens and tightens the straps around your head. With five ventilation holes on either side to keep you cool, this helmet doesn't have as much ventilation as other helmets, but in cold weather, it will keep you warm. Equipped with two front and two rear clips, your headlamp securely attaches to the helmet should you find yourself out in the dark.
C.A.M.P. USA Titan
Specs
Material

:

Hardshell with Foam Injection

Weight

:

12.7 oz

Headlamp Clip

:

4

Number of Sizes

:

2
Features
Available In 5 Colors
No Screws Used In Assemblage, So There Are No Extra Parts To Worry About Losing
Spider Suspension Framework Secures Every Point Of The Helmet To Your Head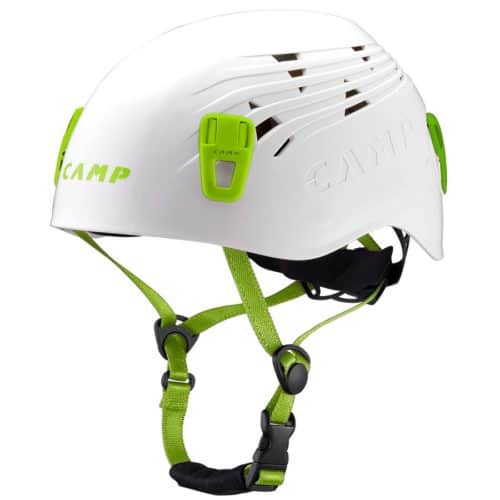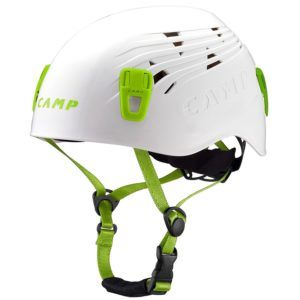 BEST FOR: LONGEVITY
A popular helmet among guides, the Titan is a true workhorse and can take a beating from rock or ice and not be phased, so it will last you a long time. Designed with a super hard shell, it is tough but still comfortable thanks to the injected interior foam. And it is available in 5 awesome colors.
Equipped with four headlamp clips, it is up for the challenge of darkness. The rear wheel allows for precise adjustments, so this helmet will fit snugly to any head and won't shift around. Numerous ventilation slots throughout this helmet keep the breeze flowing and the sweat off your head in strenuous conditions. And because it is very moderately priced, this helmet requires minimal investment for the years you will get out of it.
Petzl Sirocco
Specs
Material

:

EPP and EPS Foam with Polycarbonate Shell

Weight

:

6.1 oz

Headlamp Clip

:

2 Front Clips and Rear Bungee Cord

Number of Sizes

:

2
Features
Extends Further Down The Back Of Your Head For More Protection
Magnetic Chin Buckle Keeps The Helmet In Place With Ease
Ultra Lightweight So Your Head Doesn't Feel Weighed Down By Safety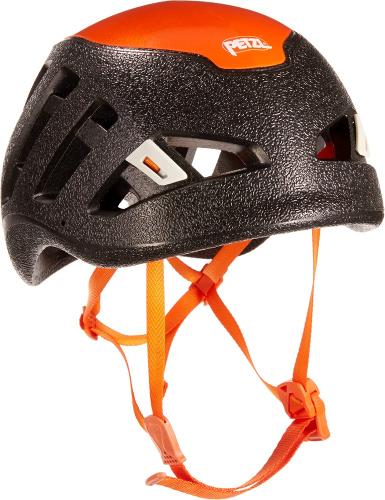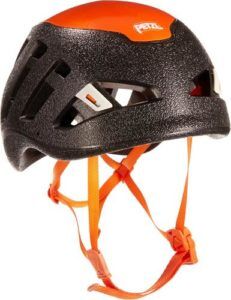 BEST FOR: LIGHTWEIGHT ADVENTURES
If you want to be light and fast to optimize your time climbing, you really cannot find a lighter helmet than the Petzl Sirocco that weights just a mere 6.1 oz. That low weight is certainly worth the extra cost of this premium helmet that will make the extreme climber in you very happy. Made with both light and durable EPP and EPS foam materials, this helmet can withstand some pelting from ice.
A magnetic chin buckle is also advantageous in the cold when you are trying to secure your helmet while wearing gloves and the minimalist webbing is simple, although it can be a bit harder to adjust than helmets with adjustment dials. This helmet also has 24 vents throughout, so your head will stay cool under extreme conditions. And similar to The Sirocco helmet above, this one also has two side clips and a rear V-shaped bungee for headlamp attachment so you can keep climbing safely when the sun goes down in the late afternoon.
Black Diamond Vector
View Women's Version
Specs
Material

:

EPS Foam with Polycarbonate Shell

Weight

:

8.6 oz (M/L)

Headlamp Clip

:

4 Plastic Clips

Number of Sizes

:

2
Features
Rigid Plastic Adjustment Band For A Wide Range Of Head Sizes
Available In Women's Version (S/M)
Comes With Separate Cooling Towel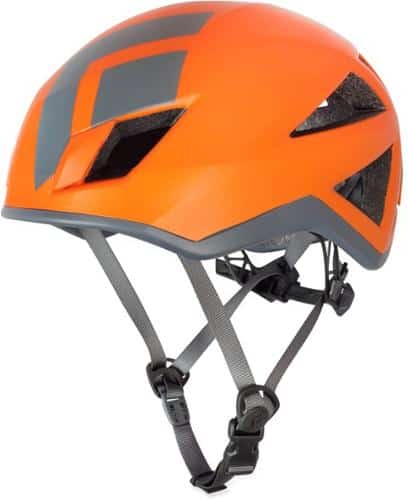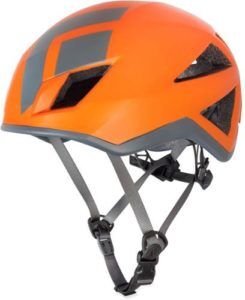 BEST FOR: VERSATILITY
If you are a person who always has trouble finding a good fit in a helmet, you will want to check out the Black Diamond Vector. Designed with a rigid plastic adjustment band, this helmet will fit even those hard to fit heads. Furthermore, the ratchet system that is used to adjust the helmet sits lower than on other helmets, helping to eliminate any slipping and sliding on your head.
Simple and basic headlamp attachments consist of 4 clips (2 on either side) that you can slide the band of your headlamp under. While not quite as well ventilated as the Black Diamond Vapor, it still has great ventilation throughout the helmet. The EPS foam does cut down on the overall weight, but is also prone to some cosmetic blemishes from minor rock hits.
Grivel Stealth HS
Specs
Material

:

EPS Foam with ABS Shell

Weight

:

11.7 oz

Headlamp Clip

:

4 Plastic Clips

Number of Sizes

:

1
Features
12 Vents For Airflow
Multi-faceted Design Allows The Helmet To Be Thinner
Highly Adjustable Nylon Webbing So One Size Fits All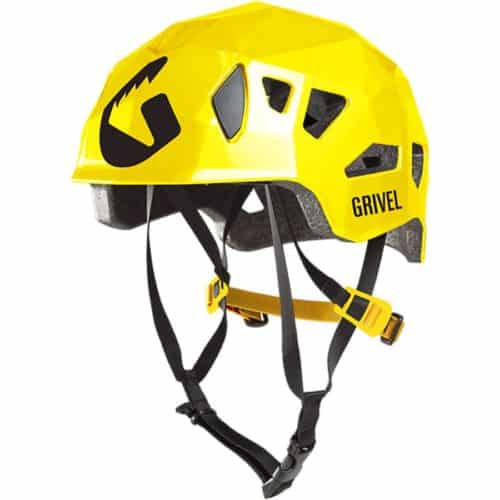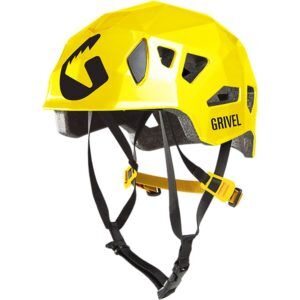 BEST FOR: ADDED PROTECTION
You can have your cake and eat it too with this helmet! You can have the hardshell for that solid protection, but not all the weight that usually comes with a hardshell helmet. The HS (hardshell) is one of Grivel's most popular helmets for this reason, among their many helmets. The design of the helmet is multi-faceted, giving it a unique look and allowing for the plastic to thinner, and thus, lighter. And if you accidentally drop your helmet, it won't go rolling away thanks to the flat plane design. Should there be any impact from rock or ice, both the front and the back of the helmet are a bit longer than you see in other helmets, so you get more overall protection.
Edelrid Salathe
Specs
Material

:

Robust Hardshell with EPP core

Weight

:

7.1 oz

Headlamp Clip

:

2

Number of Sizes

:

2
Features
Rear Elastic Strap To Reinforce Headlamp Attachment
Hybrid Design Of Hardshell And Foam Material To Lighten Weight
Removable Padding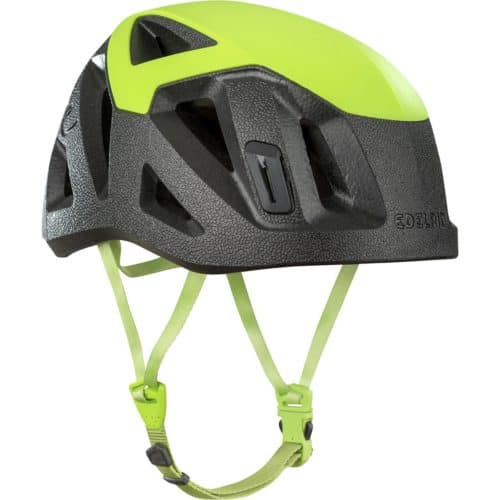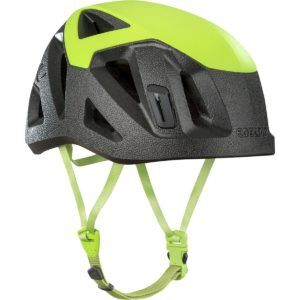 BEST FOR: MINIMALISM
The Edelrid Salathe is a great choice in helmets when you need to be safe, but you want to have a minimalist helmet. Made with a hybrid of hard and soft materials, this helmet gives you all the protection you need without excess weight with the tough hard plastic on top and the foam on the side. Removable, washable padding can make this helmet lighter, but also provides for comfort and a secure fit.
Designed with easily adjustable head harness straps, you won't be fumbling around trying to adjust the sizing without gloves on – you can keep your hands warm and adjust your helmet at the same time! And with a rear elastic strap, your headlamp can be easily secured in case you get caught in the dark. And you can even secure ski goggles if you want to ski into your ice climbs!
Mammut Wall Rider
Specs
Material

:

EPP Foam with Hard Plastic Top Piece

Weight

:

9 oz

Headlamp Clip

:

EPP Foam with Hard Plastic Top Piece

Number of Sizes

:

2
Features
Circular Shape Offers A Low-Profile
16 Large Vents Provide Maximum Airflow
Fully Adjustable Chin Strap Provides Best Fit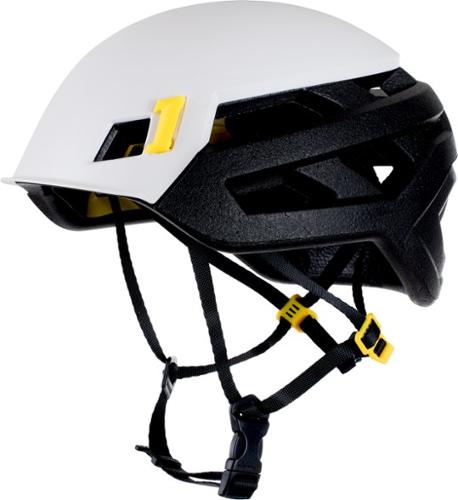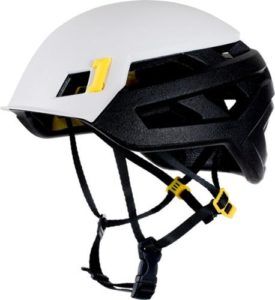 BEST FOR: LOW PROFILE FIT
While slightly heavier than some helmets, the mix of the light EPP foam topped with a heavier plastic shell that covers just the front half of the helmet, this durable helmet is a top seller of Mammut's. Your head will always be padded and you'll get the proper fit with the multiple velcro pads inside that can be easily removed and placed. Furthermore, the removable liners are easy to wash, so no grossness will accumulate in your helmet!
On those warmer ice days, you'll have ample ventilation with 16 slots on both sides of the helmet and along the back, so you won't have to worry about a sweaty head making you cold when the sun goes down. And if your head is on the smaller side, this helmet is a good fit, as the circular shape of it has a shallower fit designed for smaller heads.
Singing Rock Penta
Specs
Material

:

Plastic Hardshell with Foam Interior

Weight

:

7.23 oz

Headlamp Clip

:

4

Number of Sizes

:

1
Features
Eleven Vents Provide Ample Ventilation
Available In 4 Colors
All Webbing Straps Allow You To Make Micro-adjustments For Superior Comfort And The Perfect Fit
BEST FOR: A NEW LOOK
A lesser known brand, Singing Rock brings to you the Penta climbing helmet. One of the lightest helmets out there, it is made with a lightweight foam interior, but a durable hard plastic exterior, to prevent ice screws from banging it up when stuffed in your pack. And eleven slots for ventilation will keep you cool and dry, even under the most precarious situations. But because of the foam interior, you head will also stay warm when needed.
An all webbing strap design allows for micro-adjustments to fit your head and also cuts down on weight. Furthermore, there are no plastic components you have to worry about becoming brittle and breaking off in the cold. This helmet is very moderately priced and available in four different colors. What more could you ask for? Except for ice!
THINGS TO CONSIDER WHEN BUYING ICE CLIMBING HELMETS
COST
Saving a few bucks is not worth the price of safety in this sport. But if you are on a budget, it is best to consider your needs without cutting any corners when it comes to protection and durability.
VENTILATION AND MATERIAL
It's important to consider your trip details and overall needs when choosing a helmet. For example, if you are going to be out in the cold but working hard and sweating, ventilation is important to consider. If you are going to be encountering dangerous terrain, such as the risk of falling ice, take a close look at the material the helmet is constructed of – both the shell and inner portion. Lightweight helmets are constructed with a shell that may not be as durable, so it is important to make sure the under layer absorbs impacts well but won't get super banged up with every little thing that hits it.
COVERAGE
You need a helmet that fits your head well and protects all your soft parts. Dome shaped helmets tend to cover more of your head, but can add weight. Lighter weight helmets may provide less coverage, but if you are not climbing technical ice, you probably won't need as much coverage to protect you from the unexpected.
Your forehead and as much of your occipital bone on the back of the head as possible should be covered to protect your precious brain. Look at all the options and consider your needs before deciding on your helmet. Also make sure you're wearing your helmet correctly in order to prevent serious brain damage in case of an unexpected fall and impact.
WEIGHT
If you are looking to climb hard and fast or just don't want a ton of weight on your head or in your pack, you may want to consider investing in a lighter weight helmet. While a few ounces will probably go unnoticed by many, if you are wearing a helmet for hours on end, those few ounces may remind you of how tired and heavy your head is. But weight is never a reason to sacrifice safety. And for the most part, you will not even notice you are wearing a helmet.
ADJUSTMENTS
Fine tuning your helmet to your head will provide the best fit with minimal slippage. The simplest form of adjustment is pull tabs on webbing. This adjustment style may require more time and manual manipulation than others that use adjustment dials, so if you need to make these adjustments with gloves on, take that into consideration. However, plastic can break, especially in the cold, so sometimes webbing is more durable, even if it does take longer to adjust.
FEATURES EXPLAINED
EXPANDED POLYPROPYLENE (EPP) AND EXPANDED POLYPROPYLENE (EPS) FOAM
The foam padding inside the helmet is what absorbs the impact of a fall or hit, and it is lighter in weight compared to hard plastic helmets. These foam materials are meant to take the impact, squish, deform, and can then sometimes crack, so the helmet may need to be replaced after a hard blow.
EPS is the more common foam, made from packing peanut material, and can absorb hard or soft blows, but usually will need to be replaced after a hard blow. EPP is similar, but is more rubbery, meaning it can take more soft blows before having to be retired.
ACRYLONITRILE BUTADIENE STYRENE (ABS) AND POLYCARBONATE PLASTIC SHELL
The outside of the helmet is made up of a hard shell, which provides durability and increases the safety of your helmet. Many helmets are constructed with an outer shell of ABS, which is plenty durable. But most helmet shells nowadays are being made with polycarbonate plastic because it is even more durable and flexible than ABS and lighter in weight. Both materials will work just as well at protecting your head from impact, but polycarbonate is less brittle than ABS, so if you're likely to take whippers on the ice and don't want to have to replace your helmet every other season, then consider investing in a helmet with a polycarbonate shell.
READ MORE
For more of our top climbing gear recommendations, check out these popular buyer's guides: