Updated on February 15, 2022
Your tools are sharpened and your crampons are fitted to your boots. Ice climbing season is upon us! But now you need to dial in your layering system, beginning with a good pair of ice climbing pants. The field of options is vast, but we here at The Adventure Junkies have compiled a list of the ten best ice climbing pants to ensure you are warm and dry while out playing on the vertical ice.
While in warmer weather, having a good pair of weather resistant pants is nice, it is crucial to have weatherproof pants in the winter world and while ice climbing. Getting wet and cold in the frigid conditions while climbing icefalls is not only no fun – it can also be extremely dangerous. But this list of ice climbing pants will not only keep you warm, dry, and happy, but they will last for several seasons, so all you need to focus on is your fancy footwork!
For more of our top ice climbing gear recommendations, check out the Best Ice Climbing Backpacks.
Quick Answer

-

The Best Ice Climbing Pants
Outdoor Research Skyward II

The North Face Summit L4 FUTURELIGHT
Comparison Table

-

Best Ice Climbing Pants

For the best experience turn your device horizontally
Reviews

-

The Best Pants for Ice Climbing
Outdoor Research Cirque
View Women's Version
Specs
Closure

:

Zipper fly and button with adjustable velcro waist

Water Rating

:

Water Resistant

Shell

:

Softshell
Features
Bootlace Hooks to Keep Pants in Place
Movement Mirroring Stretching for Comfort
Reinforced Scuff Guard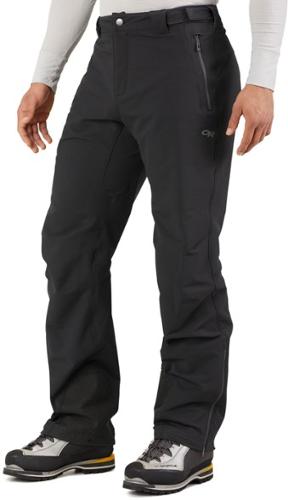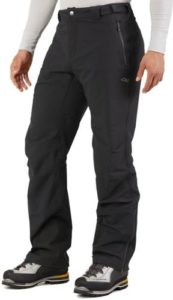 BEST FOR ALL AROUND USE
Outdoor Research is well known for their clothing and their Cirque pant has been a top contender in the ice climbing world. The waist is a low-profile that includes side velcro tabs for a perfect fit around the waist. And because of the low-profile, these pants will easily fit under a climbing harness without uncomfortable bunching.
The zipper pockets are perfect for storing the essentials like maps, snacks, and headlamps and the fact that they zip closed eliminates any worry about your belongings falling out mid-climb. All zippers on the pants are finished with a water repellent treatment, so you won't experience leakage even if you encounter foul weather.
A scuff guard is incorporated in the bottom inside of the pants to help prevent crampon snags from ripping the pants. Metal bootlace hooks at the bottom of the pants attach to your boot laces to help keep your pants in place. Furthermore, the drawcord pant cuffs and zipper closures prevent the pants from riding up your boots and getting snow pile-up, eliminating the need for a gaiter.
Arc'teryx Gamma AR
Specs
Closure

:

Zipper Fly and Snap with Waist Belt

Water Rating

:

Water Resistant

Shell

:

Softshell
Features
Burly Double Weave Material (eliminating moisture and wind)
Gusseted Crotch And Articulated Patterning (for full range of motion)
Trim Fit (to fit under a hardshell)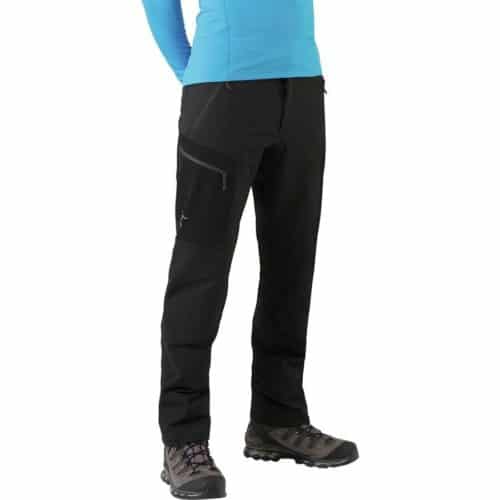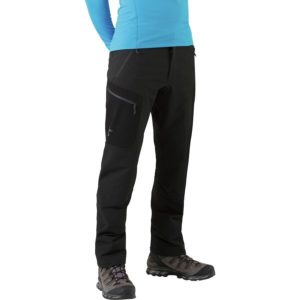 BEST FOR VERSATILITY
The Gamma AR pant by Arc'teryx carries a bulkier price tag, but with that comes high-end performance. This wind and water resistant pant is made from a double weave material that is super burly and durable. Not only does this help provide protection from the elements, but it also gives the pant stretch, warmth, and resistance to abrasion from any rocks and ice you may encounter on your climbs, because you will encounter them!
The waist includes a belt for a secure cinch that will fit under a climbing harness or pack, and is low-profile. Pockets are strategically placed throughout the pants, including two hand zipper pockets below the harness line and a zipper thigh pocket for stashing small items like chapstick that you need to access frequently. Equipped with bootlace hooks to attach to bootlaces to prevent your pants from climbing up your leg and adjustable cuffs at the bottom of each leg for a secure fit, you will not need additional gaiters to keep snow and ice out of your boots.
Outdoor Research Iceline
View Women's Version
Specs
Closure

:

Zipper Fly and Snaps with Belt Loops

Water Rating

:

Water Resistant

Shell

:

Softshell
Features
Zippered Outer Thigh Vents To Keep You Cool While You Climb
Suspender Attachment To Keep Your Pants Up
Reinforced Scuff Guards To Prevent Them From Ripping While Wearing Crampons
BEST FOR ALPINE CONDITIONS
Another reliable pant from Outdoor Research, the Iceline Versa brings together all the important features required of an ice climbing pant, as the name suggests. Windproof and water resistant, this pant even includes thigh zipper vents, promoting air flow that will keep you cool and dry both on dry climbs and approaches alike.
Grommet lace hooks on the bottom of the pant help to keep the pant attached to your boot so you don't get ice around your ankles while you climb. Additionally, a drawcord cuff at the bottom of the pant ensures a snug fit around your boots and crampons while kicking ice. Scuff guards and durable material allow for minimal abrasions, ensuring this pant lasts more than a season. This pant even offers features to attach your favorite pair of styling suspenders so you never have to worry about them falling down!
Mammut Tatramar SO
View Women's Version
Specs
Closure

:

Zipper and Double Snap

Water Rating

:

Water Resistant

Shell

:

Softshell
Features
Fleece Lined for Added Warmth
Thigh Zippers for Added Ventilation
Built-in Gaiter To Keep Snow And Ice Out Of Your Boots
Pre-shaped Knee for Greater Mobility
BEST FOR ADDED WARMTH
A sleek looking pant by Mammut, the Tatramar is a softshell pant that is water resistant and lightweight, but still warm. Designed to be thin, they fit under a climbing harness nicely, but the fleece lining inside will keep you warm, as if you were wearing bulkier pants or multiple layers. Thigh zippers incorporated into the design ensure that you don't get overheated if the fleece keeps you a little too warm.
With both a built-in gaiter and a velcro cuff, you get a solid fit around your ice climbing boots to prevent them from riding up or allowing snow to get inside your boot. And with a pre-shaped knee design, these pants are easy to move and climb in, so you don't have to worry about any high stepping on the steep ice!
Black Diamond Alpine
View Women's Version
Specs
Closure

:

Zipper Fly and Snap

Water Rating

:

Water Resistant

Shell

:

Softshell
Features
Built-in Waist Belt
2-Way Zipper Fly on Men's Pants
Four-Way Stretch Fabric for Maximum Mobility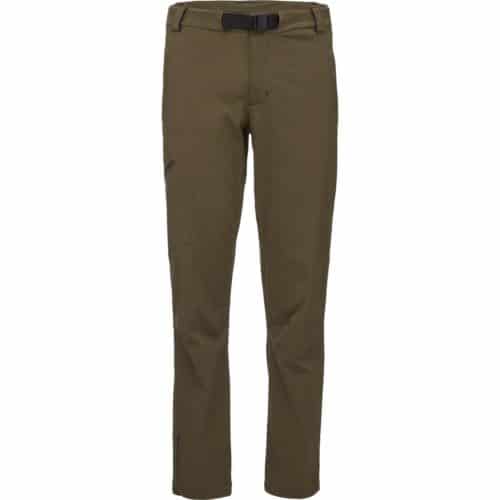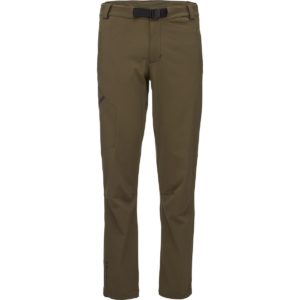 BEST FOR MILD MISSIONS
The Black Diamond Alpine pant is a solid choice for the more mild ice climbing days. Made with a durable nylon and elastane blend, this pant is not only weather resistant, but also breathable. Furthermore, the material provides the stretch needed when trying out more technical techniques on the ice.
With both an adjustable belt loop and drawcord cuff at the bottom of the pant, you will have a secure fit on top and bottom in these pants. Zippered hand pockets will protect your valuables on the route, while the exposed thigh pocket is not only functional but can also ventilate to keep you cool if the day heats up.
Outdoor Research Skyward II
View Women's Version
Specs
Closure

:

Zipper Fly and Snap with Belt Loops

Water Rating

:

Waterproof

Shell

:

Softshell
Features
Built-In Inside Gaiter To Keep Snow And Ice Out Of Your Boots
Built-In Avalanche Beacon Clip For Extra Safety
Zippered Outer Thigh Vents To Keep You Cool While You Push It On The Ice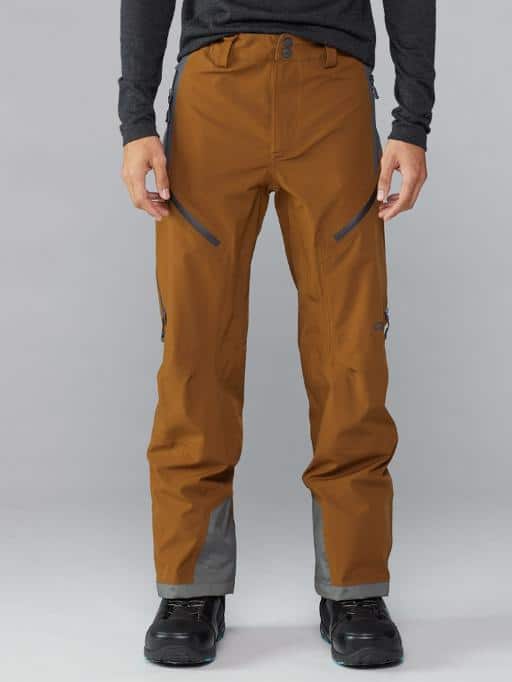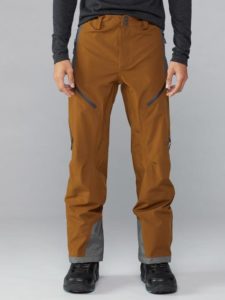 BEST FOR SNOW CONDITIONS
This Outdoor Research Pant is a softshell that operates like a hardshell, offering protection for any weather – wind, rain, ice, and snow. Although waterproof, these pants are made with Outdoor Research's patented AscentShell, which allows for breathability yet still keeps you dry. And for added ventilation, the zipper thighs can be opened for airflow when things heat up.
Offering a built-in gaiter, this pant gives you full snow protection without having to carry any extra gear – ideal when you have to posthole your way to a climb in waist-deep snow. And because ice climbing sometimes means venturing out into the backcountry, these pants even have a built-in avalanche beacon clip to keep you extra safe.
RAB Kinetic Alpine
View Women's Version
Specs
Closure

:

Zipper Fly and Snap with Drawcord Waist

Water Rating

:

Waterproof

Shell

:

Softshell
Features
Knee Articulation For Ease Of Movement
Knit Wicking Lining to Keep you Dry
Stuff Sack To Store Pants When Not In Use


BEST FOR WET WEATHER
RAB Kinetic pants provide a sweat wicking, waterproof softshell design that provides maximum stretching for any movement you need to make while climbing. And all the waterproofing will ensure these pants remain dry and keep you warm while climbing. Zippered ankles allow this pant to be used with any sort of ice climbing boots and the webbing loop allows them to attach directly to the boot to prevent them from shifting.
A drawstring waist incorporated into this pant allows for a secure fit, so you won't have to worry about them slipping down. And this pant is also lightweight and packable and comes with a small stuff sack to condense them into your pack or clip to your harness when they are no longer needed when the sun comes out!
Mammut Masao
View Women's Version
Specs
Closure

:

Zipper Fly and Snap with Waist Belt

Water Rating

:

Waterproof

Shell

:

Hardshell
Features
Waterproof Map Pocket
3/4 Side Zipper From Cuff To Hip for Easy Removal
Suspender Attachment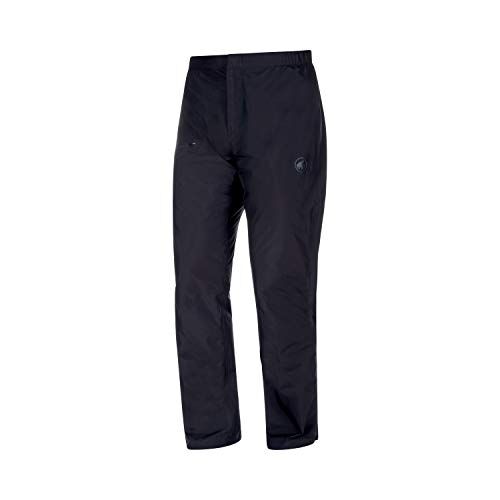 BEST FOR HIGH PEAKS
A Mammut brand of ice climbing pants, the Masao HS is an entirely waterproof hardshell that can withstand anything you might come across searching for ice in the high mountains. Because ventilation is a must, this pant is outfitted with a 2-way, 3/4 length zipper (from cuff to outer thigh) side ventilation system. This also allows them to be pulled over a pair of softshell pants when the weather turns really foul without having to remove your boots!
The front zipper pockets are placed above the waist, making them climbing harness compatible. There is also a waterproof map pocket on the leg, ensuring you always have access to directions on the more technical climbs. It also has a built-in adjustable gaiter to fit around any ice climbing boots and will prevent snow build-up under the pant, without needing an additional external gaiter.
The North Face Summit L4 FUTURELIGHT
View Women's Version
Specs
Closure

:

Zipper and Snap with Built-in Belt

Water Rating

:

Water Resistant

Shell

:

Softshell
Features
Scuff Guards on Cuff of Pants Protect Them From Tearing While Using Crampons
Built-in Belt To Keep The Pants In Place
Wind Resistant Fabric
Slimmer Design for Less Bulk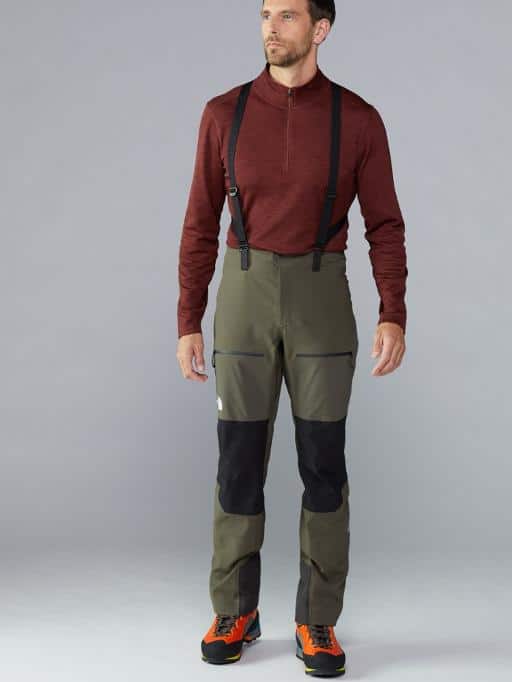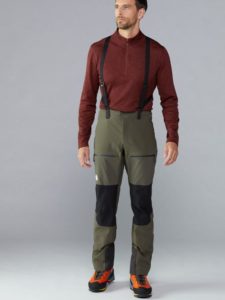 BEST FOR MOVEMENT
The North Face has a hand in the mix when it comes to ice climbing with the Summit L4 pants. A softshell design is water resistant, keeping you dry and warm while scaling the vertical ice. Furthermore, the material is also wind resistant, so no cold breeze will cut through you. Fully articulated knees make these pants great for showing off your movement skills on ice, allowing your leg to move freely. And a slimmer design overall means less bulk to fit under your harness.
The cuffs of the pants are equipped with a very durable scuff guard, so if you happen to catch a crampon point on them, they are less likely to rip. And with a built-in belt in the low-profile waist, you can keep the pants secure and lightweight.
THINGS TO CONSIDER WHEN BUYING ICE CLIMBING PANTS
COST
You are going to want to invest a little more when it comes to ice climbing pants. For one, there is a lot more to them than hiking pants. You have more insulation, better weather resistance, and a lot of rip-stop material. It doesn't pay to cut corners and then have your pants cut by a crampon. And most importantly, you want to be dry, warm, and create a positive experience with a pair of pants that will last several seasons.
SHELL TYPE
There are two shell types that you will see out there – hardshell and softshell. Many ice climbing pants today are softshells that offer the same wind and water resistance as the hardshell, but eliminate the need for two pairs of pants. Hardshells are great for keeping you dry in rain and snow, but if you begin to sweat, that moisture can get trapped, making you wet and uncomfortable. Read more about how to decide between hardshell vs. softshell mountaineering pants.
MATERIAL
The same rules for hiking pants apply to the world of ice climbing pants – cotton is rotten. It is important to take into consideration the type of materials and fabric in a pair of ice climbing pants before you make your selection. You want durability, but since you will be climbing, you want stretch too, but furthermore, you want maximum warmth. Learn more about how to choose ice climbing pants through this article by EMS.
WEATHER RESISTANCE
It is crucial to look at the weather ratings before buying ice climbing pants, particularly wind and water resistance. Pants that are waterproof are impenetrable to water, but most softshells absorb some water in order to provide breathability. These pants will be categorized as water resistant, meaning they can withstand a certain amount of moisture and not act like a sponge. Hardshells made of material such as Gore-tex are waterproof, meaning no water gets in.
In more mild conditions, water resistant pants will suffice, but on long days in colder and constantly wet conditions, a water resistant pant will stay damp. Having a softshell pant that breathes better than a hardshell will work, but you will also want a thin pair of hardshell pants to throw over top to prevent getting damp and cold.
BREATHABILITY
Hardshells and softshells differ greatly when it comes to breathability. The material in hardshells is impenetrable, so moisture will stay in, making your legs damp and cold, which can be dangerous in cold conditions. Softshells allow for some airflow, but still offer a level of water and wind resistance, allowing moisture to evaporate. However, in downpours or endless wet weather, they will get wet. Consider where you'll be climbing and how wet the environment is before deciding whether to get a softshell or hardshell pant. You can always double up if you need to, too!
FEATURES EXPLAINED
CUFF
The ankle area of the pant at the bottom that covers the top of the boot.
WAIST PROFILE
This describes how the pants fit around the waist; a lower profile waist is less bulky around the waist which is great if you are wearing a harness or backpack
WATERPROOF
Material that is not penetrable to water.
WATER RESISTANT
Material that repels water but is not completely impenetrable.
READ MORE
For more of our top climbing gear recommendations, check out these popular buyer's guides: