Updated on February 22, 2022
Unless you are the infamous free solo climber Alex Honnold, you will be using a rope when you climb. But your warm weather rock climbing rope is not always the best option for your ice climbing adventures. There are a lot of ropes to choose from and tons of things to consider before selecting the right rope for you, but luckily, we here at The Adventure Junkies have made your life easier with a list of the ten best ice climbing ropes, so all you have to focus on is climbing your best on the ice.
Whether you are new to the sport and just looking to top-rope or you're a seasoned ice climber wanting to get on a more challenging, wandering multi-pitch climb, this list has something for you. And because you will be dealing with constantly wet conditions, we have made sure you can find a rope that's up for the job on the list below. So sharpen your tools and get ready to send some vertical ice!
For more of our top ice climbing gear recommendations, check out Best Ice Climbing Backpacks.
Quick Answer

-

The Best Ice Climbing Ropes
Sterling Evolution Velocity

BlueWater Ropes Lightning Pro
Comparison Table

-

Best Ice Climbing Rope

For the best experience turn your device horizontally
Reviews

-

The Best Ropes for Ice Climbing
Sterling Evolution Velocity
Specs
Type

:

Single

Diameter

:

9.8mm

Weight

:

62g/m

Dry Treatment

:

DryXP

Impact Force

:

8.8 kN
Features
Available In Solid Or Pattern Color
Available In Bi-color For An Easy To See Middle Mark
Famous With World Renowned Athletes Like Chris Sharma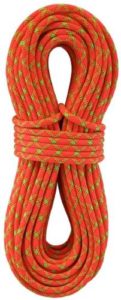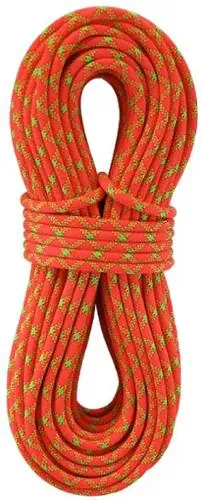 BEST FOR VALUE
Sterling presents the Evolution Velocity. Though it is similar to the Sterling Evolution Helix reviewed below, this rope is slightly thicker and heavier, making it better suited for ice climbs with shorter approaches. With the tightly woven sheath and dry treatment, this rope is so smooth, you won't have to worry about it getting caught up in your belay device.  The smooth finish also means the rope runs easily over rough surfaces without getting caught up on little features.
Because this rope is quite lightweight, very durable, and comes with a surprisingly smooth sheath, it is rather versatile. Because of this, this rope may also be a good choice for multi-pitch climbs that require a longer approach when it's worth carrying a little extra weight.
Beal Booster
Specs
Type

:

Single

Diameter

:

9.7 mm

Weight

:

61 g/m

Dry Treatment

:

Dry Sheath

Impact Force

:

7.3 kN
Features
Available In 60 And 70m Lengths
Bi-color Pattern In 70m Length For Easy To See Middle Mark
Single Colors Have Black Middle Mark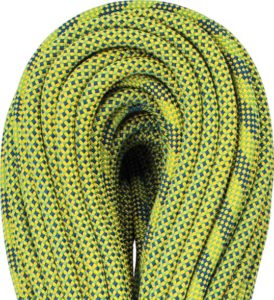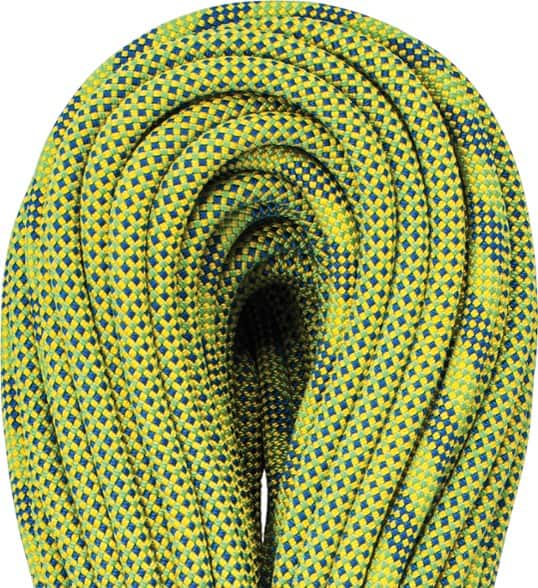 BEST FOR LONG ROUTES
The Beal Booster has been around for years and in this updated version, the III, it is better than ever. A single rope that is still a thinner diameter of 9.7mm, this rope has a dry sheath, making it a good choice on ice where conditions are wetter and you need to keep your rope dry. Available in 60 and 70m lengths, they are both well marked in the middle so you never have to guess how much rope you have left in your climb.
A low impact force of 7.3 kN means this rope gives a soft catch, however, that is not something you want to do on ice! But rather, this means there is some stretch to it, making it a better choice for multi-pitch ice climbing rather than top roping.
BlueWater Ropes Lightning Pro
Specs
Type

:

Single and Double (twin/half)

Diameter

:

9.7 mm

Weight

:

61 g/m

Dry Treatment

:

Standard and Dry

Impact Force

:

7.8 kN
Features
Available In 60 And 70m Lengths
Available In Standard Single Or Doubles
Doubles Available In Bi-color Pattern For Easy To See Middle Mark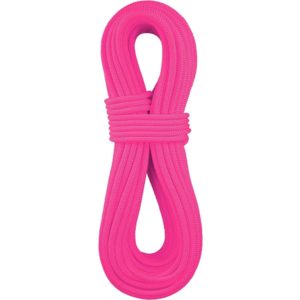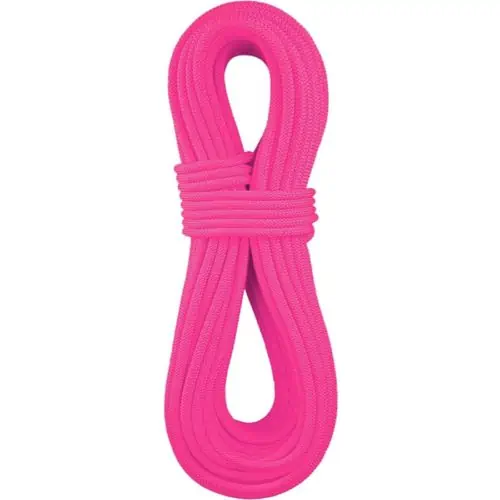 BEST FOR EXTREME ALPINE
Family owned and operated, BlueWater Ropes brings to you the Lightning Pro. Available as a single or double rope, this rope is designed for whatever climbing adventure you choose. However, the dry treatment is available in the doubles, ideal for ice and alpine, where this rope is meant to excel. Still lightweight enough with a diameter of just 9.7mm and a low weight of 61 g/m, carrying two ropes won't be an issue.
Available in a plethora of colors, the doubles have the option of a bi-color pattern as well, to eliminate the guesswork when your partner yells, "How much rope left?" With a high fall rating, this rope will not fail if you do slip off, but remember that you typically don't want to be falling on ice if you can avoid it!
Black Diamond 9.4mm
Specs
Type

:

Single

Diameter

:

9.4 mm

Weight

:

58 g/m

Dry Treatment

:

Dry Performance

Impact Force

:

8 kN
Features
vailable In 60 And 70m Lengths
Full Core And Sheath Dry Treatment Keeps The Rope Dry When Wet
Skinny Diameter Allow Smooth Feeding Through Belay Device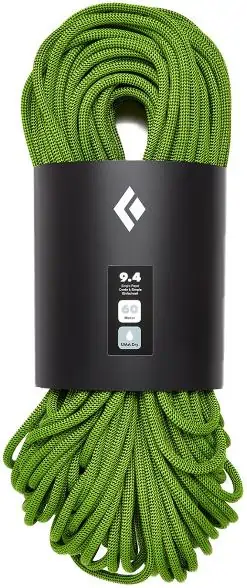 BEST FOR SINGLE PITCH ICE
Black Diamond is new to the scene when it comes to climbing ropes and brings us the new Full Dry climbing rope. Available in both 60 and 70m lengths, this 9.4 mm rope is a good choice for single pitch ice. Because it is lighter weight, you can throw it in your pack and find a nice secluded place to ice climb without worrying about getting exhausted on a long approach from carrying a heavy rope. 
Both the core and sheath are dry treated, allowing the rope to be fully hydrophobic and repel water. And with the dry treatment, you get a really smooth rope that is easy to knot and will run smoothly through any belay device without worrying about it kinking up.
Petzl Paso Guide
Specs
Type

:

Double (twin/half)

Diameter

:

7.7 mm

Weight

:

40 g/m

Dry Treatment

:

Dry

Impact Force

:

6 kN (twin), 10 kN (half)
Features
Clearly Defined Middle Mark So You Know When You've Reached Halfway
Available In 60m Length
Very Lightweight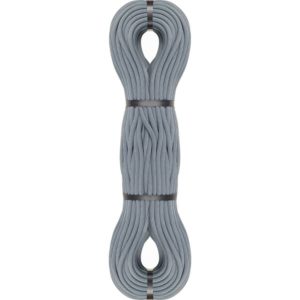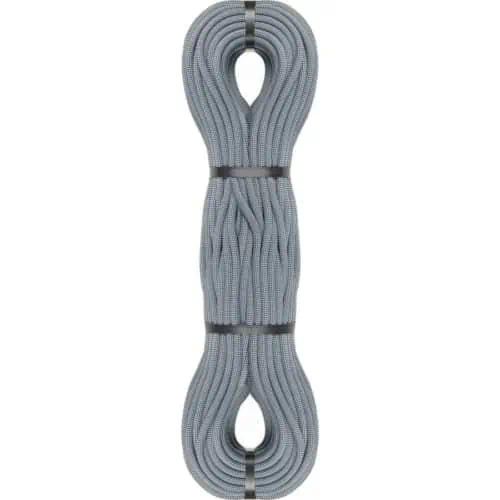 BEST FOR MIXED ICE AND ROCK
The Petzl Paso Guide is a solid choice for your ice climbing season where you may want to get in some mixed climbing or are dealing with some snow. Since both the core and sheath are dry treated, this rope will remain dry in all the mixed conditions you might run into. This dry treatment prevents that crispy layer of ice from forming on the outside of your rope, which would make it hard to belay and could require hours (or even days) to dry fully if the rope were not dry treated. 
Currently available only in a 60m length, this rope is designed to be used as a double rope, either as twins or half. And with the lightweight nature of it, carrying two ropes will not add a ton of extra weight.
Sterling Fusion Nano IX
Specs
Type

:

Single, Double (twin/half)

Diameter

:

9 mm

Weight

:

52 g/m

Dry Treatment

:

DryXP

Impact Force

:

8.5 k/N (Single), 6.6 kN (half), 10.4 (twin)
Features
Available In 60 - 80m Lengths
Bi-color And Middle Marked Color Options So You Always Know When You've Reached Halfway
Skinny And Lightweight
BEST FOR EXPERIENCED CLIMBERS
The Sterling Fusion Nano IX is a great rope for ice climbing, but especially for experienced ice climbers. Because of the thin diameter, it is suited for multi-pitch climbing, and is not your best top rope option. It can be used as either a single or double rope and is available up to 80m in length for those long climbs you have been eyeing.
With a supple and lightweight feel, you can use this rope with any type of belay device knowing it will feed through with ease. And the DryXP treatment ensures that your ropes repel water and maintain their lightweight features.
Beal Joker Unicore
Specs
Type

:

Single, Double (twin/half)

Diameter

:

9.1 mm

Weight

:

52 g/m

Dry Treatment

:

Dry Cover

Impact Force

:

8.2 kN (single), 6 kN (half), 9.5 kN (twin)
Features
Well Defined Middle Mark Is Easy To See
Unicore Design Binds Core And Sheath Together So No Separating
Available In 60 And 70m Lengths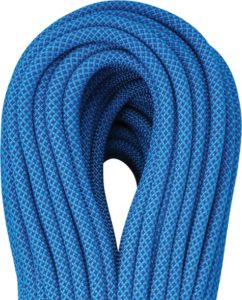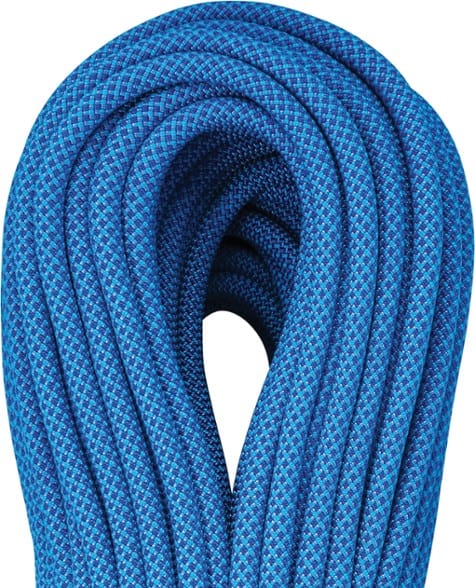 BEST FOR VERSATILITY
Beal makes a second appearance on this list with the Joker. Designed to be a versatile rope, it ticks all three boxes as being able to be used as a single, twin, or half rope. And the Unicore design binds the core and sheath together, so they won't separate from each other should the sheath get damaged or cut. As an integrated rope ("Unicore"), they are then all dry coated to repel water.
Made with more experienced climbers in mind due to its skinny diameter, the Joker can be a little harder to manage and handle than a thicker rope. But this rope is better suited for the alpine weather anyway, so skinny and light is right in those conditions.
Sterling Evolution Helix
Specs
Type

:

Single

Diameter

:

9.5 mm

Weight

:

59 g/m

Dry Treatment

:

DryXP

Impact Force

:

8.9 kN
Features
Available With Black Middle Mark Or Bi-color Pattern So You Know When You've Reached Halfway
Available In 60-80m Lengths
Long-lasting Dry Treatment For Smooth Handling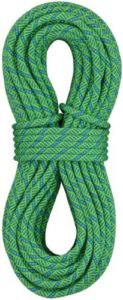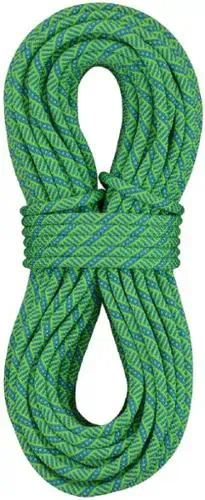 BEST FOR DURABILITY
Sterling has made quite a name in the climbing rope world, and brings us another great, but skinnier option with the Evolution Helix. The thinner diameter also makes this a lightweight rope ideal for longer approaches. This rope can be purchased in varying lengths, so no matter the height of your climb, it will work for you.
Not only is this rope dry treated to prevent breakdown in foul weather, but its overall durability will keep it protected against dirt and all the abuse of being used outside. And even after several months of usage, the rope still remains smooth, so that dry coating really ensures it runs smoothly through the belay device and will not freeze in it.
THINGS TO CONSIDER WHEN BUYING CLIMBING ROPES
COST
Climbing ropes can easily cause sticker shock. But it is important to remember, cutting costs when it comes to your safety can be a huge disadvantage. Ropes are what keep you safe while climbing, so it is worth making an investment. Plus, if you take care of your rope, keep it clean, and store it properly, you will have it for several years, provided there are no huge whippers taken on it. And after you've been using the rope for a few seasons, make sure you heed the advice on when and how to retire a rope.
DIAMETER
The diameter of a rope is a good indicator for what type of climbing the rope is best suited for. Ropes that are 9.8 mm and above are best used for beginners and top roping. Ropes at this diameter are easy to hold and will not slip through the belay device. Ropes that are 9.5 – 9.8 mm in diameter are a good choice for sport and trad climbing, since they are lighter, and overall, easier to manage. Less than 9.4 mm are very light ropes that are often good for alpine or long multi-pitch routes that are best used as double ropes.
LENGTH
Ropes will come in varying sizes from 50m up to 80m in length. Shorter ropes can be ideal for light and fast excursions or short sport climbing routes. Standard rope size is 60m, with 70m or longer ropes more ideal for longer trad climbs.
It is important to consider what you are using the rope for and always remember what length rope you have when rappelling, to make sure you don't accidentally rappel off the end of your rope because it is too short to reach the bottom (and always remember to tie knots in the ends!). Longer ropes can always be cut shorter as they get older to make them closer to a 60m rope and get rid of any worn ends.
TYPE
Single ropes are usually a thicker diameter, and tend to be heavier. These ropes are best suited for top roping single pitch climbs, but can also be used on multi-pitch. However, for multi-pitch climbs where routes can wander and you want to cut weight, you should look at double ropes. Double ropes are skinnier and can be used as twin ropes or half ropes. Twin ropes are both clipped into gear, so each rope operates independently should one rope fail. Half ropes alternate where one rope is clipped left and one rope is clipped right. This helps reduce rope drag. Doubles are especially ideal with two followers.
WEIGHT
While weight is not such a big factor when you are top roping, if you have a long approach, you will be looking to cut down on weight. On longer routes, you want to minimize the weight you are carrying, especially on multi-pitch where you will also be wearing a pack and carrying gear on your harness. And if you are carrying double ropes for your ice climbs, you will definitely want to take weight into consideration.
TREATMENT
Treatment refers to the dry treatment of a rope, meaning the company will coat the rope to help it repel water. Dry treatment not only helps with the longevity of a rope, but it is a non-negotiable feature to have when ice climbing where you are in wet conditions and cannot have your rope absorbing water and freezing. A dry treated rope will have a longer life span, and if you are exposed to the elements on a climb, by not absorbing all the water, the rope will not become heavy.
FEATURES EXPLAINED
UIAA RATING
The Union Internationale des Associations d'Alpinisme (UIAA) is the international mountaineering and climbing federation that creates safety standards to which all climbing ropes must adhere when developing ratings. Fall ratings test rope failure by these standards.
IMPACT FORCE
This term describes how much force is put on a falling weight and is listed in kilonewtons (kN). In general, a higher impact force rating on a rope indicates a softer catch on the climber, belayer, and gear because the rope has more dynamic stretch. Knowing how to give a soft catch is ideal for sport climbing where you are taking a lot of falls, but when ice climbing, you don't want to fall at all so it's okay for an ice climbing rope to have a lower impact force rating.
READ MORE
For more of our top climbing gear recommendations, check out these popular buyer's guides: