Updated on March 2, 2022
Ice climbing is such a cool sport – but it's also a literally cold one. If you're taking up ice climbing, one of the first things you hear about is the "screaming barfies," an extremely painful sensation when your hands warm up after being exposed to extreme cold. One way to try to avoid this condition is to wear good ice climbing gloves. Here at The Adventure Junkies, we can help you choose the best ice climbing gloves to keep you confident holding your ice axe and placing ice screws, while keeping your hands warm enough to prevent the screaming barfies.
For more of our top ice climbing gear recommendations, check out the Best Ice Climbing Backpacks.
Quick Answer

-

The Best Ice Climbing Gloves
Outdoor Research Stormtracker Sensor

Outdoor Research Bitterblaze
Comparison Table

-

Best Ice Climbing Gloves

For the best experience turn your device horizontally
Reviews

-

The Best Gloves for Ice Climbing
CAMP USA Geko Ice
Specs
Closure

:

Velcro

Cuff Type

:

Undercuff

Palm Grip

:

Goat Leather
Features
Layers Are Bonded Together For Better Control & Grip
Waterproof Membrane Keeps Hands Dry
Fingers Are Articulated And Gusseted For Mobility & Dexterity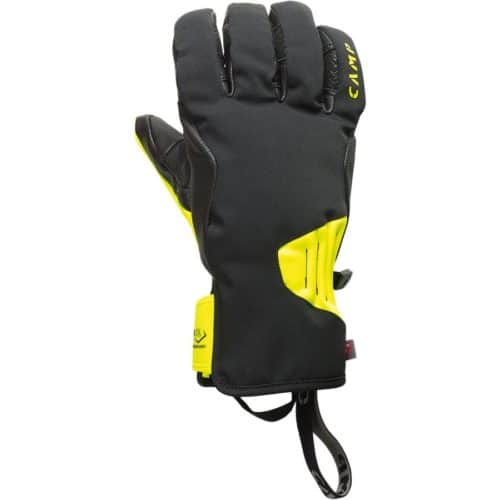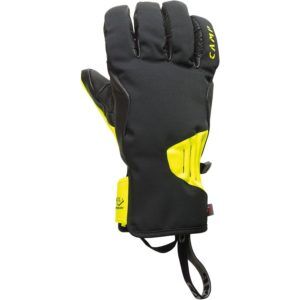 BEST FOR: DEXTERITY PLUS WARMTH
The CAMP USA Geko Ice gloves manage the difficult task of combining dexterity with warmth, thanks to the proprietary No-Slip construction which bonds the layers of insulation and palm leather together so you can still accurately feel and securely grip your ice tools. A waterproof membrane prevents moisture from seeping in, yet still breathes if your hands get sweaty.
The fingers of the Geko Ice are articulated to contour to a natural shape when gripping tools, and the knuckles are gusseted for range of motion. The gloves also have elastic wrist leashes to keep them in place without cutting off circulation.
Black Diamond Punisher
Specs
Closure

:

Velcro

Cuff Type

:

Gauntlet (fits over sleeve)

Palm Grip

:

Goat Leather
Features
Waterproof Liner For Protection From Elements
Soft Fleece Lining Keeps Hands Cozy
Fingers Curved Specifically To Hold Ice Tools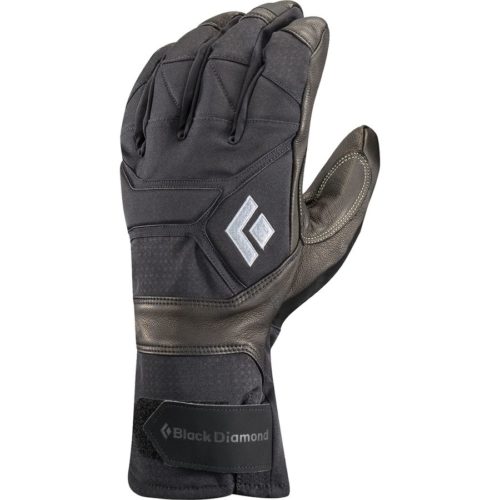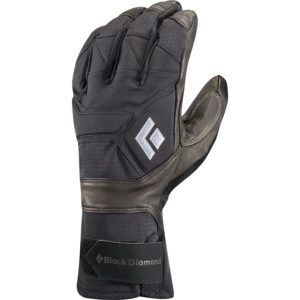 BEST FOR: WET CONDITIONS
When you're ice climbing in the wet and cold, the Black Diamond Punisher Gloves will keep your hands warm and dry. A fleece lining is comfortable to the touch and provides just enough heat while a waterproof liner prevents your hands from getting wet, no matter the conditions you're up against.
The fingers of the Black Diamond Punisher Gloves are pre-curved to properly handle ice tools, and goat leather on the palm all the way through to capped fingers really gives a good grip on all your gear. Padding on the knuckles provides protection when you accidentally bang your hands around as well.
Arc'teryx Alpha SL
Specs
Closure

:

Adjustable Pulley

Cuff Type

:

Undercuff

Palm Grip

:

Leather
Features
Material Completely Blocks Wind From Getting Through To Hands
Designed To Fit Close To Skin For Maximum Dexterity
Pulley Adjustment System Provides Customizable Fit & Easy Closure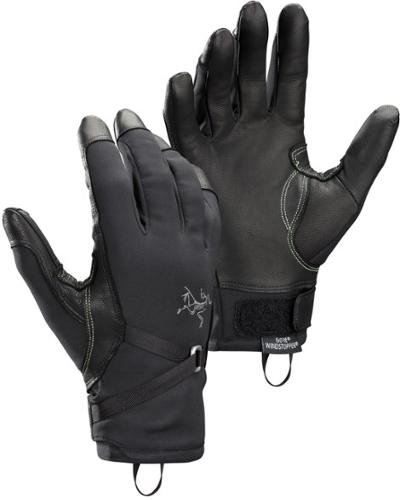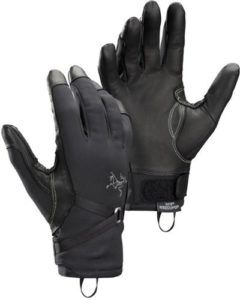 BEST FOR: CUSTOM FIT
The Arc'teryx Alpha SL gloves are form-fitting to provide excellent dexterity and allow you to easily handle ropes and ice tools. A pulley system customizes the fit to give you the perfect grip, while a layer of leather on the palms and fingers offers traction to help you hold onto your gear.
The material of the Arc'teryx Alpha SL gloves is windproof, to keep chilly air from reaching your fingers, and water resistant to keep your hands dry. The fleece lining feels super soft next to your skin and adds an extra layer of insulation for warmth. But while the thinness of these gloves provides the required dexterity for high-level performance, it also means that these are not the warmest gloves, so if you tend to run cold, you might want to consider a different pair.
Outdoor Research Stormtracker Sensor
View Women's Version
Specs
Closure

:

Zipper & Elastic

Cuff Type

:

Undercuff

Palm Grip

:

Goat Leather
Features
Touchscreen-Compatible To Use Phone Or GPS
Zippered Wrist Help You Easily Get Gloves On & Off
Moisture-Wicking Lining Keeps Hands Dry When Active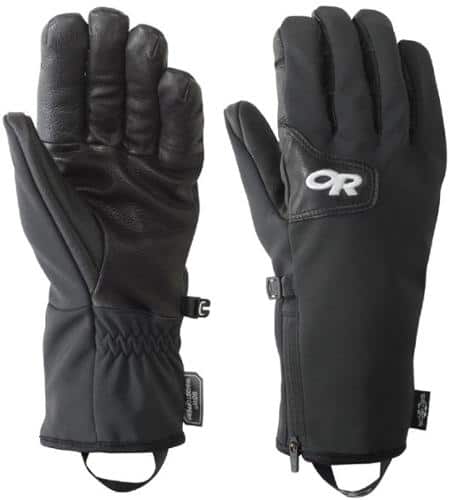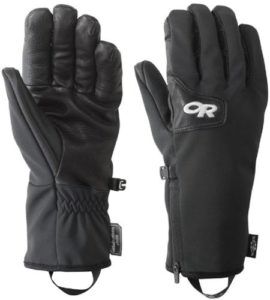 BEST FOR: VERSATILITY
An excellent glove for a variety of conditions, the Outdoor Research Stormtracker Sensor gloves are ideal for ice climbing, but can do double-duty on other winter adventures as well. The Gore-Tex fabric keeps wind and water out, while the soft interior lining keeps your hands comfortable and warm and wicks away moisture if you get sweaty.
The fingers of the Stormtrackers are pre-shaped to make it easy to grasp ice axes and ice screws, and the goat leather palm helps you keep a good grip on these tools. The gloves are also touchscreen compatible, which is very handy if you need to use your phone or a GPS on your ice climbing excursion.
Rab M14
Specs
Closure

:

Velcro

Cuff Type

:

Undercuff

Palm Grip

:

Leather
Features
Windproof Yet Breathable To Prevent Hands From Sweating
Fleece-Lined For Comfort & Warmth
Padding On Pinkie Finger For Protection When Using Ice Axe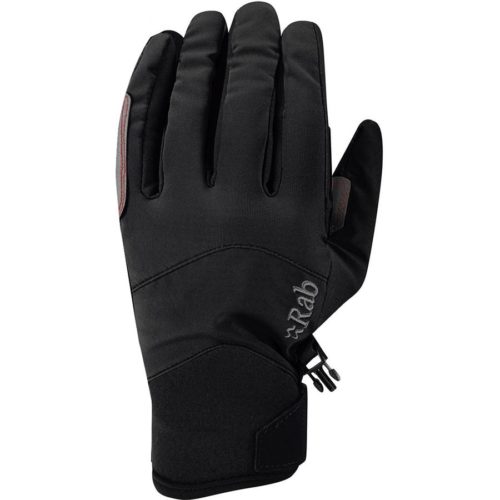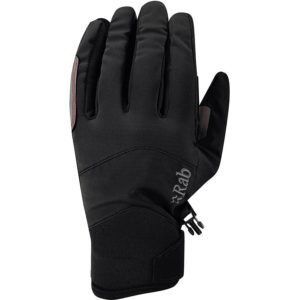 BEST FOR: DRY TOOLING & MIXED CLIMBING
Though the Rab M14 gloves are lightweight, they still provide just the right amount of warmth for mixed climbing or dry tooling before the ice comes in. The gloves are both wind and water-resistant, so they can handle the shoulder season conditions of fall and spring, but they are not fully wind or waterproof, so they aren't the best choice to endure ice climbing in the deep of winter.
The Rab M14 are lightly insulated with a fleece liner, which keeps your hands comfortable while allowing for plenty of dexterity. The leather on the palms is quite grippy and is reinforced for durability. Also, padding on the pinkie finger is specifically designed to protect your little finger when using an ice axe.
Arc'teryx Fission SV
Specs
Closure

:

Cinch Cord

Cuff Type

:

Gauntlet (fits over sleeve)

Palm Grip

:

Goat Leather
Features
Two Layers Of Goat Leather On Palm & Fingers Provides Grip & Increases Durability
Lots Of Insulation Provides Plenty Of Warmth
Waterproof Yet Breathable Shell For Protection From Elements
BEST FOR: ALL-AROUND PERFORMANCE
The Arc'teryx Fission SV is a glove designed with a variety of features that make it an outstanding ice climbing glove. Made from durable softshell material, the glove is abrasion-resistant to stand up to the rigors of ice climbing, and it is very stretchy to provide freedom of movement. The gloves are also ergonomically constructed to give you maximum dexterity when using ice tools.
The long gauntlet cuff on the Fission SV is designed to go over the sleeves of your jacket to prevent snow and ice from getting in, and a Gore-Tex insert means the gloves are waterproof. The interior lining is extremely breathable which means the gloves dry out quickly, an especially nice feature when you're on a trip or just ice climbing for multiple days in a row!
Outdoor Research Bitterblaze
Specs
Closure

:

Velcro

Cuff Type

:

Undercuff

Palm Grip

:

Goat Leather
Features
Gel Insulation Is Placed In Customized Pattern On Palm & Fingers To Maintain Dexterity
Fingers Are Pre-Curved To Make It Easy To Grip Ice Tools
Waterproof To Keep Hands Dry In Wet Conditions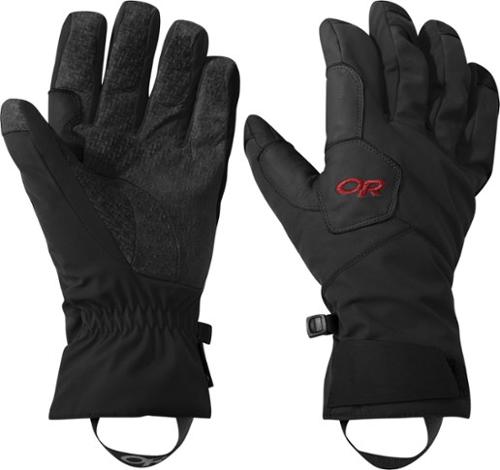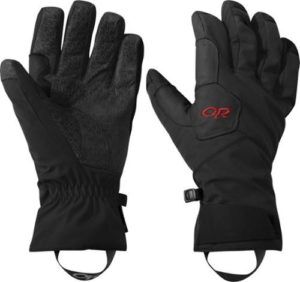 BEST FOR: HIGH TECH INSULATION
Featuring a special type of insulation that was originally developed for space travel, the Outdoor Research Bitterblaze gloves are a new way way to keep your hands warm while maintaining your ability to grip ice tools and other gear. The Aerogel insulation is designed not to compress and it is placed in a pattern of individual panels on the palms and fingers to prevent cold spots.
The Outdoor Research Bitterblaze gloves have a lot going for them as amazing ice climbing gloves, but one possible drawback is the fit. On some people, the fingers might be a little long or feel too roomy, which compromises dexterity. But if the gloves fit your hands well, they are a strong choice for an ice climbing glove.
Hestra Ergo Grip Outdry
Specs
Closure

:

Velcro

Cuff Type

:

Undercuff

Palm Grip

:

Goat & Kangaroo Leather
Features
Removable Liner Can Be Taken Out For Quicker Drying
Waterproofing Is Bonded To Shell To Prevent Leaking
Kangaroo Leather Patches Reinforce Palms For Extra Durability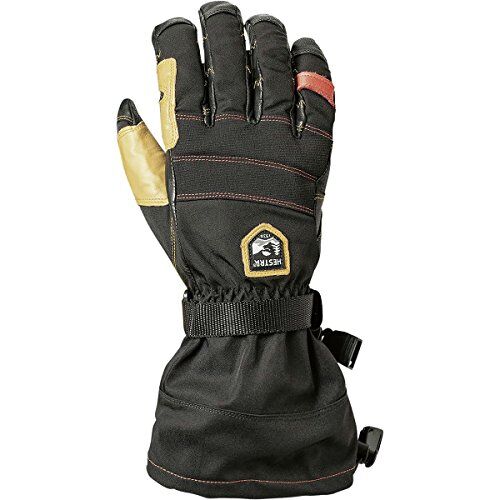 BEST FOR: MOUNTAINEERING
The Hestra Ergo Grip Outdry gloves work well as an ice climbing glove and also perform admirably as an all-around mountaineering glove. They are completely waterproof, thanks to a laminate that is bonded to the outer shell. A removable liner gives you an extra layer of warmth and is easy to take out and dry between days in the mountains.
The fingers of the Hestra Ergo Grip Outdry are articulated so you can move naturally, and the goat leather palms are plenty grippy. Kangaroo leather patches on the palms provide reinforcement so the gloves will last for a long time, even when you're putting them through the paces on a lot of pitches.
THINGS TO CONSIDER WHEN BUYING ICE CLIMBING GLOVES
Although you might think of ice axes and ice screws first, ice climbing gloves are actually an essential part of your ice climbing gear. If you can't feel your fingers because they're too cold, you're not going to be able to properly use your other ice tools – not to mention, you might end up with a case of the screaming barfies.
REI offers some great pointers on how to get started ice climbing, including stressing the importance of choosing the right ice climbing gloves.
INSULATION
While you might think that you would just want the most insulation possible when you're out in cold conditions, it is actually important to balance warmth with dexterity when choosing ice climbing gloves. A layer of insulation that is too thick will mean you can't feel your ice tools, making you prone to fumbling with your gear, which is something you never want to worry about when you're pumped on a pitch.
Some factors to consider when choosing the right level of insulation is how cold your hands to tend to get and what type of conditions you usually ice climb in.
WEATHER RESISTANCE
Most ice climbing gloves feature some sort of resistance to the elements, but not all of them are completely water or windproof. If you tend to find yourself in extreme elements when you're ice climbing, you will want to choose gloves that are waterproof and windproof. But if you ice climb in more moderate conditions, this should be less of a concern.
FEATURES EXPLAINED
GAUNTLET
A cuff that is long and wide in order to fit over sleeves and provide protection from snow and wind.
UNDERCUFF
A cuff which is short and narrow to fit under jacket sleeves.
ARTICULATED
Constructed in a shape that mimics the natural movement of joints.
GOAT LEATHER
A soft yet strong leather that is naturally water-resistant.
READ MORE
For more of our top climbing gear recommendations, check out these popular buyer's guides: