Updated on February 1, 2022
You love spending all your time at the crag, but that summer rock harness is not exactly what you need for your transition to the ice climbing season. Putting away your trad rack also means a transition in climbing harness to ensure you are able to perform your best. While it may seem like there is not much difference what type of harness you wear, it is actually the opposite. A trad rack and ice climbing rack vary, and so does the type of harness that is going to allow you to rack up efficiently for each type of climbing.
We here at The Adventure Junkies have compiled a list of the ten best ice climbing harnesses for you to choose from to make sure that everything you need to take with you has a place on your body. Because the season can be short, you need to maximize your time out there, which is why we've tried to simplify your buying process with this comprehensive list!
For more of our top ice climbing gear recommendations, check out Best Ice Climbing Backpacks.
Quick Answer

-

The Best Ice Climbing Harnesses
C.A.M.P. USA Alp Mountain
Comparison Table

-

Best Ice Climbing Harnesses

For the best experience turn your device horizontally
Reviews

-

The Best Harnesses for Ice Climbing
Black Diamond Couloir
Specs
Adjustable Leg Loops

:

Yes

Haul Loop

:

Yes

Ice Clipper Slots

:

4

Weight

:

7.6 oz

Waist Belt Construction

:

Fusion Comfort Technology

Gear Loops

:

2
Features
Speed Buckles For Easy On/Off With Skis Or Crampons
Hydrophobic Fabric
Highly Compactable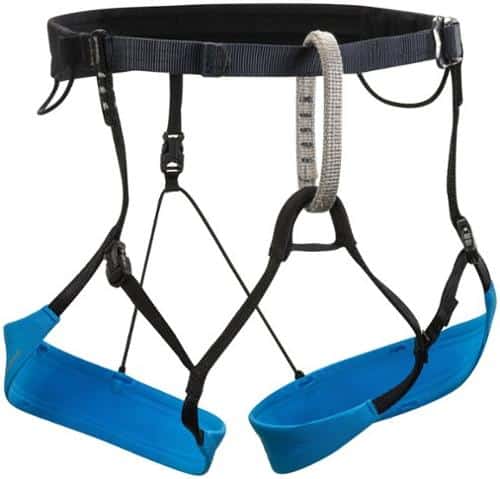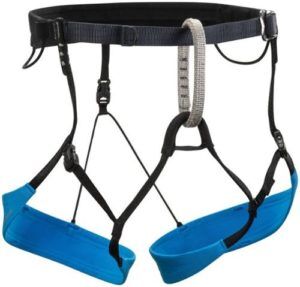 BEST FOR: LIGHTWEIGHT CLIMBING
The Black Diamond Couloir harness is right at home on ice. Designed with speed buckles, this harness can be put on or taken off quickly, eliminating the need to remove your crampons, and can fit around all your layers. Lightweight at only 7.6 oz, this is an ideal option for climbing where you need to go light and fast.
While it only has two gear loops for organization, it does have four ice clipper slots, so you have room for some screws and your axes. Made with Black Diamond's own Fusion Comfort Technology, this harness offers a comfortable fit. And further designed with hydrophobic fibers, it will not absorb water in snowy weather, eliminating the worry of your harness becoming wet, heavy, and frozen! Best of all, it takes up no space at all in your pack, because it reduces to the size of an orange!
Arc'teryx AR 395a
View Women's Version
Specs
Adjustable Leg Loops

:

Yes

Haul Loop

:

Yes

Ice Clipper Slots

:

4

Weight

:

13.93 oz

Waist Belt Construction

:

Double Weave Four Way Stretch Fabric

Gear Loops

:

4
Features
Burly Double Weave Material For Minimal Water Penetration
Orange Wear Safety Indicators On Belay Loop Allow You To See Any Wear
Elastic Loops On Legs Include Stainless Steel Hooks For Durability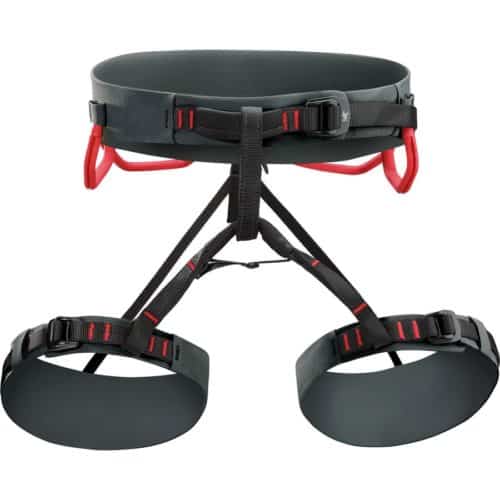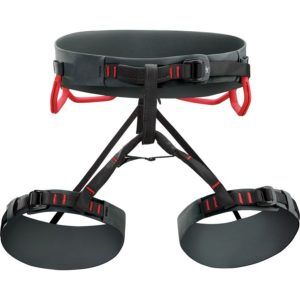 BEST FOR: ALL AROUND ICE CLIMBING
Arc'teryx brings you a lightweight harness that is good for all around climbing, as the AR suggests. While lightweight, it is still a tough harness that will handle all the demands ice climbing presents. The entire harness is made of a burly, double weave material, meaning that even on the wettest days, it will be hard for water to penetrate this harness, so it will dry quickly and keep you warm.
With four gear loops and four ice clipper slots, you can carry a full rack and stay organized and efficient. And because the risks are high enough when ice climbing, Arc'teryx has a built in safety feature on the belay loop and other tie in points. If the material becomes worn and the harness needs to be retired, an orange color will show through, taking all the guesswork out of it and keeping you safe!
Black Diamond Technician
View Women's Version
Specs
Adjustable Leg Loops

:

Yes

Haul Loop

:

Yes

Ice Clipper Slots

:

4

Weight

:

13.8 oz

Waist Belt Construction

:

Fusion Comfort Technology

Gear Loops

:

5
Features
Extra Gear Loop
Speed Buckles On Legs And Waist For Easy Adjustments
Less-rigid Gear Loops For Less Bulk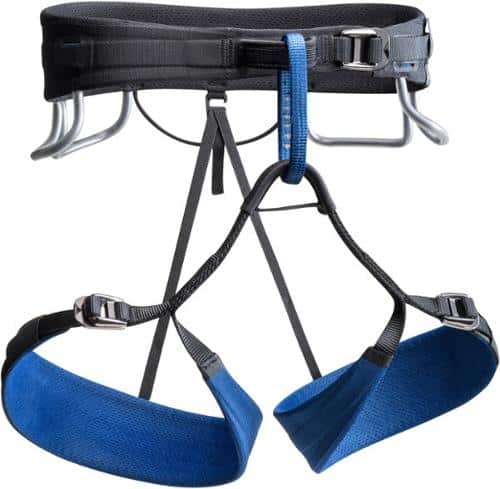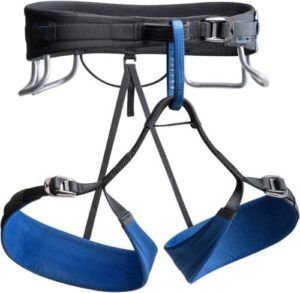 BEST FOR: MULTI-PITCH ICE CLIMBING
The Black Diamond Technician completes the harness line-up for the company as a harness that can be used anywhere, especially on ice! While this harness may seem stiff at first, it is designed with the traditional Black Diamond Fusion Comfort technology that is loved in the other harnesses. So, wearing this harness on long days and multi-pitch climbs won't leave you sore and uncomfortable.
With an additional gear loop, this harness has a total of five (yes, five!) gear loops. The fifth gear loop can be a haul loop, and all the gear loops are built to be less rigid than others, so they won't protrude as much and get you hung up on random objects or make you feel bulky. This is in addition to the four ice clipper slots, so you will be prepared for long ice climbs and have everything you need when the unexpected comes your way.
Petzl Corax
Specs
Adjustable Leg Loops

:

Yes

Haul Loop

:

Yes

Ice Clipper Slots

:

2

Weight

:

15.4 oz

Waist Belt Construction

:

High Strength Polyester Webbing and Foam Padding

Gear Loops

:

4
Features
Two Waist Buckles for Equal Adjustment
Affordable
Super Adjustable So You Can Get Your Perfect Fit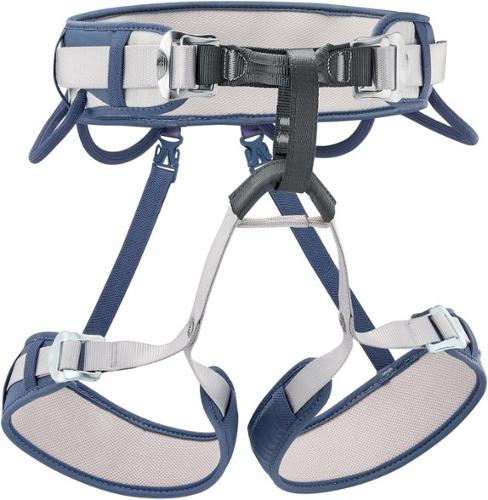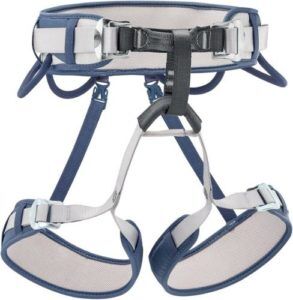 BEST FOR: ADJUSTABILITY
The Petzl Corax has been a popular harness for some time in all realms of climbing, including ice climbing! An affordable, unisex harness, it comes in two sizes. When you are adding and removing layers and wearing large boots with crampons, you need to make a lot of adjustments just to get a climbing harness on and off. The highly adjustable leg loops allow for you to easily fit this harness over all your winter layers, including your boots.
Built with a high-strength polyester, the waist of this harness is super durable and comfortable. It is also designed with two double-backed buckles to make fine tune adjusting and a perfect fit effortless, all while keeping the belay loop centered in place. Designed with two ice clipper slots, this harness can be used for ice climbing, but might leave you desiring a bit more storage space.
Black Diamond Vision
Specs
Adjustable Leg Loops

:

No, elastic

Haul Loop

:

Yes

Ice Clipper Slots

:

4

Weight

:

7.9 oz

Waist Belt Construction

:

Hydrophobic, Flexible, Vectran Fibers

Gear Loops

:

5
Features
Fixed Leg Loops With Elastic Risers For A Snug Fit
Shell-less Design To Cut Weight And Bulk
Ultra-light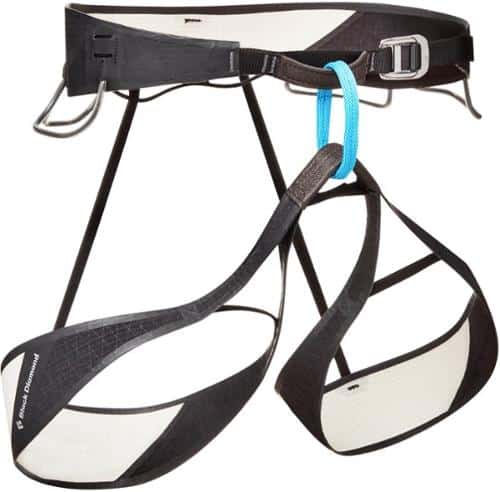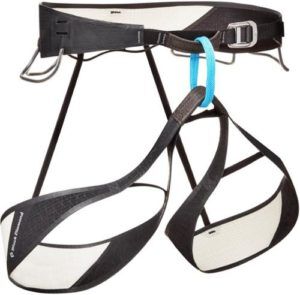 BEST FOR: WET WEATHER
Barely registering on the scale at 7.9 oz, the Black Diamond Vision is an ultra-light harness. Highly packable, this harness is also made without a shell, so it is quick drying, in addition to being lightweight. While you can go light and fast, you still have everything you need to ice climb.
Featured on this harness are four gear loops and a fifth loop for gear or hauling. Four ice clippers slots make room for all your screws and ice tools for a day's play. Made with a speed adjusting waist belt, you can quickly secure it around all your layers. However, the leg loops are not adjustable, so putting this harness on before your boots and crampons is going to make your life easier. While not adjustable, the leg loops do have elastic risers for some stretching and of course a secure fit.
C.A.M.P. USA Alp Mountain
Specs
Adjustable Leg Loops

:

Yes

Haul Loop

:

Yes

Ice Clipper Slots

:

6

Weight

:

9.2 oz

Waist Belt Construction

:

Nylon Webbing

Gear Loops

:

3
Features
Auto-locking Steel Buckles For Added Safety
Highly Compactable And Lightweight
Fully Adjustable Leg Loops For Ease Of Putting on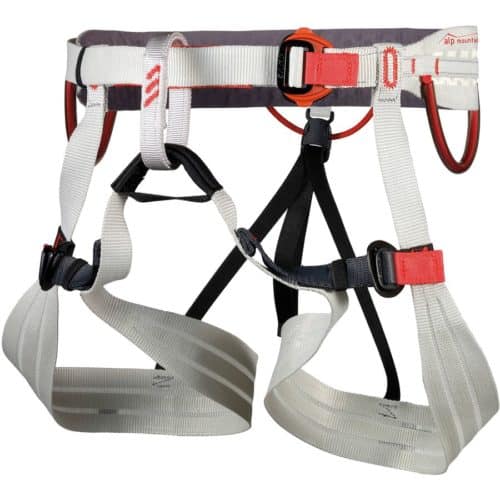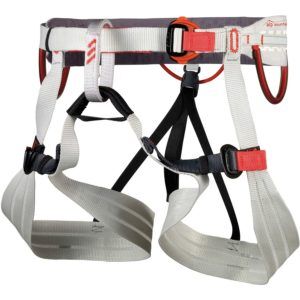 BEST FOR: THE MINIMALIST
A highly functional harness, C.A.M.P. USA Alp Mountain harness says it in the name – it is meant to be out in the winter. Weighing only 9.2 oz, this harness is light and packs down super small to fit in your pack and it won't make you feel bulky while you're wearing it.
Fully adjustable leg loops mean you can put it on even after you've donned your crampons. And with auto-locking steel buckles on the waist and legs, you can ensure that when you are adjusted and locked, you will stay that way. While there only three gear loops, with the third even doubling as a haul loop, this harness is made with six ice clipper slots that allow the same amount of storage for all your screws and gear.
THINGS TO CONSIDER WHEN BUYING ICE CLIMBING HARNESSES
COST
A harness will certainly not be your most expensive piece of gear for ice climbing, so looking solely at the price tag is not going to do you many favors. While spending a few extra bucks on an ice climbing harness may seem pointless, it can get you a harness that is a bit more durable, have a few extra essential or convenient features, and one that will hold up longer.
CLOSURE AND FIT
Getting a harness with a solid fit at both the waist and leg loops can be not only more comfortable for long days, but can make your life easier in general. Most ice climbing harnesses will have just one adjustable buckle in the waist to simplify and cut down on weight and time spent adjusting. Having two buckles, however, can make sure you get the harness seated appropriately. But adjustability is key for a good fit. And the same goes for leg loops. Buckles add weight, but also makes a harness highly adjustable, which means it will be easier to fit over your bulky boots and crampons.
LOOPS
Gear loops are just as important in ice climbing as in rock climbing for keeping your gear sorted and organized. Maybe even more important since the risks are higher on ice! Gear loops will be used to hold draws, screws, belay devices, etc. Most harnesses have a minimum of two gear loops, but having more will keep you better sorted when climbing ice.
WEIGHT
Light means fast, and if you are in need of a harness that is minimalist because you are trekking many miles to your destination, weight is important. The more features a harness has, the more it will weigh. However, when you are ice climbing, you need to remember that you need ample features to place screws and tools and appropriate numbers of ice clipper slots to hold your tools, so those gear loops will carry a few extra ounces. But those few extra ounces can keep you organized, and can help the harness last longer and be more durable.
FEATURES EXPLAINED
ICE TOOL CLIPPER SLOTS
Ice tool clipper slots are slits in the waist of the harness, either behind the buckle and belay loop or between the gear loops or both. The number of slots will vary by harness, but the purpose is to insert an ice too clipper into the slots to be able to hold your ice tools when they are not being used. These clippers are also ideal for racking ice screws and keeping everything organized so you don't end up fumbling around looking for the right sized screw while on lead.
DRY TREATED
As with climbing ropes, dry treated harnesses are referring to the way the material is woven to prevent it from absorbing water. Not only will a dry treatment keep you harness dryer, it will also keep your clothes dry, considering they are next to the harness, making for a much more positive experience. Furthermore, the less moisture your harness collects, the faster it dries, so you are not putting on a damp harness the next day.
READ MORE
For more of our top climbing gear recommendations, check out these popular buyer's guides: