Updated on July 6, 2022
Like your own personal floating dock, a paddle board provides a refreshing way to explore the water from a comfortable platform on the surface of your favorite water source. And contrary to popular belief, you don't have to know how to surf to enjoy the sport of SUP (standup paddleboarding)! If you're a woman who's drawn to the serene simplicity of paddleboarding, you might be wondering how to choose the right SUP board for you among the best paddle boards for women.
Women tend to appreciate the designs of their boards, and their body frames require boards that are specifically sized for them. The paddle boards we've selected to review all offer provisions specific for women. We've narrowed down the options based on stability, quality, and intended use so you can get the most out of your ride.
For more of our top paddle boarding gear recommendations, check out the Best SUP Boards.
Quick Answer

-

The Best Paddle Boards for Women
Red Paddle Co. Ride Inflatable

Advanced Elements Lotus YSUP

Surftech Bark + prAna Aleka V-Tech
Comparison Table

-

Best Paddle Boards for Women

For the best experience turn your device horizontally
Reviews

-

The Best SUP Boards for Women
Red Paddle Co. Ride Inflatable
Specs
Type

:

Inflatable

Weight

:

21 lbs 12 oz

Size

:

10'6" x 32" x 4.7"

Weight Limit

:

220 lbs
Features
Cushioned Deck Pad (for extended comfort underfoot)
Multiple Carry Straps (to load in and out of the water)
Included Storage Pack, Hand Pump, Repair Kit, and Water-Resistant Phone Case
Bungee Strap Tie-Downs (for extra storage)
Three Tracking Fins (to help you stay on course)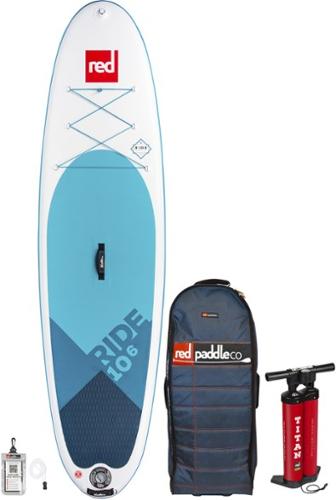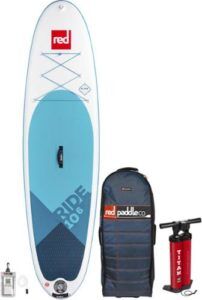 BEST FOR: DAY ADVENTURES ON AND OFF THE WATER
Say you want to go camping or backpacking, but you also want to get off the land and explore the water while you're out. You can pack this lightweight board and your gear into the included backpack and make your way through the wilderness, by land or water. The board inflates in minutes with the included hand pump, so you can set sail on a whim.
The embossed deck pad provides a non-slip surface to help you achieve balance. The placid color scheme helps you become part of the scenery so you can become one with the natural world. The surprisingly rigid surface and three tracking fins allow you to glide with smooth control.
Advanced Elements Lotus YSUP
Specs
Type

:

Inflatable

Weight

:

28 lbs

Size

:

10' x 32" x 6" inflated

Weight Limit

:

200 lbs
Features
Includes: Three Tracking Fins, Storage Bag, And Hand Pump
Removable Carry Strap
3 Rear D-rings (for secure storage of belongings)

BEST FOR: YOGA SESSIONS AND RELAXING
With its sizeable platform and 6" depth, this paddleboard limits shakiness while you're moving through your asanas. A grippy traction pad covers the generous surface area to keep your downward dog from turning into a belly flop. The pad features a chic lotus and grid pattern just like you'd appreciate on your yoga mat.
The double-layered material of the inflatable board gives you extra reassurance against pokes and punctures, so you're sure to stay afloat. The included hand pump with built-in pressure gauge ensure you reach the ideal high-pressure stiffness for stability.
Pau Hana Malibu Classic
Specs
Type

:

Solid

Weight

:

31 lbs

Size

:

10'6" x 34" x 4"

Weight Limit

:

249 lbs
Features
Included Adjustable Paddle
Lightweight
Molded Handle for One-Armed Carry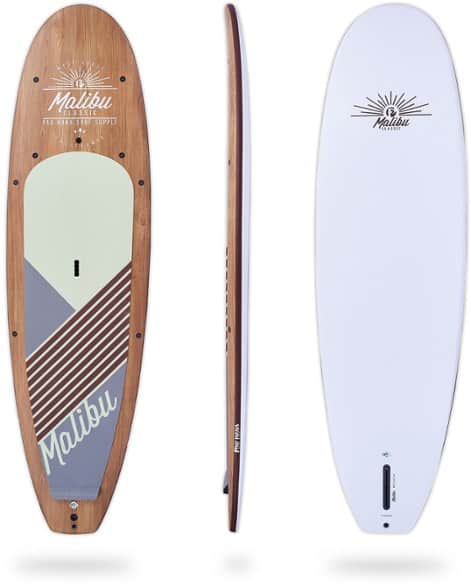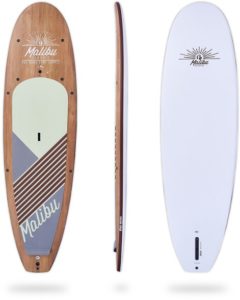 BEST FOR: ENTRY-LEVEL TOURING AND SURFING
Surfing takes loads of practice and effort to master the technique. If you're interested in surfing the water, but not necessarily gnarly waves, this inflatable paddle board lets you experience the water without any fuss. With zero preparation, you can launch this SUP from virtually anywhere.
The wooden look and simple, anti-slip deck pad blend into the chill vibes of being on the water. The board has a hole for a padlock for secure storage, multiple mounts for bungee cords, and a leash cup so you can personalize your board however you like it. Throw the board on your bike rack and pull it out whenever you get the urge to partake in some healthy water therapy.
Boardworks Kraken
Specs
Type

:

Solid

Weight

:

29 lbs

Size

:

10'3"' x 34" x 4.75"

Weight Limit

:

230 lbs
Features
One Tracking Fin (to help you stay aligned when paddling)
Lightweight
Recessed Carry Handle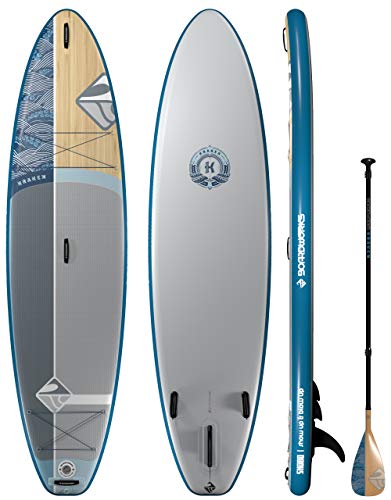 BEST FOR: SHORT DISTANCE PADDLES
The Kraken is your go-to board for touring flat water and riding over a bit wavyer territory. The slim design handles waves with grace while the non-skid deck pad makes you feel sure-footed minus the achy feet.
On the looks side, this board is all dressed up when you have nowhere in particular to be! The high-end bamboo deck features cool graphics you're going to want to flaunt. Whether you want to lie back and sunbathe on the deck or glide across remote streams, you'll look good–and feel competent–doing it. Your only obstacle will be getting the theme song from The Little Mermaid out of your head.
Boardworks SHUBU Muse
Specs
Type

:

Inflatable

Weight

:

18 lbs

Size

:

10' 2" x 31" x 5"

Weight Limit

:

190 lbs
Features
Included Roller Bag, Hand Pump, and Patch Kit
Tracking Fin
Thin and Lightweight
4 D-Ring Tie-Downs and Bungee Storage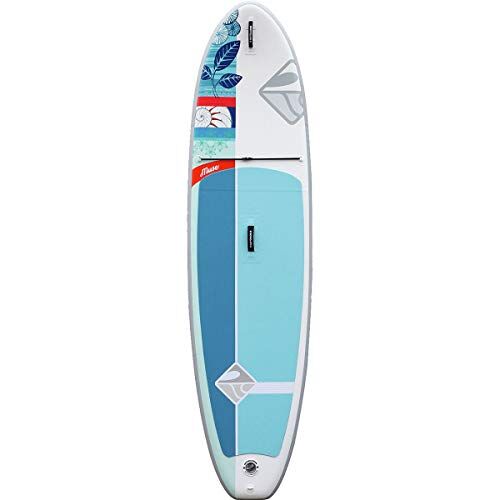 BEST FOR: RECREATIONAL EXPLORATION
The cool thing about inflatable paddle boards is you can tour any waters you come across with minimal preparation. The Muse allows beginners to tour lakes, rivers, and streams on its stable platform. If you plan to be on the water for a little while, throw a six-pack under the bungee tie-downs and attach a snorkel and dry bag to the D-rings. The foam deck pad keeps your feet happy through the whole ride.
Resilient material provides a strong barrier against floating debris without creating extra weight. Comfortable carry handles allow you to hoist the board to and from your favorite launch spot. The whites, blues and grays of the board design blend with the vibe of the open water.
SereneLife Inflatable
Specs
Type

:

Inflatable

Weight

:

19.6 lbs

Size

:

10' x 30" x 6"

Weight Limit

:

275 lbs
Features
Included Pump, Carry Bag, Leash and Paddle
Three Tracking Fins (to help you paddle in the right direction)
Lightweight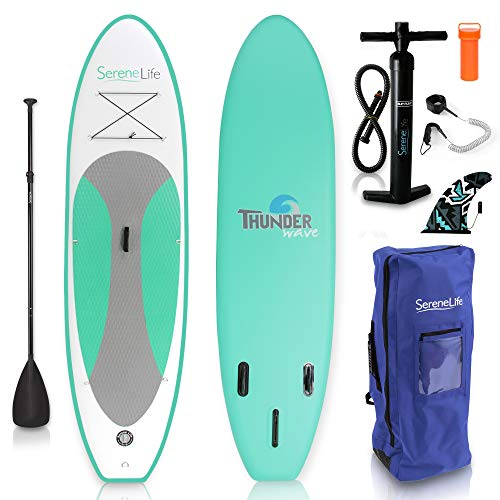 BEST FOR: ALL-AROUND CRUISING ON A BUDGET
If you want to get onto the water without thinking about anything else, this quick inflatable board makes it happen on a whim. The easy price allows you to test the SUP waters without submerging your budget.
For this price, you can get one for each kid in your family too. With its three tracking fins, the board has easy maneuverability that makes it easy to learn on. It comes with everything you need to get right on the water too, including a paddle, leash, and hand pump. Ready, set, ride!
Pau Hana Calypso
Specs
Type

:

Inflatable

Weight

:

24 lbs

Size

:

11'6" x 34" x 6"

Weight Limit

:

338 lbs
Features
Removable Kayak Seat
Bungee Storage
Included Paddle, Hand Pump, Storage Bag, And Repair Kit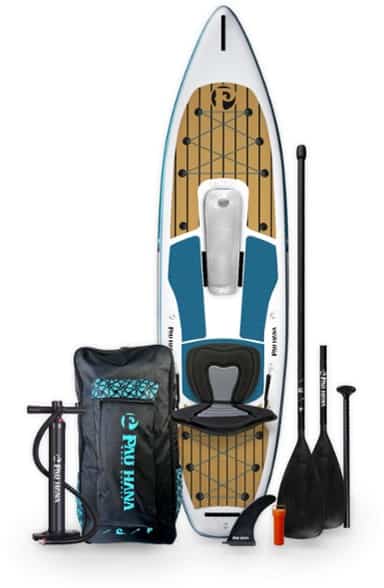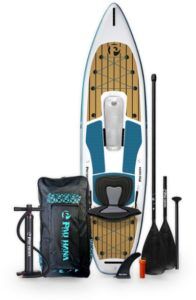 BEST FOR: TRANSITIONING BETWEEN KAYAKING AND PADDLEBOARDING
If you've always wanted to try both kayaking and paddleboarding, this versatile vessel lets you try both on one ride. The floating deck lets you get closer to the water than you could ever get with a boat or canoe. In fact, a cool little window on the deck of this board even lets you watch the marine life float on by underneath you.
The deck pad also gives your bare feet traction when you're on the move. When your feet start to get tired from standing, you can always sit back in the removable kayak seat and keep paddling. Pack your snacks and camera in a dry bag and strap them in the built-in bungee storage on both ends.
Surftech Bark + prAna Aleka V-Tech
Specs
Type

:

Solid

Weight

:

24 lbs

Size

:

10' 4" x 30" x 4.5"

Weight Limit

:

170 lbs
Features
Tracking Fin (to keep you aligned when paddling)
Middle and Rear Handles
4 Storage Tie-Downs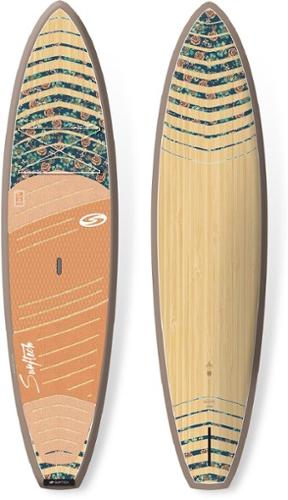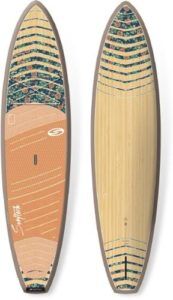 BEST FOR: COLOR-COORDINATED CRUISING
The first thing that catches your eye about this board is its sporty-chic custom artistry. Every time you look down, you'll be delighted to see the stylish florals next to nature's ripples. The prAna swimwear line even offers suits to match, if you're into the matchy look.
Not just an A+ in the looks department, this board's construction also makes it both durable and lightweight, so you can hoist it by yourself. Renowned board designer Joe Bark collaborated on the board design, so you can trust it's going to be good. The foam deck pad offers a sure-footed grip while the narrower profile lets you build up some speed.
THINGS TO CONSIDER WHEN BUYING A PADDLE BOARD
COST
Paddleboards range in price from a few hundred dollars up into the thousands. Cheaper models offer all the basics you need to learn on while more expensive models tend to have more sport-specific features. When you compare the cost of a paddle board to a boat or other watercraft, you actually get quite a bit of fun out of the low price.
If you're a beginner paddle boarder, it's up to you how much you want to invest. If you know you'll only use the board occasionally, you might not want to spend as much. However, if you appreciate all the bells and whistles, you can find them in the pricier models. Here's more information on how to choose a stand-up paddleboard to help make your decision easier.
WEIGHT
Paddleboards tend to weigh less than any other type of non-motorized watercraft such as kayaks or rafts. However, they can still weigh upwards of 40 lbs, so you may want to consider how much you can lift. If you're used to hoisting toddlers and gym iron, you shouldn't have a problem with a SUP that weighs less than 50 lbs (which includes all of the boards on this list).
WEIGHT LIMIT
Every paddle board also has a weight limit. Check the weight limit of your board against your bodyweight to determine if it will work for you. The boards can usually handle a bit more than they're weighted at, but they become a little more difficult to steer with extra weight.
STYLE
C'mon ladies, you definitely look at how cute the design is before purchasing water toys, right? Well, most of these boards have high style quotients without being too cutesy (read: your teenage son wouldn't drop dead being seen on it). Every year, board developers update their designs so you can stay on-trend.
USE
Most paddleboards are designed with a specific purpose in mind, whether leisure- or sport-related. You can certainly use any of the boards on this list for recreational sightseeing, but some have more specific uses than others (i.e. yoga, fishing, racing, etc). If a particular use is important to you, then make sure to pay attention to the Best For category before choosing which board to purchase.
STABILITY
The shape of the board determines whether it's going to be a little more tipsy (faster) or stable (slower). While some level of instability makes you a stronger yogi, you don't want to get too carried away. The width, depth, and bottom profile influence stability. Click here to learn more about what makes a paddle board more stable.
FEATURES EXPLAINED
DECK PAD
The deck pad is the layer of foam or other material on the top of the board that gives you traction. Think about walking across a wet floor. The deck pad is the surface that keeps you from slipping and falling, especially when moving through sun salutations. Some deck pads also feature a little bit of padding to keep your feet happy through hours of standing.
TRACKING FINS
These little fins attach to the bottom of the board to help keep the paddleboard on course. Paddle boards, especially inflatable versions, often get pushed around by the wind, but tracking fins help you straighten them out.
LEASH
A leash is a strap that attaches from your wrist or ankle to your paddle board to keep you from losing it on the water. If you fall off your board, your leash will keep it within your reach so you don't have to chase after it. Some boards come with a leash while others come with an attachment point for one. Shop stand up paddleboarding leashes separately.
ATTACHMENT POINT
Attachment points are slots or holes where you can attach your gear with a carabiner or other type of clip. Paddlers attach any number of items to these points including paddles, coolers, wet bags, leashes, anchors, and other necessities. You can also attach your board to someone else's when you want to stay together.