Updated on November 3, 2020
Can you hear it? The water is beckoning. Whether you're looking to soak up some sun, use a new method for fishing, or test your yoga skills in an aquatic setting, you're going to need the best budget paddle board around. If you're just getting into standup paddleboarding (SUP), you'll want to find the intersection of quality and affordability with the right features for your chosen activity.
Budget considerations are always in play from beginners to experts alike and unless you're a sponsored athlete, you probably don't need a top-of-the-line SUP. These budget-friendly boards will get you on the water without breaking the bank to allow you to hone your skills before making a big investment. We've picked these top 5 inexpensive paddle boards with different applications in mind while focusing on companies with a reputation for quality.
For more of our top paddle boarding gear recommendations, check out the Best SUP Boards.
Quick Answer

-

The Best Budget Paddle Boards
Starboard Touring Lite Tech
Comparison Table

-

Best Budget SUP Boards

For the best experience turn your device horizontally
Reviews

-

Best Paddle Boards on a Budget
Starboard Touring Lite Tech
Specs
Type

:

Solid

Length

:

12' 6"

Weight

:

29 lbs

Width

:

32"
Features
Improved Stability
Australian Pine Wood Deck
Front & Rear Bungee Cables
2 Accessory Mounts for GoPro, Navigation, or Phone
Includes: Built-In Shoulder Strap And Upright Water Bottle Holder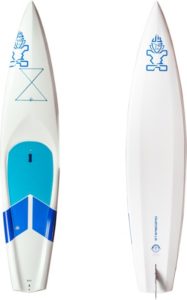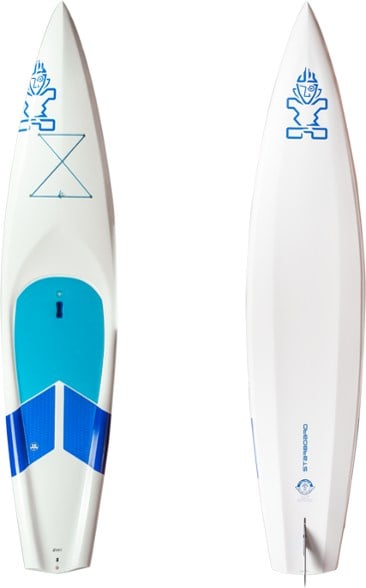 BEST FOR: LONG DISTANCE TOURING
When it comes to touring (long distance paddling), you're going to need a solid-type board that is sculpted with a planing hull – think of a V-shaped front like a sailboat or a kayak. This design choice is non-negotiable when trekking long distances and won't be found in inflatable versions.
Starboard has been serving up quality boards since 1994 and their Touring Light Tech is the perfect budget paddle board for the adventurous beginner. This board starts with a sharp slicing nose that pushes water outwards and then transitions into a racing inspired design that reduces friction and surface tension.
The Touring Light Tech also sports a recessed deck, providing a lower center of gravity and thus more stability for the paddler. Just a heads up: this is the only board on the list that doesn't come with a paddle.
Elkton Outdoors Grebe
Specs
Type

:

Inflatable

Length

:

12'

Weight

:

26 lbs

Width

:

36"
Features
Textured Deck Pad
2 Removable Fishing Rod Holders
Front and Rear Cargo Bungees
Comes With A Paddle
Includes: Carrying Case, Manual Pump, Detachable Fin, and Ankle Leash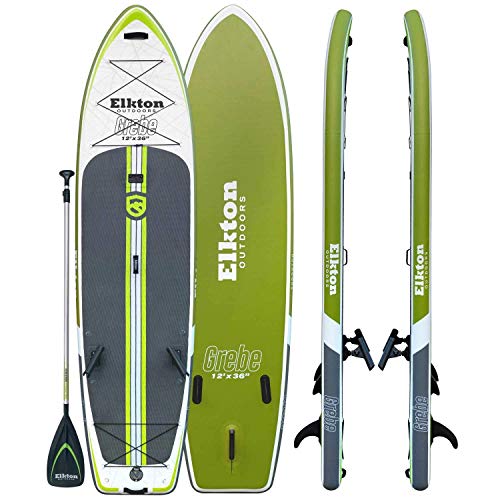 BEST FOR: FISHING
Since 2006, Elkton Outdoors has been crafting quality paddle boards specifically designed with the angler in mind. The most prominent features of this budget paddle board are the 2 removable fishing rod holders and the front and rear cargo bungees for holding gear, ice chests, and more. Covering the top of the board is a textured EVA deck pad to ensure you stay sure-footed while reeling in your next catch.
Rounding out this great deal, the Elkton Outdoors Grebe also includes a paddle, manual pump, carrying case, detachable fin, and an ankle leash. You've already spent enough on fishing gear as it is, no need to break the bank with 'extras' when this deal includes all you need to get you on the water in no time!
Specs
Type

:

Solid

Length

:

10' 6"

Weight

:

29 lbs

Width

:

32"
Features
EPS Foam Core
Solid Outer Shell
Comes With A Paddle
Polished Wood Grain Deck
Includes: Detachable Fin, Ankle Leash, and Waterproof Phone Case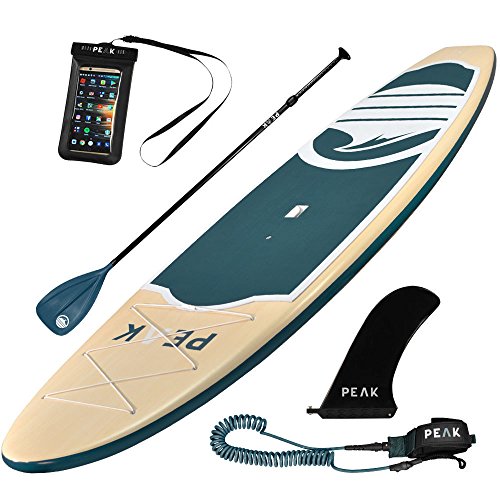 BEST FOR: SURFING
So you're wanting to hit the surf at your local beach? You're going to need a board that will contour properly to the waves you intend to carve. The Peak Navigator is an ideal budget choice for paddle board surfing because the hull has a bit of "rocker" to it as opposed to being "flat." This subtle design trait gives you more maneuverability as you slice and carve waves.
Moreover, this solid-type board is made with a lightweight Extruded Polystyrene (EPS) foam core and then finished with a Molded Thermoplastic Polycarbonate outer shell, giving you the solid foundation underfoot to aggressively hit the ocean.
Isle Lotus
Specs
Type

:

Inflatable

Length

:

10'

Weight

:

20 lbs

Width

:

32"
Features
Large Deck Pad
Compact and Lightweight Design
Comes With Lightweight, Yet Durable Paddle
Includes: Carrying Case, Manual Pump, And Ankle Leash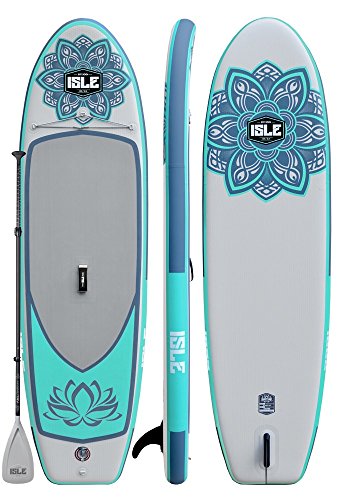 BEST FOR: YOGA
If you're wanting to focus on the more serene aspects of paddle boarding, the Isle Lotus is the best budget paddle board for learning balance and distributing weight while taking on your morning yoga routine.
Equipped with a large deck pad and measuring in at 32" wide, you'll have plenty of room to perfect your vinyasas while gliding across the glistening morning water. The Isle Lotus is also an inflatable SUP, making it super comfy when sitting down and perfect for storing in your car – you could totally hit a morning SUP yoga sesh before heading to the office!
Tower Adventurer
Specs
Type

:

Inflatable

Length

:

9' 10"

Weight

:

24 lbs

Width

:

32"
Features
Drop-Stitch Technology
Diamond Grooved Deck Pad
Military Grade Construction
Comes With A Paddle
Includes: Carrying Case, Manual Pump, And Detachable Fins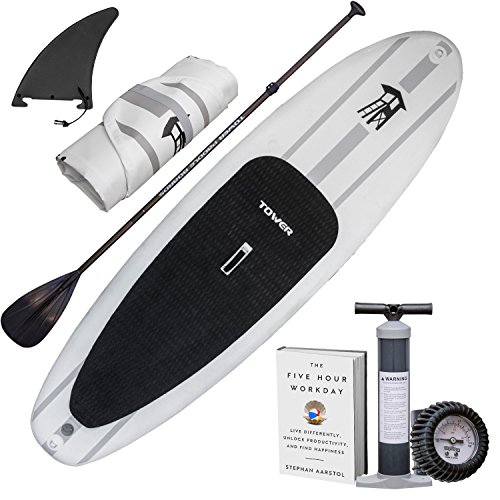 BEST FOR: LIMITED STORAGE OPTIONS
Let's face it, not everyone has a garage or a shed to store their gear, let alone a vehicle that will haul a 16-foot paddle board. Fear not! Enter the Tower Adventurer. You may be questioning the durability of an inflatable SUP, but rest assured this is no pool toy.
The Tower Adventurer is made from military-grade materials with a drop-stitch technology that performs better than many traditionally built SUPs. At 6'' thick and just 24 lbs in weight, the Tower Adventurer can hold up to 200 lbs. with little flex while staying lightweight and easy to carry.
THINGS TO CONSIDER WHEN BUYING PADDLE BOARDS
COST
When you're just starting out, you might not want to throw all your money at your new sport until you're better acquainted with brands, performance type, and other factors that might impact your buying decision. It's great to have reliable budget options that you can test the waters in before you go all-in.
The principle "you get what you pay for" applies here. All of the options mentioned here are much better choices for beginning standup paddle boarders than a sub-$500 board made by a no-name company.
CONSTRUCTION
There are many different types of paddle boards, but all SUPs are either going to be an inflatable or a solid construction. They both have their benefits and it all depends on your needs.
Inflatables tend to be less expensive overall and are a great choice when storage space and transportation options are limited. Almost all inflatables come with a backpack style carrying case, making them an ideal choice when hiking into your chosen SUP location. Moreover, they tend to be more forgiving if dropped and are ideal when paddling whitewater. And before you ask, yes you can surf a SUP in up to Class III river water!
Solid constructions are more traditional and are a fantastic choice if you have the space to store it and a vehicle rack to safely transport your board. The solid design also allows you to choose different hull types for better performance depending on the activity. This is especially important if you have surfing or touring in mind. Lastly, solid boards tend to have a better center of gravity as they sit lower in the water than an inflatable.
HULL TYPE
The hull is the shape of the underside of a standup paddle board. There are two basic hull types when it comes to standup paddle boarding: planing hulls and displacement hulls. Your chosen activity will determine what type of hull is best for you.
A planing hull is flat and usually wide – this makes it great for stability and maneuverability for activities such as yoga, surfing, fishing, and whitewater.
A displacement hull has a pointed nose that helps push water out and away – think of a V-shaped front like a sailboat or a kayak. This is essential when paddling long distances as it helps your board to track better in the water.
LENGTH
Standup paddle boards come in three ranges of lengths that contribute to the overall specific purpose of the board.
Boards up to 10' long are ideal for surfing.

Medium-length boards between 10' and 12' are the most common length, and are great for pretty much any use; it's the most versatile length for manufacturers as it fits a variety of uses.

Anything over 12' is designed for speed and distance, making it a great length for touring, camping, and racing. That said, boards over 12' are most likely going to be a solid construction and will not only be more expensive, but also require ample storage space.
WIDTH
Generally speaking, the wider the board, the more stable the paddler will feel. 32'' is a standard width for most SUPs and is the preferred width for someone who needs a lot of space, such as those practicing yoga or anglers reeling in the catch.
Anything narrower than 32'' is ideal for speed, distance, and surfing, but may feel less stable to the beginner. Body type is also a consideration when choosing a width. Larger paddlers will require a wider board to maintain stability while a smaller paddler should choose a narrower board. Too wide of a board for a smaller framed paddler can make it difficult to paddle.
VOLUME AND WEIGHT CAPACITY
SUP volume is measured in liters and points towards the overall weight capacity (measured in pounds) of the board. The higher the volume of the board, the more weight it can carry.
This is especially important for anglers and campers as they have to consider the weight of their onboard supplies in addition to their own weight. Each board will list the weight capacity of the paddler as well as the overall weight capacity of the board.
Be careful when pushing the limits on this metric, as an overloaded board will sit lower in the water causing more drag and making it difficult to paddle. Thinking like a lightweight hiker here is important. A few extra pounds will multiply the force required to move the board, and the longer the distance, the harder it will be to paddle.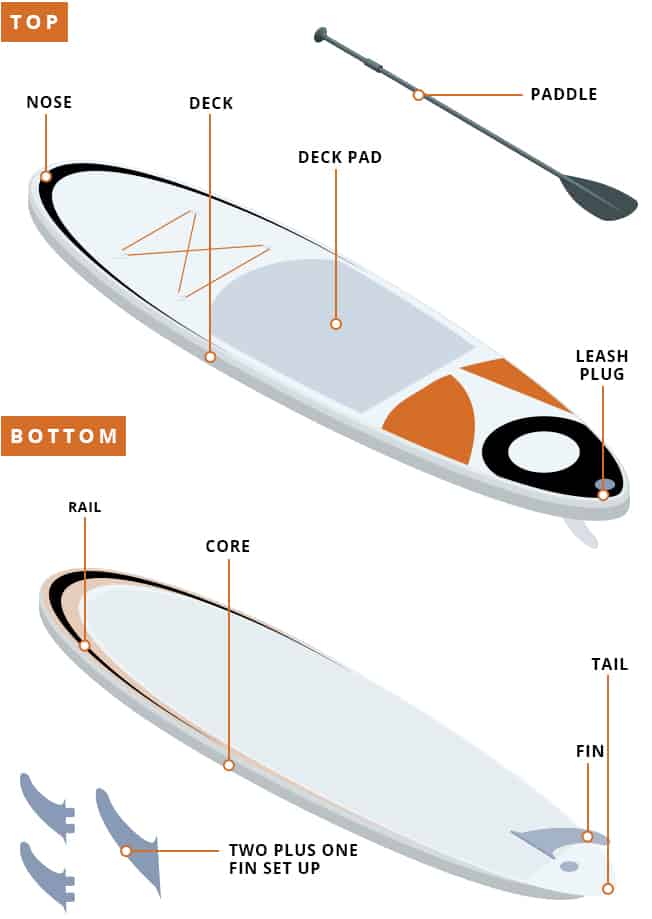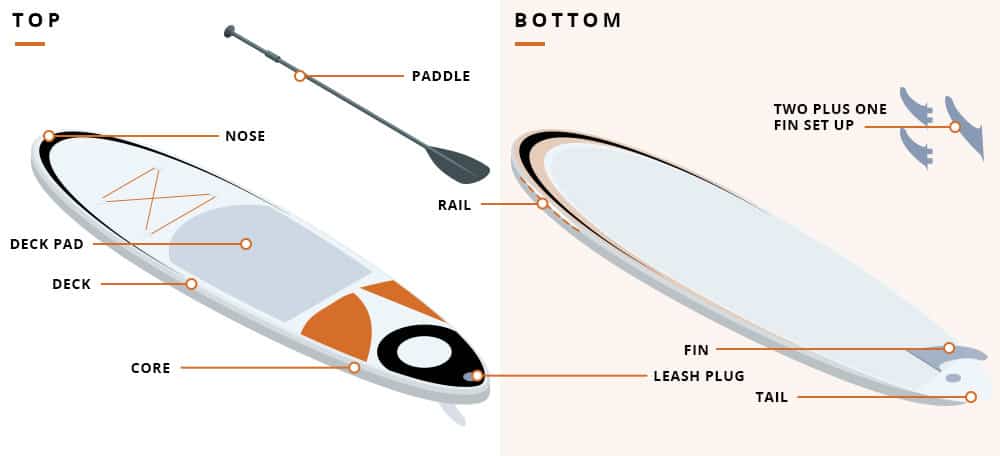 FEATURES EXPLAINED
EPS
Stands for extruded polystyrene, which is a lightweight, buoyant, and waterproof material.
THERMOPLASTIC POLYCARBONATE
A plastic chemical compound that has outstanding impact resistance.
EVA
Stands for ethylene-vinyl acetate material, which offers padding and shock absorption.
DROP-STITCH
An innovative and high-tech material that uses thousands of high strength threads to join materials together.
DECK
The area of the board where the paddler stands.