Updated on November 3, 2020
Standup paddle boarding (SUPing) is much more than a fad or a way to take cool photos for Instagram. SUPing is also a great full body workout because it forces you to engage your core and challenges your balance. Learning how to stand up and paddle efficiently on a paddle board is easier than you might imagine, but it's really helpful to have one of the best paddle boards for beginners to ease your learning curve.
As a paddle boarding beginner, you'll want a board that's simple and easy to get on the water quickly. If you choose the right paddle board, you'll actually spend more of your time paddling rather than fiddling with technical aspects of your board at the water's edge. In this article, we're going to give you more information on 10 of the best paddle boards for beginners.
For more of our top paddle boarding gear recommendations, check out the Best SUP Boards.
Quick Answer

-

The Best Paddle Boards for Beginners
Hobie Adventure Inflatable

BIC Sport Cross TOUGH-TEC

BIC Sport ACE-TEC Cross Fit

Surftech Alta Air-Travel Inflatable

Red Paddle Co Voyager Tandem

Aquaglide 10′ Cascade Inflatable
Comparison Table

-

Best SUP Boards for Beginners

For the best experience turn your device horizontally
Reviews

-

The Best SUPs for Beginners
Pau Hana Big EZ Angler
Specs
Length

:

11'

Weight

:

36 lbs

Paddlers

:

1

Style

:

Solid
Features
Wide Design (for larger paddlers)
Broad Hull (for better stability)
Wooden Deck Finish (with real teak!)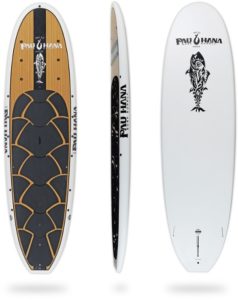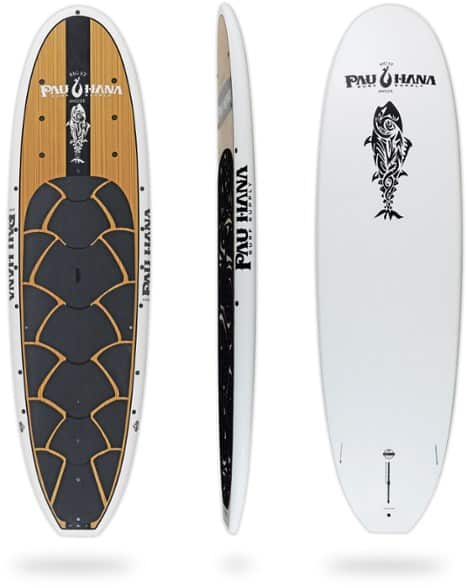 BEST FOR: LARGER PADDLERS, FAMILIES, AND ANGLERS
This paddle board is great for larger paddlers because it is 36 inches wide. The board's fiberglass construction makes it more resistant to contact with rocks, logs, and any other hard (and potentially damaging) objects that your board comes into contact with.
The Big EZ Angler is a great board for anglers because is offers a total of 25 attachment points that give you plenty of places to screw in gear, bolt down coolers, secure fishing rod holders, and attach any other gear that's essential for reeling in your favorite catch. It also boasts an attachment for a fish finder, which helps you track and locate fish.
Hobie Adventure Inflatable
Specs
Length

:

10' 6"

Weight

:

28 lbs

Paddlers

:

1

Style

:

Inflatable
Features
Included Roller Bag (for easy and compact storage)
Rigid Design (for more stability)
Easy Inflation And Deflation
Built-In Carry Handle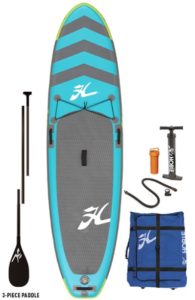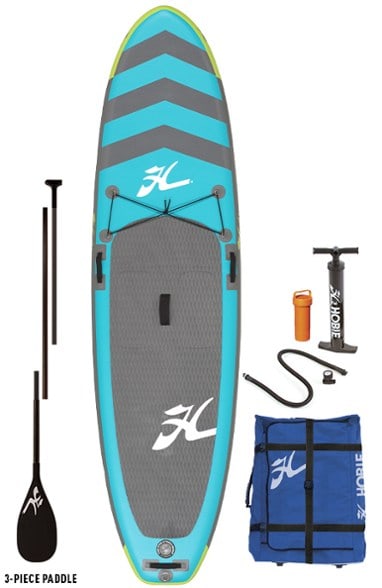 BEST FOR: JET-SET PADDLERS
This inflatable paddle board comes with all the accessories you'll need to get started. It also conveniently packs up so that you can take it with you anywhere, even if you're traveling by plane. The entire bundle includes the inflatable paddle board, rolling storage bag, pump, three-piece paddle, and repair kit.
The designers of this paddle board also made sure that it holds more than 18 pounds per square inch (PSI) of air pressure. This means that the board stays rigid while you paddle instead of gradually collapsing in on itself, like some of the earliest inflatable paddle boards tended to do.
BIC Sport Cross TOUGH-TEC
Specs
Length

:

11 ft

Weight

:

38 lbs

Paddlers

:

1

Style

:

Solid
Features
Full Length Plush EVA Deck Pad (for comfort underfoot)
Keeled Nose (for enhanced tracking and smoother glide)
Ergo-Grip Carry Handle (for easy transport)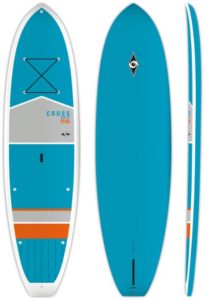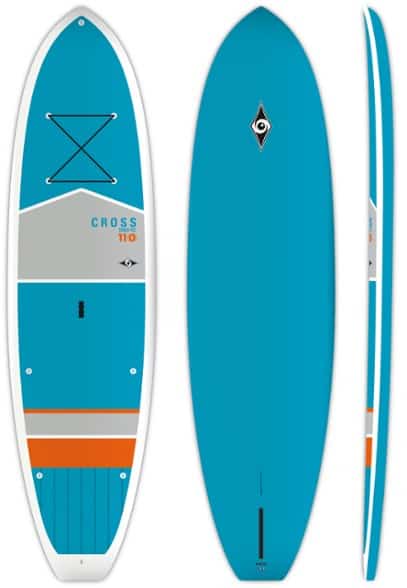 BEST FOR: FAMILY FUN, YOGA, FITNESS, FISHING
This paddle board is ready for any style of SUP adventure, and it's also a great choice for first-time paddlers on flatwater. The board features a full-length deckpad which makes the entire board surface useful for a variety of activities, including fishing, yoga, and bringing small children or your dog along for a paddle.
This paddle board is a great selection for beginners because it's wide design makes it incredibly stable. This design also increases your odds of a dry ride. The board's keeled nose works to maximize glide and improve tracking so that you'll have the smoothest and most efficient paddle experience possible. The board's easy-to-grip carrying handle and light weight also make it easy to transport from home to the shore of your favorite waterway.
BIC Sport ACE-TEC Cross Fit
Specs
Length

:

10'

Weight

:

28 lbs

Paddlers

:

1

Style

:

Solid
Features
High Volume Design (to keep you dry!)
Flat Deck With Full Pad (for extended comfort while standing)
Six Attachment Points

BEST FOR: FAMILY-FRIENDLY FLATWATER
This paddle board performs well in a wide range of conditions and will be universally useful to introduce your whole family to the sport of paddle boarding. Its keeled nose works to guarantee a smooth paddling experience and its full high-volume design significantly improves stability for beginning paddlers. This design makes the board sit higher up and out of the water so that you're more likely to experience a dry ride. It also gives you full use of the entire deck for your preferred activities.
In combination with a full-length deck pad, this board's design makes it versatile for fitness, yoga, fishing, or a casual family paddle. The embossed EVA pad on its deck is also incredibly comfortable and helps you grip the board and stay balanced. As you gain experience and seek out longer paddle experiences, this board includes six attachment points that allow you to secure all the gear you'll need for a whole day on the water.
Red Paddle Co Ride
Specs
Type

:

Inflatable

Length

:

10' 6"

Weight

:

21 lbs 12 oz

Paddlers

:

1

Style

:

Inflatable
Features
All-Terrain Storage Backpack
Lightweight Construction
Cargo Tie-Downs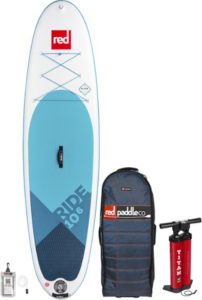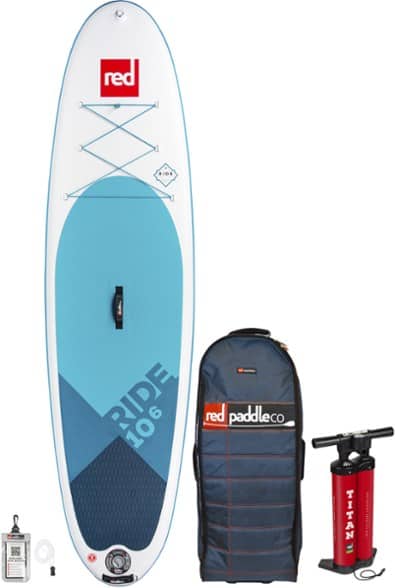 BEST FOR: THE FULL PACKAGE TO GET YOU STARTED
One of the main concerns about inflatable boards is that they aren't as rigid as a solid board, but the RIDE from Red Paddle Co. puts those concerns to rest. It performs similarly to a solid board, but comes in a package that's still deflatable and able to roll up and go with you anywhere. The RIDE comes in an All-Terrain backpack and includes a pump, repair kit, and water-resistant phone case.
The board's lightweight construction reduces its overall weight by about 4.4 pounds and helps the board to maintain its rigidity even when not fully inflated. This paddle board comes with a lightweight Titan Pump that features a dual-chamber system and a high-flow handle. In short, it can pump air into your board at speeds up to 60 miles per hour. From a practical standpoint, this means a lot less time standing on shore pumping your board up and more time out on the water.
Boardworks Solr
Specs
Length

:

10 ft 6 in

Weight

:

26 lbs

Paddlers

:

1

Style

:

Solid
Features
Lightweight Design
Adjustable, 2-Piece Carbon Paddle
Comfortable Deck Pad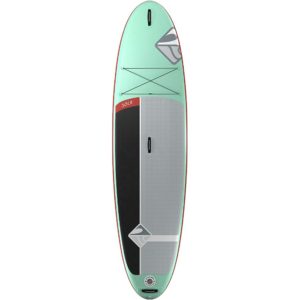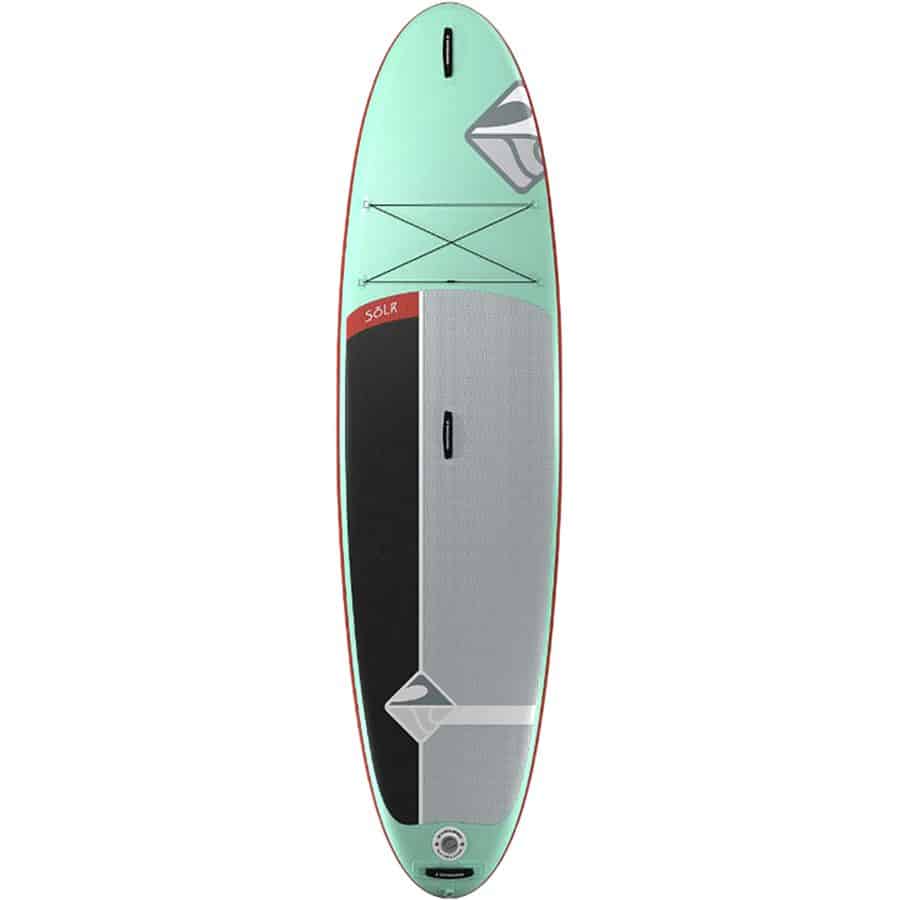 BEST FOR: COMFORT ON FLATWATER, PERFORMANCE IN THE OCEAN
The Solr is a great paddle board for smaller beginners that want the type of rigidity that a solid board offers without having to lug a heavyweight board around every time you want to go out. Boardworks used expandable epoxy in this board's design, which reduces waste, saves weight, and ensures a strong bond between the core, cloth, and resin.
The board comes with a two-piece carbon paddle. Carbon paddles, in general, tend to be a lot more lightweight and easy to use than paddles made from other materials. As you start to head out for longer and longer paddles, you'll want to bring more gear along with you. This board offers a total of four tie-downs and a bungee system for gear storage.
Boardworks Sirena
Specs
Length

:

10' 4"

Weight

:

36 lbs

Paddlers

:

1

Style

:

Solid
Features
Durable, Lightweight Construction
Convenient Carrying Handle
Comfortable Foam Deck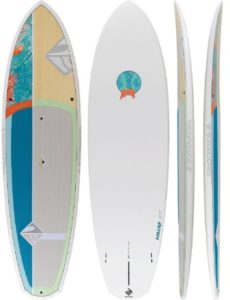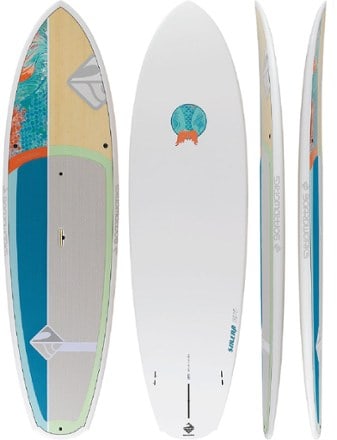 BEST FOR: ALL-AROUND USE ON FLATWATER OR THE OCEAN
The Sirena paddle board is constructed to be both lightweight and durable. It features a core made of low-density, machine-cut, and hand-shaped foam. The core is then hand-laminated with epoxy resins and fiberglass cloth. It also includes a bamboo core sandwiched between layers of foam that adds extra strength and makes this board more resistant to drops and dings.
This paddle board comes with a foam deck pad that helps you grip the board without causing excessive foot fatigue, which is a phenomenon that happens to many new paddlers as they try to grip the board and gain added stability. With two tie-down points and an adaptable fin setup, this paddle board is also adaptable for ocean use and longer excursions once you gain more experience.
Surftech Alta Air-Travel Inflatable
Specs
Length

:

10 ft

Weight

:

26 lbs

Paddlers

:

1

Style

:

Inflatable
Features
Plenty Of Storage Compartments
Padded Seat And Thigh Braces
Foot Braces (to improve posture)
Carrying Backpack (for compact storage)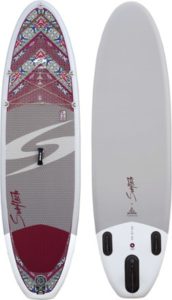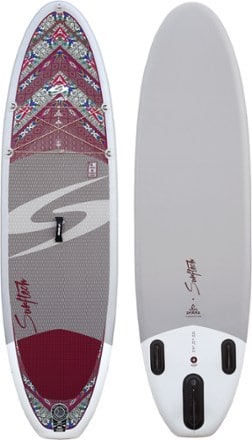 BEST FOR: THE TRAVELING PADDLER
If you're looking for a paddle board that can keep up with you as you jet from one travel destination to the next, the Surftech Alta Air-Travel is a great choice. It features a removable, 9-inch soft fin that easily locks into place with a keyless screw when you're ready to go and can be stowed away when in transit. Its padded handle also allows you to easily carry it across short distances once it's inflated.
This inflatable paddle board is constructed with two layers. The upper and lower layers are stitched together and a sealing coat is applied to the entire board to make it withstand exposure to sunlight. It's a very lightweight board that can still hold up against the rigors of a traveling lifestyle. The board also offers four deck tie-downs for securing gear and comes with a backpack for easy carry or compact storage.
Red Paddle Co Voyager Tandem
Specs
Length

:

15'

Weight

:

38 lbs 1 oz

Paddlers

:

2

Style

:

Inflatable
Features
Diamond-Cut Deck Pad (for improved grip and stability)
Soft Touch Carry Handles (for easy transportation)
Eight-Inch Thickness

BEST FOR: PADDLING WITH A FRIEND
The Voyager Tandem was awarded Outside Magazine's "Best Group Vessel" distinction in 2018's Summer Buyer's Guide. The board's diamond-cut deck pad includes embossed detail that improves its grip and your ability to remain stable when paddling, especially when you have a partner on board. The board is eight inches thick, which serves to boost its overall volume and further improve its stability.
This board offers a total of seven soft-touch carry handles and two luggage spaces with tie-downs to keep items secure even if you and your partner do happen to go for an unexpected swim. The board's compatibility with Railblaza and Ram Mounts products allows you to attach a mobile phone, action camera, paddle, or fishing rod so that you're truly ready for any SUP adventure.
Aquaglide 10′ Cascade Inflatable
Specs
Length

:

10'

Weight

:

22 lbs

Paddlers

:

1

Style

:

Inflatable
Features
Storage Backpack (for compact storage and transportation)
EVA Deck Pad (for increased comfort while standing)
Small Packed Dimensions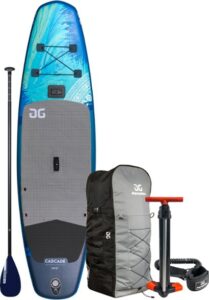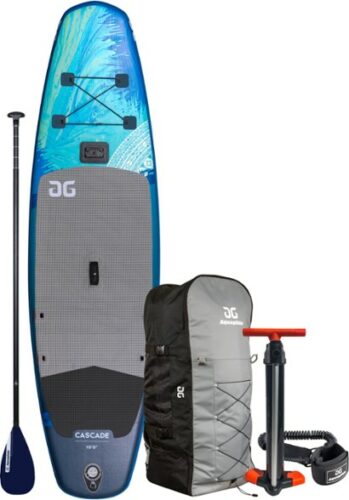 BEST FOR: FLATWATER PERFORMANCE AND DURABILITY
The Aquaglide Cascade paddle board will allow you to paddle on multiple lakes or gentle rivers this summer without worrying about installing roof racks on your car or having a 10-foot board sticking out your SUV's rear window. When deflated, this board packs into an included backpack with dimensions of 33 x 20 x 10 inches so that it easily fits in your car's trunk or your closet at home.
This board is constructed with thousands of drop-stitch fibers that span the interior of its inflatable area. These fibers allow it to achieve and maintain a nearly rock-hard inflation pressure so that you can more easily balance on a rigid board on the water.
It's also designed to withstand the use and abuse that comes with most active families with kids, or with traveling. This board's EVA deck pad provides great traction and comfort while the Powerstrips on the hull help to improve its responsiveness to every paddle stroke.
THINGS TO CONSIDER WHEN BUYING YOUR FIRST PADDLE BOARD
INFLATABLE VS. SOLID
Most of the rental or guide companies that offer paddle boarding lessons will start folks out on solid boards because a rigid board is much easier for beginning paddlers to learn on.
However, the technology used in inflatable paddle boards has improved drastically over the last several years. Improvements in fibers and stitching methods have made inflatable paddle boards able to hold greater air pressure, which makes them more rigid and easier to balance on.
If you already have a way to attach a board to the top of your vehicle or safely transport it in the back of a truck and you'll primarily be paddling on one or two local waterways, you'll be better off opting for a solid board.
If you're unsure exactly where you want to be paddling every time or you don't have a great way to transport a board that's longer than 10 feet, the inflatable options are going to be your best bet.
WEIGHT
While paddle boards are much easier to carry than kayaks and canoes, they still require you to transport them safely from your vehicle to the water. If you're a smaller paddler, carrying a 50-pound board every time you want to go out isn't ideal.
Even if you buy an inflatable paddle board, you'll most likely want to inflate it fully at your car before carrying it down to the water. When shopping for your ideal paddle board, make sure it weighs a reasonable amount that you feel comfortable carrying by yourself or that it includes enough carrying handles for your whole family to help carry a larger, multi-person board.
DECK PAD GRIP
The deck pad of a paddle board is responsible for the traction and comfort of your feet. A lot of what makes the best deck pad grip depends on personal preference.
Diamond cut deck pads tend to offer better grip, but some paddlers wind up complaining that it actually causes their feet to fatigue more quickly. Conversely, standard deck pads are still made of foam, but are generally flat. This makes them more comfortable, but they don't offer as much grip.
FEATURES EXPLAINED
HULL
The hull of a paddle board is the surface that sits underwater once you climb on. At the tail of the board's hull is where the fin or fins will be attached. Most paddle boards feature a flat hull that make them easier to maneuver.
CORE
The core of a paddle board determines its strength and rigidity. The core connects the upper and lower layers of the board's materials to create the inner structure. Inflatable boards don't have a rigid core, so they rely on high-strength stitching to hold air pressure and give the board rigidity.
DECK
The deck of the paddle board is where you stand, sit, or kneel when paddling. This is also the area where you can strap down gear using bungees or D-rings. Some decks also include storage compartments where you can keep gear dry.
DECK PAD
The deck pad is generally made of foam and provides both grip and comfort for the paddler standing on the board. Depending on its design, some deck pads are more designed for grip while others are designed for comfort.
DIAMOND CUT
Diamond cut deck pads use a diamond shape to provide extra traction. These pads are much better at retaining their grip when they get wet.
EVA FOAM
One term you'll see associated with paddle board deck pads a lot is EVA, which stands for ethylene-vinyl acetate. In short, it's a type of foam that has a rubber-like softness and flexibility.
TEAK DECK
Teak is a tropical hardwood used popularly in wooden boat construction. It is a beautiful hardwood with an abundance of natural oils and rubber locked into the tight grains of the wood.
RAIL-TO-RAIL VOLUME
The term "rail" refers to the side or edge of the paddle board. Many boards that are designed for racing have rails that reduce the board's overall volume. In other words, they have a low rail-to-rail volume. This allows the board to move faster and respond more quickly to the paddler's strokes.
With paddle boards for beginners, however, a higher rail-to-rail volume makes the board more stable. In turn, this makes the board easier for beginners to balance on. Boards with greater rail-to-rail volume also sit higher in the water and increase the likelihood that you stay dry while paddling.
FIN (OR FINS)
The fins that attach to the hull of a paddle board are what allow you to steer. They extend down into the water so that you can turn left or right when you desire. Some boards come with a single-fin design while others feature multiple fins. In general, more fins means that a board will be more responsive to your paddle strokes.
NOSE
The nose is the front of your paddle board. It is what should be pointing at your desired destination whenever you're paddling. A keeled nose is designed to break the water ahead of your board more efficiently. This makes paddling easier and decreases overall resistance.
LEASH
Most paddle boards have a place near the tail of the board where you can attach a leash (the leash plug). This leash then attaches to whichever ankle you prefer. Usually, Velcro is used for better adjustability. A leash is really important to keep your board close to you if you do happen to fall off while learning how to SUP.
TAIL
The tail is the back of your paddle board. The board's fin (or fins) will attach at the tail on the hull (bottom). If your board comes with a leash, it will attach at the tail to the leash plug on the deck.