Updated on April 14, 2021
As you settle into a paddling rhythm, you notice your body is warm and loose. You feel strong and light as the miles disappear behind you without even so much as a hint of fatigue. Finally able to relax, the sounds of nature move you into a state of kayaking zen. This is because you chose to listen to the Adventure Junkies experts and invest in one of the best touring kayak paddles money can buy.
With a focus on lightweight construction, ergonomic design, and extreme durability, these paddles effortlessly slice through the water. The efficiency of your stroke is partially informed by the quality of gear you use, and choosing one of these paddles will push you further on each trip with less overall effort.
An investment in one of these paddles will last you years upon years due to their highly durable construction and quality craftsmanship. Below, check out our literary tour of the top 5 best touring kayak paddles.
For more of our top kayaking gear recommendations, check out the Best Kayak Paddles.
Quick Answer

-

The Best Touring Kayak Paddles
Comparison Table

-

Best Touring Kayak Paddle

For the best experience turn your device horizontally
Reviews

-

The Best Kayak Paddles for Touring
Werner Pack Tour M
Specs
Blade Material

:

Fiberglass

Weight

:

2 lbs. 5 oz.

Shaft Material

:

Premium Carbon

Shaft Design

:

Straight

Shaft Type

:

4-piece

Feather Angle

:

0° / 15° / 30° / 45° degrees
Features
Adjustable Length Shaft Between 210 - 225 cm
Medium-Sized Blades Fit Wide Range Of Paddlers
4-Piece Construction Designed To Be As Durable As 2-Piece Paddles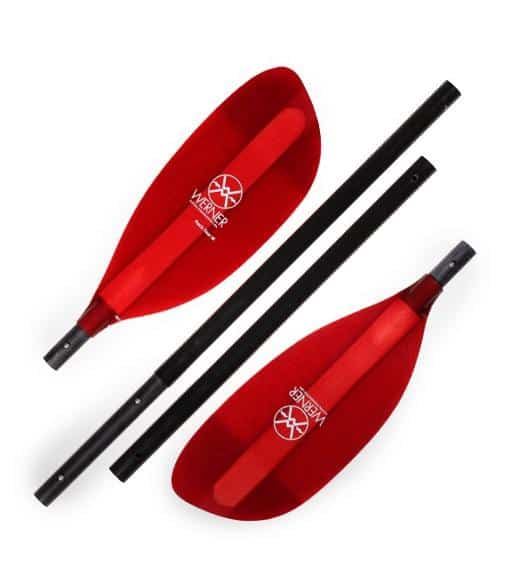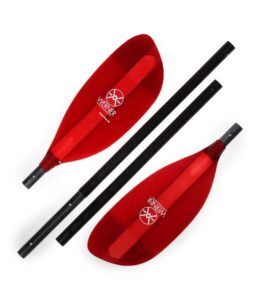 BEST FOR: SMALL PACKDOWN SIZE
Whether you need to break down your paddle for a pack rafting excursion or for a hike into the put-in with your inflatable kayak, the Pack Tour M is your best bet for maximal packing flexibility!
With a shaft constructed from Premium Carbon, the Pack Tour M offers a huge step up in quality from Aluminum shaft paddles. The Fiberglass blades also offer increased durability over lesser-quality plastic blades and perform much better.
This paddle also offers an adjustable length shaft making it a great paddle for sharing with friends! Check out the Things To Consider section below to determine the best length for you.
Werner Camano Hooked FG
Specs
Blade Material

:

Fiberglass

Weight

:

30 oz.

Shaft Material

:

Carbon Blend

Shaft Design

:

Straight

Shaft Type

:

2-piece

Feather Angle

:

0° / 15° / 30° / 45° degrees
Features
Award Winning Blade Design
Medium-Sized Blades Fit Wide Range Of Paddlers
Hits The Intersection Of Lightweight, Durable, And Good Value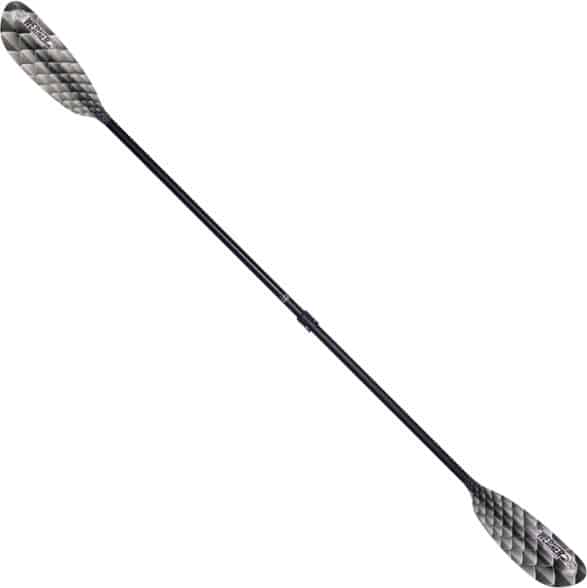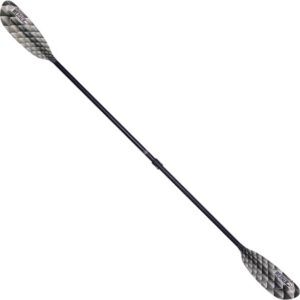 BEST FOR: DIALING IN THE PERFECT LENGTH
Having won an award for its powerful yet streamlined blade design, Werner's Camano Hooked FG is perfect for those desiring a custom fit. Werner's LeverLock system allows each paddler to adjust the length up to 20cm, a rare quality not found on most paddles.
Its Carbon Blend shaft offers the strength and lightness of Carbon Fiber without the high price tag of pure Carbon Fiber and its Fiberglass blades are sure to endure even the toughest touring conditions.
Paired with an exceptional design focused on touring performance, the Camano offers all-day comfort when paddling long distances and will last for years to come.
Werner Ovation
Specs
Blade Material

:

Carbon

Weight

:

19.25 oz.

Shaft Material

:

Carbon

Shaft Design

:

Straight

Shaft Type

:

2-piece

Feather Angle

:

0° / 15° / 30° / 45° degrees
Features
Lightest Paddle Ever Made
Highly Buoyant Design Translates Into Near-Effortless Paddling
Includes A Fleece Transportation Bag To Protect Your Investment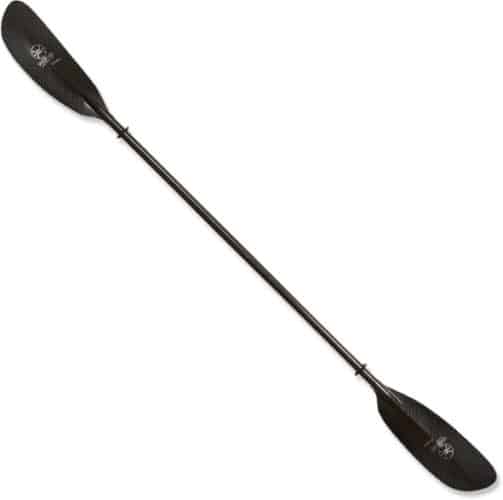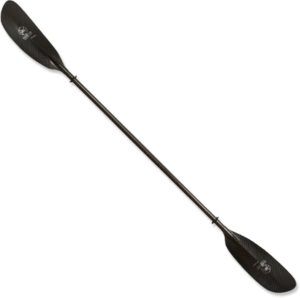 BEST FOR: LIGHTWEIGHT ENTHUSIASTS / MINIMALISTS
Werner's lightest model ever produced, this aptly named paddle truly deserves a standing ovation for its highly engineered design. With 5 decades of research and development culminating in this paddle, the Ovation is crafted with an unprecedented legacy.
Lightweight enthusiasts who are looking to gain every ounce of advantage need not search any further – this is the lightest paddle you will ever find. Every stroke will feel smooth and effortless as the miles disappear behind you.
Keep in mind that the hyper-light design comes at a cost – the Ovation has a reduced amount of strength compared to the Kalliste. If you find yourself in more rugged conditions or have a high potential for performing rescues, this paddle may not be for you.
Werner Kalliste
Specs
Blade Material

:

Carbon Fiber

Weight

:

23 oz.

Shaft Material

:

Carbon Fiber

Shaft Design

:

Straight

Shaft Type

:

2-piece

Feather Angle

:

0° / 15° / 30° / 45° / 60° degrees
Features
Drip Rings Help Keep Your Lap Dry
Medium-Sized Blades Are Light Yet Powerful
Carbon Fiber Construction Floats In Water And Reduces Fatigue


BEST FOR: LONG LASTING DURABILITY
Looking for the most elite paddle that will stand the test of time? Look no further.
The Kalliste (pronounced Kuh-List-Uh) by Werner is their most advanced touring paddle ever made. Named after the Greek word meaning "the best", this exceptionally light paddle is made entirely from carbon fiber and uses an impact resistant technology on the blade's edges for seriously rugged durability.
Fully loaded with just about every feature that Werner offers, the Kalliste also sports an Adjustable Ferrule System – a mechanism that joins the 2-piece paddle. The benefit here is the ability to feather (or offset) the blades of your paddle in 15° degree increments up to 60° degrees. This allows the greatest amount of customization.
Werner Kalliste Bent
Specs
Blade Material

:

Carbon Fiber

Weight

:

26 oz.

Shaft Material

:

Carbon Fiber

Shaft Design

:

Bent

Shaft Type

:

2-piece

Feather Angle

:

0° / 15° / 30° / 45° / 60° degrees
Features
High Strength, Low Weight Design
2-Piece Design Breaks Down For Easy Transportation And Storage
Bent Shaft Aligns Wrists In Natural Position For Comfortable Paddling


BEST FOR: ERGONOMIC COMFORT
So nice we had to add it twice! Seriously, the Kalliste (pronounced Kuh-List-Uh) is Werner's best paddle ever made. Incorporating Carbon Fiber as the primary material through the shaft and blades, this paddle is incredibly durable from tip to tip and feels as light as a feather when paddling long distances.
In classical style, the Kalliste Bent Shaft sports asymmetrical blades which help create more paddling power. Because of the physics involved in low-angle paddling, an asymmetrical blade design creates more efficient strokes.
Best suited for those needing some ergonomic comfort, the Kalliste Bent Shaft can help alleviate stress points in the hands, wrists, and forearms and reduce the potential for injury. For those who tend to grip too tightly to their paddle, the Bent Shaft design is a prime choice as it can also help reduce hand fatigue.
THINGS TO CONSIDER WHEN BUYING KAYAK PADDLES
LENGTH
When choosing the proper paddle length, the two determining factors are how wide your boat is and the height of the paddler. When falling in between sizes, a shorter paddle is typically better considering the weight will be lighter. Kayakers with a short torso may benefit from sizing up in this situation to increase reach. Use the chart below as a quick reference guide.
Paddler's Height

Kayak Width

Under 23"

24" – 28"

29" – 33"

34"+

Under 5' 5"

210 cm

220 cm

230 cm

240 cm

5' 5" – 5' 11"

220 cm

230 cm

240 cm

250 cm

Over 6'

220 cm

230 cm

250 cm

260 cm
SHAFT CONSTRUCTION AND BLADE CONSTRUCTION
When it comes to choosing the best touring kayak paddle, there are only two materials worth considering: Fiberglass and Carbon Fiber. Stay away from Aluminum shafts and Plastic blades as they are much heavier and will cause you to fatigue quicker.
Fiberglass Blades
Considered a premium material, Fiberglass is lighter, stronger, and more durable than Plastic blades. Paddle blades made with Fiberglass are an outstanding choice and meet at the intersection of quality and affordability. At a mid-level price point, Fiberglass blades offer a huge upgrade in quality without top-tier prices.
Carbon Fiber Shafts And Blades
At 3 times stiffer and 10 times stronger than Steel, Carbon Fiber is the crème de la crème of materials used in shafts and blades. Offering the lightest material with the greatest strength and durability, paddle shafts and blades made of Carbon Fiber will feel like an extension of yourself.
When touring long distances, this is the best possible type of material. The lightness of Carbon Fiber cannot be understated – paddling fatigue will never occur because of your paddle.
Some shafts are made of Premium Carbon or from a Carbon Blend – these are the most cost-effective ways to include some of the strength and lightness of Carbon Fiber without breaking the bank. They are a hybrid of sorts: a step up from Fiberglass but not quite the level of pure Carbon Fiber. These shafts are usually paired with Fiberglass blades.
SHAFT SHAPE
Welcome to one of the great debates in the world of paddling: Straight Shaft or Bent Shaft?
Bent Shaft
A recent design style that has taken off tremendously, bent shaft paddles are designed with ergonomic comfort in mind. These paddles reduce hand fatigue for those who have a tendency to grip too tightly. The angle of bent shaft paddles can also reduce the stress points that can occur in the hands, wrists, and forearms and prevent potential injury.
Be forewarned though, most bent shaft paddlers say that it's almost impossible to switch back to straight shaft. Considering that bent shafts are only made from Carbon Fiber, you'll be locked into premium paddles for life. Good thing Carbon Fiber lasts for pretty much forever. Just don't lose your paddle.
Straight Shaft
Historically, kayak paddles have always had a straight shaft. It's this familiar feel that will translate as you upgrade your paddle from a more basic Aluminum model to a Fiberglass or Carbon Fiber paddle. When paddling with the proper grip (read: a loose grip), you should not experience any stress in your hands, wrists, or forearms.
Many straight shaft enthusiasts find that it's easier to perform advanced paddle strokes with a traditional straight shaft than with a bent shaft. Since so much time has been spent practicing strokes at the beginner level and muscle memory has been established, many kayakers feel that a new style of shaft throws off their game and forces them to "re-learn" what they have already mastered. It's not a huge change, but it definitely causes some advanced paddlers to think more about their strokes instead of feeling like second-nature.
SHAFT TYPE
Touring paddles are usually offered in 2-piece setups, but there are occasions where a 4-piece paddle will prove best for you. 2-piece paddles tend to be lighter and stronger than 4-piece paddles, making them ideal for normal conditions. With less moving parts, they also tend to be a tad more reliable. However, 4-piece paddles offer a huge benefit in being able to pack down into small spaces. This is best for those who need to pack their gear for a long hike to the put-in.
FEATHERING
In order to gain the most out of your paddle when touring, consider feathering the blades. Out of the box, kayak paddles are set to be matched (or 0° degree feather), meaning there is no difference in angle between the two blades.
To feather a paddle is to un-match this linear plane and offset the blades from one another. Touring blades can be incrementally adjusted 15° degrees at a time up to limit of either 45° or 60° degrees.
Reasons for feathering include increased mobility and greater stroke efficiency. Ultimately, the choice to feather your paddle or not is a personal preference and it's suggested that you take the time to feel out which is best for you.
It's also important to note that wind resistance is not a factor when feathering your paddle. In order for that to prove true, one would need to feather their paddle a full 90° degrees when paddling in headwinds or tailwinds. But seeing as most paddles do not feather that much, and considering that this doesn't account for crosswinds or how often the wind changes direction, this theory has trouble holding water.
WEIGHT
How far will be you touring? How many days is your trip? These considerations come into play when determining how light of a paddle you need. The longer the trek, the lighter the paddle you'll want. Even the difference of several ounces can end up making a major difference at the end of a long tour or over several days.
FEATURES EXPLAINED
SHAFT
Where a kayaker grips the paddle – the area between the two blades.
BLADES
The main propulsion mechanism at either end of a paddle's shaft.
FERRULE
An adjustable piece that attaches a 2-piece shaft together.
READ MORE
For more of our top kayaking gear recommendations, check out these popular buyer's guides: