Updated on January 11, 2022
This year, you're taking the kids along on a family skiing adventure, so you want to make sure they're prepared for cool, snowy conditions. If you've been searching online for the best kids ski pants, you're in the right place. We've narrowed down the list of kids ski pants to the top 5 with the best features, the best ratings, and the best overall performance. Now, you just have to decide between bibs or no bibs.
For more of our top ski gear recommendations, check out the Best Ski Pants.
Quick Answer

-

The Best Kids Ski Pants
REI Co-op Timber Mountain
Comparison Table

-

Best Kids Ski Pants

For the best experience turn your device horizontally
Reviews

-

The Best Kids Pants for Skiing
Columbia Bugaboo II
Specs
Material

:

Recycled Ripstop Polyester

Insulation

:

Synthetic

Size

:

XXS-XL

Style

:

Pants

Waterproof?

:

Yes

Lining

:

Nylon
Features
Wind-proof, Waterproof, And Breathable For Weather Protection
Thermal Reflective Lining Preserves Body Heat
Cargo Pocket And Zippered Hand Pockets For Storage
Extendable Snow Cuffs And Adjustable Waist Tabs For Growth Spurts
Reinforced, Articulated Knees Withstand Rough Use


BEST FOR: GROWING CHILDREN
These snow pants grow along with your ever-expanding child. You can adjust the waist tabs and extend the cuffs to get more than one season out of the pants. Thankfully the knees are reinforced too, so rips and tears don't cut their lifespan short either.
It's always good to see your kids play in the snow, ski, and build forts outdoors, even when the snow is flying. Paired with a decent jacket, these pants prepare you for those long winter days by keeping your little ones toasty warm. Pop inside for a quick warmup with cocoa and then send them back outside to play.
Patagonia Snowshot
Specs
Material

:

Polyester

Insulation

:

Synthetic Polyester

Size

:

XS-XL

Style

:

Pants

Waterproof?

:

Yes

Lining

:

Polyester
Features
Weather-proof And Breathable Weather Protection
Internal Gaiters Pull Over Boots For Snow Protection
Extra 2" Leg Extension Allows For Growth
Two Handwarmer Pockets And Zippered Upper Thigh Pocket
Articulated Knees For Better Mobility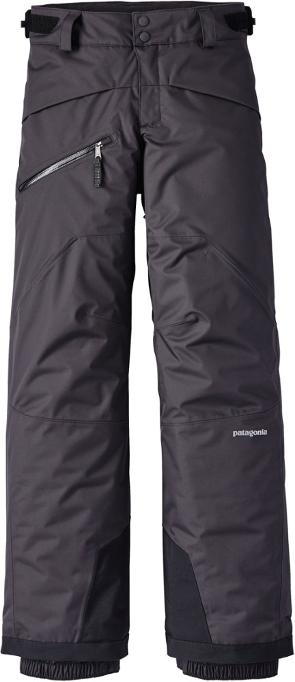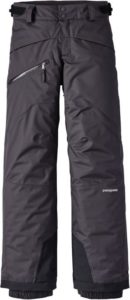 BEST FOR: HIGH-ENERGY KIDS
Though they say they're for boys, these snow pants are just as suitable for girls too. High performance features and extra reinforcement keep up with the endless energy of your relentless kiddos. When you're ready to head back to the ski lodge but your kids want "one more," you can let 'em go knowing they're still good to go.
They can shred the snowboard trail or ski hill without feeling wind or flying snow coming through with the weather-resistant fabric and boot cuffs. And if they have a mid-season growth spurt, the pants extend an extra 2" and leave extra space in the adjustable waist.
REI Co-op Timber Mountain
Specs
Material

:

Nylon

Insulation

:

None

Size

:

XXS-XL

Style

:

Pants

Waterproof?

:

Yes

Lining

:

Polyester Microfleece and Taffeta Nylon
Features
Waterproof, Breathable, And Windproof Up To 60mph
Belt Loops And Waist Tabs Adjust The Fit Just Right
Extendable 2" Cuff For Extra Shelf Life
Articulated Knees And High Back Coverage
Zippered Hand And Upper Thigh Pockets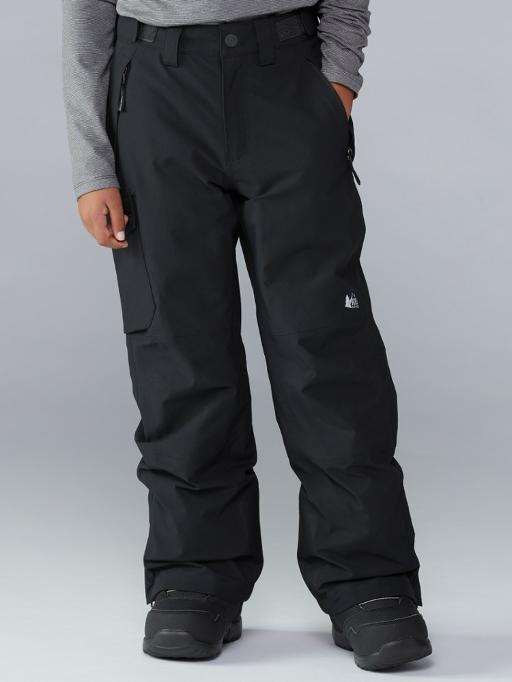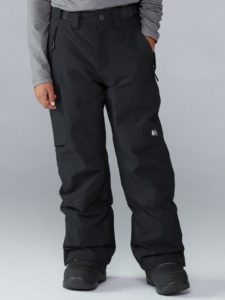 BEST FOR: WHEN THEY'RE ALL WARMED UP
Instead of insulation, these snow pants have a blanket-like microfleece lining to keep your littles warm. While the snow pants may not be sufficient for sub-zero days, they're perfect for warmer days, high-energy activities, or kids who tend to run warm. They repel water and wind without overheating.
Bib overalls and button flies may be difficult for your wee ones to handle. The snap fly on these snow pants make bathroom runs easier for everyone. The ankle zippers and internal gaiters cover their boots to keep snow out of their socks too. Whether your kids are ready for the bunny hills or the black diamonds, these snow pants will keep them warm.
Columbia Snowslope II
Specs
Material

:

Nylon

Insulation

:

Synthetic Polyester

Size

:

XXS-XL

Style

:

Overalls

Waterproof?

:

No

Lining

:

Nylon Taffeta
Features
Water-resistant Shell
Taffeta Lining Glides On Over Layers
Extra 1.5" Leg Extension And Adjustable Waist Allow For Growth
Bib Style With Zippered Front And Adjustable Suspenders
Snow Cuffs Block Flying Snow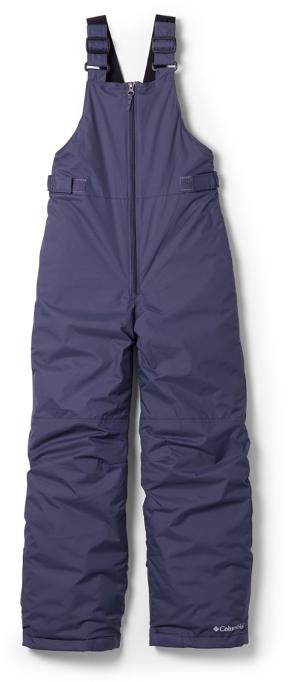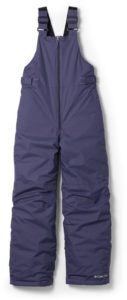 BEST FOR: SMALLER BUDGETS
If you just need to find a pair of basic snow pants to get your kids through a season of skiing, these will do the trick. These aren't waterproof, so they're not meant for crawling around in the snow for extended periods. But they are water-resistant in case your kids fall or ski through a snow shower.
The suspenders keep the pants up so your kids aren't forever tugging at their waistbands. The adjustable suspenders and extendable legs leave a little extra room for growth too. The last thing a frugal shopper wants to do is to have to buy a second pair of snow pants after a growth spurt!
Reima Takeoff
Specs
Material

:

Polyester

Insulation

:

Synthetic Fibers

Size

:

6-14

Style

:

Overalls

Waterproof?

:

Yes

Lining

:

Polyester
Features
Windproof, Waterproof, And Breathable For Weather Protection
Water- And Dirt-repellent Finish Resists Messes
Removable, Adjustable Suspenders
Powder Cuffs Keep Snow Out Of Their Boots
Zippered Side Pockets For Storage

BEST FOR: CHANGING NEEDS
Your little ski bunnies can be finicky at times. They want overall-style snow pants one day and pants the next. These snow pants give you the best of both worlds because you can add or remove the suspenders as you like, depending on what mood they're in. It's nice to at least have the suspender option available anyway, in case their pants keep falling down. They shouldn't though, because the adjustable waist tabs should keep them in place.
Triple-layer fabric and full insulation keep the winter wide open for adventures. They can learn how to ski at a young age and grow to love the fresh powder as they get older, alongside the rest of the family.
THINGS TO CONSIDER WHEN BUYING KIDS SKI PANTS
MATERIAL
Snow pants are usually made out of nylon or polyester for their water-resistant or waterproof qualities. The lining is usually a slippery fabric like nylon taffeta, which slides on easily over their pants. The Timber Mountain pants have a microfleece lining, which feels soft against the skin and can be worn without extra layers. It's important to consider which material works best for your child.
SIZES
When purchasing snow pants online, it's important to pay close attention to sizing. Compare your child's measurements to the manufacturer's size charts to make sure you get the right fit. Most of the pants on this list have length and width adjustments at the waist and cuffs to allow for some wiggle room.
STYLE
Snow pants usually come in one of two styles: overalls (AKA "bibs") or regular pants. It's important to consider which you think would be a better fit for your child. Regular pants are easier to take on and off without having to remove a jacket first, while overalls provide full back coverage and don't carry the risk of falling down. Overalls also help to prevent snow from getting in around your kid's waist while they play, which can be a big benefit for a rambunctious child who doesn't like to get cold. Each style has their advantages and disadvantages, so you'll have to weigh your options. Also acknowledge your child's ability on the slopes and whether they're experienced enough to ski all day or just getting into the sport.
WEATHER CONDITIONS
The weather on the snow hill may influence which snow pants you buy. If it's usually cold and wet, you probably want good insulation and waterproof qualities. Layering helps too, when it's really frigid. On warmer ski days though, your kids may not need such thick, waterproof insulation. Overheating and underheating are both uncomfortable, so you may want to err on the side of caution. Check out this article for a detailed guide on how to dress your kids for skiing.
Check out this article to learn more about the most important ski pant features.
FEATURES EXPLAINED
TAFFETA
Taffeta nylon refers to a specific weaving pattern in the nylon that makes the fabric slick and shiny. Taffeta is common in garment lining because it's easy to slide on and off other layers.
ARTICULATED KNEES
Articulated knees are shaped to follow the natural bend in the knee. Snow pants with an articulated knee allow you to bend your leg through its full range of motion, without restriction, which is important for skiing.
SNOW CUFFS
Snow cuffs, powder cuffs, and gaiters are all names for special elastic cuffs that fit over your boots to keep flying snow from getting into your socks and ruining your ride.
THERMAL REFLECTIVE LINING
A thermal reflective lining absorbs body heat and reflects it back to your body so you stay warm. This technology is an effective way to preserve body heat, especially when it's chilly outside.
READ MORE
For more of our top skiing gear recommendations, check out these popular buyer's guides: