Updated on September 23, 2020
The ski hills are already calling your name, so it's time to round up snow gear for the whole family, including ski gloves for your kids. But not just any pair of gloves will do. If they don't block out the cold and wetness, then your kids aren't going to last very long out there. You need to choose the best ski gloves for kids.
This list of gloves covers the gamut from mild days on the slopes to below-zero temps so you can get the most out of your lift tickets. You're sure to find a match for just what you need!
For more of our top skiing gear recommendations, check out the Best Ski Gloves.
Quick Answer

-

The Best Ski Gloves for Kids
DAKINE Wrist Guard Gloves Jr.

The North Face Osito Etip

The North Face Denali Etip

N'Ice Caps Bulky Thinsulate
Comparison Table

-

Best Ski Gloves for Kids

For the best experience turn your device horizontally
Reviews

-

The Best Kids' Ski Gloves
REI Co-op Timber
Specs
Insulation

:

Yes

Waterproof?

:

Yes
Features
Synthetic Leather Palms Provide a Good Grip
Insulated and Breathable for Hours of Warmth
Water- and Wind-Proof Inserts
Soft Polyester Lining Feels Cozy Against the Skin
Detachable Leashes Keep the Gloves Together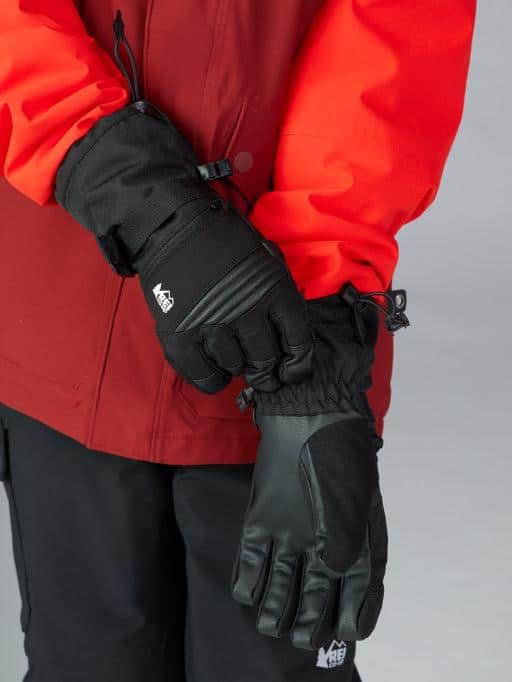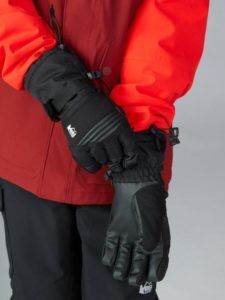 BEST FOR: GRIPPING TOW ROPES AND SKI POLES
Half the battle of finding a good pair of ski gloves is finding a pair that has a good grip. The full-length synthetic rubber palms on this pair of gloves provides a secure grip for things like ski poles and tow ropes. Meanwhile, the weather-resistant, breathable construction keeps your kids playing outside for as long as they like.
Another cool feature is the long wrists on these gloves. Not only do they keep the fingertips toasty, but they extend to cover some of the forearm. They also have detachable leashes to keep your kids from constantly losing their gloves. #parentwin
Gordini Aquabloc III
Specs
Material

:

Polyester

Insulation

:

Yes

Sizes

:

XS-XL

Waterproof?

:

Yes

Insulation Type

:

Synthetic Fibers

Lining

:

Polyester
Features
Aquabloc Inserts Form a Breathable, Windproof, and Waterproof Barrier
Reinforced Thumb and Palm for Long-Lasting Use
Fleece Cuffs and Adjustable Straps Block Out Flying Snow
Synthetic Leather Palm and Finger Grips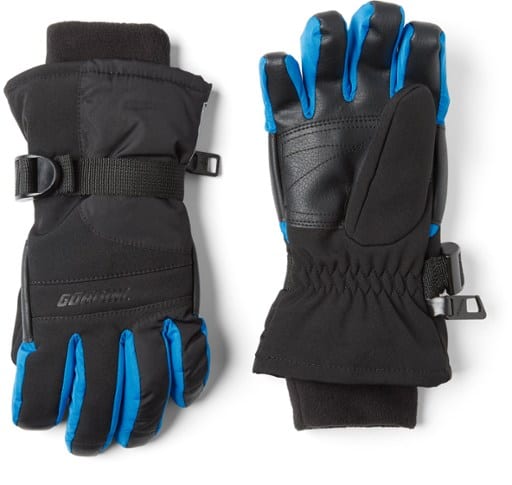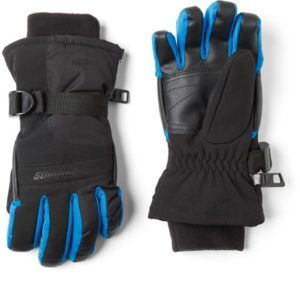 BEST FOR: WET SNOW
Once your gloves get wet, your ski day is over. Thankfully, the Aquabloc technology on these gloves prevents that from ever happening. These gloves have the best rating for their waterproof, hand warming qualities. If you're heading out into sloppy slush, you need gloves like this to be able to last out there.
The only drawback is that these gloves are not machine washable. The manufacturer recommends surface and spot-cleaning to preserve the integrity of the gloves. While they're also on the bulky side, the fingers are made to be flexible, and the warmth factor is what really matters anyway.
DAKINE Wrist Guard Gloves Jr.
Specs
Material

:

Nylon/Polyester

Insulation

:

Yes

Sizes

:

M-L

Waterproof?

:

Yes

Insulation Type

:

Synthetic Fibers

Lining

:

Fleece
Features
Extra-Long Wrist Coverage
Grippy Palm Padding for a Solid Hold on Ski Poles
Waterproof Insert and Water-Repellent Finish Keeps Hands Dry and Warm
Fleece Lining Feels Soft Against the Skin
Wide, Adjustable Wrist Strap and Drawcord Closure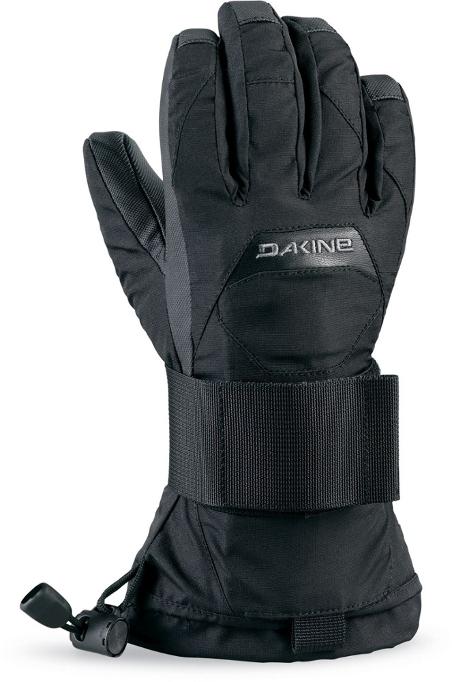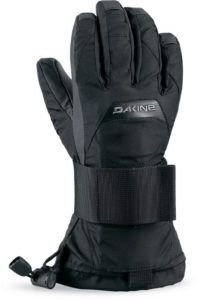 BEST FOR: LOOSE, FLYING SNOW AND HIGH-POWERED YOUNGSTERS
Regular gloves are okay in most situations, except when your tireless kids are shredding through loose powder. Then, you might want gloves that cover more of their arms and keep the snow from flying up their sleeves. These gloves provide extended coverage partway up the forearm.
They also have both an adjustable cinch cord and an adjustable wrist strap to double up on protection. They can overlap their jacket sleeves either under or over the top of the gloves too. Not only great for the ski hills, these gloves are also perfect for snowmobiling and ATVing, where wind and snow are always in the forecast.
Burton Breathable Vent
Specs
Material

:

Dryride 2-Layer Fabric and Faux Leather

Insulation

:

Yes

Sizes

:

XS-XL

Waterproof?

:

Yes

Insulation Type

:

Thermacore

Lining

:

Microfiber
Features
Zippered Pocket Opens for Ventilation or Holds a Heating Pack
Microfiber Lining and Extended Wrist Coverage
Touchscreen-Compatible Faux Leather Palm and Fingers for Scrolling and Gripping
Waterproof Membrane Keeps Hands Dry and Warm
Adjustable Wrist Strap and Drawcord Closure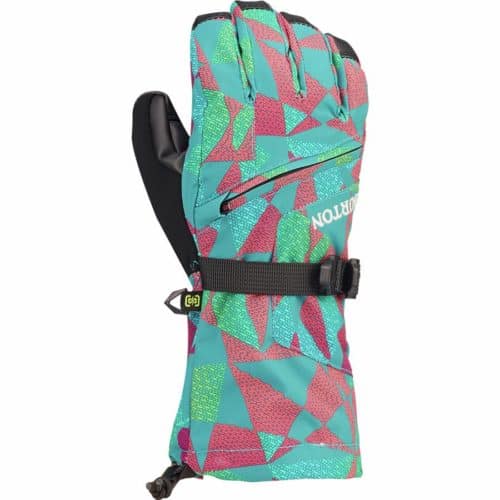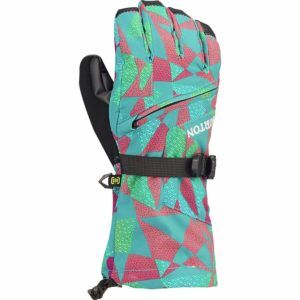 BEST FOR: PICKY PEANUTS
Are your kids either too hot or freezing, with no in between? Or maybe the weather changes so often, you don't know how to dress them. If so, then these gloves are your answer. When your kids get too hot, they can open the top vent and let their hands breathe. If it's frigid, they can add a handwarmer to the pocket to boost their body heat.
The gloves also have extended wrists for extra coverage up their sleeves. And with the touchscreen fingertips, your kids don't have to remove their gloves to document their ski trip on social media either. The Burton name is highly revered in the snowboard community, and these gloves are no exception.
The North Face Osito Etip
Specs
Material

:

Polyester Fleece

Insulation

:

No

Sizes

:

S-L

Waterproof?

:

No

Insulation Type

:

None

Lining

:

None
Features
Touchscreen-Compatible Fingertips Keep Them Connected
Silicone Palm Allows for a Solid Grip
Nylon Reinforcement Over the Knuckles
5-Dimensional, Articulated Fit Matches the Natural Curves of the Hand
Pull-Tab on the Cuffs for Easy Removal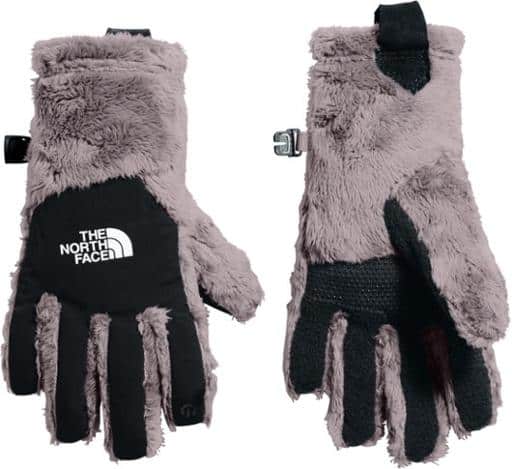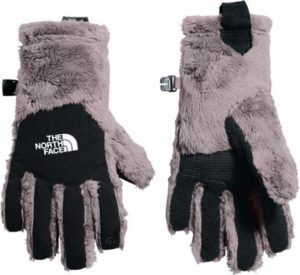 BEST FOR: CROSS-COUNTRY SKIING AND EVERYDAY WEAR
Unlike the other hardcore ski gloves on this list, these gloves are more appropriate for milder sports and everyday wear. They're not waterproof and they're less bulky, so they're perfect for snowshoeing and cross-country skiing. They also have a fashionable, gifty quality to them, which makes them the perfect stocking stuffers.
Kids are not only drawn to the cozy, extra-soft fleece but also to the touchscreen-friendly fingertips. They can scroll with any of their 10 fingers without removing their gloves. Parents like them because of all the everyday use their kids can get out of them. Plus, if your kids are still young enough to hold your hands, who could resist these softies?
The North Face Denali Etip
Specs
Material

:

Fleece

Insulation

:

No

Sizes

:

S-L

Waterproof?

:

No

Insulation Type

:

None

Lining

:

None
Features
Touchscreen-Friendly Fingertips on All Five Fingers
Cozy Fleece Feels Soft Against the Hands
Nylon Reinforcement Over the Knuckles
Five-Dimensional, Articulated Fit Matches the Natural Curves of the Hand
Silicone Grippers on the Palm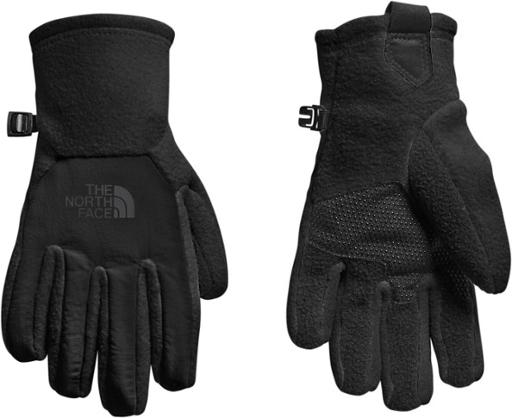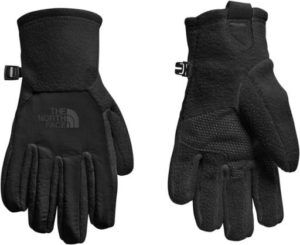 BEST FOR: MILD TEMPERATURES
You know those days on the ski hills when you get warm enough to ski without your jacket? That's the type of weather these gloves come in handy for. They keep your kids' digits just warm enough to keep going without overheating. They also have a good enough grip for tow ropes and ski poles.
Five-finger touchscreen ability ensure your youngsters never lose touch with their beloved phones. For a pair of gloves named after a mountain in Alaska, these gloves are just warm enough for mild days at the beginning of the ski season. But for kids who need full finger articulation to snowboard or who run warm, these are perfect.
Columbia Core
Specs
Material

:

75% Polyester/25% polyurethane

Insulation

:

Yes

Sizes

:

XS-L

Waterproof?

:

Yes

Insulation Type

:

Synthetic

Lining

:

Polyester Tricot
Features
Synthetic Palm Patches for a Good Tow Rope Grip
Insulated and Breathable for Hours of Warmth
Waterproof Insert and Water-Repellent Finish
Soft Chamois Lining Feels Cozy Against the Skin
Adjustable Elastic Wrists Shut Out Flying Snow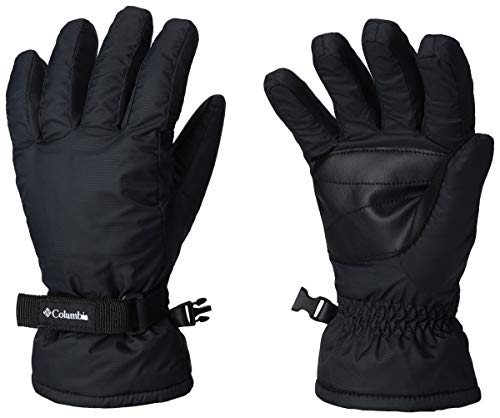 BEST FOR: ALL-DAY OUTDOOR PLAY
Your kiddos won't last long out in the snow without a good pair of waterproof, insulated gloves. The Core helps prevent the type of frozen red fingers that cut your ski day short with warm insulation and a waterproof layer. As your kids warm up, the breathable fabric quality keeps them from getting sweaty too.
The elastic wrists on these gloves come with an adjustable tab, so you can get a close fit. The best way to wear the gloves is to tuck them under your child's jacket sleeve. That way, when the snow is flying, it won't be flying right up their sleeves. Go ahead, send 'em outside!
N'Ice Caps Bulky Thinsulate
Specs
Material

:

Polyester and Faux Leather

Insulation

:

Yes

Sizes

:

3-4 year-13-15 year

Waterproof?

:

Yes

Insulation Type

:

Thinsulate
Features
Water- and Snow-Proof for Winterized Fun
Knit Cuffs and Adjustable Wrist Tabs Secure the Gloves in Place
Grippy Palm and Fingers to Hang Onto the Tow Rope
Reinforced Thumb
BEST FOR: WINTERS UP NORTH
Winters in the northern hemisphere can only be tolerated with proper insulated outerwear. And anyone who lives there is likely familiar with the merits of Thinsulate. Thinsulate provides a warm layer of insulation without the extra bulk. That way, your kids can bundle up without feeling like a marshmallow–and still be able to move their fingers.
Not only are the gloves nice and insulated, but they're also grippy for outdoor sports. If you want your kids to play outside in the winter, they need grippy gloves like this to handle the horseplay, whether they're popping ollies on the snowboard hill or packing snow for snowballs.
Lullaby Kids Thinsulate
Specs
Material

:

Polyester

Insulation

:

Yes

Sizes

:

4-6 years-13-15 years

Waterproof?

:

Yes

Insulation Type

:

Thinsulate

Lining

:

Fleece
Features
Waterproof, Wind-Resistant, and Breathable
Reinforced Palm and Thumb With a Grip
Adjustable Wrist Strap Keeps Snow Out
Wide Fashion Color Selection for Boys and Girls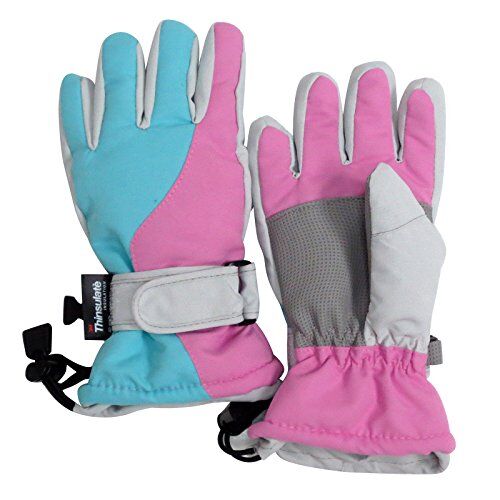 BEST FOR: SMALLER BUDGETS
For under $20, you can certainly get a good ski season or two out of these insulated gloves. The durable materials and reinforced palm hold up well through school recesses and weekend trips to the slopes. The Thinsulate layer reduces the amount of bulk without sacrificing winter warmth.
One of the coolest features of these gloves is the huge color and design selection. From solid colors to skeleton fingers and star patterns, you can find a set to match your both your kids' outerwear and their personalities. In this case, your choices aren't limited by your budget!
THINGS TO CONSIDER WHEN BUYING SKI GLOVES FOR KIDS
WATERPROOFING
Waterproof gloves are a must on the snow hills, snowmobile trails, and ice rinks. If your kids fall or start a snowball fight, they need waterproof protection to keep their fingers from getting wet and frozen. Waterproofing is important in those situations, but may not be as important for cross-country skiing, mild days, or recess. Decide the level of waterproofing you need and go from there.
MATERIAL
The materials on the inside, outside, and in between make a difference in how well your kids tolerate the ski hill conditions. You may need water-resistant outer material to prevent soaking. The inside material lays against their hands, so they may prefer something like soft fleece. Finally, the insulation in between determines how warm the gloves are, so be sure to get the right combination for your children. Learn more about ski glove material here.
SIZES
Glove sizing is usually available in some range between XS-XL, which typically coincides with your child's clothing size. Most manufacturers provide measurement charts so you can find the right size for your child. Thankfully glove sizing is a little more forgiving than clothing, and it's probably better to err on the larger side to allow for growth.
CLIMATE
Skiing on a remote mountain is far different than skiing on a hometown ski hill and therefore require vastly different equipment. The gloves you choose for your child depends largely on the conditions where you plan to ski. Superior waterproofing and insulation may be necessary for arctic air whereas light gloves might be more appropriate for ski hills in milder locales.
PRICE
As a parent, you probably don't want to spend a lot on a pair of gloves that may only last a few years. You have to weigh your budget against your desire for quality and how fast your child wears through their gloves as you make your decision.
TECH-FRIENDLY
Your kids are probably glued to their phones, but do you really want them to take their gloves off to text? No one wants to take off their gloves when it's icy, so you might prefer a pair of gloves with touchscreen-friendly fingertips. They allow your kids to type and scroll with their gloves on and their fingers warm. If your child is too young for a phone or you're leaving your phones in the lodge, this feature may not be as important.
GRIP
A grippy palm is an important feature for your little ski bunnies. Without a grippy palm, their ski poles may slip through their hands or they may have a hard time grasping the tow rope. Consider the importance of grips when making your selection.
FEATURES EXPLAINED
CHAMOIS
Chamois is a very soft, plush fabric common with blankets and sleepwear. Inside gloves, the fabric feels extra soft on the hands. On the glove exterior, chamois is usually more for appearance.
ARTICULATED FINGERS
If gloves have articulated fingers, that means the construction follows the natural bend of your knuckles and fingers. Gloves with articulated fingers allow your kids to bend their fingers through their full range of motion, which is essential for holding ski poles and mounting the chair lift.
ADJUSTABLE CUFFS
Ski gloves usually have some way to secure the gloves over your wrist or jacket to keep the snow out of your sleeves. Many pairs have straps with hook-and-loop closures that allow you to adjust the size.
THINSULATE
Thinsulate is a 3M brand of insulation that's thin with superior insulation. This version of insulation traps heat better than some thicker versions and also allows excess heat to escape. Thinsulate also maintains its insulating qualities when it gets wet.
FIVE-DIMENSIONAL FIT
The North Face calls the proprietary method they use to construct many of their gloves the 5 Dimensional Fit. The 5D method takes all sides of your hand into consideration when measuring and constructing their gloves. This ensures a more accurate, consistent fit.
SILICONE
Silicone is a synthetic rubbery material that some manufacturers incorporate into their glove grips. Silicone is popular for oven mitts for the same reason: it provides a good grip and it's temperature-resistant.
READ MORE
For more of our top skiing gear recommendations, check out these popular buyer's guides: