Updated on September 23, 2020
Ten out of ten female skiers agree: skiing with chilly digits just isn't any fun! And I don't know about you ladies, but when I'm out on the slopes, chilly hands will send me back into the lodge faster than you can say "fresh powder." That's why I've always made sure I have a toasty pair of gloves, and why we at The Adventure Junkies want to help you do the same! What you're about to check out is a list of the best ski gloves for women, and when you're through reading, you should be able to find your perfect pair.
From styles to prices to features and specs, this list is comprehensive. You've come to just the right place to get geared up. So what are you waiting for? The sooner you read, the sooner you can buy, and the sooner you buy, the sooner you'll be geared up and ready to shreddy! Let's go!
For more of our top skiing gear recommendations, check out the Best Ski Gloves.
Quick Answer

-

The Best Ski Gloves for Women
Outdoor Research Illuminator
Comparison Table

-

Best Ski Gloves for Women

For the best experience turn your device horizontally
Reviews

-

The Best Women's Gloves for Skiing
Give'r 4 Season
Specs
Fabric

:

Leather

Weight

:

Heavy

Touchscreen Compatible

:

No

Glove Leash

:

No
Features
Designed For Four Season Wearability, These Gloves Perform In Extreme Cold AND Heat
Three Layers Go Into The Waterproof, Windproof, And Breathable Technology
Quality-Tested In The Teton Mountain Range, So You Know They're Legit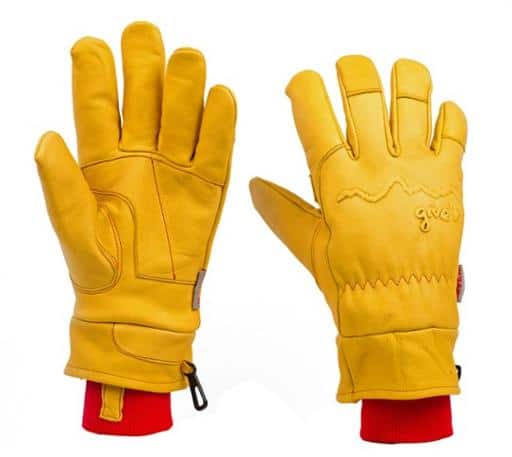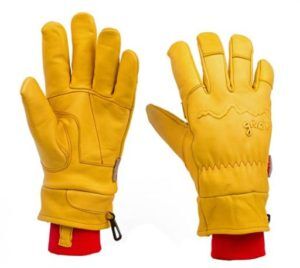 BEST YEAR-ROUND GLOVE
Reacting to conditions for high quality performance in any weather, the Give'r four season gloves are truly one of a kind. They feature a three layer design to ensure they are waterproof, windproof, and breathable. Their outer layer is a tanned cow-hide leather that is not only weather resistant, but also super durable, so you know you can count on these gloves for seasons to come. To top it all off, they come in a bright yellow color so you'll make a statement on the slopes. And oh yeah, did we mention? They were weather tested in the extreme conditions of the Grand Teton Mountains, which means you're guaranteed to get a great quality glove for whatever conditions you're enduring.
The North Face Montana
Specs
Fabric

:

Nylon

Weight

:

Medium

Touchscreen Compatible

:

Yes

Glove Leash

:

Yes
Features
Comfortable Wrist Cuffs Provide Security, Even When You Take Your Gloves Off
Wrist Cuffs Double As A Comfy Spot For Hand Warmers
GORE-TEX Inserts Provide Superior Waterproof-ability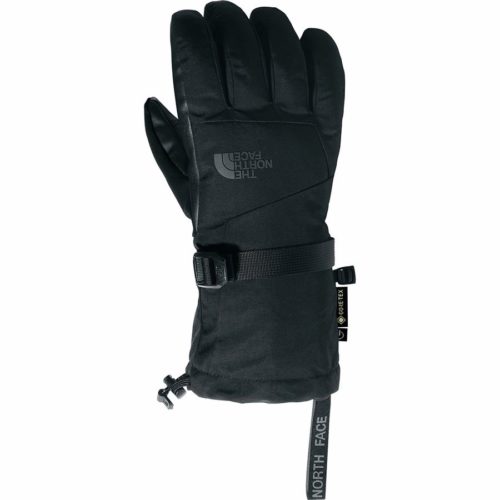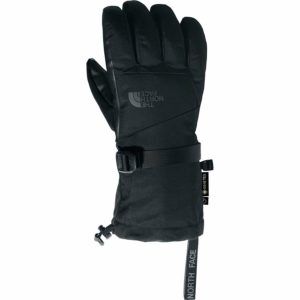 BEST VALUE GLOVE
The North Face Montana is a high-quality, mid-priced glove, and we think it brings the most consumer value of any other glove on this list. Featuring industry standard GORE-TEX inserts, soft and flexible safety cuffs, and adjustable wrist straps to keep snow from making its way inside, these gloves won't let you down! They're also wind- and waterproof. If you're trying to get the most bang for your buck, look no further!
Arc'teryx Fission SV
Specs
Fabric

:

Nylon And Elastane

Weight

:

Medium

Touchscreen Compatible

:

No

Glove Leash

:

Yes
Features
Unique Synthetic Blend Provides Extreme Insulation
Gloves Reinforced With Not One, But TWO Layers Of Leather
Leather Loops Allow These Gloves To Be Clipped Together On A Carabiner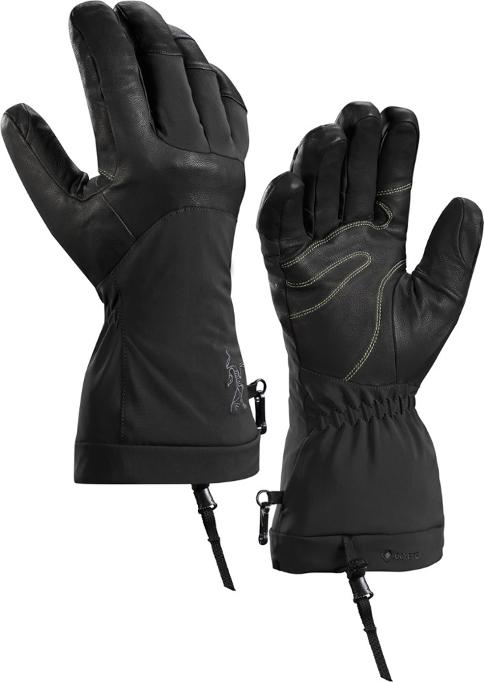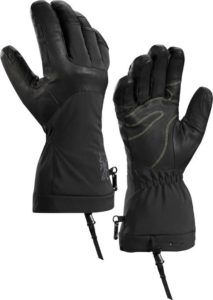 BEST OVERALL GLOVE
Here it is, ladies! Our pick for best overall ski glove for women. These gloves feature a patented synthetic insulation that keeps your hands warm in extremely cold conditions. That insulation is covered with not one, but two layers of leather to provide the ultimate weather protection. Plus, they're super breathable, so your hands will stay dry, even when you break a sweat! One downside to these — the high quality comes with a high price tag. But, if you're serious about sticking with the sport, we're sure you'll find these gloves well worth the initial investment.
REI Co-op Gauntlet GTX
Specs
Fabric

:

Nylon

Weight

:

Medium

Touchscreen Compatible

:

Yes

Glove Leash

:

No
Features
Single-Hand Adjustable Wrist Cords Make It Easy To Lock In Warmth
Thumb And Index Finger Are Touchscreen Compatible
Glove Reaches Up The Forearm For A Cozy Fit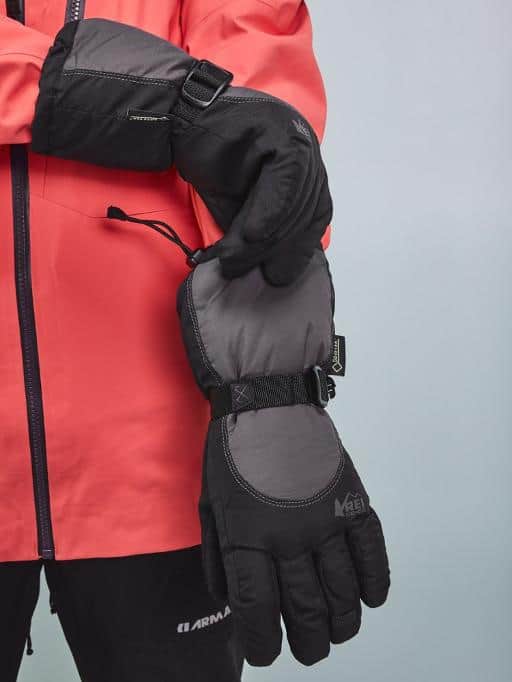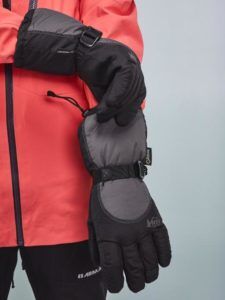 BEST WARMTH GLOVE
Think you need to buy a super expensive name-brand glove to satisfy your warmth and comfort needs? Think again! The Gauntlet GTX glove from REI Co-Op does just the trick when it comes to keeping your hands warm. Their unique oversized design allows these gloves to actually slip over your jacket, holding the whole ensemble together from just below the elbow all the way down to the tips of the fingers. They also have an outer adjustable wrist strap, the tightening of which will ensure cold air and snow stay out. Plus, the thumb and index finger of the glove are touch-screen compatible, so you never have to take them off, even to answer a call from that one friend who always manages to take the wrong trail.
Outdoor Research Illuminator
Specs
Fabric

:

Nylon And Spandex

Weight

:

Medium

Touchscreen Compatible

:

Yes

Glove Leash

:

Yes
Features
Moisture-Wicking And Quick-Drying Liner Keeps Your Hands Dry
Pre-Curved Glove Design Provides A Broken-In Feel From the Get-Go
Removable Leashes Let You Attach The Gloves To Your Wrists -- Or Not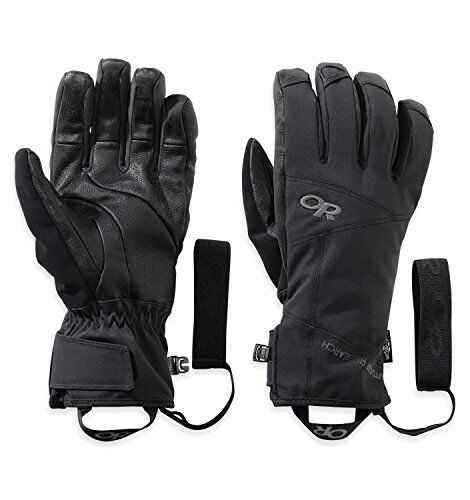 BEST PRE-BROKEN-IN-FEEL GLOVE
If you're someone who lives for the feeling of a worn pair of sneakers, that timeless jacket you've had for 15 years, or your oldest (and by default comfiest) pair of jeans, then you'll want to check these gloves out because they're right up your alley. The Illuminator Sensor gloves from Outdoor Research come with a pre-curved design that fits comfortably to the natural curve of a relaxed hand (and also the hand of someone holding a ski-pole!). These gloves feature super high quality fabrics, from their exterior leather, nylon, and spandex combo, to their polyester liner. They're also waterproof and quick drying. If you wanna feel like you've owned your gloves for years right out of the box, stop looking and hit "Add to Cart."
Black Diamond Guide
Specs
Fabric

:

Nylon And Leather

Weight

:

Heavy

Touchscreen Compatible

:

No

Glove Leash

:

No
Features
Four-Way Stretch Fabric Allows For Wonderful Mobility
Foam Knuckle Padding Adds Protection And Warmth
Removable GORE-TEX Insert Ensures Waterproof-ability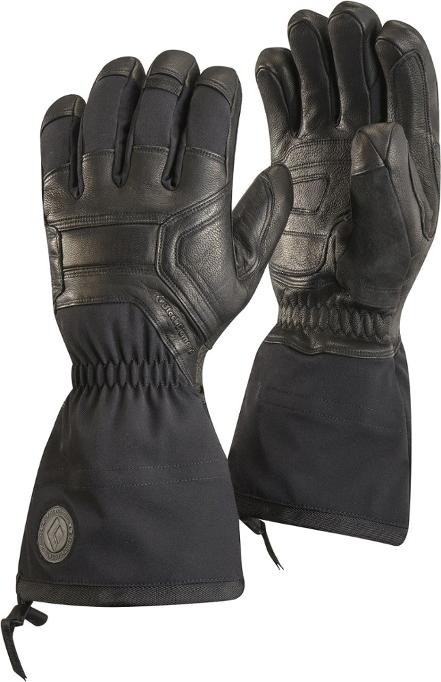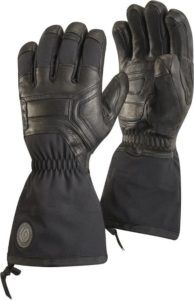 BEST HEAVY DUTY GLOVE
Does your outerwear tend to take a beating? If you're looking for a high-quality, super durable and long-lasting glove, you'll want to keep reading. The Black Diamond Guide gloves are built for some serious action. Designed with the quality desired by a professional ski guide in mind, these gloves will stand up to the most extreme conditions season after season. They feature strong GORE-TEX inserts, foam knuckle padding to protect your knuckles and keep your fingers warm, plus four-way stretch fabric that is tough yet flexible. If heavy-duty performance is your priority, these gloves are well worth the investment.
Outdoor Research Arete
Specs
Fabric

:

Nylon

Weight

:

Light

Touchscreen Compatible

:

No

Glove Leash

:

No
Features
Glove Liners Are Warm Enough To Be Worn Without Glove Exterior
Pre-Curved Design Means Immediate Comfort
Wide Wrist Opening Means This Glove Pulls Easily Over Most Jacket Sleeves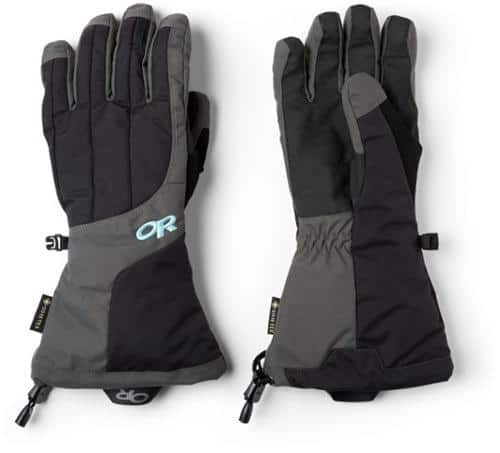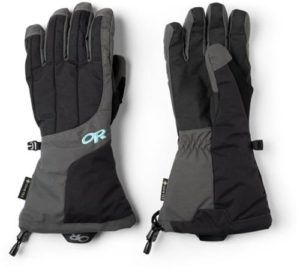 BEST MULTI-LAYER GLOVE
Many gloves come with a removable liner, but those liners aren't usually warm enough to be worn alone, and that's where the Outdoor Research Arete's are different from the rest! They are extremely warm and purposely oversized so you can pull them up over your jacket sleeves and lock in warmth. Their liners ensure your hands have an extremely warm winter weather experience, but when it's a little warmer out, like during spring skiing, you can simply wear the liners by themselves to avoid overheating. These gloves come pre-curved for superior comfort, and they have a wrist cord to lock the shell down and keep snow out.
Outdoor Research Alti
Specs
Fabric

:

Polyester And Spandex

Weight

:

Light

Touchscreen Compatible

:

Yes

Glove Leash

:

Yes
Features
Fabric Is Super Stretchy Without Sacrificing Waterproof-ability Or Warmth
Heavy-Duty Synthetic Palms Hold Up Extremely Well Against The Elements
Ideal For Extremely Cold Temperatures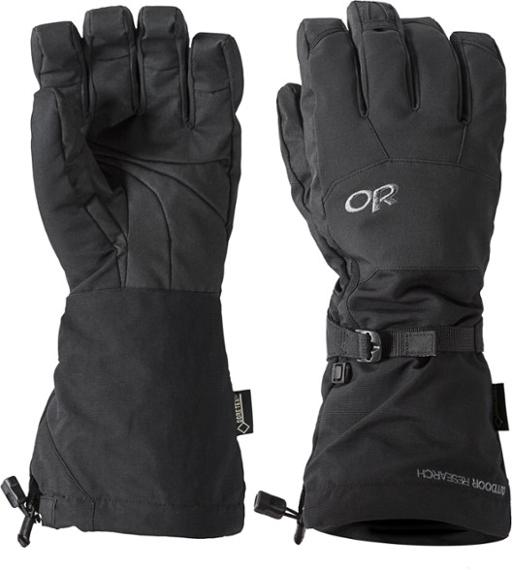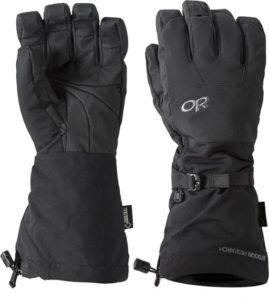 BEST BASIC GLOVE
This glove rocks it in the simplicity department. Not overly bulky and with no real bells or whistles, this glove is perfect for those looking for a high-quality basic glove. They feature super stretch fabric that is waterproof and warm, durable palm fabric that holds up well against weather and time, and a removable liner glove for advanced temperature control. If you're looking to stay dry and warm and to avoid the trickiness of some of the high-priced gloves on the market, invest in these instead. You'll avoid having to think about a new pair of gloves for seasons to come, too.
DAKINE Tahoe
Specs
Fabric

:

Polyester

Weight

:

Light

Touchscreen Compatible

:

No

Glove Leash

:

No
Features
Internal "Heat-Pack" Pockets Provide A Holding Spot For Hand Warmers
Super Durable Palms Increase Glove Longevity And Water-Resistance
Comes With A Two-Year Limited Warranty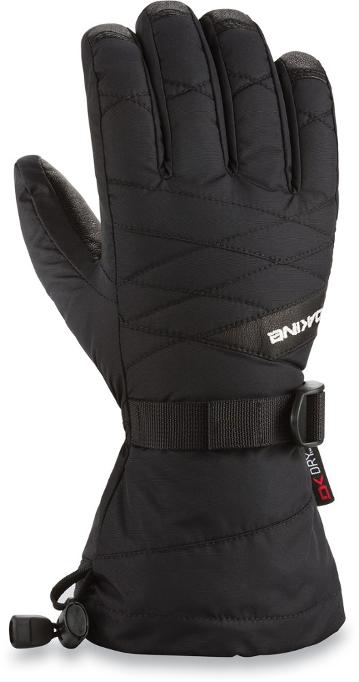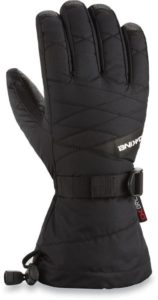 BEST BUDGET GLOVE
The Dakine Tahoe's are an all-around great performing glove, and they check out at a modest price. Named after a world-class ski region, they have a soft and comfy liner, plus a waterproof insert for wet days on the mountain. They also feature premium leather palms for durability and water resistance, as well as internal "heat-pack" pockets to keep hand warmers in place. On top of it all, Dakine offers a two year warranty on these gloves, so they're guaranteed to last for at least two years (though they will almost definitely last longer), and even just two seasons in these gloves is well worth the low cost.
DAKINE Camino
Specs
Fabric

:

Polyester

Weight

:

Medium

Touchscreen Compatible

:

Yes (Liners only)

Glove Leash

:

No
Features
Soft Thumb Cloth For Wiping Your Nose
Comes With Removable Fleece Liners That Are Touchscreen Compatible
Adjustable Wrist Straps Allow A Custom Fit That Keeps Snow Out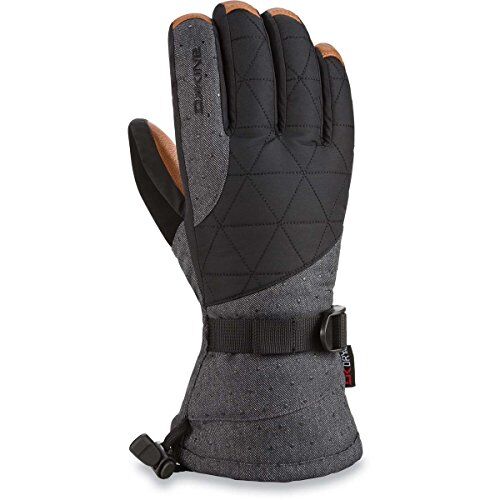 BEST COMFORT GLOVE
Is comfy cozy your MO on and off the hill? Then the Dakine Camino's may be just the gloves for you! They utilize soft and plush fabrics for all aspects of the glove, and they have internal mini pockets to keep your hand warmers comfortably in place. A big convenience factor of this glove is their removable fleece liners that are touch screen compatible, meaning you can use your smartphone without completely exposing your hands to the elements. The soft thumb cloth on these gloves is designed with sensitive skin in mind, so you can wipe away drippiness without irritating that sensitive area under your nose. Note that these gloves do not have wrist leashes, but some people actually prefer this, as the leash kind of gets in the way if you don't want to use it.
THINGS TO CONSIDER WHEN BUYING SKI GLOVES FOR WOMEN
FABRIC
Popular exterior glove fabrics include nylon, polyester, spandex, leather, and combinations thereof. All are acceptable fabrics. The more important factors to focus on when it comes to exterior fabric is water/windproof-ness and breathability. All the gloves on this list are water and windproof, but some are more breathable than others. If you sweat easily, you'll definitely want to prioritize a glove that lets your hands breathe in order to avoid a cold sweat.
LINER FABRIC
Everyone has a different preference for their liner, and luckily, there is a liner out there for everyone! Some are removable, some are not; some are softer than others; some are warmer; some are touchscreen compatible, you get the idea. Decide on what is most important to you when it comes to a glove liner and look for a glove that matches your needs.
WEIGHT
Gloves on this list range in weight from light to heavy. You should select the weight that makes the most sense for the type of skiing you'll be doing and weather you'll be encountering. Light gloves are best for skiers who do front-country or resort-area skiing and for those who don't go skiing when weather is inclement. On the other hand, heavy gloves are made for those seeking extreme warmth and performance from their gloves. Heavy gloves are best for backcountry skiers and those who don't let any weather stop them from hitting the slopes.
EXTRAS
When it comes down to it, a lot of ski gloves for women are built with the same main goals in mind, like keeping you warm and locking out snow. What makes one glove different from the next often comes down to the glove "extras": does the glove come with wrist cuffs? Does it feature touchscreen compatibility? Does the glove have extra layers of insulation? Be sure to check out the features section of each listing to seek out a glove that has the extras that are perfect for you.
NEED MORE INFO?
Check out this REI Expert Advice article for an in-depth guide on choosing ski gloves for women.
FEATURES EXPLAINED
WATERPROOF AND WINDPROOF
Waterproof fabric completely repels moisture. Windproof fabric minimizes the effect of wind. All gloves on this list are wind and waterproof. See this useful article for tips on caring for waterproof fabric.
WRIST/SAFETY CUFFS
Cuffs or straps that wrap around your wrist and prevent you from losing your gloves when you take them off.
WRIST STRAPS
Adjustable straps that tighten around the wrists to keep warmth in and snow out.
FABRIC VS. LINER FABRIC
In this article, fabric refers to the outermost layer of the glove and liner fabric refers to the innermost layer of the glove that touches the hand.
GLOVE LEASH
A long strap extending off of the glove that serves the purpose of securing the gloves around your wrists so they aren't dropped when you take them off.
READ MORE
For more of our top skiing gear recommendations, check out these popular buyer's guides: