Updated on October 6, 2020
When you're enjoying your best life on the water on your off days, you're going to need one of the best life jackets for paddleboarding. These will help you stay safe whether you're fishing or hitting whitewater.
Pssst, just a quick tip: They're best referred to as "personal flotation devices" or PFD's for short, since there is no guarantee that it will save your life. So get down with the cool kids and make sure you know the lingo!
For more of our top paddleboarding gear recommendations, check out the Best SUP Roof Racks.
Quick Answer

-

The Best Life Jackets for Paddle Boarding
Comparison Table

-

Best Life Jacket for Paddle Boarding

For the best experience turn your device horizontally
Reviews

-

The Best Paddle Boarding Life Jackets
NRS Ninja
Specs
Unisex

:

Yes

Classification

:

Type III

Fishing Features

:

No

Lash Tab

:

Yes
Features
Available In 3 Different Colors
6 Adjustment Straps Create A Customized Fit
Zippered Front Pocket Holds Valuables And Snacks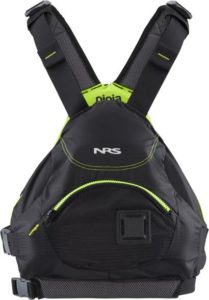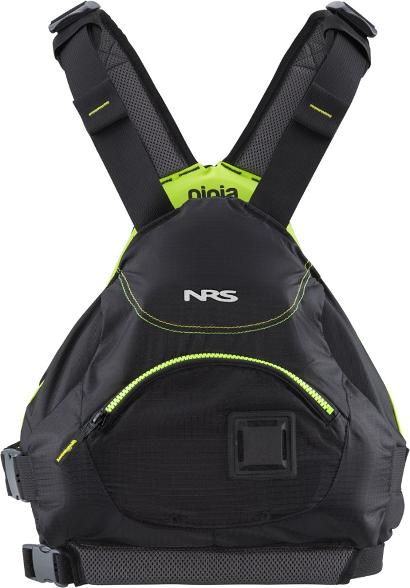 BEST FOR: MOBILITY
Slimming down the traditional design of personal flotation devices, the Ninja PFD by NRS is a perfect match for active paddleboarders needing maximum mobility. 
Whether you're a whitewater junkie that wants to hit Class III rapids or looking to test your limits in coastal surf, you won't feel trapped or weighed down by this PFD. Sporting a super durable soft foam, the floatation panels are designed to maximize comfort while contouring to your body. You'll be able to dial in a custom fit as well with the 6 adjustment straps (2 for your shoulders and 4 for your sides) and easily remove the PFD with the 2 side buckle releases.
The Ninja PFD also has a front zippered pocket that is perfect for holding snacks, valuables, and other on-the-water essentials.
Astral Ronny
View Women's Version
Specs
Unisex

:

No

Classification

:

Type III

Fishing Features

:

Yes

Lash Tab

:

Yes
Features
Available In 6 Different Colors
Includes A Convertible Beverage Holder
Multiple Storage Pockets Simplify Organizational Needs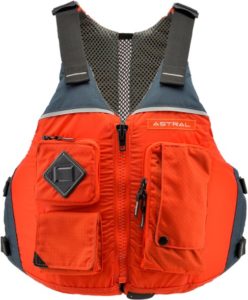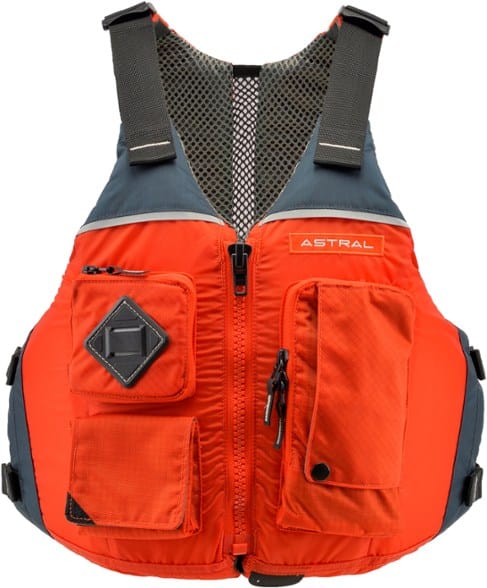 BEST FOR: ALL-DAY COMFORT
Put the days of uncomfortable PFD's in the past by upgrading to the Astral Ronny PFD. Its roomy and lightweight construction make it the ideal paddling jacket regardless of activity!
Starting with a nylon outer shell for extreme durability and abrasion resistance, the inside of the Ronny sports a mesh liner that increases breathability to prevent chafing and deliver all day comfort. There are also several pockets for storing and organizing your on-the-water essentials and even a convertible beverage holder – now that's leisure. 
The backside of the Ronny features a thin vent that helps release warm air to keep you cool and the sides feature 4 adjustable straps.
NRS Raku
Specs
Unisex

:

Yes

Classification

:

Type III

Fishing Features

:

Yes

Lash Tab

:

Yes
Features
Available In 2 Different Colors
U.S. Coast Guard Certified PFD
Reflective Accents Improve Others' Visibility Of You During Low-Light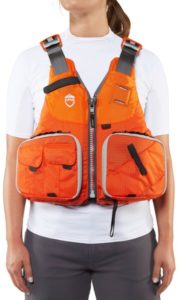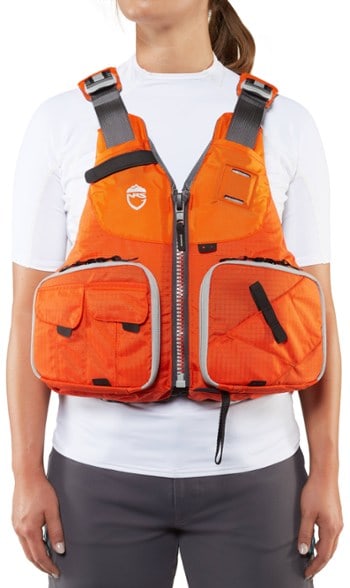 BEST FOR: PADDLEBOARD FISHING
Calling all anglers and paddleboard fishing lovers! If you want to get the most out of your day casting a line, then the NRS Raku will be your best friend. 
Specifically made with fishing in mind, the Raku is built upon a traditional flotation vest frame and then loaded with features that help you make the most of your fishing. Chief among these features is the loop and strap fishing rod holder. If you need to take a break or free your hands, just put the pole's handle into the loop at the base of the PFD and then secure the rod with the shoulder strap. Your pole will stay securely attached to you until you're ready to pick it up again. 
The Raku also features a tool-holder pocket that provides easy and efficient access to pliers, line cutters, and any other tools you need to get the job done.
NRS cVest
Specs
Unisex

:

Yes

Classification

:

Type III

Fishing Features

:

No

Lash Tab

:

Yes
Features
Available In 2 Different Colors
U.S. Coast Guard Certified PFD
Multiple D-Rings Offer Attachment Points For A Variety Of Gear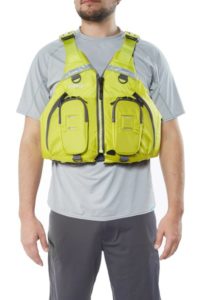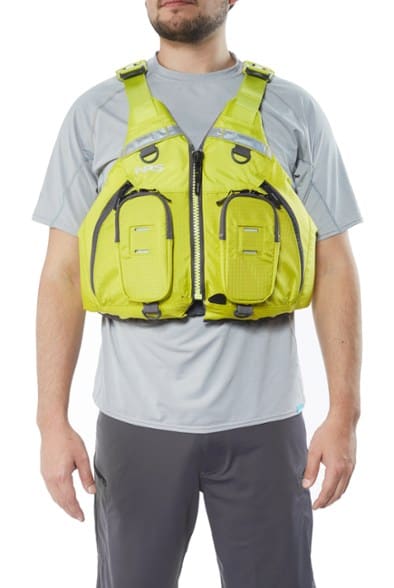 BEST FOR: FAMILIES
Family paddleboarding outings are exciting but require the proper PFDs to make the day a success. The NRS cVest Mesh Back PFD is without a doubt the best option for families thanks to its many storage options and multiple attachment points that make it easier to handle everything required when supervising a pack of kids. 
Snacks? Check. Throw rope for rescues? Check. A place to hold these things? Check Plus. Sporting 2 large pockets accessible by each hand, the cVest has ample amount of storage room to hold gear and on-the-water essentials. The front panels also have 2 smaller "clam shell" type pockets that help separate and organize items that need to be accessed quickly and often.
MTI APF
Specs
Unisex

:

Yes

Classification

:

Type III

Fishing Features

:

No

Lash Tab

:

No
Features
Available In 3 Different Colors
Fits A Variety Of Paddler Sizes
Reflective Trim Improve Others' Visibility Of You During Low-Light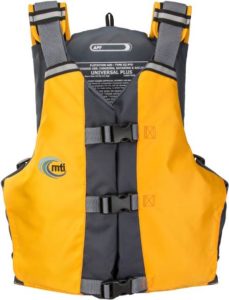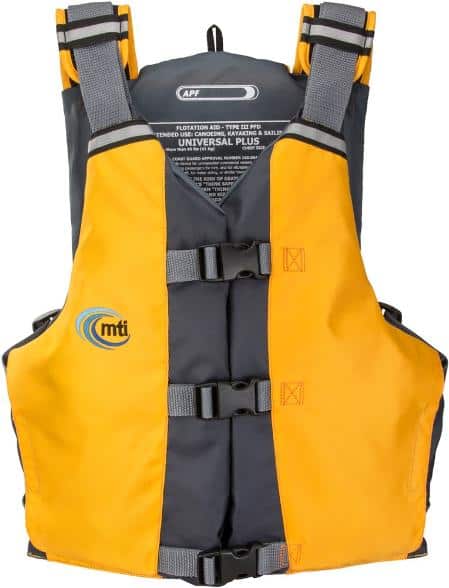 BEST FOR: BUDGET-CONSCIOUS PADDLEBOARDERS
Budget-conscious paddleboarders needn't worry about dropping lots of money for a quality PFD. While there is a certain baseline price to ensuring quality and safety, there are many solid PFD's for under $100, chief among them being the MTI APF PFD. 
The sizing is pretty universal and accommodates a large range of paddler sizes. Durable and lightweight, the APF PFD features padded shoulder straps to improve comfort and adjustable straps to dial in the right fit. 
It also sports thoughtful considerations such as a hang loop on the back of the neck to make drying easier and reflective trim to increase visibility in low-light situations.
THINGS TO CONSIDER WHEN BUYING LIFE JACKETS
CLASSIFICATION
Personal Flotation Devices (or PFD's) are classified into 5 Types, all of which are meant to be worn at all times and come in buoyant, inflatable, and hybrid designs except for Type IV.
Type I
Best For: Remote Waters
Type I PFD's have the most buoyancy of their kind and are able to turn an unconscious paddler face-up.
Type II
Best For: Calm Waters
Type II PFD's are very basic and intended where rescue would be quick. They're simpler and less comfortable versions of Type III.
Type III
Best For: Quick Rescues
Type III PFD's are more advanced versions of Type II, in that they are best when rescues would be quick. They offer much more mobility and give wearers the ability to turn themselves face up to aid in their own rescue.
Type IV
Best For: Backup
Type IV PFD's are meant as a backup and are not worn. They are typically thrown from a boat or vessel to assist provide extra assistance to the victim during a rescue.
Type V
Best For: Specific Activities
Type V PFD's are highly specialized and are made to work best for a certain activity, such as kayaking, windsurfing, etc.
ADDITIONAL FEATURES
Pockets
Pockets are a key consideration when choosing a PFD as they help you hold on-the-water essentials and organize your gear for quick and easy retrieval.
Color / Reflective Elements
Many PFD's are offered in bright colors to improve your visibility to rescuers and some offer reflective trim that helps in low-light situations, such as dawn, dusk, and fog.
Lash Tab
A lash tab is able to have a rescue or utility knife attached to it. Fishers keep utility knives on them to assist them when fishing. However, it's a good idea for all paddlers to have a knife for potentially unforeseeable circumstances like being caught underwater by netting or rope.
FEATURES EXPLAINED
FISHING FEATURES
Some fishing-specific PFD's have fishing features that help you organize and store some of your items that need to be accessed quickly.