Updated on December 11, 2021
When you're out in the backcountry, carrying all your gear doesn't have to be a strenuous burden. You can pack light and still have enough room for all your trip essentials with the best lightweight hiking backpack.
Unlike traditional heavy, bulky packs, lightweight backpacking backpacks are designed to increase agility while optimizing comfort. Choosing the right lightweight Choosing the right lightweight backpack, however, can be tricky. With so many options and a wide range in price, it's easy to get overwhelmed. Don't worry, we're here to help!
We put together a helpful guide of what to look for in a lightweight backpack along with our top recommendations to make the purchasing process easier for you.
For a complete analysis of all hiking backpacks for adults, check out the buyer's guide Best Hiking Backpacks.
QUICK RECOMMENDATIONS
Best Lightweight Hiking Backpack Overall >> Hyperlite Mountain Gear 3400 Southwest
Best Lightweight Backpack For Women >> Osprey Lumina 60
Best Budget Lightweight Backpack >> Granite Gear Virga 2
Comparison Table

-

Best Lightweight Backpacks for Backpacking

For the best experience turn your device horizontally
Reviews

-

Best Lightweight Hiking Backpacks
Hyperlite Mountain Gear 3400 Southwest
Specs
Weight

:

2 lbs 03 oz

Pockets

:

3

Volume

:

55L / 70L

Raincover

:

No

Hydration Compatibility

:

Yes
Features
Ultralight
Removable, contoured aluminum stays
Internal mesh hydro sleeve
Ice axe loop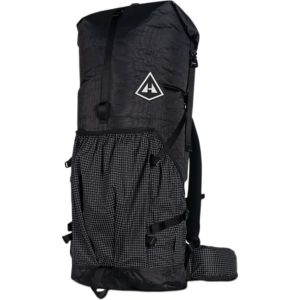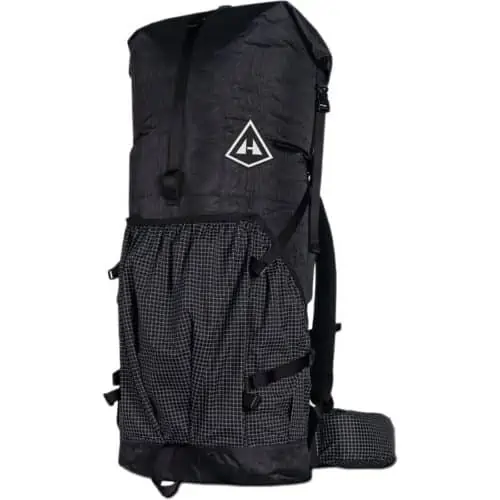 BEST ULTRALIGHT BACKPACK
The Hyperlite Mountain Gear 3400 Southwest is a super lightweight backpack that was made specifically for tough adventures that would rip most other ultralight-style packs to shreds. It's loved by both thru-hikers and those who like to keep things simple. What makes this backpack stand out among the crowd is its fully Dyneema construction. Dyneema is one of the strongest materials in the world relative to its weight, resists moisture well, and is extremely light. 
What we liked the most about the Hyperlite Mountain Gear 3400 is how light and simple it is. This basic design means it's perfect for someone who doesn't need a ton of excess pockets. This backpack doesn't have any suspension system like many of the models on this list do, only a ¼-inch foam back panel pad, so we were surprised by how comfortable the pack is. It also doesn't have any load lifters, instead it has removable aluminum stays to distribute the weight.
The 3400 Southwest is an excellent choice for a serious ultralight hiker but we'd like to make it clear that it is not for everyone. With a high price tag (currently retailing at over $350), people who are just getting into hiking should stay away from this pack. Also, this is a purely ultralight backpack, so if you plan to carry over 20 lbs, it's not for you. Having it heavily loaded will make wearing the pack very uncomfortable. Finally, one purely aesthetic downside is that the pack is only available in white or black, which makes it look dull in photos compared to red or yellow packs. 
The Hyperlite Southwest comes in three sizes, the 2400 Southwest, 3400 Southwest, and the 4400 Southwest.
Osprey Lumina 60
Specs
Weight

:

1 lbs 15 oz

Pockets

:

4

Volume

:

54L / 60L

Raincover

:

No

Trekking Pole Attachment

:

Yes

Removable Top Lid

:

No
Features
Ultralight
Big exterior pockets
Integrated full-frame and suspension system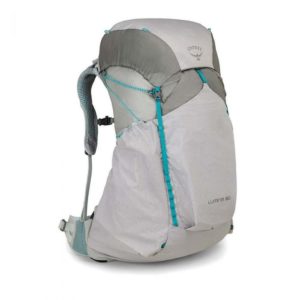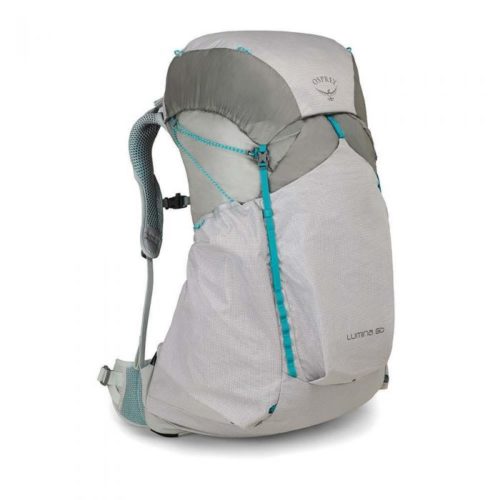 BEST ULTRALIGHT BACKPACK FOR WOMEN
A high-end ultralight pack, the Lumina outshines its competitors in terms of weight and also in its ability to maintain comfort for long distances — even when fully loaded. The Lumina's big exterior pockets are a nice compliment to an ultralight pack, as well.
Osprey designed the Lumina 60 specifically to function as the best ultralight pack for women you can buy. It's 1.81lb weight is impressive, even by serious ultralight standards, and while you would think it would lack support, Osprey's integrated full-frame and suspension system prove otherwise. This pack can be comfortable to wear even when loaded down heavier than recommended.
Granite Gear Virga 2
Specs
Gender

:

Unisex

Weight

:

1 lbs 03 oz

Pockets

:

3

Volume

:

54L

Frame

:

Frameless
Features
Inexpensive
Roomy Storage
Incredibly Lightweight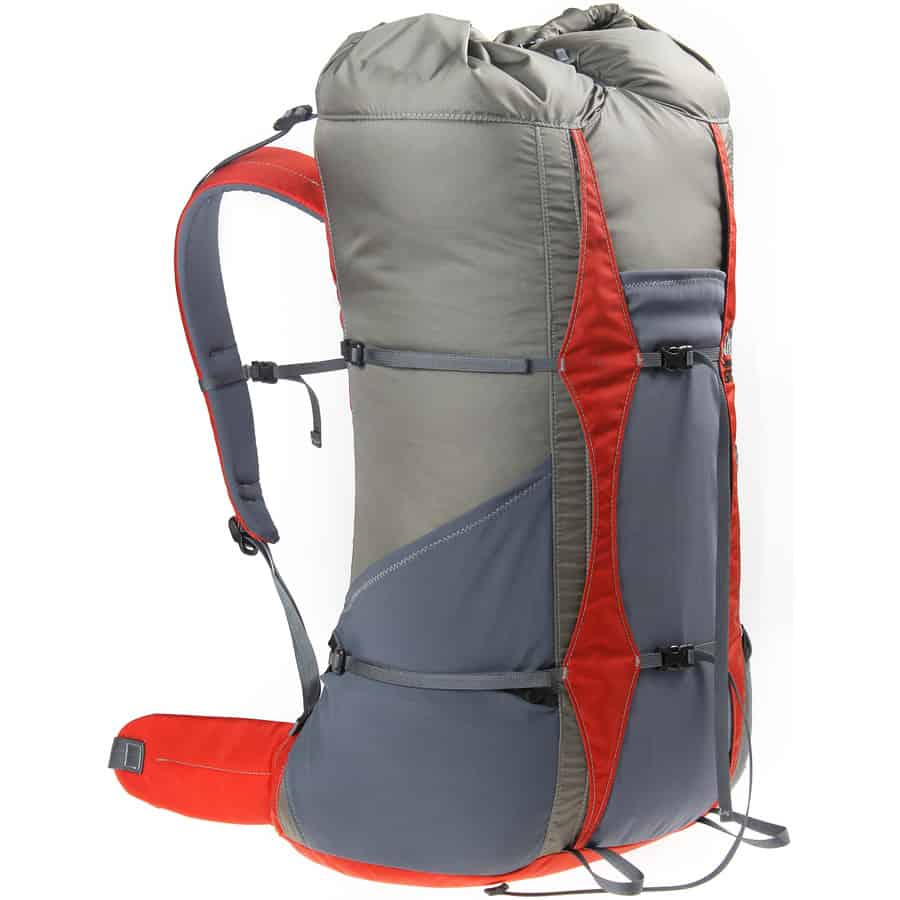 BEST BUDGET & LIGHTWEIGHT BACKPACK
Not all lightweight backpacking backpacks have to cost you an arm and a leg. The Granite Gear Virga 2 is an excellent affordable option for beginner backpackers.
A steal of a price, this pack comes with all the essentials you need in a lightweight pack. The Virga 2 features external pockets for easy gear access, an adjustable padded hipbelt, and compression straps to tighten and secure your load. The roll-top closure makes it easy to access the main compartment while also keeping your gear tucked away safe and sound.
With its expanding top opening and lofty capacity, you'll find this pack offers more than enough room for all your essentials. At merely a single pound, there's no arguing it's certainly one of the lightest packs around.
Gregory Optic 58
View Women's Version
Specs
Gender

:

Male

Weight

:

2 lbs 08 oz

Pockets

:

5

Volume

:

48L / 58L

Raincover

:

Yes

Frame

:

Internal
Features
Lots Of Pockets
Excellent Ventilation
Comfortable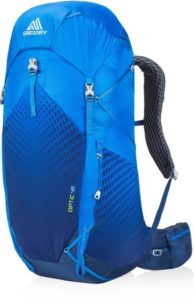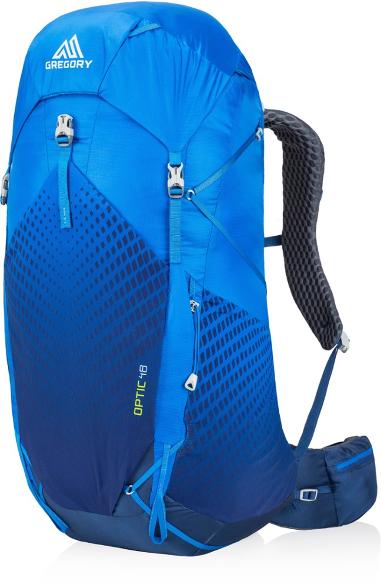 The Gregory Optic 48 / Octal 45 (women's version) is a lightweight backpack that provides good support and padding. This hybrid concept is similar to the Osprey Exos/ Eja pack also featured on this list.

Two of the features we really loved about this pack are the firm and supportive hip belt and the amount of padding on the shoulder straps. This combination makes carrying gear much more comfortable, even if it does at a few extra ounces. Another great feature is the ventilated mesh back panel keeps the pack away from your back, giving you lots of airflow which will keep you cooler while hiking in warmer weather. The sunglass loop, clip for hydration tube, and the rain cover are also nice to have.
One of the weaknesses we found with the Optic 48 was that the side pockets don't handle as much abuse as other packs on this list, so if you do decide to buy, take care when storing hiking poles in these pockets. Also, the back panel does not adjust so you'll need to measure your torso length and choose the right size for you. 
If you're between the Gregory Optic/ Octal and the Osprey Exos/ Eja, our choice is the Optic/ Octal if you plan to carry heavier loads (over 30lbs), this is due to the Optic's one piece extra cushioned hip belt that hugs the hips and gets the weight off your shoulders much better than the Exos.

If you want a larger backpack, check out the Optic 58. The women's version, the Octal comes in both a 45L and 55L option. 

Osprey Exos 58
View Women's Version
Specs
Gender

:

Male

Weight

:

2 lbs 11 oz

Pockets

:

5

Volume

:

38L / 48L / 58L

Raincover

:

No

Frame

:

Internal
Features
Affordable
Ample Storage
Sturdy Frame
Removable Lid (to increase storage or decrease weight)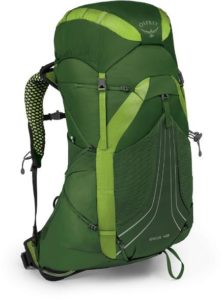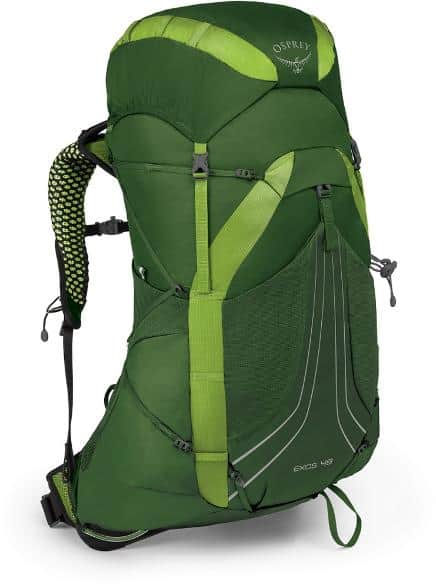 BEST COMFORTABLE BACKPACK
The Osprey Exos 58 and Eja 58 (women's version) is a hybrid between an ultralight and a traditional backpack, making it a great option for hikers who are looking at cutting down weight but still want the support of a frame that other lightweight bags lack.

What we loved the most about this backpack was the tensioned-mesh frame that makes it much more comfortable to carry heavier loads. The amount of ventilation due to the space behind the back panel is also a big plus when hiking in warm weather.

One thing we don't love about the Exos 58 is it's not very adjustable, unlike other models on this list, the back panel is fixed. It does come in three sizes though, so if you're considering this pack be sure to follow Osprey's sizing guidelines. Also, it doesn't have hip belt pockets for stashing small pieces of kit you want to keep handy. If this is a big issue for you, check out the slightly heavier Gregory Optic/Octal that is also featured on this list. Another option is to rock a fanny pack up front.

If you're looking for a slightly smaller backpack the Exos range also has an Exos 48 / Eja 48.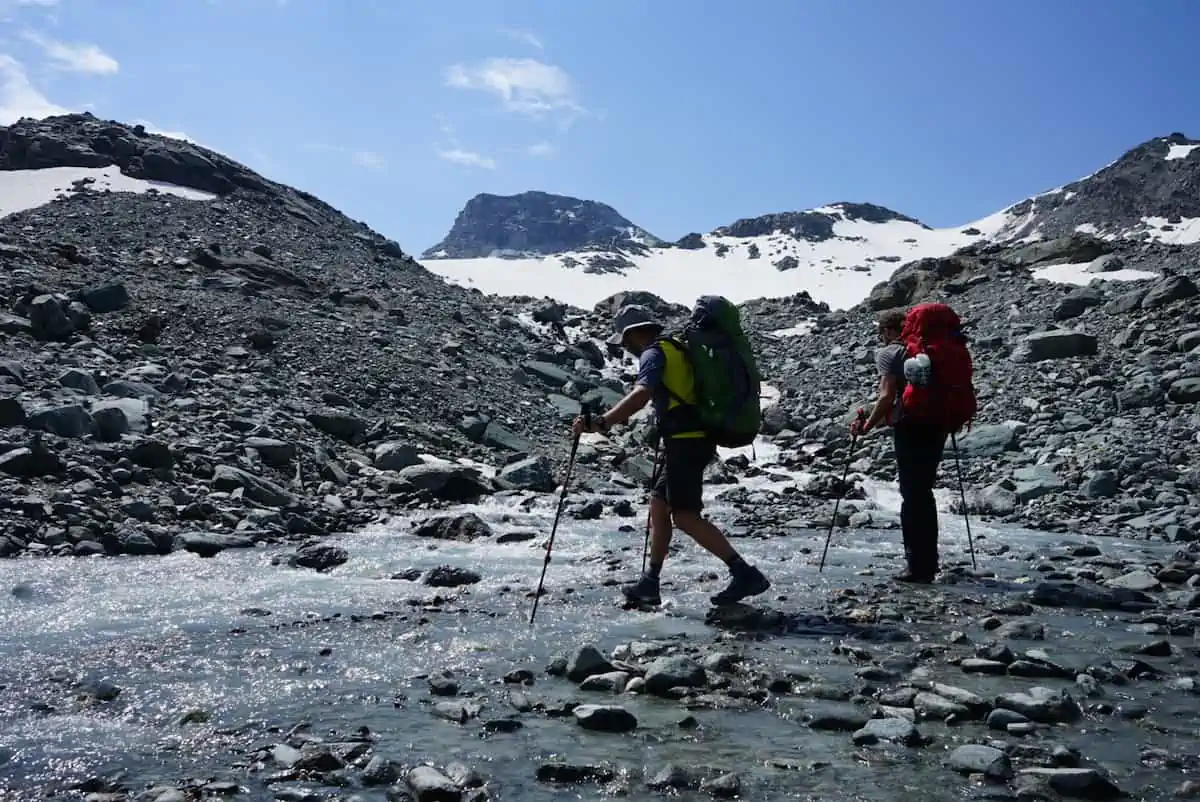 THINGS TO CONSIDER WHEN BUYING A LIGHTWEIGHT HIKING BACKPACK
COST
From $100 to $500 plus, lightweight backpacking backpacks have a wide price range. The difference between the prices is all about the features. Less expensive backpacks will have all your basics covered including a hipbelt, sternum straps, ample storage space, external pockets, and side water bottle pockets. As you start adding in all the bells and whistles, however, the price can escalate quickly.
We recommend beginning with an affordable option. As you gain more backpacking experience, you'll learn what features you want and what features you can do without. Then, you'll have a better idea of how much of an investment you want to make.
WEIGHT
Ounces can quickly add up to pounds. Shaving off a few ounces by choosing a lighter backpack is an excellent way to help lighten your load. The less weight you have, the more comfortable you're likely to be during your backpacking trip. If you plan on spending most of the day hiking, you'll appreciate a backpacking backpack with minimal weight.
CAPACITY
The storage capacity you need is dependent upon the weather, duration, and difficulty of your backpacking trip. For lightweight backpacks, this typically means a 30 – 50L backpack will serve you well for a three-day journey. Meanwhile, a longer expedition with harsh weather will require you to carry more gear, meaning a heavier pack with more volume is necessary.
Remember, the bigger the capacity, the more weight you're likely to wind up carrying. Keep in mind, it's not recommended to haul around a backpack that weighs more than 20 percent of your body weight.
USE
Lightweight backpacking backpacks are a favorite among the long-distance, thru-hiking crowd. By only allowing room for the essentials, these types of packs let you go faster, longer, all while maximizing comfort.
If you prefer to bring luxury items on your trip or won't be able to resupply for a week or more, you may want to consider alternative heavier options.
FIT AND SIZE
Like getting fitted for hiking boots, it's important to get fitted for a backpack. Backpacks that don't fit properly can wind up causing you extra strain and injury when you're out on the trail.
To do this, you'll need to find your pack size by measuring your torso and hips. Then, you'll need to adjust all the backpack straps – hip, sternum, load lifter, and shoulder – so your hips and legs can support most of the load. Once you do all that, you'll have reached the sweet spot of optimum comfort.
We should also mention that size and fit can vary by manufacturer so always double check their sizing chart to make sure it's the best fit possible.
FEATURES EXPLAINED
FRAME
When choosing a lightweight backpack, you'll come across two widely used frame types: internal frames and frameless.
Internal backpacking frames are great for balancing and transferring the weight of your pack's load. They increase stability and mobility by hugging the pack closer to your body, while usually allowing for ventilation.
Frameless, on the other hand, is precisely what it sounds like- a backpack without a frame. The main purpose of going the frameless route is to lighten your pack weight.
While some people prefer the built-in structural support of a frame, others prefer to let their gear double as the frame. As long as you know how to pack strategically, you can still manage to balance your load properly.
SUSPENSION SYSTEM
Let's put it this way, if a feature were a friend lending you a helping hand on the trail, that feature would be your suspension system.
The suspension system of your pack is not one single feature, but rather a combination of several features including the frame, load lifters, hipbelt, back panel, sternum strap, and shoulder straps. Together, all these components work in unison to transfer the weight of your pack while at the same time allowing for more range of motion.
Basically, a backpack suspension system helps stabilize the brunt of the load while allowing you to feel more comfortable on the trail.
COMPRESSION STRAPS
Compression straps are located on the sides of your backpack. This nifty feature allows you to expand the storage capacity of your pack while at the same time tightening down your gear. Thus, it compresses your gear and keeps it closer to your body to help maintain a balanced load.
HIP BELT
Hip belts are a vital feature when it comes to a backpacking backpack. They will help you support the majority of your pack weight so it's important to find one that fits you well. Look for a hip belt with a decent amount of padding that sits comfortably around your hips.
Some hip belts even come with the addition of pockets. This is a nice feature to have when you want easy access to smaller items without having to go through the trouble of taking off your pack.
REMOVABLE LID
Some backpack manufacturers include removable lids at the top of the pack. This is essentially a removable pocket that resembles a fanny pack. They're great when you want to carry extra gear or organize smaller items, but can also be removed when you prefer to shed some weight.
DYNEEMA
Dyneema is like the Superman of the fiber world. This fiber has a strength-to-weight ratio that blows other materials out of the water. It's stronger than steel and is super lightweight – making it ideal for backpacking backpacks. Many outdoor manufacturers have caught wind of its impressive performance and it has become more widely used in high-quality outdoor gear.
VIDEO: BEST BACKPACKING BACKPACKS