Updated on November 11, 2020
Hiking through thick cacti and don't want to get scratched? Keep the pants on. Taking a break by a stream in the hot summer sun and want to cool off? It's time for shorts.Turning pants into shorts lets you determine what you're comfortable with, which is why convertible hiking pants are a great option for the outdoors.
Finding a quality pair of convertible hiking pants can be tough, though, especially if you want to avoid looking like a total geek on trail. Our list has several options, ranging in pants known for durability to comfortability so you're ready for whatever mother nature throws your way. A solid pair of hiking pants is vital in the backcountry, and we think you'll find what you're looking for here.
For more of our top hiking gear recommendations, check out the Best Hiking Pants.
[thrive_leads id='68005′]
Quick Answer

-

The Best Convertible Hiking Pants
Comparison Table

-

Best Convertible Hiking Pant

For the best experience turn your device horizontally
[thrive_leads id='56126′]
Reviews

-

The Best Convertible Pants for Hiking
Columbia Silver Ridge
View Women's Version
Specs
Fabric

:

Nylon

Inseam

:

10"

Moisture Wicking

:

Yes

Sun Protective Fabric

:

Yes
Features
Omni Wick Fabric Treatment Repels Water
Omni Shade UPF 50 Sun Protection
Zip Shut Security Pocket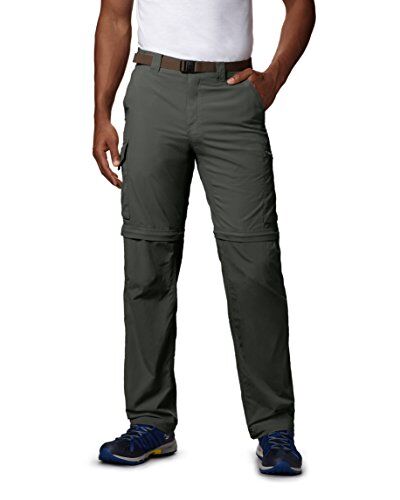 BEST FOR: LIGHTWEIGHT ENTHUSIASTS
Rain or shine, these pants will keep you dry and help protect you from the sun while you're logging miles. Breathable nylon fabric is comfortable and not restrictive, providing a full range of motion while you're hiking.
Several sizes including short and long inseams are available and many color options. These pants are perfect for the hiker who is looking for comfortability and protection from the elements.
REI Co-op Sahara
View Women's Version
Specs
Fabric

:

Nylon

Inseam

:

10" (Men's)

Moisture Wicking

:

Yes

Sun Protective Fabric

:

Yes
Features
Stretch Fabric
UPF 50+ (for protection from the sun)
Water Resistant Material
Color Coded Zippers
Cuffed Backs (to prevent against abrasion from terrain or from hiking boots)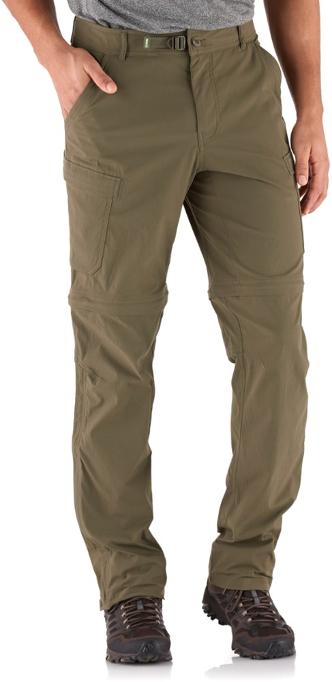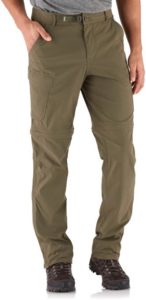 BEST FOR: DURABILITY
REI's Sahara Convertible Hiking Pant is a go-to pant for the outdoor community that has all the bells and whistles, plus more. These pants are made of a water resistant material that is also comfortable, have a UPF rating of 50+ and have several pockets.
Designed for ease, color coordinated zippers help identify which leg is right and left when converting to pants or shorts. The foot of the pant is lined with a durable fabric to help prevent abrasion from terrain or shoes. The Sahara Convertible Hiking Pants are a no-brainer.
KUHL Renegade
View Women's Version
Specs
Fabric

:

Nylon (Men's) / Polyester (Women's)

Inseam

:

10" (Men's) / 9" (Women's)

Moisture Wicking

:

Yes

Sun Protective Fabric

:

Yes
Features
Water Resistant
Secure Cargo Side Pockets
Ankle Adjustments For Personalized Fit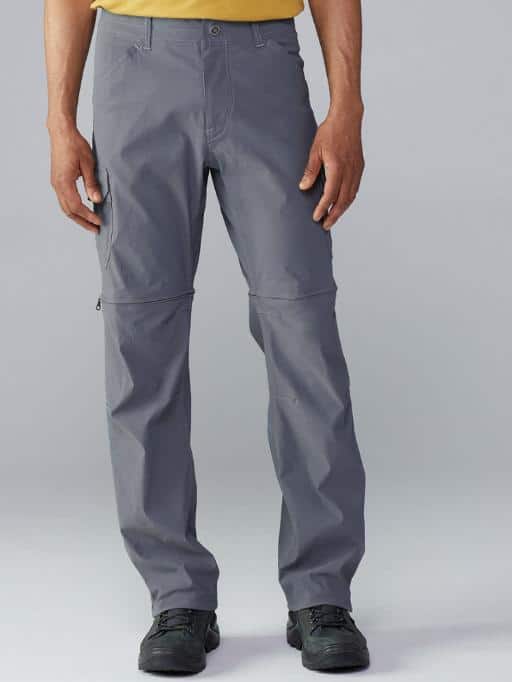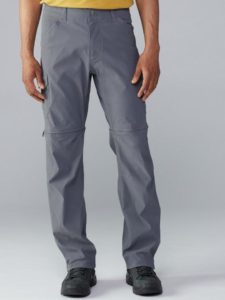 BEST FOR: STRONG AND STURDY CONDITIONS
Looking for the old dependable convertible hiking pants? Look no further than the Kuhl Renegade pant for men and the Horizn pant for women. These are built to last with a flexible, comfortable nylon fabric that also aids in wicking water and sweat.
Pockets on the side, back, and front of these pants ensure you can bring all your gadgets on your hike with a guarantee to be secure. Whether you enjoy hiking in boots, trail runners, or sandals, the custom fit at the bottom of the pants leave the width up to you.
prAna Stretch Zion
View Women's Version
Specs
Fabric

:

Nylon

Inseam

:

12" (Men's) / 15 inches" (Women's)

Moisture Wicking

:

Yes

Sun Protective Fabric

:

No
Features
Stretch Zion Fabric (for comfortability and full range of motion)
Water Resistant Material
Three Pockets
Cinch Belt System
Gusseted Crotch For Durability and Breathability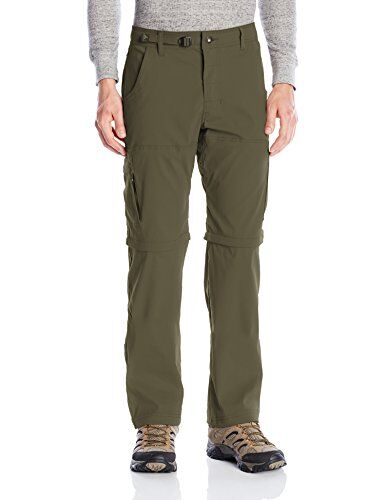 BEST FOR: NOVICE HIKER IN PLEASANT TERRAIN
The prAna Stretch Zion Convertible Pant is known for a glove-like fit. These pants are made with a fabric that moves comfortably on your legs as you hike uphill or downhill. Mesh pockets are lightweight while still being secure and the groin area has a gusseted crotch system to provide airflow.
The cinch belt provides stability when bending over – no more wondering if your pants are going to fall down. In addition, these pants are sleek and stylish, giving you what you need and nothing more.
MIER Convertible
View Women's Version
Specs
Fabric

:

Nylon/Spandex

Inseam

:

10" (Men's) / 8" (Women's)

Moisture Wicking

:

Yes

Sun Protective Fabric

:

No
Features
Water Resistant Material
Gusseted Crotch For Breathability And Durability
Six Pockets
Removable Belt/Elastic Waistband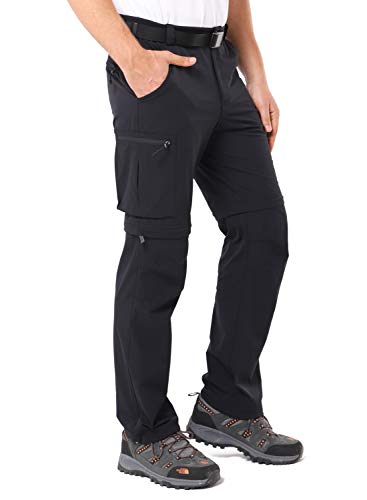 BEST FOR: CASUAL HIKING
Affordable and comfortable, the Mier Convertible Hiking Pants are made with lightweight and breathable nylon fabric. These pants help repel water in wet weather conditions and the convertible option will help you cool off on a hot day.
A removable belt and elastic waistband help keep the pants secure in different types of terrain, and the pants come with six different pockets to safely store your belongings.
[thrive_leads id='59716′]
THINGS TO CONSIDER WHEN BUYING CONVERTIBLE HIKING PANTS
CONVERTIBLE OR STANDARD
The biggest difference between a standard hiking pant and convertible hiking pants is obvious – convertible pants convert to shorts. Convertible pants are great for a multitude of weather conditions. For example, you may want to keep your pants on in the chilly mornings, but when the sun comes out midday, you might want to convert to hiking shorts.
The versatility that a convertible hiking pant offers is second to none. But some prefer a standard pant. If you're in between, check out this guide to hiking pants to help you make your decision. Also, this list of the best pants for hiking is a great breakdown of both options.
COST
If you're looking for an affordable all-around quality hiking pant, look for pants that are resistant to the elements. Water resistance is a blessing during rain, and you will thank yourself for having sun protective fabric in heat. The higher the price goes, the more comfortable the pant usually is, or the more features the pant has. Looking for a pant with more pockets? That's your preference. Decide what features are most important to you, and go from there.
COMFORT/FIT
When you first begin hiking, there is nothing more important than feeling comfortable. Look for a pair of pants that move with your body instead of against it. A cinch waist or a belt will also help your pants stay up when bending over or moving about.
A soft fabric such as nylon will feel light on your skin while also being durable. Mesh pockets and gusseted crotch designs will help alleviate chafe and increase breathability. If you plan on being in rocky terrain, looking for a pant with coverage on the boot of the pant will help elongate the lifetime of the pant. REI does a great job in outlining key fabric properties in this article about what to wear hiking.
WATER RESISTANT/SUN PROTECTIVE
A pant that is built with water resistant and sun protective fabric is a double win. This ensures that in rain or shine your pant will be able to pull through and protect you from the elements. It's important to note that water resistant does not mean waterproof, and amid a rain storm your pants will still soak through; but having a water resistant fabric will help the pants dry faster. Same thing goes for sun protective pants – this pant doesn't guarantee you won't get a sunburn, but it will help.
POCKETS
Some hikers prefer pants with several pockets, and some hikers simply don't need them. It depends on the length of your hike, and the gear you're bringing with you, as well as your personal preference. If you're going on an overnight trip, you're likely carrying a pack that can hold gear you otherwise might put in your pockets. If you're doing a shorter day hike and prefer no pack, having pockets can be essential.
Pockets are built differently; some are mesh, a lightweight, comfortable fabric that provides breathability. Some pockets are zip shut, which is a secure option for valuable items. Make sure to pay attention to the types of pockets on the pants you choose so you're not disappointed when you first wear them on a hike.
FEATURES EXPLAINED
UPF RATING
A measure of UVB and UVA radiation from the sun that hits the skin through fabric. A UPF rating of 50 means the fabric will allow 1/50th of available UVB or UVA radiation through.
SHORT INSEAM
The measure from the crotch to the bottom of the short. Knowing how long your shorts are can be important if chafing is an issue.
GUSSETED CROTCH
A diamond shaped piece of fabric sewn into the crotch area of a pant is known as a gusset crotch. The benefits include enhanced mobility and durability, breathability, and comfort.