Updated on October 7, 2020
Down puffer jackets are a big hit in the world of outerwear right now. With their insulated warmth and cool vibe, it's no wonder quilted down jackets are a modern hiker's dream. While you might expect to pay hundreds of dollars for a real down jacket, we've scoped out some of the best budget down jackets, all of which ring in under $150.
Whether you're looking for hooded or hoodless styles, men's or women's jackets, layerable or deep-freeze types, we've got a down jacket to suit your needs. Here are our top 5 picks.
For more of our top hiking apparel recommendations, check out the Best Down Jackets.
Quick Answer

-

The Best Budget Down Jackets
REI Co-op 650 Down Jacket 2.0

Columbia Voodoo Falls 590 TurboDown

Wantdo Lightweight Packable

Amazon Essentials Lightweight
Comparison Table

-

Best Budget Down Jacket

For the best experience turn your device horizontally
Reviews

-

The Best Down Jacket on a Budget
REI Co-op 650 Down Jacket 2.0
View Women's Version
Specs
Material

:

Recycled Nylon Taffeta

Insulation

:

650-Fill-Power Down

Size

:

Women's XS-XL; Men's S-3XL

Water Resistant

:

Yes

Hood

:

No

Lining

:

Nylon Taffeta
Features
Water-Repellent Finish Sheds Snow and Rain Sprinkles
Packable Into Its Own Left Pocket
Zippered Pockets to Warm Hands and Store Necessities
Hip-Length Cut, Stretch Cuffs, and Zip-Through Collar Create a Barrier Against the Elements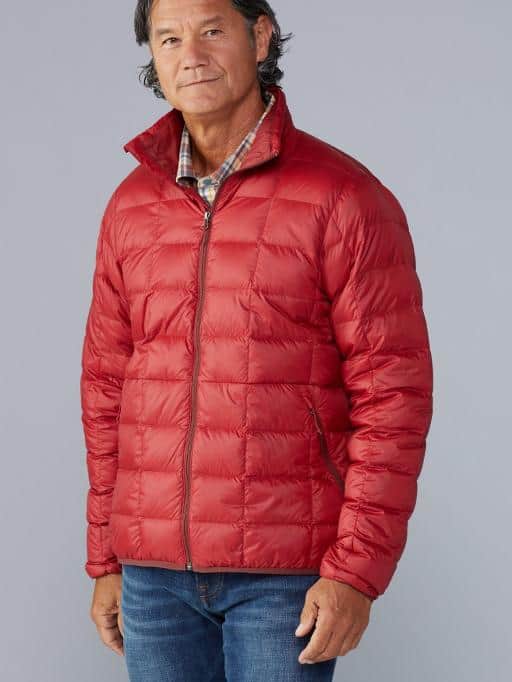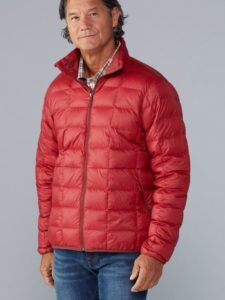 BEST PACKABLE EXTRA LAYER ON AND OFF THE TRAILS
This puffer jacket looks just as good off the beaten path as it does on it. The stylish colors, quilted design, and slight sheen look sharp, so you can wear it out to dinner straight off the trails. It's hard to argue with the buttery soft, cushy feel of this jacket wrapped around you – we're sure you won't want to take it off, even when your indoors!
One of the coolest unsung features of this jacket is that it's made out of recycled nylon and contains responsibly-sourced down. That means the fowl used for the down is never subjected to live plucking or force feeding. The jacket reflects your sentiments for a healthier planet.
Patagonia Down Sweater
View Women's Version
Specs
Material

:

Recycled Ripstop Polyester

Insulation

:

800-Fill-Power Traceable Goose Down

Size

:

Men's and Women's XS-XXL

Water Resistant

:

Yes

Hood

:

No

Lining

:

Recycled Ripstop Polyester
Features
Water-Repellent Finish Sheds Snow and Rain Sprinkles
Compressible and Ultra-Lightweight for Less Bulk
Zippered Exterior Pockets and Interior Chest Pocket Store Necessities
Hip-Length Cut, Stretch Cuffs, and Drawcord Hem Block Out the Elements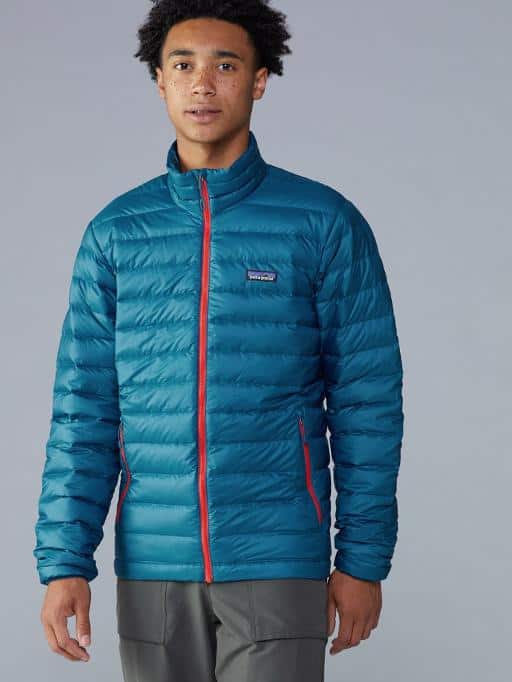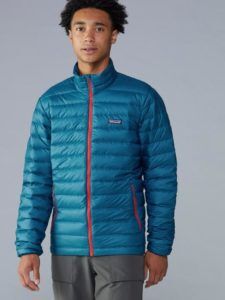 BEST MID-LAYER
With a base layer underneath and a waterproof layer over the Patagonia Down Sweater, you'll be properly bundled for a winter trail excursion. As you start to warm up, you can shed layers, one by one. Though the sweater jacket is water-resistant, try not to rely too heavily on its water-repellency because it will start to soak in some liquid after a bit. That's why a waterproof outer layer is a must in the rain.
The parallel quilting pattern and contoured cut of the ladies' version of this jacket create a flattering look, giving the jacket both a practical and a fashionable edge. The modern outdoor style and lack of bulky feel might leave you reaching for this jacket as your "go-to." Grab a warm hat and a set of gloves and you'll be properly outfitted for spontaneity in the outdoors!
Columbia Voodoo Falls 590 TurboDown
View Women's Version
Specs
Material

:

Nylon

Insulation

:

550-Fill-Power Down

Size

:

Women's S-L; Men's S-XXL

Water Resistant

:

Yes

Hood

:

Women's: Yes; Men's: No

Lining

:

Nylon
Features
Thermal Insulation for Warmth in Freezing Temps
Water-Resistant Shell Resists Sprinkles and Snow
Zippered Hand Pockets Store Your Loose Ends
Adjustable Drawcord Hem Provides a Close Fit
Stylish Color Gradient (Women's) Adds Appeal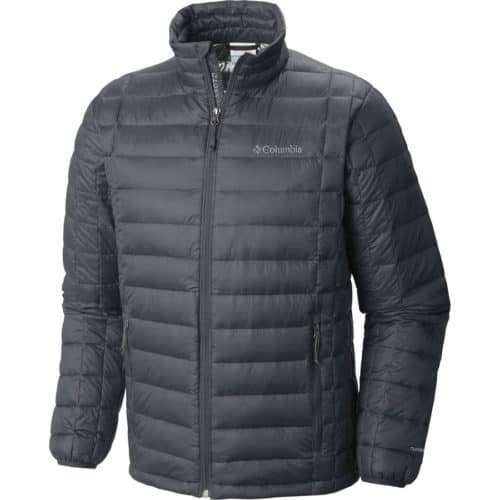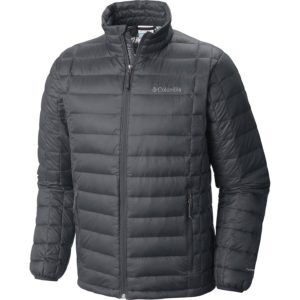 BEST FREEZING WEATHER JACKET
If you're always cold or you plan to venture out into colder temps, this jacket provides more warmth than the other options on this list. The thermal insulation absorbs your body heat so you can get a true taste of winter in warmth. The full-zip front, hood, and drawcord hem shut out cold drafts.
Even with its winter-ready warmth, the jacket is lightweight and snug, so you don't feel constricted by bulk. It's not all that compressible, so don't plan to pack it up in a compact pouch. Add a layer or two underneath and you might even be okay during sub-freezing temps, if you stay in motion.
Wantdo Lightweight Packable
View Women's Version
Specs
Material

:

Nylon

Insulation

:

80% Duck Down, 20% Feathers

Size

:

Women's and Men's S-XXL

Water Resistant

:

Yes

Hood

:

Yes

Lining

:

Nylon
Features
Zippered Hand and Chest Pocket and Inner Pocket for Storing Your Valuables
Earphone Port From the Inner Pocket Allows You to Listen to Music
Water Repellent and Windproof for Weather Protection
Packs Down Into a Small Pouch That's Easy to Carry
Hood and Zip-Through Collar Provide More Coverage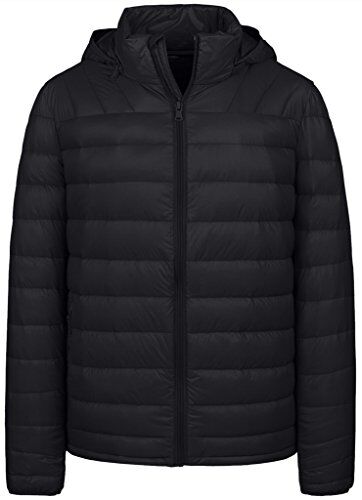 BEST MULTI-SPORT DOWN JACKET
You can't be limited to just one sport, and neither can this jacket. It's great for hiking, but you might as well take it skiing, fishing, backpacking, and snowshoeing too. The insulation and water-repellent finish block out the weather so you can take on any wild adventure in the great outdoors. Raglan sleeves accommodate the sporty explorer in you and make room for extra layers.
If you're from the south and taking a trip to a cooler climate, you really can't beat the price and packability of this jacket for your temporary needs. The form-flattering cut and quilting pattern transfer your style from one setting to another too.
Amazon Essentials Lightweight
View Women's Version
Specs
Material

:

Nylon

Insulation

:

90% Duck Down, 10% Feathers

Size

:

Women's XS-L; Men's S-L

Water Resistant

:

Yes

Hood

:

No

Lining

:

Nylon
Features
Machine Washable for Easy Care
Water-Resistant Finish Sheds Snow and Sprinkles
Packs Down Into the Included Storage Pouch
Side Zippered Pockets Hold All Your Loose Ends
Full-Zip Front and Zip-Through Collar Block Out the Cold
BEST BASIC DOWN JACKET
This jacket is like the "capsule piece" of outerwear you can get the most use out of. Like a little black dress or a good pair of jeans, you can rely on this jacket to be your basic outerwear essential. The color options go with any personal style and the details and features are reliable – this jacket will never let you down.
Take, for instance, the jacket's packability–you can throw it in your car, closet, or carry-on and it's there when you need it. It's comfortable, keeps you warm, and fulfills its purpose. It's not all that technical or feature-loaded, so if basic's what you're looking for, this jacket is it.
THINGS TO CONSIDER WHEN BUYING A DOWN JACKET ON A BUDGET
MATERIAL
The jackets on this list are all made out of either nylon or polyester. Both have resilient, water-resistant qualities that make them favorable for outerwear. They're both common and suitable for jackets, but you may prefer the look or feel of one over the other. Here's more information on what to wear hiking.
SIZES
The size of the jacket is probably one of your first concerns, especially when buying online. It's important to check the manufacturer's measurements against your own and check to see whether reviewers report the fit to be small, large, or true to size.
DOWN TYPE
Down jackets typically come with either duck or goose down with a specific fill power (see Features Explained). The higher the fill power, the better the insulation. Some manufacturers use humanely-sourced down while others don't. If that's important to you, look for responsibly-sourced or traceable down, which means the animals were never force-fed or live-plucked.
WASHING INSTRUCTIONS
You might be wondering whether or not you can wash a down jacket in the washing machine. In most cases, the answer is yes. Some might recommend hand washing, but most don't require dry cleaning. Check the tag to make sure you follow the instructions to extend the life of the down.
WEATHER
Many of the jackets on this list are appropriate for fall and early winter weather in the northern hemisphere. You can certainly add layers under and over them, but most of them aren't suitable for sub-zero temperatures or high amounts of rain. This guide can help you learn how to dress for cold weather.
FEATURES EXPLAINED
TAFFETA
Nylon taffeta is a specific weave of nylon that has a slippery quality to it. Taffeta is often used for jacket linings and sleeves, making the jacket easier to slip on and off.
FILL POWER
The down inside a jacket is usually designated with a fill power number. Higher fill power numbers indicate a higher volume of down. Numbers in the 550 range have a decent quality, especially for a smaller budget. Read more about duck down versus goose down and respective fill power.
RAGLAN SLEEVES
Raglan sleeves are sleeves made out of a single piece of fabric that runs from the wrist across the shoulders. These sleeves leave extra room for sportier builds and allow for less restricted movement.
SHELL
The shell refers to the exterior fabric of a jacket, the part that's most exposed to the weather.
QUILTED
Quilting refers to the sewing construction of a garment. Like with a quilted blanket, a quilted jacket comes with a top layer, a bottom layer, and a sandwich layer, all sewn together in a pattern. The top layer is the shell, the bottom layer is the lining, and the sandwich layer is the down insulation. The sewing technique used to sew them together is usually straight lines, sometimes sewn parallel and other times sewn in a blocked pattern.