Updated on February 7, 2020
Are you ready to explore the planet's most exciting dive sites? If your plans include dive travel, you'll need to prepare for your upcoming adventures by buying the right gear. While most divers purchase their regulator, mask, and fins first; travel enthusiasts should consider buying a BCD (buoyancy control device) sooner rather than later. The best travel BCDs are lightweight and portable, yet strong and stable enough to keep you feeling comfortable in the water. But which design is best for you? Keep reading to learn about our favorite models on the market, and all the features and considerations you should keep in mind while shopping.
For more of our top scuba gear recommendations, check out the Best Scuba BCDs.
Quick Answer

-

The Best Travel BCDs
Comparison Table

-

Best Travel BCD

For the best experience turn your device horizontally
Reviews

-

The Best BCDs for Travel
Zeagle Scout
Specs
Lift Capacity

:

24 lbs

Style

:

Back Inflate

Dry Weight

:

6.7 lbs
Features
Mounting Grommets (for storing accessories outside your BCD)
Easy Clean Bladder (easy access to rinse the BCDs internal bladder)
Traditional Weight System (no integrated pockets)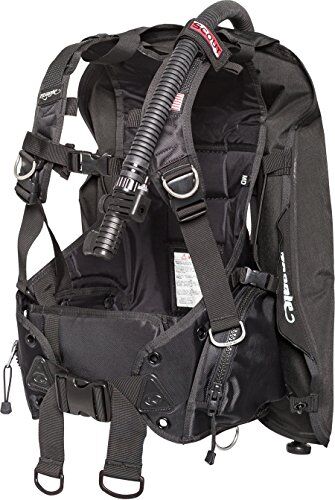 BEST FOR: EXTRA COMFORT
If you're looking for a travel BCD that doesn't cut corners on comfort, the Zeagle Scout is a top pick. This back inflating system wraps snugly around your shoulders and hips, reducing unwanted movement underwater. Plus, its padded and flexible backplate won't dig into your back and sides, even on the surface. The Zeagle Scout features a traditional (non-integrated) weight system plus a few extra pockets for trim and accessories, reducing its dry weight and making it an easy-to-pack option.
Dive Rite Travel-Pac
Specs
Lift Capacity

:

25 lbs

Style

:

Back Inflate

Dry Weight

:

5.2 lbs
Features
Adjustable Height (waist and chest straps that slide up and down to fit all heights)
Easy Clean Bladder (easy access to rinse the BCD's internal bladder)
Traditional Weight System (no integrated pockets)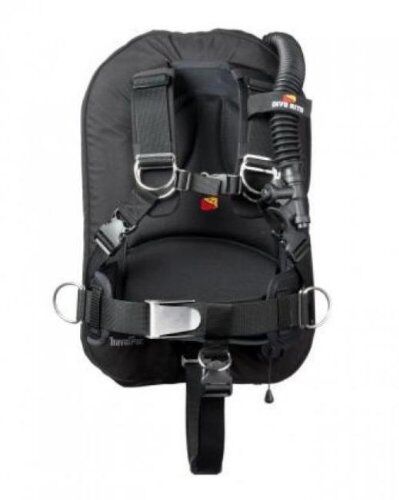 BEST FOR: EXPERIENCED DIVERS
Most back inflating systems fit like a jacket, despite the placement of their air bladders. But, the Dive Rite Travel-Pac is an entirely different design. This BCD features a metal backplate and wing, plus a fully adjustable diving harness made from flexible webbing. This model's straps adjust to your exact body size and are held in place by a crotch strap (an additional piece of webbing that keeps your equipment from riding up). This BCD is ideal for diving in caverns, caves, wrecks, and other overhead environments. Plus, it's one of the most lightweight models on the market.
Oceanic BioLite
Specs
Lift Capacity

:

32 - 38 lbs

Style

:

Back Inflate

Dry Weight

:

5.5 lbs
Features
Adjustable Height (waist and chest straps that slide up and down to fit all heights)
Trim Pockets
No Backplate (completely flexible design)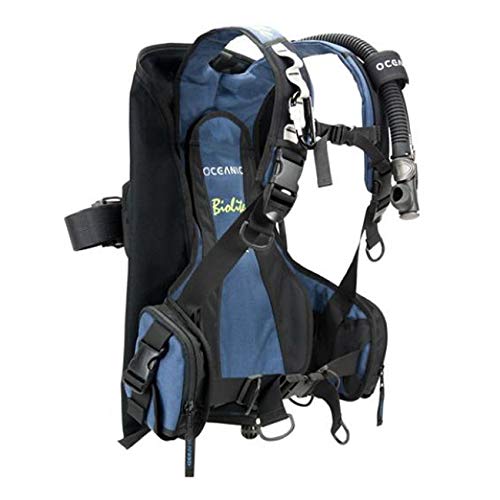 BEST FOR: TROPICAL TRAVEL
Whether you dive in warm or cold water, the Oceanic Biolite is a great choice for drive travel. This back inflating model features everything you need and nothing you don't, so it's one of the lightest options available. Because it was designed without a backplate or plastic trays in its weight system, it's flexible enough to roll up and shove in your gear bag. While this design doesn't feature much internal storage, tropical divers will find all the space they need for accessories on its metal D-rings.
ScubaPro GO
Specs
Lift Capacity

:

22 - 42 lbs

Style

:

Jacket

Dry Weight

:

6 lbs
Features
Travel Bag Included
Utility Pockets (for storing accessories inside your BCD)
Mounting Grommets (for storing accessories outside your BCD)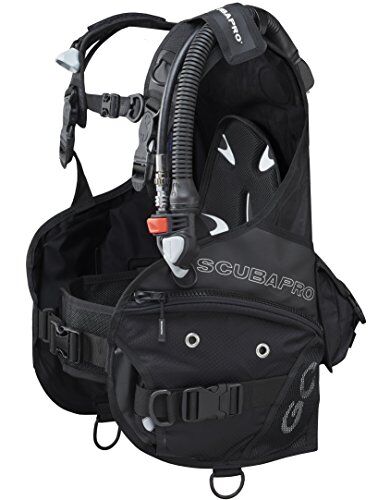 BEST FOR: BEGINNERS
Are you recently certified or planning your very first dive vacation? The ScubaPro Go is an excellent entry-level choice, perfect for globetrotters. This traditionally designed jacket is stable and comfortable thanks to its wraparound sides and adjustable swiveling straps. Plus, it offers plenty of storage and a unique buckled-in weight system that requires no plastic trays or handles. Best of all, this BCD weighs in at only 6 lbs, and the flexible backplate folds neatly for packing in its provided travel bag.
Oceanic Jetpack
Specs
Lift Capacity

:

30 lbs

Style

:

Back Inflate

Dry Weight

:

6.3 lbs
Features
Travel Bag Included
Adjustable Height (waist and chest straps that slide up and down to fit all heights)
No Backplate (completely flexible design)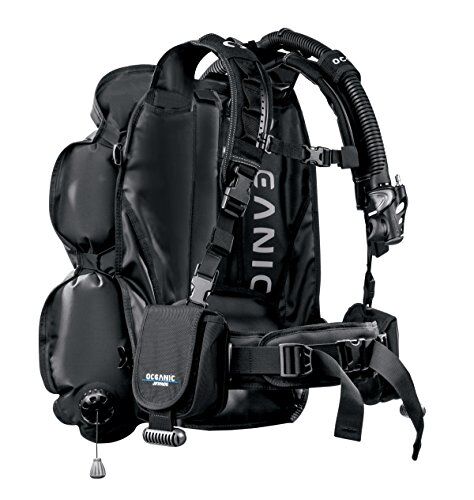 BEST FOR: BACKPACKERS
The Oceanic Jetpack was designed for divers on the go. This BCD doesn't just store in a travel bag; it actually becomes the travel bag. In the water, this back inflating system offers stable wraparound support and a highly adjustable system of straps. Plus, it provides enough lift for divers in cool climates. After diving, a few quick folds transform the Jetpack into a zippered carry-on gear bag with plenty of room for your entire kit. The bag's exterior features a semi-dry seal, perfect for keeping wet items separate from the rest of your luggage.
THINGS TO CONSIDER WHEN BUYING A TRAVEL BCD
FIT
No matter what type of gear you're shopping for, fit is the most important consideration. Travel BCDs are more lightweight and flexible than their traditional counterparts, so they are more prone to moving around on your shoulders underwater and riding up while on the surface.
You should try your BCD on before buying it if possible to ensure a good fit. A full BCD that fits properly will wrap snugly around your body without pinching or squeezing. When emptied, it should not rotate or slide around on your shoulders or waist. Choose a model with room for adjustment in all of its clips and straps, just in case you put on a couple of pounds in between dive holidays.
STYLE
The two most common BCD designs are back flotation (also referred to as back inflate) and jacket.
Back flotation BCDs are less popular, except when it comes to dive travel. These styles are much more compact and easy to pack, thanks to their easy-to-roll-up bladders and flexible backplates. This makes them an obvious choice for jet setters. Many experienced divers prefer back flotation BCDs because they are less restrictive than their bulky counterparts, making them more comfortable and "free" feeling. These styles promote perfect trim and streamlining underwater, thanks to their form-fitting designs. So, they are ideal for divers who are interested in exploring overhead environments like shipwrecks and caves.
Jacket style BCDs fit snugly around the shoulders and chest, just like a jacket. These are the most common models available and considered the "traditional" design by old-school SCUBA divers. Most dive centers train their students using this type of buoyancy device because they are stable, supportive, and easy to control. Jacket styles are easy to don and doff because they slide over the shoulders like a winter coat, making them a popular choice for rental equipment.
If you plan to dive in rough conditions, keep in mind that a jacket style BCD will be more comfortable on the surface. This design pushes your head and shoulders well above water, whereas some back inflating models actually rotate your body forward, pushing your face closer to the water's surface.
LIFT
A BCD's lift describes how much weight it can compensate for. Because most divers prefer to visit warm water destinations, lift is not a major focus when it comes to travel BCDs. But, if you're planning to dive with a lot of lead or in colder waters, you'll need to offset the weight. A BCD with too little lift will let your face and shoulders dip close to the water when you're on the surface, causing distress during long swims or while waiting for the boat. Too little lift can also cause issues underwater because you become less and less buoyant as you descend. This is especially noticeable for divers who use a large amount of weight. When in doubt, choose a BCD with more lift than you think you'll need.
WEIGHT SYSTEM
These days, most BCDs include an integrated weight system. Some utilize plastic trays with locking handles to hold your lead in place, while others use buckles or zippers with "quick release" mechanisms. No matter what type of weight integration you choose, be sure to select a system that is easy to release at depth.
The most lightweight BCDs on the market typically don't include weight integration. The trays and clips required aren't easy to fold or roll. And, they add weight to your gear bag. Consider a traditional system that uses a weight belt if you are trying to travel with as little weight as possible.
DIVE ENVIRONMENT
Most divers prefer to vacation in calm destinations with warm, tropical water. But that isn't always the case. When shopping for a travel BCD, keep all the diving environments you want to explore in mind.
If you're expecting cold water or rough surface conditions, you'll want a little bit of extra lift. Technical diving and overhead environments (any enclosed space underwater) may require the use of a back inflating system. If your travel plans include challenging environments, choose a BCD that is strong, and stable, and offers plenty of versatility.
FEATURES EXPLAINED
ADJUSTABLE HEIGHT
If you've ever experienced dive gear that rides up on the surface, you know it isn't any fun. But, this uncomfortable situation is easy to prevent. Some BCDs are designed with moving chest and waist straps that allow a custom fit for divers of all heights. This feature will keep your kit's center of gravity low, and help your tank "stick" to your back instead of bobbing around on the surface. This feature is especially valuable for petite divers, women, and kids.
UTILITY POCKETS
Utility pockets make it easy to carry accessories like a torch, dive knife, and SMB (surface marker buoy). These internal storage pouches close with Velcro or a zipper, sometimes expanding or rolling out for extra space. While most travel BCDs are designed with very little storage, at least one closing pocket is vital for carrying those odds and ends.
TRIM POCKETS
Trim pockets evenly distribute your dive weights and help you maintain proper body positioning both above and below water. Typically, these are not "quick release", so they only hold a few pounds while the majority of your weight is stored in integrated pockets or on a belt. Most trim pockets are on the back of your BCD, near the tank.
MOUNTING GROMMETS
If your BCD doesn't include much internal storage, you'll want a few mounting grommets for attaching accessories. These reinforced points allow dive knives, lights, and other tools to stow securely on the outside of your gear.
EASY CLEAN BLADDER
Caring for your BCD will extend its life, and removing all traces of salt is the most critical part of the cleaning process. Some styles have a port on the air bladder that attaches directly to a garden hose for super easy interior cleaning. An easy-to-open port also provides air circulation and speeds the drying process.
NO BACKPLATE
Most travel BCDs use a flexible backplate or none at all. This allows your gear to roll or fold into a much smaller space, ideal for cramming everything into an equipment bag. While styles with a plastic backplate and carrying handle might be best for everyday use, they are a bit bulky for packing.
READ MORE
For more of our top scuba diving gear recommendations, check out these popular buyer's guides: