Updated on November 9, 2020
You are tackling a long, strenuous trail and find yourself in front of a stream. The last thing you want to do is get your socks wet, but taking your shoes off isn't fun either. The best waterproof hiking boots let you avoid exactly those kinds of situations.
Built to keep your feet dry on any type of terrain, quality waterproof hiking boots balance performance and protection. They support you thanks to their anti-shock properties, offer stability through gripping soles and, obviously, defend your feet against rain and swampy paths.
Whether you're backpacking in inclement weather or crossing low rivers or streams to get to your destination, a reliable pair of waterproof boots are essential for the success of your hike. We've collected the ten best waterproof hiking boots available out there to make sure you arrive dry as dust at the end of the trail.
For more of our top hiking footwear recommendations, check out the Best Hiking Boots.
Quick Answer

-

The Best Waterproof Hiking Boots
La Sportiva Nucleo High GTX

Salomon X Ultra 3 Mid GTX

Vasque Breeze III Mid GTX

Merrell Phaserbound 2 Tall
Comparison Table

-

Best Waterproof Hiking Boots
Reviews

-

The Best Hiking Boots with Waterproofing
Aku Alterra GTX
View Women's Version
Specs
Weight

:

2 lbs. 15 oz. (Men's)

Type of Waterproofing

:

Gore-Tex

Outsole

:

Vibram Octopus Rubber
Features
Breathable Membrane Lets Your Feet Breathe
Rugged Design
Shock Absorption Technology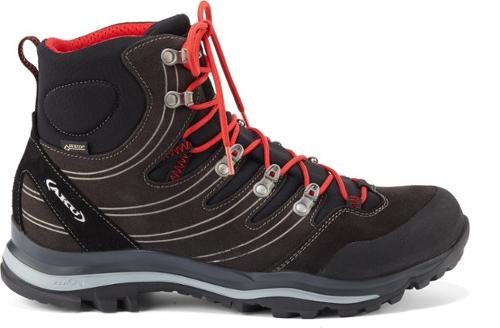 BEST FOR: "COMFORT-FIRST" BACKPACKERS
Thanks to the breathable membrane that covers the Aku Alterra GTX Hiking Boots your feet will stay dry while also being able to release some heat. These hiking boots are designed to allow your feet to move naturally through their range of motion, so you won't feel cramped or uncomfortable when walking on uneven surfaces.
The  Aku Alterra GTX are built with durable but soft materials, allowing you to hike for long distances on all kinds or terrain. They fit tightly around your ankle to prevent pebbles, debris and drizzle from entering, and the rubber toe caps offer protection from the larger rocks you may hit while walking on the trail.
While the inner soles are engineered to increase support and stability through light cushioning, the outsoles offer excellent grip and traction on all kinds of terrain.
La Sportiva Nucleo High GTX
View Women's Version
Specs
Weight

:

2 lbs. 1.6 oz. (Men's)

Type of Waterproofing

:

Gore-Tex

Outsole

:

Vibram Nano Rubber
Features
Durable Nubuck Leather Uppers (for breathable and long lasting comfort)
Increased Torsion Resistance (to keep your ankles stable and prevent accidental rolling)
Soles Provide Extra Traction And Grip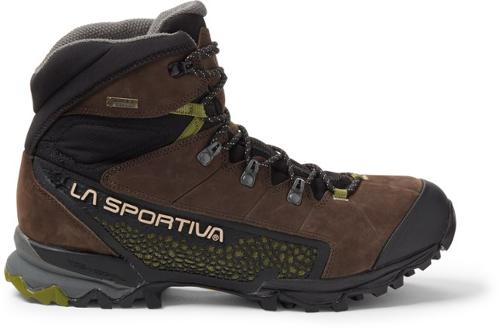 BEST FOR: TECH-SAVVY EXPLORERS
The innovative outer membrane of the La Sportiva Nucleo High GTX Hiking Boots guarantees maximum breathability from the underfoot while protecting from water. The combination of advanced synthetic fabrics with durable nubuck leather ensures that your feet are always comfortable and safe, while remaining dry, no matter how far you walk.
The rubber outsoles are designed to hold a strong grip in any type of environment, plus, thanks to the impact brake technology, the shock resulting from walking with a heavy backpack will be limited. It's not by chance that Outside Magazine gave these boots the Gear of the Year Award in 2017!
Lowa Renegade GTX Mid
View Women's Version
Specs
Weight

:

2 lbs. 7 oz. (Men's)

Type of Waterproofing

:

Gore-Tex

Outsole

:

Vibram Evo Rubber
Features
Nylon Ankle Bands For Comfort and Flexibility
Increased Stability
Suitable For Long Hikes And Backpacking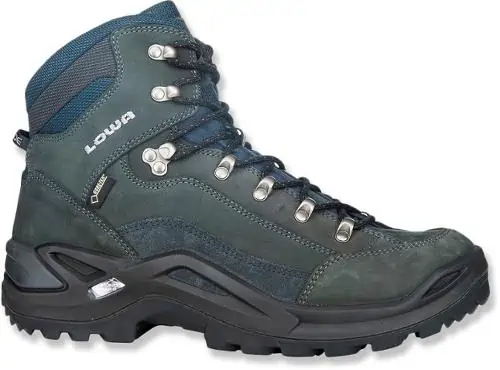 BEST FOR: WEEKEND BACKPACKERS
Produced by the official boot sponsor of the American Hiking Guides Association, the Lowa Renegade GTX Mid Hiking Boots are designed to substantially reduce strain on your ankles and feet. Thanks to the Cordura nylon ankle band these boots fit tightly around your feet, preventing trail debris from entering your boots and disturbing your weekend hike.
Thanks to the advanced Gore-Tex liners you can cross low streams without worrying about taking your boots off or balancing on unsteady rocks. The waterproof and breathable fabric is used together with nubuck leather to create a pair of boots that will protect you for a lifetime.
The midsoles are engineered to absorb shock on impact, making these boots ideal for weekend backpacking trips, while the external frame surrounding the lower part of the foot increases stability.
Oboz Bridger Mid BDry
View Women's Version
Specs
Weight

:

2 lbs. 6 oz. (Men's)

Type of Waterproofing

:

Proprietary Waterproof Membrane (BDry)

Outsole

:

Carbon Rubber
Features
A Tree Gets Planted For Every Pair Sold!
Nylon Mesh Lining That Wicks Moisture
Rubber Caps On Toes and Heels To Prevent Abrasion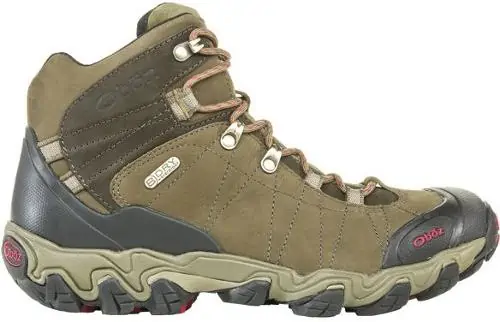 BEST FOR: ENVIRONMENTALLY-CONSCIOUS HIKERS
Moisture-wicking and quick-drying, the Oboz Bridger Mid BDdry Hiking Boots pair a classic look with a rugged design, ideal to tackle any kind of trail without skimping on style. These boots are built with soft nubuck leather that adapts rapidly to your foot's shape, while repelling water from rain, streams or mud. Additionally, mesh membranes keep your feet cool and ventilated even after hours of walking.
The footbed offers arch support while the midsole provides cushioning against impact on hard surfaces. Plus, an extra layer of rubber on the heel and toe areas will prevent all the swearing that comes from accidentally kicking a rock while looking at your smartphone on the trail.
Another great thing about Oboz is that they work in partnership with Trees for the Future, planting a tree for every pair of boots sold!
Merrell Moab 2 Mid WP
View Women's Version
Specs
Weight

:

2 lbs. 4 oz. (Men's)

Type of Waterproofing

:

Proprietary Waterproof Membrane (M-Select DRY)

Outsole

:

Vibram TC5+ Rubber
Features
Arch And Heel Support
Air Cushion For Shock Absorption
High Breathability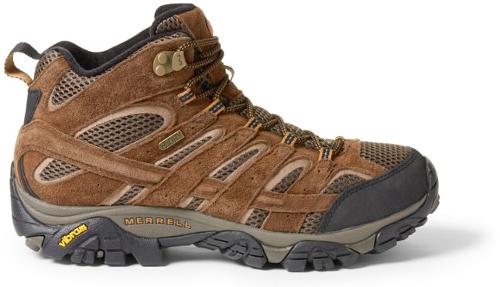 BEST FOR: BUDGET BACKPACKER
The Merrell Moab 2 Mid WP Hiking Boots are affordable, versatile, and lightweight. They are a safe choice for day hikers and backpackers walking on uneven surfaces, as they provide good cushioning, durable and gripping rubber soles, plus a waterproof membrane to keep your feet dry.
Compared to the previous model, the Moab 2 has improved the midsole to increase stability and support in both the arch and the heel, and reviewed the design of the suede leather and mesh uppers, making them even more breathable.
These boots are lighter than more expensive models on this list, meaning that while they are great for summer hikes on well maintained tracks, you may want to consider something sturdier if you're planning long backpacking trips.
Salomon X Ultra 3 Mid GTX
View Women's Version
Specs
Weight

:

1 lb. 15.6 oz (Men's)

Type of Waterproofing

:

Gore-Tex

Outsole

:

Contagrip Rubber
Features
Lightweight
High Traction Outsoles
Foam Cushioning For Extra Comfort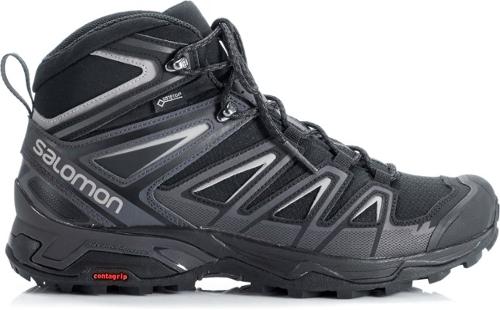 BEST FOR: LIGHT PACKERS
The Salomon X Ultra 3 Mid GTX Hiking Boots promise running-shoe comfort with all the technical features you'd want in an advanced trekking boot. Thanks to the high-traction Contagrip outsoles engineered to funnel water away from your feet, no surface is too wet or slippery for you to walk on. The risk of falling is reduced to a minimum thanks to the patterned soles that grip tightly to the ground.
The breathable membrane and inner linings are abrasion resistant and dry quickly, while the mud guards and rubber toe caps create a protective shield that prevents injuries when you hit roots or rocks. The Salomon X Ultra are also lighter in weight than most boots in the same category, meaning that they won't be a pain to carry when not in use.
Vasque Breeze III Mid GTX
View Women's Version
Specs
Weight

:

2 lbs. 10 oz (Men's)

Type of Waterproofing

:

Gore-Tex

Outsole

:

Vibram Contact Grip
Features
Durable Uppers
Cushion Pods For Increased Support
Heel and Toe Ventilation Ports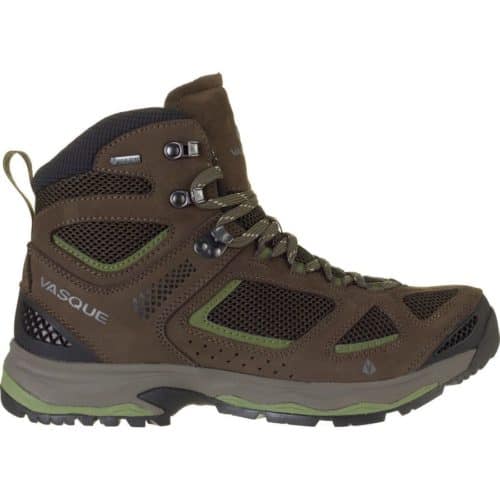 BEST FOR: CLASSIC STYLE WITH MODERN FEATURES
The classic-looking Vasque Breeze III Mid GTX offer everything you could ask for in a technical hiking boot without breaking the bank. The leather uppers combine abrasion-resistant leather with mesh panels that increase breathability. The Gore-Tex membrane repels water, while the ventilation ports on heel and toe areas allow the air to flow along the footbed, keeping your feet cool even on extended itineraries.
Comfort here does not come at a premium – the Vasque Breeze III are stabilized and contain cushion pods that keep your feet safe and sound even while performing high-impact activities. These boots are perfect for long backpacking trips and thru-hikes, competing with higher-end products in terms of both durability and features.
KEEN Gypsum II Mid WP
View Women's Version
Specs
Weight

:

2 lb. 6.4 oz. (Men's)

Type of Waterproofing

:

Proprietary Waterproof Membrane (KEEN.Dry)

Outsole

:

Non-marking Rubber
Features
Heel Support Structure For Stability
Rugged Soles For Extra Traction
Nubuck Leather Uppers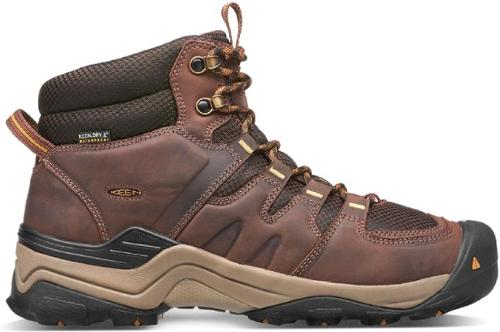 BEST FOR: "STYLE-FIRST" BACKPACKERS
With a rugged outsole and a heel support structure for increased stability, no trail is too rough or wet for the Keen Gypsum Mid II WP Hiking Boots. The nubuck leather and mesh fabric uppers are combined with a waterproof and breathable membrane designed to repel both water and trail debris. This means that crossing shallow streams, muddy areas or rocky paths will be a breeze.
Get out of your comfort zone by slipping into these versatile boots with cushioned footbeds and natural odor control, designed to keep your feet comfortable on short and long trails in any weather condition.
Asolo Falcon GV
View Women's Version
Specs
Weight

:

2 lbs. 2.6 oz. (Men's)

Type of Waterproofing

:

Gore-Tex

Outsole

:

Vibram Megagrip Rubber
Features
Self-cleaning Soles
Water-resistant Suede Uppers
Boots Can Be Resoled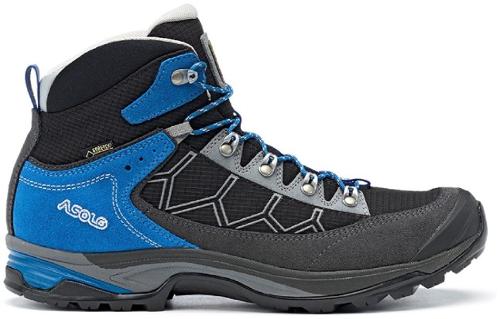 BEST FOR: FREQUENT HIKERS
It's not just the waterproof Gore-Tex membrane and the high-tenacity nylon uppers that make the Asolo Falcon GV great. They're also lightweight and suited for every type of trail, no matter how long, wet, or rugged. Where you're setting out to reach high altitudes or explore humid wetlands, these reliable boots will keep your feet dry, comfortable, and safe.
The structure of the midsole has been designed to provide extra stability and protection from impact, while the design of the heel maintains the correct heel shape even after extended use. The self-cleaning Vibram Megagrip soles, as the name suggests, offer excellent traction on both wet and dry ground and if, after years of use, you decide you love these boots too much to replace them, resoling is also possible.
Merrell Phaserbound 2 Tall
View Women's Version
Specs
Weight

:

2 lbs. 15 oz. (Men's)

Type of Waterproofing

:

Proprietary Waterproof Membrane (M-Select DRY)

Outsole

:

Vibram Megagrip Rubber
Features
Durable Leather, Suede, And Mesh Uppers
Protective Rubber Toe Caps
Excellent Grip On Wet And Dry Surfaces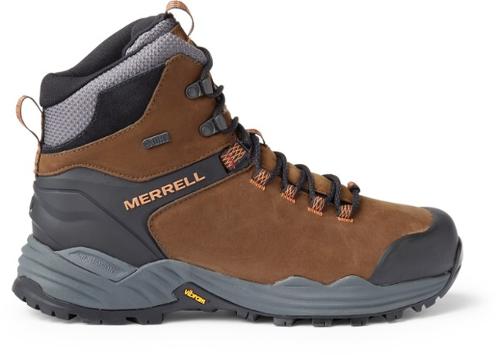 BEST FOR: LONG HIKES WITH HEAVY BACKPACKS
Designed with the thru-hiker in mind, these elegant hiking boots offer maximum protection from both the elements and injuries. The full-grain leather, suede and mesh uppers keep your feet dry together with the impermeable membranes, while the protective rubber toe caps shield your feet against small rocks or exposed roots.
Pebbles won't enter your boot thanks to the bellows tongue and the contoured insole, which are both flexible and soft enough to keep you going for hours on end. In the heel, an integrated Merrel Air Cushion absorbs shock from impact on hard surfaces, adding extra stability when you are carrying a heavy load on your shoulders. The Vibram Megagrip outsoles have 5mm deep lugs meaning that they will reduce your risk of slipping on both dry and wet surfaces.
THINGS TO CONSIDER WHEN BUYING WATERPROOF HIKING BOOTS
MATERIALS
One of the first things you should check when buying waterproof hiking boots is the materials with which they are built. Hiking boots are always made with a mix of fabrics and plastics, but depending on your needs some models might be more suitable than others.
The uppers are commonly made with leather and mesh. Leather is durable, abrasion resistant and water repellent, while mesh fabric is added to increase ventilation. Waterproof hiking boots will have a special kind of mesh fabric that allows the air to enter for ventilation, while stopping the water.
Different kinds of leather are employed to produce waterproof hiking boots. Full-grain leather (such as nubuck) is thick and durable, excellent for extended trips on rugged terrain. Split-grain leather, on the other hand is cheaper, lighter and more breathable, as the inner part of the cowhide has been removed.
Vegan hiking boots (made entirely with synthetic materials) are available on the market as well, although they are not as popular as leather boots because of their shorter life span.
Midsoles tend to be built with plastic materials (such as EVA or polyurethane) and provide some degree of cushioning in the parts of the foot where support is needed. Outsoles are always made of rubber, with Vibram being one of the most frequently used manufacturers.
PROTECTION
A good waterproof hiking boot doesn't only protect you from water while hiking in the rain or crossing unexpected streams, but also lowers the risk of injuries.
Most boots offer some degree of cushioning in the midsole. This is necessary to protect you from the shock of walking or running on hard ground, but depending on what sort of activity you prefer, you may opt for more or less padding. High-impact activities like backpacking require more cushioning, which translates into a stiffer midsole built to provide extra stability. For hikes on well maintained trails without a heavy backpack, thinner and more flexible soles will do just fine.
Some boots include heel and toe caps. These are extra layers of rubber attached externally, that shield your feet against roots and rocks that you might hit while walking.
The outsole is usually patterned to provide traction and reduce the risk of slipping. Depending on how deep the lugs under the sole are, a boot will have more or less grip (deep lugs = more grip).
FIT
Obviously, you need to know your size before ordering a pair of waterproof hiking boots. It is important to remember that you may be wearing technical (read: thicker) socks on the trail, so consider the space needed.
Hiking boots should be comfortable but fit tightly around your feet to prevent movement and reduce the risk of blisters or abrasion. Also, consider that the fit could be affected by the way you lace your boots.
FEATURES EXPLAINED
GORE-TEX (GTX)
A waterproof and breathable fabric membrane commonly used in waterproof clothing and shoes.
NUBUCK LEATHER
Durable and resistant full-grain leather that resembles suede.
VIBRAM
One of the most frequently used manufacturers of rubber outsoles.
MIDSOLE
The layer between footbed and outsole that provides cushioning and protects against shock.
OUTSOLE
The rubber layer placed at the bottom of the hiking boot, usually patterned to increase grip.
TOE/HEEL CAPS
Protective layer of rubber (or other material) meant to shield against impact with roots or rocks.
READ MORE
For more of our top hiking & backpacking gear recommendations, check out these popular articles: