Updated on September 22, 2020
Whether you're new to boarding or you're a seasoned professional, it's not hard to fathom the importance of your pants when it comes to being comfy on the mountain! Believe it or not, there's quite a lot to learn about this specialized piece of clothing, but we don't want to let that stop you from hitting the slopes. That's why here at The Adventure Junkies, we've compiled all the information you need to make a selection from this list of the best women's snowboard pants.
From fabrics to styles to best uses and beyond, we'll break down everything you need to know before choosing the best snowboard pants for you. And if by the time you reach the end of this article you still have questions, we've got your back. Check out the links we've included in the "Things To Consider" section for more expert advice on choosing the best women's snowboard pants. Now get reading…and gear up girl! Winter is coming!
For more of our top snowboarding gear recommendations, check out the Best Snowboard Jackets. 
Quick Answer

-

The Best Women's Snowboard Pants
Patagonia Insulated Snowbelle

Outdoor Research Hemispheres
Comparison Table

-

Best Women's Snowboard Pants

For the best experience turn your device horizontally
Reviews

-

The Best Snowboard Pants for Women
Patagonia Insulated Snowbelle
Specs
Fabric

:

Polyester

Inseam

:

32 in.

Weight

:

1 lb. 6 oz.

Liner

:

Taffeta

Style

:

Pants
Features
Lightweight Insulation Keeps You Warm Without Weighing You Down
Moisture-Wicking Waistband Keeps You Dry And Comfortable
Mesh-Lined Thigh Vents Let You Release Excess Heat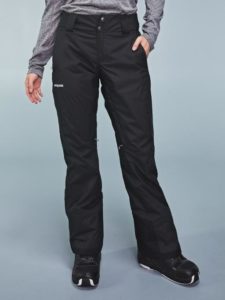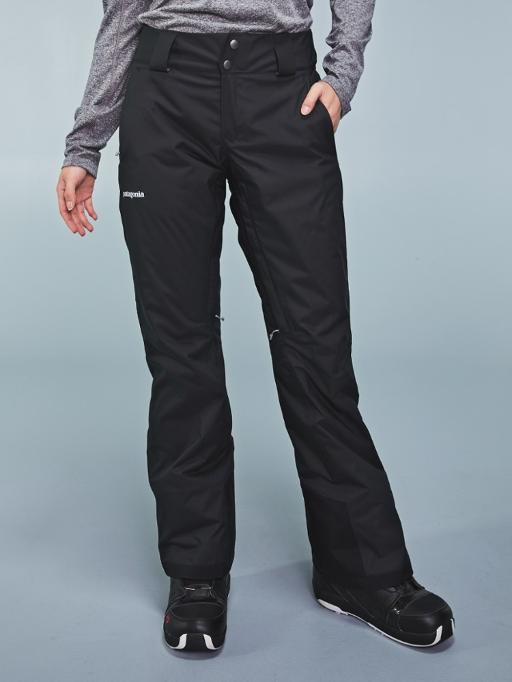 BEST TRAVELER'S PANT
If you're the type to chase the best snow wherever that may lead, or if you just live far from the mountains, these snowboard pants are a great pick for you. They're lightweight yet warm and they compress easily, which means they make packing and travel a breeze without sacrificing performance! Considering the bulkiness of most snowboard gear, it certainly helps to have at least one item that packs down easily into a boot bag or suitcase, and the Patagonia Snowbelle's do just that. Plus, they're attachable to all Patagonia jackets, linking together to completely lock out snow, and they're super breathable and waterproof, too. Oh, and did we mention they come in a ton of fun colors??
The North Face Apex STH
BEST SLIM FIT PANT
Think there's no way you can rock a cute look on the slopes? Think again. The Apex STH Pants from The North Face will have you surfing the snow in style. They feature a slimming shape and adjustable waist tabs so you can customize sizing. Aside from their customizable and comfy cute fit, these pants are super high-performing in the areas you want them to be. Not only is the shell fabric water-resistant for wet days, it's also 100% windproof and completely breathable. Internal elastic ankle sleeves ensure snow stays out. As a bonus, these pants have a small, zippable waistband pocket for your tiny mountain must-haves.
Burton Gloria
Specs
Fabric

:

Nylon And Spandex

Inseam

:

33 in.

Weight

:

1 lb. 11 oz.

Liner

:

Nylon

Style

:

Pants
Features
Stretchy Shell And Liner Allow For Superior Range Of Motion
Gore-Tex Outer Layer And Fully Taped Seams Ensures A Dry Day On The Slopes
Hidden Zippered Thigh Vents Allow For Instant Heat Release When You Need It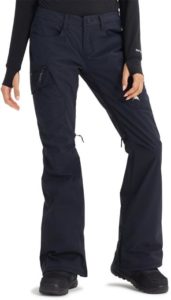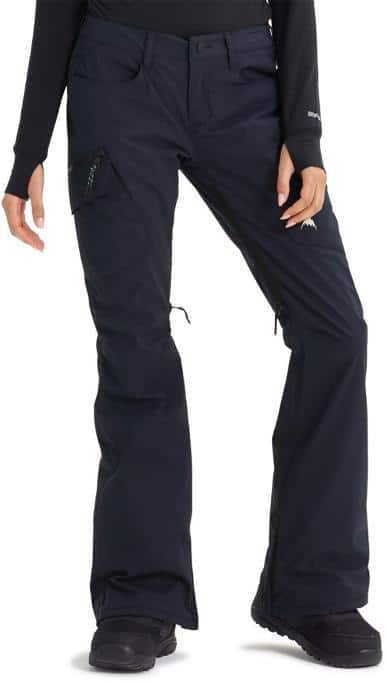 BEST WATERPROOF PANT
From wet weather to snow-covered chair lifts, there are a number of factors that could get your booty damp when you're out there in the elements, and I don't know about you, but I'm not a huge fan of a damp booty! That's where the Burton Gloria's come into play. They're our pick for best waterproof snowboard pants. Other pants don't quite compare in the category of dryness. 
These pants feature GORE-TEX fabric (an industry leader for waterproof-ability) and fully taped seams to ensure moisture doesn't sneak its way in on those vulnerable spots. As a bonus, their fabric is also super stretchy for superior mobility, and they have cargo pockets (perfect for stashing slope-side snacks)! These pants are a little bit pricier than some of the other picks on our list, but if staying dry is a priority for you, they're well worth their slightly higher price tag.
Arc'teryx Sentinel
Specs
Fabric

:

Nylon

Inseam

:

32.5 in.

Weight

:

1 lb. 2 oz.

Liner

:

Nylon

Style

:

Pants
Features
Large Side Pockets For Awesome Storage
Waterproof Layer Does Not Sacrifice Breath-ability
Belt Loops And Removable Belt Included


BEST WIDE-LEGGED PANT
If you consider yourself to have muscular or larger than average legs (which, trust us, is a huge asset for female shredders), these pants could be a great comfort choice for you. All sizes are wide-legged from top to bottom. They are one of the most expensive picks for our list of best women's snowboard pants, but they are also high-performing and built to last. Just beware, for a smaller shredder these pants could actually have the opposite effect, as the extra fabric may bunch or get in the way. Otherwise, these pants have waterproof technology, large thigh pockets, and an optional included belt to make for an enjoyable mountain experience whether you find yourself at the resort or the backcountry.
Outdoor Research Hemispheres
Specs
Fabric

:

Nylon

Inseam

:

33.5 in.

Weight

:

1 lb. 4 oz.

Liner

:

Nylon

Style

:

Bib
Features
Full-Coverage Bib Design Provides Leg And Core Warmth
Leg Sleeves Lock Out Snow
Adjustable Suspenders Let You Get The Fit Just Right

BEST OVERALL PANT
Before you look at the price tag of the Outdoor Research Hemispheres, hear us out on why these bib-style pants are the best women's snowboarding pants you can possibly buy. When it comes to warmth, movement, durability, pocket space, wind/waterproof-ability, breathability, snow lock-out technology, and even custom fit, you can't get much better than these pants. Oh yeah, and they were awarded Apparel of the Year by the pros over at Powder Magazine. If you're gonna keep it to the resort-side slopes, you don't necessarily need to cough up the cash on these. But if you plan to explore outside of the resort and into the backcountry, you'll want the best you can buy, and these are it.
Columbia Wildside
Specs
Fabric

:

Polyester

Inseam

:

31.5 in.

Weight

:

Not Specified

Liner

:

Taffeta

Style

:

Pants
Features
Reflective Heat Technology Redirects Your Body Heat Back Towards You
Stretch Fabric Provides For Greater Range Of Movement
Leg Cuffs Keep Snow Out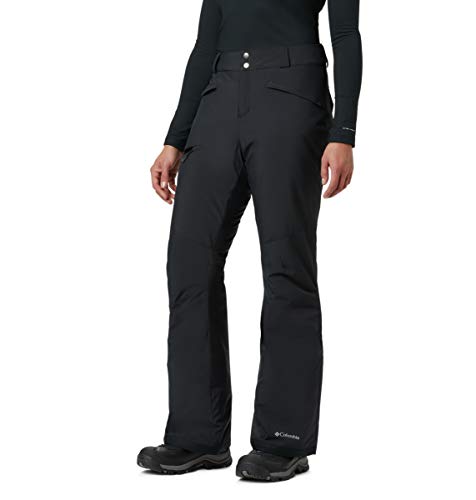 BEST BASIC PANT
The Wildside women's snowboard pant from Columbia is a great choice for beginners and advanced riders alike! Coming in at a low-mid price point, the Wildside's come with everything you could hope for in a pair of basic women's snowboard pants. They have breathable waterproof technology, exactly one zippered thigh pocket (and four others in the traditional "jean-pockets" spots on the front and back), internal snow sleeves that keep snow out, and super stretchy fabric to let you move with ease. If you're looking for a quality pair of women's snowboard pants at a reasonable price, check these out. We think you'll like what you see.
Burton Avalon
Specs
Fabric

:

Polyester

Inseam

:

30.5 in.

Weight

:

1 lb. 5 oz.

Liner

:

Nylon

Style

:

Bib
Features
Liner Pores Shrink And Grow To Automatically Control Internal Temperature
Stretchy Fabric Along The Back Lets You Move And Groove Freely
Comes In Several Fun Colors (And Cool Strap Designs!)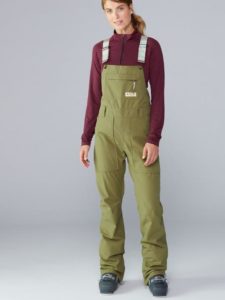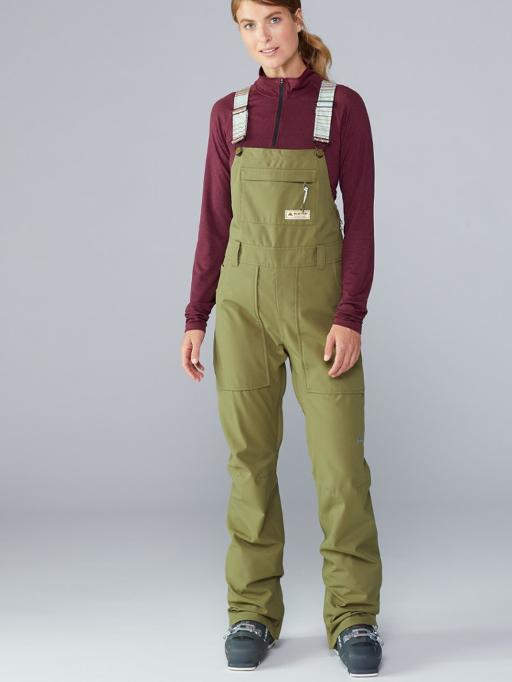 BEST TRENDY BIB-STYLE PANT
Fashion comes into play for many snowboarders. More so than with skiing, mountain trends are part of snowboarding culture, and this bib-style pant fits right in with the latest vogue (yet it's still way practical and warm!). With super cute shoulder straps and a form-fitting torso section, you can rock a few warm layers underneath this get-up in order to show it off — and still be warm. Featuring a large front pouch (can you say, "I love a lift-ride-lunch?"), stretchy back paneling for superior range of movement, and mesh-lined thigh vents to let excess heat escape easily, this lovely little get up falls on the more budget-friendly side of bib-style snowboard pants. It was an easy choice to include on this list of best women's snowboard pants, and it's a great choice for you if you want to keep it in vogue (and warm and practical, too).
VOLCOM Frochickie
Specs
Fabric

:

Polyester

Inseam

:

Not Specified

Weight

:

Not Specified

Liner

:

Taffeta

Style

:

Pants
Features
Special Fabric In The Booty Area Adds Durability
Pockets Designed Specially For Hand Warmers
Ticket Ring Lets You Mount Your Lift Ticket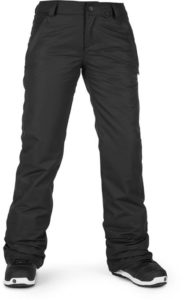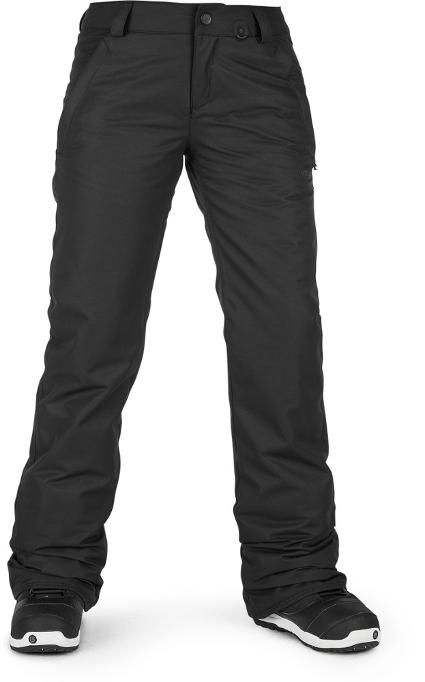 BEST RELAXED FIT PANT
Another one of our simpler picks on the list, the Volcom Frochickie's are perfect if you're looking for a low cost, relaxed fit option. They offer internal sleeves that can attach to your boots, ensuring snow won't enter;  a ticket ring, so that even if you're not sporting a jacket you can still hop on the lift; and even a butt patch for added durability (this is key if you're just beginning and expect to spend some time sitting on the snow while you learn how to glide). The Frochickie's are possibly the most basic pants on the list – they don't come with many extra pockets or fancy features, but they serve the purpose of being warm and durable, and they won't break the bank, so they're perfect if you're just getting started.
Arc'teryx Shashka
Specs
Fabric

:

Gore-Tex

Inseam

:

32.5 in.

Weight

:

1 lb. 2 oz.

Liner

:

Not Specified

Style

:

Bib
Features
Mid-Way Bib Style Locks In Core Warmth
Removable Suspenders Allow You To Shape-Shift From Bib To Pants
Specialized Snaps Allow These Pants To Connect With Compatible Jackets

BEST BIB-LITE PANT
Interested in the bib-style snowboard pant, but not ready to fully commit? The Arc'teryx Shashka's are a great in-between. They are considered bib-style, but really, they're a high-waisted pant with a thin, flexible waist area and removable suspenders. Reviewers rave that the comfort level of these pants is unmatched – it's not rare for them to make an appearance at après hour because they're so comfortable, you won't want to take them off! These wind and waterproof, fully breathable, flexible, durable, practical, and trendy women's snowboard pants are well worth the money you'll pay for them.
THINGS TO CONSIDER WHEN BUYING WOMEN'S SNOWBOARD PANTS
FABRIC
There is a whole lot of information to take in when it comes to choosing the best fabric for your snowboard pants! From the material itself to the characteristics of the materials and the way they behave, we could write a whole article on fabric alone. That's why we're bringing you this article from Tactics. It goes into detail on different snowboard pant fabrics so you can come back here and make an informed decision about which pants are right for you.
LENGTH
Everyone has a unique shape and size, which is why every pair of snowboard pants you see online might not fit you perfectly. Make sure to measure! The inseam is a great way to check the pant leg length and determine if the pant length matches your height. See the Features Explained section below to find out how to measure your inseam.
WEIGHT
Many women's snowboard pants are being made more lightweight than ever without sacrificing warmth and performance, which is great! If you're someone who gets extra chilly though, you may want to look for a pair of slightly heavier snowboard pants to ensure you stay warm while shredding.
STYLE
The two main styles of women's snowboarding pants are the classic pants style and the bib style. This consideration comes down to personal preference. Bibs are like overalls for the snow and they're great because they add an extra layer of supreme core warmth. They stay up easily and help hold all your other layers close to your body. They're also considered very "in" when it comes to snowboard fashion. One downside to the bib: it's way harder to pee with the bib than it is with the pants!
LOOKING FOR MORE
For a general overview of tips and tricks on dressing for snowboarding (including tips and tricks that specifically relate to women's snowboard pants) check out this REI Expert Advice article.
FEATURES EXPLAINED
INTERNAL SLEEVES/GAITERS
Thin stretchy liners, often ending with an ankle cuff, that function to keep snow out of the pants.
SEAMS
The places along the pants where two pieces of fabric meet. In general, sealed seams are best because they lock out moisture.
BIB VS. PANT STYLE
The two main styles of women's snowboard pants. The bib-style features an overall-type look, while the classic pants style is just what you'd expect.
INSEAM
Measure from crotch to bottom of pant cuff to find this.
FABRIC VERSUS LINER FABRIC
In this article, the "Fabric" spec refers to the outer layer of the pants, while the "Liner Fabric" spec refers to the innermost layer of the pants.
SHRED OR SHREDDING
A slang term for snowboarding.
READ MORE
For more of our top snowboarding gear recommendations, check out these popular buyer's guides: