Updated on January 6, 2021
If you want to get your adrenaline pumping head to New Zealand. Queenstown, a small town in the South Island is considered the adventure capital of the world. It's rightly named because it offers all kinds of activities to scare the crap out of you including the very first commercial bungy jump in the world, the Kawarau Bridge Jump.
Antonio and I have both made the leap but on different occasions, before we even knew each other. I'll tell you how it was from my perspective but throw in some of his pictures too.
At the time of my jump I was living with a Kiwi family, working as an aupair during my one year New Zealand Working Holiday Visa. We had been spending two weeks of the winter holiday in Queenstown when one morning, Hamish, the dad asked, "So, are you ready to jump off a bridge?" Seeing as it's a normal thing to do in this country, I said "let's do it."
We loaded the kids into the car and headed towards the Kawarau bridge. After you've paid 195 NZD, your weight gets written on your hand and then you wait your turn. This is the most nerve wracking part of the whole experience. You watch a few people jump off the bridge screaming their lungs out all while a million thoughts rush through your head.
Finally they called my name. The crew strapped me into the harness and I got one farewell hug from Theo, the youngest of the family. 
Since my ankles were tied together I had to do an awkward waddle holding on to one of the crew guys. He walked me to the edge of the plank, 43 meters (141 ft) above the Kawarau River. From there you wave to the camera, look into the horizon and off you go.


You have to let your mind go for a moment and trust that it will be ok. No one will push you or is making you do it. It wasn't until my feet left the platform that I realized what I had done. As you free fall towards the water and you feel your stomach in your throat it feels like forever until it will stop, although it is only a few seconds. 


After about 5 seconds you feel the cord tighten as you nearly crash into the water. They give you the option to touch the water, which I went for. What I didn't expect was to get my head dunked. It was the middle of winter and a face full of the river water which is freshly melted snow only added to the thrill of the jump.  
After the cord catches you, you flop around like a fish on a hook until a raft comes by to pick you up. One last picture, then it's back to the ground.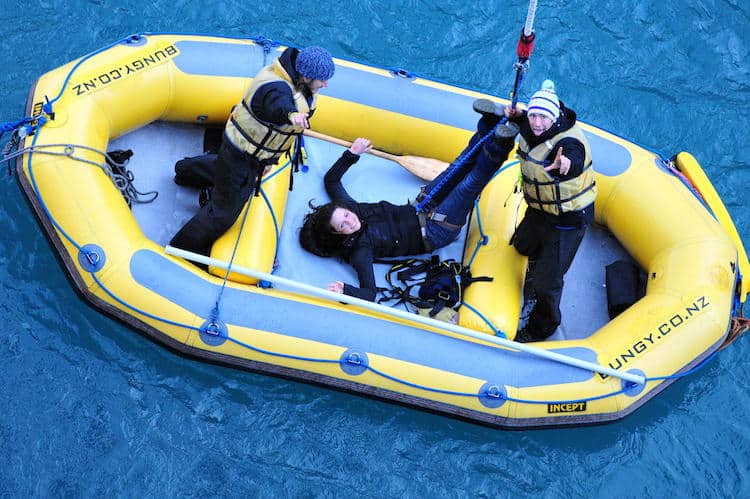 Just do it!  Don't over think it, once you are on the edge, jump! The longer you weight the more nerve wracking it will be.  

Bring a dry shirt

in case yours gets wet. When I got wet to my waist, in the middle of winter, I was wishing I had dry clothes to change into. 
If you want to feel even more liberated, jump naked! Check out Travel Freak's Naked Bungy Jump. 

Buy the pictures.

They are expensive but are a nice memory.
The jump itself last only 8 seconds or so but allow for at least an hour to sign the forms, pay and wait your turn.
Anytime it's good weather. I went in the middle of winter on a sunny day. 
If you are driving yourself you can find the bridge on State Highway #6 (SH6) in the Gibbston Valley just 25mins North of Queenstown (in the direction of Cromwell).
If you don't have a car, no worries, there is a free shuttle bus that leaves from 'The Station Building', corner of Shotover & Camp Streets in the centre of Queenstown, bookings are essential though. Buses depart daily at 8:40am, 10am, 11:20am, 12:40pm, 2pm and 3:20pm. You have to check-in 30mins before departure.
WHAT WE LIKED THE MOST
The trill of free falling meters knowing that there is cord ready to stop you from hitting the water. 

The beautiful landscape of mountains that you focus on before you take the leap.

 
WHAT WE DIDN'T LIKE THAT MUCH
Only that it didn't last longer!
CHECK OUT THE VIDEO OF ANTONIO'S JUMP
FINAL THOUGHTS
Bungy jumping off the Kawarau bridge is a great way to get your adrenaline pumping and push your boundaries. New Zealand is a great place to do it because of the beautiful landscapes and you feel safe knowing that these were the guys that invented bungy jumping!

Location: Kawarau Bridge, Queenstown, New Zealand

Price: 195 NZD (147 USD)

Useful Notes: Remember to look into the horizon, it helps clear your mind and give you a direction to jump towards.
Website: For more information and to make a booking check out the AJ Hackett Website.