Updated on January 29, 2018
Experiencing the sensation of flight through paragliding has been one of our dreams for a long time now. As scuba divers, perhaps we are just addicted to travel adventures that allow us to go beyond our human capabilities.
After hearing that Colombia is an ideal place to fly, we started looking for an opportunity here to make it happen. Thanks to our partnership with Colombia Paragliding our dream of flying finally came true.
Paragliding is a technical sport that requires training and study to fly solo but is made accessible to everyone through tandem flights. With these flights, an instructor is strapped to you and handles all the controls. As we had never flown before, going on a tandem flight was a great way to experience flying for the first time. 
FLYING WITH COLOMBIA PARAGLIDING
Colombia Paragliding offers tandem flight tours at the Chicamocha Canyon and it's house fly site, Vuelo Libre. We flew from the Vuelo Libre fly site. As we were staying at Colombia Paragliding's hostel, El Nido – The Nest, it was just a short van ride away.
Once you get to the fly site the fun begins. Our instructor, Russell flew in from another site with a student attached to him, he landed and asked who wants to go first. After you have strapped on the helmet, Wilfredo, the van driver/ assistant helps you into the harness which is like a backpack with a climbing harness attached to it. Wilfred carefully checks that all the buckles are fastened and secured. The pilot wears a separate harness that is connected by spreader bars to the paragliding wing.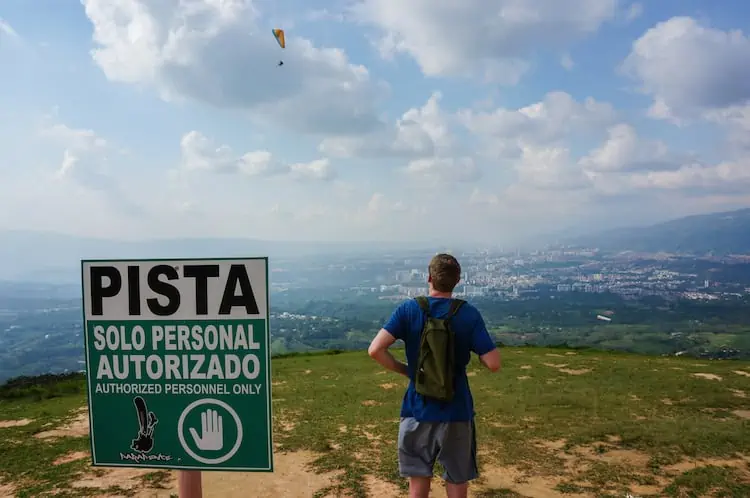 TAKING OFF
Once you are strapped in, Wilfredo gives Russell the okay. While Russell hoists the wing, Wilfred holds onto you and walks you forward. When the wing is in position and the wind is just right, Russell hooks into your harness. All you have to go is hold out your arms, lean forward then slide your arms through the harness straps. 
Then you are ready for take off. You sit back into the seat of the harness and begin to float off the ground.



DURING THE FLIGHT
Despite what you might imagine flying off a cliff would be like, it is actually very peaceful and relaxing. You soar amongst hawks, and enjoy the beautiful landscapes. On this flight above Mesa de Ruitoque we got a great view of the city of Bucaramanga and even spotted a waterfall that pours over the mesa. We flew past another pilot and waved hello. 
Russell is a highly trained pilot and instructor, he's a calm, yet enthusiastic guy that makes you feel safe hundreds of meters off the ground. He's from Alaska and decided to make Colombia his new home years ago. After seeing his office, I can see why!
For the grand finale Russell asks if you want to try some acrobatics. Let's do it! We did a few 360s, twirling in the sky until we started to make it back to the fly site. 



LANDING
As we come in for landing, Russell pulls the breaks and we slowly drop in. As we float down, Wilfredo helps bring the wing down then you stand up and you are back on the ground. The experience is thrilling yet far from frightening. The only thing to be afraid of is fly is highly addicting!



Be sure to wear sunblock as the sun can be very strong on top of the hill. If you want to go for a few flights or take the course we recommend staying at El Nido – The Nest hostel, which is owned by Colombia Paragliding. 
Tandem flights are done in the afternoon. The trip in total only takes a few hours from pick up to drop off. You can choose flights from 10 – 30 minutes. 
What's great about this region of Colombia is the conditions are good all year around. Check in with Colombia Paragliding for up to date information about weather conditions and best times to fly.
You can arrange to be picked up or meet the instructor at the fly site. 
WHAT WE LIKED THE MOST
The sensation of flying, soaring amongst the birds high off the ground. 

Friendly and professional instructors and staff. 

Impressive views of the city and lush green surroundings of Mesa de Ruitoque. 
WHAT WE DIDN'T LIKE THAT MUCH
Nothing, we loved it! The only fear you should have is that you won't want to stop flying. 


FINAL THOUGHTS
Going for a tandem flight is the best way to first experience the sensation of flying, it's very easy and safe. It's a great way to spend the afternoon, get a beautiful view and see the world in a new way. If you enjoy it so much and want to become a certified pilot, you can take a 10 day course.
Location: La Mesa de Ruitoque, Santander, Colombia
Useful Notes: We strongly recommend to stay at Hostal El Nido, as you will be right next door, enjoy a beautiful view over the city and meet friendly people.