Updated on October 24, 2019
Have you ever dreamed of hiking the Langtang Trek in Nepal? We've all seen those pictures of the soaring Himalayan Mountain Range but do you know what it takes to get there?
A long list of questions fill your head: When is the best time of the year to go? What should I pack? And, what about altitude sickness? 
To answer those questions, I have put together this guide to walk you through everything you need to know to plan and prepare for the Langtang Trek, one of the best treks in Nepal. 
WHAT TO EXPECT FROM THE LANGTANG TREK?
The trek is situated in the Langtang Valley, nearby Kathmandu city. It is the perfect destination for someone who wishes to trek to the Himalayas but is looking for a relatively easy route with shorter walks and lower altitude.
Although it is close to the city, it is hard to tell. The rich ecosystem of the valley is well preserved. The region is a rural landscape comprising of villages, terraced farms and forests encircled with green hills with a backdrop of the white Himalayan ranges.
The route is a scenic one through dense bamboo and rose tree forests that will take you passed waterfalls and snow-capped mountain peaks. The trek is known for having one of the best views of the Annapurna Range.
The bonus that comes along with the wild scenery is the chance to get to know the unique culture of the local people. Because the region is close to the Tibetan border, their culture resembles to theirs'. As you hike through the valley, you will get a chance to learn from their practices and traditions. You will also come across several Buddhist temples and monasteries.
LANGTANG AFTER THE EARTHQUAKE
The April 2015 Nepal earthquake annihilated many homes and lives. Langtang, among all the devastated areas, was one of the most effected region. The catastrophe destroyed almost all the guesthouses and marred some parts of the trek. The region was also closed for trekking for a really long time.
The good news is that the region has been open again for trekking. Most of the guesthouses are still under reconstruction. You might have to spend your nights in tented camps if you can't find a room in any of the few guesthouses.
The routes that were a part of the trek but were destroyed in the earthquake, have been recreated following a different path. You need not worry about the comfort. The trek is as pleasant as it always has been.
In fact, by trekking to Langtang, you will become a part of rebuilding the region. Your recreation will be a major contribution to the economical upliftment of the local residents.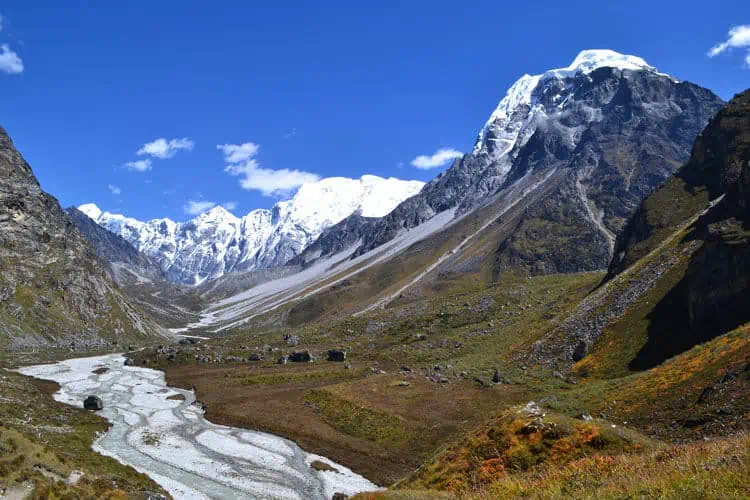 BEST SEASON TO TREK TO LANGTANG VALLEY
The best seasons to trek to Langtang are autumn and spring. Autumn is from September to December and spring stretches from March to May. The weather is warm and the heat is bearable. There will be very little or no rainfall. The sky will be clear allowing you to get the best view of the mountains.
DIFFICULTY LEVEL
The trek is graded as a moderate trek. Unlike easy treks, moderate treks have longer walks and higher altitudes. The route in some places steeply ascends or descends. You will require an average level of physical fitness to enjoy the trek.
However, a moderate trek doesn't not require as much skill, knowledge and experience as the strenuous ones. Even if it is your first trekking experience, Langtang can be a good option to start with. If you are overweight or a senior citizen, take enough rest and break up the hike into short walks.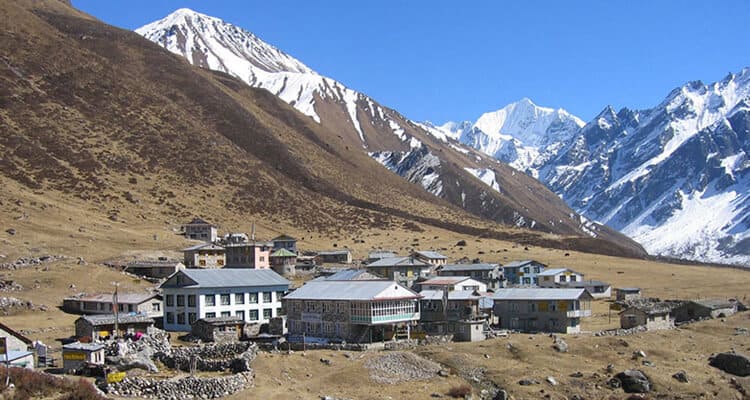 REQUIRED PHYSICAL FITNESS
The Langtang Trek is not a strenuous trek and hence doesn't require a high level of physical fitness. But it is advisable to be moderately fit for any kind of trek. Being fit will help you enjoy the walk without putting much stress on your body. Train your body a few weeks before the trek. Read up on how to get fit for hiking, go for a city walking tour and do some regular routine exercises.
WHERE CAN I BUY TREKKING GEAR?
You can purchase hiking equipment in your hometown or in Nepal. Nepal has several stores that sale name brand gear as well as some cheaper ones that sell trekking essentials. Most of these stores are in Thamel, which is the most popular area among travellers. You can also rent gear if you don't want to travel with your own.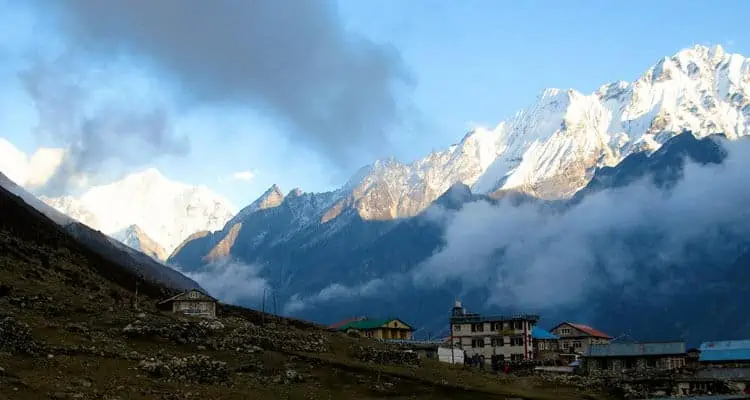 FOOD AND ACCOMMODATION
There aren't as many teas houses to chose from as before the earthquake but you can still find a few that serve tasty food.
The prefered meal is Dal Bhaat. The dish is filling and will fuel you up for the long walks. Rice is served with lentils, vegetable curry, salad, chutney and meat cooked in Nepali style. The best part of the meal is that you can take as many additional helping of rice and vegetables as you want without having to pay extra.
There are a variety of other dishes. For breakfast, the tea houses serve pancakes, eggs, cereal and porridge. For lunch and dinner, you can also ask for noodles, pasta, momos and various other dishes.
Since most of the guest houses were destroyed during the earthquake, only a few of them are in good condition to accommodate trekkers. You will be either sleeping in tented camps or tea houses depending upon the availability of the rooms.
Do not expect luxurious home stays. The tea houses are simple, comfortable and cozy. In some, you might have to share the restroom which have a squat toilet.
HEALTH CONCERNS
Before trekking, it is always advisable to consult a doctor to check if you are physically healthy enough for high altitudes. But, despite of how fit you may be, there is no guarantee that you won't fall victim of altitude sickness. There are many symptoms of altitude sickness. Some of them are below:
a. Headache
b. Nausea and vomiting
c. Dizziness
d. Tiredness
e. Loss of appetite
f. Upset stomach
g. Feeling dizzy
h. Shortness of breath
i. Increased heart rate
j. Difficulty sleeping
If you notice any of the symptoms, do not take it for granted. Take necessary precautionary and treatment measures. Some such precautions are:
a. Do not climb any higher for the next 48 hours
b. Descend to a lower altitude if possible
c. Take complete rest until you feel well
d. Do not exercise
e. Do not smoke
f. Drink plenty of water
g. Take external oxygen supply if necessary
h. Take anti-sickness medications
If you don't feel better but notice you are feeling worse, you will have to be immediately evacuated in a helicopter. So, make sure you purchase your insurance before you trek. The insurance will cover your health costs such as minor & major injuries and emergency helicopter rescue.
There are a couple of local clinics you can consult for minor injuries. Be sure to read up on how to train for high altitude hiking to avoid getting sick.
HIRING A GUIDE AND A PORTER
While you can hike the Langtang on your own, hiring a guide and a porter is highly advisable. A guide will help you navigate through the mountains and will be there in case of an emergency. An added bonus is he will know the best places to eat and stop for the night. When you go to hire a guide, make sure that he or she is licensed to lead tours.
A porter will carry your baggage for you. This will allow you to enjoy long walks without feeling too tired. Even if you have experience carrying heavy backpacks, breathing the thin air of high altitude makes it much more difficult. 
A tip of 15% of what you pay to hire the guide & porter is recommended.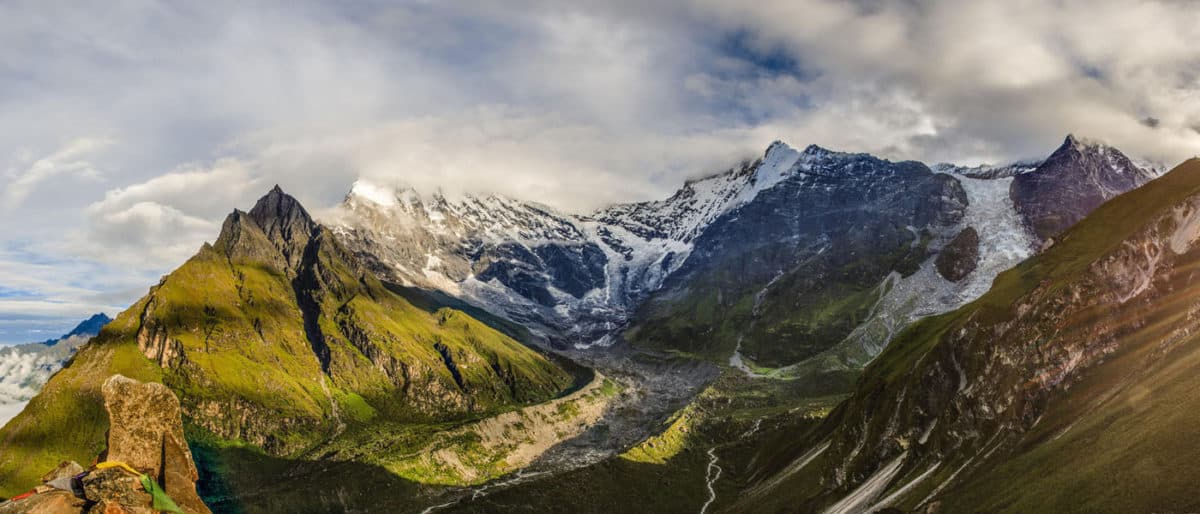 WHAT TO PACK
It is very important to have the right kind of equipment to enjoy any trek. Below is a generous list of the things you need to pack. Depending on your needs, you could pack more or less.
• Heavyweight gloves or mittens with a waterproof shell outer
• Down vest and/or jacket (optional)
• Hiking boots with spare laces
• Footwear For Around Camp (running shoes and/or sandals)
• Gaiters (optional)
• Wind Breaker Jacket (optional)
• Shorts
• Sun hat
• T-shirts
• Sunglasses with UV protection (opt to but this at your home country)
• Sleeping bag rated to 0 degrees (3/4 season)
• Head Lamp, spare bulbs & batteries
• Small padlock to lock trek bag
• Plastic bags
• Daypack (35-40 litres/2500-3000 cubic inches)
• Waterproof Pants (preferably breathable fabric)
• Toiletries
ELECTRONIC DEVICES
It is safe to carry your electronic devices with you. But make sure to purchase a cover to insulate your devices from extreme temperatures. Nepal has acute electricity shortage so pack a lot of spare batteries just in case. In higher altitudes, the tea houses will charge you extra for charging your devices.
FINAL THOUGHTS
Langtang trek is one of the best ways to experience the Himalayas. It has its own special characteristics that make it worth experiencing. It may not be as famous as the Annapurna Base Camp or the Everest Base Camp, but the experience cannot be compared. I hope you have found this guide useful and enjoy your adventure!