Updated on October 24, 2019
I find myself returning to The Malerweg Trail almost every year. It's natural beauty attracts nature-lovers and artists from all over the world. Caspar David Friedrich, a famous 18th century painter, loved  hiking this legendary trail. It was during one such hike that he created, The Wanderer Above the Sea of Fog, which many consider to be some of his best art.
Broken into eight one-day stages, the beauty of this 112 km (69.5 mi) journey lies in its simplicity. The average distance between each stage is 17 km (10.5 m). This allows hikers of all ages and experience to enjoy the route. One can choose to either take on a multi-day excursion, or break the journey into individual stages.
[thrive_leads id='51961′]


STARTING THE TRAIL
At Dresden's main central station, trains will take you to whichever stage of the trail you want. Our adventure starts in the small village of Pirna-Liebethal. From there the trail starts climbing into the dramatic Elbe Sandstone highlands. This area is known for tabletop hill settings, plunging ravines, giant caves, and colossal rock pillars. But don't break out the climbing gear just yet because we're coming up on one of this hiking routes main attractions. 
Prepare for crowds during the second stage because it is is widely considered the most popular section of The Malerweg Trail. Starting off at Stadt Wehlen, the route takes you into a land of green-carpeted rock formations. Within a few kilometers you'll arrive at The Painters Way's most recognized landmark, the Bastei Bridge.
Originally built in 1824, the Baseti sits at 194 m (636 ft) above the Elbe. It connects a series of rock formations overlooking the river and precedes the fortress town of Hohnstein. Descending towards the flatlands near the river and you'll find an amphitheater carved right into the sandstone. Continue winding down through the Schwedenlöcher and a series of moss colored holes and ravines will greet you on the descent.  
It may only be a 13 km (8.1 mi), but with a total of 502 m (1,647 ft) of high ascensions, stage 2 can still take time. Approaching Hohnstein, you will see the beautiful village of Rathewalde. Then it's a series of cave tunnels leading into the Polenztal Valley. It can be a tight squeeze, so avoid these caves if you have claustrophobia!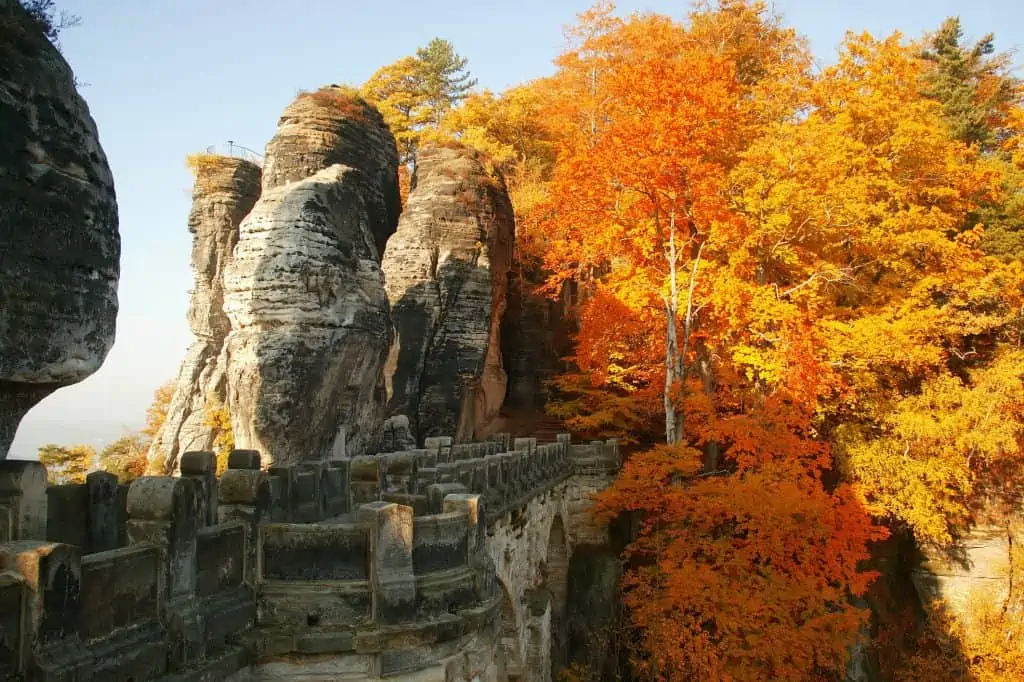 ©Copyright by Frank Richter, licensed under Tourismusverband Sächsische Schweiz e.V 
MIDDLE OF THE TRAIL
The highlight of stage three is an 800-step decent from the 170 m (558 ft) High Brand Viewpoint! I returned to the Malerweg Trail earlier this year with my mother, an avid hiker herself. We decided to tackle stages four and five. They are a stark contrast from the more sovereign settings of the previous stages. Starting off in the riverside town on Bad Schadau, you descend into the post-industrial Kirnitzschtal Valley.
The landscape is littered with old mills. Some are renovated while some have been left to rot. A tramway dating back to the 1890s trudges for 8 km (5 mi) alongside the valley's central-dip. A pathway then diverts you to the Schrammsteine, a section of sandstone outcroppings that sits 400 m (1,312 ft) above sea level. Its appearance is as equally as dramatic as the views it provides and is a favorite for climbers.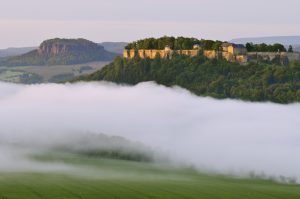 ©Copyright by Frank Richter, licensed under Tourismusverband Sächsische Schweiz e.V 
LAST LEG OF THE PAINTERS' WAY
At the end of the 14 km (8.6 mi) hike, you can spot huge caves, precipices, and waterfalls. We stayed overnight at an old converted saw mill called the Buschmühle (EUR 25 each per night). We slept alongside the valley's stream. The rustic cabins, barns, and 19th century artefacts all reminded us of the background used in Twin Peaks.
The following day's excursion continues to take you through a fusion of old and new eras. Timber yards are now tea-houses, water mills have been converted into breweries and mines are now coffee houses. It's a tough climb ascending the 556 m (1,668 ft) high Großer Winterberg. Made entirely of granite, the view is usually one to behold.
Saddling the Czech border in mid-March though, our views were limited. Clouds rolled in, reflecting the colors of the gold painted leaves underneath. The aura provided us with a glowing feeling that matched the foliage. Our route finished in the tiny riverside town of Schmilka. From the boat crossing, you can see the old German-Czech border, now a relic of a long-lost time.
In addition, the final three stages take you back along the other side of the river, towards Pirna. First of all, it will join up with another hiking path, the Caspar-David-Friedrich Way. Pay close attention and you might spot the Kaiserkrone and Zirkelstein. They are some of the most noteworthy outcrops that form the setting of Friedrich's legendary painting mentioned above. Following the Elbe back, your journey takes you across the Königstein fortress. Sitting opposite the Bastei Bridge, the 400-year-old fortification looks more like something from Game of Thrones than anything else in the region.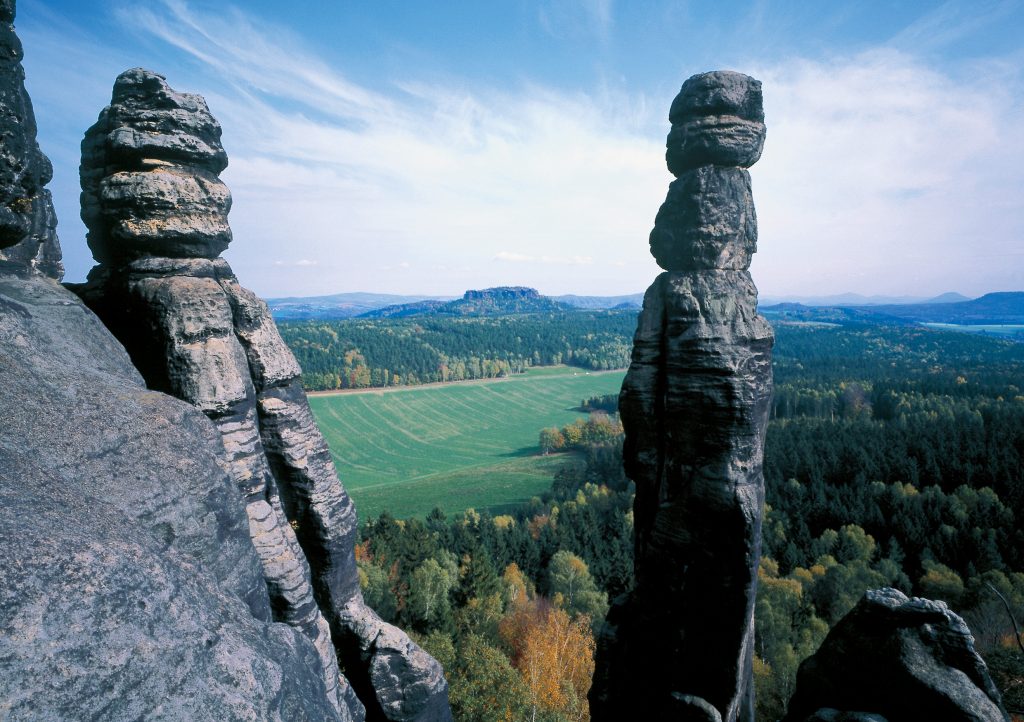 ©Copyright by Frank Richter, licensed under Tourismusverband Sächsische Schweiz e.V
THE MALERWEG TRAIL'S HISTORY
Popularized by painters during Europe's romantic period; Johann Carl August Richter, Johann Alexander Thiele and the aforementioned, Caspar David Friedrich, these 18th century artists found the area's aesthetics perfect for their work. As a result of its vivid colors and breathtaking scenery, The Malerweg Trail takes you to many of the areas used in the famous paintings from this period.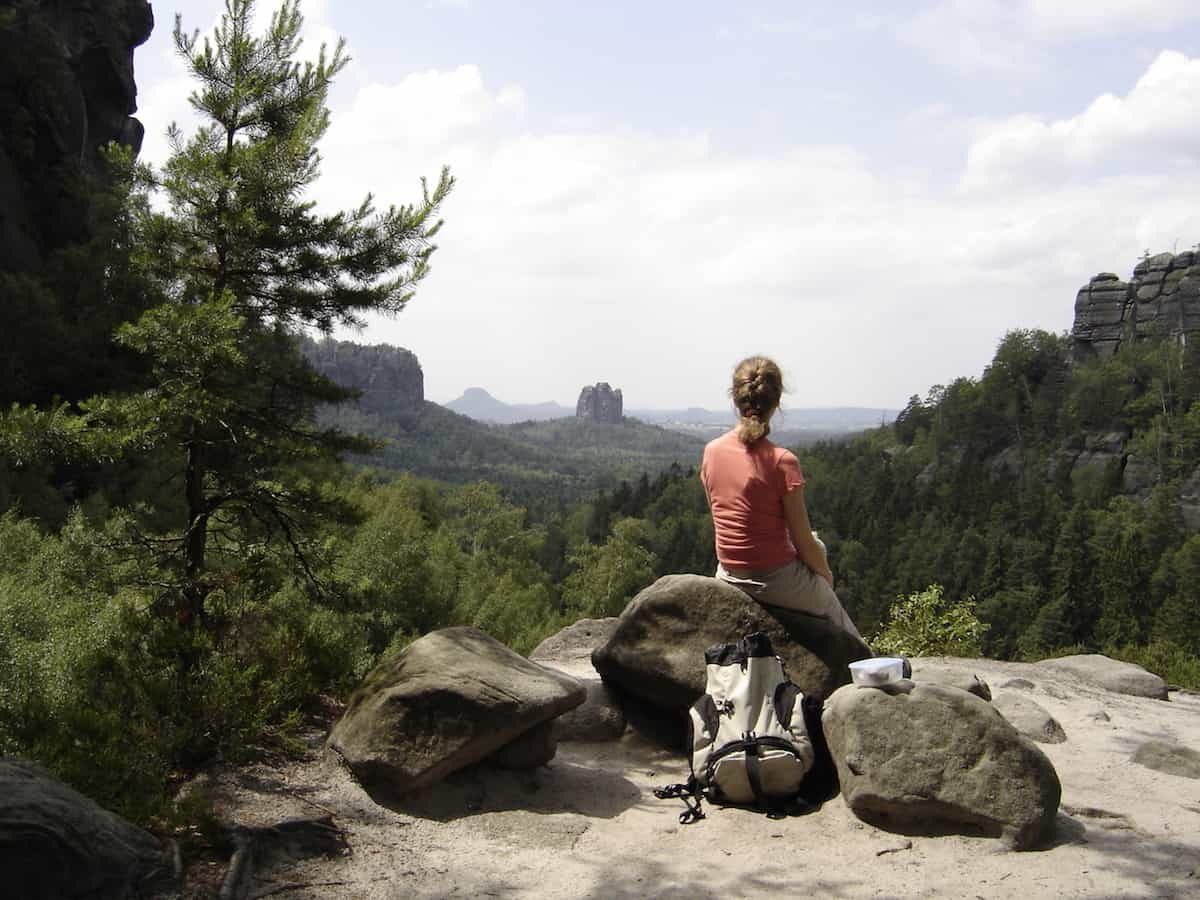 ©Copyright by Frank Richter, licensed under Tourismusverband Sächsische Schweiz e.V
TIPS
Firstly, there are some extremely sharp inclines so hiking poles should also be brought if you have difficulty going up or down steep rises. Although not as muddy as some places in the world, the rain does fall more often that it doesn't. Always bring a waterproof jacket and rain resistant hiking boots. The underfoot can get wet so keep an eye out for patches of smooth sandstone as these can become quite slippery. 
There are few options for refreshments between each stage, therefore make sure you're fully loaded with water, snacks, and the occasional outdoor meal. Furthermore, accommodation options are available at the end of each stage range from dormitories to full-on hotel packages. For the more glamorous hiker, you can even have your bags transferred between hotels while you hike.
Also, the Bastei Bridge is huge tourist magnet, so stage 2 can often feel overly packed at times, but the rest of the route sees much fewer hikers. I always avoid summer hiking and normally visit during spring or Autumn, where the colors really stand out.
In addition, if you're coming from afar, best fly into Berlin and take the two-hour train journey into Dresden. Therefore if you leave early enough, you should be able to start at your desired leaving point by 10 or 11 am. And if the Malerweg Trail doesn't satiate your wanderlust, then carry on with the train down into Prague where a whole other world awaits you.
WHAT TO BRING WITH YOU
Each of the eight, one-day stages are no longer than 17 kilometers (10.5 miles) each with an average recommended hike time of up to 7 hours.

Avoid summer hiking and visit during spring or Autumn, when the colors really stand out!
Lodging is available at the end of each stage, ranging from dormitories to full-on hotel packages. For the more glamorous of hikers, you can even have your bags transferred between hotels while you hike.

WHAT WE LIKED THE MOST
+ Easy to moderate day hikes open to all levels of hikers.
+ Accommodations and luggage transport available along the way so you can focus more on the trail and less on your pack!
+ Step back into the 18th century with views of authentic mills and other post-industrial buildings.
+ Walk in the same footsteps of Germany's romantic painters and authors!
WHAT WE DIDN'T LIKE THAT MUCH
– Trails can be slippery when wet!
– The Bastei Bridge can get crowded. 
– Several steep rises and descents – use hiking poles.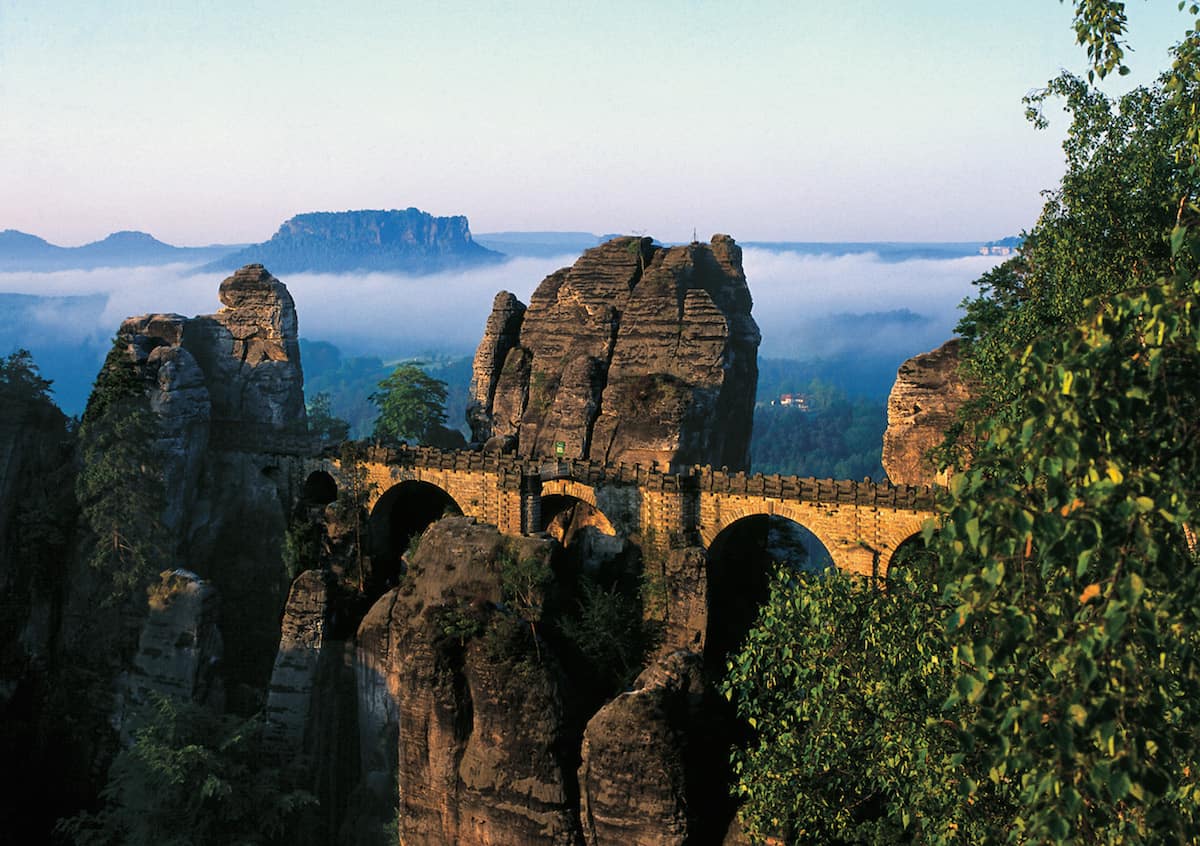 ©Copyright by Frank Richter, licensed under Tourismusverband Sächsische Schweiz e.V
FINAL THOUGHTS
The Malerweg Trail is a lovely single/multi-day hike that is both beautiful and accommodating to its visitors. Whether you're staying a day or two or want to tackle the whole eight-day trip, there is something on the trail for everyone to enjoy. In addition, be sure to check out the famous Bastei Bridge at the second stage!