Updated on April 6, 2018
Giant volcanic rock walls shoot up into the sky along a raging river in Baños, Ecuador. The cliffs were formed centuries ago by magma flows from the nearby Tungurahua Volcano. These cooled lava rocks create a climber's paradise just outside of town. 
After gone camping in the Cotopaxi National Park and completed over a week of cycling the rugged backroads of Ecuador we were ready for a break from the bikes. We also like doing other kinds of adventures apart from the usual cycling, scuba diving, kayaking and hiking. So we were happy to free wheel down into the lush green valley to the town of Baños. The town is known as the adventure capital of Ecuador for a good reason, there are a handful of extreme sports to do around the area. 
[thrive_leads id='51967′]
CLIMBING IN BAÑOS
When a local adventure tour company, Geotours heard we would to be in town, they invited us to join a few of their tours. Rafting is one of the most popular activities but when they asked if we'd like to go climbing, I jumped at the opportunity. I had only been to an indoor rock wall and had been dreaming of trying the sport in the outdoors one day.

Antonio claims he is terrible at climbing (summer camp trauma) and my level is definitely beginner. Our limited skills wouldn't be a problem as there are plenty of climbing routes in the area that are perfect for newbies.
Wilson would be our instructor for the day. He would give us safety briefings, basic knot tying lessons, tips and encouragement. He is a fantastic climber himself and had just won first place in a competition the weekend before.



SCALING LAVA CLIFFS
Wilson took us to Parque Aventura San Martín, just a five minute drive from the center of town. San Martín has lots of different routes, so beginners to experts can have a good time. Wilson started us off with the easiest available. With lots of coaching we would progress to more challenging routes by the end of the day.
The walls at San Martín are comprised of basalt rock. This type of rock is formed when lava reaches the Earth's surface at a volcano or mid ocean ridge. The lava is between 1100 to 1250° C when it gets to the surface. It cools quickly, within a few days, forming solid rock.
The combination of this dark moon rock cliff and the raging Río Pastasa made for some impressive views as we climbed the wall. Wilson yelled over the sound of the river, coaching us along, "Your right hand a bit higher, there is a hole there."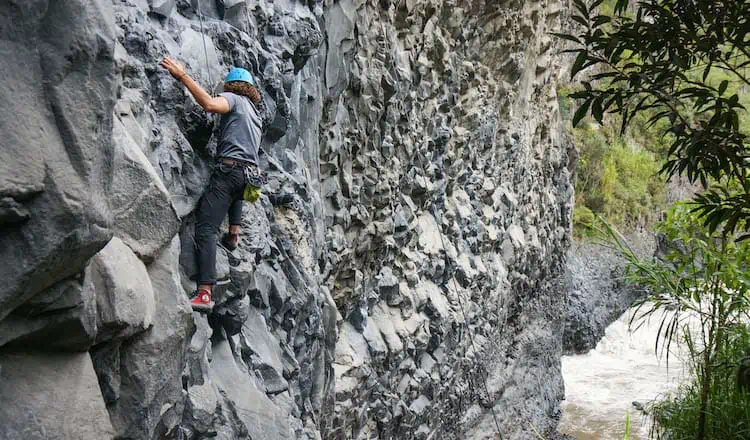 There were times I was ready to call it quits. My foot would slip against the slick rock, I'd try to advance but only lose my grip and I would say to myself, "I'm not strong enough, I can't possibly reach, what the hell am I doing…I'm a cyclist not a climber!" Whenever I looked down and gave Wilson the I can't do this face, he would yell up "Sí, se puede!" (You can do it!).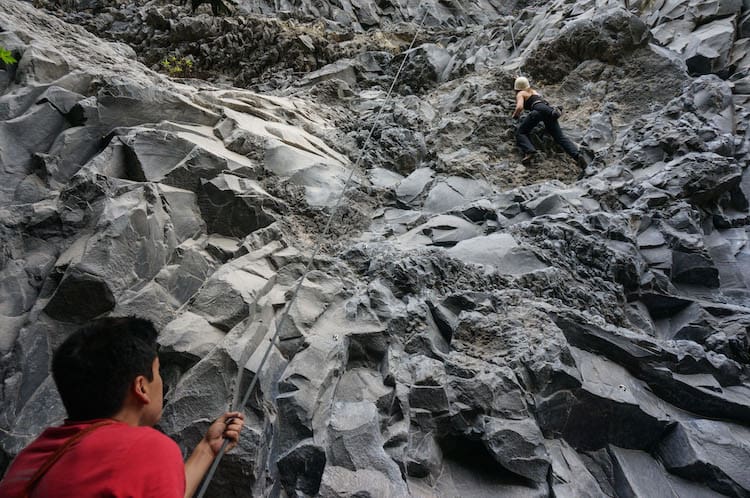 With shaky arms and the power of his encouragement, my hand reached the rock outcrop I had thought was impossible to reach and I'd pull myself up. Climbing is just as mental as it is physical. If you think you will fall, you will. If you think you can scale the wall, you will.
I arrived to the top of the climb after I had exerted all of my energy and felt a sense of happiness and accomplishment.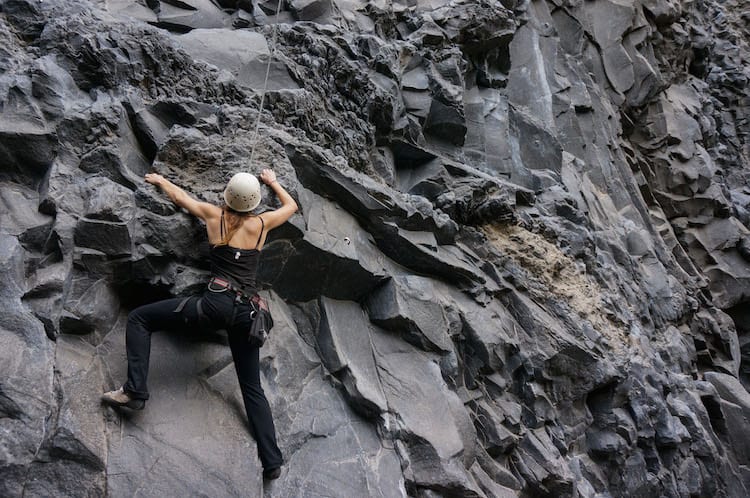 WHERE TO STAY IN BAÑOS
Erupcion Art Hostel – Budget
Erupcion Art Hostel is located right on the corner of the main plaza and offers private rooms as well as dorms with super fast free Wi-Fi, cable TV and mountain and city views. A great choice for budget travelers.
Hosteria Finca Chamanapamba – Mid range
The Finca Chamanapamba has a stunning rural location, just 4 km from Baños town centre. It offers spectacular mountain views, tropical gardens with BBQ facilities and charming wooden bungalows with free Wi-Fi. A great option for those looking for a quiet place in nature.
Luna Runtun Adventure SPA – Luxury
Luna Runtun offers panoramic views of the active Tungurahua Volcano, the Llanganates NP and Baños. It also offers up to 25 adventure activities, spa treatments, 4 pools and hydromassage tubs. A great way to splurge on your holidays. 
If you want to learn how to climb, Baños is a great place to do it. The weather is great, there's no crowds, it's inexpensive and there are some excellent instructors to learn from.
4 – 5 hours. You leave the office around 9 AM and are back in town by 2 PM. 
Baños is located on the slopes of the Andes at 1800 meters above sea level. The climate here is great year around. The dry season is from June to September but you can get rain and sunshine all year around. 
Tour operators provide transportation from the center of town to San Martín.
WHAT WE LIKED THE MOST
+ Spending the day climbing in a beautiful location.
+ Wilson, our guide was super patient and encouraging. 
WHAT WE DIDN'T LIKE THAT MUCH
– It's much more difficult than it looks from the ground! 
FINAL THOUGHTS
Rock climbing in Baños is a fun and adventurous way to spend the morning. There are lots of different routes and there is something for beginners and expert climbers alike. While it's growing in popularity, climbing doesn't attract as many tourists as rafting or canyoning, so if you want to escape the crowded tour group, this is a great opportunity.


Location: San Martín, a 5 minute drive from Baños. 
Price: 30 USD pp for a half day of climbing, transportation, water, fruit, shoes, harness, helmet and knowledgable guide.

Useful Notes: Bring warm clothes, stretchy pants, walking shoes, sunscreen and sun glasses.

READ MORE
For more, check out these popular buyer's guides: