Updated on January 29, 2018
Are you heading to Baja California and looking for an adventure? Then this post is for you. You must know you are heading to the right place. The peninsula is long and narrow so you will never be far from the sea. As you can tell by this list, Baja is about getting out on the water. Although, the desert also offers some interesting opportunities for adventure.
We spent 2 months cycling and exploring the length of this peninsula. Here are some of the top adventures we did in Baja California along with a few that we are dying to go back to do.
Have you been on an adventure in Baja that's not on this list? Share it with us by leaving a comment and we will consider adding it to the update of this post.
KAYAKING
ESPIRITU SANTO ISLAND


Espiritu Santo is an island is about 20 km from the city of La Paz. We spent a week kayaking around the Espiritu Santo on our own enjoying they beautiful desert island views and remote camping. From La Paz you can rent a kayak and paddle out across the channel and take your time exploring the island.

SCUBA DIVING
ESPIRITU SANTO ISLAND & LOS ISLOTES

Photo by Ihhais, licensed under CC BY
Photo by Solrabayo, licensed under CC BY
The Sea of Cortez is known as the aquarium of the world for a good reason, the diversity of marine life is unlike any other place in the world. What you are able to see is very dependent on the seasons. Near the main island of Espiritu Santo Island there is a sea lion colony called Los Islotes. Diving here is a real treat, especially for photographers. The sea lions are very curious and love to come check out where all those bubbles are coming from.

REVILLAGIGEDO ISLANDS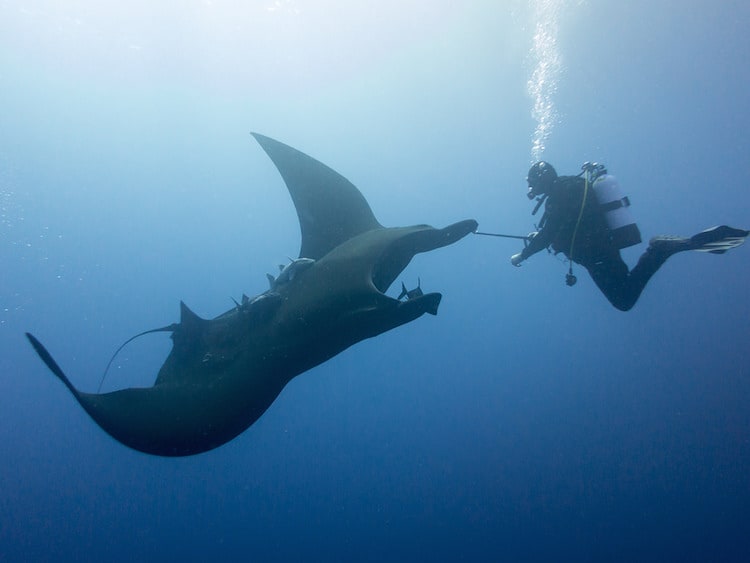 Photo by Clifton Beard, licensed under CC BY
The Revillagigedo Islands are known as the Galapagos of Mexico because of the big animal encounters they provide. The archipelago is made up of 4 islands located 250 miles from Cabo San Lucas. They are home to 7 species of sharks: hammerheads, white tips, silver tips, silkies, duskies and the occasional tiger. Whale Sharks and Manta Rays can also sometimes be spotted.

GUADALUPE ISLAND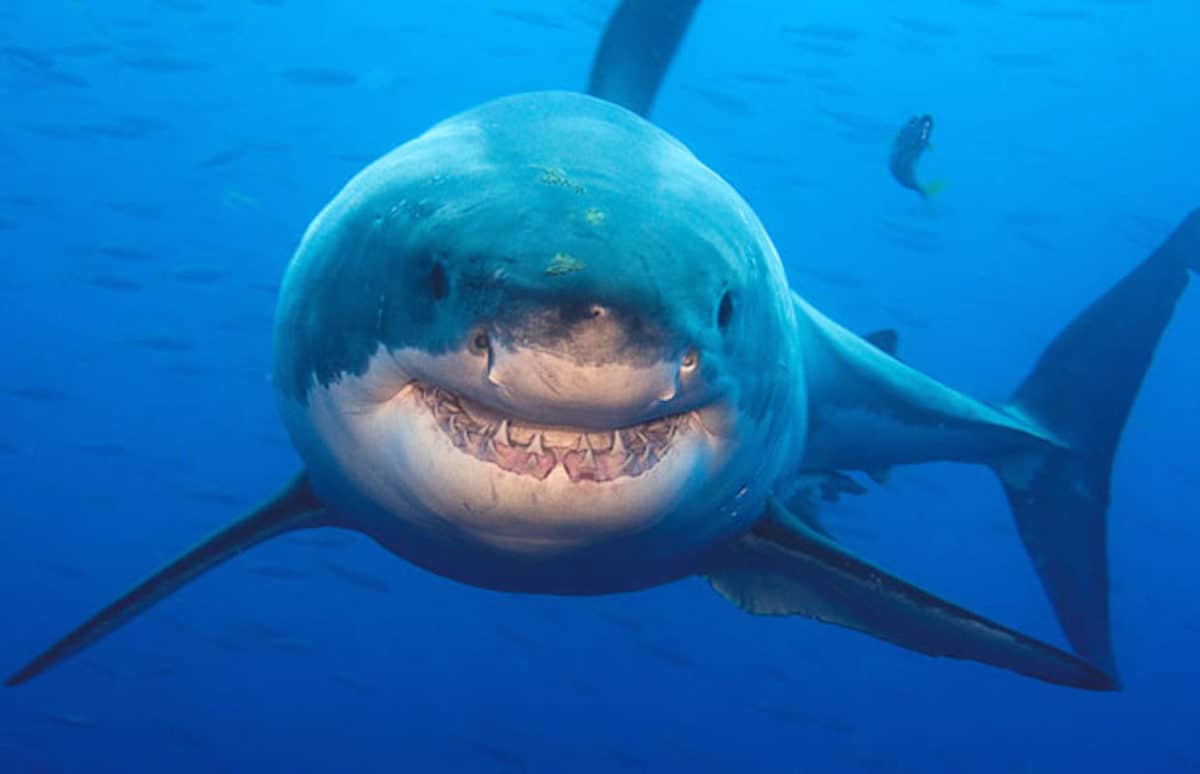 Photo by Amos Nachoum, used through Big Animal Expeditions
If you are like me, you have a long list of big ocean creature experiences you want to have in your lifetime. If you dream of swimming along side a Great White shark then Guadalupe Island is the place for you. Off the coast of Ensenada in the northern region of Baja you can come face to face with the apex predator of the sea.

HIKING
CAVE PAINTING IN SIERRA DE SAN FRANCISCO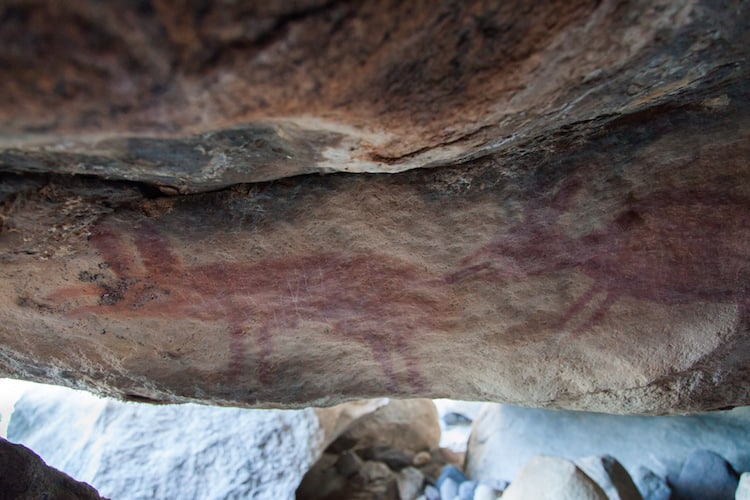 Photo by Alan Harper, licensed under CC BY
High in the remote regions of the peninsula's Sierra de San Francisco lies one of the most outstanding collections of rock paintings in the world. From 100 B.C. to A.D. 1300, the sierra was home to a people who have now disappeared but left behind these paintings.
They are remarkably well-preserved because of the dry climate and the inaccessibility of the site. These paintings show human figures and many animal species. They illustrating the relationship between humans and their environment.
WILDLIFE ENCOUNTERS
GETTING UP CLOSE TO GREY WHALES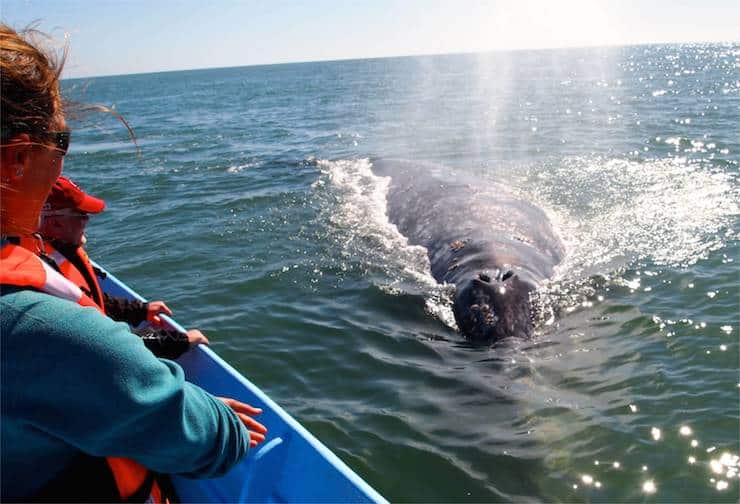 Every year between December to April Grey Whales migrate from the chilly waters of Alaska to the warm waters of Baja California. They take to the sheltered lagoons around the peninsula to give birth to their young. The pods will stay in the lagoons for months nursing the calves and mating until it's time to make the journey back to Alaska.
There are four lagoons around the peninsula where you can spot the whales, Laguna Ojo de Liebre, Laguna San Ignacio, Scammon's Lagoon and Magdalena Bay. Small groups of no more than 10 are taken out on the lagoon to see if the whales come near. What makes this wildlife encounter unique is that the Grey Whales are not shy. They actually crave attention from humans and are so curious that they even approach the boats. They love to be petted and some even come in for a kiss!