Updated on January 9, 2022
The sleeping bag. Your cozy refuge at the end of a long day on the trail. Fluffy and warm, yet packable and lightweight. Perhaps roomy if you like extra space. Or water resistant if the rains are coming. A quick search online will reveal dozens upon dozens of options. Just how are you supposed to wade through all the options and pick one of the best 20 degree sleeping bags for you?
By reading this one article, that's how. We've done the research for you and plucked ten of the very best 20 degree sleeping bags to keep you nice and warm in most hiking conditions. Simply read on and find the perfect match for your style and needs.
For a complete analysis of all backpacking sleeping bags, check out the buyer's guide Best Backpacking Sleeping Bags.
Quick Answer

-

The Best 20 Degree Sleeping Bags
Western Mountaineering UltraLite

Feathered Friends Hummingbird UL 20

Western Mountaineering Alpinlite

Feathered Friends Spoonbill UL

Marmot Trestles Elite Eco 20
Comparison Table

-

Best 20 Degree Sleeping Bag

For the best experience turn your device horizontally
Weight and price are shown for the regular size.
Reviews

-

The Best Sleeping Bags Rated 20 Degrees
Western Mountaineering UltraLite
Specs
Material

:

Nylon Taffeta

Fill Weight

:

17.0 oz

Insulation

:

Down

Length

:

6'6"/6'0"/5'6"

Weight

:

1.8 lbs

Shape

:

Mummy

Volume

:

08.7 L

Temp Rating

:

20 F

Fill Power

:

850

Compressed Volume

:

Approximately 8.5 Liters

Shoulder Girth

:

60/59/59in
Features
Very Lofty Down Fill For Comfort
Lightweight Design
Made In The U.S.A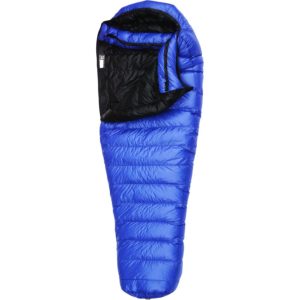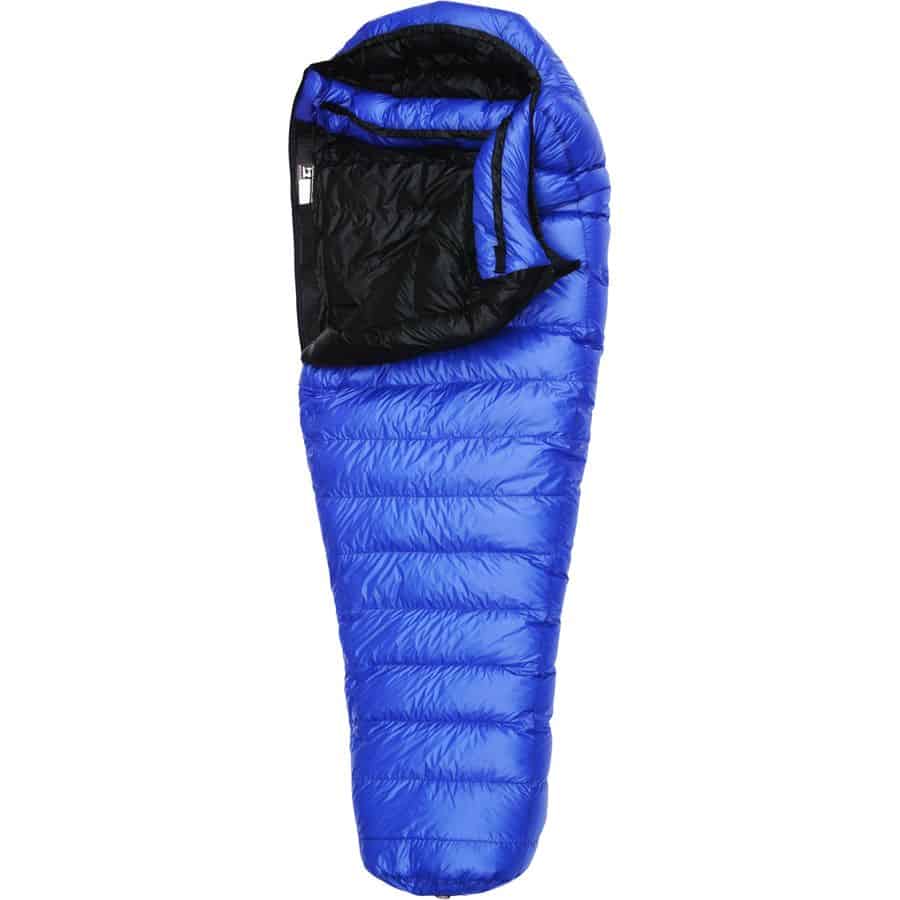 BEST BACKPACKING SLEEPING BAG OVERALL
The Western Mountaineering UltraLite is an ultra light and ultra premium backpacking sleeping bag that is our pick as the best overall choice.
What we love the most about this bag is its balance between weight, quality, versatility and comfort. It is rated to 20-degree and only weighs 17oz making it an excellent choice for fast and lite colder weather trips. The UltraLite's horizontal baffle design allows you to move the feathers to the back of the bag, making it less warm for spring and mild summer conditions. 
The biggest downside of the UltraLite is its price tag. At $525, it's one of the priciest bags on our list. However, if you're a true backpacking junkie who wants an all around awesome bag, it might be a worthy investment. 
A close contender to the UltraLite is the Feathered Friends Hummingbird YF20 (and similar bags within their range). If you're having trouble deciding, one feature we loved about the UltraLite that we didn't find on others is the full goose down draft collar. This lets you bunker down and seal your body heat, a much appreciated feature on chilly nights.
Feathered Friends Hummingbird UL 20
Specs
Fill Weight

:

14.6 oz

Insulation

:

Down

Length

:

72 inches

Weight

:

1.5 lbs

Shape

:

Mummy

Volume

:

09.0 L

Temp Rating

:

20 F

Fill Power

:

950
Features
Trapezoidal footbox
Continuous baffles
3D contoured hood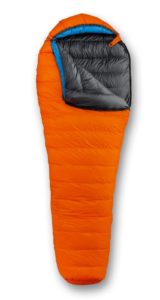 BEST ULTRALIGHT SLEEPING BAG
The Feathered Friends Hummingbird UL 20 is a super light and packable three season sleeping bag. It's our pick for the best ultralight backpacking sleeping bag.
What we loved the most about the Hummingbird is the conservative, even borderline generous temperature rating. This is not something we could say about a lot of other ultralight bags out there. The Hummingbird is stuffed with 950+ goose down which makes it extremely warm and light.
One drawback of the Hummingbird is the fit is pretty snug. If you're a side sleeper or a bigger guy or gal, you might find the narrow dimensions claustrophobic. If you toss and turn a lot and would prefer a more spacious bag, check out the Feathered Friends Swallow and Swift. Another downside is since Feathered Friends is a cottage manufacturer, stock can sometimes be limited and wait times can be long. If you love the idea of owning a handmade sleeping bag that is tailored to your needs, be sure to order well ahead of your next trip.
The Hummingbird UL is in close competition with Western Mountaineering's UltraLite. which is also featured on this list. While both are excellent choices for serious backpackers, the Hummingbird is 5 ounces lighter, making it a winner for those who are meticulous about cutting weight.
The Hummingbird UL is also available in a 30-degree version.
Marmot Phase 20
View Women's Version
Specs
Material

:

Ripstop Nylon

Fill Weight

:

16.3 oz

Insulation

:

Down

Length

:

Men's: 6'6" Women's: 6'0"

Weight

:

1.6 lbs

Shape

:

Mummy

Volume

:

08.9 L

Temp Rating

:

29 F

Fill Power

:

850

Compressed Volume

:

6.45 Liters

Shoulder Girth

:

60in
Features
Internal Stash Pocket
Hood Drawcord
Down Defender Treatment To Improve Water Resistance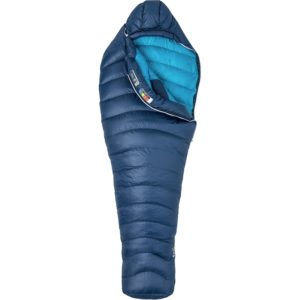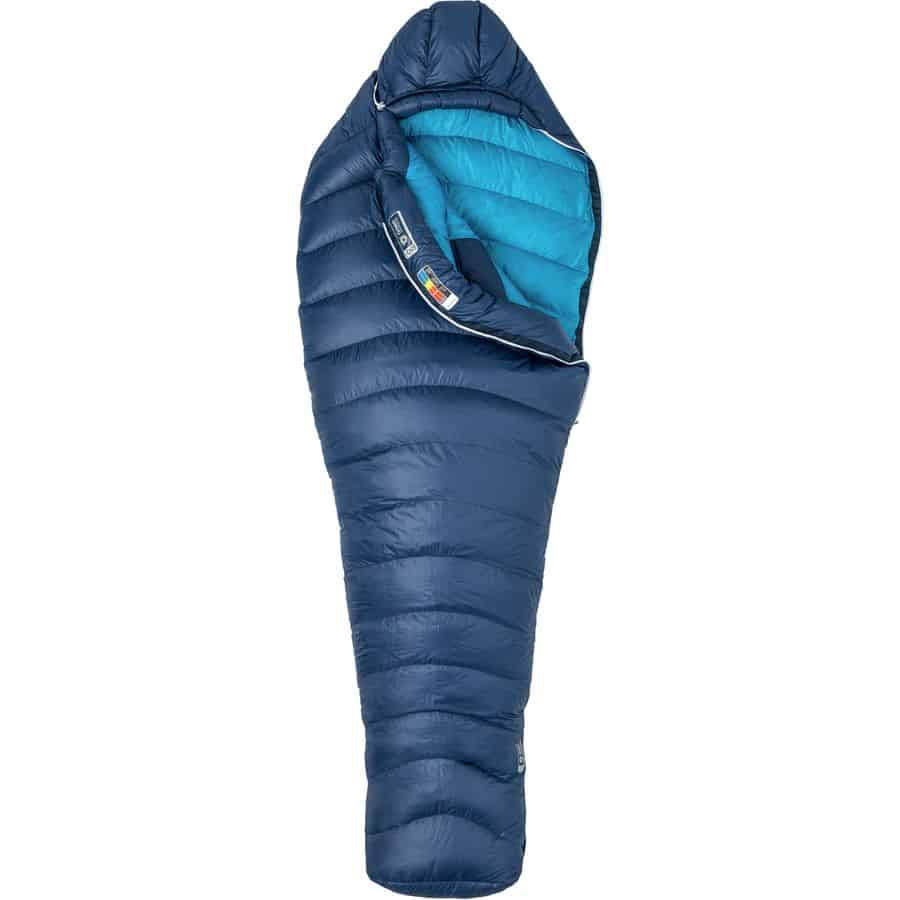 BEST FOR: A COZY AND WARM HOOD 
Let's start our rundown of the best 20 degree sleeping bags with the Phase 20 from Marmot. The 850-fill power down insulation provides consistently good warmth for those chillier camping nights. The hood furthermore includes a very handy drawcord, allowing you to cinch it snugly around your head to lock in the heat. 
Marmot has also included an internal stash pocket to keep any items you need close at hand. For my part, I find it very useful to stash my phone at night if I'm listening to music and want to keep the cold air from draining the battery. The down defender treatment also helps keep any moisture from seeping in and wreaking havoc on your insulation. 
While Marmot has certainly produced a beautiful sleeping bag in the Phase 20, it seems they tripped themselves over the zipper. The most common drawback we're seeing across the board is a small and weak zipper that perpetually snags. So keep this in mind, and remember to handle that zipper with care if you commit to this sleeping bag.
The North Face The One
Specs
Material

:

20D Nylon

Insulation

:

Down / Synthetic

Length

:

85/78in

Weight

:

3.7 lbs

Shape

:

Mummy

Compressed Volume

:

17.5 to 9.1 Liters

Shoulder Girth

:

63/61in
Features
Modular Design Allows You To Adjust Insulation
Down Mid-Layer Unzips To Become Shawl Or Blanket
Excellent Price For Such Comprehensive Sleeping Comfort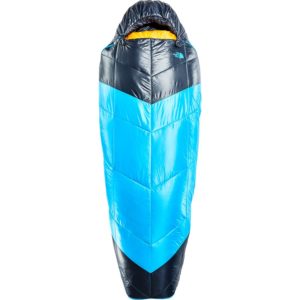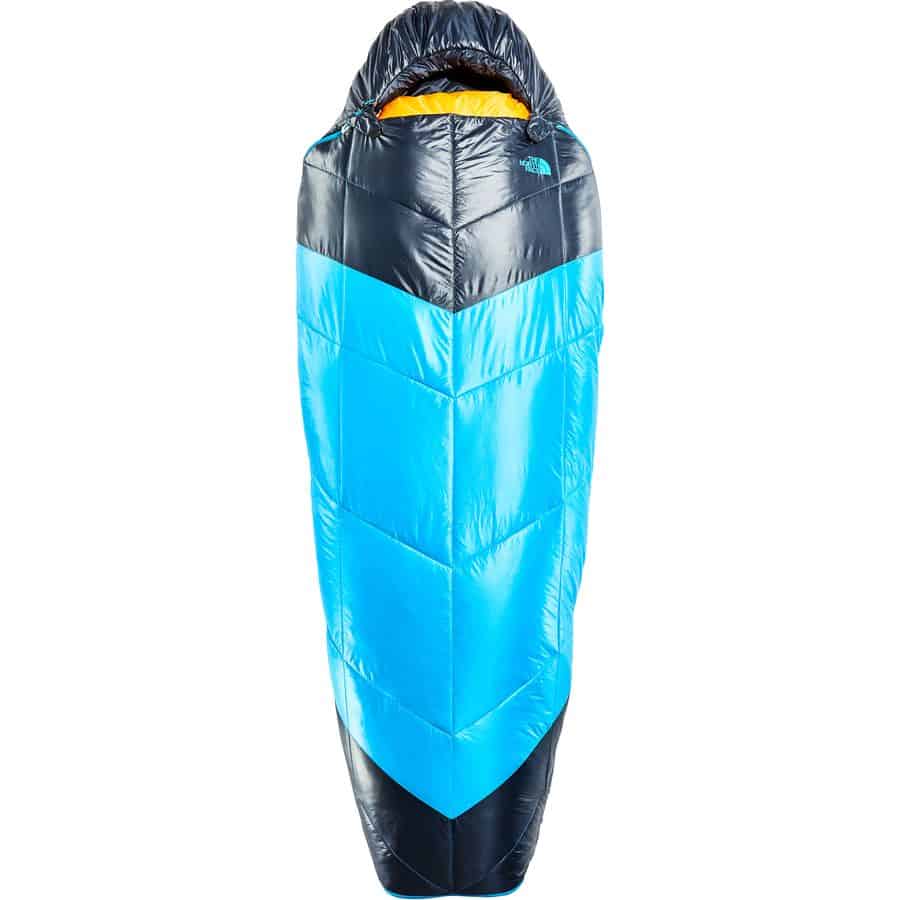 BEST FOR: MODULAR SLEEPING BAG    
Most of the grizzled hiking veterans out there have at least two sleeping bags, right? A light bag for warmer temps and a heavier one for the colder weather. Some folks will even have three or more bags! So how about a modular sleeping bag you can fine-tune to the temperature of your hiking adventures? Sounds amazing to us too, and that's why The One Bag from The North Face made our list of the best 20 degree sleeping bags – even though it works for a range of temperatures. 
This bag comes with a synthetic outer layer that is rated to 40 degrees alone. Add in the down mid layer with the synthetic bottom for 20 degree temperatures. Or combine the down midlayer with the synthetic top and bottom for 5 degrees. All these layers do add more bulk than a strictly down sleeping bag, however. The complete system clocks in at well over 3lbs and only packs down to 17 liters. 
Bulk aside, this is still an excellent sleeping bag for those of you who don't want to spend the money buying multiple sleeping bags for warm and chilly conditions. The One Bag allows you to consolidate down to a single sleeping for all your hiking trips, except extreme cold, and for a very reasonable price.
Western Mountaineering Alpinlite
Specs
Material

:

Nylon

Fill Weight

:

19.0 oz

Insulation

:

Down

Length

:

6'6"/6'0"/5'6"

Weight

:

2.0 lbs

Shape

:

Mummy

Volume

:

12.0 L

Temp Rating

:

20 F

Fill Power

:

850

Compressed Volume

:

Approximately 12 Liters

Shoulder Girth

:

65/64/63in
Features
Extra Wide Shoulder Girth For Bigger Hikers
Very Comfortable And Warm Design
Made In The U.S.A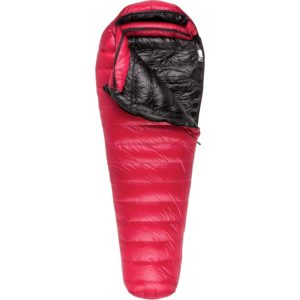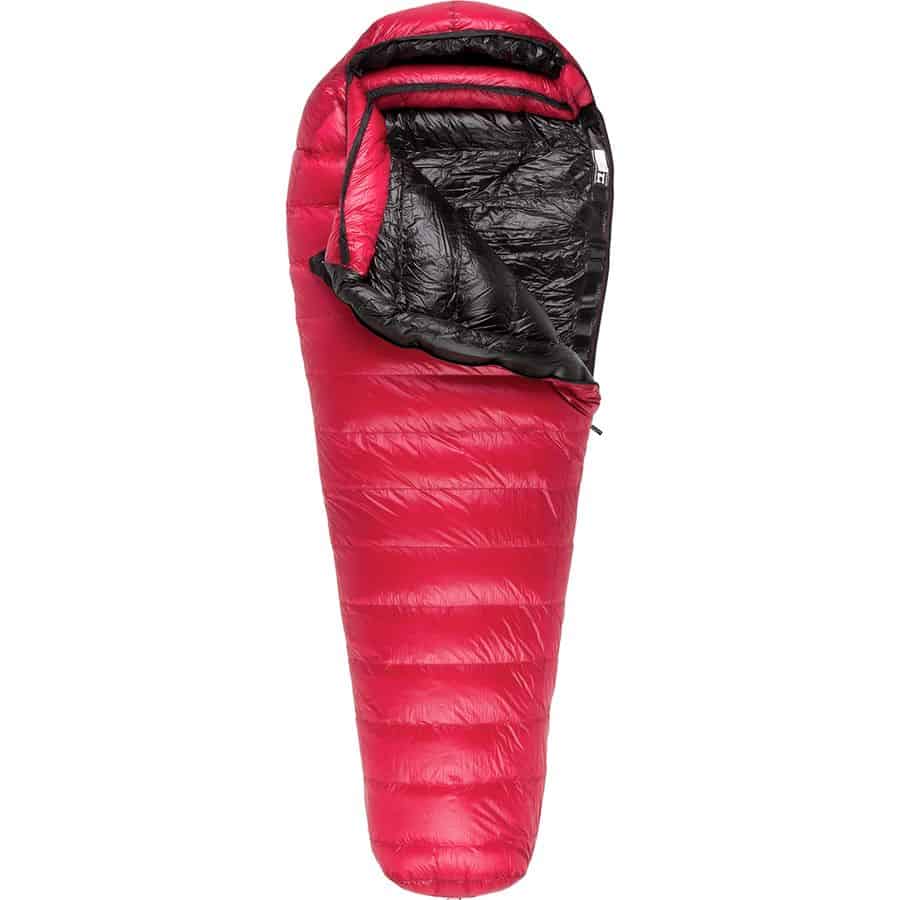 BEST FOR: HIKERS WHO WANT MORE SHOULDER ROOM
Don't you hate trying to roll over in your sleeping bag and your shoulders seem to get wedged between the upper and lower layers? Us too, and that's why the AlpinLite is among the best 20 degree sleeping bags. This bag is designed with you broad chested hikers in mind to make sure you can sleep in comfort on every single hiking trip. 
We've found the 63" to 65" shoulder girth to give just about everyone plenty of room to snuggle in and find that sweet spot for optimal sleeping. All other features of the AlpinLite are near identical to Western Mountaineering's UltraLite sleeping bag. This bag is very comfortable due to its 850-fill down insulation nestled in a soft nylon shell. And it's even manufactured in the U.S.A. 
As with most products from Western Mountaineering, the AlpinLite comes with quite the pricetag. But it's premium build quality, comfortable materials, and very roomy design easily make this a worthwhile investment for you serious hikers out there.
Feathered Friends Spoonbill UL
Specs
Fill Weight

:

23.0 oz

Insulation

:

Down

Weight

:

2.3 lbs

Shape

:

Semi-rectangular

Volume

:

17.0 L

Temp Rating

:

20 F

Fill Power

:

950
Features
Ergonomically designed hoods with separate draw cords
Integrated collar and hood for each user
Dual draft tubes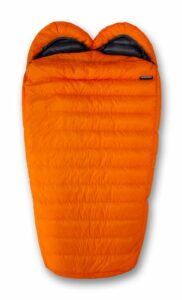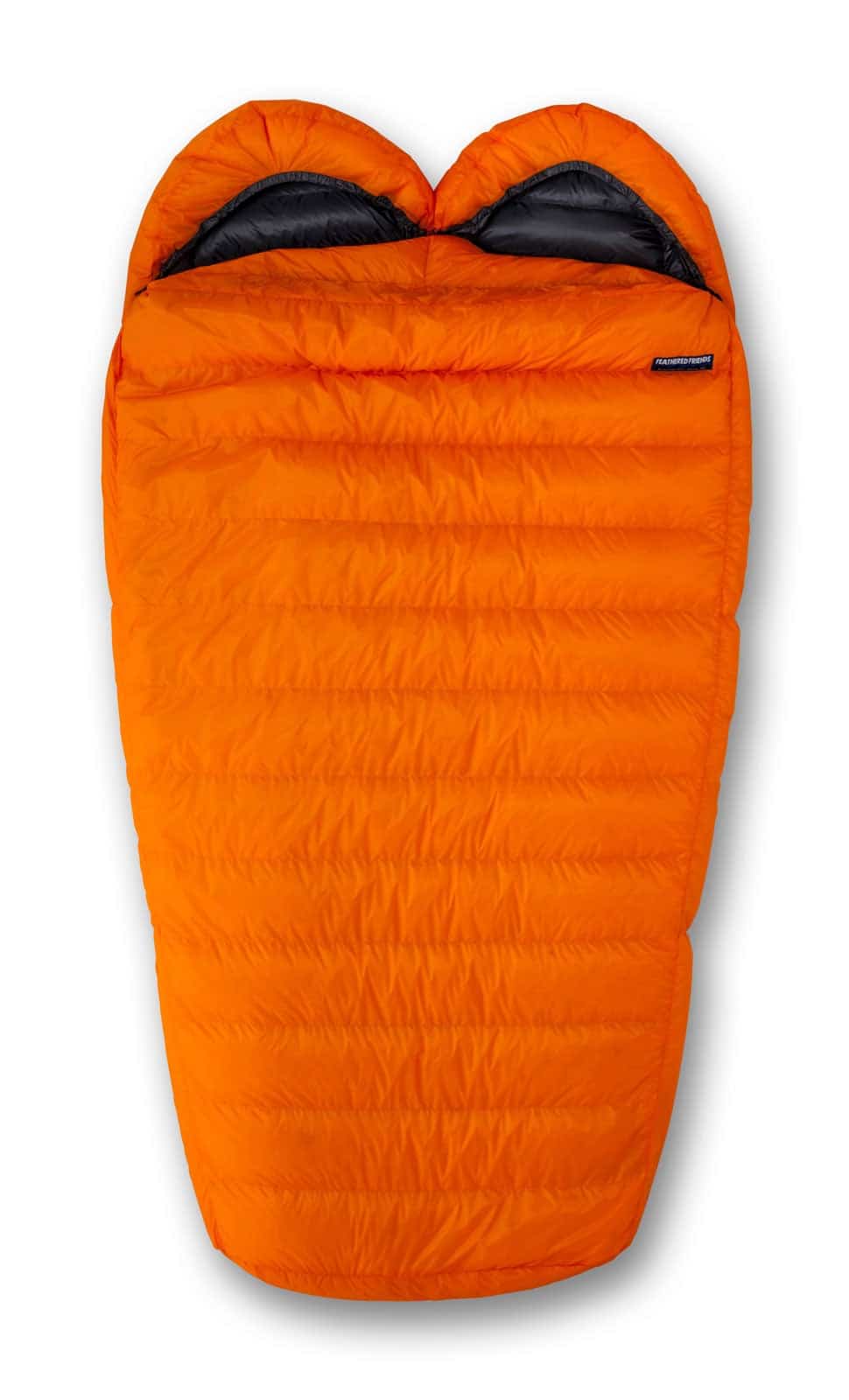 BEST DOUBLE SLEEPING BAG
The Feathered Friends Spoonbill UL is a two-person sleeping bag for couples who want to lighten their load.
What we love the most about the Spoonbill UL is it gives couples the warmth and intimacy of being in the same bag without having to give up comfort. There are two hoods and two collars that can be adjusted and a zip on each side so you don't have to worry about bothering your partner when you get in and out. Feathered Friends trimmed unnecessary insulation from the bottom part of the bag and the floor is made of a super lightweight Dyneema fabric. All of this results in a warm, lightweight and comfortable sleeping bag. 
One of the downsides of the Spoonbill is it's not great for couples who want to cuddle because of its two separate hoods. Another consideration is its price tag is pretty crazy, however if you consider the price of two premium sleeping bags, it might be worthwhile. It also loses major points when it comes to versatility. If one of you decides to go on a solo trip, you'll need a different bag.
If the price tag puts you off, check out the Big Agnes Sentinel 30. It is a much more affordable double bag option.

Marmot Trestles Elite Eco 20
View Women's Version
Specs
Material

:

40D Ripstop Nylon

Fill Weight

:

25.0 oz

Insulation

:

Synthetic

Length

:

Men's: 78"/72", Women's 72"/66"

Weight

:

2.3 lbs

Shape

:

Mummy

Temperature

:

32 F

Volume

:

08.4 L

Temp Rating

:

32 F

Fill Power

:

HL-ElixR

Compressed Volume

:

Men's 8.4 Liters, Women's 10.5 Liters

Shoulder Girth

:

Men's: 64/62in, Women's: 58in
Features
Very Reasonable Price
Good Water/Moisture Resistance
Warm Enough For Most Hiking Trips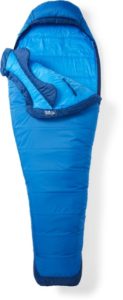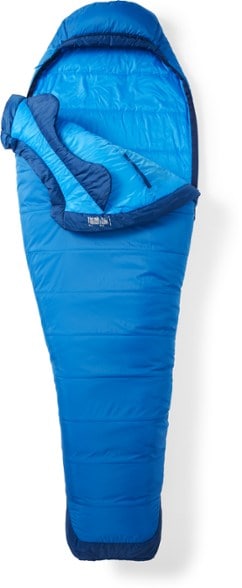 BEST FOR: BUDGET SYNTHETIC SLEEPING BAG 
Synthetic insulation has been slowly retreating from the backpacking realm for some time, but it's still a viable option for a budget hiker. The Trestles Elite Eco 20 is therefore our top synthetic recommendation for not breaking the bank but still hitting that 20 degree rating. 
The proprietary HL-ElixR insulation resists moisture reasonably well, which is certainly a benefit in wet weather. It's also plenty warm for the majority of your hiking adventures and is very comfortable to curl up in. The drawback to this synthetic insulation, however, is that it is heavier than down and won't pack down as much for transport. 
But we can't argue with such a low price, and we definitely feel that the Trestles Elite Eco 20 is a great entry-level sleeping bag. Perfect if you plan on camping only intermittently, or aren't ready to make a major investment quite yet.
Kelty Cosmic 20
View Women's Version
Specs
Material

:

20D Nylon

Insulation

:

Down

Length

:

Men's: 6'6"/6'0"/5'6", Women's 5'8"

Weight

:

2.6 lbs

Shape

:

Mummy

Compressed Volume

:

Men's 13.1/12.2/9.8 L, Women's 12.2 L

Shoulder Girth

:

Men's: 64/62/58in, Women's: 58in
Features
Excellent Price For A Down Sleeping Bag
Hydrophobic Down Treatment To Resist Moisture
External Stash Pocket


BEST FOR: BUDGET DOWN SLEEPING BAG OPTION 
Finally! A down sleeping bag that doesn't leave our bank accounts in tears. The Kelty Cosmic 20 provides all the essentials we need in backpacking sleeping bag at a very reasonable price, earning it a place amongst the best 20 degree sleeping bags. 
The 600-fill power is definitely lower than most of the competition, but still manages to provide sufficient insulation in cooler temperatures. Kelty also includes a water repellent treatment to try and lockout as much moisture as possible and keep that down nice and fluffy. We're also pleased with the external stash pocket to keep gear close, or store your favorite fuzzy sleeping socks when packing up in the morning. 
Keep in mind that the lower price of the Cosmic comes at the expense of build quality and materials. While certainly functional, it lacks the premium feel and durability of the competition. So if you're liking the low budget Cosmic option, be sure to take care of it!
Therm-a-Rest Hyperion
Specs
Material

:

10D Nylon Ripstop

Insulation

:

Down

Length

:

6'6"/6'0"/5'6"

Weight

:

1.2 lbs

Shape

:

Mummy

Compressed Volume

:

3.7 Liters

Shoulder Girth

:

58"/57"/55"
Features
Incredibly Lightweight
Packs Down To Almost Nothing
Very High Quality Down Fill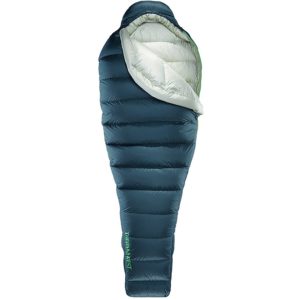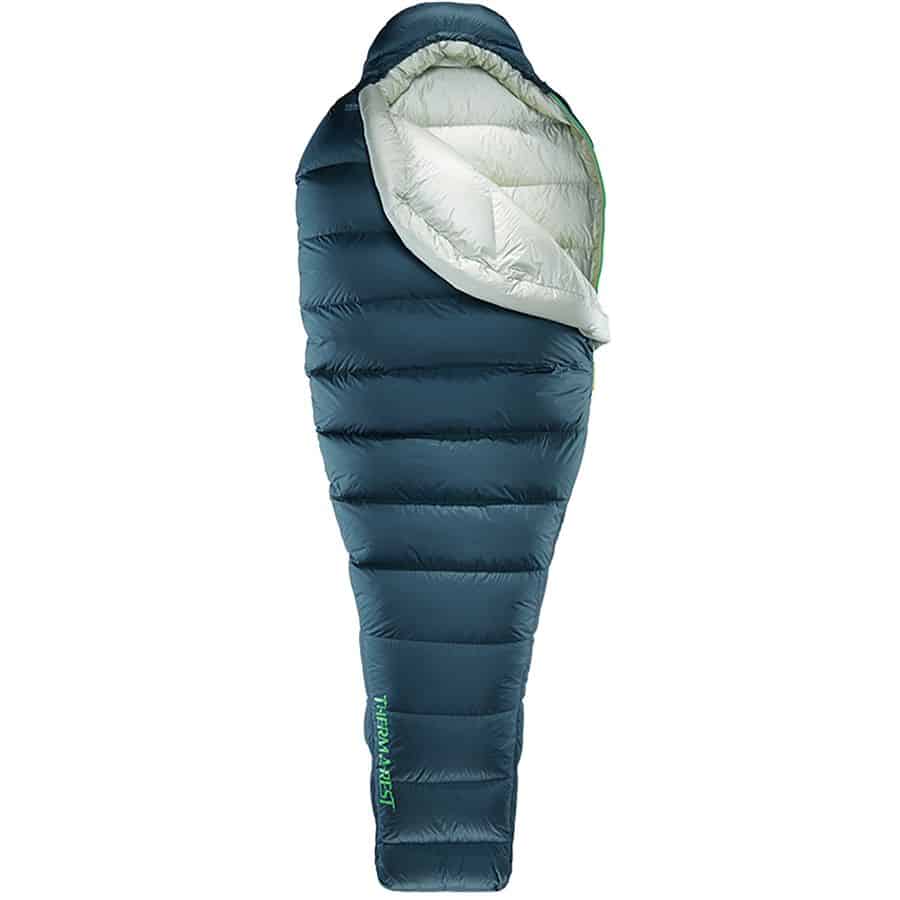 BEST FOR: LIGHTWEIGHT BACKPACKING 
If you're always struggling with your sleeping bag's bulk or weight, then we highly recommend you consider the Hyperion 20 from Therm-a-Rest. This incredible sleeping bag weighs in at only 1lb 6oz. We know blankets and quilts that weigh more than that! What's more, the Hyperion packs down to only 3.7 liters, taking up almost no room in your pack. 
So how'd they do it? High-quality down for one. The 900-fill insulation is incredibly lofty for excellent warmth, yet very compressible and lightweight when it's time to move. The majority of the insulation is also located on the top portion of the sleeping bag, with less behind your back. As much as this insulation distribution helps the weight, it does mean you should have a decently insulated sleeping pad to keep from getting cold. 
Therm-a-Rest has also adopted a fairly narrow design that tapers significantly. This can be bad news for you side-sleepers out there as you may take the sleeping bag with you when you roll and expose the less insulated side to the air. But we understand that sacrifices have to be made to achieve such a lightweight design, and believe the Hyperion 20 may be every ultralight hiker's dream.
Nemo Forte 20
View Women's Version
Specs
Material

:

20D Nylon

Fill Weight

:

29.0 oz

Insulation

:

Synthetic

Length

:

Men's: 6'6"/6'0", Women's 6'0"/5'6"

Weight

:

2.8 lbs

Shape

:

Semi-rectangular

Volume

:

09.0 L

Temp Rating

:

32 F

Fill Power

:

PrimaLoft

Compressed Volume

:

Men's 10 /9.3 Liters, Women's 13.1/11.8 Liters

Shoulder Girth

:

Men's: 66/64in, Women's: 64/62in
Features
Very Roomy Design For Side-Sleepers
Moisture Resistant Synthetic Insulation
'Heat Gills' For Temperature Regulation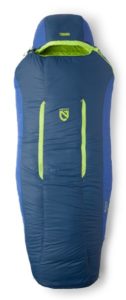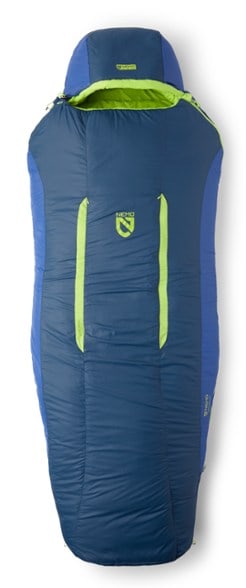 BEST FOR: SIDE-SLEEPING HIKERS    
I count myself amongst the side-sleeping crew, and I know the struggle. Constantly pulling the sleeping bag every which way while getting comfortable. But the Nemo Forte and Viola offer a very compelling solution at a reasonable price! 
Both sleeping bags – the Forte for men and Viola for women – feature a unique spoon-shaped design that's wider at the elbows and knees. This means you can naturally sleep on your side with your arms and legs bent, and not get caught on the wall of your sleeping bag. The sleeping bag also includes Nemo's interesting heat gills, allowing you to dump excess heat without getting a cold draft. 
As with any synthetic sleeping bag, we must cope with more weight and less compressibility. This is nevertheless an excellent option for side-sleepers who yearn for a comfortable night's sleep on the trail.
THINGS TO CONSIDER BEFORE BUYING THE BEST 20 DEGREE SLEEPING BAGS
DOWN VS SYNTHETIC
It's an age-old question in the hiking sleeping bag debate, so let's cover the pros and cons of each. Down has earned its stripes as the backpacking material of choice thanks to its excellent insulating properties yet very low weight. It also compresses down very well to take up minimal space in your back pack. Its two classic drawbacks are moisture and price.
Down will start to clump up almost immediately when it gets wet, effectively eliminating its insulating capability. Many manufacturers have implemented different down treatments in order to combat this problem, with varying degrees of success. Down is also much more expensive than synthetic materials. However, the price of some down sleeping bags has been creeping lower over the years, putting them on par with a synthetic bag. Just remember that cheaper down sleeping bags typically sacrifice quality and features.
As you may have guessed, synthetic is the opposite of down. The cheaper price and greater resistance to water are the main draws to this insulation. But keep in mind that synthetic material is significantly heavier and much bulkier than down, making it a tough sell in the backpacking field. But synthetic sleeping bags definitely have a place amongst beginner hikers or those on a budget.
SIZING
It's so easy to simply eyeball a sleeping bag online or in the store and think: 'yup, that's definitely big enough.' Hold up, take a breath, and take a good look at the sizing chart!
Every single manufacturer has a slightly different sizing scheme for their sleeping bags. The common variables are height, shoulders, and hips; and they all fluctuate from bag to bag. We therefore highly recommend that you take the time to properly size yourself, and pick out a sleeping bag that's guaranteed to fit you comfortably.
Or better yet, go to a gear store on a free afternoon and actually jump into the sleeping bag you're thinking about. I know, it may seem weird climbing into a sleeping bag in the middle of a store, but there's no better way to gauge the size.
WEIGHT
If you're looking for a sleeping bag with hiking or backpacking in mind, then you'd be wise to consider the bag's weight. The heavier the sleeping bag, the more your overall pack weight. But the lighter your sleeping bag, the less space and insulation you have. So consider your priorities, and choose accordingly.
Remember, down is typically much lighter than synthetic materials, and will likely be your insulation of choice if weight is a concern. Ultralight sleeping bags will typically fall in the 1-2lbs range, whereas mid-range options will be 2-3lbs. Anything heavier than 3lbs may be a little hefty for weight conscience hikers and merit reconsideration.
FEATURES EXPLAINED
DOWN FILL POWER
Every single down sleeping bag on our list is accompanied by a fill-power number, ranging from 600 to 900. The exact definition is that the fill power number represents the number of cubic inches that one ounce of the down type takes up. But what does that mean for your warmth?
The higher that number, the greater the down's insulating power. But the story doesn't quite end there. Your warmth is also dependent on the sleeping bag's fill weight, or simply the measurement of how much down the manufacturer stuffs in. This value is oftentimes listed, but sometimes not, so take note if it's there! Outside Magazine has published a very informative article on all things down with more specific information if you wish.
TEMPERATURE RATING
All the sleeping bags on our list are rated to 20 degrees – with the sole exception of the Sea To Summit Flame whose 25 degree rating is balanced by a 14 degree EN rating. The majority of sleeping also have their manufacturer's rating plus an EN value. But why are there two ratings in the first place, and what do they mean?
First of all, understand this: The published temperature rating without an EN designation is simply the manufacturer's estimate of the temperature at which the bag will keep you warm, and has not been independently tested. These estimates are therefore highly subjective and are hard to gauge as everyone has different levels of warm comfort.
Enter EN 13537. This is a European testing standard that was introduced to level the playing field and ensure that sleeping bags are comparable. Many – but not all – sleeping bags will therefore feature an EN Comfort Rating and an EN Lower Limit Rating. The comfort rating refers to the tested temperature at which a cold sleeper will stay comfortable – usually found on women's sleeping bags. The Lower Limit rating refers to the temperature at which a warm sleeper will stay comfortable – usually assigned to men's sleeping bags.
The manufacturer's rating will typically plop right in-between the EN comfort and limit ratings, but not always. So if the manufacturer has published EN ratings, take a look and make the most informed decision possible. Take a look at this article from REI for more temperature rating information.
COMPRESSED VOLUME
This value – measured in liters – refers to the volume of your sleeping bag when it's compressed as much as possible. Some sleeping bags come with their own compression sacks for achieving this 'packed' volume, while others require you to purchase this separately.
The smaller this value, the less space the sleeping bag is going to take up in your bag. Down once again jumps to the head of the pack in this herd as it features superior compressibility when compared to synthetic insulation.