Updated on December 18, 2020
As any long distance hiker will tell you, packing light is not just a matter of preference. It is essential for the completion of a backcountry adventure, especially a multi-day one. The best lightweight sleeping bags don't add any weight to your shoulders so you can tackle mountain trails for hours on end without losing steam. They also can be compressed to a minimal size, so they don't take up any extra space in your pack.
We know that choosing a lightweight sleeping bag can be tricky, with different shapes and features to consider that are all made to support you in various climate conditions. That's why we've selected the best lightweight sleeping bags available on the market today, to help you decide what you should invest in before you set out for your next ultralight hike.
For more of our top backpacking gear recommendations, check out the Best Backpacking Sleeping Bags.
Quick Answer

-

The Best Lightweight Sleeping Bags
Therm-a-Rest Vesper Down Quilt 32

Therm-a-Rest Space Cowboy 45

REI Co-op Magma Trail Quilt 30
Comparison Table

-

Best Lightweight Sleeping Bag
Reviews

-

The Best Lightweight Sleeping Bags for Backpacking
Therm-a-Rest Hyperion 20
Specs
Insulation

:

Down

Weight

:

1 lb 4 oz

Shape

:

Mummy

Temperature Rating

:

20 (F)
Features
Lightweight And Small Packing Size
Ergonomic Shape And Long Zipper
Moisture Resistant Fabric

BEST FOR: THE SUMMER MINIMALIST
The Hyperion 20 Down won the 2019 Editors' Choice Award by Backpacker magazine, for good reason. This is one of the lightest sleeping bags on the market, with a weight of only around 1 pound. Its super light weight combined with a compressed volume of just 3 liters makes it very portable and easy to pack. 
In case you're someone who likes to camp in humid places or the rain doesn't scare you away, this sleeping bag is waterproof both inside and out. Its goose down is hydrophobic, meaning it repels water, and the shell also has a durable water repellent (DWR) coating – all to keep you dry and warm in your endeavors. It optimizes warmth by strategically insulating certain areas, including seams where cold air could potentially flow through. Furthermore, its mummy shape is efficient, ergonomic, and comfortable.
NEMO Banshee 20
Specs
Insulation

:

Down

Weight

:

1 lb 11 oz

Shape

:

Mummy

Temperature Rating

:

20 (F)
Features
Good For Both Warm And Cold Weather
Full Length Center Zipper (for ease of getting in and out and versatility)
Hoodless Sleeping Bag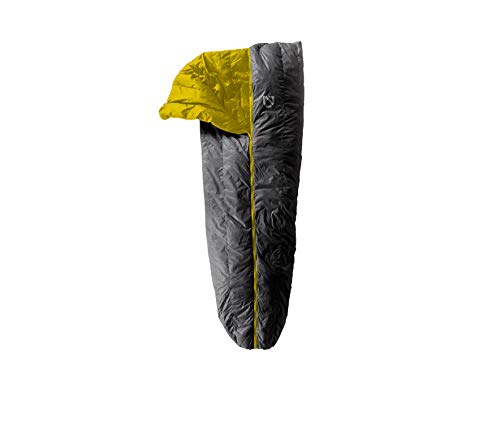 BEST FOR: THE YEAR-ROUND CAMPER
Equipped with a center zipper and cinching drawcords, the Nemo Banshee allows you to easily transform a quilt into a sleeping bag. This way, you can camp during both warm summer nights and in cold fall weather. For more flexibility, the Banshee has an efficient patterning to make any environment cozy. More drawcords at the head and feet ensure resistance to cold drafts. Not only wind, but moisture as well won't disturb your rest. This sleeping bag uses hydrophobic down and a durable water repellent material to prevent moisture from penetrating the bag while you sleep in peace.
Although it is not the most compact bag on this list, taking up 3.31 liters, it will keep you warm at temperatures as low as 20°F.  With this kind of temperature resistance, this transforming quilt is a great companion in any weather.
Marmot Hydrogen
Specs
Insulation

:

Down

Weight

:

1 lb 7.3 oz

Shape

:

Mummy

Temperature Rating

:

30 (F)
Features
Strong And Durable
Broad, Long, And Roomy
Extra Zipper On The Side

BEST FOR: COCOON-LIKE COMFORT 
The insulating features of the Marmot Hydrogen Down Sleeping Bag will surely keep you warm even through colder nights. An insulated tube covers the 2-way anti-snag zipper to prevent any cold breeze from seeping in. A fold-down second zipper equips you with ventilation, so you won't overheat on warmer nights. Moreover, an insulated hood will warmly cradle your head thanks to its multi-baffle design that keeps the down from moving by separating it into different compartments. And cinching drawcords at the top of this bag allow you to secure the hood around your face to prevent wind from chafing your face all night. 
Unlike a caterpillar cocoon, this mummy sleeping bag is durable and sure to live a long life. It has two hang loops for storing, drying, or just airing out the bag to help increase its lifespan with proper care. Another nifty feature includes an internal stash pocket perfect for keeping nighttime essentials and valuables nearby. Considering all these specs, the bag's super light weight of 1 lb. 7 oz. is almost unbelievable.
Therm-a-Rest Corus 32
Specs
Insulation

:

Down

Weight

:

1 lb 4 oz

Shape

:

Mummy

Temperature Rating

:

32 (F)
Features
Compact Design
Water And Moisture Repellent
Fast Drying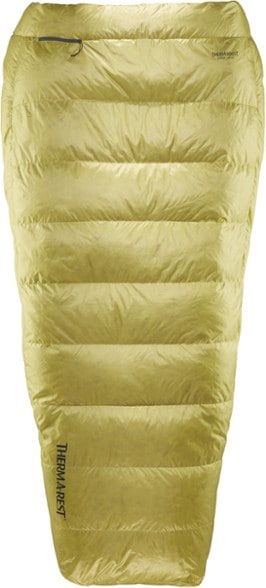 BEST FOR: CONVENIENT SET-UP
If you are looking to go on a camping trip in the summer, spring, or fall, the Corus 32 is a safe bet. It is fairly affordable, able to endure 32°F, and lightweight enough to reduce stress on your shoulders. While these aren't top notch characteristics, this product does provide a fantastic bag and pad connection system. With 8 snap loops, it is secure and easy to use, allowing you to layer other quilts with it. Plus, a loop kit includes 8 convenient stick-on patches to fasten a pad to the quilt. 
Draft tubes line the sides of the quilt, guarding against cold air. Corus 32 also features an elastic footbox that holds together your feet and your pad, securing warmth. The quilt has cords at the top that further let you snap the quilt shut with only your head poking out.
Therm-a-Rest Vesper Down Quilt 32
Specs
Insulation

:

Down

Weight

:

15 oz

Shape

:

Semi-Rectangular

Temperature Rating

:

32 (F)
Features
Lightweight And Small Packed Size
Snap-neck Closure (for increased warmth on chilly nights)
Water Repellent And Resistant To Moisture/Dirt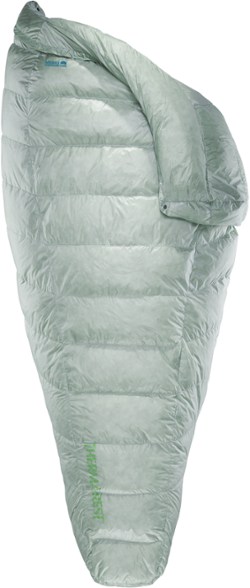 BEST FOR: ALL-AROUND SUMMER USE
The Therm-A-Rest Vesper Down Quilt 32 is the lightest quilt in this list. Weighing less than a pound, it is not only ultralightweight, but also highly packable. Plus, in a compressed state, it takes up about as much space as a 1-liter water bottle. The quilt does have side baffles built in to keep the insulating material from moving by separating it into compartments. 
Additionally, the Vesper Down Quilt also offers an insulated footbox that holds the heat where it's most needed, and a snap-neck closure that clicks around your upper body to stop body heat from escaping by tightening the bag around you. As a bonus, ThermRest's proprietary heating element, ThermaCapture lining, will reflect your body heat to keep you warm and snuggly.
Naturally, the Vesper has hydrophobic down and a durable water-repellent that protects the bag from moisture and dirt. As a bonus feature, removable SynergyLink connectors can be used to fasten your quilt to an extra sleeping pad.
Therm-a-Rest Space Cowboy 45
Specs
Insulation

:

Down

Weight

:

1 lb 4 oz

Shape

:

Mummy

Temperature Rating

:

45 (F)
Features
Snag Free Zipper
Highly Compressible
Cinchable Hood For Increased Warmth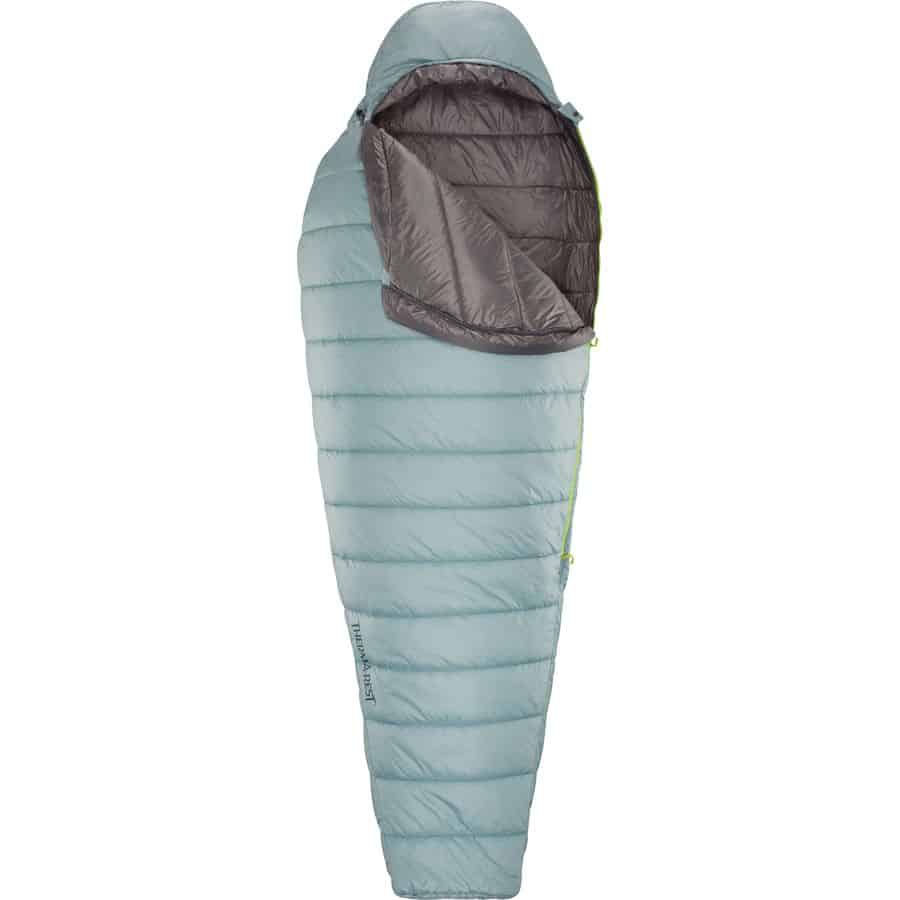 BEST FOR: COMPRESSIBILITY
The Cowboy 45 is the only sleeping bag on this list with water-resistant synthetic filling. This allows it to increase insulation – even when wet –  while decreasing weight. However, it is designed for summer camping, as it withstands only 45°F. The bag features ThermaCapture zoned insulation that is strategically placed to catch your body's own rising heat. You can also cinch the hood down around your head for a snuggly, draft-free rest.
To increase versatility, this sleeping bag has loops that you can use to layer more quilts and blankets on it, making it useful in colder conditions. The zipper is snag-free to ensure its durability and ease of use. The Cowboy 45 weighs 1.5 lbs. – average for ultralight sleeping bags – but it can be compressed down to 2 liters of volume, saving lots of valuable space in your backpack.
NEMO Siren 30
Specs
Insulation

:

Down

Weight

:

1 lb 18 oz

Shape

:

Mummy

Temperature Rating

:

30 (F)
Features
Ultra-Lightweight
Silky Smooth Comfort
Water and Moisture Repellent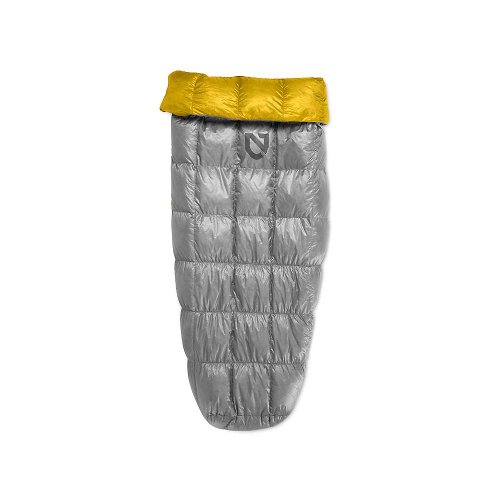 BEST FOR: ON-THE-GO HOT SLEEPER
The Nemo Siren Springer 45 has been newly upgraded for the summer of 2019. Withstanding temperatures up to 45°F, it is more suited for warm weather and hot sleepers that get overheated at night. It features a backless design that allows for lower weight and higher packability. With a low packing volume, it will fit optimally into your backpack without taking over too much precious space. Additionally, both the insulating material and the shell are water-repellent.
The new vertical baffle system coordinates to your body, preserving heat better. To improve the versatility of the quilt, a cord system was included. It can be secured around a sleeping pad of any size; a stretchy footbox grips onto it as well to ensure your comfort. As a bonus, the quilt has exterior loops for hanging it up.
Big Agnes Flume UL 30
Specs
Insulation

:

Down

Weight

:

1lb 6 oz

Shape

:

Mummy

Temperature Rating

:

30 (F)
Features
Sturdy Zippers
Comfortable Fit
High Tenacity Shell Fabric (for long-term durability)

BEST FOR: INSULATION
Using the traditional mummy shape, this sleeping bag manages to decrease its weight while increasing insulation. A unique Insotect Flow design uses vertical (instead of horizontal) heat channels for better warmth distribution. This advanced technology creates special gates placed throughout the entire length of the sleeping bag that hold the down insulation in place while letting the body heat circulate from your chest to your toes. 
Some of this warmth will be stored in an ergonomic foot box, keeping the body parts most exposed to cold (like your toes) toasty on those chilly nights. Another insulating feature includes a contoured hood that will cushion your head. As a bonus, the fill has been treated with a water repellent coating, making the sleeping bag suited for damp environments. 
The Big Agnes Flume UL 30 is ultralight, weighing about 1 pound, and ultracompact, taking up just 2.73 liters of space. This will make it fit perfectly in your backpack with plenty of room for other essentials like your sleeping pad and tent. To increase versatility, the even bag offers interior loops for a bag liner to add extra warmth and exterior loops for drying and storage.
NEMO Tango Solo 30
Specs
Insulation

:

Down

Weight

:

1lb 12oz

Shape

:

Rectangular

Temperature Rating

:

30 (F)
Features
Resists Moisture And Stains
Easy Packability
Lightweight, Durable, And Water Resistant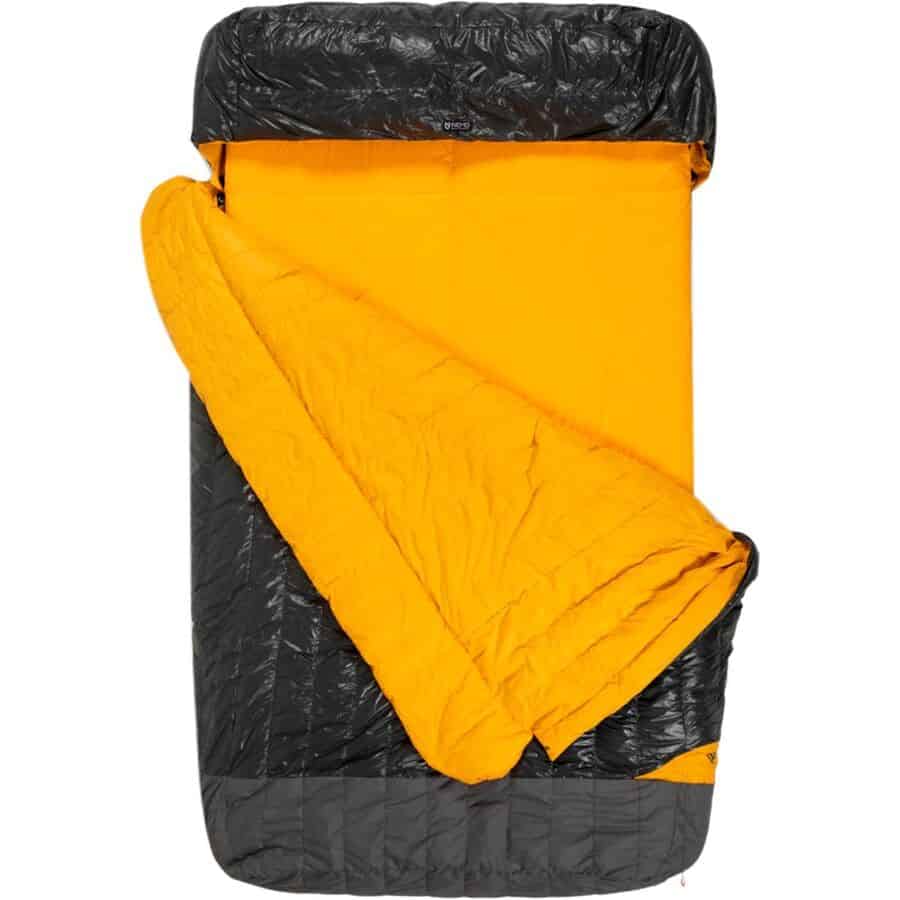 BEST FOR: THE LARGER FOLKS
The Nemo Tango Solo 30 is not as light as other models on this list, however, it makes up for that in comfort. It is roomy enough to be comparable to extra-wide versions of many sleeping bags. This is perfect for tall and broad-shouldered people, as well as those who move around often while they sleep. Although it offers all this space, it is still very compressible, reaching a minimum volume of 2.85 liters. 
The Solo 30 is made with water-repellent down and is completely water-repellant. The included pad slipcover is washable, so you can keep your sleeping bag fresh. Another feature is the breathable footbox that will keep your feet warm, but not stifled. Finally, the Solo 30 has a removable hood that gives it versatility points.
REI Co-op Magma Trail Quilt 30
Specs
Insulation

:

Down

Weight

:

1 lb 3 oz

Shape

:

Semi-Rectangular

Temperature Rating

:

30 (F)
Features
Soft Silky Interior
Easy To Use Sleeping Pad Attachment
Water Repellent And Supersoft Feel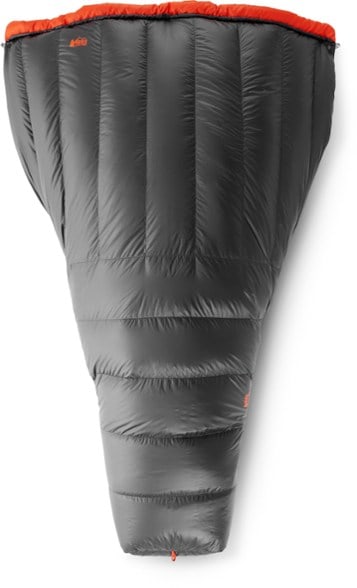 BEST FOR: ADJUSTABILITY
The REI Co-op Magma Trail Quilt 30 provides its user with as much control as one would want. A cinchable tube filled with insulating material sits around your neck and can be adjusted to increase warmth. Additionally, two cords attached to the bottom of the bag let you tighten it around your body to reduce heat loss while keeping you centered and snug on your pad. This makes for a great solution to camping nights that alter between hot and cold. 
Although this is a quilt, it does have a foot box. Furthermore, it can be used either alone or wrapped  around a sleeping pad to mimic a traditional mummy sleeping bag. The Magma Trail Quilt will provide you with comfort at temperatures down to 30°F. The quilt makes up for its high temperature rating with its excellent portability.
THINGS TO CONSIDER WHEN BUYING LIGHTWEIGHT SLEEPING BAGS
WEIGHT
On top of taking up a lot of backpack space, traditional sleeping bags can be heavy to carry on your shoulders. Lightweight and ultra-lightweight sleeping bags, on the other hand, are designed for backpackers trying to travel with minimum gear.
Most lightweight sleeping bags are made for two or three season use, as they contain less insulating material. It is possible to find advanced winter sleeping bags that are compact and easy to carry, however these tend to still weigh at least two pounds, making them relatively heavy compared to other lightweight bags.
Lightweight sleeping bags weigh under two pounds, while ultra-light sleeping bags can weigh as little as 15 ounces. Reduced weight normally comes at a price though, with compact sleeping bags costing hundreds of dollars.
SLEEPING BAG SHAPE
Sleeping bags can be rectangular, semi-rectangular and mummy-shaped. Each of these designs comes with different pros and cons, so keep their characteristics in mind when you go to buy a sleeping bag.
Rectangular-shaped sleeping bags are the least insulated, but offer more moving space than semi-rectangular and mummy-shaped sleeping bags. If you tend to move often during the night, a rectangular sleeping bag may provide extra comfort, but consider that it will also be bulkier when packed.
Semi-rectangular sleeping bags are narrower around the legs and feet to reduce heat loss where it's most needed. They are lighter and more compact than rectangular-shaped sleeping bags, but still provide some moving space for your body.
With their anatomical shape, mummy-shaped sleeping bags offer maximum insulation, but minimal moving space. They are usually lighter than other categories of sleeping bags, as less material is used to produce them.
TEMPERATURE RATING
The number normally read after a sleeping bag's name refers to the lowest temperature at which it ceases to be comfortable to sleep in. Most sleeping bags are tested by independent organizations that establish the temperature rating.
Lightweight sleeping bags tend to have a higher temperature rating (meaning they're better for warmer weather), as the insulating material makes up for much of the mass. As a reference, three-season sleeping bags will have a rating of 20°F, while summer sleeping bags start at 32°F. Sleeping bags for winter camping are hardly ever lightweight, but there can be a big difference between different models.
INSULATION
Sleeping bags are traditionally filled with either synthetic fiber or down. While synthetic sleeping bags are fast-drying and non-allergenic, they are not as well insulated as sleeping bags filled with goose or duck down. Down sleeping bags offer more protection in colder temperatures and are more lightweight, however they tend to be more expensive than their synthetic counterparts.
PACKED VOLUME
When choosing a sleeping bag to go hiking with, check how much space it will occupy in your backpack. Lightweight sleeping bags may not put pressure on your shoulders, but they are not necessarily always compact when packed. The volume of a packed sleeping bag is measured in liters and you should aim at maximum of 3 liters if your priority is compactness. When storing your sleeping bag at home however, remember that it should always be kept outside of the stuff-sack, either hanging or loosely stowed in a large breathable sack.
FEATURES EXPLAINED
HEAT CHANNELS
Vertical gates placed along the entire length of the sleeping bag, designed to keep the insulating material in place while letting the body heat circulate from chest to toes.
PAD CORDS
A set of cords connected to a sleeping pad that can be used to tighten your sleeping bag around your body to reduce heat loss.
DRAFT TUBE
A section of the sleeping bag filled with insulating material that runs along the zipper, stopping the cold air from sneaking in.
DURABLE WATER REPELLENT (DWR)
A special kind of coating used on the shell of the shell of the sleeping bag to make it water-resistant.
HYDROPHOBIC
Hydrophobic refers to any material that resists water (AKA, a material that is water-repellent).
BAFFLES
The stitchings that create a series of compartments that stop the insulating material from moving inside the sleeping bag. By keeping the insulating material separated, the whole body stays protected from the cold.
DUCK OR GOOSE DOWN
The fine plumage found under the feathers of ducks and geese, used as fill in sleeping bags for maximum insulation and warmth.
SYNTHETIC INSULATION
Polyester fibers that are used as insulating material to prevent heat loss. Synthetic insulation materials can vary widely in quality and tend to be less insulating than down. On the other hand, they dry faster and are cheaper.
SLEEPING BAG SHELL
The outer layer of the sleeping bag, often built in synthetic material and water repellent coating.
SNAG-FREE ZIPPERS
Zippers engineered so that they don't catch the sleeping bag's fabric when used.
READ MORE
For more of our top hiking & backpacking gear recommendations, check out these popular articles: