Updated on December 20, 2021
Here at The Adventure Junkies, it's our goal to help you make the best decisions possible when purchasing outdoor gear. We've already covered how to choose the right backpacking tent, so now let's talk about the best 3-person backpacking tents. From what to consider before buying a 3-person tent to our recommendations for the best 3-person tent for you, we'll take you through the entire process so you can focus on recruiting your friends and planning your next epic backpacking adventure.
For a complete analysis of all backpacking tents, check out the buyer's guide Best Backpacking Tents.
Quick Answer

-

The Best 3-Person Backpacking Tents
Big Agnes Copper Spur HV UL 3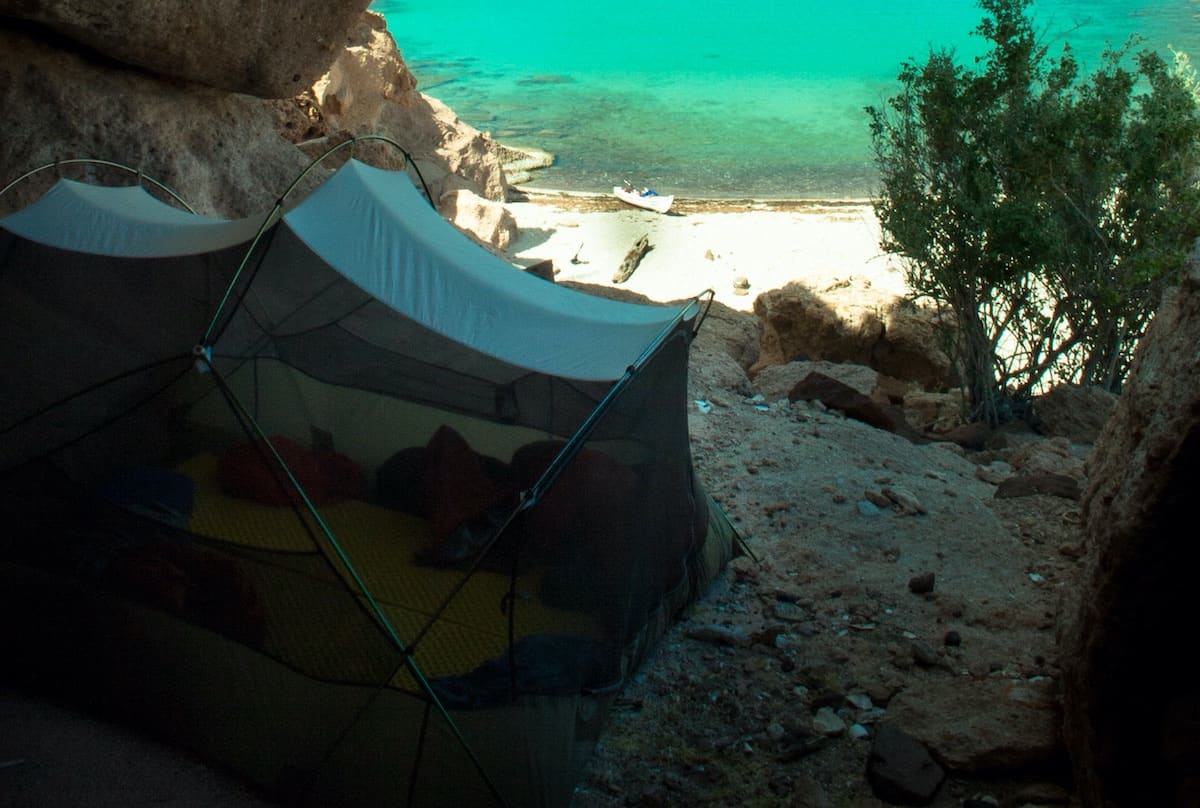 Comparison Table

-

Best 3-Person Tents for Backpacking

For the best experience turn your device horizontally
Reviews

-

The Best Backpacking Tents for Three People
Big Agnes Copper Spur HV UL 3
Specs
Doors

:

2

Floor Area

:

41.0 sq ft

Height

:

43.0 in

Weight

:

3 lbs 07 oz

Season

:

3-Season
Features
Large Dual Doors
Plethora Of Pockets
High Vertical Walls
The Big Agnes Copper Spur HV UL3 is a long-standing favorite among the ultralight backpacking crowd. Packing down light while amping up interior space, the Copper Spur HV UL3 is a great choice for the backpacking duo who want a touch more room.
The 41-square foot tent floor provides ample space to stretch out your legs while the high vertical walls increase liveability. Stash your packs in the storm flap zippered vestibules and safely stowaway smaller items in any of the eight interior pockets. With the addition of the large dual doors, entering and exiting is a breeze.
MSR Mutha Hubba NX 3
Specs
Doors

:

2

Floor Area

:

39.0 sq ft

Height

:

44 in

Weight

:

4 lbs 05 oz

Season

:

3-Season
Features
Performs Under Bad Weather
Easy Setup
Durable Construction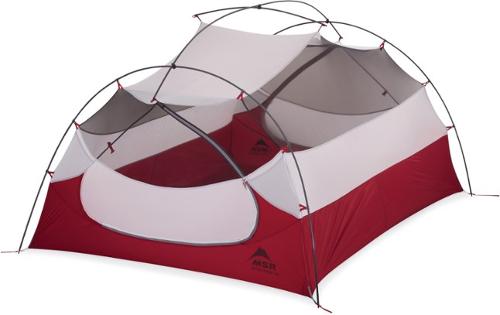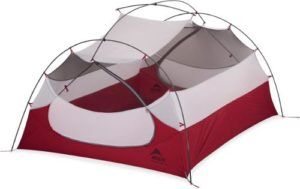 MSR is known for producing quality backpacking gear and their best selling 3-person tent the Mutha Hubba NX 3 is a prime example. Lightweight and sturdy, you'll get your money's worth out of this tent.
The newly redesigned Mutha Hubba gets a boost in durability, making it stronger and tougher against the elements than ever before. The poles offer more flex under strong winds while the tent floor, doors, and rainfly up their game in keeping you dry.
As for space, you'll have plenty of it. The Mutha Hubba features two spacious vestibules for stashing gear while the symmetrical floor plan gives you and your buddies plenty of area from head to toe. When the weather takes a turn for the worse, you'll all be ready for it.
Marmot Limelight 3P
Specs
Doors

:

2

Floor Area

:

42.5 sq ft

Height

:

48 in

Weight

:

6 lbs 05 oz

Season

:

3-Season
Features
Design Maximizes Liveability
Easy Access
Seam-taped Floor And Rainfly For Added Weather Protection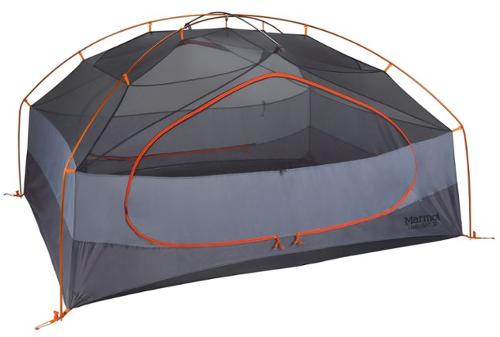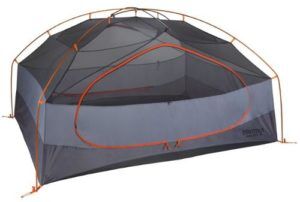 When it comes to liveable 3-Person backpacking tents, it's hard to beat the Marmot Limelight 3P. This affordable tent has an astounding space to weight ratio that is unmatched by its competition.
Engineered to maximize comfort and room, Marmot came up with a clever design to increase the head, body, and sleeping zones. This design utilizes sturdy pre-bent poles and features a lofty peak height of 48-inches.
Equipped with a massive front double door, back D-door, two vestibules, and fully taped and sealed seams, you and your two best buds will be sleeping like babies.
REI Co-op Passage 3
Specs
Doors

:

2

Floor Area

:

44.0 sq ft

Height

:

48 in

Weight

:

5 lbs 10 oz

Season

:

3-Season
Features
Affordable Price
Roomy Interior
User-Friendly Setup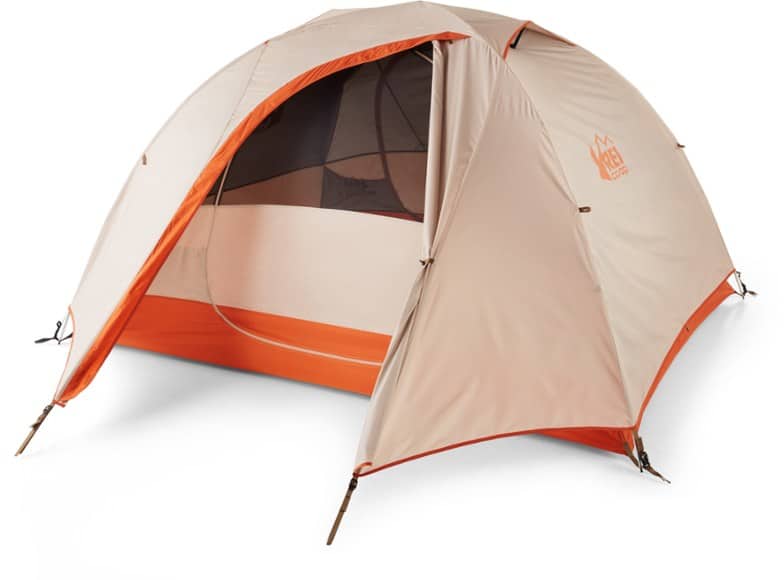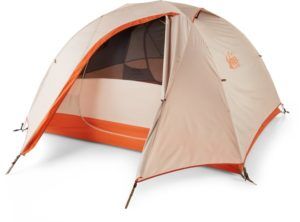 The REI Co-op Passage 3 Tent is an excellent entry-level backpacking tent. It features all the amenities you need in a 3-person backpacking tent at a fraction of the cost.
This tent comes equipped with two doors, two vestibules, interior pockets, gear hang loops, an easy color-coding setup, and adjustable ceiling vents. Opting for a symmetrical shape, this tent certainly has one of the larger interiors with a 44-square foot floor area and a 48-inch peak height.
At a cheaper price, it does come with a few drawbacks, such as a heavier weight. However, if you divvy up the load between packs it's not so much an issue. Certainly enough space for three, you and your buddies can hit the trail at an affordable price.
Marmot Tungsten 3P
Specs
Doors

:

2

Floor Area

:

41.0 sq ft

Height

:

46 in

Weight

:

5 lbs 13 oz

Season

:

3-Season
Features
Full Cover Rainfly With Vents
Footprint Included
Durable Construction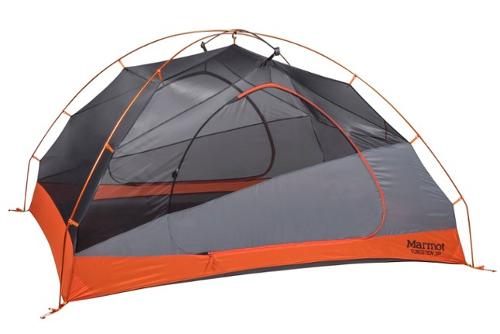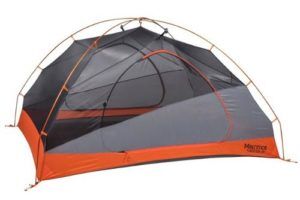 The Marmot Tungsten 3P is an affordable option for the backpackers who want a little more from their tent.
When you're sleeping next to tent mates, airflow can be a concern. This tent body is made primarily of mesh for better circulation with just the right amount of waterproof flooring to keep you dry. When weather strikes, the full coverage rainfly will keep you dry so you can enjoy the ventilation on a stormy summer night.
At its price, this tent strikes a nice balance between comfort and weight, making it ideal for the group heading out on a weekend trip.
THINGS TO CONSIDER BEFORE BUYING A 3-PERSON BACKPACKING TENT
COST
There's a wide price range for 3-person backpacking tents. For beginners, less expensive options are a good start. For more experienced backpackers, the pricier end will offer better performance. If you're serious about backpacking, you may find it worth the investment.
SEASON RATING
There are two main season ratings you'll encounter when considering a backpacking tent: 3-season and 4-season. While 4-season tents may sound like more bang for your buck, 3-season tents are the more popular choice.
3-season tents are lighter, well ventilated, and serve well in spring, summer, and fall. Meanwhile, 4-season tents are designed to handle harsh winter weather. While you can use a 4-season backpacking tent any time of year, 3-season is recommended.
WEIGHT
On average, a backpacking tent weighs about 2.5-pounds per person. Generally speaking, heavier tents have more room. Since a 3-person backpacking tent has a larger capacity, you'll find they weigh a few more ounces than 1- or 2-person tents.
Whether you opt for a lighter or heavier tent is really a matter of comfort versus distance. For shorter, more casual backpacking trips with ample camp time, you may choose comfort over weight.
For intense backpacking trips, you'll want to keep pack weight to a minimum. You'll be lugging around your tent more than sleeping in it, so shed ounces and go with an ultralight option.
CAPACITY
The 3-person capacity means these backpacking tents are designed to comfortably sleep up to a group of three. However, even though these are dubbed 3-person tents, that doesn't mean you need to max them out to utilize them. For two backpackers a 3-person tent offers more space, comfort, and gear storage.
SINGLE OR DOUBLE WALL
The more people crammed into a 3-person backpacking tent, the more you'll appreciate proper ventilation. In this case, a double wall backpacking tent is an excellent option.
As the name suggests, double wall backpacking tents consist of two walls: tent body and rainfly. The tent body will mostly be made of mesh paneling in order to maximize airflow, whereas the rainfly can be tossed on for protection from bad weather.
Single wall tents, on the other hand, combine both the body and rainfly into one. This is better for cold weather making them more common for mountaineering than backpacking.
FLOOR SPACE AND DIMENSIONS
3-person backpacking tents are sought after because they offer a decent amount of floor space. The more floor space you have, the more likely you and your tent mates will sleep comfortably.
Along with floor space, you'll want to consider the floor dimensions. You can have all the space in the world, but if it's not laid out well your tent won't feel very spacious.
So pay attention to the width and length of your floor. If you have a taller person in your group, you'll want to choose a 3-person backpacking tent with longer dimensions.
PEAK HEIGHT
Along with floor space and floor dimensions, the tent's peak height will also determine how comfortable your 3-person backpacking tent is. You want everyone in your group to be able to sit up comfortably.
TENT SHAPE
The best 3-person backpacking tent will maximize tent shape to make it feel more liveable. Two tents can offer the same amount of floor space, but different shapes will have a completely different feel. For a more open feeling, choose a tent with more vertical walls as opposed to a narrower shape with angled walls.
DOORS
3-person backpacking tents will offer a front, single side, or double side doors. The single side door and the front door are generally best for one person. Two or three people can manage with a single side door or front door, but this often means one tentmate will be left to crawl over the other. The more people, the more doors, the better.