Updated on October 9, 2020
Whether you are setting out to tackle a multi-day rocky trail or to spend a week camping at a music festival, there is nothing your body will be more thankful for than a solid night's sleep. A good quality sleeping pad is essential to keep you warm in the backcountry, but choosing the best ultralight sleeping pad for your next overnight camping trip is not an easy task.
The best ultralight sleeping pads fit into a hiking backpack without sacrificing comfort, but whether you should invest in an advanced self-inflating pad or opt for a closed-cell foam pad depends largely on where you intend to hike. To help you make a choice, we have selected the five best ultralight sleeping pads to narrow down your options and get you sleeping in peace on your next epic ultralight backpacking adventure.
For more of our top backpacking gear recommendations, check out the Best Backpacking Sleeping Pads.
Quick Answer

-

The Best Ultralight Sleeping Pads
Therm-a-Rest NeoAir UberLite

Klymit Inertia X Frame Reacon
Comparison Table

-

Best Ultralight Sleeping Pads
Reviews

-

Best Ultralight Sleeping Pads
Therm-a-Rest NeoAir UberLite
Specs
Type

:

Air Pad

Weight

:

6 to 12 oz

R Value

:

2.3
Features
Pad Thickness: 2.5 in
Sleeping Pad Shape: Mummy
Repair Kit Included
Stuff Sack Included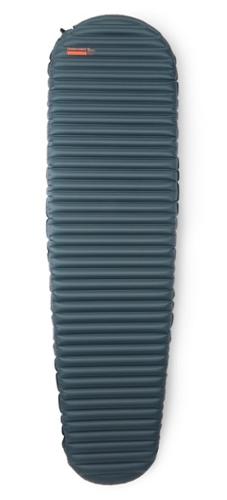 BEST FOR: THE ALPINE HIKER
If you are looking for maximum comfort and minimal packed size, the Therm-a-Rest NeoAir UberLite sleeping pad is a great choice. Designed to cater to long-distance hikers and mountain climbers, this made-in-the-USA ultralight air-pad will put you to sleep before you even start counting sheep, thanks to the Triangular Core Matrix construction that helps reduce heat loss and increases stability.
With a weight of only 8.8 ounces, the Therm-a-Rest NeoAir UberLite sleeping pad is the lightest in our selection, and while this feature comes at a cost, it is an investment worth considering if you plan to carry all your gear on your back for multiple days.
Therm-a-Rest Z Lite Sol
Specs
Type

:

Closed-Cell Foam

Weight

:

14 oz

R Value

:

2.6
Features
Pad Thickness: 0.75 in
Sleeping Pad Shape: Rectangular
Egg-Carton Closed-Cell Foam Pattern For Increased Softness
No Inflation Required - Instant Setup

BEST FOR: THE BUDGET-CONSCIOUS BACKPACKER
The Therm-a-Rest Z Lite Sol is a closed-cell foam sleeping pad that can be compressed into a lightweight and compact shape. The Z Lite Sol also features a higher than average R-Value (the measurement used to establish the degree of insulation of different foams) making it one of the warmest ultralight sleeping pads on our list.
With a reflective surface, the Z Lite Sol will maintain your body heat during cold nights in the outdoors, while leaving enough space in your backpack to carry all the other essentials.
While closed-cell foam pads tend to be less comfortable than air or self-inflating pads, the egg-carton pattern of the Therm-a-Rest Z Lite Sol creates a soft and insulated surface that is impressively pleasant, considering the price range. On top of being durable, this sleeping pad unfolds instantly, so you can get ready for bed in a matter of minutes (or even seconds).
Klymit V Ultralite SL
Specs
Type

:

Air Pad

Weight

:

11.9 oz

R Value

:

1.3
Features
Pad Thickness: 2.5 in
Sleeping Pad Shape: Rectangular
Twist-Pull Valve For Rapid Inflation
Repair Kit Included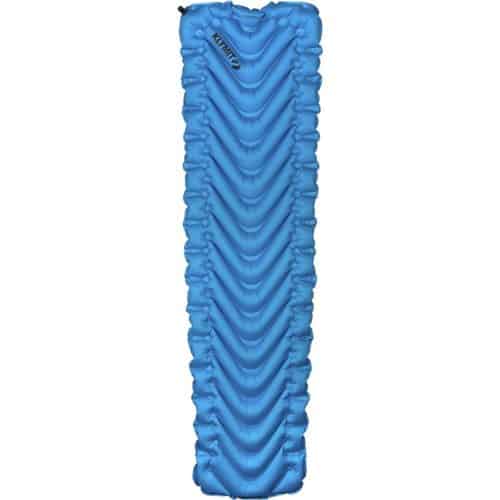 BEST FOR: LIGHT SLEEPERS AND SUMMER HIKERS
A wide and comfy sleeping pad, the Klymit V Ultralight sleeping pad will allow no interruptions to your well deserved shut-eye. Featuring a V-shaped design that keeps you from rolling off the mattress and individual air pockets that provide both softness and stability, you won't have to toss and turn to find the most comfortable sleeping position.
The twist-pull valve makes the inflation process fast (only 7 breaths), and the deflation almost instant, thanks to the wide valve opening. The Klymit V Ultralight is not as well insulated as more expensive sleeping pads, but it will undoubtedly make you want to snooze through your alarm if you are hiking in the summer months.
Therm-a-Rest ProLite
Specs
Type

:

Self-Inflating

Weight

:

16 oz

R Value

:

2.4
Features
Pad Thickness: 1 in
Sleeping Pad Shape: Semi-rectangular
Insulated
Dense Foam To Reduce Heat Loss
Stuff Sack Included

BEST FOR: OUT OF BREATH CLIMBERS
While self-inflating sleeping pads are generally bulky and inconvenient to carry in a backpack, the 3-season Therm-a-Rest ProLite is designed with the alpine climber in mind. Thanks to the tapered shape, the weight remains minimal and the packing size, while larger than other sleeping pads listed here, is easily manageable.
Compared to air pads, this self-inflating mattress is much sturdier and likely to last longer. Plus with an R-value of 2.4, it is suitable to be used in colder environments. The self-inflating process will take about 10 minutes, so be patient before you hit the sack.
Klymit Inertia X Frame Reacon
Specs
Type

:

Air Pad

Weight

:

10.3 oz

R Value

:

1
Features
Pad Thickness: 1.5 in
Sleeping Pad Shape: Rectangular
Patch Kit Included
Fits Inside Most Sleeping Bags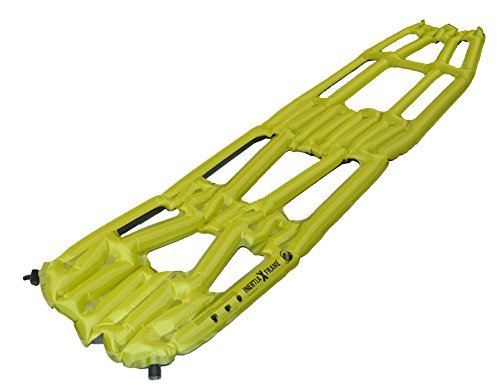 BEST FOR: THE MINIMALIST TRAVELER
The innovative design of the Klymit Inertia X Frame Recon sleeping pad does away with all the unnecessary material, offering a grid-shaped mattress that provides support where it's most needed. You won't have to worry about insulation as this air pad fits neatly inside most sleeping bags, creating a warm and cozy space while keeping you from rolling off during the night.
The Klymit Inertia X Frame Recon inflates in just 5 – 7 breaths. When deflated, it packs down to just 3 x 6 inches, becoming the ideal piece of equipment for those trying to save precious backpack space and weight on a multiday-hike.
THINGS TO CONSIDER WHEN BUYING AN ULTRALIGHT SLEEPING PAD
SLEEPING PAD TYPE
There are three different types of sleeping pads on the market: air pads, self-inflating pads, and closed-cell foam pads.
Air pads, as the name suggests, are mattresses that need to be inflated with the breath or a small pump. These sleeping pads provide a great balance between comfort and minimal weight, however, they are prone to puncturing or ripping.
Self-inflating pads tend to be sturdier and more durable than air pads. They offer better insulation and they have a built-in valve that allows the air in, inflating automatically. The downside of self-inflating pads is that they are usually bulkier and heavier because of the foam layer contained in them.
Closed-cell foam pads are simple camping pads made by one single layer of dense, patterned foam, which usually folds like an accordion. They are cheap, lightweight and extremely durable, but not as comfortable as air and self-inflating pads.
INSULATION (R-VALUE)
The R-value of a sleeping pad measures the capacity to hold the heat of the mattress, in other words, its level of insulation. The R-value ranges from 1 (minimal insulation for warm-weather camping) to 11 (maximum insulation for cold-weather camping). Most sleeping pads are used under the sleeping bag, but there are models designed to fit inside your bag (like the Klymit Inertia X Frame Recon), allowing for even less heat to escape.
SLEEPING PAD LENGTH
Sleeping pads can be short, regular or long. Short pads (usually 47 – 48 inches in length) have a smaller packing size and weigh less, but only fit 3/4 of your body, leaving your legs exposed. Legs don't need as much insulation as the rest of the body does, so a short sleeping pad is worth considering if you are hiking in 3-season conditions. Regular and long pads typically measure 72 and 78 inches, respectively, and are more suitable to winter hikes as they will insulate your entire body.
SLEEPING PAD SHAPE
Rectangular, semi-rectangular or mummy shaped? When choosing a pad shape you should consider your sleeping habits, as while it is true that tapered pads occupy less space when packed, they are also not ideal for someone who tends to move during the night.
Rectangular and semi-rectangular sleeping pads offer more space for your legs, so you are less likely to roll on the ground as you dream of the next peak you'll conquer.
INFLATION
Most brands that sell air pads provide information on how many breaths are necessary to inflate sleeping pads fully. Ultralight air pads typically inflate with 6 to 8 breaths, but some have a built-in hand pump that will save you some oxygen at the end of a long hiking day.
As the name suggests, self-inflating pads inflate automatically once the valve is opened. The inflation process takes about 10 minutes. Self-inflating pads should be stored hanging and semi-inflated with the valve open.
COST
Sleeping pads can cost as little as $20 and go up into the hundreds for more technologically advanced models. Closed-cell foam pads tend to be the cheapest but least comfortable, while air and self-inflating pads are more expensive but also softer and more insulated.
FEATURES EXPLAINED
R-VALUE
The level of insulation of the sleeping pad, going from 1 (minimal insulation) to 11 (maximum insulation).
CLOSED-CELL FOAM
Closed-cell foam is a dense and durable type of polyurethane foam, more resistant to heat loss than open-cell foam because of its capacity to screen out moisture and air. Polyurethane is a plastic material commonly used to build insulation panels in houses.
AIR PAD
A sleeping pad that needs to be inflated by breathing into it or with a pump.
SELF-INFLATING PAD
A sleeping pad that inflates automatically once the valve is open, usually built with an embedded layer of foam to provide extra comfort.
TWIST-PULL VALVE
A valve that requires two separate movements to proceed with inflation or deflation. In order to inflate the mattress is it necessary to twist the valve to the right, then pull it up to allow the air to flow in. With this system, an accidental twisting of the valve does not cause the pad to deflate.
GRID-SHAPED DESIGN
A minimalist sleeping pad design in which all material in excess is removed to leave only a basic frame that provides support at key pressure points. Because of the empty spaces in the mattress, a grid-shaped sleeping pad can be extremely lightweight and compact.
READ MORE
For more of our top hiking & backpacking gear recommendations, check out these popular articles: