Updated on October 6, 2020
When you're first getting into kayaking, it's easy to focus on finding the best kayak and forget that searching through the best beginner kayak paddles is equally as important. There are many different variations of kayak paddles to choose from, and it's important that you select a paddle that's going to serve the type of paddling you'll be doing.
Just like there are different types of kayaks for different applications, there are also paddles designed for specific purposes. Some are better for whitewater and others serve those looking to tour in their kayaks. In this article, we'll review five of the best kayak paddles for beginners and discuss the important considerations when choosing a kayak paddle.
For more of our top kayaking gear recommendations, check out the Best Kayak Paddles.
Quick Answer

-

The Best Kayak Paddles for Beginners
Aqua-Bound Manta Ray Posi-Lok

Bending Branches Angler Classic

Bending Branches Bounce X-Grip
Comparison Table

-

Best Beginner Kayak Paddles

For the best experience turn your device horizontally
Reviews

-

The Best Beginner Kayak Paddles
Werner Skagit FG
Specs
Weight

:

34 oz

Shaft Material

:

Carbon and Fiberglass Blend

Shaft Design

:

Straight

Shaft Type

:

2-Piece
Features
Easy Breakdown (for quick and efficient transport and storage)
Reinforced Paddle Blades (for durability)
Comfortable Design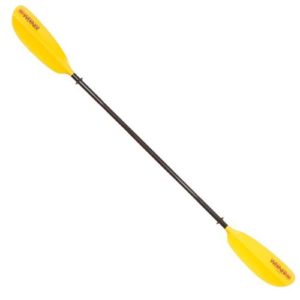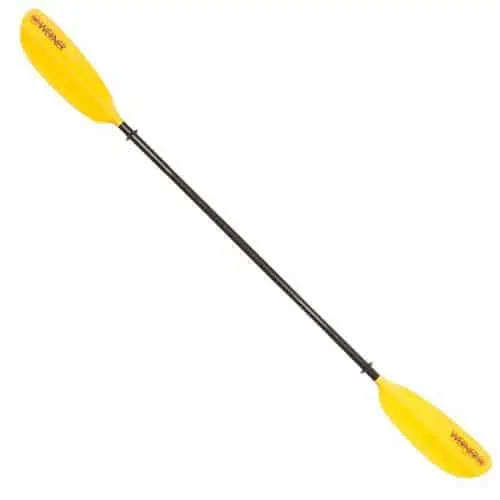 BEST FOR: RECREATIONAL USE ON FLATWATER
This two-piece paddle is made to be broken down into two smaller pieces with the simple push of a button. This makes it much easier to store in your car when moving from one paddling location to another. It also features stronger paddle blades that are reinforced with nylon to resist chips and breaks. The combination of carbon and fiberglass in the paddle shaft make it comfortable to grip and use, even if you're out for a full day on the water.
Aqua-Bound Manta Ray Posi-Lok
Specs
Weight

:

29.5 oz

Shaft Material

:

Carbon Fiber

Shaft Design

:

Straight

Shaft Type

:

2-Piece
Features
Easily Adjustable
Lightweight Design
Smooth Paddling Experience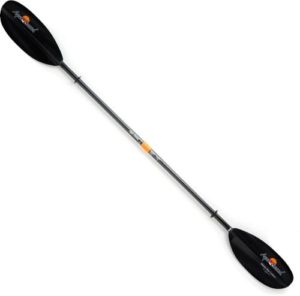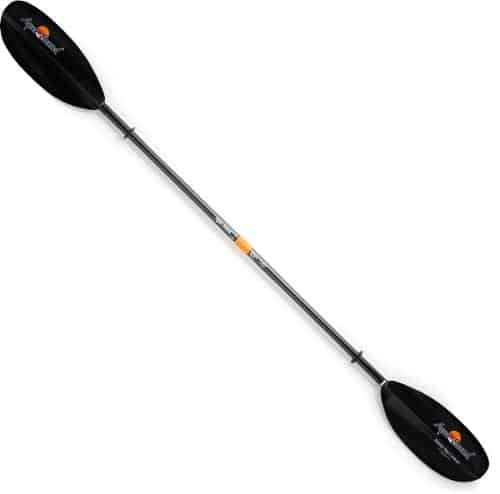 BEST FOR: ATHLETIC TOURING AND WORKOUT PADDLING
The Manta Ray from Aqua-Bound is a great option for anyone looking for an extremely lightweight paddle. The paddle can be broken down using a two-button release system, which also allows you to adjust the feather angle as you get more comfortable and try out different paddling techniques.
Feathering a paddle (or changing the feather angle) simply means changing the angle of the paddle blades in relation to one another, rather than simply leaving them straight. The paddle blades are made out of carbon fiber, which makes them stiffer and stronger. This means a smoother and more effective paddling experience for the user.
Bending Branches Angler Classic
Specs
Weight

:

35 oz

Shaft Material

:

Fiberglass

Shaft Design

:

Straight

Shaft Type

:

2-Piece
Features
Durable Design
Built-in Fishing Hook Retriever
Reinforced Blades (for greater resistance to chips and breaks)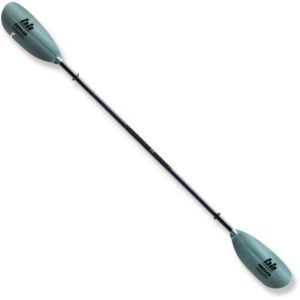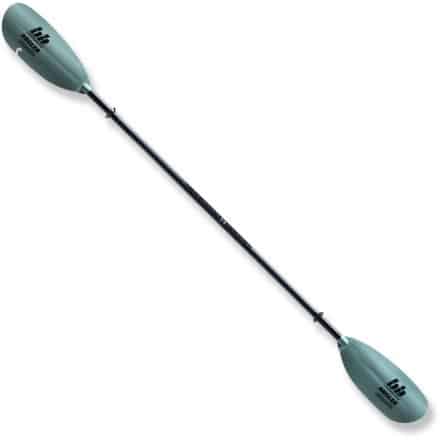 BEST FOR: KAYAK FISHING BEGINNERS
If you're tired of fishing from shore or worrying about the logistics of getting out on a motor boat, this is a great kayak paddle to help you fish easily from your kayak. The fiberglass design makes it durable against drops and strong enough to help you pull in a large catch. The built-in fish hook retriever helps you free a snagged hook without having to cut your precious tackle loose altogether.
Werner Camano
Specs
Weight

:

27.25 oz

Shaft Material

:

Carbon and Fiberglass Blend

Shaft Design

:

Straight

Shaft Type

:

2-Piece
Features
Super Lightweight Design
Perfect Balance of Weight and Durability
Highly Visible Paddle Blades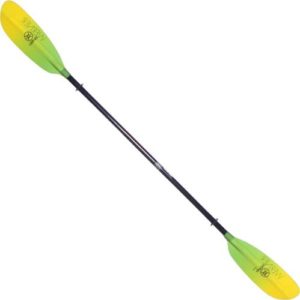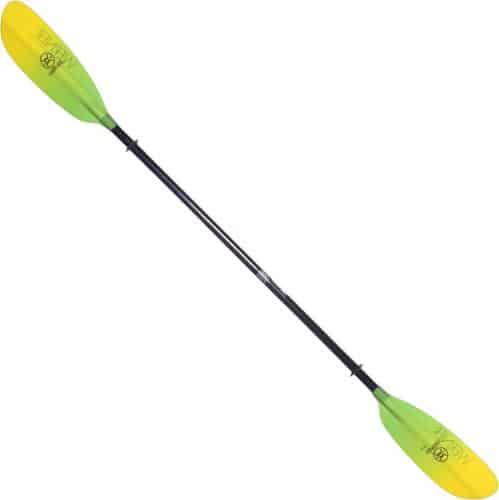 BEST FOR: LONGER PADDLING TRIPS
The Camano paddle from Werner is the lightest paddle on our list. The makers used a combination of fiberglass and carbon to make a paddle that won't cause excessive fatigue during a long day on the water. That blend of fiberglass and carbon also ensures that this paddle stands up against the rigors of being transported and stored when not in use. Additionally, the paddle blades are translucent so that they glow brilliantly on the water to make you more visible to other watercraft.
Bending Branches Bounce X-Grip
Specs
Weight

:

37 oz

Shaft Material

:

Aluminum

Shaft Design

:

Straight

Shaft Type

:

2-Piece
Features
Non-Slip Grips
Durable Design
Heavy-Duty Drip Rings (prevents water from dripping into your kayak)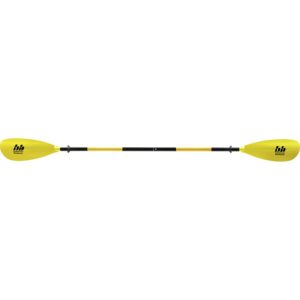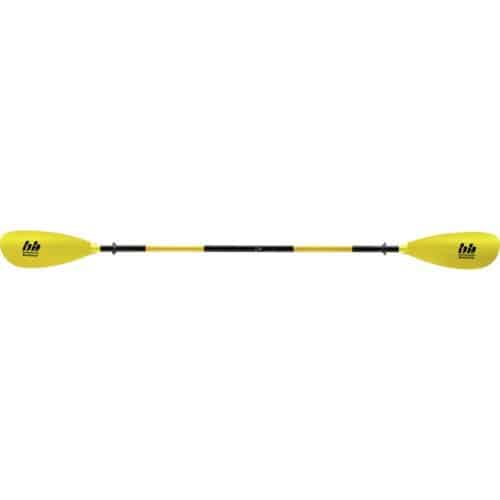 BEST FOR: NO-NONSENSE BEGINNERS
The Bounce paddle from Bending Branches tops our list because its innovative design pays attention to the detail that many beginners struggle with the most: paddle grip. This paddle includes yellow grip areas that make it easier to grasp and use the paddle to the best of your ability. Another beneficial feature of this paddle is the heavy-duty rubber drip rings that reduce the amount of water that runs down the shaft of your paddle and falls into your lap while you're paddling.
THINGS TO CONSIDER WHEN BUYING YOUR FIRST KAYAK PADDLE
SIZING
Choosing the right size kayak paddle is largely a function of your height and the width of your kayak. If you have a wider boat, for example, you'll want to choose a longer paddle. Taller paddlers should also choose longer paddles, even if you'll be using a narrower kayak.
Each kayak paddle manufacturer will have different suggestions for the right paddle size for you, depending on those two factors (your height and your kayak's width). Be sure to check the website of any brand you like to find the right size kayak paddle for you.
WEIGHT
When you're just starting out, you might not feel the difference between a paddle that weighs 34 ounces and one that weighs 29.5 ounces. But as you gain experience and start to envision longer paddling trips, weight becomes more important.
A heavier paddle will cause more fatigue over the course of a full day of paddling. So, if you suspect you might really get into kayaking and try something like an overnight paddling trip in the future, you'll want to consider a paddle that's a bit more lightweight.
SHAFT MATERIALS
The three major materials that you'll see in a paddle shaft are aluminum, carbon, and fiberglass. Plastic paddle shafts are rare and should be avoided. Aluminum is a highly serviceable, cost-effective option. When you get into paddles made with carbon, fiberglass, or a combination of both, you'll find paddles that are lighter and also offer better performance. The only downside is that their expensive price will reflect their ability to perform better than aluminum paddles.
SHAFT DESIGN
Kayak paddles are either made with a straight shaft or a bent shaft. Bent shafts have a kink that serves to position your hands at a more ergonomic angle while paddling. This can serve to reduce discomfort and fatigue in your joints over time, but it's hard to get used to operating a paddle with a bent shaft if you haven't done much kayaking in the past. Straight shafts, as you might imagine, are straight across and more user-friendly for beginners.
FEATHER ANGLE
The blades of a kayak paddle are either matched or feathered. When they are matched, they share the same angle in relation to the water's surface, regardless of how you're holding and using the paddle. When the blades are feathered, their angles in relation to the water will differ, which makes using them more difficult for beginners. Paddles that offer various feathering options, however, will allow you to get comfortable as a beginner and also progress with your skills without having to buy a new paddle down the road.
FEATURES EXPLAINED
PADDLE SHAFT
The paddle shaft connects the two blades on either end. It is the area where your hands grip the paddle in order to use it effectively. The paddle shafts of the paddles mentioned above break down into two distinct parts, with a push-button mechanism keeping them connected when you're paddling.
PADDLE BLADES
The paddle blades are located at either end of the paddle shaft. They are inserted into the water to move your kayak in the desired direction.
DRIP RINGS
Every time you place one of your paddle blades into the water and then remove it to use the other, water from that paddle blade will run down the paddle shaft towards your hands. Drip rings are placed where the paddle blade meets the paddle shaft in order to reduce the amount of water that drips down onto your hands.
POWER FACE
This term refers to the side of the paddle blade that is used to generate power in your kayak. In most kayak paddles, this is the curved, or concave, face of the paddle blade that serves to scoop the water and move it in your desired direction.
GRIPS
Some kayak paddles have specific grips that are designed differently than the rest of the paddle shaft. These grips help you hold onto the paddle, even if you experience fatigue.
READ MORE
For more of our top kayaking gear recommendations, check out these popular buyer's guides: