Updated on May 4, 2021
You don't need to break any bank to enjoy boating season this year. If you can spare $250 to $500, then you can have yourself a ride on the water with no limits. Kayaks give you a much more intimate experience with the environment around you and allow you to explore secluded areas that motorized boats can't access. If you have a few hundred to spare, we can help you cull your kayak selection down to the top 10 best kayaks under $500.
We chose these kayaks for their straightforward practicality, thoughtful features, and good ratings. They prove that you don't need anything fancy or expensive to get into the water this season. In fact, one of these incredible finds will only set you back $65! Read to find out which kayaks made our top 10.
For more of our top kayaking gear recommendations, check out these popular articles:
Lake Kayaks | Sea Kayaks | Touring Kayaks | Sit In Kayaks | Kayaks for Beginners
Kayaks for Kids | Kayaks for Dogs | Sit-On-Top Kayaks | River Kayaks
Kayaks for Women | Canoes | Tandem Kayaks | Lightweight Kayaks
Quick Answer

-

The Best Kayaks Under $500
Lifetime Lotus Sit-On-Top

Advanced Elements AdvancedFrame Sport

Pelican Sentinel Sit-On-Top

Advanced Elements AdvancedFrame
Comparison Table

-

Best Kayak Under $500

For the best experience turn your device horizontally
Reviews

-

The Best Boats Under $500 for Kayaking
Lifetime Lotus Sit-On-Top
Specs
Type

:

Solid Sit-On-Top

Material

:

Polyethylene Plastic

Length

:

8 ft

Weight

:

38 lbs

Paddling Style

:

Flatwater

Weight Limit

:

250 lbs
Features
Rear Storage Tank With Bungee Cording to Keep Belongings in Place
Multiple Footrest Positions So You Can Find the Most Comfortable Spot
Comes With a Paddle So You Don't Have to Add the Extra Cost
Adjustable Seat Back for Reclining or Kneeling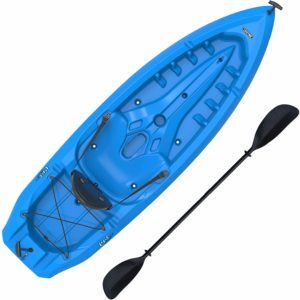 BEST FOR: FLATWATER PADDLING AND SANDBAR DIVING
The Lotus is the perfect diving board if you like to get into the water and swim near shore or sandbars. The 'yak provides a nice, stable platform to return to when you want a break or to explore some more. The sit-on-top style is easier to re-enter after you jump in than a sit-inside model because the inside doesn't fill with water.
This design also provides a means to get closer to nature. You can dip your feet in the water off the sides or contemplate your life's purpose while you lie back and float. This simple boat is a straightforward way for beginners, teenagers, and campers to learn how to kayak or simply enjoy their time outdoors.
Aquaglide Chinook 90
Specs
Type

:

Inflatable Sit-Inside

Material

:

600-denier ripstop polyester

Length

:

9 ft

Weight

:

19 lbs

Paddling Style

:

Flatwater Kayaking

Weight Limit

:

250 lbs
Features
Open-cockpit design
When not in use, the kayak rolls up into its bag
Fully covered, removable floor
Quick-release weedless fin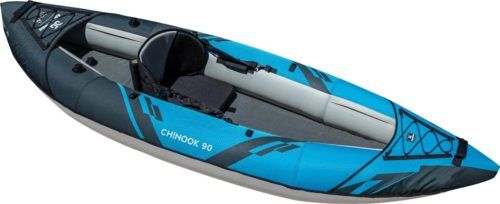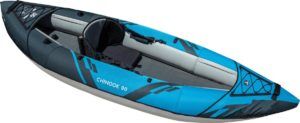 BEST INFLATABLE-STYLE KAYAK
If you are looking for a lightweight and compact kayak that still maneuvers well, the Chinook 90 is worth considering — its performance capabilities might surprise you. The Chinook features a 9 foot open cockpit design that weighs in at only 19 pounds and still fits in the trunk. Made of durable ripstop polyester, this kayak offers excellent puncture and abrasion resistance. The Chinook 90's compact design allows it to excel at reaching hard-to-reach places, such as those intended for bird watching or lake shore exploration.
What I like most about this kayak is that although its compact, it is surprisingly stable, as well, making it comfortable to paddle all day long.
Advanced Elements AdvancedFrame Sport
Specs
Type

:

Inflatable Sit-Inside

Material

:

PVC-coated polyester/aluminum ribs

Length

:

10 ft. 5 in.

Weight

:

26 lbs

Paddling Style

:

Flatwater Kayaking

Weight Limit

:

250 lbs
Features
Rigid bow and stern with aluminum frame
Underside tracking fin
Removable seat with adjustable back support
Easy-to-use Spring valves and Twistlok™ valves
Repair kit included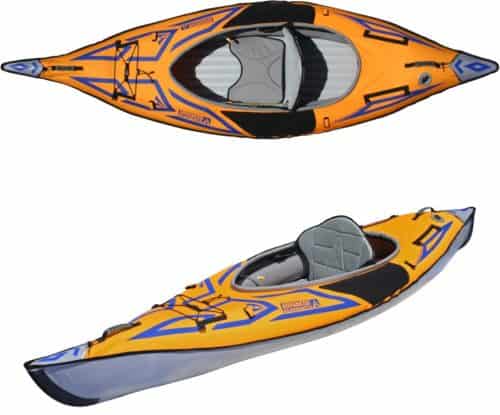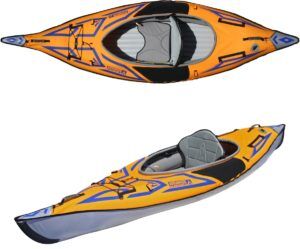 BEST SIT-INSIDE KAYAK YOU CAN BUY FOR LESS THAN $500
If you need a compact kayak that still performs well, look no further than the Advanced Frame Sport from Advanced Elements. This kayak features an aluminum-reinforced frame in the stern and bow, which helps to bolster rigidity and performance in the water. Multiple air chambers supply excellent buoyancy and add stability to this kayak's unique shape. A triple layer PVC coated polyester construction offers great puncture resistant without weighing you down.
What I like most about this kayak is how it looks and feels like a rigid kayak but still packs down to fit in the trunk of a car.
Intex Excursion Pro
Specs
Type

:

Inflatable Tandem

Material

:

Laminate PVC, polyester core

Length

:

12 ft. 7 in.

Weight

:

39.01 lbs

Weight Limit

:

400 lbs
Features
Inlcudes 2 paddles, pump, carry bag, pressure gauge
Adjustable footrests
Removable & adjustable seats
Mounting brackets for fishing accessories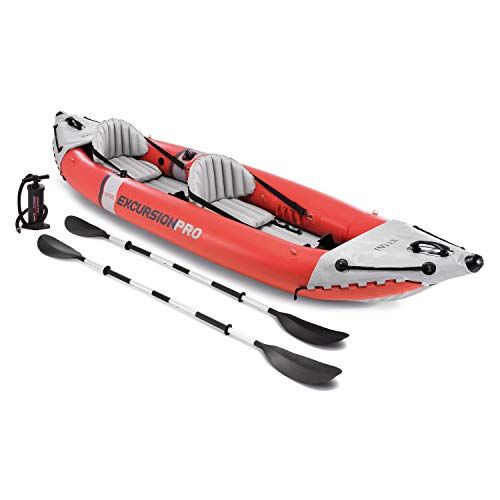 BEST FISHING KAYAK FOR UNDER $500
If you are looking for a balanced blend of versatility and comfort on your next all-day adventure out on the water, the Intex Excursion Pro is sure to get the job done. This two person kayak is designed to meet all the fishing needs of you and a partner. With adjustable seats, floor mounted footrests, integrated fishing rod holders, removable skegs, and mounting brackets for accessories, the Excursion Pro can handle any fishing trip you can dream up. The kayak's 3-ply PVC construction ensures protection against corrosive elements, like salt and gasoline, while providing for adequate abrasion resistance.
What I like most about the Intex Excursion is that a high output pump and paddles are included in the purchase package.
Lifetime Youth Wave
Specs
Type

:

Solid Sit-On-Top

Material

:

High Density Poly Ethylene

Length

:

6 ft

Weight

:

18 lbs

Weight Limit

:

130 lbs
Features
Lightweight
Molded Finger Handles
Twin Fin Design
Swim-up step for easy re-entry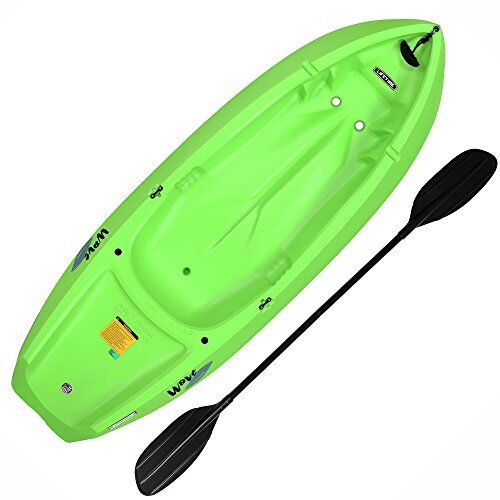 BEST FOR: KIDS
If you are looking for a simple and safe kayak for kids above the age of five, the Youth Wave has got you covered.
The Wave features enhanced stability and a durable hull construction, so you won't have to worry about the boat impacting a rock or scraping the bottom. A unique sloped design and swim-up step allows for easy re-entry from the water. The thoughtful addition of multiple foot rests makes this kayak comfortable enough for the whole family to enjoy.
What I like most about the Lifetime Youth Wave is that it weighs in at only 19 pounds, making for a boat even your kid can help carry to the water.
Driftsun Rover 120
Specs
Type

:

Inflatable Sit-On-Top

Material

:

Layered PVC

Length

:

8 ft 6 in

Weight

:

22 lbs

Paddling Style

:

Whitewater

Weight Limit

:

300 lbs
Features
Front Action Camera Mount for a GoPro or Similar Device
Rocker Profile for Better Maneuverability in Unpredictable Water
Adjustable, High-Back Padded Seat for Long-Distance Comfort
Comes with Adjustable Aluminum Paddle, Hand Pump, Tracking Fin, and Storage Bag
Multiple Tie-Down Points to Secure Your Gear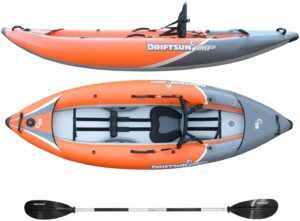 BEST FOR: WHITEWATER KAYAKING
If your sense of adventure calls you to try whitewater kayaking, then this kayak offers a budget-friendly way to learn the skill. The Rover takes little effort to set up and handles Class III to Class IV rapids with responsive handling.
You might think inflatable kayaks are a questionable choice for whitewater kayaking, but the Rover is reinforced and layered to resist puncturing and contains three separate chambers, all the protection possible against logs, rocks, and other snags. If one chamber gets punctured (which would take quite a lot), the other two will still keep you afloat.
Intex Challenger K1
Specs
Type

:

Inflatable Sit-Inside

Material

:

Heavy-Duty Vinyl

Length

:

9 ft

Weight

:

27.2 lbs

Paddling Style

:

Flatwater

Weight Limit

:

220 lbs
Features
Heavy-Duty, Puncture-Resistant Material and Multiple Air Chambers to Prevent Sinking
Cargo Storage Net For Your Gear
Inflatable Removable Seat and Rigid Floor
Comes With an Aluminum Oar, Carry Bag, Repair Patch, and Hand Pump
Grab Lines on Both Ends to Push And Pull Offshore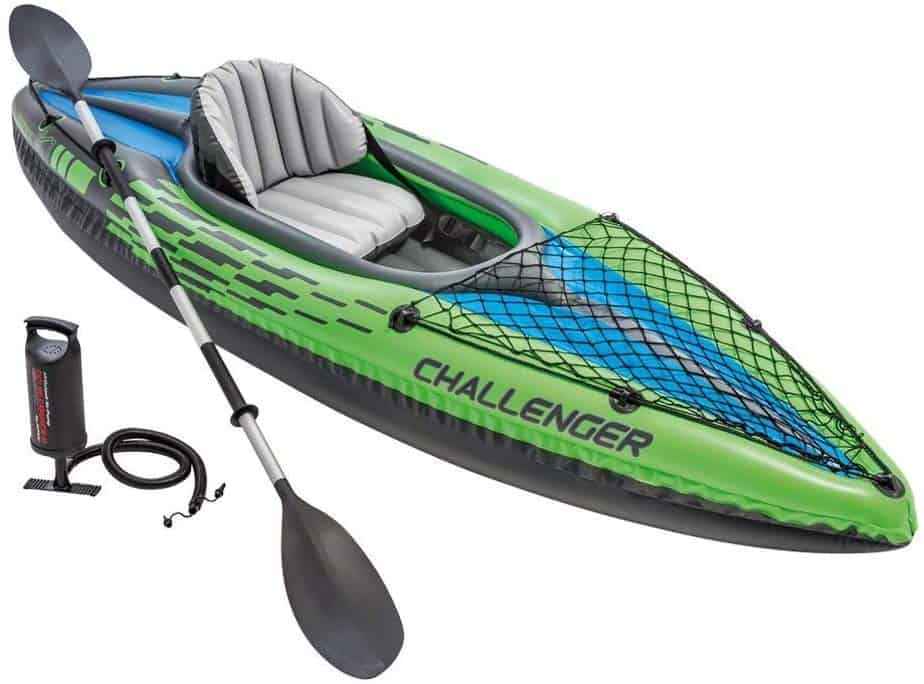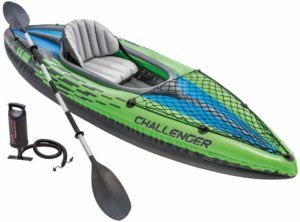 BEST FOR: FREEWHEELING ANYTIME, ANYWHERE
At under $100, The K1 makes kayaking accessible to everyone who wants to make it happen. And the reliable construction belies the price. Although you wouldn't want to take this inflatable into choppier waters or expect it to travel at full speed, it offers you a solitary day on the water any time without any reservations.
You should be able to carry the kayak by yourself as well, since it only weighs as much as a small child. Just pump it up with air with the hand pump and you're ready to push off into your next adventure.
Pelican Sentinel Sit-On-Top
Specs
Type

:

Solid Sit-On-Top

Material

:

Polyethylene Plastic

Length

:

9.5 ft

Weight

:

44 lbs

Paddling Style

:

Flatwater

Weight Limit

:

275 lbs
Features
Adjustable, Padded Seat for Comfort on Long Rides
Multiple Footrest Points So You Can Find Your Best Position
Rear Bungee-Corded Storage Tank to Carry Supplies
Bottle Holder to Keep Hydration Within Reach
Ergonomic Carry Handles to Take the Boat In and Out of the Water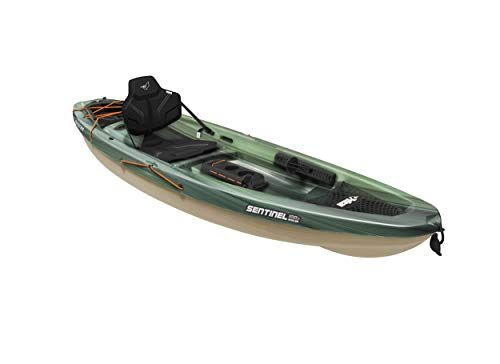 BEST FOR: LEISURELY PADDLING IN CALM WATERS
Summers are rife with waterplay, and the Sentinel gives you another way to splash around for an affordable price. With the 275 lb capacity, you can even set Fido between your feet to ride like a new-world explorer. You can drop the 'yak in slow-moving lakes and rivers and check out new territory every time you ride.
The multi-chine hull design (see Features Explained) makes you feel steady and secure as you glide across the sun-glinted water. As soon as you land on shore, you'll wish you were in the water again. So, ditch your schedule and climb aboard.
Advanced Elements AdvancedFrame
Specs
Type

:

Inflatable Sit-Inside

Material

:

Polyester Shell and Aluminum Frame

Length

:

10 ft 5 in

Weight

:

36 lbs

Paddling Style

:

Flatwater

Weight Limit

:

300 lbs
Features
Triple-Layer, Multi-Chamber Shell That Stays Inflated if One Section Pops
Aluminum Frame Reinforces the Kayak
High-Back Adjustable, Padded Seat for Long-Range Comfort
Bungee Tie-Down Storage and D-Rings for Personal Items
Comes With a Storage Duffel and Repair Kit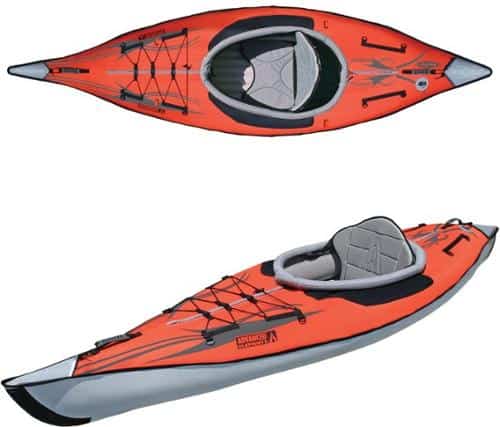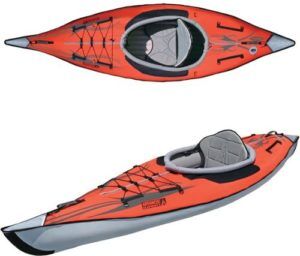 BEST FOR: IMPROMPTU WEEKEND ADVENTURES
Look at any one of our "Best Kayak" lists, and you'll likely find the AdvancedElements on most of them. There's a reason for that. This staple kayak is well-received for both its engineering and its portability. The kayak stores well in small-space environments but has a built-in aluminum frame system that gives it the durability of a solid kayak.
When you get the urge to be in the water, the AdvancedFrame Kayak is ready when you are. Simply fill with air and push it off the shoreline and you can get moving. If you want to be able to kayak in a reliable vessel whenever the desire strikes, this 'yak is your go-to.
THINGS TO CONSIDER WHEN BUYING A KAYAK UNDER $500
COST
This list only includes kayaks under $500, but the difference between a $65 kayak and a $500 kayak can be quite different and depending on your budget, might limit your options. Kayaks on the higher end of the price range tend to have a higher-quality construction and offer more features. However, if you're looking for simple and uncomplicated, then a lower-cost kayak might be right for you.
PASSENGER SIZE
Your height and weight affect how well you fit inside the kayak and how well it steers. It's important to stay inside the recommended weight limit to avoid sitting too low in the water. You also want to test how well the footrests accommodate your height. If you can't reach the foot pegs or your knees get too cramped on the furthest setting, then you may need a different size.
TYPE
The kayaks on this list come in both sit-on-top and sit-inside models as well as solid and inflatable versions. Your choice depends on both your preferences and practicality as all options have their advantages and disadvantages. For example, inflatable kayaks are much easier to store and transport while solid versions feel more reliable to some. Sit-inside kayaks sometimes feel more stable while sit-on-top versions allow for more freedom of movement and direct contact with the water.
FEATURES
Decide which kayak features are most important to you and what would be nice to have and then make your selection from there. For example, a cup holder might just be a nice detail for you but essential for someone else. If you know you need lots of storage space or a spot for your dog, then find a model that offers those provisions. Ultimately, choose what makes you happy.
FEATURES EXPLAINED
FOOTRESTS
Paddling a kayak works best when you have something to brace your feet against. Most kayaks either come with movable foot pegs or footrests molded into the plastic where you place your feet. When you sit, your feet should rest in a position that allows you to brace with the balls of your feet and have a comfortable bend in the knee. Proper positioning is crucial to your comfort and paddling ability, so it pays to get it right: here's how.
HULL
The bottom of any boat, including a kayak, is referred to as the hull. The hull shape is pertinent to how well the kayak rides and how stable you feel inside of it. A sharply-angled hull usually rides faster but feels more tipsy. A flat-bottom hull or multi-chine hull tends to feel more stable. For a visual, use this detailed guide to learn more about hull shapes.
CHINE
If you cut a hull in half, the chine is the portion of the hull that goes from the center to the side of the boat. As described above, the angle of the chine affects how fast and stable the kayak rides. A multi-chine hull is a hull with several chines that form a step-like appearance from the center to the sides of the boat. A multi-chine hull provides a nice compromise providing both speed and stability. Similarly, chine rails are flattened sections of the hull that add stability.
ROCKER PROFILE
The profile of your kayak is the shape it takes from front to back. The greater the curvature, like the shape of a banana, the more rocker the kayak has. A rocker profile can rock front to back, just like a rocking chair. The rocker also helps with maneuverability, because less of the boat's surface area is in the water as resistance.
SKEG
A skeg is a fin-like attachment on the bottom of the boat that helps maintain your paddling direction. Some skegs include a wheel so you can pull your kayak on land instead of having to pick the entire boat up.
MULTI-CHAMBER SHELL
Inflatable kayaks often come with more than one air chamber to fill, which means it has a multi-chamber shell. This important feature means that if one air chamber gets a hole in it and deflates, the other chambers aren't affected and stay inflated. Otherwise, a kayak with a single chamber that gets punctured could deflate completely and leave you stranded in the middle of the waterway.
GRAB LINES
Grab lines (aka deck lines or deck rigging) are just what they sound like: cords or ropes you can grab onto. Why would you need to grab these cords? For one, you can use them to pull your kayak onto shore or up against a dock. Second, you can tether gear, such as flippers or tackle to the lines. Third, you can use the lines to hold two kayaks together or pull the kayak in a rescue situation. You can use the lines for several other uses, but these are some of the most common.
READ MORE
For more of our top kayaking gear recommendations, check out these popular buyer's guides: