Updated on January 11, 2022
When you're belaying, you are literally holding someone's life in your hands, so you need to concentrate, and you definitely don't want to be uncomfortable. That means when the weather starts getting chilly or downright cold, you need a belay jacket to keep you cozy so you can do your important job properly. Your belay jacket should be well-insulated to keep you warm while not restricting your movement. Here at The Adventure Junkies, we will help you pick the best belay jacket so you can keep climbing in cold weather.
For more of our top climbing gear recommendations, check out the Best Climbing Shirts.
Quick Answer

-

The Best Belay Jackets
Outdoor Research Ascendant

Mountain Hardwear Super/DS
Comparison Table

-

Best Belay Jackets

For the best experience turn your device horizontally
Reviews

-

The Best Jackets for Belaying
Patagonia Nano Puff
View Women's Version
Specs
Water Resistant

:

Yes

Windproof

:

Yes

Helmet Compatible Hood

:

No
Features
Droptail Hem With Drawcord Holds In Heat
Ripstop Fabric Resists Abrasion
Internal Chest Pocket Also Serves As Stuff Sack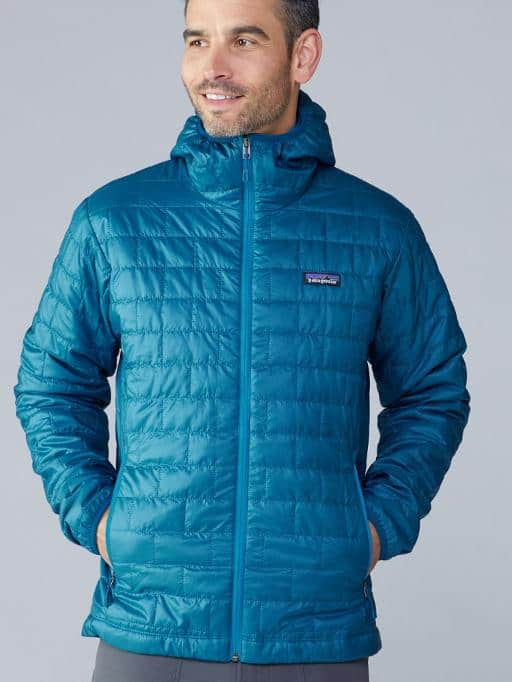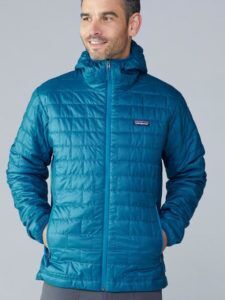 BEST FOR: DURABILITY
The Nano Puff Hoody is a classic down jacket from Patagonia that is perfect for a day on belay. The down insulation is made from 55% recycled content and will continue to keep you warm even if it gets wet. The exterior fabric is recycled ripstop to resist abrasion and is treated to be water repellent. The jacket stuffs into its own internal chest pocket for storage, and it has a loop to clip to a carabiner so you can hang it on your harness and have it ready to go when the wind picks up. Unfortunately, the hood of the Nano Puff is not made to fit over a helmet, but you can wear it under one if that is comfortable for you.
Outdoor Research Ascendant
View Women's Version
Specs
Water Resistant

:

No

Windproof

:

No

Helmet Compatible Hood

:

Yes
Features
Soft Insulated Lining
Extremely Breathable To Keep You Dry When You Work Up A Sweat
Internal Thumb Loops Hold Sleeves In Place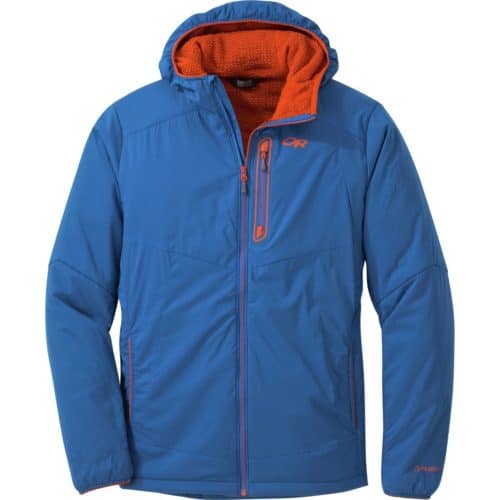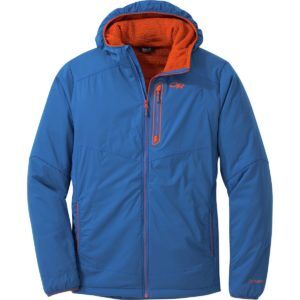 BEST FOR: LIGHT LAYERING
The Outdoor Research Ascendant Hoody is a great belay jacket when you're swapping leads on an alpine or multi-pitch climb. It provides extra warmth when you're stationary at the belay, while being extremely air permeable and breathable to keep you dry if you work up a sweat while you're climbing. The jacket also stuffs down quite small to carry with you when you're on the move.
The Ascendant Hoody works well on its own when things get a little chilly, but it is not the warmest of belay jackets, so you'll want to use it as a mid-layer if you're out in really cold conditions.
Mountain Hardwear Super/DS
View Women's Version
Specs
Water Resistant

:

Yes

Windproof

:

Yes

Helmet Compatible Hood

:

Yes
Features
Baffled Insulation Is Constructed Without Stitching Or Glue
Stretchy Outer Shell Provides Freedom Of Movement
Low Profile Hood Doesn't Restrict Vision
BEST FOR: WARMTH WITH MOVEMENT
The Mountain Hardwear Super/DS Stretchdown looks a little different than your typical puffy jacket, thanks to a unique proprietary construction where the insulation is woven together without stitching or glue. This traps heat better and makes the down filling less likely to migrate around and leave you with cold spots. The outer shell is stretchy to keep up with your movement without restrictions, and it's treated with a water repellent finish to keep you dry in wet conditions. The hood is insulated to keep your head warm, while being low profile so you don't lack in peripheral vision, which is important when you're belaying your partner.
Rab Microlight Alpine
View Women's Version
Specs
Water Resistant

:

Yes

Windproof

:

Yes

Helmet Compatible Hood

:

Yes
Features
Hydrophobic Down To Keep You Warm When It's Wet
Hand Pockets Are Accessible When Wearing A Harness
Down-filled Hood With Peaked Brim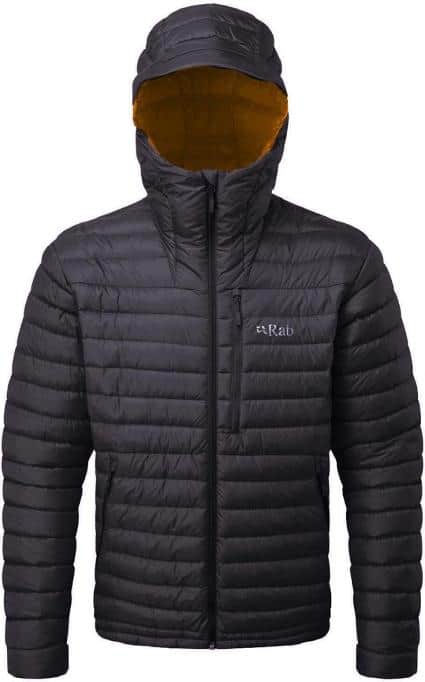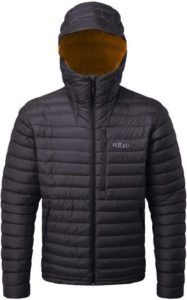 BEST FOR: WET CONDITIONS
If you often climb in damp or snowy conditions, the Rab Microlight Alpine is an excellent option to keep you dry and warm. The outer fabric is treated with DWR (durable water repellent) to prevent water from soaking in. But even if water does get through to the insulation layer, it is made of hydrophobic down, so it continues to provide warmth while wet. However, the Microlight Alpine is not fully waterproof, so you will want an outer shell if you're planning to get soaked.
The Microlight Alpine also features a few nice touches, such as hand warmer pockets that don't get blocked by your harness and an insulated hood with a peaked brim that keeps water and snow from dripping into your eyes.
Arc'teryx Atom LT
View Women's Version
Specs
Water Resistant

:

Yes

Windproof

:

Yes

Helmet Compatible Hood

:

Yes
Features
Stretchy Side Panels Offer Freedom Of Movement & Ventilation
Easily Adjustable Insulated Hood
Zipper Designed Not To Accidentally Slip & Partially Open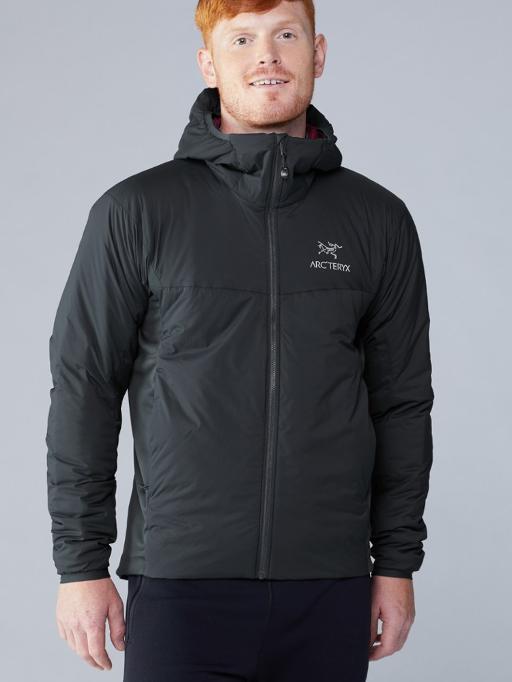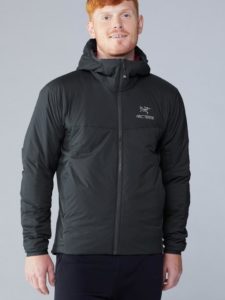 BEST FOR: CLIMBING & BELAYING
The Arc'teryx Atom LT Hoody is not made for the coldest conditions, but it works as a standalone layer in dry, chilly weather. The stretchy fleece side panels are air permeable so they offer ventilation along with a full range of movement, meaning you can go straight from belaying to climbing and back without having to take it off.
The zipper on the Atom LT features Arc'teryx's patented No-Slip Zip technology, with bumps near the collar to keep it from accidentally opening and letting cold air in. Plus, the cuffs are elastic to fit snugly and hold heat in, and the adjustable hem also secures your warmth.
Marmot Guides Down
View Women's Version
Specs
Water Resistant

:

Yes

Windproof

:

Yes

Helmet Compatible Hood

:

Yes
Features
Designed for Unrestricted Arm Movement
Lined Collar & Chin Flap for Comfort
Two-Way Zipper to Work with a Harness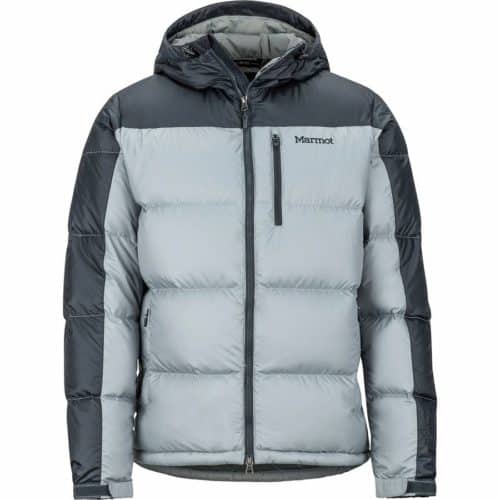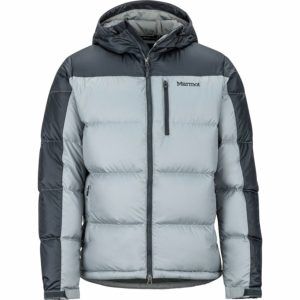 BEST FOR: ICE CLIMBING
If winter is your favorite season to be outside, the Marmot Guides Down Hoody could be your constant companion. It can stand up to cold weather, snow, and dripping ice, thanks to its high-fill hydrophobic down insulation and its polyester shell treated with durable water repellent (DWR). Plus, the linings on the collar and chin flap feel comfy next to your skin when you have the jacket zipped up tight, and the proprietary Angel-Wing Movement design is meant to give you full range of motion for your arms.
While the Marmot Guides Down Hoody will keep you very warm, the tradeoff is that it is a pretty bulky jacket and not great for packing away.
Big Agnes Fire Tower
Specs
Water Resistant

:

Yes

Windproof

:

Yes

Helmet Compatible Hood

:

Yes
Features
Distribution Of Down Eliminates Cold Spots
Vertical Design Of Insulation Contours To The Body
Shell Is Abrasion Resistant And Water Repellent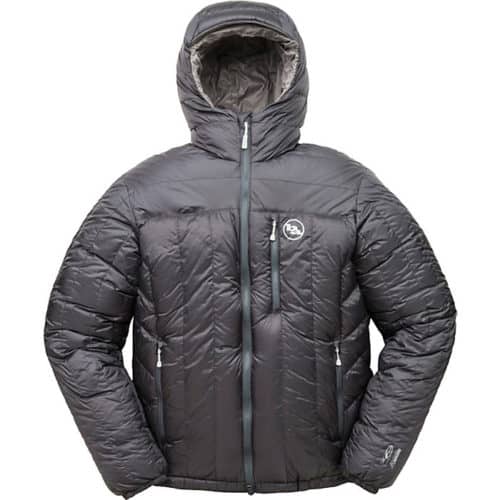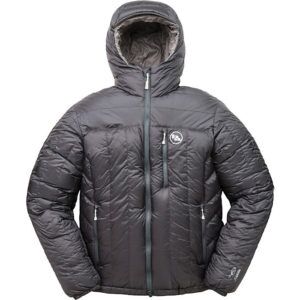 BEST FOR: EXTRA WARMTH
The Big Agnes Fire Tower will indeed keep you toasty on cold days. The down insulation is distributed in a vertical design, more like a sleeping bag, which helps to keep it closer to your body and eliminate any cold spots. The shell is constructed of ripstop nylon treated with durable water repellent (DWR), so it resists abrasion and tears as well as water.
The hood of the Big Agnes Fire Tower is filled with down and can be cinched tight around your head, while the zipper secures at the chin to keep warmth in. Elastic cuffs and a drawstring hem also protect from cold and wind.
Cotopaxi Fuego
View Women's Version
Specs
Water Resistant

:

Yes

Windproof

:

Yes

Helmet Compatible Hood

:

No
Features
Scuba-Style Hood to Keep Your Head Warm
Stuff Sack Included for Easy Packing
Streamlined, Slim Fit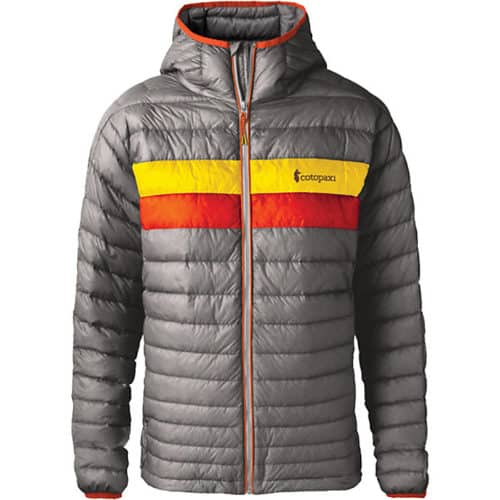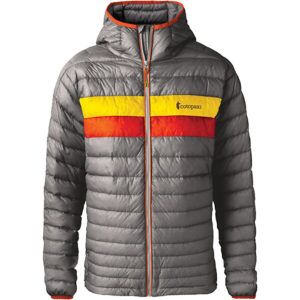 BEST FOR: APRÉS CLIMBING STYLE
If you have plans to celebrate out on the town at the end of your climbing day, the Cotopaxi Fuego will look just as good at the bar as it does on belay. Though the Fuego provides plenty of warmth with its water-resistant down fill, the athletic cut fits slim and the color blocking on the chest is stylish. An included stuff sack also makes it easy to take the jacket with you when you're on the go and might need it just in case.
The Cotopaxi Fuego has elastic at the hem, cuffs, and hood to keep in warmth and keep out the chill. The scuba style hood fits close but isn't helmet compatible if you like to wear your hood over your helmet.
THINGS TO CONSIDER WHEN BUYING BELAY JACKETS
Whether you're on the ground at the crag or hanging on an alpine multipitch, belaying can be a cold job because you're standing still for so long. But it's a necessary part of climbing, which is why a belay jacket is a necessary part of your climbing gear kit. This blog post delves a bit into the history of the belay jacket and sorts through some features you might want.
WARMTH
When you're choosing a belay jacket, it's important to think about the conditions you plan to use it in. If you're going to be climbing in fairly moderate temperatures, you will want a jacket that is less warm but more compact. A stretchy jacket that you can also climb in would be a good choice.
However, if you're into ice climbing or alpine objectives, you're going to need thicker insulation, which usually means a bulkier parka. Although it won't be as packable, you'll appreciate the warmth when you're hanging out on belay in the freezing cold.
WATER PROTECTION
The best belay jackets tend to be down puffies, which means they won't be completely waterproof. But many are treated with DWR (durable water repellent), so if you get caught in a little bit of precipitation, you won't get soaked. Some jackets are insulated with hydrophobic down, which continues to insulate even when wet. Water resistance is especially important if you're climbing in snowy or ice conditions.
HOOD
Having a hood on your belay jacket is a good idea, since you definitely want to keep your head warm. Some hoods are designed to be helmet-compatible, meaning they adjust to fit over your helmet. Other hoods will have to be worn under your helmet, so you want to make sure that feels comfortable for you.
FEATURES EXPLAINED
WATER REPELLENT
The outer fabric is treated with a DWR (Durable Water Repellent) to prevent moisture from soaking in. This treatment is not fully waterproof.
HYDROPHOBIC DOWN
The down insulation is treated to resist moisture so it maintains its loft and insulating capabilities when it gets wet.
WIND RESISTANT
Fabric that keeps the wind from getting through while still being breathable to keep you dry.
HELMET-COMPATIBLE HOOD
The hood can fit over a climbing helmet.
READ MORE
For more of our top climbing gear recommendations, check out these popular buyer's guides: