Updated on June 10, 2022
When you're working your way up the wall, the last thing you want to think about is your climbing pants. They should feel like a second skin – stretchy and breathable – while not getting shredded by the rock. And when you're off the wall, you want your climbing pants to look good, too. We at The Adventure Junkies know how important awesome pants are, and we are here to help you find the best climbing pants to take you from the crag to the gym to aprés climbing.
For more of our top climbing apparel recommendations, check out the Best Climbing Pants.
Quick Answer

-

The Best Women's Climbing Pants
Black Diamond Forged Denim
Comparison Table

-

Best Women's Climbing Pants

For the best experience turn your device horizontally
Reviews

-

The Best Women's Pants for Rock Climbing
La Sportiva Mantra
Specs
Closure

:

Elastic w/Drawstring

Fabric

:

96% Nylon / 4% Spandex

Inseam

:

31 in
Features
Large Pockets
Elastic Ankle Cuffs
Chalk Brush Sleeve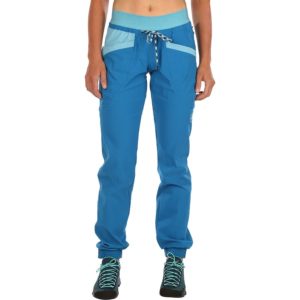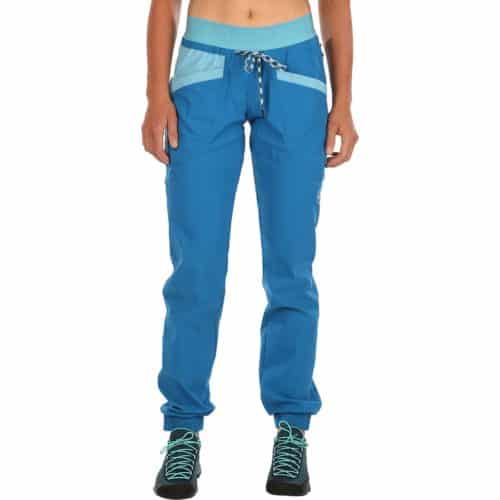 BEST FOR: ALL-AROUND CLIMBING
The La Sportiva Mantra pants are designed specifically for climbing, and it shows in the details of the design. From high steps to heel hooks, your movement is never restricted, thanks to a combination of stretchy fabric, a gusset crotch, and articulated knees.
The drawstring in the waist lets you to dial in the fit, and the elastic waistband is comfortable under a harness. Large pockets allow you to carry what you need, and there is even a special sleeve made specifically for a chalk brush, so you'll always have the solution to a slippery hold close at hand.
Mountain Hardwear Dynama
Specs
Closure

:

Elastic

Fabric

:

96% Nylon / 4% Spandex

Inseam

:

28 in (ankle), 31 in (regular)
Features
Zippered Pocket
Water Repellent Finish
Low Profile Waistband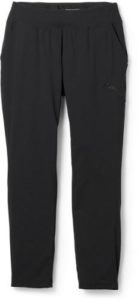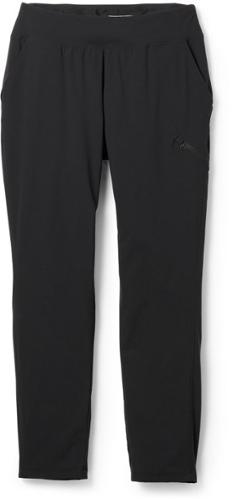 BEST FOR: SHORTER CLIMBERS
The Mountain Hardwear Dynama pants are super stretchy with a feminine fit and a wide elastic waistband for comfort (and fitting under a harness). Shorter climbers will appreciate that these pants come in an ankle length, and even the regular length has drawstrings to cinch up the legs and keep the fabric away from your footholds.
The Dynama pants stand up to the weather if you get caught in the rain, thanks to a water repellent finish, but the fabric is still lightweight and flexible. The pants also feature a zippered pocket to keep your most important stuff secure wherever you go.
Arc'teryx Gamma LT
Specs
Closure

:

Zip Fly & Built-in Belt

Fabric

:

88% Nylon / 12% Elastane

Inseam

:

29 in (short), 31 in (regular), 34 in (tall)
Features
Adjustable Waist Belt
Zippered Hand Pockets & Thigh Pocket
Ankle Hem Drawcords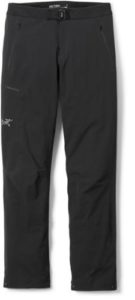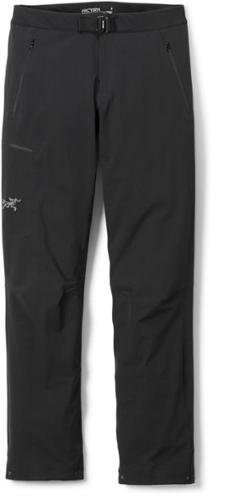 BEST FOR: WEATHER RESISTANCE
The Arc'teryx Gamma LT is a lightweight, technical pant that has plenty of stretch for you to move across rock, while also standing up to inclement weather conditions. The fabric is durable yet comfortable and is water-repellent for when you get stuck in a storm or have to wade through a creek on an approach.
Both of the hand pockets on the Gamma LT are zippered to keep your essentials secure, and there is also a zippered thigh pocket for extra storage. A built-in belt made out of webbing with a metal buckle makes it easy to adjust the fit on the go.
Black Diamond Forged Denim
Specs
Closure

:

Zip Fly & Button

Fabric

:

75% Cotton / 10% Nylon / 13% Polyester / 2% Elastane

Inseam

:

30 in
Features
Durable Fabric
Low Profile Hardwear (for fitting under harness)
Climbing Brush Pocket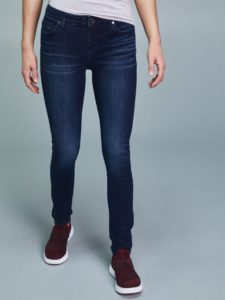 BEST FOR: CRAG TO TOWN STYLE
Though they look like a stylish pair of jeans, the Black Diamond Forged Denim pants were designed with climbing in mind. Made from Cordura to resist abrasion with plenty of stretch for making moves, the Forged Denim makes a great outdoor climbing pant that you can wear out to the bar for a post-session beer without looking like you came straight from the crag. They are much more lightweight and breathable than they might look at first glance.
The Forged Denim features some special touches like a low-profile waistband that doesn't get in the way under a harness and a pocket for your climbing brush.
Prana Halle Pants
Specs
Closure

:

Zip Fly & Buttons

Fabric

:

97% Nylon / 3% Spandex

Inseam

:

32 in
Features
Water Repellent Finish
Reinforced Knee Stitching
Zippered Thigh Pocket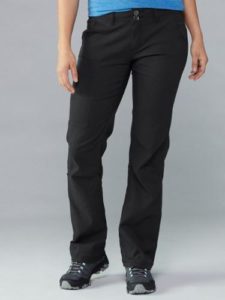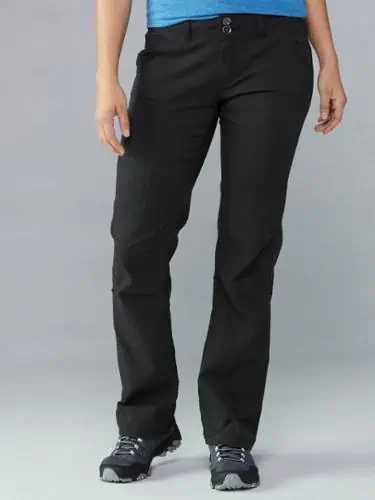 BEST FOR: VERSATILITY
The prAna Halle will take you down any path you want to go, from hiking to climbing to camping and even to work. Styled like a trouser, they are at home in a city environment, but the stretchy fabric is durable and water-repellent to stand up to the elements outdoors.
The button up back pockets add style, while a zippered thigh pocket adds security and functionality. The legs of the Halle pants can be rolled up when the weather gets warm – or to get out of your way when climbing – and they come in different lengths to fit both short and tall women.
Patagonia Venga
Specs
Closure

:

Zip Fly & Adjustable Waist

Fabric

:

73% Organic Cotton / 24% Polyester / 3% Spandex

Inseam

:

32 in
Features
Water-Repellent Finish
Easily Adjustable Waist
Mesh Lay-Flat Pockets


BEST FOR: ROPED CLIMBING
The Patagonia Venga pants will get you off the ground in style and comfort. The waistband is designed to lay flat, so you don't feel it under a harness, and the special OppoSet waist adjustment feature allows you to quickly and easily adjust the fit. The front pockets are also low-profile, and the Venga has several zippered pockets, including one on the thigh, to bring your essentials on your climb.
Made of lightweight cotton with a bit of spandex for stretch, you'll hardly notice you're wearing the Venga pants, even on long climbs. Articulated knees and a gusset crotch add to your range of movement, so nothing holds you back from making moves.
Black Diamond Notion
Specs
Closure

:

Elastic w/ Drawstring

Fabric

:

98% Cotton / 2% Elastane

Inseam

:

31.5 in
Features
Reinforced Knees
Elastic Ankle Cuffs
Seat Gusset (for mobility)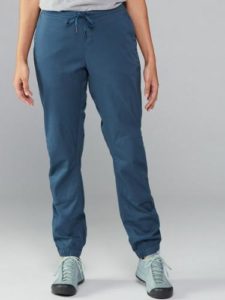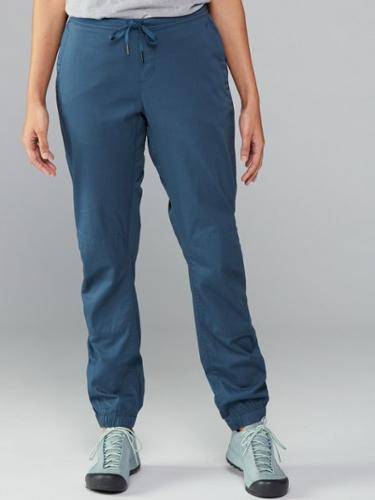 BEST FOR: GYM CLIMBING
The Black Diamond Notion are casual cotton pants that will keep you super comfortable during your gym sessions. Loose fitting with a little bit of stretch, they won't inhibit your movement on the wall, and the elastic ankle cuffs keep the pants out of your way when you're looking for your next foothold.
Front and back pockets give you space for your keys, wallet, and more. Though you could certainly wear these outside for a quick boulder session or short hike, the Black Diamond Notion are lacking in some features you might want for full days at the crag or on long approaches.
Outdoor Research Zendo
Specs
Closure

:

Elastic w/ Drawstring

Fabric

:

94% Nylon / 6% Spandex

Inseam

:

30 in
Features
Cinchable Ankle Cuffs
Wicking & Water Repellent
UPF 50+ Sun Protection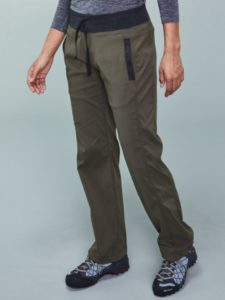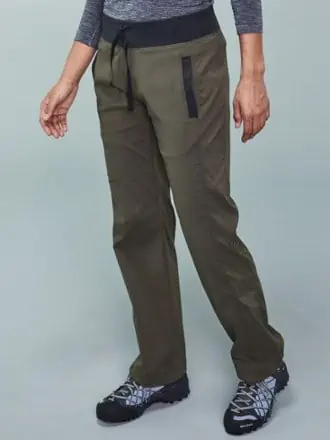 BEST FOR: CASUAL WEAR
The Outdoor Research Zendo pants are loose-fitting and comfy for lounging on your rest days but can also take you to the gym or crag once you're done relaxing. They are also perfect for doing some downward dog if you need to stretch your muscles between climbing sessions. The wide elastic waistband feels like a sweatpant but stays put under a harness.
The legs roll up to capri length, and the pants provide UPF 50+ sun protection, so the Zendo pants help you keep your cool in warm summer weather. The fabric is breathable, moisture wicking, and water repellent, too.
Prana Avril
Specs
Closure

:

Elastic w/ Drawstring

Fabric

:

97% Organic Cotton / 3% Spandex

Inseam

:

32 in
Features
Brush Holder Loop
Cinchable Bottom Hem
Articulated Knees (for mobility)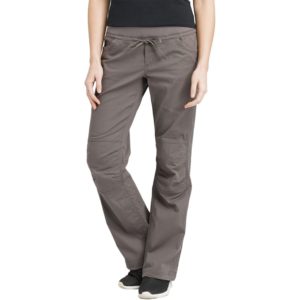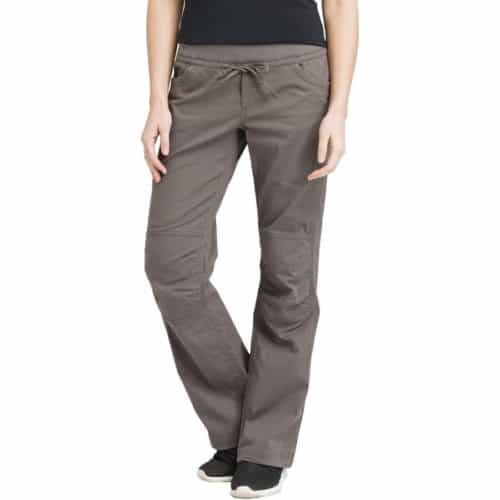 BEST FOR: BOULDERING
The prAna Avril pants are made from stretch woven cotton with an elastic drawstring waist, so they give you the comfort to lounge around on a crashpad and look good while doing it, thanks to the bright colors and contrast stitching on the pockets.
The articulated knees allow freedom of movement, so you can try all the beta you need to top out your project. Drawstrings at the ankle allow you to cinch up the legs when you need to see your feet (or wade through a creek), and a loop on the side holds your climbing brush for easy access.
THINGS TO CONSIDER WHEN BUYING WOMEN'S CLIMBING PANTS
The ideal women's climbing pants will be comfortable and move freely so you practically forget you're wearing them, while also having the technical features (like big, zippered pockets) that you need. EMS has some tips for choosing climbing pants, and Outside Online talked to the head of Technical Outdoor at Patagonia about why it's worth swapping out yoga pants for more technical pants.
FIT
As in all clothing, fit is extremely important to both comfort and performance. For climbing pants, you want to make sure the fit isn't too tight that you can't move properly. Length is also key to making sure that extra fabric doesn't get in the way of placing your feet. Many climbing pants have either elastic or drawstring on the ankle cuffs to keep them out of your way.
STRETCH
You want climbing pants that are as flexible as you are, so the pants are never the limiting factor that holds you back from making a move. Most climbing pants are constructed with a small percentage of spandex to provide that stretchiness.
DURABILITY
If you're climbing outside, you need pants that are durable enough to last. Not only will the pants face constant abrasion from the rock, but you'll be sitting on various natural surfaces, and no one wants a hole in the rear of their pants. On approach hikes, you also don't want pants that will snag on branches or other obstacles.
FEATURES EXPLAINED
GUSSET CROTCH
A diamond shaped seam in the fabric to allow for more comfort and freedom of movement.
ARTICULATED KNEES
Darts sewn into the fabric at the knees to better mimic the shape and bend of the leg.
WATER REPELLENT
Fabric is treated with a durable water repellent (DWR) which causes water to bead up instead of soak in.
READ MORE
For more of our top climbing gear recommendations, check out these popular buyer's guides: