Updated on October 1, 2020
Hands are perhaps a climber's most important tool, and climbing gloves protect them whether you're belaying, rappelling, or crack climbing. Belay and rappel gloves help keep your hands clean and in control of the rope, while crack gloves are designed to protect the backs of your hands when you're jamming them in cracks. Picking the right climbing gloves can be a challenge, depending on your needs, so here at The Adventure Junkies, we will explain your options and help you find the best climbing gloves for you.
For more of our top climbing apparel recommendations, check out the Best Belay Gloves.
Quick Answer

-

The Best Climbing Gloves
Outdoor Research Fossil Rock

Outdoor Research Splitter
Comparison Table

-

Best Climbing Gloves

For the best experience turn your device horizontally
Reviews

-

The Best Gloves for Climbing
Black Diamond Crag
Specs
Type

:

Full Finger

Best For

:

Belaying

Material

:

Synthetic Leather & Mesh
Features
Comfortable Padded Knuckles
Breathable Mesh Fabric on the Back
Loop at Wrist Helps Pull On Glove & Can Attach to Carabiner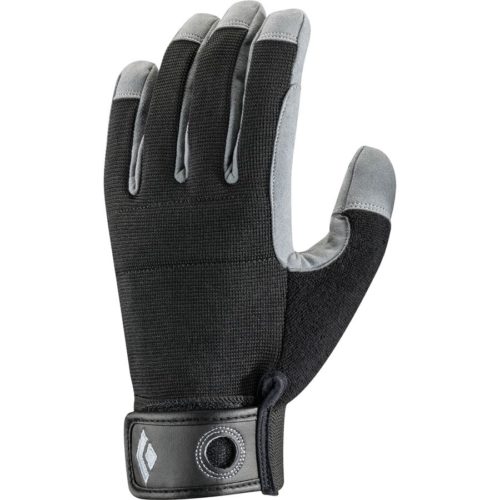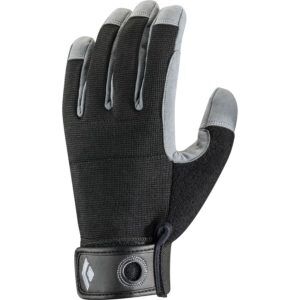 BEST FOR: SINGLE-PITCH BELAYING
If you're looking for belay gloves for a summer of single-pitch cragging, the Black Diamond Crag Climbing Gloves are the perfect fit. These gloves are full-finger to protect your whole hand while you're belaying all day, but the synthetic leather and mesh construction keeps them lightweight and breathable, so your hands won't get slippery if you're out in the sun. They also have padded knuckles for extra comfort.
However, the same material that makes them so lightweight means the Black Diamond Crag Climbing Gloves aren't the most durable, so they aren't your best option if you do a lot of multi-pitch rappelling or are looking to get many seasons of use out of your gloves.
Outdoor Research Fossil Rock
Specs
Type

:

Fingerless

Best For

:

Rappelling

Material

:

Goat Leather, Polyester, & Spandex
Features
Suede-Reinforced on High Wear Areas for Durability
Polyester Backing is Breathable & Moisture-Wicking
Kevlar Stitching is Made to Last
BEST FOR: RAPPELLING
The Outdoor Research Fossil Rock Gloves will keep you comfy on long rappels, thanks to suede reinforcements on high wear areas, including the palm and fingers. This helps you keep control of the rope, which is super useful when rappelling to descend from multi-pitch climbs, and is also great for any kind of belaying. The palm is made of goat leather, while the backing is polyester spandex, so these gloves are soft yet durable, and tough yet breathable.
The half-finger design provides you with plenty of dexterity while handling rope, and the velcro closure makes them simple to take on and off. The Fossil Rock Gloves also have a loop to help you pull them on or attach to a carabiner.
Metolius Insulated Belay
Specs
Type

:

Full Finger

Best For

:

Belaying

Material

:

Synthetic
Features
Lightly Insulated for Warmth
Made of Durable Synthetic Material
Stretches for a Snug, Comfortable Fit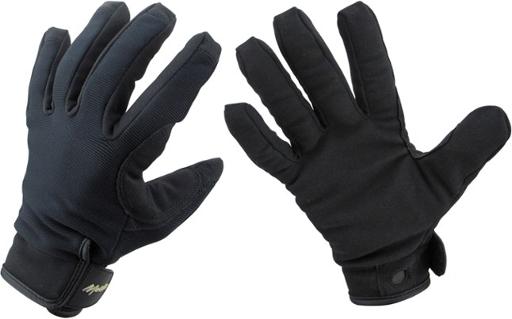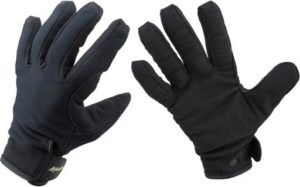 BEST FOR: ALPINE CLIMBING
The Metolius Insulated Belay Glove is a good choice for people who like climbing in the alpine, or even those who just constantly have cold hands. These gloves are made from completely synthetic material, which is more durable than goat leather, and the material is stretchy to provide a precise fit. Though they are insulated to keep your hands toasty no matter the season you're climbing in, the material is also breathable so your hands don't start sweating.
A velcro closure makes the Metolius Insulated Belay Glove easy to put on, despite cold hands, and a hole in the wrist allows you to attach a carabiner to clip to your pack or harness.
Outdoor Research Splitter
Specs
Type

:

Fingerless

Best For

:

Crack Climbing

Material

:

Polyurethane & Nylon
Features
Non-slip Synthetic Leather Helps Your Hands Stick in Cracks
Easy to Access Velcro Closure
Suede Finger Loops Keep Gloves Secure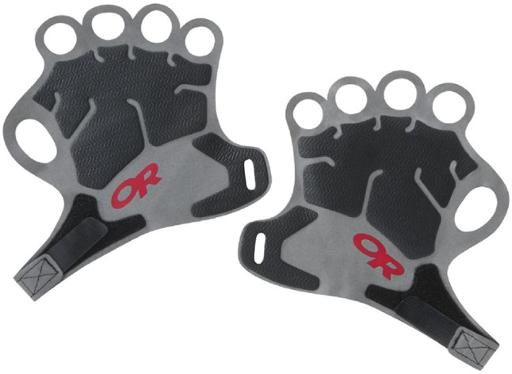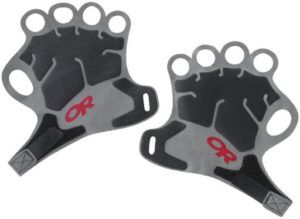 BEST FOR: TAPE-LIKE CRACK GLOVES
Instead of making tape gloves again and again, try the Outdoor Research Splitter Gloves which are crack gloves that are not made of rubber, so they are thinner and feel more like traditional handmade tape gloves, while being reusable and durable. Made of synthetic suede that feels comfortable on your hands with synthetic leather backing that is comfortable jamming in cracks, these gloves allow freedom of movement so you can hand and fist jam your way up any crack you desire.
Although the Splitter Gloves are significantly more durable than tape gloves, no glove can stand up forever to the constant abuse and abrasion of crack climbing, so you will have to replace these at some point, perhaps sooner rather than later, depending on your crack climbing prowess and use.
Metolius Belay
Specs
Type

:

Full Finger

Best For

:

Belaying

Material

:

Cowhide
Features
Triple-Stitched Cowhide Palm for Durability
Cowhide Conforms to Your Hand for Comfort
Large Hole at Wrist to Clip Carabiner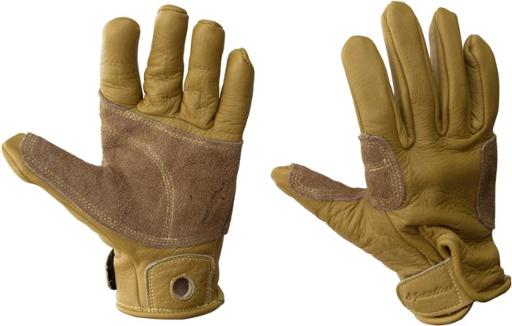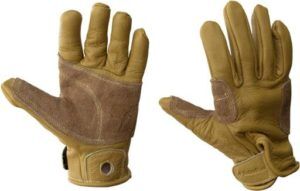 BEST FOR: DURABILITY
The Metolius Belay Glove is a full cowhide glove that will stand up to constant use, whether you're cragging all the time or heading out on lots of multi-pitch (or even big wall) climbs. Thanks to split cowhide that is triple-stitched on the palm, these gloves will see you through many climbing adventures.
This glove requires some breaking in to get it to fit properly to your hand, and even then, the cowhide construction means it is not the most dextrous. However, if you're constantly belaying and rappelling, this glove will keep up with the workload and last you a very long time.
Black Diamond Transition
Specs
Type

:

Full Finger

Best For

:

Belaying

Material

:

Goat Leather & Nylon
Features
Nylon Provides 4-Way Stretch for an Excellent Fit
Articulated Design Doesn't Require Much Breaking In
Kevlar Stitching is Durable
BEST FOR: DEXTERITY
Combining goat leather with a 4-way stretch nylon makes the Black Diamond Transition Gloves feel like a second skin. The articulated design of the fingers allows natural freedom of movement, so these gloves provide essential dexterity when you're belaying, rappelling, or managing rope systems.
The velcro closure at the wrist is not streamlined, but this does mean the gloves are very easy and quick to get on and off, and the carabiner hole is large for quick clipping. The Kevlar stitching reinforces the seams so they last, yet, overall, these are not the most durable gloves, though they will still likely last you for a while.
Petzl Cordex Lightweight
Specs
Type

:

Full Finger

Best For

:

Belaying

Material

:

Goat Leather & Stretch Nylon
Features
Neoprene Cuffs with Velcro Closures Secure Wrists
Stretchy Mesh Backs are Breathable
Reinforced Carabiner Holes Allow Gloves to Be Attached to Harness or Belt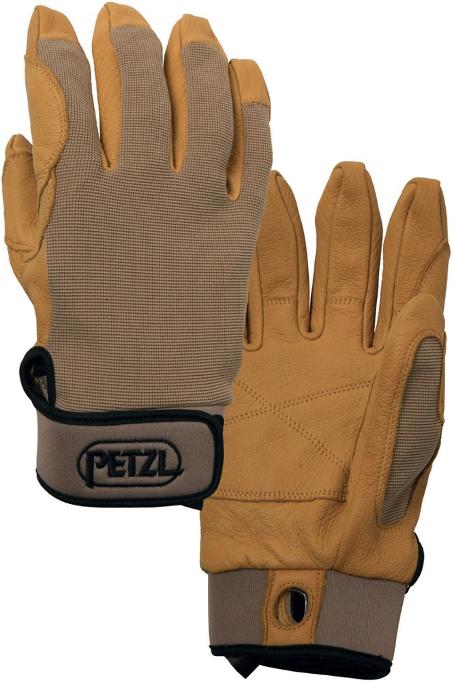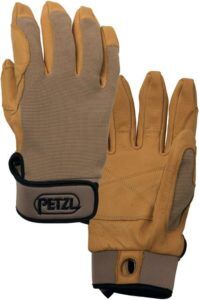 BEST FOR: ALL-AROUND PERFORMANCE
Thanks to the stretchy mesh material that makes up the back of these gloves, the Petzl Cordex Belay/Rappel gloves fit well while providing plenty of dexterity for a full finger glove. The mesh also makes these gloves extremely breathable, so your hands won't get slippery with sweat. The palms and fingers are comprised of a double-layer of goat leather which offers supple yet durable protection while you're handling a rope on belay or rappel.
The cuffs of the Petzl Cordex are made of neoprene and feature velcro closures, so they stay in place, but are easy to take on and off, and they have reinforced holes to attach a carabiner for carrying the gloves on your harness, belt, or pack.
Metolius Half Finger
Specs
Type

:

Fingerless

Best For

:

Big Wall Climbing

Material

:

Cowhide
Features
¾-in Fingers Combine Protection with Dexterity
Cowhide Leather Molds to Your Hands
Reinforced Clip-In Loop Makes It Easy to Attach a Carabiner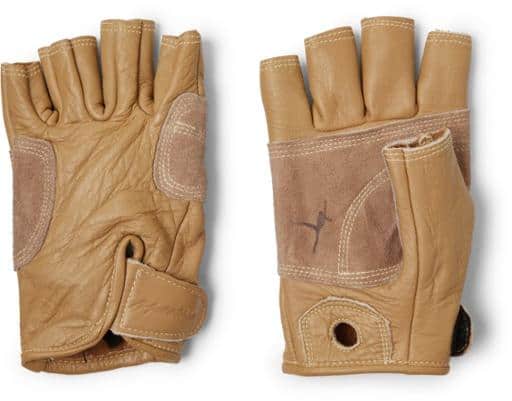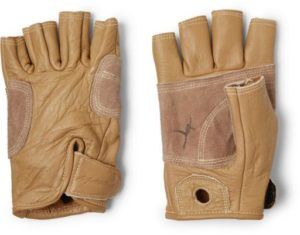 BEST FOR: BIG WALL CLIMBING
The Metolius Half-Finger Climbing Gloves are made of durable cowhide leather, which is reinforced with split-cowhide on the palms, so these gloves can stand up to the abuse of climbing big walls in Yosemite or elsewhere. The fingers are actually more ¾ length than half, and they have a snug fit, so you don't have to worry about losing dexterity as you manage rope at belay stations. All the stitching is reinforced to last, including the loop for clipping in to a carabiner to keep your gloves handy on your harness.
The leather of the Metolius Half-Finger Climbing Gloves does take a little time to break in, so make sure to get them well ahead of your next planned big wall trip.
Black Diamond Stone
Specs
Type

:

Fingerless

Best For

:

Belaying or Rappelling

Material

:

Goat Leather
Features
Reinforced Patches on the Palm & Knuckles for Durability
Extended Leather on the Fingers for Protection
Goat Leather Doesn't Require Break-In Time
BEST FOR: VERSATILITY
The Black Diamond Stone Climbing Gloves are a good choice for belaying and rappelling in a variety of situations, from single-pitch sport to multi-pitch trad to big wall excursions. The palm and knuckles are reinforced with patches to hold up to wear, and the stitching is made of Kevlar, so it will last. Extended leather on the fingers offers protection for your hands without compromising dexterity. The goat leather is supple, and, along with the articulated finger design, requires very little time to break in and feel comfortable.
The wrist closure is large and a little bulky, but also easy to get on and off, and the reinforced carabiner hole makes the gloves easy to transport.
Ocun Crack
Specs
Type

:

Fingerless

Best For

:

Crack Climbing

Material

:

Rubber & Microfiber Suede
Features
Rubber Backs Help You Stick in Cracks
Microfiber Suede Lining Stretches to Fit
Velcro Closure is Covered to Avoid Interfering with Performance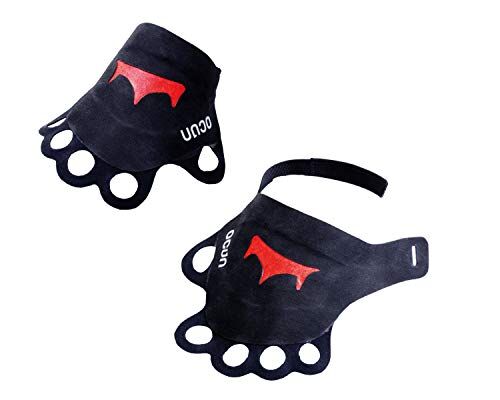 BEST FOR: CRACK CLIMBING
While crack climbers are known for enduring the suffering of jamming body parts in the rock, these Ocun Crack Gloves make hand jams far less painful and way more solid. The gloves protect the back of your hand with sticky rubber, which is lined with microsuede, so instead of making tape gloves every time you climb crack, you can just keep the Ocun Crack Gloves in your pack and be ready to go.
These gloves are specifically designed for crack climbing, so they won't be useful as belay or rappel gloves, and you'll need a separate pair for that purpose.
THINGS TO CONSIDER WHEN BUYING CLIMBING GLOVES
When you're choosing a pair of climbing gloves, you want them to be able to protect your hands while not limiting your range of motion or dexterity when you're performing important tasks such as belaying and rappelling. Chicks with Picks explains why climbing gloves are important, to protect both yourself and your climber when belaying or rappelling. If you choose leather gloves and climb in wet climates, REI explains how to waterproof your gloves so they last through the seasons.
FULL FINGER OR FINGERLESS
Full finger gloves offer more protection, while fingerless – which are actually more like half or ¾ finger – gloves generally provide more dexterity. If the glove you choose fits your hand well, full finger gloves are a good choice to keep your hands safe and comfortable while belaying or rappelling, but some people still prefer having their fingertips available for clipping carabiners and other small movements. If your hands are often cold, you'll benefit from full finger gloves, since freezing hands don't have much dexterity anyway.
MATERIAL
Climbing gloves are generally made from cowhide, goat leather, or synthetic material, and each has its own advantages and disadvantages, so you'll want to choose which makes the most sense for you and your usage.
Cowhide is more durable but stiffer. It usually requires a break in period to conform to your hand, and still will probably not offer the most dexterity. Goat leather is softer and more supple, which allows for excellent fit and dexterity, but it won't stand up to as much use and abuse. Synthetic can be more breathable and stretchy, but also is not usually as durable and doesn't conform to your hand in the same way as leather.
CRACK CLIMBING
If you're addicted to crack climbing, then you will probably want a pair of crack climbing gloves so you don't have to make gloves out of tape on every climbing trip. These gloves are designed to protect the back of your hand when you're doing hand or fist jams, so they are fingerless with no palm protection. They're usually rubber or leather on the back, to help your hands stay securely in cracks. These are specialized gloves and will not be useful for belaying or rappelling.
FEATURES EXPLAINED
KEVLAR STITCHING
Super strong, military grade thread that barely stretches and is heat-resistant.
ARTICULATED FINGERS
Fingers designed to mimic the natural joint for a full range of movement.
READ MORE
For more of our top climbing gear recommendations, check out these popular buyer's guides: