Updated on October 2, 2020
Down jackets are a solid choice for adventurous kids with their fabulous insulation and softness that will keep your tiny tots warm to a T! The plumage (down) that allows geese and ducks to survive brutal winter conditions traps body heat like a superstar, making it perfect for children's outerwear. If you're looking for the best down jackets for kids, consult our top 5 winners.
These jackets have a winning combination of quality, weather-resistant features, and high ratings. And there's something for everyone with the wide range of prices. When you're ready to take your kiddos on your next hiking or outdoor adventure, make sure they're prepared with one of these dependable down jackets.
For more of our top hiking apparel recommendations, check out the Best Down Jackets. 
Quick Answer

-

The Best Down Jackets for Kids
Patagonia Down Sweater Jacket

The North Face Moondoggy 2.0

The North Face Arctic Swirl
Comparison Table

-

Best Down Jacket for Kids

For the best experience turn your device horizontally
Reviews

-

The Best Kids' Down Jacket
Patagonia Down Sweater Jacket
View Women's Version
Specs
Material

:

Recycled Ripstop Polyester

Insulation

:

600-Fill-Power Traceable Down

Size

:

Girls XS-XL / Boys XS-XL / Baby 3-6 mos-4T

Waterproof?

:

No

Hood

:

No

Lining

:

Polyester
Features
Wind-Proof and Water-Resistant
Handwarmer Pockets
Zip-Through, Stand-Up Collar Warms Up Through The Chin
Spandex Cuff Binding and Drawcord Hem
Excellent Color and Pattern Selection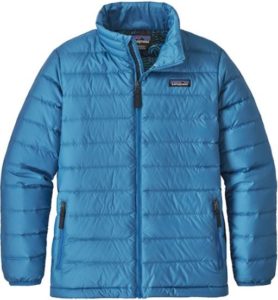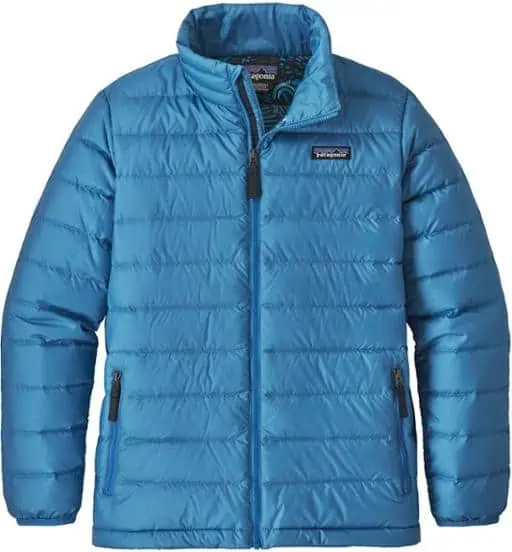 BEST FOR: FALL AND EARLY WINTER
This jacket is perfect for "in between weather," when there's a noticeable chill but it's not frigid outside. It can be used as a mid-layer or a top layer with thermals underneath for colder temps. The jacket is also very lightweight and not as puffy as many other down jackets. That way, your kiddo doesn't have to struggle to fit their backpack over it or feel restricted when they play. 
This version of the Patagonia sweater jacket doesn't have a hood, which is great for kids who prefer hats, but there are also hooded versions. If you're concerned about the origin of the down, this jacket's down is traceable back to the duck farm where the down was harvested to ensure humane conditions were followed. That extra warmth and baby-soft feel against the skin are just what you'd want your kids to be wrapped in.
REI Co-op 650
Specs
Material

:

Nylon

Insulation

:

650-Fill-Power Down

Size

:

XXS-XL

Waterproof?

:

No

Hood

:

No

Lining

:

Ripstop Polyester
Features
Weather-Resistant Exterior Repels Water, Wind, and Snow
Packs Down into Left Pocket for Easy Storage
Zippered Handwarmer Pockets for Ungloved Hands or Storage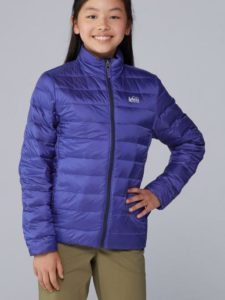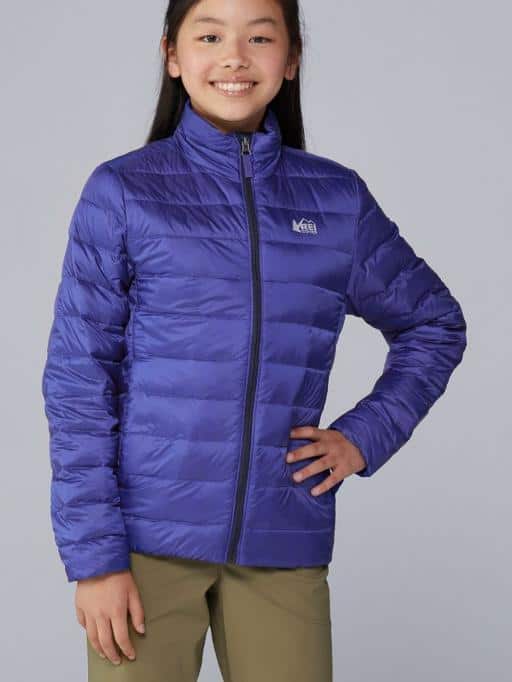 BEST FOR: FALL HIKES
If your kiddos want to hit the hiking trails with you too, then this jacket provides the perfect cover-up to keep them toasty but not roasting once the temperatures drop. If they stay moving (who can stop them?), then the insulated jacket will keep them warm in a chill. But you wouldn't want to use this as a regular winter jacket in the deep freeze. 
With added weather protection, the jacket can take on spontaneous drizzle and flurries while you're out. When you get home, the lightweight, packable jacket packs down into its own pocket, taking up very little space in your foyer closet.
The North Face Moondoggy 2.0
View Women's Version
Specs
Material

:

Polyester

Insulation

:

550-Fill-Power Goose Down

Size

:

0-24 months, 2T-6T, XXS-XL

Waterproof?

:

No

Hood

:

Yes

Lining

:

Polyester Microfleece
Features
Water Repellent Finish Resists Sprinkles, Snow, and Stains
Droptail Hem Covers More Body in the Back
Snap Pockets Warm Hands and Store Goodies
Hood with Chin Guard for Full Head Coverage
Taffeta Sleeve Lining Glides Over Clothing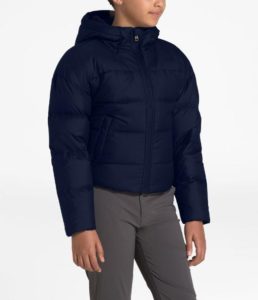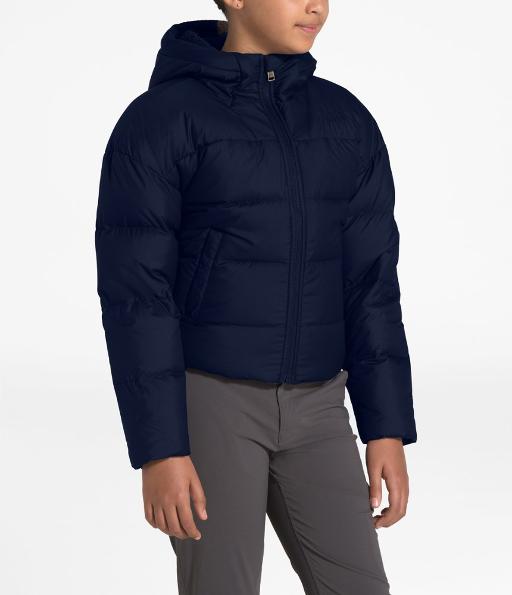 BEST FOR: EVERYDAY USE
Give your aspiring astronaut a coat that makes him or her feel like walking on air. Puffer jackets have a way of doing that with their airy, lightweight, space-age feel. The quilted down insulation and water-repellent finish keep them isolated when there are flurries in the forecast. The hood lifts off over the head and chin in case your kid forgets his hat.
Unlike your standard spacesuit, the moondoggy is all about movement, because kids never stop. Performance features such as the raglan sleeves and moveable fabric give your little adventurers space to explore.
Rokka&Rolla Puffer
View Women's Version
Specs
Material

:

Nylon

Insulation

:

White duck down and feathers

Size

:

Girls and Boys XS-XXL

Waterproof?

:

No

Hood

:

Yes

Lining

:

Nylon
Features
Super Lightweight and Soft for Snuggable Comfort
Machine Washable Material Means This Jacket Is Easy to Care For
Hood and Standing Collar Warm the Head and Chin
Elastic Cuffs and Side Zippered Pockets Keep Hands Warm
Windproof and Breathable for Temperature Regulation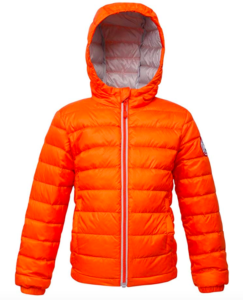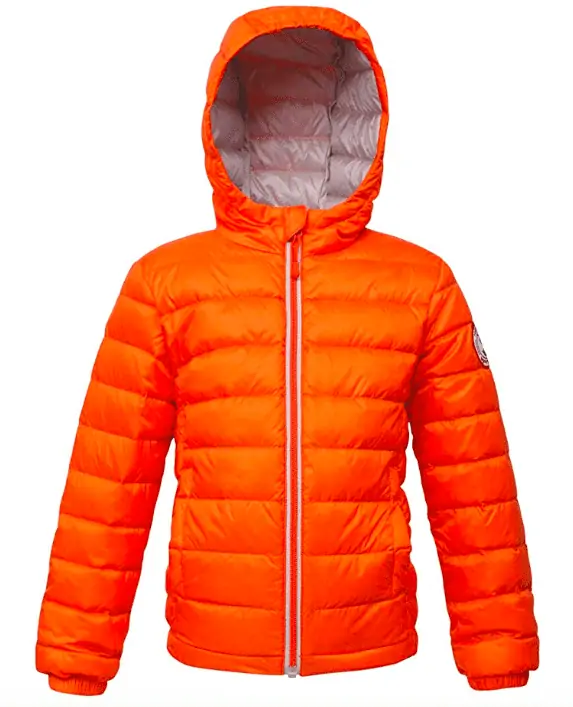 BEST FOR: MULTI-SPORT USE
This jacket is ready to rock and roll, whether you're headed on a hiking, skiing, snowmobiling, or climbing adventure. The brand boasts of the "warmth without the weight," and kids love how light and soft the jacket feels. It's so ultra-lightweight that it packs up into its own travel neck pillow.
It's important to note that this jacket is more windbreaker than winter coat. It's perfect for kids who are on the move, but it's not an appropriate winter jacket for northern climates. The thin, quilted design lets your kid be a kid without the restrictions of a heavy, cumbersome coat.
The North Face Arctic Swirl
Specs
Material

:

Polyester

Insulation

:

550-Fill-Power Down

Size

:

Girls XS-XL

Waterproof?

:

Yes

Hood

:

Yes

Lining

:

Polyester
Features
Fleece Lining for Colder Temps
Hood with Removable Faux Fur Trim
Zippered Pockets to Warm Ungloved Hands or Store Personal Items
Waterproof and Breathable to Regulate Moisture Inside and Out
Internal Pocket for Phone or iPod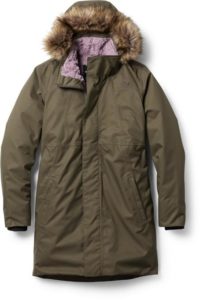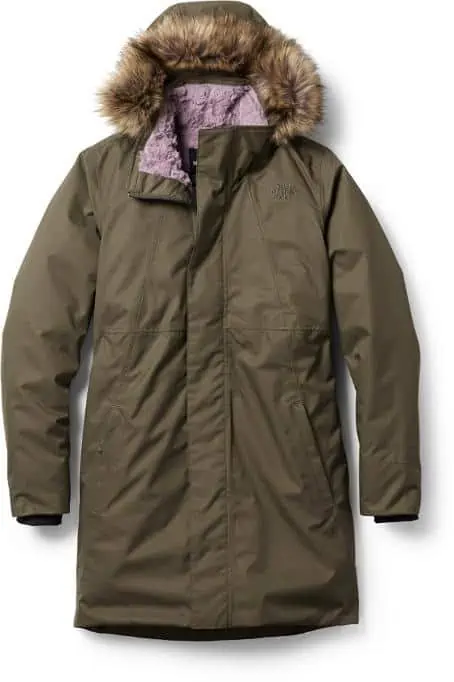 BEST FOR: BELOW-FREEZING TEMPS
Go ahead and tell your kids to play outside, even in the winter. With its full fleece lining and down insulation, this jacket keeps them warm so they can play outdoors year-round. When your kids start to build up heat, the breathable fabric disperses sweat so they don't overheat. At the same time, the waterproof exterior keeps rain and snow from penetrating. 
The jacket covers more of the body with warmth with it's extra length. Though it's more on the expensive side, this girl's down jacket lives up to its price in quality and reliability. It should provide that cozy, bundled up warmth and last many years.
THINGS TO CONSIDER WHEN BUYING DOWN JACKETS FOR KIDS
MATERIALS
Kids' down jackets typically have a nylon or polyester exterior and lining because of their low absorbency and flexible qualities. Both are good options, but you might find your child prefers the feel of one over the other. A fleece or microfleece lining is a very soft, warm option that feels cozy and inviting.
DOWN TYPE
If the source of feathers inside your child's down jacket are of concern to you, then make sure to research your options. Traceable down is sourced from humane farms that don't force-feed or live-pluck their fowl. (Read about the traceable down process here.) Down jackets also typically come with either duck or goose down. Quality goose down tends to be more favorable than duck down because of its resilience and low odor.
WASHING INSTRUCTIONS
When you're looking into down jackets, you're probably wondering about washing the jacket. Though down seems rather high maintenance, many of these jackets are machine washable in cold water and just need to air dry. Check the instructions on the jacket's tag to make sure the care requirements fit with your lifestyle.
SIZES
Obviously you want to make sure the jacket is going to fit your child. When buying online, it's important to compare your child's measurements against the manufacturer's sizing charts. You should also read through customer feedback to determine whether the sizes run small, large, or true to size. Children grow so fast, it might be better to err on the larger side.
HOOD
To hood or not to hood, that is the question. Some kids prefer to wear hoodless jackets with a hat so their backpacks don't get tangled up in it. Some parents prefer hoods in case their children forget their hats. A hood may be a determining factor in your purchase, so make sure to check if your jacket choice has one.
LAYERABILITY
Another important consideration is the layerability of the jacket. Do you want your kids to be able to wear bulky sweatshirts underneath their jackets? Some jackets fit closer while others offer extra space underneath to accommodate layers. This is where going up a size may also be helpful. Check out our guide on how to layer clothes for cold weather. 
OUTDOOR CONDITIONS
Down jackets are available in lightweight versions all the way to insulated deep freeze versions. Some are waterproof or water-resistant too. Consider what the weather is like where you live or where you intend to travel. Also consider what activities your child will be doing in his or her jacket. If the jacket is intended for hiking, then remember to factor in body heat generated by the activity.
FEATURES EXPLAINED
LOFT
A garment's loft refers to its puffiness and softness. A high loft is airy and billowy, making it soft and plush. The loft of down determines its fill power.
FILL POWER
You'll notice all down has a fill-power rating associated with it. This number refers to the loft of the feathers. The higher the fill power, the better the quality. 550-fill-power or higher has the best quality in warmth and softness. Read a full explanation about fill power here.
TAFFETA
Taffeta refers to the weave of a fabric. In outerwear, taffeta sleeve linings have a slippery quality to them. Taffeta sleeves make it easier to slide a jacket on and off without bunching up your clothing.
RIPSTOP
Ripstop is another form of fabric weave that resists tearing. Ripstop polyester, for example, is reinforced with a cross-hatch pattern so rips can't spread.
DROPTAIL HEM
A drop tail hem is a hemline that's longer in the back than the front. This type of hem covers more of the backside, especially when you bend over. Outerwear with a drop tail hem helps prevent exposed skin on the lower back during activity.
RAGLAN SLEEVES
Raglan sleeves are the type of sleeves that are common on baseball tees and other activewear. The sleeve fabric extends in one piece up to the neckline. This design allows for greater range of motion in the upper body. The extra room under the armpit also makes raglan sleeves better for layering.