Updated on September 24, 2020
There's nothing like down. High tech materials have taken over the outdoor equipment world, but nobody has developed a synthetic insulator that can come close to matching the lightness, warmth, and compressibility of the fine inner feathers of certain species of waterfowl. A high quality down jacket seems like a magical thing, bursting out of a tiny stuff sack and puffing into a powerful barrier against the cold. The ability to pack a lot of warmth into a small, light package makes the lightweight down jacket a necessity for any outdoor enthusiast who needs backup warmth in environments where cold weather can arrive at any time. You can carry one and hardly know it's there until you need it! This guide to the best lightweight down jackets should help you choose the one that's best for you.
All down jackets involve tiny feathers held in place by a lightweight fabric shell. That doesn't make them all the same. Down comes in different grades, with the highest grades being more compressible and more expensive. Outdoor enthusiasts are increasingly concerned about the impact of their purchases, and most reputable manufacturers now use down that adheres to the Responsible Down Standard, assuring that it was produced in humane and sustainable conditions. Manufacturers constantly compete to find lighter, stronger shells and innovative ways to distribute the down and hold it in place in arrangements that deliver more warmth for less weight and bulk. The jackets below illustrate the variety and quality of the products emerging from that competition. Whatever you're looking for in a lightweight down jacket, you'll find it here!
For more of our top hiking apparel recommendations, check out the Best Down Jackets.
Quick Answer

-

The Best Lightweight Down Jackets for Men
REI Co-op 650 Down Jacket 2.0

Mountain Hardwear Ghost Whisperer

Outdoor Research Transcendent

Mountain Equipment Lightline
Comparison Table

-

Best Men's Lightweight Down Jacket

For the best experience turn your device horizontally
Reviews

-

The Best Men's Lightweight Down Jackets
REI Co-op 650 Down Jacket 2.0
Specs
Fabric

:

Recycled Nylon Taffeta

Insulation

:

650 Fill Weight Down

Weight

:

11 oz.

Hood

:

No
Features
Water Repellent Finish Sheds Light Rain Or Snow
Packs Into Its Own Left Pocket
Stretch Cuffs And Hem Hold In Warmth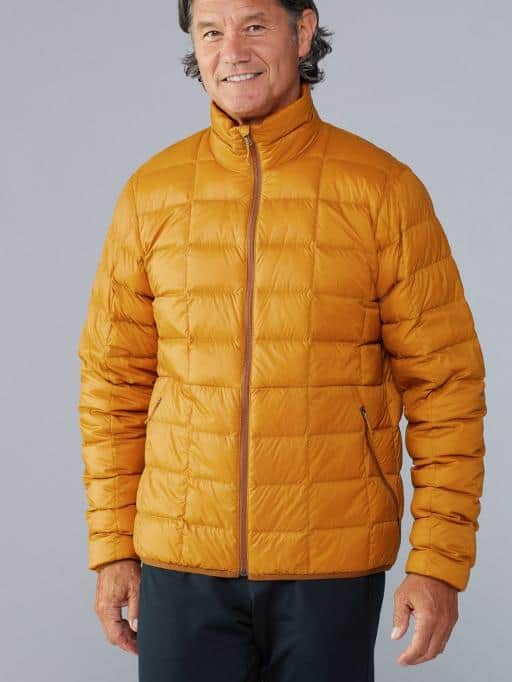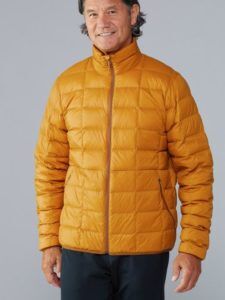 BEST BUDGET LIGHTWEIGHT DOWN JACKET
The REI 650 is quite ordinary, and at the same time quite remarkable. It's a very basic down jacket. It has no hood and few frills, but it packs small, weighs well under a pound, and makes a fully satisfactory jacket for non-freezing temperatures and a reliable mid-layer if it's colder.
What's truly remarkable is the price. REI has brought a solid and credible down jacket to the table at a price lower than many synthetic competitors. It may not be a cutting edge design, but it's not meant to be. It's a solid lightweight down jacket at a very reasonable price, and if you want to stay warm without spending a fortune, that's a very useful thing!
Sierra Designs Whitney
Specs
Fabric

:

Ripstop Polyester

Insulation

:

800 Fill Weight DriDown

Weight

:

18.73 oz.

Hood

:

Yes
Features
Treated Hydrophobic Down Stays Dry 10 Times Longer Than Ordinary Down
High Collar And Overstuffed Hood Keep Head And Neck Warm
Stretch Cuffs And Hem Hold In Warmth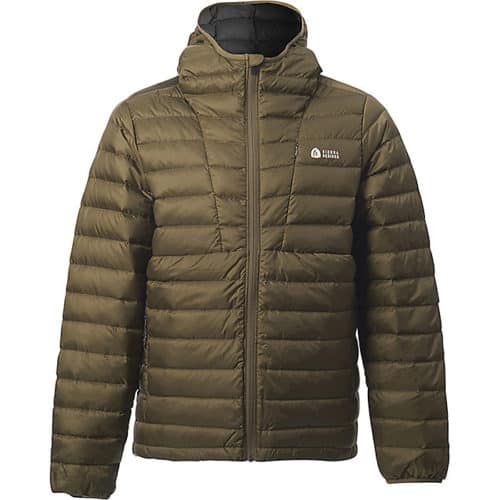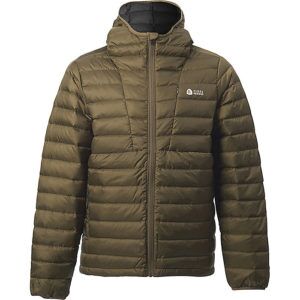 BEST AFFORDABLE COLD WEATHER HOODIE
The Sierra Designs Whitney is a light, packable hooded jacket that provides solid cold-weather protection in temperatures into the teens and can serve as a warm mid-layer in colder or wet conditions. The insulated hood and high-cut insulated collar seal warmth in up top and the elastic cuffs and hem keep cold air out at the sleeves and waist.
This is a simple, solid jacket that gets the job done at a very reasonable price. The Whitney uses the DriDown hydrophobic treatment, which keeps down fluffed up and insulating even when exposed to moisture, but there's no waterproof coating on the shell. If you're heading out in cold wet weather, you'll want a waterproof outer layer!
The North Face Stretch
Specs
Fabric

:

91% Nylon Stretch Woven Water Repellent

Insulation

:

700 Fill Weight Down

Weight

:

1 lb. 3 oz.

Hood

:

No
Features
Stretch Fabric For Unrestricted Mobility
Stows In Hand Pocket
Internal Elastic Cuffs And Hem Cinch Cord Hold In Warmth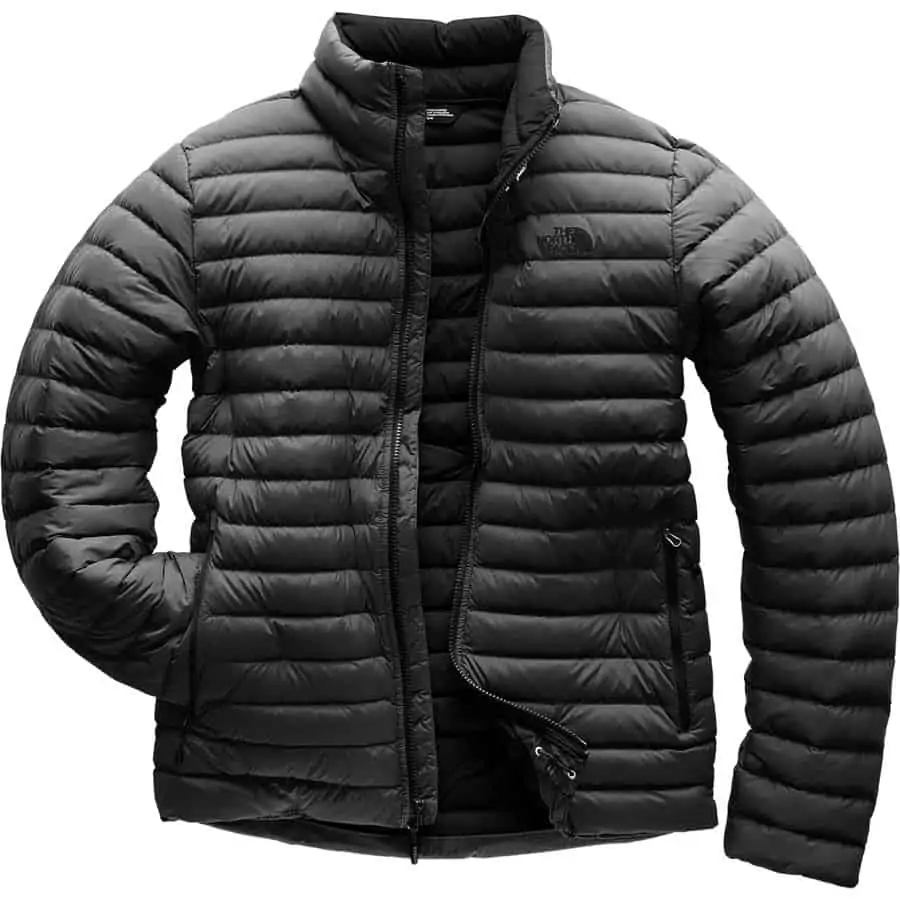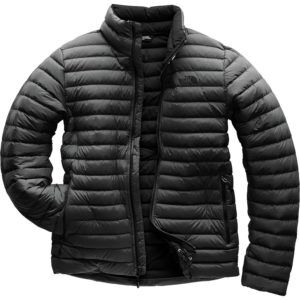 BEST FOR ACTIVE WINTER SPORTS
Snowboarding, skiing, and other active winter sports demand a jacket that will keep you warm without impeding your movements. North Face steps up with the Stretch Down Hoodie, a slim-cut jacket made with a stretch shell that matches your movements. The result is a full-featured lightweight down jacket with all of the features you expect that lets you twist, turn, and bend without your jacket getting in the way. If you're looking for a light, compact jacket that fits your active sports style, this is it!
Mountain Hardwear Ghost Whisperer
Specs
Fabric

:

Nylon Ripstop

Insulation

:

800 Fill Weight Q.Shield Down

Weight

:

7.4 oz.

Hood

:

Yes
Features
Q.Shield Treated Down Stays Dry Longer
Low-Profile Quilt Pattern Holds Down In Place
Built-In Carabiner Loop Allow You To Clip Jacket To Anything!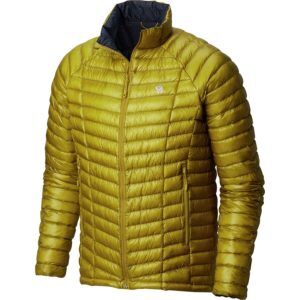 BEST AFFORDABLE ULTRALIGHT DOWN JACKET
Down jackets are light: that's a big part of their appeal. The Mountain Hardwear Ghost Whisperer takes that appeal to a whole new level in a package that brings the scale to just under 8 ounces and packs to the size of a tennis ball.
The Q.Shield Down is treated to keep it insulating even when wet. You don't get a huge lineup of features, and the shell is whisper-thin and not as durable as those of some competitors, but those sacrifices are made for a purpose: you get one of the lightest and most compact down hoodies on earth. If you don't plan on beating the jacket up and you're looking for a jacket that has the smallest possible footprint in your load, this is the one.
Outdoor Research Transcendent
Specs
Fabric

:

Polyester Taffeta

Insulation

:

650 Fill Weight Down

Weight

:

1 lb

Hood

:

Yes
Features
Front Zipper Has Interior Draft Flap To Keep Cold Out
Stretch Cuffs And Dual Drawcord Hem Seal In Warmth
Zippered Chest Pocket For Storing Small Valuables
BEST FOR RUGGED USE
The Outdoor Research Transcendent is slightly heavier and bulkier than most of its competitors, without adding significant warmth. What you gain is a tough, durable outer shell that will stand up to abuse. If your outdoor activities involve pushing through thick brush, contact with sharp rocks, or other close encounters with items that could damage a jacket, here's one that will stand up and hold its own. You get all of the features you expect in a lightweight down jacket in a package that can play as tough as you can.
Patagonia Down Sweater
Specs
Fabric

:

Recycled Ripstop Polyester

Insulation

:

800 Fill Weight Down

Weight

:

13.1 oz.

Hood

:

No
Features
Down Is Stabilized With Quilted Construction To Keep It In Place
Front Zipper Has Wicking Interior Stormflap For Comfort And Rain Protection
Interior Chest Pocket Doubles As A Zippered Stuff Sack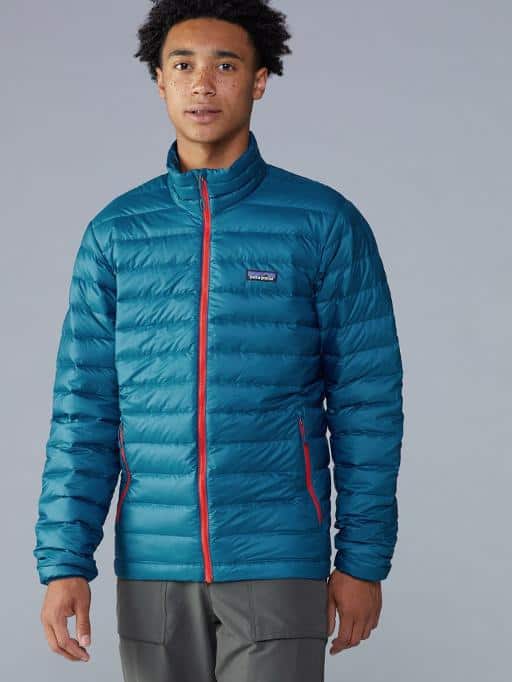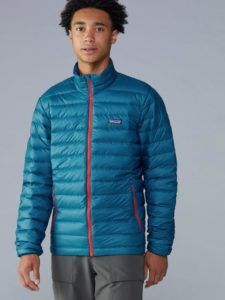 BEST WHEN STYLE COUNTS
The Patagonia Down Sweater is a standard – a light, stylish down jacket that's at home around town and on the mountain. The high-end 800-fill weight down provides a great warmth-to-weight ratio, and both the down and the shell have water-resistant treatment. The 100% recycled ripstop nylon shell and lining score sustainability points, and the front zipper features a well designed interior stormflap that keeps cold air out. If you don't need a hood and you want a reliable jacket that keeps you looking your best, Patagonia brings it on!
Rab Microlight Alpine
Specs
Fabric

:

Water-Resistant Pertex Quantum

Insulation

:

750 Fill Weight Down

Weight

:

17 oz.

Hood

:

Yes
Features
Water Repellent Finish Sheds Light Rain Or Snow
Packs Into Its Own Left Pocket
Stretch Cuffs And Hem Hold In Warmth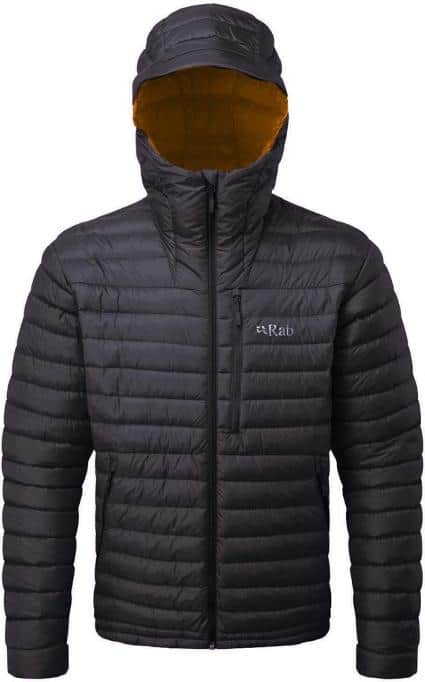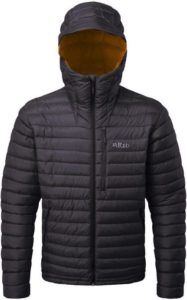 BEST WET WEATHER DOWN JACKET
Water has always been the nemesis of down products: wet down clumps up and loses its insulating power. It takes time to dry and may not recover its full loft after getting truly wet. The need for synthetic insulation in wet climates has become a standard and universally accepted piece of outdoor lore.
The RAB Microlight Alpine changes that equation completely. It combines a tight-weave Pertex shell fabric with an effective waterproof coating and 750 fill down weight with a hydrophobic treatment, producing one of the most water-resistant down jackets money can buy. You may not want to expose it to a full downpour, but if you're headed to wet places and you want the advantages of down in a seriously water-resistant package, this is your jacket.
Mountain Equipment Lightline
Specs
Fabric

:

Drilite Loft

Insulation

:

700 Fill Weight Duck Down

Weight

:

11 oz.

Hood

:

Yes
Features
Drilite Loft Shell Is Breathable, Water Resistant, And Windproof
Front Zipper Has Insulated Baffle To Keep Cold Out
Adjustable Zip-Off 3-Panel Hood For Fit And Warmth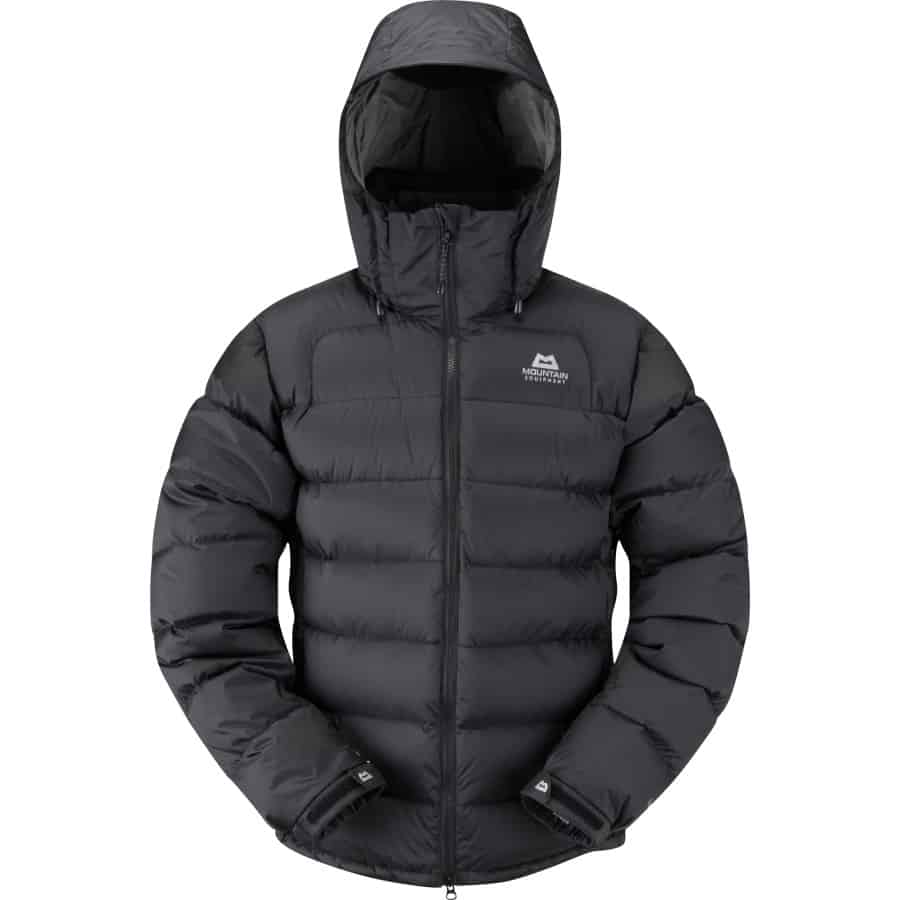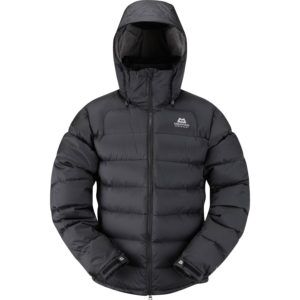 BEST FOR VERSATILITY AND WARMTH
There are lots of jackets on the market that are designed to fill a specific niche and excel at a specialized purpose. Some outdoor enthusiasts have more general needs and want an all-around package that does a lot of things well. The Mountain Equipment Lightline delivers that package.
There's a solid windproof shell with an effective water-resistant coating. The 3-panel hood zips off, allowing you to go hooded or hoodless as you choose. All the features you expect to find in a lightweight down jacket are there. It's not the lightest, or the most compact, or the warmest, but it's a very effective compromise in a tough, capable package. It's ideal for outdoor people who just want a great all-around cold weather jacket!
Arc'teryx Cerium LT
Specs
Fabric

:

Nylon

Insulation

:

850 Fill Weight Down + Coreloft Synthetic Insulation

Weight

:

10.8 oz.

Hood

:

Yes
Features
Articulated Construction Moves With The Body
Synthetic Insulation In Moisture-Prone Areas
Exceptional Warmth-To-Weight Ratio
Insulated StormHood Provides Coverage Without Cutting Field Of Vision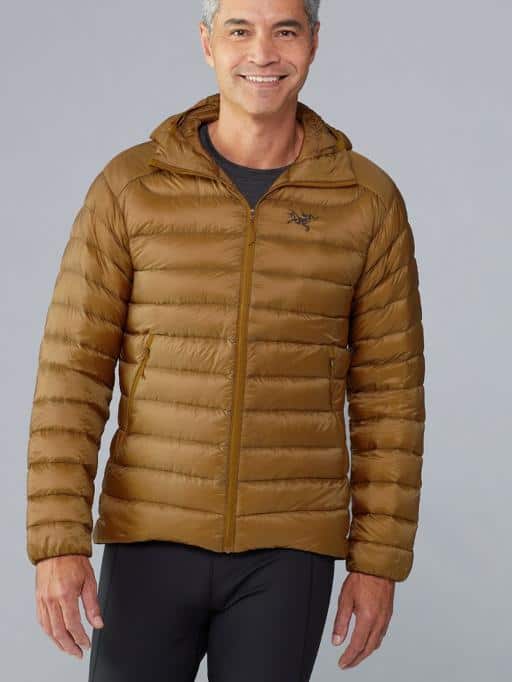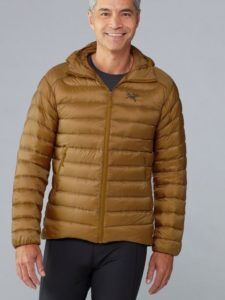 BEST OF THE BEST
Arc'teryx pulls out all the stops with this one, delivering a premium jacket that does everything well. The high-end 850-fill down packs down to a minimalist package and emerges as a full-scale winter coat. The down is reinforced by Coreloft synthetic insulation in moisture-prone areas, an added layer of protection against cold. The shell is water-resistant and rugged. It's warm, it's tough, it's flexible, it has every feature you can imagine and a few that you probably can't. It's also expensive, but you get what you pay for. This is high-end equipment of the highest quality, and if you can afford it, you'll enjoy it!
THINGS TO CONSIDER WHEN BUYING A LIGHTWEIGHT DOWN JACKET
KNOW YOUR NEEDS
A lightweight down jacket is light, compact, and warm. We all use these features in different ways, and our choice of jacket is directed by our specific needs. Will your jacket be tucked in a corner of your pack most of the time, emerging only when the temperature drops, or will you be wearing it as a day to day work jacket? Will you be using it as a midlayer under a waterproof shell, or on its own? Will you use it in cool weather, sub-freezing weather, or sub-zero weather? Will you use it around town most of the time with an occasional trip to the mountains, or on extended wilderness hikes? For walking, or for active sports like skiing or snowboarding that require agility and a full range of movement? A clear idea of how you will use your jacket will make your selection much easier.
KNOW THE TRADEOFFS
The main features we look for in a down jacket are light weight, compact storage, durability, cut, water resistance, and features like pockets, special stitching or baffles to keep down in place, or designs that allow more freedom of movement. We also want a jacket we can afford. Many of these features involve compromises.
The lightest and most compact jackets on the market use very thin shell fabrics that sacrifice some durability. Jackets made to stand up to abrasion and close encounters with hard objects won't be as light or compact. Warmer jackets will also be heavier and less compact. If you want a full range of features, you can expect to pay a higher price. Some jackets are designed for specific purposes and may not be so well suited for activities outside that niche. Others are designed for all-around use. Think about the features that matter most to you and look for a jacket that has them!
THINK ABOUT CUT AND FIT
Some jackets are cut snug, designed to move with your body and to be worn under a waterproof shell. Others have a looser cut that lets you move inside the jacket rather than with it, and add underlayers for additional warmth. Some are cut longer in the waist than others. Which you select is purely a matter of personal preference, but you should think about that preference and know what you're choosing and why!
ABOUT THOSE FEATURES
Manufacturers offer a range of features. Some are almost universal: most down jackets stuff into a pocket to form a compact package, most have a number of pockets, most have elastic cuffs and draw-string hems to seal in warmth. Additional features fall into a few basic categories:
Features designed to enhance water resistance, like treated down or water-resistant shells.

Features designed to improve insulation and warmth, like unique stitching patterns, baffles that hold down in pockets, barriers behind zippers, and specially designed hoods.

Features designed to enhance mobility, like stretch fabrics, underarm gussets, and specially designed shoulder fit.
As with any product, specialized features tend to push up the price tag, so decide which features are important to you before you choose your jacket. There's nothing wrong with paying extra for features you want, but most of us don't want to splash cash for features that don't matter to us!
HOW WET WILL YOU GET?
Water is down's kryptonite. All of the features that make down a wonderful insulator vanish when water comes into the picture, leaving a flat, lumpy mass with little or no insulating ability. A down jacket that gets really soaked will often require professional cleaning and drying to regain its full insulating power. Many modern down jackets use water-resistant down that can handle water much better than plain down, and treated water-repellant shells can keep precipitation away from the down. If you think you'll be out in really wet conditions, though, you'll want to use your down jacket under a waterproof shell or consider a jacket with synthetic insulation.
LEARN MORE
Check out this article to find out more about down features. REI offers some helpful tips on choosing insulated outerwear and Mountain Warehouse provides a concise overview of down jacket fill power ratings.
FEATURES EXPLAINED
FILL WEIGHT
Fill weight is a measure of loft, and describes how "puffy" down is. One ounce of 650 fill weight down fills 650 cubic inches; one ounce of 850 fill weight down fills 850 cubic inches. Higher fill weight down gives more insulating power and more warmth per ounce of insulation. Higher fill weight down is also more expensive!
DOWN TREATMENTS
Down is often treated to give it greater water resistance and allow it to maintain loft even when exposed to moisture. These treatments won't make down completely impervious to water, but they can make the treated down much more resistant to water than untreated down. Different companies use different brand names for their respective treatment processes.
SHELL FABRICS
Most down jackets use some form of nylon or polyester fabric for the outer and inner shells. External shells are usually more durable and are often treated to provide greater water resistance. There are a number of common fabric types:
Pertex produces a proprietary multilayered fabric that is water resistant, breathable, and light.
Drilite Loft is a nylon fabric with a highly water-resistant microporous polyurethane coating.
Taffeta describes a tightly woven fabric with fine ribs that add strength and durability.
Ripstop fabrics have stronger threads woven in at intervals to prevent rips from expanding.
Some down jackets used recycled nylon or polyester to minimize the environmental impact of the manufacturing process.
ZIPPER BARRIERS
A zipper barrier, stormflap, or zipper baffle is an insulated pocket that runs the length of the zipper and sits behind it, preventing cold air from entering behind the uninsulated zipper.
BAFFLES
Baffles are sewn pockets that hold down in place and arrange it to maximize insulation value and minimize interference with movement. Manufacturers go to great lengths to come up with better ways of organizing and structuring baffles.