Updated on December 21, 2021
A shelter is arguably the most important piece of gear you will take with you on your outdoor adventure. When you're an avid winter athlete, the best four season tents will be necessary for all of your alpine adventures.
When looking for a tent, there are so many things to consider. How big do you want your home away from home to be? What kind of features are important to you? Do you want to have two doors or one? How about vestibule size and storage space?
These questions are important and completely normal to be asking yourself. When you're cozy and warm inside your four season shelter, you'll be thankful you checked the boxes that are most important to you.
The Adventure Junkies delve into what some of the key features you should be looking for in a four season tent are, and break down some of your best options. Whatever shelter you're going to take with you to your next peak, you can it find here.
For a complete analysis of all backpacking tents, check out the buyer's guide Best Backpacking Tents.
Quick Answer

-

The Best Four Season Tents
Hyperlite Mountain Gear UltaMid 2

The North Face Mountain 25

Black Diamond Firstlight 3P
Comparison Table

-

Best Four Season Tents

For the best experience turn your device horizontally
* Weight, floor area and price are shown for the 2-person models (except for TNF VE 25 tent).
Reviews

-

The Best Backpacking Four Season Tent
The North Face VE 25
Specs
Capacity

:

3P

Doors

:

2

Floor Area

:

48.0 sq ft

Footprint Included

:

Yes

Weight

:

9 lbs 08 oz

Season

:

4-Season

Packed Size

:

24 x 9 Inches

Peak Height

:

N/A

Packed Weight

:

10 lbs. 5 oz.

Number of Poles

:

4

Vestibule Area

:

11 Square Feet in Front, 5 Square Feet in Back
Features
Glow in the Dark, Color Coded Zippers
Dual Entry Vestibule Makes Getting In And Out A Breeze
Port Window So You Can Check Out The Conditions From Inside The Tent
Several Vents Prevent Condensation From Building Up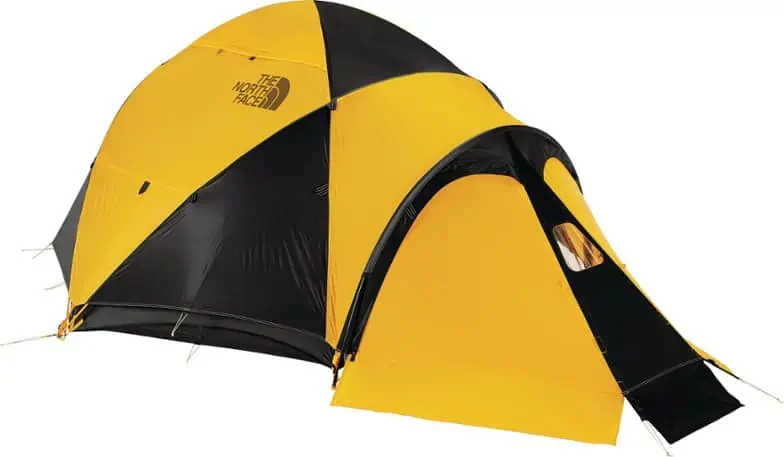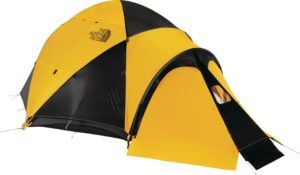 BEST 4-SEASON BACKPACKING TENT
If you consider other tents on this list as shelters, The North Face VE 25 is a bunker. It's a part of The North Face Summit Series which is designed for extreme conditions and is tested by their athletes. While it would be considered overkill for most popular hiking destinations, it's an excellent choice for extreme conditions.
We loved how well the VE 25 holds up in serious weather. We're talking loads of snow, ice, wind, and rain. It's the kind of tent that will save your butt in harsh winter conditions and that's why it's our choice for the best 4-season option. It's extremely liveable which is a big plus for those tent bound days. The inner tent has good tension so it doesn't flap in the wind. It also has great ventilation, the roof can zip open which provides some airflow.
The biggest downside is it is really big and really heavy, but that comes with this type of expedition tent. Its performance in high winds could be better. Over 50 mph, the tent starts to struggle. The back of the tent is so broad that it really takes a beating. It's difficult to set up and take down in these high wind conditions. This is a common disadvantage of high volume tents.
If you tend to camp in windy conditions, take a look at the Hilleberg Nallo 2 that is also featured on this list.
Hyperlite Mountain Gear UltaMid 2
Specs
Capacity

:

2P / 4P

Doors

:

1

Floor Area

:

63.0 sq ft

Weight

:

1 lbs 07 oz

Season

:

4-Season
Features
Outstanding Durability
Exceptional Quality
Super Lightweight
Incredibly Roomy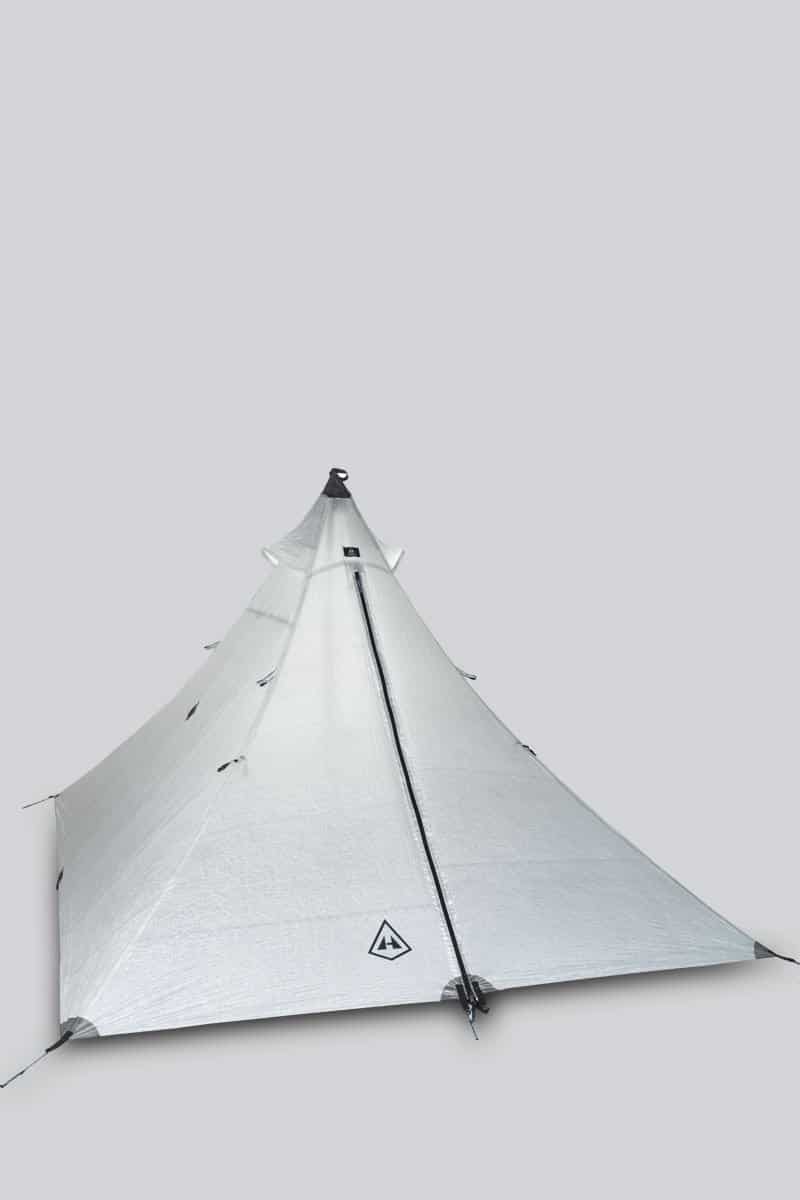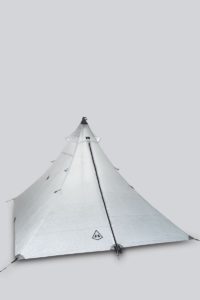 The Hyperlite Mountain Gear Ultamid 2 is a super light backpacking tent that weighs just over a pound. Unlike many other ultralight options, it doesn't sacrifice interior space to cut weight. It's a great option for any long distance adventure where your tent becomes your home for weeks, months, or maybe even years.
What we love the most about this tent is its spaciousness. It feels like the palace of light backpacking tents. It has a tepee, pyramid shape and is set up by placing two attached trekking poles in the middle of the tent. This makes it super roomy and gives you a ton of headroom, a thru-hiker or bikepackers dream. If you're camping with friends, be aware that your tent will most likely become the hangout space. The construction and design of the Ultamid 2 is top notch and well thought out. It's made of DCF (Dyneema composite fabric) which is super strong and has no stretch to it so it won't sag like nylon when it gets wet.
All this spaciousness comes at a cost and not just when it comes to cash. The footprint of this thing is huge so you need a campsite that is large enough to be able to pitch it. If you plan to camp in the desert or in open plains it shouldn't be an issue but it can make it impossible to use in dense woods or forests. Another bummer is the pole support in the middle means no morning cuddles with your partner.
Want an even bigger tent? Hyperlite also makes a 4-person version of the Ultamid.
The North Face Mountain 25
Specs
Capacity

:

2P

Doors

:

2

Floor Area

:

32.3 sq ft

Footprint Included

:

Yes

Weight

:

9 lbs 13 oz

Packed Size

:

24 x 7 Inches

Peak Height

:

N/A

Packed Weight

:

9 lbs. 13 oz.

Number of Poles

:

4

Vestibule Area

:

8 Square Feet in front, 3 Square Feet in Back
Features
Glow in the Dark, Color-Coded Zippers
Rainfly Has Welded Reinforcements and a Port Window
Multiple Vents Prevent Condensation From Building Up Inside The Tent
Dual Entry Front Vestibule For Easy In/Out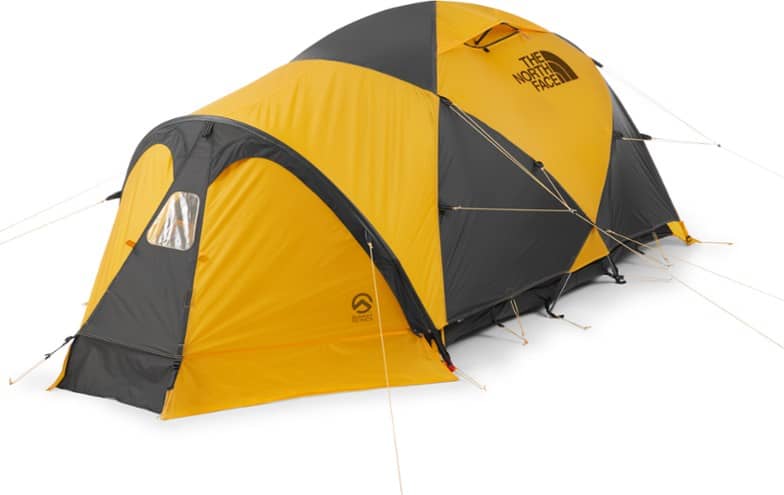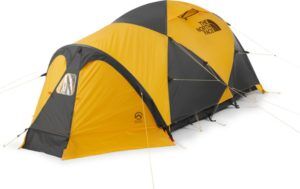 The North Face Mountain 25 is a sturdy four season shelter option with features that ensure a dry and warm night throughout Mother Nature's worst storm.
This tent is designed for the ease of the mountaineer using it. It comes with color coded and reflective zippers, to help you with the setup and so you can find it in the dark. The front of the tent has a large, 8 square foot vestibule, roomy enough for all your gear. The vestibule also has dual entry, making it easy to get in and out of.
This shelter comes with a small window, so you can peek outside at the freshly fallen snow as you wake up. The window has been cold-crack tested, and is foolproof to -60° F. This tent includes the footprint.
This tent can be a little difficult to setup the first couple of times, so make sure you give it a trial run or two before you hit the high alpine.
Hilleberg Nallo 2
Specs
Capacity

:

2P / 3P / 4P

Doors

:

1

Floor Area

:

28.0 sq ft

Weight

:

5 lbs 05 oz

Season

:

4-Season
Features
Very lightweight
Tunnel construction
Separable inner and outer tent for simultaneous pitching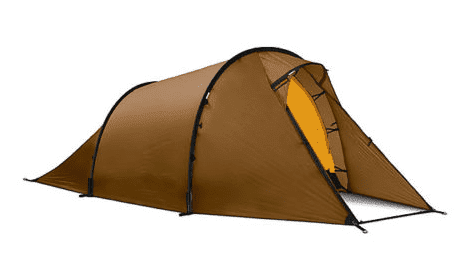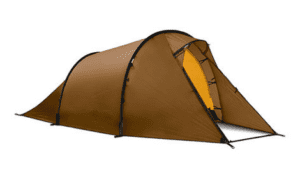 The Hilleberg Nallo 2 is a tunnel tent that was designed for high winds and tough conditions.
What we love about this tent is how well it balances strength and weight. It's tough enough to handle storms and powerful winds. The pole sleeves can fit an extra set of poles, which makes the tent much stronger. Also, the fly goes all the way to the ground, which prevents splashback and draft.
The biggest downside of the Nallo is it underperforms when it comes to heavy snow loading. If you get caught in a snowstorm, either you'd need to get out (or convince your hiking partner to get out) and knock snow off the roof and vestibule to prevent the poles from bending.
If you're looking for a tent that can handle extreme winter conditions, have a look at The North Face VE25, which is also featured on this list.
Nemo Kunai
Specs
Capacity

:

2P / 3P

Doors

:

1

Floor Area

:

26.0 sq ft

Footprint Included

:

No

Weight

:

4 lbs 13 oz

Season

:

4-Season

Number of Poles

:

2
Features
Double-Walled Construction Prevents Condensation From Forming, Keeping You Warmer At Night
Stuff Sack Included For Convenient Storage
Quick And Easy Set-up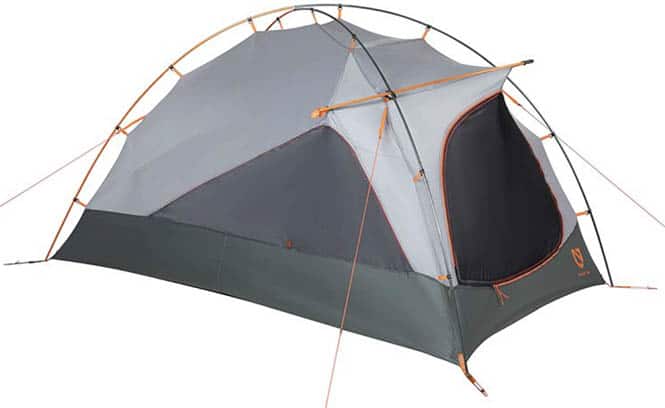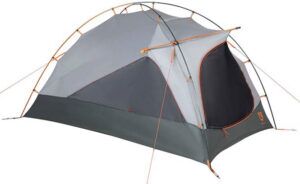 The Nemo Kunai is a 4-season tent that was designed for short and light mountaineering trips.
What we love about the Kunai is it's only 4 pounds, which is light for a 4-season winter tent. It has a double wall construction, so the inner isn't mesh, it's fully lined. So basically it's like having two tents. This design is great for insulation and strength. The Kunai can handle extreme weather from strong winds to snowstorms.
The double wall is great for staying warm and dry but we were concerned about the airflow and condensation. The large vents on the inner tent worked great at keeping the tent ventilated in cool weather. It would be way too warm for summer camping, but that's not what it's built for.
The Nemo Kunai also comes in a 3-person model.
Marmot Thor 2P
Specs
Capacity

:

2P / 3P

Doors

:

2

Floor Area

:

38.0 sq ft

Footprint Included

:

No

Height

:

44 Inches

Weight

:

9 lbs 23 oz

Packed Size

:

8 x 20 Inches

Peak Height

:

44 Inches

Packed Weight

:

10 lbs. 7 oz.

Number of Poles

:

6

Vestibule Area

:

10 Square Feet
Features
Seamed Taped Rainfly and Floor
Vents For Maximum Airflow To Prevent Condensation Inside The Tent
Near Vertical Walls Provide Extra Space
Design Allows for Various Pitch Setups Depending On Your Needs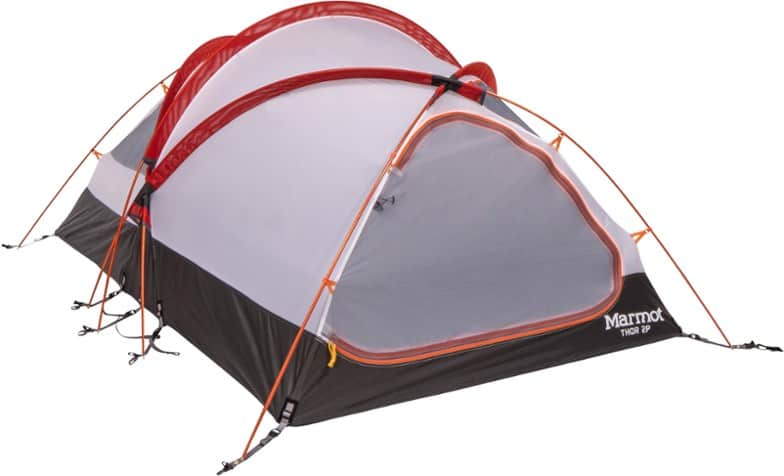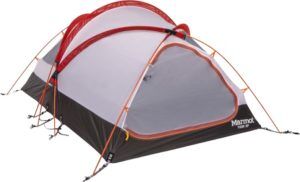 The Marmot Thor 2P is a 4-season shelter that is spacious and durable.
Meant for trekking at alpine levels, this tent will keep you dry in a storm. The rainfly of this tent is seam sealed and provides two large vestibules on either side of the tent, enough coverage for you and your partner. The rainfly also has two vents, to help prevent condensation inside your vestibule when it's dumping outside.
The pole design of Marmot's Thor creates vertical walls inside the tent, creating a spacious interior for you and your partner. This tent also has several storage pockets inside of the tent for all your belongings.
This tent offers different pitching setups. For a more minimalist hiker, you can set the tent up using the rainfly, poles, and footprint. Although when using the tent in the winter, you will likely want the warmth the tent can provide with a full body set up.
Whatever your outdoor gig is, this tent is a versatile, reliable, year-round option.
The Marmot Thor also comes in a 3-person version.
Black Diamond Firstlight 3P
Specs
Capacity

:

2P / 3P

Doors

:

1

Floor Area

:

33.0 sq ft

Footprint Included

:

No

Weight

:

4 lbs 01 oz

Packed Size

:

7 x 9 Inches

Peak Height

:

44 Inches

Packed Weight

:

4 lbs. 1 oz.

Number of Poles

:

2

Vestibule Area

:

N/A
Features
Ultralight
Zippered Mesh Panels Provide Ventilation
Internal Mesh Pockets
Featherlite Poles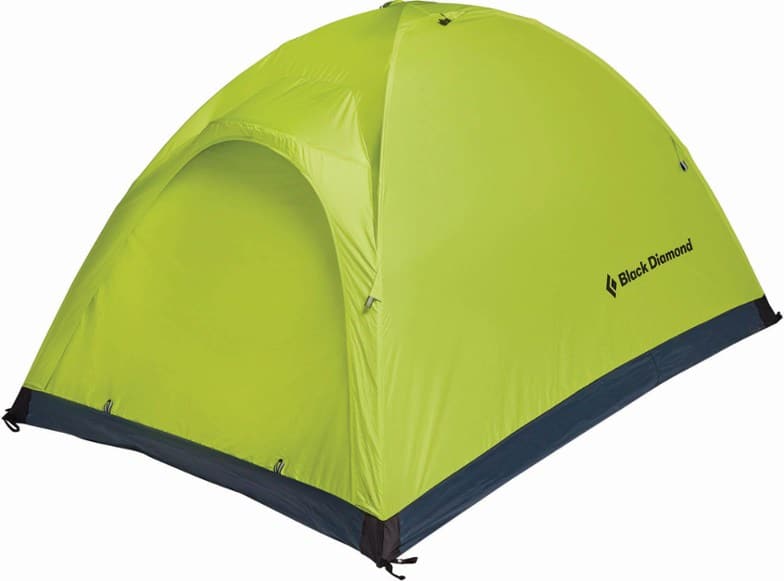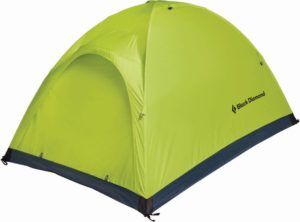 The Black Diamond FirstLight is a great option for the ultralight hiker who frequents alpine heights often.
This tent weighs about four pounds and is a quality shelter for rain, snow, hail, or any other stormy weather conditions Mother Nature is sending your way. It will keep you warm and dry and it will be light on your back.
That being said, there are some features you will miss on this tent that other tents in this article have. This tent doesn't come with a large vestibule for gear storage, so whatever gear you have with you will either have to be waterproof, or will have to be inside your tent with you.
Due to the lack of vestibule space, the 3-person version of this tent is a better option for a hiker duo and all their gear, whereas three people and all of their gear would be a very tight squeeze. This shelter does have two internal mesh pockets, which will help with gear storage.
THINGS TO CONSIDER WHEN BUYING A FOUR SEASON TENT
FABRIC
Several of the tents in this article are pieced together with nylon (or ripstop nylon – a tougher version of nylon that prevents shredding), polyester, or another kind of fabric that is specific to the brand.
Different fabrics offer different weights and toughness. Nylon may be lighter than polyester, but it will rip more easily, unless it's ripstop nylon, which is an expensive fabric. Finding the right balance between price, weight, and durability is a bit of a chore, but you'll thank yourself later when it's storming outside and you have a durable and solid shelter.
In addition, many of the fabrics are treated with some type of waterproofing technique, such as a silicone treatment. This is a huge benefit because it adds to your tent's ability to withstand rain, which is often unexpected in the backcountry.
FEATURES
Four season tents can get quite fancy with their designs. And who doesn't like all the cool features a shelter can offer?
A large vestibule is a great feature for a four season tent, where you'll likely be carrying more gear than you usually would. A spacious floor area is a great benefit, because you can stretch out without feeling cramped.
But with every feature you add, you are also adding weight to your back, meaning the tent will be heavier to carry up the mountain you're climbing.
Decide which features are most important to you and go from there. Is it important to you for your tent to have a window? Or do you prefer a tent with two doors, because your partner will be with you, and you don't want to have to crawl over them to get outside?
Answering these questions is your first step to deciding which four season tent is best for you. Check out this guide by REI to learn more about what features four season tents have.
LONGEVITY
A four season tent is an investment, so it's important that this tent will last you many years. There are steps that you can take to make sure your tent will last you a long time.
Making sure your tent is clean of debris when you're packing it up is a great first step, and folding and rolling the tent into your pack is always a better option than stuffing it in your backpack.
Buying a footprint for your tent will also help prolong the life of your tent. Many of the tents featured in this article either include a footprint or one is available but sold separately.
Because you will likely be camping in the wintertime with a four season tent, check out this article by REI about winter camping basics.
SPACE
Companies normally measure the space of a tent in two ways: the square footage of the floor area, and the space offered by a vestibule (if your tent has one).
How many people you plan to fit into your tent will depend how you use this space.
If your tent has a vestibule, that's a great spot for gear storage. If not, you have to consider that your gear will either need to be completely waterproof, or it will be inside your tent with you.
Everyone likes to have a palace for a tent, but extra space can add the most weight to a tent. Figure out what gear and who will be in the tent with you, and go from there.
WEIGHT
Possibly the most important feature of picking a four season tent is the weight.
Four season tents are heavier than three season tents for obvious reasons. They are made of waterproof material, often have more poles to withstand strong winds and storms. They also tend to include other features that make your tent bombproof in a storm.
With these features comes a heavier weight, but some of the time it's worth it. Decide which features you can't live without, then target a tent that has those, and nothing more.
VENTILATION
Several of the tents featured in this article come with vents and awnings that will bring air into your tent and help you not feel stuffy inside. It's essential that your tent has some mode of ventilation when camping in the cold because otherwise all of your hot breath will build up condensation inside the tent and actually make you colder rather than warmer.
Some tents also come with mesh panels that you can open up to let the air in. Both are great options for a ventilation system.
PRICE
A four season tent is definitely an investment. You will likely be spending over $400 for your tent, which isn't cheap.
Make sure when you make your purchase that the tent is exactly what you're looking for, and make certain you're willing to take care of the tent for years to come. A shelter is arguably the most important piece of gear you can carry with you, so you're likely going to be spending a pretty penny.
FEATURES EXPLAINED ABOUT THE BEST FOUR SEASON TENTS
Vestibule
A vestibule is an exterior chamber of your tent that you can use for gear storage. It usually doesn't have a floor, but it is typically waterproof. Therefore, it's a safe place to stash your gear while you're hunkering down during a storm.
Vestibules come in several shapes and sizes, some are larger than others, but they are a great thing to have, so you don't have to store your gear inside your tent with you.
Footprint
A footprint is a ground layer for your tent. Footprints are often sold separately, but they sometimes come with the tent. The footprint that comes with your tent is usually your best option. This is because their shape is the same as your tent and can align with the grommet. You can also use any groundsheet as a footprint
A footprint will help elongate the life of your tent.
Seam taped
When a tent is seam taped it means that all of the seams of your tent have been reinforced with a waterproof material to ensure waterproofing.
Vents/awnings
Vents are used to help let the air in your tent to negate a stuffy environment while you're inside your tent. Just as you open the windows in your home sometimes, a vent can offer the same benefit for your home away from home.
Awnings help rain stay directly off the top of your tent, and can curb the rain in a direction that will help prevent water atop your tent.
Both are beneficial for comfortability and waterproofing.
Port window
A port window is a small, usually rubber window built into the vestibule or outer layer of your tent. It's your window to look outside in the morning and see what kind of conditions you're in for that day.
This isn't a necessary feature, but it's pretty cool.
Welded reinforcements
These are areas where there is double the fabric, to ensure that when tension is applied to this area of the tent, it won't rip or shred. Welded reinforcements on the tents featured in this article are in the corners of the tent.