Updated on November 10, 2020
When your little adventurer is ready to set out on their first big hike, they'll need a sturdy backpack to keep up with their boundless energy. Enter: our round-up of the best hiking backpacks for kids, each of which will carry all the snacks and water to keep them smiling from the moment you leave the trailhead.
Hiking as a family is a fantastic activity and a great way to introduce any kid to the great outdoors. From scout trips to family backpacking, with the right backpack, your young hiker will love hitting the trail just as much as you do.
For more of our top hiking gear recommendations, check out the Best Hiking Backpacks. 
Quick Answer

-

The Best Hiking Backpacks for Kids
Gregory Mountain Products Icarus

The North Face Recon Squash
Comparison Table

-

The Best Kids' Hiking Backpacks
Reviews

-

Best Hiking Backpacks for Kids
REI Co-op Tarn 18
Specs
Best For

:

Day Hikes

Weight

:

17 oz

Volume

:

18 L
Features
Padded Hip Belt Pockets
Hydration Reservoir Compatibility
Ventilated Back Panel
Side Compression Straps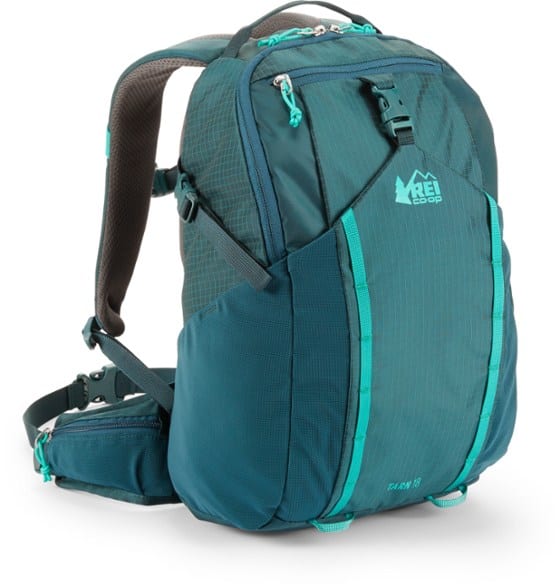 BEST FOR: 8-TO-12-YEAR-OLD HIKERS
With plenty of pockets and comfortable padding, older kids will love bringing their gear along on a day hike in the REI Tarn 18. Hydration won't be an issue with easy-access water bottle pockets and a dedicated slot for a reservoir. Budding hikers will be able to use the side compression straps to stabilize their load and stay balanced on the trail.
This pack is optimized for ultimate kid comfort, with a padded hip belt that offers even more pockets for snacks. Padded shoulder straps and a padded back panel further keep their back and shoulders feeling good even after putting in long miles, and the ventilation through the airflow channel on the back panel will cool kids down on hot days. Reflective accents on the zippers and lash loops will improve low-light visibility and ensure safety and security from before sunrise to after sunset.
Deuter Schmusebar
Specs
Best For

:

Day Hikes

Weight

:

10 oz

Volume

:

8 L
Features
Sternum Strap
Included Teddy Bear
Internal Name Tag (for easy identification)
Reflective Accents (to see your kid when they wear the pack in low light)
BEST FOR: THE FIRST-TIME HIKER
When your aspiring hiker is finally ready to hike on their own two feet, the fun pattern and included teddy bear on this pack will get them even more excited for their adventure. The shoulder straps and back panel are breathable mesh to prevent overheating from ruining the fun.
Organization is key to avoid losing your kid's favorite toys and souvenirs in the woods, and this pack delivers with a large main compartment plus external mesh side pockets and a zippered front pocket. Spot your tot easily as the light fades with the Schmusebar's reflective accents, and avoid any mix-ups on the playground with a customizable name tag.
Gregory Wander 70
Specs
Best For

:

Backpacking

Weight

:

3 lbs 8.7 oz

Volume

:

70 L
Features
Raincover Included
Sternum Strap with Whistle
Adjustable Torso
Hip Belt Pockets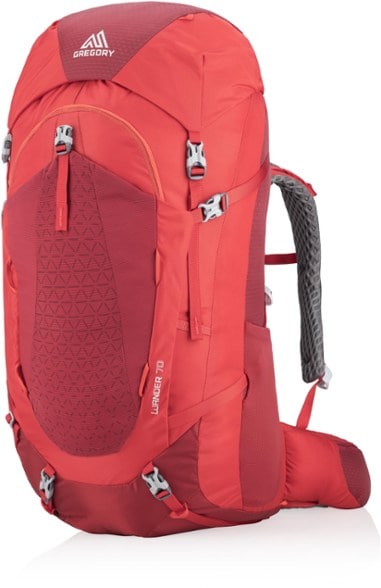 BEST FOR: GROWING TEEN BACKPACKERS
As the years pass, the Gregory Wander's adjustable torso will grow with your adventurous hiker, providing all the features of a full-size pack they'll love without the bulk they don't need. For rugged terrain, the suspended back panel optimizes airflow to cool them down when they're working up a sweat, while the hydration sleeve provides an option for quick water access.
Comfort-wise, an adjustable hip belt ensures a secure and comfortable load, while the included fitted rain cover will keep their gear dry – no soaked sleeping bag to worry about. Organization is also thoughtful on this pack, from the full U-shaped zipper for convenient main compartment access to the front webbing attachment loops for attaching odds and ends. With plenty of pockets, an adjustable bungee attachment for trekking poles, and lower side pass-through straps for compression, this pack provides the space and stability for optimal balance and organization in the backcountry.
Osprey Ace 38
Specs
Best For

:

Backpacking

Weight

:

2 lbs 6.4 oz

Volume

:

38 L
Features
External Sleeping Bag Straps
Compression Straps
Included Raincover
Adjustable Torso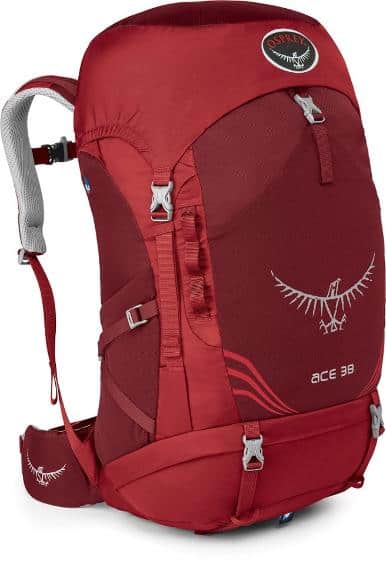 BEST FOR: PRE-TEENS' FIRST OVERNIGHT HIKING TRIP
A technical pack that will keep up with your sprouting hiker, the Osprey Ace 38 offers maximum torso adjustment up to 5", so it'll last from their first backpacking trip until they're a seasoned pro. Storage is a cinch with a separate sleeping bag compartment at the bottom of the pack, along with daisy chains for attaching various items to the outside. The integrated rain cover will keep gear dry, then stow away in its dedicated external pocket.
Finally, this pack offers all-day comfort for any trail adventure, featuring a mesh back panel, shoulder harness, and hip belt. Pop a hydration reservoir in the dedicated internal sleeve, and any young hiker will be prepared to tackle their first backpacking trip.
REI Co-op Workload Mini
Specs
Best For

:

Day Hikes

Weight

:

15 oz

Volume

:

21.5 L
Features
Sleeve for Laptop or Hydration Reservoir
Daisy Chain Loops (for external attachments)
External Water Bottle Pocket
Bike Light Attachment Point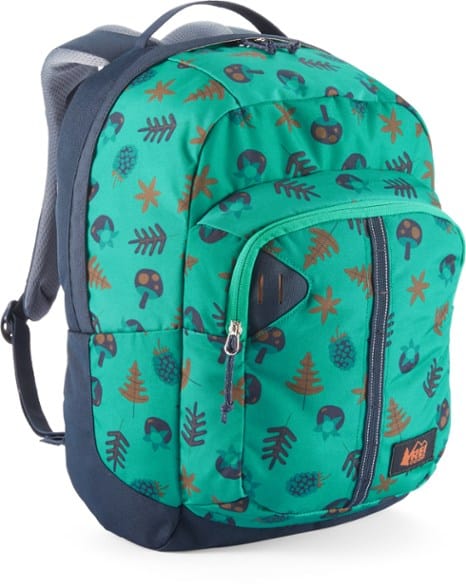 BEST FOR: SCHOOL TO TRAIL TRANSITIONS
Whether they're playing outside on the playground or on a day hike, the REI Workload Mini Pack can handle anything your child throws at it. A roomy main compartment can hold folders during the school day and snacks on the trail, while the foam-padded back panel, adjustable padded shoulder straps, and a sternum strap will keep them feeling comfortable and secure no matter where their feet take them.
Cool pattern design options make this pack both fun and functional, so young hiking fanatics can stand out in the classroom and in the wild. With a durable top handle, grab this pack and head out the door for a reliable day hike companion.
Deuter Fox 40
Specs
Best For

:

Backpacking

Weight

:

2 lbs 15 oz

Volume

:

40 L
Features
Reinforced Base (for extra durability)
Separate Sleeping Bag Compartment
Adjustable Torso
Height- and Width-Adjustable Sternum Strap with Whistle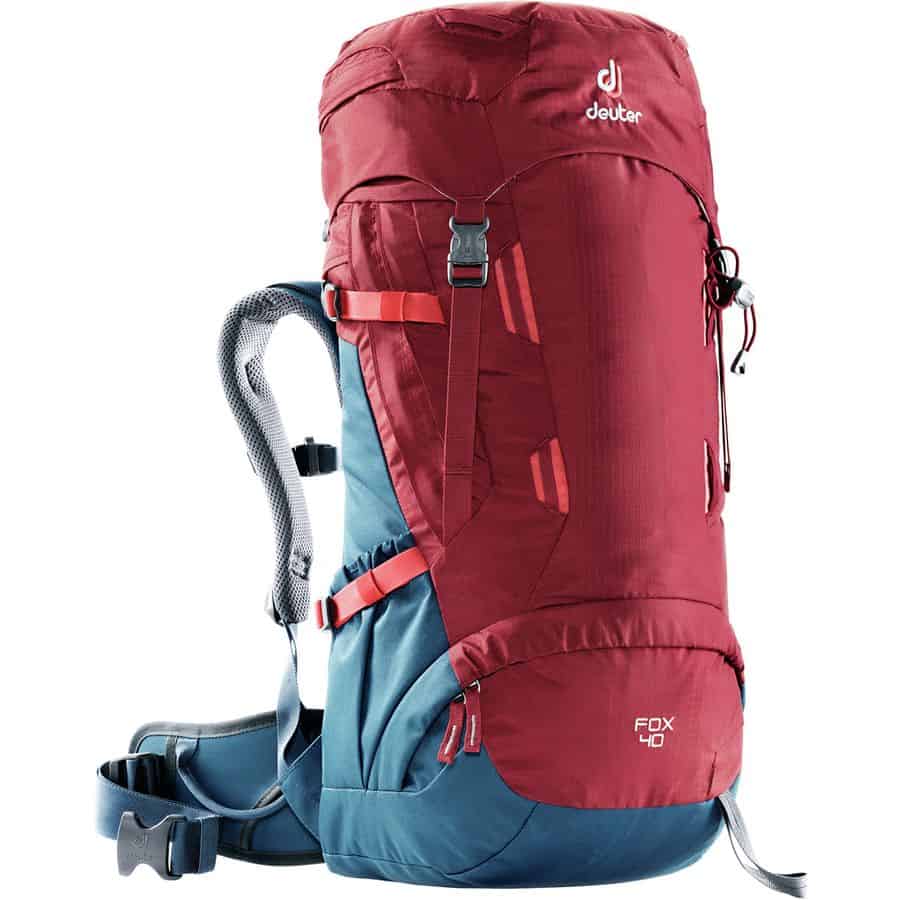 BEST FOR: MANY YEARS OF USE
This backpack was designed specifically for a comfortable fit for kids, using a slim and flexible back panel that adapts for children's bodies. On the reinforced back panel, two body-hugging padded panels sandwich a channel that creates chimney-like ventilation. The Deuter Fox 40 is intended to last your child for years of abuse thanks to the quick and easy torso adjustment from 11-18 inches.
Comfort is also a key component of the design, as the ergonomic mesh shoulder harness is soft and breathable, while a flexible hip belt fits snugly. Load adjustment straps on the hip belt help with even load transfer to the hips, while the same straps on the shoulder harness increase stability. Side compression straps also assist with load carry, and cinch the top opening closed with the drawstring closure to secure items inside.
Osprey Jet 18
Specs
Best For

:

Day Hikes

Weight

:

1.21 lbs

Volume

:

18 L
Features
External Hydration Reservoir Sleeve
Lower External Loop Attachments
Mesh Shoulder Phone Pocket
Side Compression Straps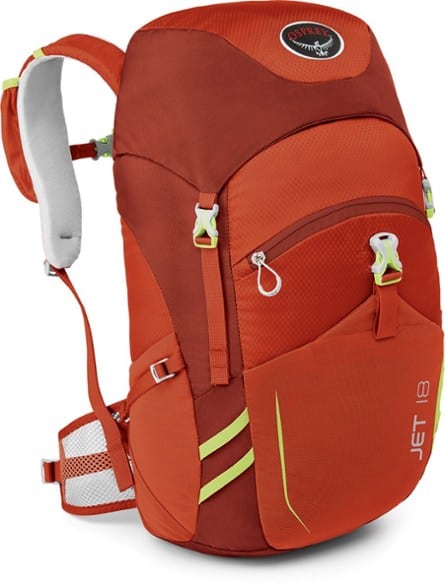 BEST FOR: LIGHT DAY HIKES
With the features and durability of an adult pack, the Osprey Jet 18 has everything a young hiker could want in their perfect size. The fixed top lid has a zippered pocket underneath to secure valuables, while mesh side pockets keep water bottles at the ready. While lacking a padded hip belt, this pack's hip, sternum, and shoulder straps will still aid in balancing a lighter load. Stow your child's phone in the harness pocket in case of emergencies, and stuff a reservoir in the external sleeve for easy hydration without the possibility of spilling water in the main compartment.
Gregory Mountain Products Icarus
Specs
Best For

:

Backpacking

Weight

:

2.2 lbs

Volume

:

40 L
Features
Adjustable Torso
Sternum Strap with Whistle
Trekking Pole Attachment
Included Raincover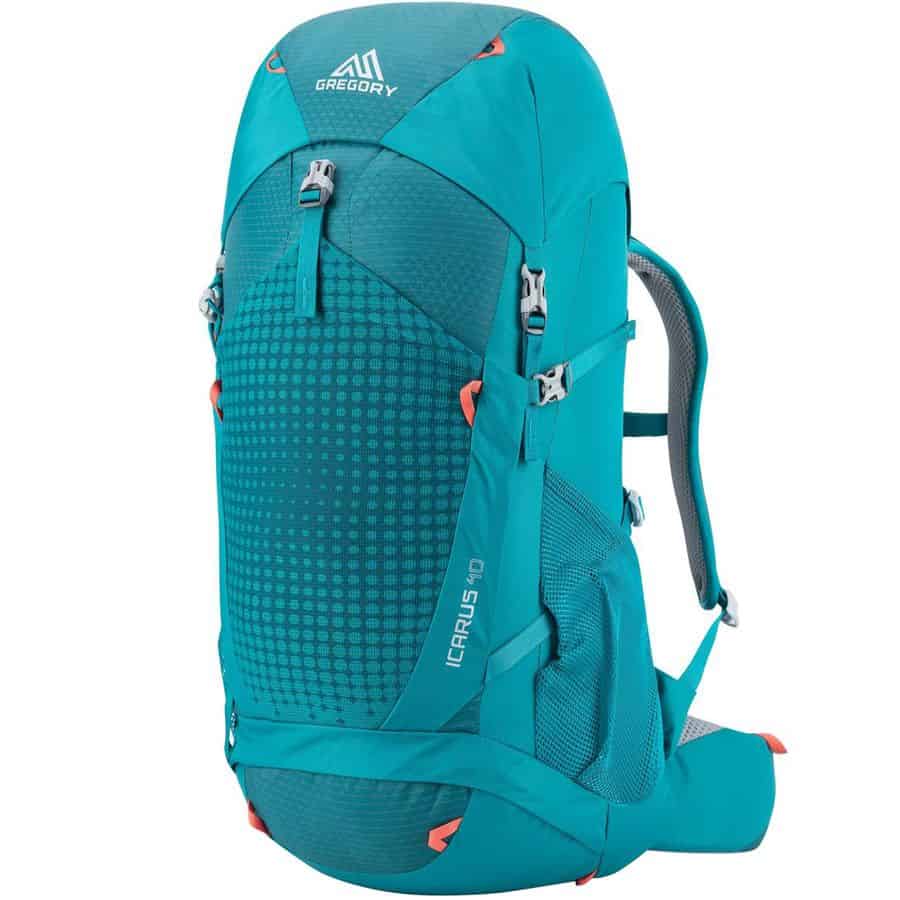 BEST FOR: THE ORGANIZED YOUNG HIKER
From mountain peaks to the depths of canyons, the Gregory Icarus will have your kid's back. An adjustable torso up to 4" means you don't have to worry about them growing out of this pack too quickly, while the breathable back panel will keep them cool on a long hike.
The Icarus is well-thought out in terms of organization, from the dedicated zippered pocket for the integrated raincover to the separate sleeping bag compartment. Two mesh side pockets have pass-through straps for over or under compression to keep your water bottles or gear strapped tight, while the reservoir sleeve adds more hydration capabilities. Combine all this with a large front stretch mesh pocket with more attachment points and a trekking pole loop with a bungee closure system, and your young adventurer will be able to find a secure place for everything they need.
Deuter Junior
Specs
Best For

:

Day Hikes

Weight

:

13.6 oz

Volume

:

18 L
Features
Height- and Width-Adjustable Sternum Strap
Organizer Pocket (to keep track of small items)
External Stash Pockets (for accessible storage)
Name Tag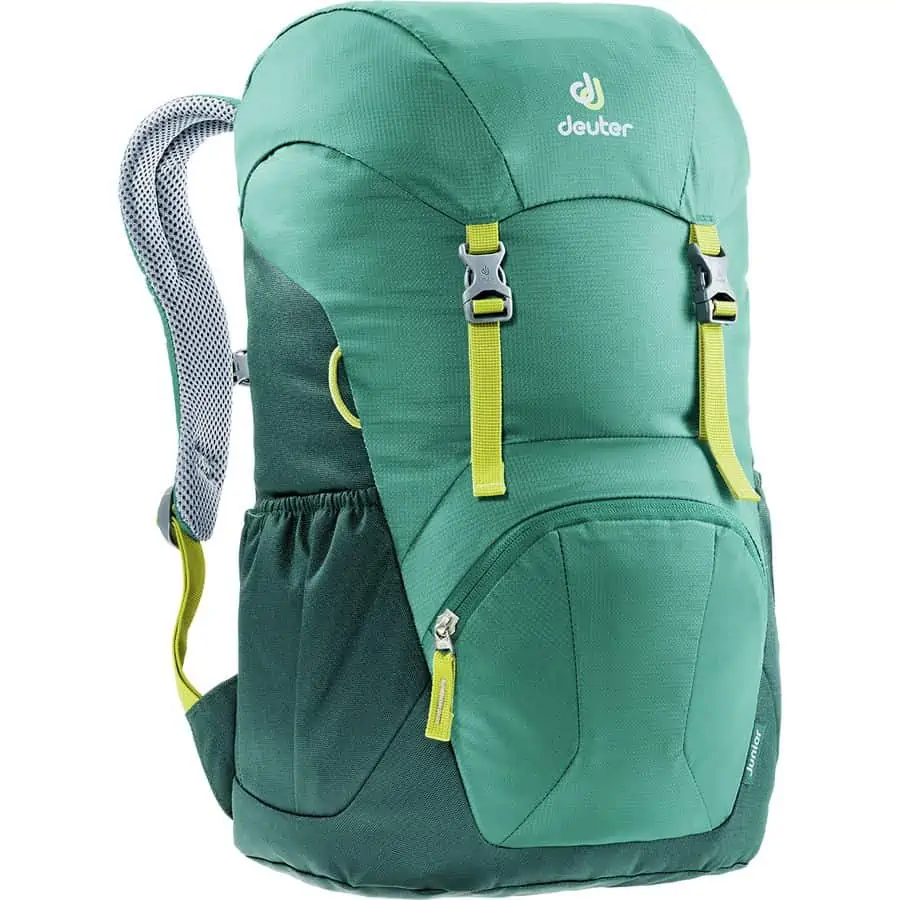 BEST FOR: VERSATILE ACTIVITIES
From riding their bike around town to tagging along on a family hike, Deuter's Junior Pack is ideal for the many adventures of kids age 5 and up. The back system is ventilated, with two countoured foam stripes that reduce contact surface with the back to maximize air circulation and breathability. The pack's load is kept close to the body, staying secure to keep your young one balanced no matter the activity.
Kids are apt to lose things, but the external pockets on the Junior Pack are meant to minimize those losses. Stretchy external side pockets will keep water bottles snug in place, while small stash pockets on the front are zippered for easy and safe access to trinkets and snacks. Keep track of which bag is which by writing names inside on the name tag, and cinch down the easy-to-use lid straps to secure the pack load. Your hiker is good to go!
The North Face Recon Squash
Specs
Best For

:

Day Hikes

Weight

:

14.5 oz

Volume

:

17 L
Features
Name Tag
Reflective Bike Light Loop
Kid-Specific Sternum Strap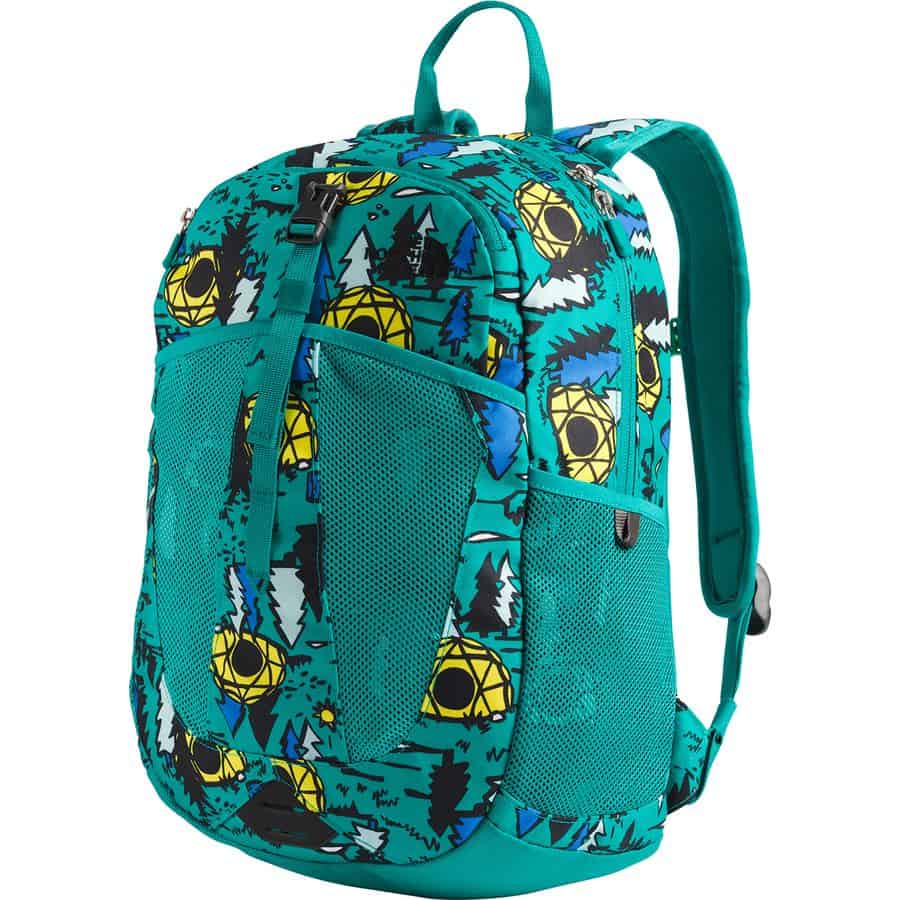 BEST FOR: 6-TO-10-YEAR-OLD HIKERS
The North Face's Recon Squash Pack was designed with kids' use in mind, from youth-specific shoulder straps to the easy-to-use sternum strap. They can stuff everything from their lunch box to extra layers in the main compartment, while the zippered external pocket is perfect for organizing small treasures they don't want to lose. A foam back panel offers comfort, while reflective elements make sure you can spot a little hiker bounding ahead on the trail, even in low light.
Stretchy mesh pockets inside the pack will help kids stay organized, along with the external mesh pockets that are great for water bottles, snacks, and souvenirs. From school to the trailhead and back again, this quality, durable pack will last young hikers for a few years.
THINGS TO CONSIDER WHEN BUYING HIKING BACKPACKS FOR KIDS
There are a lot of things to keep in mind when you first start thinking about hiking with your little ones, or taking your teens out on multi-day backpacking trips. But once your aspiring hiker has the best kids' hiking backpack for their needs, they'll be as excited about getting out into nature as you are to show it to them. Pick a pack from the list above while keeping in mind the following considerations and keep your kids engaged, well-fed, and warm on the trail, and they'll be set to love hiking for years to come.
VOLUME
Is your kid ready for backpacking, or are they just starting out on day hikes? Your child's age and capabilities will determine the length and difficulty of your hiking trip, which in turn will determine how much water and other supplies you'll need to bring. Opt for a small day pack for kiddos carrying their own gear for the first time, while older kids and teens can level up to a backpacking pack with greater volume and carrying capacity.
PRICE
For a young hiker that's just starting out, look for a lower-cost but durable pack that will last until they grow out of it. Older hikers who have hiked for years and are interested in trying out backpacking are better equipped to handle the investment of a pricier bag, especially if they plan on going on overnight trips throughout their teens.
ADJUSTABILITY
All parents know that kids grow like crazy. To avoid replacing your child's hiking pack every few months during their growth spurts, look for packs that offer adjustable torsos and straps, so that it can grow as your child does.
FEATURES EXPLAINED
DAISY CHAINS
Loops sewn onto the outside of a pack that are used to attach miscellaneous objects that won't fit internally or require easy access.
STERNUM STRAP
The strap at chest height, often adjustable by width and occasionally featuring an integrated whistle. Sternum straps are sometimes height-adjustable for a more comfortable fit based on torso length. Look for a sternum strap that comes with a whistle, which can help if a kid gets lost on the trail.
SLEEPING BAG COMPARTMENT
Some kids' hiking packs designed for longer trips come with a dedicated sleeping bag compartment, usually located on the bottom of the pack with its own zippered access. Kids can stuff their sleeping bag here to stay organized and easily find it when it's time to make camp.
COMPRESSION STRAPS
These straps are typically found on the sides and sometimes the front of the pack. If the pack has a top lid, compression straps will tighten it down to secure the load inside. Compression straps cinch down a hiking backpack's volume, streamlining the load to keep it secure and balanced as your kid hikes.
READ MORE
For more of our top hiking & backpacking gear recommendations, check out these popular articles: