Updated on March 2, 2022
Why ride a hardtail? There are good reasons to stick to the simplicity of the traditional front-suspension-only mountain bike. For a new rider, starting on a hardtail gives a better feel for the trail and encourages the development of positioning, handling, and maneuvering skills. Hardtails are also usually less expensive than full-suspension bikes. Whatever your reason for choosing a hardtail, this review of the best hardtail mountain bikes should have a bike to fit your needs.
There are a huge number of hardtail mountain bikes on the market. They come at many price points and in designs aimed at different types of riding styles and conditions. Before you invest in a bike you'll want to assess your riding needs and decide what features will matter to you. The bikes on this list cover a wide spectrum of uses and prices. Choose one that fits your budget and your riding style and you'll be ready for the trail!
For more of our top mountain biking gear recommendations, check out Best Mountain Bikes for Men and Best Mountain Bikes for Women.
Quick Answer

-

The Best Hardtail Mountain Bikes
Comparison Table

-

Best Hardtail Mountain Bikes

For the best experience turn your device horizontally
Reviews

-

The Best Hardtail Mountain Bikes
Mongoose Malus
Specs
Frame Material

:

Steel

Wheel Size

:

26" (Fat)

Seatpost

:

Fixed

Drivetrain

:

1x7

Purpose

:

Trail

Fork Travel

:

Rigid

Head Tube Angle

:

Not Specified
Features
Mechanical Disc Brakes For Stopping Power
Strong All-Steel Frame
Upgradeable Shimano Drivetrain Parts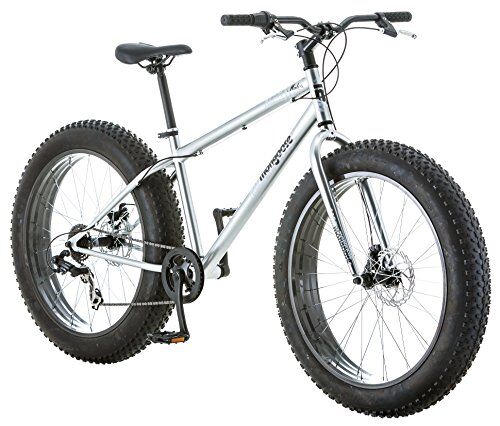 BEST ENTRY LEVEL FAT BIKE
Fat bikes rely on supersized tires to soak up bumps, and because they have no mechanical suspension they are relatively cheap to make. Mongoose has been making affordable quality mountain bikes for many years, and this budget fat bike gets rave reviews and rates as one of the best ways to get out on the trail on a tight budget. Don't expect a light-weight ride featuring high-end parts, but if you like the fat-tire look and you want to break into the sport without too much initial expense, the Malus does the job.
Marin San Quentin 1
Specs
Frame Material

:

Aluminum

Wheel Size

:

27.5"

Seatpost

:

Fixed

Drivetrain

:

1x9

Purpose

:

Aggressive Trail

Fork Travel

:

120mm

Head Tube Angle

:

65°
Features
Through-Axle Fork For Rigidity And Strength In The Front End
Designed To Feel Secure On Steep Descents
Accepts Tires Up To 2.6" Wide For Superior Traction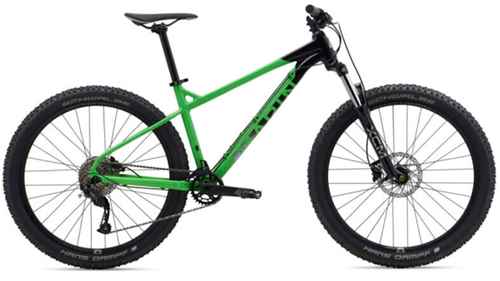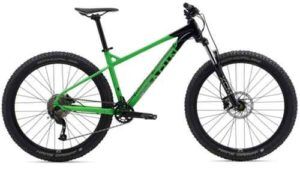 BEST ENTRY-LEVEL AGGRESSIVE TRAIL HARDTAIL
If you'd rather attack the trail than ride it and you want to mount your assault on a tight budget, this is your ride. The San Quentin is a half-breed hardtail blending dirt jump styling with a mountain bike pedigree to build a full-on technical trail slayer at a budget-friendly price point. The 65° head angle is a feature normally found on downhill bikes. It places the front wheel well ahead of the handlebars to keep the bike stable on very steep descents. If you choose to take on jumps and drops the stout fork and strong wheelset will stand up to hard landings. You don't need to spend a fortune to get a bike built for aggressive riding!
Marin Pine Mountain 1
Specs
Frame Material

:

Steel

Wheel Size

:

29"

Drivetrain

:

1x11

Purpose

:

Trail

Fork Travel

:

120mm

Head Tube Angle

:

66.5°
Features
Shimano Drivetrain And Hydraulic Disc Brakes
Lightweight, Adjustable RockShox Fork
Tubeless-Ready Wheels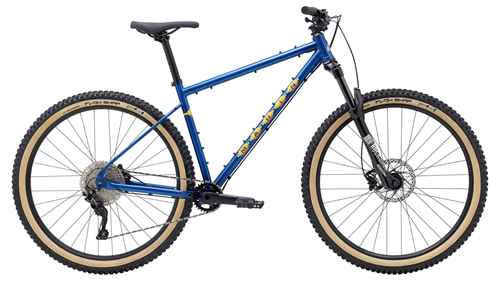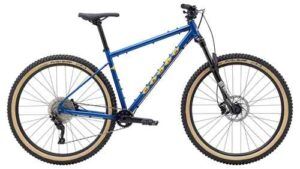 BEST BUDGET 29" HARDTAIL
The Pine Mountain 1 is a stylish steel-framed hardtail that's set up to handle anything from technical trail rides to long-range bikepacking. Shimano hydraulic disc brakes deliver all the stopping power you need and the Rock Shox Recon fork offers a range of adjustments that let you experiment with different suspension settings and dial in your ride. The wheelset is tubeless-ready, setting you up for an affordable weight-saving upgrade any time you want it. This is an affordable all-around mountain bike that will have special appeal for those who like traditional slim-tubed steel designs.
Orbea Laufey H10
Specs
Frame Material

:

Aluminum

Wheel Size

:

29" (Can accept 27.5)

Seatpost

:

Dropper

Drivetrain

:

1x12

Purpose

:

All-Around

Fork Travel

:

140mm

Head Tube Angle

:

67°
Features
12-Speed Shimano Drivetrain For Maximum Gear Range
Internal Cable And Hose Routing Keeps Cables Out Of Your Way
Dropper Seatpost Lets You Move From Climbing To Descending Without Stopping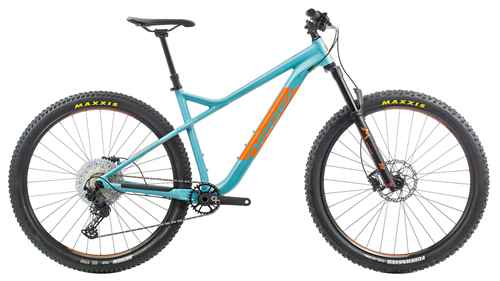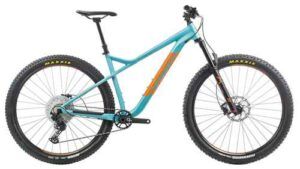 MOST VERSATILE HARDTAIL
If you're not up on Norse mythology, Laufey is the mother of Loki, the source of all the tricks. The Orbea Laufey is a versatile hardtail with more than a few tricks up its sleeve. The light, strong aluminum frame sports a middle-of-the-road design that suits anything from long-range cross-country to technical trail ripping. The bike comes with 29" wheels but is capable of accepting 27.5" wheels. You can keep thinner, less knobby tires on your 29" setup for distance riding, keep a spare 27.5" wheelset with aggressive trail tires, and have two bikes in one in the time it takes to drop spare wheels into place! If there's a lot of different terrain within your reach and you want one hardtail to ride it all, consider this mother of tricksters!
Marin San Quentin 3
Specs
Frame Material

:

Aluminum

Wheel Size

:

27.5"

Seatpost

:

Fixed

Drivetrain

:

1x11

Purpose

:

Aggressive Trail

Fork Travel

:

130mm

Head Tube Angle

:

65°
Features
Upgraded Components For Performance And Durability
Designed For Jumps, Drops, And Steep Descents
Accepts Tires Up To 2.6" Wide For Superior Traction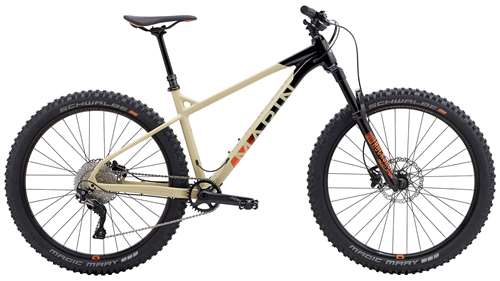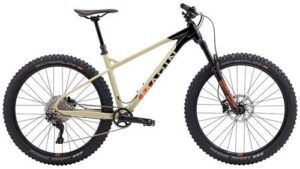 BEST AGGRESSIVE TRAIL HARDTAIL
Marin's San Quentin frame is back on the list in this upgraded build. This aggressive trail specialist features a Shimano SLX drivetrain, Shimano hydraulic disc brakes with big 180mm rotors for extra stopping power, and a 130mm RockShox Revelation fork. Like the San Quentin 1, it sports a frame designed for jumps, drops, and steep, twisting trails. The hardcore hardtail has enduring popularity, and this build can compete with many custom-built aggressive hardtails that cost much more. If you want to take it to the limit and take it on a hardtail, here's a way to do it at a price that remains remarkably accessible for a bike with this level of components.
THINGS TO CONSIDER WHEN BUYING A HARDTAIL MOUNTAIN BIKE
As with any mountain bikes, different hardtails are built for different types of riding. Taller riders and riders who want to maximize sustained speed on relatively smooth terrain will prefer 29" wheels. Those who will be maneuvering around obstacles will want 27.5" wheels, while "fat bikes" that derive cushioning from huge tires are gaining popularity. Riders of all types want builds they can afford. Choose your bike according to the specifications and your budget!
COST
You can spend a lot of money on a mountain bike, but that doesn't mean you have to or that you can't ride well on a less expensive bike. If you want those high-end components and the full bling that big-budget bicycles offer, go for it, but many low to mid-end bikes deliver everything you need on the trail, especially if you're relatively new to the sport. As you gain skill and confidence you'll get a better sense of what features are important to you and where you want to spend. Fancy bikes are fun but legs, lungs, and skills will get you farther faster than even the most expensive bike!
BIKE TYPES
Most manufacturers classify bikes in similar categories. Most hardtails are either cross-country bikes or trail bikes.
Cross-Country or XC bikes are designed for fast, controlled climbing and sustained speed over relatively smooth terrain. They prioritize low weight and have "steep" angles: the front wheel, in particular, tends to be more under the handlebars than out in front of the rider.
Trail bikes are made to ride over almost any bikeable terrain. You can ride a cross country racecourse on your trail bike, though you may not win races, and turn around and shred steep, obstacle-packed trails the next day. "Aggressive trail" bikes are made for very steep terrain that sometimes includes jumps and drops.
FRAME MATERIALS
Aluminum is strong and light and is used in all types of bikes. It's the most common frame material and is used on everything from very basic bikes to top-of-the-line models.
Carbon Fiber delivers high strength at minimal weight and is used primarily in more expensive bike models. Some companies use proprietary carbon fiber fabrication techniques that deliver very high quality (and often very expensive) products.
Steel is often used in rigid bikes or simple hardtail designs. It's very strong, absorbs shock, and lets manufacturers use narrow tubing without sacrificing strength.
WHEELS
29" Wheels are designed to roll over obstacles rather than around them. It takes some work to get those big hoops up to speed, but once you have momentum, they can keep you at speed with minimal effort. Cross country bikes usually use 29" wheels, and they are favored by taller riders.
27.5" Wheels are used on bikes designed for dodging obstacles rather than rolling over them. 27.5" wheels emphasize agility over raw speed and are ideal for technical terrain.
Plus-Sized Tires are larger than normal tires used on both 29" and 27.5" platforms that have frame and fork clearance that's designed to accommodate them. They absorb shock and give more traction than narrower ties, but they weigh more and have more rolling resistance.
Tubeless Tires do not use inner tubes. A sealant inside the tire controls flats. Tubeless tires can be run at low pressures and cut weight from the wheel. A "tubeless-ready" wheel uses a tube but can be used in a tubeless setup, so you can move to tubeless without replacing your wheels.
Fat bikes use very large 26" diameter tires. Originally designed for riding on snow, sand, and other soft surfaces, fat bikes can be used on all types of trails and are gaining popularity for general trail riding. Some people love the look, some people hate it, but try one out before you dismiss the possibility!
GEOMETRY
Here's a very quick explanation of a very complicated subject!
Steep Geometry is for control at speed on flat surfaces and for aggressive climbing. The tube that supports the seat tends to be almost upright, and the steep head angle places the front wheel more under the handlebar than out in front of it.
Slack Geometry is for steep descents and technical terrain. The seat tube is angled back and the front wheel is farther out in front of the handlebar.
PRO TIP
Always bring a newly delivered bike to a good shop or a qualified mechanic for final assembly and tuneup. You can get great deals online, but professional assembly and tuning will get you a better ride and keep your bike in shape.
LEARN MORE
REI has an excellent guide to choosing a mountain bike with a great deal of useful information on bike design and components. If you'd like to know more about wheel sizes, check out this guide to bike wheel sizes from BikeRadar.
SPECS AND FEATURES EXPLAINED
HEAD TUBE ANGLE
A bike's head tube angle determines how far forward the front wheel sits in front of the handlebar. It's the fastest way to check whether you're looking at a "slack angled" bike designed for steep technical terrain or a "steep angled" bike designed for smooth terrain and high-speed climbing.
A head tube angle of 67° or below is considered "slack". It places the front wheel out in front of the rider. When you're going down a steep hill this front wheel position keeps you more stable and makes it less likely that you'll go over the bars if you brake!
A head tube angle close to 68° is between slack and steep and is often used on all-purpose or compromise bikes.
A head tube angle of 69° or above is considered "steep" and found on XC-oriented bikes. Steep angles position the rider over the front wheel and provide greater control and maneuverability while climbing
FORK TRAVEL
Fork travel is the distance that a suspension fork is able to compress when it's placed under pressure. The travel of a fork determines the amount of cushioning provided by the front suspension. Cross country bikes tend to use 100mm of travel or slightly more. Bikes designed for steeper, rougher terrain use forks of 120mm, 130mm, or more.
Less travel doesn't always mean a cheaper or lower quality fork. Many short-travel race forks are very light, have high-performance designs, and can be very expensive!
DRIVETRAIN
Mountain bike drivetrains involve a collection of components.
Shifters mounted on a bike's handlebar control gear movements.
Pedals are mounted on a crankset and deliver power to the chain through the front chainring. Bikes may have from one to three chainrings in front.
The chain brings the power you apply to the crank to the rear wheel.
Derailleurs move a chain between gears.
The cogset or cassette is mounted on the rear wheel. Larger rings are for climbing, smaller rings for descending or riding fast on flat ground.
Most higher-end bikes now use a single front chainring with a very wide range of gears in the rear and no front derailleur. Lower-end bikes may still have two or three rings in front. More gears don't always mean a wider gear range, as many gear combinations in setups with multiple front rings are effectively identical.
Most bikes use drivetrain components from SRAM or Shimano, the two dominant manufacturers. Bike builds may be identified by their drivetrain parts: if you see the name "GX Eagle" attached to a built bike it will use the SRAM GX Eagle drivetrain components. Components may be mixed to some extent but SRAM components are often not compatible with Shimano components. Lower and higher-priced components from the same manufacturer are usually but not always compatible. Always check compatibility before replacing drivetrain components!
SEATPOST
You'll want to keep your seat high for climbing or fast pedaling on level ground, and lower it and stand up on your pedals while descending.
Fixed Seatposts need to be adjusted manually, which means stopping and getting off the bike.
Dropper Seatposts have a control button on the handlebar that allows the rider to control seatpost height on the fly.
A dropper post is very useful in rolling terrain where you move from climbing to descending quickly and often.
BRAKES
Hydraulic disc brakes give very sensitive control of braking and are found on all high end and even some lower-end bikes.
Mechanical disc brakes are cable-actuated, very reliable, and inexpensive.
Larger brake rotors deliver more stopping power. Many bikes have larger rotors on the front. Most rotors are 200mm, 180mm, or 160mm.
CABLE ROUTING
Mountain bikes have multiple cables and hydraulic hoses linking controls on the handlebars to the brakes and derailleurs, and sometimes the seat post.
Internal routing places the cables and hoses inside frame tubes. These give a cleaner look. Cables and hoses are protected from dirt and damage but can be more difficult to reach for service.
External routing keeps cables and hoses outside the tubes, often in brackets welded to the tubes and often bundled with numerous cable ties to keep them under control!
READ MORE
For more of our top mountain biking gear recommendations, check out these popular buyer's guides: