Updated on November 6, 2020
You've decided to jump into the sport of mountain biking and now comes the fun part – choosing your first mountain bike. We know you're ready to buy a bike and start shredding trails immediately, but the choices are nearly endless, so the mountain biking experts here at The Adventure Junkies pulled together a list of the best mountain bikes for beginners just for you! A variety of styles are included in the list so you can choose the one that best suits where you plan to ride and your budget.
For more of our top mountain biking gear recommendations, check out the Best Mountain Bikes. 
Quick Answer

-

The Best Mountain Bikes for Beginners
Salsa Horsethief Deore 29"

Cannondale Trail 5 27.5/29
Comparison Table

-

Best Mountain Bikes for Beginners

For the best experience turn your device horizontally
Reviews

-

The Best Beginner Mountain Bikes
Salsa Horsethief Deore 29"
Specs
Frame Material

:

Aluminum

Size

:

S - XL

Style

:

Full Suspension (suspension front and rear)

Wheel Size

:

29"

Number of Gears

:

10
Features
140mm Front Suspension (to tackle tough terrain)
120mm Rear Suspension (for more comfort)
Trail Specific Geometry (designed for technical trails)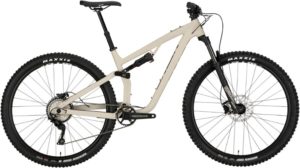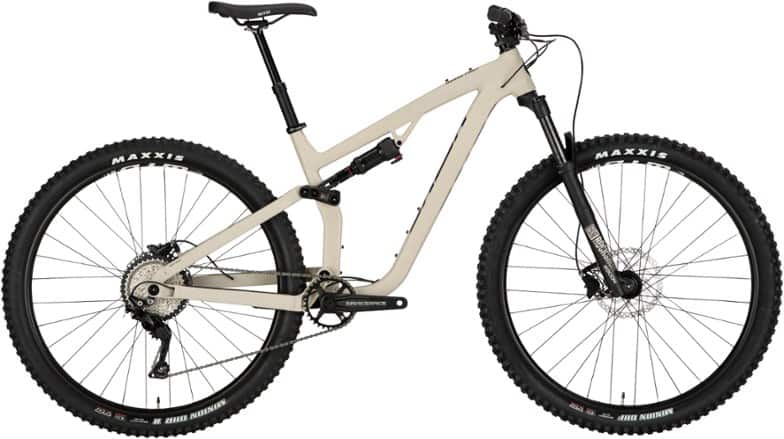 BEST FOR: TACKLING SINGLETRACK
If you played around on your friend's mountain bike and decided you liked the rugged feeling of being in the saddle on gnarly descents, then you might want to consider the Salsa Horsethief as a potential first bike for yourself.
The dual suspension design, with suspension at the front and rear of the bike, means the Horsethief is ready to tackle rough terrain and steeper descents. This bike is also great for more technical riding, so if you become a mountain biking addict after your first spin on the Horsethief, then you can easily transition into more technical terrain with this bike. This is no doubt a bike with a higher price point, but the ride quality and fun you will have while riding it is so worth the extra cost.
Diamondback Overdrive 29
Specs
Frame Material

:

Aluminum

Size

:

S - XL

Style

:

Hardtail (front suspension only)

Wheel Size

:

29"

Number of Gears

:

11
Features
Lightweight Carbon Frame
Increased Traction (to keep you stable on technical terrain)
Disc Brakes (better stopping power)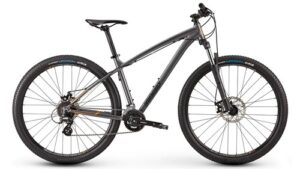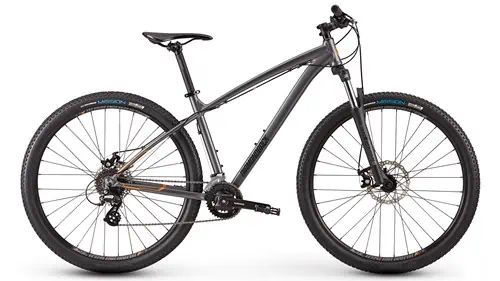 BEST FOR: FAST FLOW TRAILS
Finding the balance between price and performance isn't always easy, but the Diamondback Overdrive Carbon Pro achieved just that. The 29" wheels can maintain a higher speed and roll over obstacles without a hitch, helping you tackle anything the trail might throw at you. And a lightweight carbon frame combined with mountain bike specific gearing will help you climb hills with ease and feel in control of the bike on the descent.
Cannondale Trail 5 27.5/29
Specs
Frame Material

:

Aluminum

Size

:

S - XL

Style

:

Hardtail (front suspension only)

Wheel Size

:

27.5" or 29"

Number of Gears

:

10
Features
Wheel Size Specific To Bike Size
Smooth Ride Feel
Suited To Men Or Women
Lifetime Warranty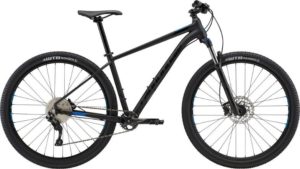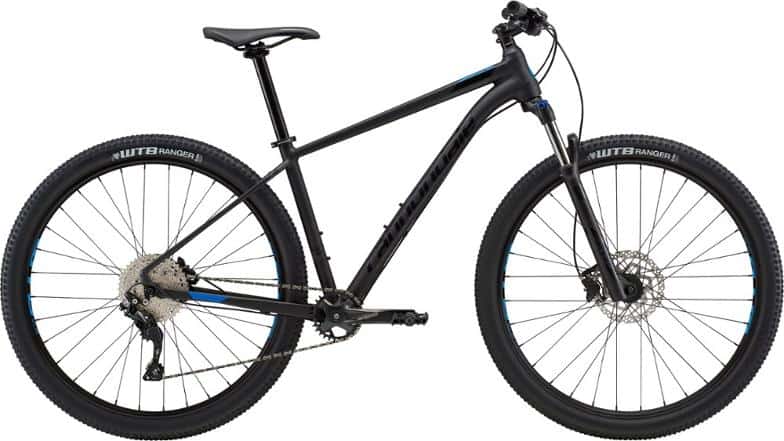 BEST FOR: CROSS COUNTRY TRAILS
The lightweight aluminum frame on this bike offers stability and agility with a smooth ride feel.  The Cannondale is fitted with excellent quality componentry, including 100mm front suspension for a comfortable, yet fast ride and high end wheels to ensure you can tackle even the gnarliest terrain. 
27.5" wheels are specified on the small frame, while the medium to extra large frames have 29" wheels, meaning the bike will be the perfect fit for the size of the ride. This helps with better handling, keeping you feeling in control when riding. The Cannondale Trail 5 bike is a great package of performance and value, perfectly suited for first time riders and veterans alike.
THINGS TO CONSIDER WHEN BUYING A MOUNTAIN BIKE
Mountain bikes are built for different styles of riding, so it's important to consider what your local trail network and the places you plan to ride are like before choosing a mountain bike.
RIDING STYLE
TRAIL RIDING:
Wide open dirt or gravel trails, gradual climbs and easy descents. This style of riding is not technical and can easily be ridden on a hardtail (front suspension only) mountain bike.
CROSS COUNTRY MOUNTAIN BIKING:
This can include narrow and tight dirt trails, also known as singletrack. The climbs and descents can be steeper and there is as much focus on climbing fast as there is descending fast. Expect the trails to be more technical with rocks and tree roots. This style can be ridden on either a hardtail or full suspension mountain bike with a focus on lightweight bikes.
ALL MOUNTAIN OR ENDURO:
The trails can be narrow, rugged and technical. Expect moderate to steep climbing, with steep and gnarly descents. The focus is more about cruising to the top of the climb so you can ride fast and hard downhill. The mountain bikes suited to this are full suspension and, while heavier than a cross country mountain bike, they are still relatively light.
DOWNHILL:
Think super steep and super technical trails including big rocky sections, tight downhill corners, and even man-made jumps. There is zero focus on going uphill and this is usually done with a lift to the top of the mountain! This style of riding requires a full suspension bike and there is not an emphasis on weight as these bikes are designed for going down, not up.
COST
The style, materials and components on a mountain bike will have a huge impact on the cost. Prices can vary dramatically, however you want to make sure you are riding a bike that is safe and reliable, so choose one that comes from a reputable brand.
An aluminum hardtail mountain bike, with front suspension only, is generally the cheapest style of mountain bike you can buy, but may be exactly what you're looking for as a beginner!
HARDTAIL VS FULL SUSPENSION
This will come down to budget and the style of riding you plan on doing. It is common for beginners to start on an aluminum hardtail, as this is not only a cost effective entry point into mountain biking, but can also help your skills on a mountain bike develop quickly too.
However, if you know you could encounter rugged terrain or perhaps you mountain biked when you were younger, you may want to jump straight onto a full suspension bike. Read more about hardtails vs full suspension here.
FEATURES EXPLAINED
HARDTAIL
This has suspension at the front of the bike, to help you roll over bumps and uneven terrain.
FULL SUSPENSION
This has suspension at the front and rear of the bike that is suited to rough and technical terrain.
WHEEL SIZE
27.5"and 29" refers to the diameter of the wheels. These are the most common sizes for modern mountain bikes. On some mountain bikes, a size small or medium may be equipped with a 27.5" which suits the geometry of the frame, while a medium to extra large will have a 29" inch wheel. The larger wheel sizes help to keep your speed high and allow you to roll over rocks, tree roots, and artificial bumps with ease.
FRAME
This is the main part of the bike and can be made from a variety of materials. The frames of the mountain bikes we chose to review in this article are all either aluminum or carbon. The frame material determines the weight and strength of the bike. Find out more about the differences between aluminum and carbon mountain bike frames here.
SUSPENSION
This is the system used to absorb bumps and uneven terrain. It is at the front of the bicycle that attaches the frame to the wheel. On full suspension bikes, there is also suspension at the rear of the bike. Suspension looks like a metal shaft that compresses into itself and is usually filled with either air or oil and a spring to control the speed of the compression.
DISC BRAKES
These are a style of brake. A disc brake is the best for mountain biking as it has greater stopping force than other styles of brakes. A caliper, that works like a clamp, tightens around a metal rotor to bring you to an even and quick stop.
DROPPER SEAT POST
This seat post slides into the bike with the push of a button on your handlebars and returns to the correct height by pushing the button again. It allows the rider to get low over the bike when descending to bring their center of gravity down, meaning you will be less likely to overweight the front of the bike. This type of seat brings added control and stability when descending.
LOCKOUT
Many suspension systems have the ability to "lock out" – this refers to being able to turn off the suspension. This can be useful when climbing so that the bike does not bob around and make your ascent more difficult.
READ MORE
For more of our top mountain biking gear recommendations, check out these popular buyer's guides: