Updated on September 17, 2020
Whether you're pedaling uphill, tackling turns, or maybe even downhilling and hitting jumps, you need to be well-equipped to be a safe mountain biker. Perhaps the most important piece of equipment is the one that protects your head, and when it comes to your safety, you don't want just any helmet. You need one of the best women's mountain bike helmets on the market, which is why our female mountain biking experts at The Adventure Junkies have compiled this very list!
From safety to comfort, we lay it all out for you here. Once you read this article, you'll be a mountain biking helmet connoisseur! You'll also have all the info you need to choose the right mountain bike helmet for you. So what are you waiting for? Get reading, then get riding!
For more of our top mountain biking gear recommendations, check out the Best Mountain Bike Helmets.
Quick Answer

-

The Best Women's Mountain Bike Helmets
Giro Women's Cartelle MIPS

Troy Lee Designs A1 Classic MIPS

Demon United Podium Full Face
Comparison Table

-

Best Women's Mountain Bike Helmet

For the best experience turn your device horizontally
Reviews

-

The Best Women's Helmet for Mountain Biking
Giro Women's Cartelle MIPS
Specs
Construction

:

In-Mold

Weight

:

1 lb. 14 oz.

MIPS

:

Yes

Visor

:

Yes

Chin Coverage

:

No
Features
Dial Adjustment Makes It Easy To Adjust The Chin Strap With One Hand
Compatible With Goggles
Moisture-Wicking Padding Keeps Your Head Cool and Dry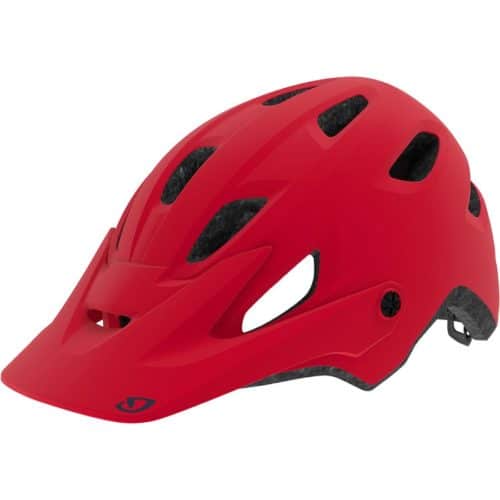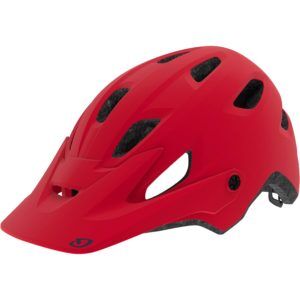 BEST FOR: OVERALL COMFORT
The reviews are in! Experienced mountain bikers who own this helmet say that it is comfier than most. Its hyper-adjustable size dial means that it fits many different sized heads, and its padding is super soft and moisture-wicking, as well. Plus, it comes in a wide array of bright colors.
The features of this helmet go beyond just comfort and style, though. Its coverage extends to the back of the head for full protection in the event of a crash. Choose this helmet if you want to protect that dome of yours in true style and comfort.
Smith Forefront 2 MIPS
Specs
Construction

:

In-Mold

Weight

:

12 oz.

MIPS

:

Yes

Visor

:

Yes

Chin Coverage

:

No
Features
Multi-Vent Design Allows Your Scalp To Breathe
Unique Airflow Design Prevents Goggle Fogging
Has A Built-In Camera and Light Mount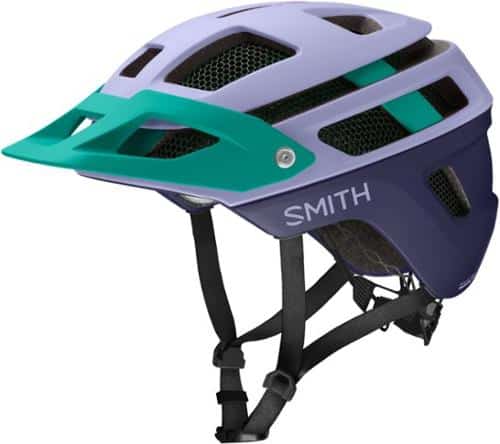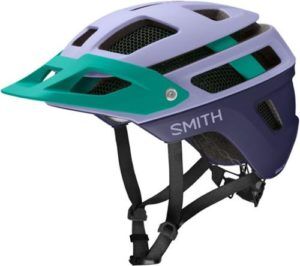 BEST FOR: OVERALL PICK
If you're looking for a helmet that "checks all the boxes," the Smith Forefront 2 may be the helmet for you. It utilizes advanced (and proven) safety technology. It is lightweight and super breathable. It's compatible with both sunglasses and goggles. You can integrate a camera or a light. And oh yeah, did we mention that it comes in a wide variety of fun colors? We're not sure what's not to love about this one, and it's definitely worth the price if you want to be the proud owner of a helmet that shines in almost every category.
Troy Lee Designs A1 Classic MIPS
Specs
Construction

:

In-Mold

Weight

:

11.2 oz.

MIPS

:

Yes

Visor

:

Yes

Chin Coverage

:

No
Features
Removable, Washable Liner
Specially Designed Airflow System Brings Cool Air In And Lets Hot Air Out
Adjustable Visor Protects From Sun And Allows For Easy Goggle Repositioning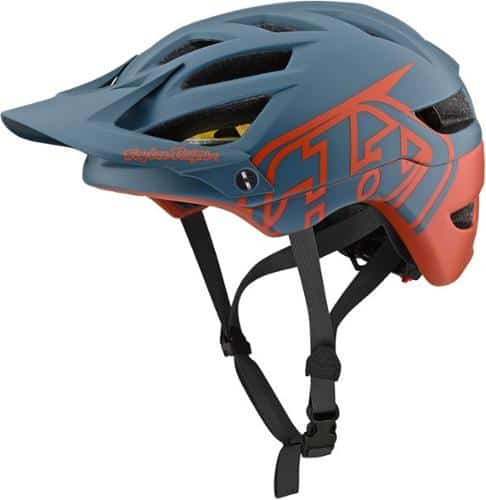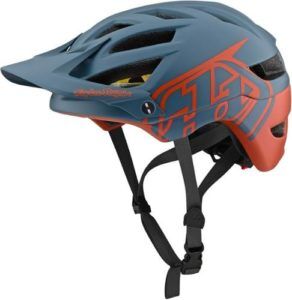 BEST FOR: SUPERIOR SAFETY
The Troy Lee Designs A1 Classic Helmet has been rereleased for the 2019 season. Its previous design is now new and improved and includes all of the awesome features of the original helmet, plus advanced safety technology.
This helmet also has a unique ventilation design that actually draws in cool air and forces hot air out, keeping you nice and cool while riding. And if you do get a little sweaty on that helmet head of yours, have no fear. The A1 Classic's liner is completely removable and washable.
Giro Montaro MIPS
Specs
Construction

:

In-Mold

Weight

:

1 lb. 13 oz.

MIPS

:

Yes

Visor

:

Yes

Chin Coverage

:

No
Features
Absorbent Padding Soaks Up Sweat
Compact Shape Is Ideal For Storage And Traveling
Specially-Designed Adjustment Dial Is Easy To Secure While Wearing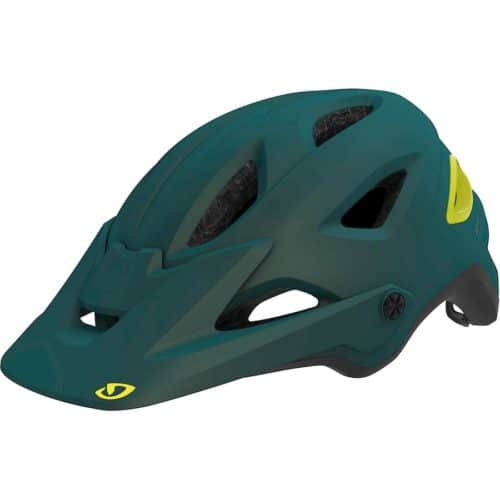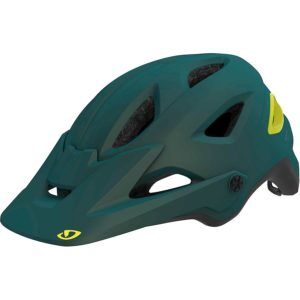 BEST FOR: THE TRAVELING MOUNTAIN BIKER
Plan to take your bike to lots of new and exciting places? The Giro Montaro helmet is great for that. It's more compact than many other helmets. Plus, it has a camera mount to capture your destination rides on film.
In addition to these features, the Montaro has superior ventilation capability, to keep hot air moving through and out of your helmet, and its padding is capable of absorbing up to ten times its weight in sweat (that's a lot of sweat)! It's moveable visor allows you to easily position your goggles on your face and then rest them on your helmet when you're taking a break or riding a chair lift, and its "strap-grippers" hold those goggles firmly in place, even when they aren't covering your eyes.
Smith Venture MIPS
Specs
Construction

:

In-Mold

Weight

:

11 oz.

MIPS

:

Yes

Visor

:

Yes

Chin Coverage

:

No
Features
Aerodynamic Design Helps Cut Through Wind
Strong, Yet Lightweight Material Won't Weigh You Down
Visor Designed to Protect From Rain
BEST FOR: UNPREDICTABLE WEATHER CONDITIONS
Coming in hot! This helmet features a super-aerodynamic design to help you cruise around the mountain. It has twenty air ducts to keep your head cool, and a ventilation system that keeps air moving and prevents fogged glasses or goggles, even in wet weather.
The visor of this helmet is also designed specifically to protect against rain. The combination of these features make it an excellent choice if you're someone who doesn't let the weather prevent you from going on an epic ride. This helmet will also keep you cool in hot weather, and prevent fogging in the wet and cold. Plus, if you plan to be riding in slippery conditions, you can feel safe knowing this helmet uses the newest crash technology to protect your noggin from nasty falls.
POC Octal X SPIN
Specs
Construction

:

In-Mold

Weight

:

10.8 oz.

MIPS

:

No

Visor

:

No

Chin Coverage

:

No
Features
Sunglasses Slot Holds Your Shades In Place While Riding
Extremely Lightweight
Precise Sizing Adjustment System Gives You The Perfect Fit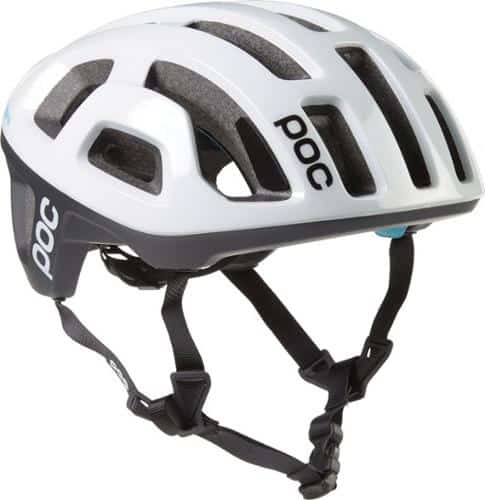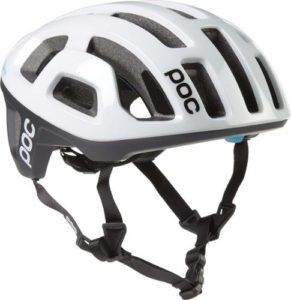 BEST FOR: SUNNY DAYS
This ultra-lightweight helmet features award-winning safety technology taken from their Octal road helmet. Although it does not come with a visor, it does come with something that is arguably better: a slot for you shades! This unique design allows you to wear your shades free of worries that they will fall off and get smooshed on bumpy terrain.
This helmet also features several size adjustment points for the perfect fit, and is impressively sturdy for its super light weight. While it is a bit on the pricier side, if you plan to have a long and successful mountain biking career, the Octal Spin X is sure to last.
Bontrager Blaze WaveCel
Specs
Construction

:

Hybrid

Weight

:

14.8 oz.

MIPS

:

No

Visor

:

Yes

Chin Coverage

:

No
Features
Magnetic Buckle Keeps Your Helmet Securely Latched
Bacteria-Fighting Padding Reduces Odors Caused By Sweat
Sweat Guard Keeps Sweat Out Of Your Eyes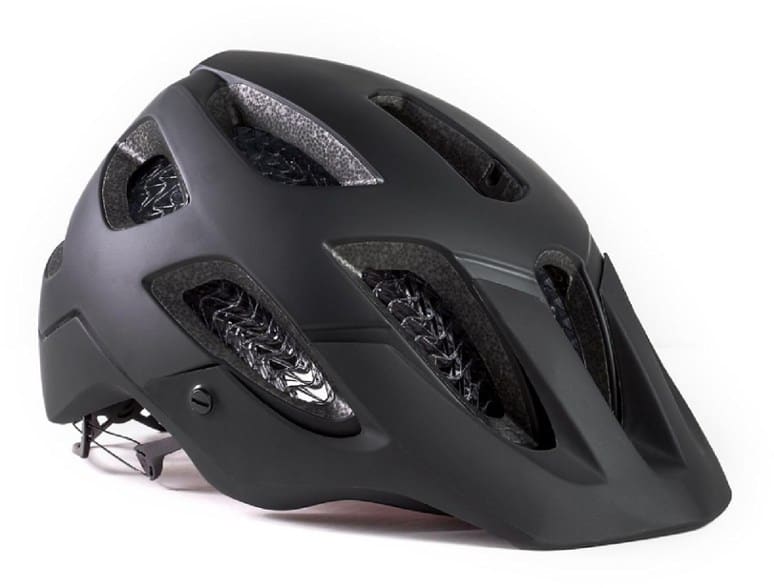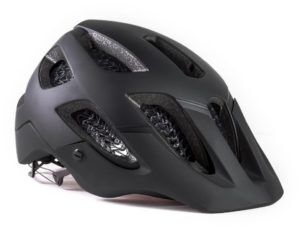 BEST FOR: HEAVY SWEATERS
Are you a Sweaty Betty? No worries. If you sweat a lot, this helmet is a great choice. It has a built-in sweat guard to prevent sweat droplets from running into your eyes and it comes with antimicrobial padding, which prevents the build-up of odor-causing bacteria. Don't sweat it – choose this helmet for those hot days on the trail!
In addition to its protection against the sweaty and smelly parts of mountain biking, this helmet also offers superior crash security. The structure of the helmet is designed to collapse in the event of a crash to reduce impact and absorb shock. It also comes with a one-year crash guarantee: in the unlikely event of a helmet-smooshing accident, Bontrager will provide a free new helmet to get you back on the trails as soon as possible.
Demon United Podium Full Face
Specs
Construction

:

N/A

Weight

:

2 lb. 2 oz.

MIPS

:

No

Visor

:

Yes

Chin Coverage

:

Yes
Features
Soft Liner Maximizes Your Comfort
Padding Molds to Your Head Shape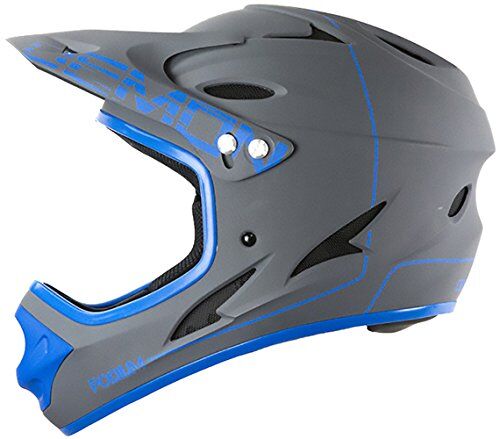 BEST FOR: FULL PROTECTION
This helmet offers full cranial and facial protection. It also comes with riding goggles to complete your get-up and shield your eyes from dirt and debris. For its size and shape, the United Podium is actually quite lightweight, and it's durable! If you want to feel super safe on the trials, this helmet is a great pick.
In addition to its full coverage, durability, and safety reliability, this helmet features a soft liner for increased comfort. Plus, the liner can be easily removed, so it will never get grimy and smelly (as long as you remember to throw it in the wash now and then!).
TeamObsidian Airflow
Specs
Construction

:

3-Step

Weight

:

10 oz.

MIPS

:

No

Visor

:

Yes

Chin Coverage

:

No
Features
Washable Padding
Cushioned Chin Strap Prevents Chafing
Ponytail Friendly!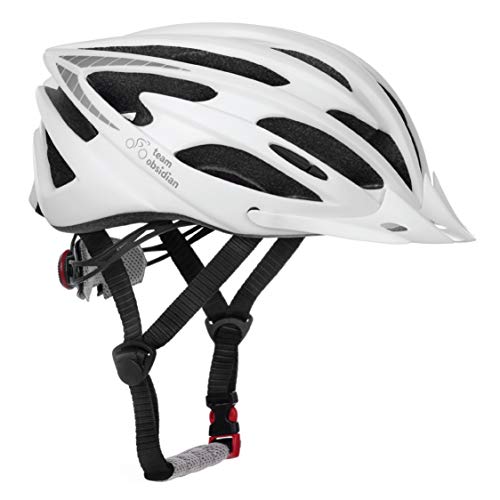 BEST FOR: BIKING ON A BUDGET
This helmet is a great pick if you are just getting started with mountain biking and are not looking to break the bank. The Teamobsidian Airflow helmet has a three-part safety system which consists of a hard outer shell, stabilizing inner body, and innermost foam padding to hold it all in place and ensure maximum cranial comfort.
Not only does this helmet have a great value, it is also made specifically for women who want to throw back their hair in a ponytail – a must for hot days on the trail. Unlike other mountain bike helmets, the size adjustment dial on this one moves vertically up and down to allow you to put your hair through it like a baseball cap. Style points: check.
THINGS TO CONSIDER WHEN BUYING WOMEN'S MOUNTAIN BIKE HELMETS
CRASH TECHNOLOGY
Helmet technology is always improving. MIPS (explained below) is the newest trend in mountain bike safety. In general, technology that helps disperse the impact to more than one area of the head helps to reduce the consequences of crashing. For more on how the experts determine a helmet's certified level of safety, check out this informative article from Red Bull.
VENTILATION
Stay cool, dudette! Ventilation should be an important consideration when making a helmet purchase. You can usually find the number of vents a helmet has listed somewhere in the specs or the product description, and whether or not it implements a special system to move cool air in and hot air out.
PADDING / LINERS
Since you'll (hopefully) be wearing your helmet each and every time you ride, you want it to be comfortable! The padding and liners of your helmet play a key role in comfort level. You definitely don't want something scratchy, and material that wicks moisture is always a plus.
FIT AND ADJUSTMENT
Many mountain biking helmets come in more than one size and provide measurements and instructions for choosing the right one for you. Almost all come with a size adjustment dial (see below), but some also come with other adjustment points along the strap and inner body of the helmet. For more information on choosing the right fit for your new helmet, check out How to Choose the Right Mountain Bike Helmet, courtesy of Single Tracks.
FEATURES EXPLAINED
MIPS
MIPS stands for Multi-directional Impact Protection System. It is a relatively new helmet technology that prevents the full force of impact to affect a single area of the head.
EPS
EPS stands for expanded polystyrene. It is a crushable foam that acts as a cushion in a crash.
VISOR
The visor extends off the front top part of the helmet to provide shade on your face.
SIZE ADJUSTMENT DIAL
Located at the inner back of the helmet, the size adjustment dial allows you to change the size of the innermost part of your helmet, making it fit snugly on your head.
CHIN COVERAGE
Some helmets cover the bottom part of your face for extra protection, instead of having just a strap to keep it on. This extra protection is referred to as "chin coverage" in the text of this article. Helmets with chin coverage are also called "full face" helmets as compared to "half shell" styles that don't offer chin protection.
IN-MOLD HELMET CONSTRUCTION
A method for helmet construction that involves bonding all components of the helmet together at once, rather than individually attaching each piece. In-mold construction helps to maintain strong structural integrity.
READ MORE
For more of our top mountain biking gear recommendations, check out these popular buyer's guides: