Updated on September 10, 2020
Whether you're hiking a popular trail at a state or national park, or embarking on a longer backpacking excursion in a wilderness area, hiking boots may be one of the most underrated pieces of gear. They form the foundation on which all great hikes are built upon. Selecting the best lightweight hiking boots will provide ample support for navigating uneven terrain and protection from sharp rocks and roots as you amble down the trail.
Here at The Adventure Junkies, it's our goal to help you find the best gear for your next adventure. In this guide, we've done the sole-searching for you across an array of manufacturers to find the best lightweight hiking boots for hitting the trails this season.
For more of our top hiking footwear recommendations, check out the Best Hiking Boots.
[thrive_leads id='68005′]
Quick Answer

-

The Best Lightweight Hiking Boots
Salewa Ultra Flex Mid GTX

Zamberlan Trail Lite EVO GTX
Comparison Table

-

Best Lightweight Boots for Hiking

For the best experience turn your device horizontally
[thrive_leads id='56126′]
Reviews

-

Best Lightweight Hiking Boots
Salomon Outback 500 GTX
View Women's Version
Specs
Weight

:

2lbs 3oz (Men's Size 9)

Upper

:

Synthetic

Waterproof Type

:

Gore-Tex

Outsole

:

Contagrip
Features
Classic Lacing System
Padded Collar And Tongue For Long Lasting Comfort
Proprietary Outsole Features Contagrip (for maximum traction and grip on slippery surfaces)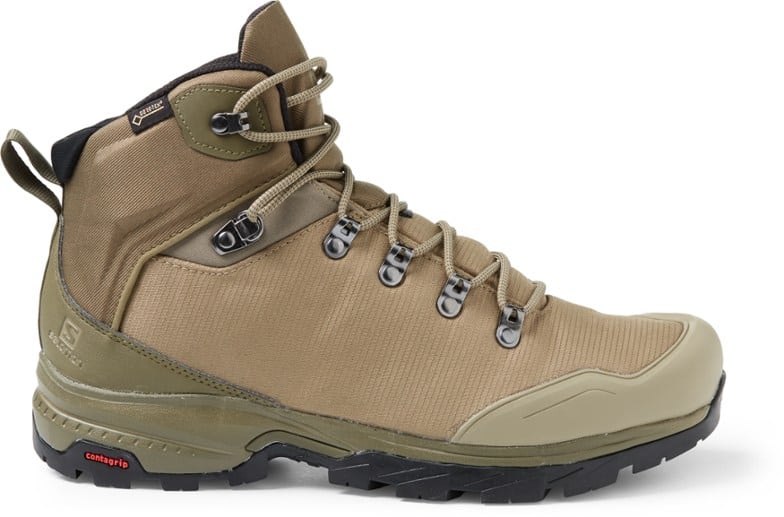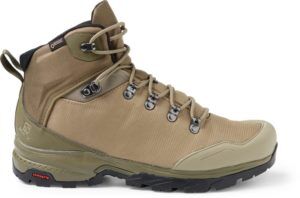 BEST FOR: VARIETY OF TERRAINS
Founded in the aftermath of World War II, Salomon emerged out of a war torn France. Located in the French Alps, the company originally produced saw blades and ski edges. As the company evolved and the market expanded, so did the brand's offerings. The brand is now internationally renowned for producing high quality products for trail running, hiking, skiing and snowboarding.
The Outback 500 is the evolution of more than 70 years of innovation born and tested in the mountains. The boot's synthetic upper is paired with a Gore-Tex membrane to keep your feet warm and dry as you brave any environment. Salomon's patented Contagrip outsole provide the protection and durability you would expect from this heritage brand.
Vasque Breeze LT Mid GTX
View Women's Version
Specs
Weight

:

1lb 11oz (Men's Size 9)

Upper

:

Synthetic

Waterproof Type

:

Gore-Tex

Outsole

:

Vibram
Features
Exclusive Outsoles Result In 25% Reduction In Weight Over Predecessor (Breeze III)
Traditional Lace-up Design
Boots Similar In Weight To Rugged Trail Running Shoes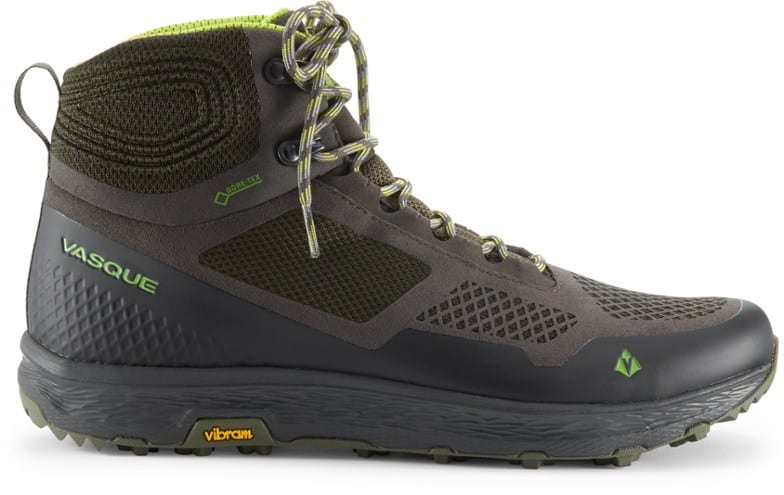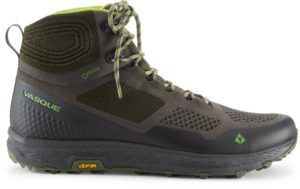 BEST FOR: ALL-DAY COMFORT
Vasque was founded in 1964 with a single mission of getting Americans outside and hiking. After more than half a century, the brand continues to push the boundaries of innovation in both leather and synthetic technologies to create products that are dependable and durable.
The Breeze line of boots has a long standing reputation in the Vasque quiver of offerings. The Breeze LT is the next generation and it doesn't disappoint. The LT stands for Litebase Technology. This new technology accounts for a 25% reduction in outsole weight over previous models. At well under two pounds, the boots provide the support of a hiking boot with the weight of some running shoes all while still offering the protection of a Gore-Tex liner.
La Sportiva Pyramid GTX
View Women's Version
Specs
Weight

:

2lbs 1.6oz (Men's Size 9)

Upper

:

Leather

Waterproof Type

:

Gore-Tex

Outsole

:

Vibram
Features
3-layer Gore-Tex Laminate Provides 360° Of Breathable Waterproof Protection
Traditional Hook And Lace Closure (to keep your feet feeling secure all day long)
Perforated Nubuck Leather Upper (to keep your feet cool while hiking in hot climates)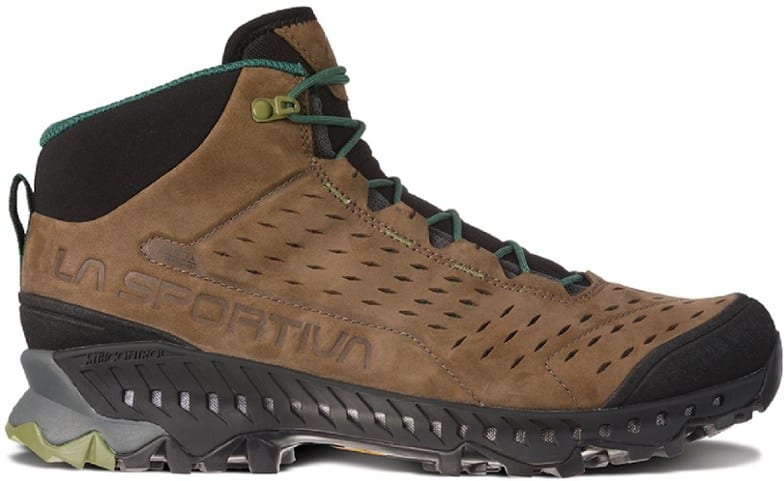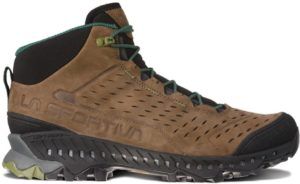 BEST FOR: UNPREDICTABLE TERRAIN
Born in Italy in 1928, La Sportiva is an industry leader in footwear for all kinds of outdoor activities. What began as a company creating footwear for farmers and lumberjacks in the Dolomites has grown to now create footwear for hiking, mountain running, climbing and mountaineering.
The Pyramid features a perforated Nubuck leather upper that provides superior protection for the foot while remaining extremely durable and abrasion resistant. A technology called "NANO CELL" provides maximum breathability in the shoe and works in unison with the Gore-Tex Surround ventilation outlets to provide a comfortable lining. The Vibram outsole ensures protection underfoot while providing excellent grip and traction.
HOKA ONE ONE Sky Kaha
View Women's Version
Specs
Weight

:

2lbs 4oz (Men's Size 9)

Upper

:

Leather

Waterproof Type

:

Gore-Tex

Outsole

:

Vibram
Features
Waterproof Bootie Keeps Your Feet Comfortable And Dry
Full-grain, Waterproof Leather Upper Offers Durability And Support
Multi-directional Lugs Offer Extreme Grip On Variable Terrain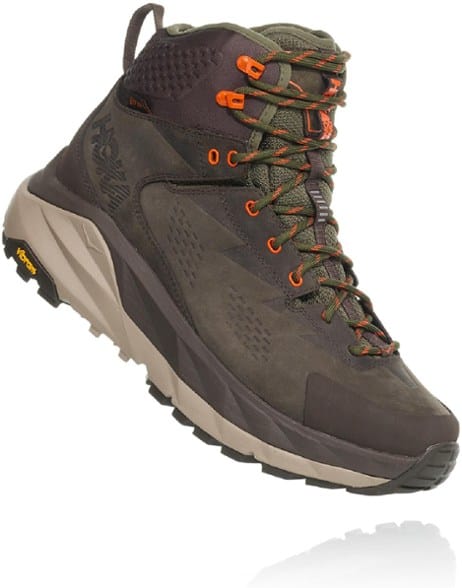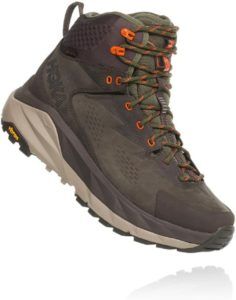 BEST FOR: LONG DAYS ON THE TRAIL
Just a decade ago, Hoka One One burst onto the scene with the mission of creating a better downhill running shoe. Building off of that success, the brand recently launched a line of hiking and backpacking boots utilizing that same principle. The Sky Kaha draws its name from the Māori word for strength and support.
The full-grain, waterproof leather upper provides a durable and supportive outer shell while the eVent waterproof bootie creates a dry and comfortable environment for your foot. The boots are designed utilizing the same proprietary foams as the running shoes. However, they are protected by a more robust Vibram outsole featuring multi-directional lugs for superior gripping on varied terrain.
KEEN Venture Mid WP
Specs
Weight

:

2lbs 10oz (Men's Size 9)

Upper

:

Synthetic

Waterproof Type

:

Proprietary Membrane Material (KEEN.Dry)

Outsole

:

Keen.All-Terrain Rubber
Features
Designed With Notch In The Heel For Achilles Comfort
Breathable Mesh Lining
Speed Hooks For Easy Lace Adjustment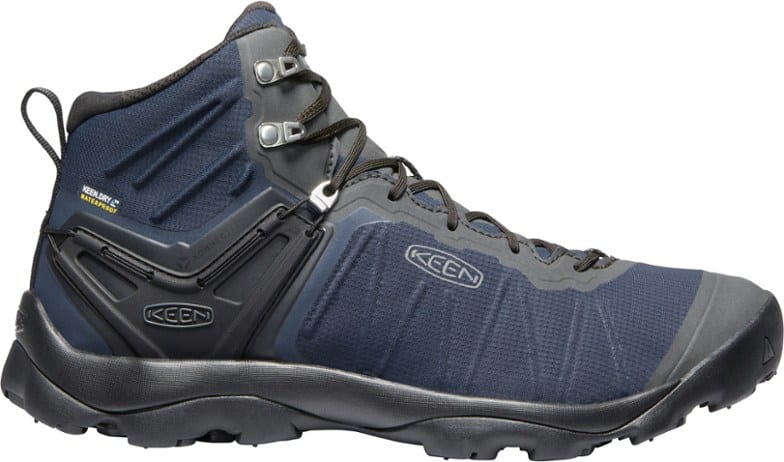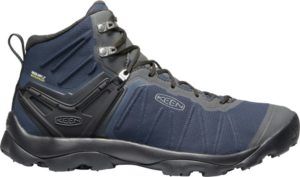 BEST FOR: TRAIL TO TOWN HIKING
Another relative newcomer to the footwear industry in the United States, Keen exploded onto the market in 2003 after they introduced their trademark rubber toe bumper on the multi-use protective sandal. Today, less than two decades later, that same iconic shoe remains at the top of the line along with a multitude of other footwear options.
The men's only Venture Mid WP features the brand's trademarked outsole consisting of Keen. All-Terrain Rubber and Keen.Dry waterproof, breathable membrane. The shoes are also naturally odor-resistant, so you don't need to worry about stinky feet after tromping through water on the trail. Additionally, the boots also feature PVC-free water repellency which is still highly effective while better for us humans as well as the environment.
Salewa Ultra Flex Mid GTX
View Women's Version
Specs
Weight

:

1lb 110z (Men's Size 9)

Upper

:

Synthetic

Waterproof Type

:

Gore-Tex

Outsole

:

Michelin Rubber
Features
Bungee Lacing For Easy And Reliable Closure
Vegan Design And Construction
Exclusive Michelin Outsoles Provide Technical Performance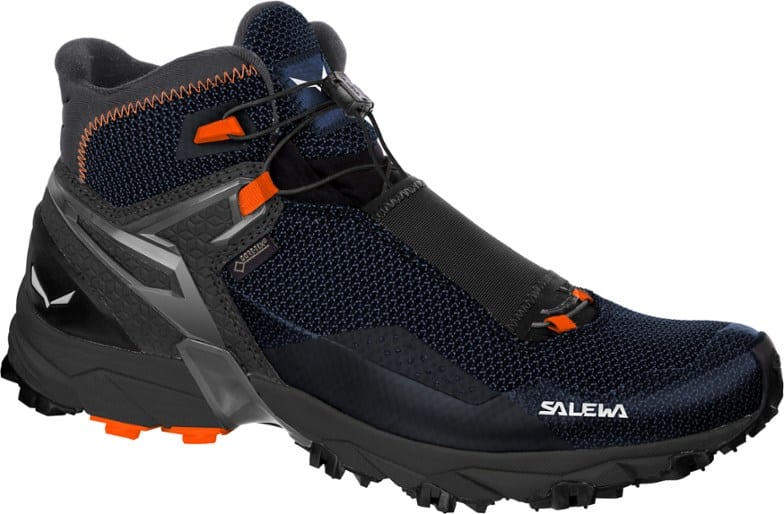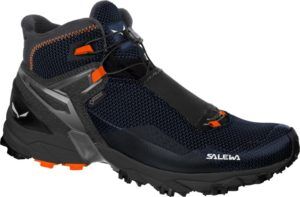 BEST FOR: SPEED HIKING
With a history dating back to the 1930s, Salewa got its start producing leatherwares in Germany. However, it wasn't until 2007 that the brand established a branch in the United States to better serve the North American market.
Building on a tradition of creating high performance tires, Michelin has taken that same technology and expanded into the outsole market. Salewa is just one of the brands utilizing this performance technology but the only one in this roundup. This vegan model features a mesh upper and Gore-Tex lining for maximum breathability and water resistance. While sharing similar DNA, the women's version is specifically designed for the female anatomy and thus carries a different name, the Alpenrose.
Merrell MQM Ace Mid
Specs
Weight

:

1lb 12oz (Men's Size 9)

Upper

:

Synthetic

Waterproof Type

:

Proprietary Membrane Material (M-Select DRY)

Outsole

:

Vibram
Features
Removable Contoured Insole For Flexible Support
Breathable Mesh Lining
Traditional Hook And Lace-to-toe Lacing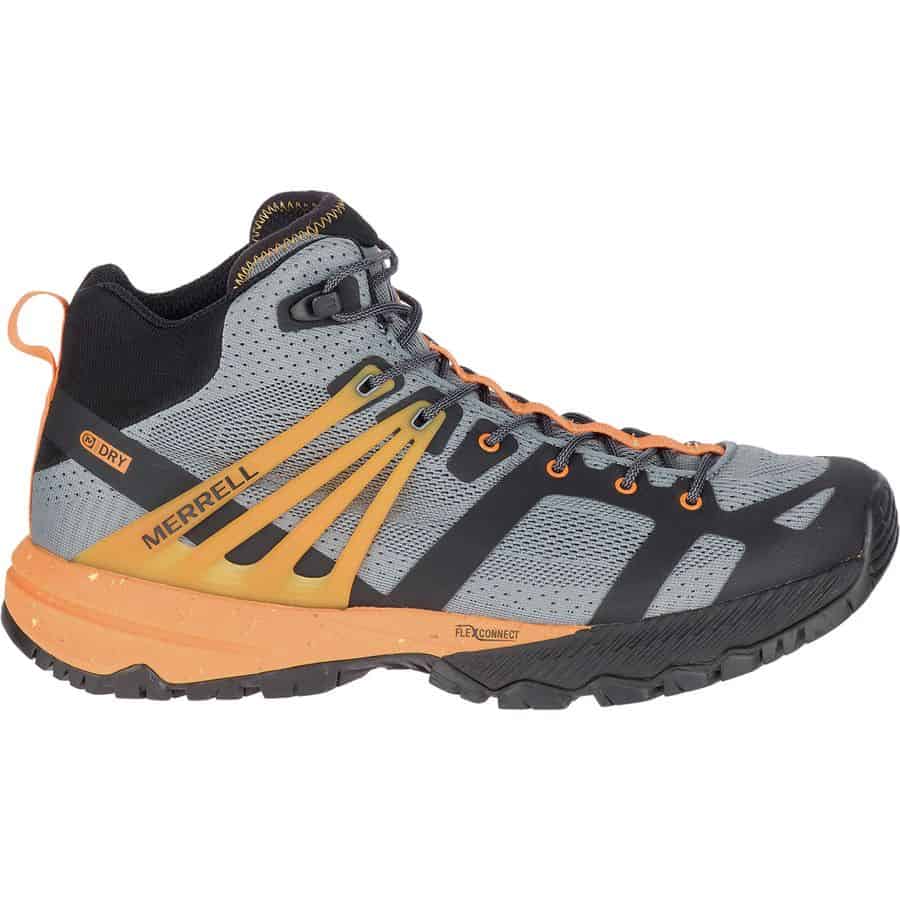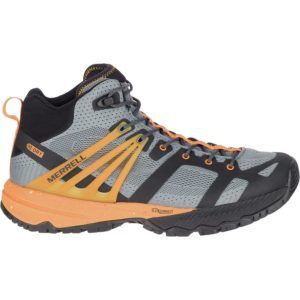 BEST FOR: LIGHTWEIGHT HIKING
Almost forty years ago, Randy Merrell began designing and manufacturing handmade custom boots. Four decades later, the brand has grown from its humble beginnings to an industry leader. One of the earliest Merrell styles, the Wilderness boot, along with its signature laces, still remains in the brand's line today.
Utilizing many of the brand's own proprietary materials, the MQM Ace features M-Select DRY, a waterproof membrane that protects your feet against moisture while the mesh upper provides lightweight support. The Vibram sole on this hybrid boot provides ample protection from debris underfoot. Other trademarked features include M-Select FRESH, an antimicrobial treatment that reduces shoe odor, and Merrell Kinetic Fit BASE, a removable contoured insole.
Mammut Ducan High GTX
View Women's Version
Specs
Weight

:

2lbs 6oz (Men's Size 9)

Upper

:

Synthetic

Waterproof Type

:

Gore-Tex

Outsole

:

Vibram
Features
Asymmetric Lacing
Unique One-sided Entry (tongue of the shoe is only attached to one side, like a closable flap)
Elastic Mono-tongue For Natural Feeling And Maximum Support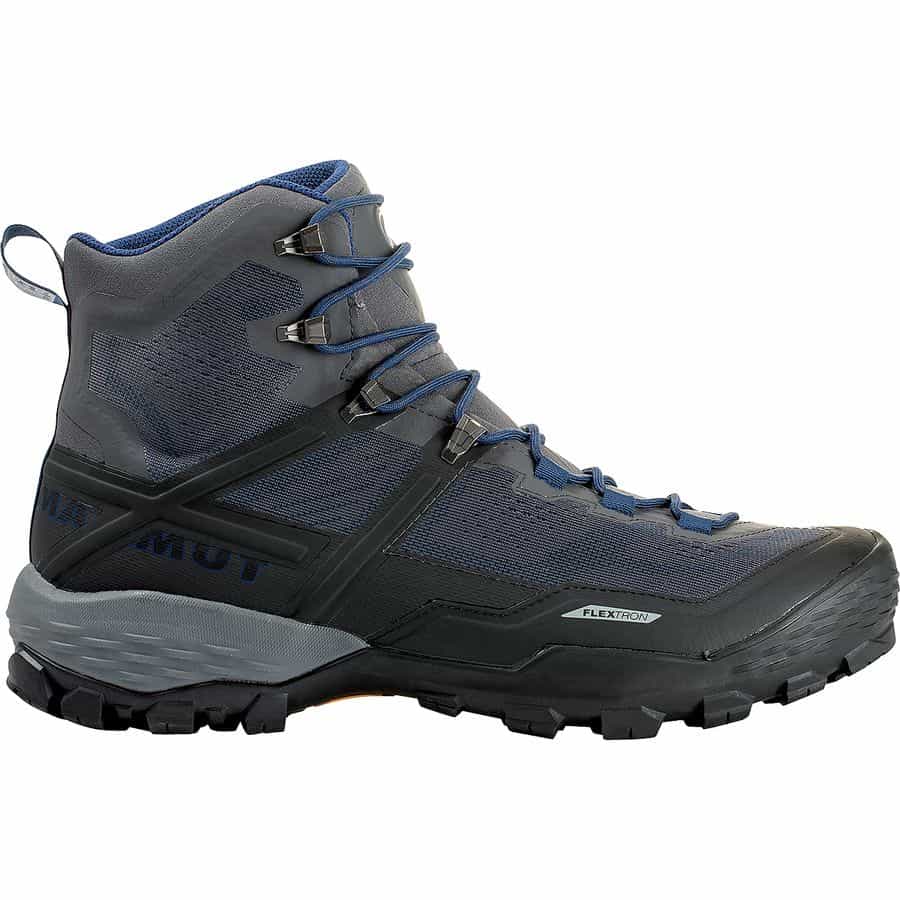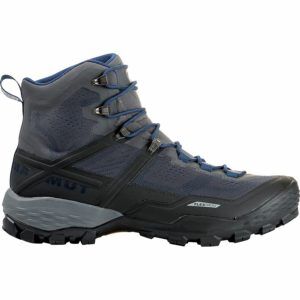 BEST FOR: MOUNTAIN HIKING
Hands down, Mammut is the oldest brand in this roundup and its heritage of producing high quality gear is world renowned. The birth of Mammut in 1862 began with rope making. Over more than 150 years later, the Mammut Sports Group is a multinational mountaineering and trekking company based in Switzerland.
Born in the Swiss Alps, the Ducan High GTX was designed for exploring the mountains. This agile boot integrates a spring-steel sole as a midsole which improves vertical support. This achieves a more efficient use of energy on hikes. A specially designed Vibram sole provides outstanding grip on uneven terrain while the Gore-Tex membrane keeps the foot dry and comfortable. The boot's unique mono-tongue provides a one-sided entry for a secure fit.
Zamberlan Trail Lite EVO GTX
View Women's Version
BEST FOR: ALL CONDITIONS
Founded 90 years ago in Italy, Zamberlan remains a family run business that is committed to producing the highest quality footwear on the market. The founder, Giuseppe Zamberlan, even has ties to the founder of Vibram creating a relationship that still exists with the brand today.
The classic looking Trail Lite Evo is handcrafted in Italy and incorporates a resoleable Vibram outsole that features triangular lugs on the bottom of the boot for excellent grip on a variety of surfaces. Get this…the Gore-Tex membrane provides maximum breathability with a guaranteed waterproof protection for the life of the boot. The upper is comprised of a single-piece of tumbled Nubuck leather that achieves a soft yet durable texture thanks to an artisanal tanning process developed more than a hundred years ago. From an environmental standpoint, the tanning process utilizes natural elements for increased sustainability.
Garmont Tower Hike GTX
View Women's Version
Specs
Weight

:

2lbs 6oz (Men's Size 8.5)

Upper

:

Leather

Waterproof Type

:

Gore-Tex

Outsole

:

Vibram
Features
Ankle Cuff Is Lower On The Outside And Higher On The Inside (for greater stability and comfort)
Precision Lacing (to keep your feet feeling secure)
Roomy Toe Box (for comfort and natural toe positioning)
BEST FOR: ON-AND-OFF TRAIL HIKING
Founded in 1964 in northern Italy, Garmont is located near the Dolomite Mountains. The company utilizes trailside research to create footwear that incorporates state-of-the-art materials and innovative technologies.
The Tower Hike GTX is the heaviest boot in this roundup but its unique features make it ideal for lightweight hiking. In addition to providing waterproof protection, the Gore-Tex Extended Comfort Technology optimizes the boot's climate during warmer conditions and during periods of more intense activity. Speaking of innovation, the asymmetrical ankle cuff is unique to only this boot in the roundup. The cuff is lower on the outside of the boot and taller on the inside for greater stability and comfort when traveling on uneven terrain.
[thrive_leads id='59716′]
THINGS TO CONSIDER BEFORE BUYING LIGHTWEIGHT HIKING BOOTS
TYPE OF HIKING
Will you be hiking with a daypack or backpack, day hiking on designated trails, or spending multiple days back-to-back on trails? What will the terrain be like where you plan to hike? These are just a few of the questions that you should ask yourself before buying a pair of hiking boots.
Generally, there are three types of hiking shoes/boots. Hiking shoes are typically lower cut and can often resemble trail running shoes. They don't offer as much support as hiking boots but are generally lightweight options. Mid cut hiking boots are a better option for carrying light to moderate loads on uneven terrain. Boots designed for backpacking are often higher cut and offer more ankle support and protection when carrying moderate to heavy loads.
COST
High quality hiking boots often come with a premium price tag. Finding out mid-hike that cutting corners to purchase a cheaper option boot wasn't a good idea can definitely put a damper on your outing. Quality boots are designed to provide comfort, support and protection. Properly cleaning your boots can protect your investment and provide many years of use.
FIT
A couple of decades ago, boots often required an extensive break-in period which involved wearing the shoes for weeks or months before hitting the trail. Today, many boots are trail ready right out of the box. However, we don't recommend you head off on a multi-day trip in brand new boots. Fit is paramount. Each individual has differently shaped feet and while one brand might be ideal for your hiking partner, they might not be the best option for you. For best results, consider trying on multiple pairs wearing your favorite hiking socks and doing so later in the day when your feet are typically larger from natural swelling.
MATERIAL
Hiking boot uppers used to be made exclusively of leather. In recent years, synthetic products have evolved to be strong contenders. Brands like Salomon and Vasque have embraced the newer materials available while heritage manufacturers like Zamberlan and Garmont are still finding ways to maximize the use of leather in their products. Waterproofing materials like Gore-Tex, eVent, and several brand's own proprietary fabrics provide a waterproof membrane to keep moisture out or off. While Vibram has become synonymous with shoe and boot outsoles, there are a few brands using different products like Keen, Merrell and Salewa.
FEATURES EXPLAINED
OUTSOLE
The outermost layer of a boot that comes into contact with the ground. Rubber is used for all outsoles.
MIDSOLE
A layer of material between the insole and outsole of a shoe that provides cushioning and absorbs shock.
INSOLE
Often removeable, the inside part of a shoe that makes contact with the bottom of the foot. In addition to the provided insole, aftermarket insole inserts are an excellent option for people with specific arch needs.
VIBRAM
Italian based company that has been producing rubber outsoles for over eighty years. While originally designed for mountaineering, the soles are now used by hundreds of shoe manufacturers around the world.
WATERPROOF LINING
Fabrics like Gore-Tex (GTX), eVent, and proprietary fabrics used by Merrell and Keen (in this roundup) provide a waterproof barrier to water entering the footwear from the outside. These same fabrics also help moisture escape through a breathable membrane.
LUGS
Raised bumps on the bottom of the outsole that provide traction on a variety of terrain.
LEATHER VERSUS SYNTHETIC
Traditionally, leather was used on all boots. It often took weeks and months to properly break in a pair prior to hitting the trail. Today, many leather boots are trail ready right of the box though we don't recommend that approach. Synthetic uppers have become popular in recent years and many provide a vegan friendly option.