Updated on December 10, 2020
Traditionally, kayaks are made with a slightly unisex or male-skewed design, but the popularity of kayaking among women has necessitated a different approach. Newer kayaks have more specialized features, including special considerations for women such as shorter lengths and lighter weights, making them easier for single women to carry and transport. With smaller builds, wider hips, and lower centers of gravity, women need kayaks suited for their proportions. That's why our team at The Adventure Junkies pulled together a list of the best kayaks for women to make it easy for you to find just what you're looking for!
Whether you want to tour quiet hometown lakes or explore remote inlets, you deserve a kayak you can both carry and maneuver yourself. And if style and color matter to you, then you can find the fashion factor here too. Consider what features are most important to and what you'll be using the kayak to find the right boat for you.
For more of our top kayaking gear recommendations, check out these popular articles:
Lake Kayaks | Sea Kayaks | Lightweight Kayaks | Kayaks Under $500
Touring Kayaks | Kayaks for Beginners | River Kayaks
Kayaks for Kids | Kayaks for Dogs | Sit In Kayaks
Sit-On-Top Kayaks | Canoes | Tandem Kayaks
Quick Answer

-

The Best Kayaks for Women
STAR Raven II Tandem Inflatable

Sun Dolphin Aruba 10′ Sit-In
Comparison Table

-

Best Kayaks for Women

For the best experience turn your device horizontally
Reviews

-

The Best Women's Kayak
Ocean Kayak Venus 11′
Specs
Type

:

Solid Sit-On Top

Length

:

10'8"

Weight

:

44 lbs

Weight Capacity

:

225 lbs
Features
Stable and Lightweight (easy to use)
Padded Seat With Lumbar Support (for comfort over long rides)
Molded Bungee and Dry Storage Compartments (so you can bring along the essentials)
Side, Front, and Back Handles (for single or two-person carry)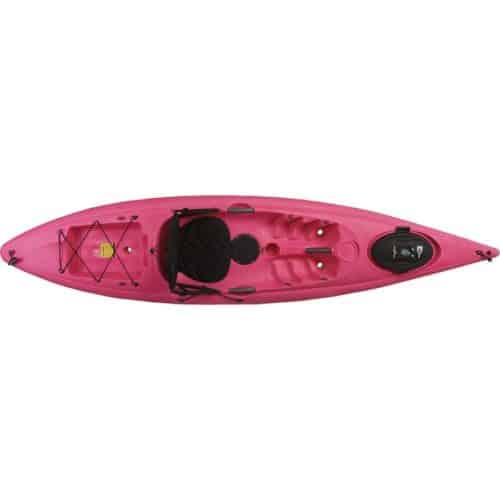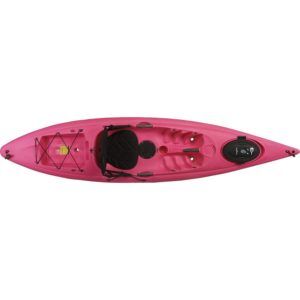 BEST FOR: SLOW-MOVING WATERS AND SLIGHT SWELLS
If planetary alignment has anything to do with kayaking, then you want the woman's Venus for your first foray into kayaking. The Venus was designed by women for women, so you know you're getting the most comfortable ride. The wide seat well, multiple foot rest positions, and lowered center of gravity all accommodate a woman's body like a glove while the rounded V-shaped hull ensures you'll always keep up with the boys.
STAR Raven II Tandem Inflatable
Specs
Type

:

Inflatable Sit-Inside

Length

:

12'2"

Weight

:

38 lbs

Weight Capacity

:

N/A
Features
Two Removable Padded Seats (for 1-2-person configurations)
Comes With a Hand Pump, Carry Bag, and Repair Kit
Padded Front and Back Handles (to carry to and from the water)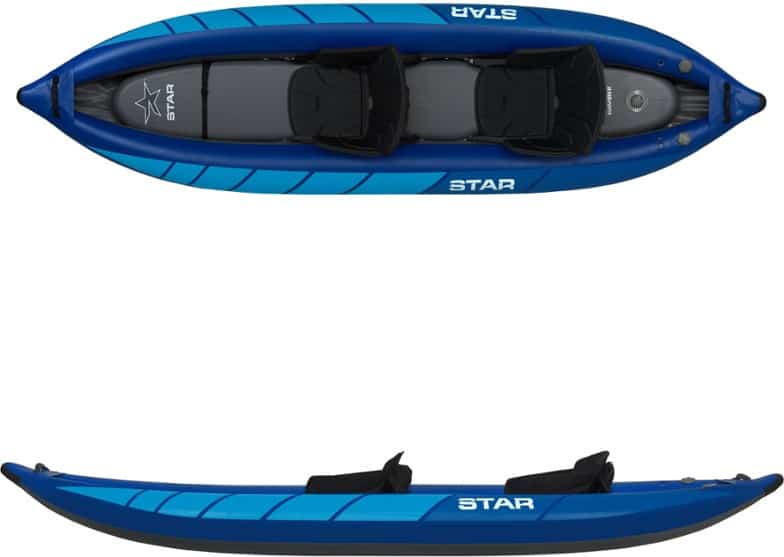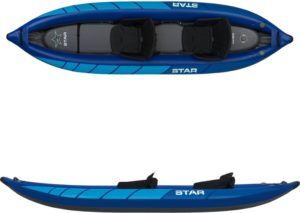 BEST FOR: FLATWATER EXPLORING WITH A PLUS ONE
Modern advances make inflatable kayak options just as sensible as solid models, with the advantage of being easier to store and transport. The Raven is made out of heavy-duty, abrasion-resistant material with state-of-the-art seam sealing technology to help ensure your ride stays afloat. You get that extra peace-of-mind when you take a child, friend, or partner on the water with you.
Perception Sound 9.5
Specs
Type

:

Solid Sit-Inside

Length

:

9'6"

Weight

:

38 lbs

Weight Capacity

:

300 lbs
Features
Padded, Adjustable Seat (for comfort on longer trips)
Drain Plug (to empty out accumulated water)
Molded Dashboard Storage (for smaller items)
Two Molded Rod Holders (for kayak fishing)
Bungee-Corded Storage Well With Drainage (for dry gear)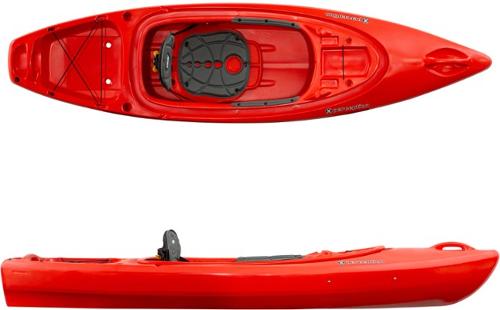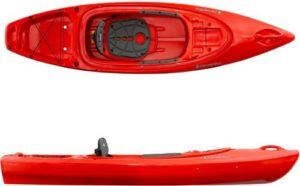 BEST FOR: RECREATIONAL PADDLING ON SLOW-MOVING WATERS
Take your love for the outdoors to a whole new level. The Sound gives you an intimate, up-close experience with nature using all your senses. You'll feel comfortable against the padded seat and leg rests as you listen to the water passing underneath you and smell the sweet summer air. Get a taste of kayak fishing with the built-in rod and gear holders or just glide and watch the landscape pass beside you.
Perception Tribe 9.5
Specs
Type

:

Solid Sit-On Top

Length

:

9'5"

Weight

:

46 lbs

Weight Capacity

:

300 lbs
Features
Stable Yet Maneuverable (easy for beginners)
Generous Padded, Adjustable Seat (goes easy on your back)
Front and Back Bungee Storage Compartments (for storing essentials)
Multiple Footrest Positions (to help with paddling stability)
BEST FOR: INCREASING SKILL LEVELS ON FLATWATER
The shorter length and lighter weight design of this version of the Tribe makes the kayak more manageable and maneuverable for a woman. The stability of the kayak allows you to advance from a novice to an intermediate paddler with growing confidence. That same stability allows you to jump off and re-enter the boat easily when you want to stop off and swim at the local sandbar.
Sun Dolphin Aruba 10′ Sit-In
Specs
Type

:

Solid Sit-Inside

Length

:

10'

Weight

:

31 lbs

Weight Capacity

:

250 lbs
Features
Large Open Cockpit (allows you to adjust your position)
Padded High-Back Seat (to make longer rides more comfortable)
Adjustable Foot Braces (for extra leverage)
Front and Back Carry Handles (for two-person carry)
Rear Storage Chamber (for your personal items)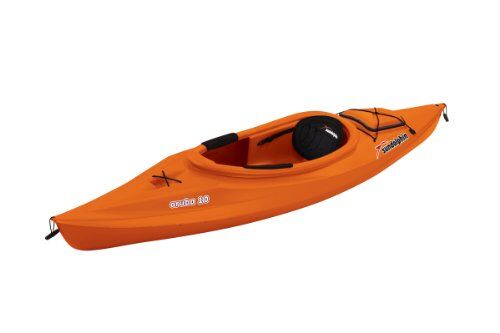 BEST FOR: GRAB-AND-GO KAYAKING ON A WHIM
The Sun Dolphin is one of the most popular, tried-and-true kayaks on the market for beginners. The price and features are perfect for the casual paddler. The lightweight design is easy to carry over your shoulder or with the help of a partner. Without any preparation, you can be on the water enjoying the lake in no time.
THINGS TO CONSIDER WHEN BUYING A KAYAK
PRICE
It's always important to take your budget into consideration when purchasing a kayak. Kayaks range in cost from a few hundred to a few thousand dollars, depending on how much you want to invest in your sport. For a beginner who just wants to paddle the water occasionally, a lower price point may be sufficient. For someone who appreciates more features and intends to progress at the sport may want to choose a boat on the higher end.
WEIGHT
Many women are used to picking up heavy weights at the gym and toddlers at home. Consider how much weight you can comfortably lift, and compare that to the weight of your kayak, especially if you want to carry your 'yak by yourself. If you have a partner to help you lift your boat, then you can go a little heavier.
PASSENGER SIZE
Your height and weight both affect how your kayak handles. Most kayaks have adjustable footrests to account for height, but you should also sit in the kayak when you get it to make sure it's comfortable. Also, be sure to check the weight limit on your boat to make sure you're within range or your boat may sink too low and not track well.
TYPE
Kayaks come in several different types: inflatable/solid and sit-in/sit-on. Modern inflatable kayaks are made of durable, puncture-resistant materials and take up very little storage space. Solid kayaks require no set-up but can cause storage and transport inconveniences.
The difference between sit-in and sit-on kayaks is the cockpit. You sit inside the open cockpit of a sit-in kayak and you sit on top of the closed cockpit of a sit-on kayak. Sit-inside cockpits tend to feel more stable and move more efficiently while sit-on cockpits don't fill with water when tipped and feel less claustrophobic.
Click here for more in-depth expert advice on how to choose a kayak.
FEATURES EXPLAINED
COCKPIT
The cockpit refers to the area of the kayak where you sit. As explained above, the cockpit is either open, where you can sit inside, or closed, where you sit on top. Open cockpits may also be larger or more snug. Large cockpits give you more freedom of movement while snug cockpits give you more control in rough conditions.
FOOT BRACES
Kayaks usually have adjustable foot pegs or molded footrests where you rest your feet. The position of your feet is critical in how well you paddle. Footrests give you leverage, keeping your body stable with each paddle stroke. Learn more about how to find the right foot position here.
HULL
The hull is another name for the bottom of the kayak. The shape of the hull affects the way the kayak handles the water. Flatter hulls are more stable while narrow, V-shaped hulls allow for higher speeds. Longer hulls track straight nicely while shorter hulls turn easier. Learn more about hull shapes here.
DRAIN PLUG
Like the plug on your tub, the drain plug empties water from your kayak. Splashes from waves and paddle backsplash can accumulate in the cockpit, but the plug allows you to empty the water when you get back to shore.
ERGONOMICS
Ergonomics refers to the efficiency and comfort of an item. Ergonomic carry handles make it easier to carry your kayak while ergonomic seats help you achieve proper posture. These slight adjustments make it easier to use and transport your boat.
READ MORE
For more of our top kayaking gear recommendations, check out these popular buyer's guides: