Updated on February 15, 2022
There is no better feeling than gliding through the glassy waters of a mountain lake, navigating the rapids of a whitewater river, or cruising down the coast just beyond the surf. If any of these images piqued your interest, then you're in the right place. Kayaking is a great activity for people of all ages and can be done at least three seasons of the year. The benefit of a lightweight kayak is the ability to load and unload by yourself and they typically store easily. But selecting the best lightweight kayak for your paddling style and budget can feel like an ominous task.
Never fear! We here at The Adventure Junkies pride ourselves in helping you pick the best gear for your next adventure. In this guide, we'll help you navigate the retail waters of selecting the best lightweight kayak and have you paddling off into the sunset in no time.
For more of our top kayaking gear recommendations, check out these popular articles:
Sea Kayaks | Touring Kayaks | Kayaks for Beginners | Sit In Kayaks
Kayaks for Kids | Kayaks for Dogs | Sit-On-Top Kayaks | River Kayaks
Kayaks for Women | Canoes | Tandem Kayaks | Lake Kayaks | Kayaks Under $500
Quick Answer

-

The Best Lightweight Kayaks
Aquaglide Blackfoot Angler 125 HB

Advanced Elements AirFusion EVO

Advanced Elements Island Voyage 2
Comparison Table

-

Best Lightweight Kayak

For the best experience turn your device horizontally
Reviews

-

The Best Lightweight Boats for Kayaking
Aquaglide Blackfoot Angler 125 HB
Specs
Type

:

Inflatable

Capacity

:

1

Length

:

12'8"

Weight

:

38 lbs 1.6 oz

Style

:

Sit-On-Top

Weight Capacity

:

600 lbs
Features
Fishing Cooler Included
Molded Handles Around The Boat For Carrying
Self-Draining
Seven Mounts For Fishing Rods and Accessories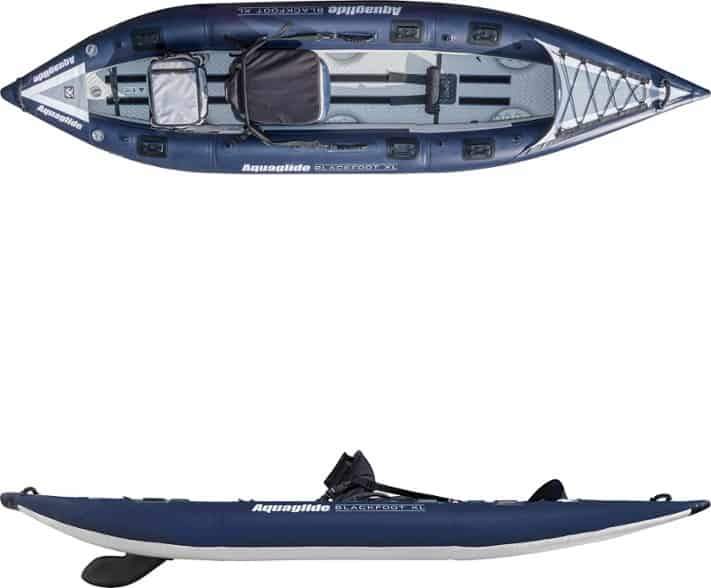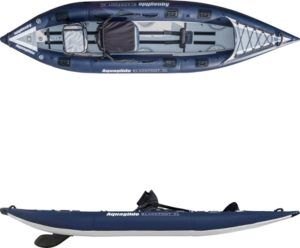 BEST FOR: PADDLING AND FISHING
This kayak is ideal for solo anglers. The Aquaglide Blackfoot Angler has all the perks of its hard-shell counterparts at a fraction of the weight. There are seven mounts all within arm's reach that can be customized with rod holders and other accessories. The included fishing cooler also includes four built-in rod holders and secures directly to the boat.
To enhance the fishing experience, the Aquaglide features a rigid, hard bottom cockpit that makes it possible to stand in the kayak for easy casting. Additionally, the self-draining floor will eliminate any water that might enter the cockpit. This extra wide kayak is designed to increase stability so you can focus on your fishing game and not be concerned with balance.
Advanced Elements AirFusion EVO
Specs
Type

:

Inflatable

Capacity

:

1

Length

:

13'

Weight

:

32 lbs

Style

:

Cockpit

Weight Capacity

:

235 lbs
Features
V-Shaped Hull Provides Excellent Tracking
Rear Access Storage Hatch
Rubber Molded Handles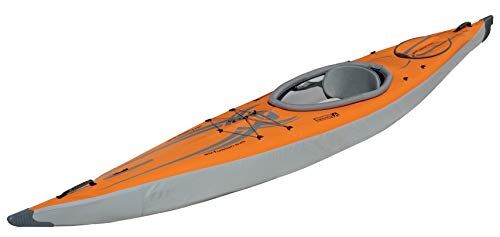 BEST FOR: VERSATILE PADDLING
Combining an array of materials, the Advanced Elements AirFusion utilizes polyurethane, aluminum, and pressurized air chambers to produce an inflatable kayak that performs like a hard-shell kayak. Aluminum frame poles create a rigid framework while the inflated chambers are covered with a synthetic shell.
The 'V-shaped' hull provides excellent tracking for enhanced speed on the water. Storage is achieved via a rear roll-top hatch. Additional gear can be secured using the D-ring tie downs. The cockpit accommodates a spray skirt for additional protection when paddling in adverse conditions. The rubber molded handles make transporting this award winning kayak to and from the water a breeze.
Advanced Elements Island Voyage 2
Specs
Type

:

Inflatable

Capacity

:

2

Length

:

11'2"

Weight

:

32 lbs

Style

:

Sit-On-Top

Weight Capacity

:

400 lbs
Features
Removable High Back Seats
Low Profile Carry Handles
Front And Rear Bungee Deck Lacing To Secure Gear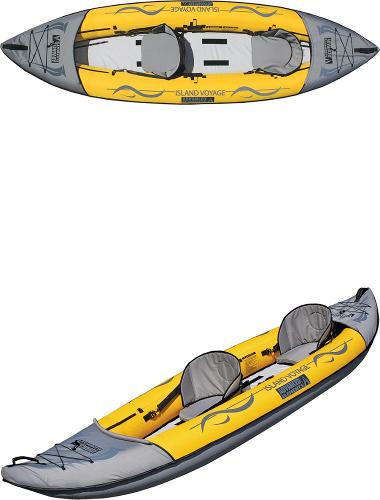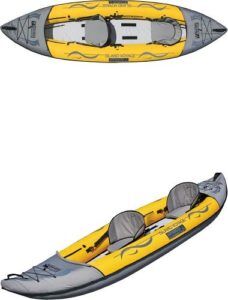 BEST FOR: FLATWATER PADDLING
This budget conscious option is ideal for 1-2 paddlers looking to enjoy some flatwater kayaking. Its lightweight and compact design makes it perfect for loading up and taking to the lake for the weekend, or you can easily take it with you on your next jetsetting adventure.
The highback seats are removable and have three positions in the cockpit for solo or tandem paddling. The seats also sport pockets for easily accessing essentials and bottle holders. Front and rear bungee deck lacing secures your gear for quick and easy access. While not self-draining, a rear drain plug does allow for easy draining and cleaning before storing.
Oru Kayak Haven
Specs
Type

:

Folding

Capacity

:

2

Length

:

16'

Weight

:

40 lbs

Style

:

Cockpit

Weight Capacity

:

500 lbs
Features
Easily Converts To A Single Seater
Folds Up To The Size Of A Large Suitcase
Integrated Track System Accommodates Accessories (Sold Separately)


BEST FOR: 1 OR 2-PERSON PADDLING ADVENTURES
When folded and secured, this kayak appears more like a large portfolio or suitcase. This uniquely designed tandem kayak unfolds and quickly deploys so you can spend more time on the water and less time fiddling with inflation. The material is rated for 20,000 fold cycles (so you can fold it in half for years on end!) and the ten-year ultraviolet (UV) treatment ensures durability and longevity.
This high-performance kayak easily converts to a single-seater with the switch of a few buckles. Switch it back for a tandem experience. The integrated track system (channel which accepts brand specific accessories) allows for accessories (purchased separately) like cup and fishing rod holders to be within easy reach as you paddle. The Oru is the longest kayak in this review and is designed for an array of paddling adventures.
THINGS TO CONSIDER BEFORE BUYING A LIGHTWEIGHT KAYAK
STYLES
There are a plethora of options when it comes to kayaks. In addition to sit-on-top and cockpit (sit-in) models, there are also hard-shell, inflatable, and folding. For this review, we limited our selection to the folding and inflatable versions.
While there are some hard-shell kayaks that might fall into the lightweight category, they require an entirely different method of transporting them to and from the water. Unless you already own a truck, you will have to look at roof rack systems and that's a whole other discussion. Inflatable and folding models are convenient for transporting and storing. They will fit into trunks of cars and into closets until your next outing.
Sit-on-top kayaks are easy to get in and out of. As the name implies, you are literally sitting on the top of the kayak. They are ideal for beginners as they are steady and don't easily flip over. The downside to this type is that you are completely exposed to the sun, wind, and water.
Cockpit (or sit-inside) kayaks offer the paddler more protection from the elements. Most are compatible with spray skirts which will allow you to completely seal off the cockpit. The primary disadvantage to this type of kayak is that they're harder to get back into in the event that you do flip the boat on the water. Another advantage is that you can extend your paddling season as your lower body is protected from the outside when utilizing a spray skirt.
SIZE
The size of the boat determines the number of paddlers it will accommodate. Solo paddlers only need one seat while tandem boats offer the opportunity for two paddlers to enjoy a day on the water. Size also includes the length and width of the kayak. In general, the longer the boat, the easier it will track in open water (lakes, oceans, and flatwater destinations). Wider boats tend to be more stable.
WEIGHT
This review is entirely focused on options that are lightweight. Therefore, weight is on the low side of what hard-shell kayaks can weigh. This is convenient when paddling solo and you are having to get your boat to and from the water by yourself. The average weight of the boats in this guide is 36 pounds. Many hardshell kayaks can easily weigh over 50 pounds and often require two people to manage transporting them to and from the water. Unlike the folding and inflatable boats in this review, hardshell kayaks also require a truck or vehicle with a rack system to transport.
FEATURES EXPLAINED
HULL
The hull is the bottom of the kayak. The more defined the hull, the better it will track in the water and the faster the kayak will move.
STERN
The stern is the back of the kayak.
BOW
The bow is the front of the kayak.
MOUNT
The Aquaglide Blackfoot has a series of fixed mounts around the boat to accommodate brand accessories. The mounts allow for the accessories to be added after inflation and removed prior to deflating the boat and storing.
INTEGRATED TRACK SYSTEM
The Oru Kayak above comes equipped with an integrated track system. This is a brand specific channel that allows for the addition of accessories like fishing rod and drink holders.
STORAGE HATCH
A storage hatch is a compartment within the boat in which it is possible to store items. While some of these hatches may be waterproof or water-resistant, it is always recommended to place items that you desire to stay dry (spare clothes, phone, etc…) in a dry bag.
BUNGEE DECK LACING
The Advanced Elements Island Voyage has both front and rear bungee deck lacing. This is an elastic cord secured with fixed points on the deck of the kayak that allow the cords to stretch and store items that you might readily need while on the water.
COCKPIT
The cockpit is where you sit in the kayak. Sit-on-top kayaks do not have a defined cockpit but rather a slight depression where you sit. Kayaks with a defined cockpit will protect the paddler during inclement conditions.
READ MORE
For more of our top kayaking gear recommendations, check out these popular buyer's guides: