Updated on October 1, 2020
You've been rock climbing for a while now and really have the bug. But you are starting to notice that your first pair of climbing shoes is not allowing you to do all that new technical footwork you've learned. You realize that it is probably time to invest in the best pair of intermediate pair climbing shoes to assist you in the fancy footwork and be able to stick those moves at harder grades. Luckily, we at The Adventure Junkies have done all the footwork to make sure you find your ideal pair of intermediate climbing shoes to transition you into those harder grades.
For more of our top climbing footwear recommendations, check out the Best Climbing Shoes.
Quick Answer

-

The Best Intermediate Climbing Shoes
Comparison Table

-

Best Intermediate Climbing Shoes

For the best experience turn your device horizontally
Reviews

-

The Best Shoes for Intermediate Climbers
Scarpa Vapor V
View Women's Version
Specs
Closure

:

Velcro Strap

Weight

:

1 lb 0.9 oz Men's; 14.6 oz Women''s

Downturn

:

Moderate

Lining

:

None
Features
Slip-lasted Design Means This Shoe Is More Sensitive And Feels Less Stiff
Can Be Resoled
Padded Mesh Tongues for All Day Comfort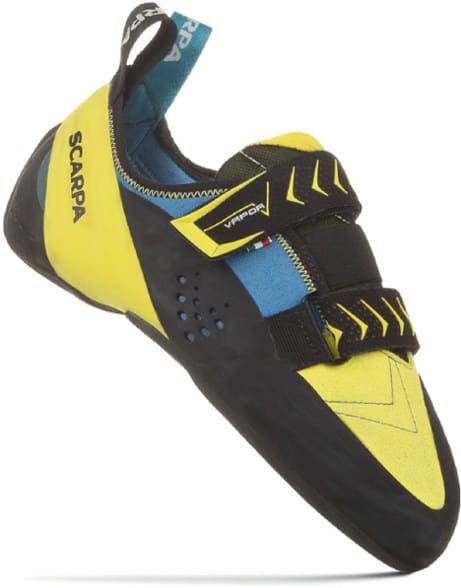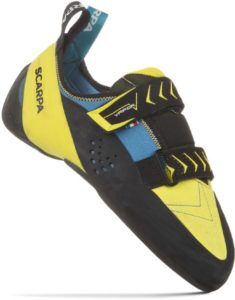 BEST FOR: STEEP TRAD CLIMBING
A slightly more aggressive shoe than the Scarpa Force, the Vapor V has a more moderately downturned toe, providing some control and power on steeper climbs. Modeled with a more asymmetrical toe, this shoe allows you to edge more on those smaller holds, which can make all the difference in those tougher and steeper trad climbs.
Having a downturned toe may not be the shoes you want to wear in between climbs. Aggressive shoes are what you want on more technical terrain, and the padded mesh tongues in these shoes ensure you will be comfortable wearing them on those long pitches despite their more aggressive downturned shape. With the shape and stiffness of this shoe, you will want to size up, so make sure you try a pair on prior to purchase.
La Sportiva TC Pro
Specs
Closure

:

Laces

Weight

:

1 lb 1.4 oz

Downturn

:

Neutral

Lining

:

Yes; Unlined Underfoot
Features
Slip-lasted Design Means This Shoe Is More Sensitive And Feels Less Stiff
Can Be Resoled
Mid-height Cuffs To Protect Ankles
Extremely Popular Climbing Shoe Designed By Climbing Pro Tommy Caldwell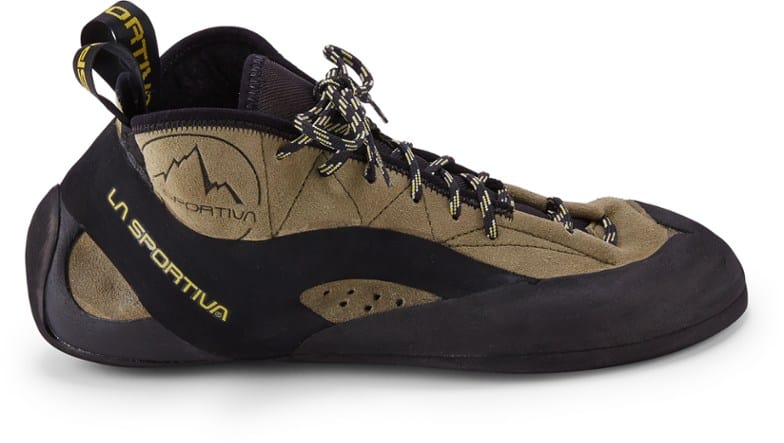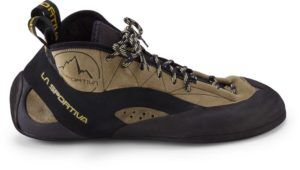 BEST FOR: OUTDOOR CRACK CLIMBING
You will know this shoe when you see it! The TC Pro is the high-top version of a climbing shoe. Having the high ankles makes this shoe an excellent choice for outdoor crack climbing, providing ultimate ankle support. Designed with a flat toe, angling your toes in cracks and cranking on them will not seem as daunting of a task as in a more asymmetrical toe.
Although this design is quality in the crack climbing world, the Vibram XS Edge Rubber on the sole also makes this shoe great for edging as well smearing on slabbier climbs. With all the support and protection, you can do as many laps as you want in this shoe and your feet will remain comfortable all day long.
Five Ten Men's Anasazi
Specs
Closure

:

Velcro Straps

Weight

:

1 lb 2 oz.

Downturn

:

Neutral

Lining

:

Unlined
Features
Slip-lasted Design Means This Shoe Is More Sensitive And Feels Less Stiff
Can Be Resoled
Vegan Construction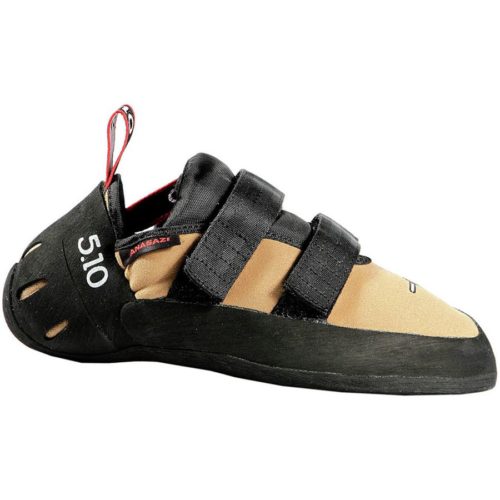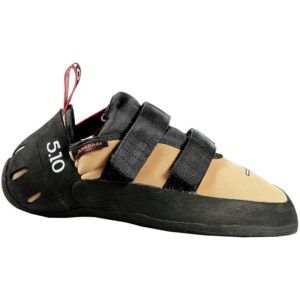 BEST FOR: SLAB SPORT CLIMBING
A good beginner transitioning to intermediate shoe, the Anasazi VCS offers a perfect blend of stiffness and sensitivity allowing you attempt those harder grades while still being able to feel the rock under your feet. On granite, this shoe is king with its soft upper and C4 Rubber, allowing you to stick to anything.
Unlike the pink Anasazi, the VCS offers velcro closures for ease of putting on and taking off as well as getting you the snug and secure fit you desire. Featuring a more rounded toe than other shoes, the VCS will be your best friend on slab where features are lacking and you need an even weight distribution across the foot for maximum friction.
Tenaya Masai
Specs
Closure

:

Laces

Weight

:

12 oz

Downturn

:

Moderate

Lining

:

Cotton
Features
Moderate Downturned Toe For Power While Edging On Small Features
Asymmetrical Toe Tip For Better Edging On Rock/Wall
Midsole Designed For Stiffness And Sensitivity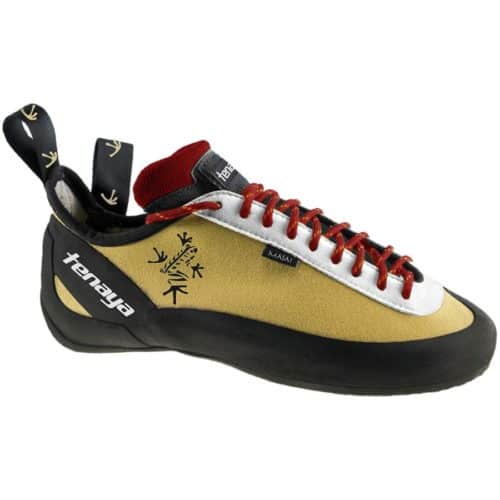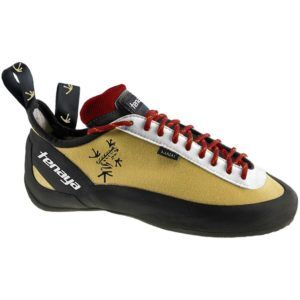 BEST FOR: SMALL EDGES
This shoe comes with a lot more than just a cute little frog design on the side. Trango's Tenaya Masai shoe is designed with a midsole that combines stiffness and sensitivity, making this shoe feel like an extension of your foot. And with the treated cotton lining you won't have to worry about this shoe stretching and interfering with sizing.
Whether climbing hard sport or trad, this shoe will make you feel so secure on those tiny edges thanks to the asymmetrical toe tip and a moderately downturned toe, giving you that much more power on steeper terrain. Designed with a more narrow profile, this shoe will give you a good fit without sacrificing comfort.
Mad Rock Remora
Specs
Closure

:

Slipper

Weight

:

1 lb. 15 oz.

Downturn

:

Neutral

Lining

:

None
Features
Non-aggressive, Flat Profile
Suctions To Foot For Snug Fit (Like Remora Fish Suctions)
Vegan Design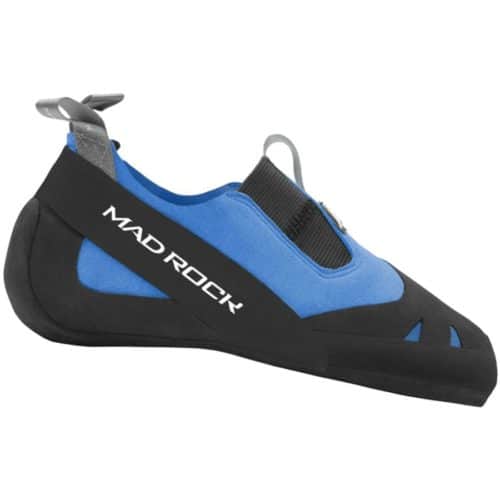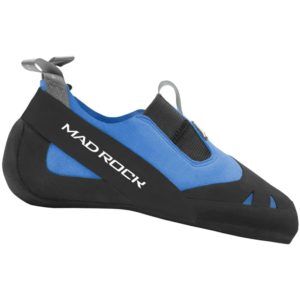 BEST FOR: GYM CRACK CLIMBING
At this price, the Mad Rock Remora is a bargain for all you get from it. The slipper design of this shoe will be a perfect fit (literally) for your indoor crack climbing needs. Just like the Remora fish the shoe is named after, this slipper is soft, squishy, and suctions to your feet, making it wildly comfortable, easily fitting into any crack while conforming perfectly to your feet.
With a non-aggressive and almost flat profile, this shoe can perform well on slab climbs as well, but because of the design, it is not the best choice for steeper climbs were edging on small holds is necessary. But if you want a nice all day shoe, this slipper is a good choice for comfort and longevity.
La Sportiva Katana Lace
Specs
Closure

:

Laces

Weight

:

1 lb. 2 oz.

Downturn

:

Moderate

Lining

:

Proprietary Material (Pacific)
Features
Slip-lasted Design Means This Shoe Is More Sensitive And Feels Less Stiff
Can Be Resoled
Highly Breathable Tongue And Lining For Moisture Management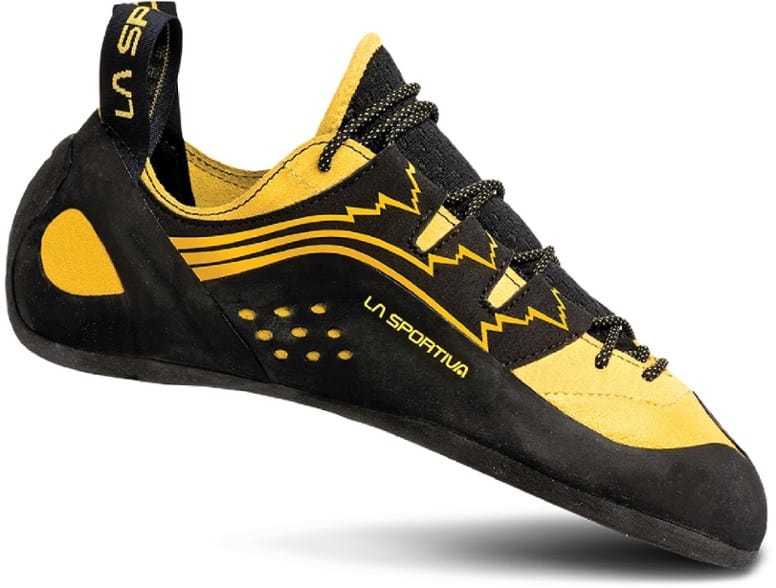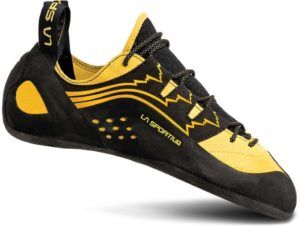 BEST FOR: ALL AROUND CLIMBING
What looks like a basic shoe is far from what the Katana really is. With an ever so subtle downturned toe and asymmetrical shape, this shoe can give you what you need on tiny edges. But because the shape of this shoe is not overly aggressive, it can be a comfortable choice for wearing all day.
A workhorse of a shoe, the less aggressive shape can perform amazingly well in cracks as well as steep walls. And with snug heel support and side rubber rand, it feels like a good deal of your weight is focused on the toe, which is essential for maximizing toe surface area on the slabby climbs. All in all, this shoe can be your best all around friend!
Boreal Diabolo
View Women's Version
Specs
Closure

:

Velcro Straps

Weight

:

1 lb. 2.5 oz.

Downturn

:

Moderate

Lining

:

No
Features
Slip-lasted Design Means This Shoe Is More Sensitive And Feels Less Stiff
Can Be Resoled
Slim Heel For Snug Fit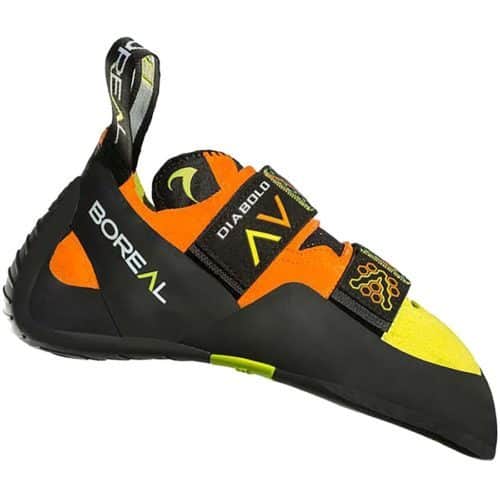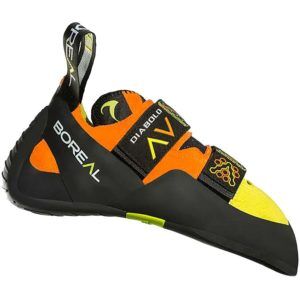 BEST FOR: INDOOR BOULDERING
A lesser known brand, the Boreal Diabolo is designed with Boreal's own brand of rubber, and has performed with impressive stickiness, a mandatory feature in harder boulder problems. Featuring a moderately downturned and asymmetrical shape, heel hooking on some over-hanging boulder problems just got a little easier.
The extra rubber running over the top of the shoe provides extra security in cracks if you chose to do some crack climbing in this shoe, but also prevents bagginess over time. And having split leather in the upper gives you a custom fit in this shoe, without having to worry about bunching under the veclro.
Red Chili Voltage
Specs
Closure

:

Velcro Straps

Weight

:

1 lb. 2 oz.

Downturn

:

Aggressive

Lining

:

None
Features
Performance Fit Heel For A Snug Fit
Pre-formed Midsole
Ultra-gripped Toe Patch (Extra Rubber for Toe Hooking)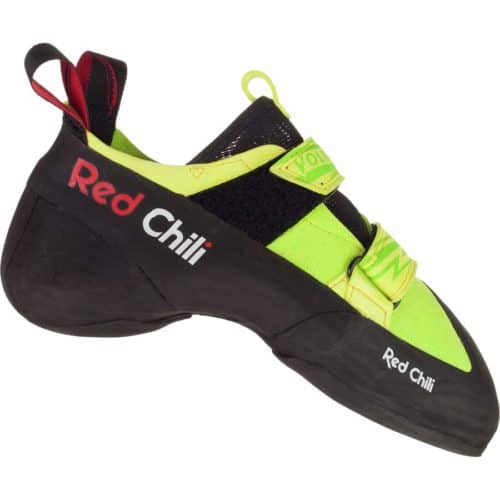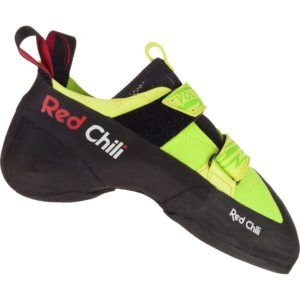 BEST FOR: HIGH END STEEP BOULDERING
Another lesser known brand of shoe, Red Chili gives you the ultimate bouldering shoe. With the performance fit heel, your foot will be snug and secure so you can heel-hook those super steep problems without having to worry about slippage. The profile of this shoe is aggressively shaped with a downturned profile to give you extra power on tougher routes. And designed with a pre-formed midsole, this shoe will keep its form and shape, so you can continually attempt those hard routes and not deal with stretching.
And it is not only heel-hooking that these shoes excel with, but also toe-hooking. Equipped with an extra ultra-gripping leather toe patch, you can manage all those tiny holds even with your toes. Redpointing in this shoe is well within your reach.
La Sportiva Miura VS
View Women's Version
Specs
Closure

:

Velcro Strap

Weight

:

1 lb. 3 oz. Men's; 1 lb. 0.8 oz. Women's

Downturn

:

Aggressive

Lining

:

Dentex Synthetic Stretch Fabric
Features
Slip-lasted Design Means This Shoe Is More Sensitive And Feels Less Stiff
Can Be Resoled
Aggressively Shaped For Power On Overhanging Routes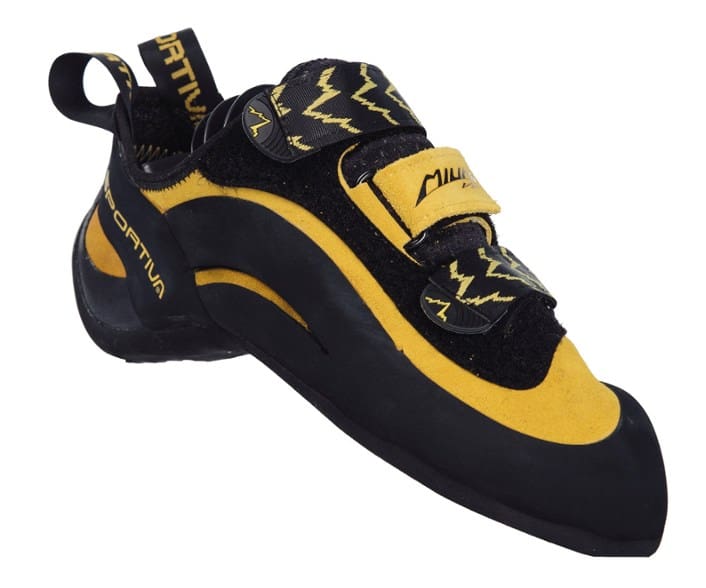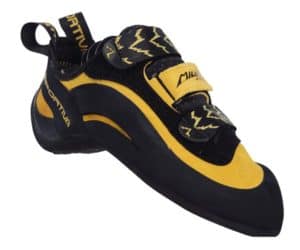 BEST FOR: OVERHANGING SPORT CLIMBING
For hard, steep, overhanging sport pitches, the Miura VS is your friend. The velcro straps ensure a close fit on those hard grades. Designed with a more aggressive, downturned and asymmetrical shape, there are not too many grades you couldn't wear this shoe on.
While slip-lasted, this shoe is still plenty stiff, meaning you do not want to wear it between climbs. But with that stiffness comes performance. This shoe can hold you on any tiny edge you find in your route and the stiffness in the toe can hold your foot in any pocket. This is certainly a high performing shoe sport climbers should want in their arsenal.
Scarpa Maestro Mid Eco
View Women's Version
Specs
Closure

:

Laces

Weight

:

1 lb. 3.4 oz. Men's; 1 lb. 2 oz. Women's

Downturn

:

Neutral

Lining

:

None
Features
Slip-lasted Design Means This Shoe Is More Sensitive And Feels Less Stiff
Can Be Resoled
Eco Leather Means This Shoe Is Environmentally Friendly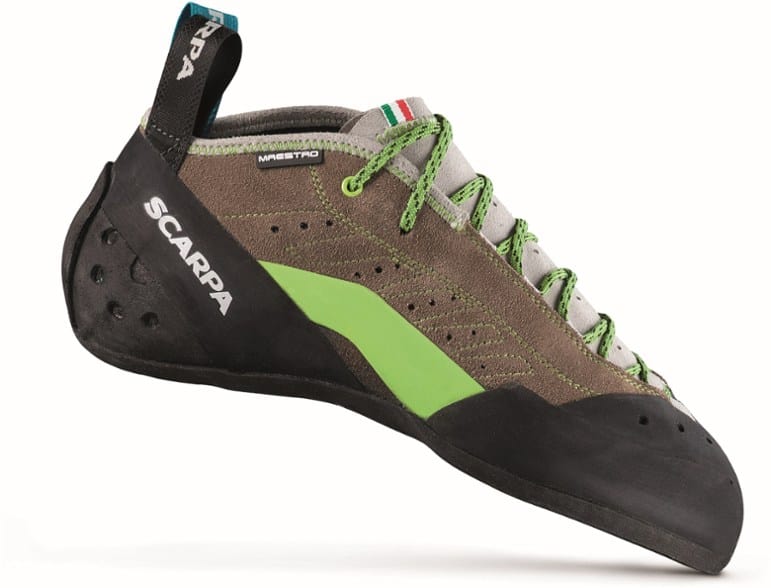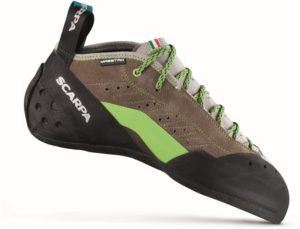 BEST FOR: ECO-CONSCIOUS CLIMBERS
This is another solid climbing shoe by Scarpa. The Maestro Mid Eco is a high performing intermediate shoe that can be worn on both crack and slab alike. The cleverly placed stitching on these shoes prevents your feet from getting any hotspots but the leather panels on the uppers protects the laces from getting torn up in cracks.
As an added bonus to this shoe, it is made with Eco Leather, cutting down on environmental impact. The leather inside the shoe is also soft, so using it as an all day trad shoe is a good choice. And with a more neutral profile, this shoe is not so aggressive that it cannot be worn all day but not so flat that it sacrifices performance.
THINGS TO CONSIDER WHEN BUYING CLIMBING SHOES
At this point in your climbing career, you've probably figured out whether you are a boulderer, sport climber, traditional climber, or just like to climb in the gym. Whatever your style, finding the best intermediate shoe for your foot and style of climbing will help you push your climbing goals. Find out what features to look for and pick out the perfect pair to get started with from our list above and things to consider below. You'll be pushing the grade and displaying some awesome technique in no time!
COST
The options listed above offer not only sound prices, but also shoes for all types of climbing, indoors and outdoors, and that can be worn by both beginners or more seasoned climbers. As with most technical gear for a new sport, more expensive climbing shoes usually do equal better quality. However, if you're just starting out, then buying a cheap pair to get you on the wall without having to use stinky rental shoes from your local gym is well worth the minimal investment. Just keep in mind that you may want to consider upgrading to a more expensive pair of climbing shoes once you start smashing grades like King Kong on Rampage.
PROFILE/SHAPE
The profile is the shape of the shoe. As your climbing progresses and technique improves, the shape of the shoe becomes more important. A neutral profile is good for beginners, but can also be a good all day shoe for harder climbers.
More aggressive shoes have downturned toes and in general, fit tighter. If you are looking to do harder boulder problems or overhanging climbs, a downturned toe is a wise choice, but it is not a shoe you leave on your feet all day or even between climbs. The asymmetry or curvature of a shoe is also something to consider when looking at which shoe profile you'll need for your style of climbing.
FIT
Like any shoe, you don't want your heel slipping out or rising up when moving on the wall in climbing shoes. Start with your street shoe size and work from there. The shoe should fit snugly, but not comfortably. It should be so tight that your toes curl down, to maximize your grip on the rock. A snug fit feels good on vertical terrain and helps you perform better. Check out this Rock and Ice article on fitting rock shoes for more information.
Trad (traditional) climbers will seek a more comfortable shoe that can perform well in cracks and be worn all day on multi-pitch climbs. As you start climbing steeper terrain and gravitate towards a more aggressive shoe, as with bouldering and sport climbing, you will want an even tighter fit.
Climbing shoes do come in half sizes, which can make all the difference. Many shoes are sized in UK or European sizes, so make sure you have the correct conversion before purchasing. Try on several brands and sizes as they vary across the industry. Evolv and Five Ten have begun making shoes the same as street sizes. La Sportiva and Scarpa are consistent, but often require a trial fit to get it right.
STIFFNESS AND STRETCH
Any new shoe is going to require some level of breaking in and will stretch somewhat over time. Leather shoes such as the Mad Rock Drifter, La Sportiva Finale, and Scarpa Helix will stretch, so plan accordingly when purchasing. The Five Ten Anasazi and the Evolv Defy/Elektra are synthetic and will not have much stretch, so get as close to your fit as possible with these. Leather shoes also tend to be unlined, which allows for stretch compared to synthetic linings.
RUBBER
Rubber plays a huge role in climbing shoes and all rubber is not created equal. Rubber that sticks well is usually softer and less durable whereas harder rubber lasts longer. Soft rubber provides good friction for smearing, but unlike harder rubber, it will not edge as well. For new climbers or those doing long multi-pitch trad climbs, a harder, more durable rubber will be the better bet. You should also consider if the shoe can be resoled. This can save you time and money in the long run in not having to regularly purchase shoes and break them in. Learn more about the science of sticky rubber and the role it plays in climbing performance.
CLOSURE
The three types of shoe closures are Velcro, laces, and slippers. Laces allow for better adjustments but can take longer to put on and take off than the other two, making them a better choice for all day, multi-pitch climbing.
Velcro can be tightened almost as well as laces and enables a quick on/off change. It's a good choice for gym or sport climbing where you will frequently be going between climbing and street shoes. Velcro can also be convenient on multi-pitch climbs, where you can easily open the straps to give your feet a breather and not worry about taking them off and dropping them down the climb.
Slippers are the easiest for on/off and are usually the most comfortable of the three systems. However, because they tend to be unlined and pretty basic, they are more often used in specialized areas like crack climbing.
WEIGHT
If you are looking to climb hard and fast, every ounce may count, so it's worthwhile to peek at shoe weight when purchasing. The material of the upper and the thickness of the rubber will contribute to weight. Weights will vary from the lighter Mad Rock Drifter to the more substantial Five Ten Anasazi.
FEATURES EXPLAINED
OUTSOLE
The outer layer on the bottom of the shoe, which touches the ground.
INSOLE
Footbed of shoe where the foot actually rests.
RAND
The layer of rubber wrapping from the toes to the side of the shoe.
TOE BOX
The entire front section of the shoe.
HEEL CUP
The section the heel sits in.
BOARD-LASTED
Less sensitive and stiffer shoe, providing more comfort for all-day wear.
SLIP-LASTED
The layer of rubber wrapping from the toes to the side of the shoe.
ASYMMETRICAL
Placing longest point over the big toe to provide maximum edging.
DOWNTURNED
Shape of shoe curving down toward the toe for a more aggressive and tighter fitting shoe.
NEUTRAL
Flat bottom shoe providing more comfort.
READ MORE
For more of our top climbing gear recommendations, check out these popular buyer's guides: