Updated on April 22, 2021
The days when sailors navigated with compass and sextant are long gone: modern marine electronics provide us with a range of information that explorers of the past couldn't begin to imagine. Larger vessels are outfitted with networks integrating GPS, charts, radar, sonar, wind sensors, communication, emergency alerts and much more. Nowadays, even handheld units can handle any navigational problem short of plotting a course for Margaritaville or the Fountain of Youth. All of that capacity does create some confusion, and the range of options on the market can be daunting. We've simplified the choices with this guide to the best marine GPS chartplotters.
We've tried to keep the descriptions simple, but if CHIRP, WAAS, and NMEA 2000 aren't part of your day to day vocabulary, you may want to skip to the bottom of the article and read the explanations first!
For more of our top sailing gear recommendations, check out the Best Solar Panels for Sailboats.
Quick Answer

-

The Best GPS Chartplotters for Sailing
Comparison Table

-

Best GPS Chartplotters for Sailing

For the best experience turn your device horizontally
Reviews

-

Best Sailing GPS Chartplotters
Garmin GPS 73
Specs
Type

:

Handheld

Display

:

2.6" B&W

Sonar Transducer

:

Not Included

Sailing Software

:

Garmin Sail Assist

WAAS

:

Yes

CHIRP

:

No

Networking

:

NMEA 0183, Bluetooth, USB
Features
It Floats!
Runs 18 hrs. On 2 AA Batteries
High-Sensitivity Receiver Locks Satellites In Any Conditions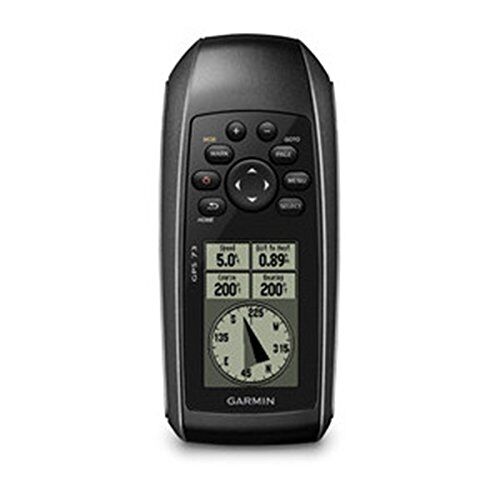 BEST HANDHELD
This one is not actually a chartplotter at all. We're including it in the review because it has a solid array of sailing-specific features that make it a great choice for boats that are too small to host a console-mounted system or as a backup device for use if a larger vessel's primary system fails or if you're forced to abandon ship.
The Garmin 73 is handheld, convenient, and easy to use. It doesn't support the whole range of features included in Garmin's SailAssist software, but it will give you tack assistance, virtual starting and heading lines, countdown timers, and arrival times based on sailing constraints. That's a very tidy bundle in a very small package.
Garmin has a great deal of experience with hand-held marine devices, and the GPS73 reflects this. The back-lit buttons and high-contrast display are easy to use in very bright or limited light, there's a useful range of marine data built in, and you can store 1000 waypoints and 100 tracks for repeat navigation. Don't expect the GPS73 to duplicate the functions of a full-sized chartplotter with an array of sensor inputs, but it does what it does well and reliably, and it is designed with wind-driven boaters in mind.
B&G Vulcan 7
Specs
Type

:

Console Mounted

Display

:

7" Color

Sonar Transducer

:

Not Included

Sailing Software

:

B&G SailSteer

WAAS

:

Yes

CHIRP

:

No

Networking

:

NMEA 2000
Features
Compatible With Forwardscan Sonar and B&G Autopilots
Instrument Data Display
Multiple Language Packs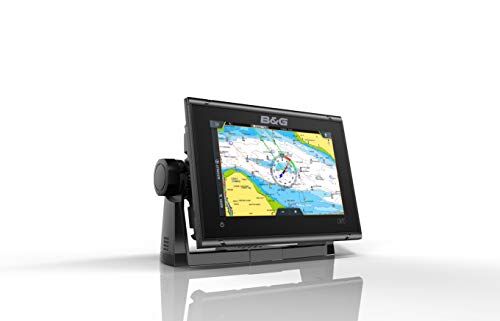 BEST SAILING-SPECIFIC VALUE
B&G is the acknowledged industry leader in sailing-specific marine electronics, and was the first to bring a full range of sailing support features to a consumer-oriented electronics package. The Vulcan 7 continues this tradition, wrapping an impressive array of sailing-specific features into a compact, durable, and affordable chartplotter.
The screen is bright and versatile, displaying all of your sailing and wind information with layline and tacking options overlaid on up-to-date navigational charts. It also offers race support features that get you to the start line at speed with the right heading at the right time. The system integrates with numerous accessories, notably B&G's highly regarded autopilot systems, to give you a level of control you'd expect from a much more expensive system.
This one is all about sailing, so don't expect a fish finder or other features more applicable to the motorized set. If you're looking to upgrade your sailing game without spending a fortune, though, you won't find a better choice than the Vulcan 7.
Raymarine Axiom 7
Specs
Type

:

Console Mounted

Display

:

7" Color

Sonar Transducer

:

Included

Sailing Software

:

Lighthouse 3

WAAS

:

Yes

CHIRP

:

No

Networking

:

NMEA 2000
Features
Includes Surface And Trunnion Mounting Kits
Quad Core Processor For Blazing Speed
Coastal Coverage For USA and Canada Plus Over 20,000 Inland Waterways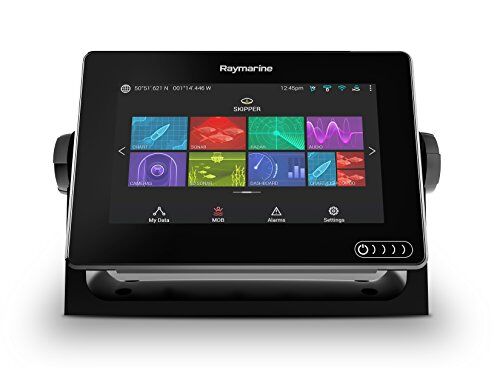 BEST VERSATILE CHARTPLOTTER WITH THE MOST COVERAGE
Raymarine makes a wide range of multifunction chartplotters, from the entry-level Axion range through the Axiom Pro and elite-level Axiom XL range. All are powered by Raymarime's Lighthouse 3 software and offer full compatibility with Raymarine's exceptionally large range of sensors and input devices. Raymarine also offers extensive chart coverage straight out of the box: both US and Canadian coasts along with 20,000 lakes, rivers, and other inland waterways.
The Axiom 7 may not be as "sail-specific" as the B&G Vulcan 7, but that also leaves it arguably more versatile. For example, the Axiom 7 integrates a robust fish finder capability, a useful feature if you like to mix some fishing with your sailing. It also includes the Raymarine CPT-100DVS transom-mounted sonar transducer, so if you want a minimalist package you can just add a wind sensor and go! If you want to add more, you won't be held back: Raymarine can provide Quantum radar, CHIRP Sonar, FLIR thermal cameras, audio integration, instruments, cameras, and the Evolution autopilot. This unit provides most of the features that distinguish Raymarine's higher-end models, at a budget friendly price point!
Garmin GPSMap 8612XSV
Specs
Type

:

Console Mounted

Display

:

12" Color

Sonar Transducer

:

Not Included

Sailing Software

:

Garmin Sail Assist

WAAS

:

Yes

CHIRP

:

Yes

Networking

:

NMEA 2000
Features
SmartMode Station Controls For One-Touch Information Access
Superior Clarity And Sunlight Readability, Even With Polarized Sunglasses
Preloaded US Coastal And Lake Maps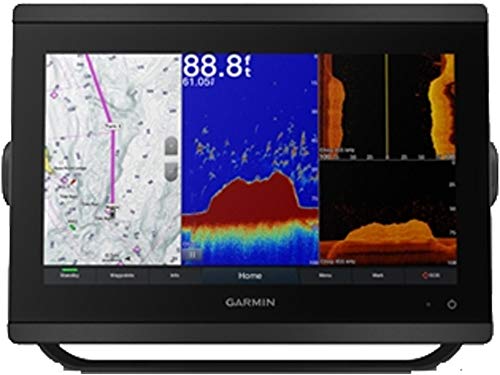 BEST HIGH PERFORMANCE CHARTPLOTTER
Garmin delivers a serious high-performance marine electronics hub with the 8612xsv. You get a full HD 12" display with wide viewing angles, great clarity, and full sunlight readability, pre-loaded with full US coastal and lake charts and offering full connectivity with a huge range of sensor inputs, including Garmin's Panoptic LiveScope live scanning sonar, which gives one of the best underwater views on the market today.
Garmin's SailAssist feature provides the full spectrum of sail-specific information and pre-race guidance. You'll have true and apparent wind angle, set and drift, true and apparent wind speed, and much more at your fingertips! Pair those features with Garmin's ActiveCaptain app and link your boat seamlessly to your mobile device. If you're a serious sailor and you've decided to commit to Garmin as your electronic systems provider, the 8612xvs is a natural starting point!
THINGS TO CONSIDER WHEN BUYING A MARINE GPS CHARTPLOTTER
Let's start with the basics. A GPS gives you coordinates, a Chartplotter gives you a visual position on a chart. All Chartplotters are GPS-based, but not all GPS units will plot charts!
Chartplotters come preloaded with a range of charts, but if you sail in exotic areas, you may need to purchase additional charts. Major manufacturers supply their sail-oriented chartplotters with sailing-specific software packages that give you access to laylines, tacking points, wind trends, estimated arrival times based on speed and routes, and much more.
Remember that your chartplotter is designed to process inputs from multiple sensors and will not be fully functional without these inputs. At a minimum this will mean a sonar transducer (included with some chartplotters) and a wind sensor, but there are dozens of other options.
Most manufacturers recommend using their own instruments with their chartplotters, so your choice involves buying into a system, not just buying a chartplotter. Be sure to look at the range of available input devices and asses any input devices you may already own before selecting a chartplotter!
IT'S A SYSTEM
You've probably noticed this already, but when you choose a chartplotter, you're choosing much more than just a chartplotter. The chartplotter is a hub linking a range of sensor inputs and communication devices.
When you select a chartplotter you're committing yourself to a range of other devices that will link to it, so before you buy, you'll want to look closely not just at the chartplotter but also at the range of input devices you'll be connecting to it.
Fortunately all three of the major manufacturers of chartplotters offer comprehensive ranges of input devices, so you'll have plenty of choice no matter which unit you select! If you already own wind, sonar, or radar equipment, your choice of chartplotters is likely to be directed by compatibility with your existing equipment, so be sure to take that into consideration.
Many chartplotters are compatible with third-party instruments, but you'll want to be sure. Your electronics are a bit like your crew: sailing is easier when they get along!
SOFTWARE MATTERS
B&G, Garmin, and Raymarine all offer software packages designed specifically for sailing. All of them offer a range of features designed for both cruising and racing, including layline plots that put a 21st-century twist on the eternal challenge of sailing efficiently to windward.
All three major software systems are updated regularly and all provide similar basic functions. Cruising World offers a detailed discussion of choosing a chartplotter, but your choice is likely to be affected by personal preferences, and for most of us any of the three are likely to serve well. Certainly any of them will be a quantum leap forward from what sailors had available even a decade ago!
LEARN MORE
West Marine offers this detailed guide to selecting networked marine electronics. Practical Boat Owner offers a field test of the three major sailing assist programs; it's from 2015 and does not cover the latest upgrades, but gives a solid grounding on the approaches taken by the major manufacturers.
SPECS AND FEATURES EXPLAINED
SOME TERMS
NMEA is the National Marine Electronics Association. The group brought out the NMEA 0183 protocol in 1983 and introduced NMEA 2000 in 2000. These protocols enable all of a boat's electronics to communicate with each other in a common language. NMEA 2000 is much faster, can handle much more data, and has better reliability and data sharing functions. Even NMEA 2000 is too slow to accommodate the complex images and data sets used modern equipment, so most manufacturers add ethernet protocols, which are often proprietary. There's a more detailed explanation of NMEA here.
WAAS stands for Wide Area Augmentation System, a satellite-based augmentation system available in Canada, the US and some other North American territories. WAAS systems give faster and more accurate readings than basic GPS can provide.
CHIRP stands for Compressed High-Intensity Radiated Pulse. It's a military sonar technology that has found its way into civilian use. The short story is that CHIRP sonar has a much greater ability to render accurate readings on the subsurface environment than conventional sonar. If you'd like the long story, West Marine tells you all about how CHIRP was developed here. You will need a CHIRP-equipped sonar transducer to exploit this capacity.
Laylines are the courses linking your tacking points, the routes you have to sail to make the best time headed upwind. Sail-specific chartplotters will display your layline options over chart data, allowing you to assess safety, speed, and ETA on different courses. They'll also continually reassess your options as conditions change.
COMPATIBLE DEVICES
Your chartplotter is the hub of a network, and its functionality depends on the information you feed into it. Here are a few of the devices you'll be able to link to your chartplotter.
Wind Sensors read the velocity and direction of the wind and feed this data into your chartplotter continuously. A wind sensor is a critical part of any sailing-specific marine electronics system.
Sonar Transducers look down or forward, and most boats will use both. Your chartplotter uses the sonar inputs to give you a picture of the underwater environment, which allows you to avoid reefs, shoals, and underwater obstacles. Many sonar units also have fish finding capabilities and most provide depth, speed, and water temperature data.
Radar Antennae give you a 360 degree picture of surface traffic and potential obstacles.
Cameras are typically installed in multiple locations around your boat and provide invaluable assistance for docking and other close maneuvering situations.
Autopilots link your boat's steering system directly to your electronics net and allow both fully automated control and remote control from locations other than the helm.
READ MORE
For more of our top sailing gear recommendations, check out these popular buyer's guides: