Updated on February 6, 2020
Bilge pumps are definitely not the sexiest part of your boat, and they're probably the last thing you'd show off to a visitor. They're also one of the last things you'd want to see fail at a critical moment. Bilge pumps perform a vital function, removing the water that inevitably seeps into your boat from rainfall or waves and through propeller shafts, stopcocks, and other hull openings. Water in the hull can dramatically reduce performance and even lead to foundering, and a good bilge pump system can make the difference between an interesting day and a disaster. Fortunately, we have a variety of pumps to choose from, suitable for everything from day sailors to cruising boats, and there are options out there to suit every boat and owner. This guide to the best bilge pumps should get you started!
For more of our top sailing gear recommendations, check out the Best Sailboat Anchors. 
Quick Answer

-

The Best Bilge Pumps
Seaflo Submersible Automatic
Comparison Table

-

Best Bilge Pumps

For the best experience turn your device horizontally
Reviews

-

The Best Sailboat Bilge Pumps
Whale Gusher Urchin
Specs
Flow Rate

:

14.5 Gallons Per Minute (GPM)

Submersible

:

No

Automatic

:

N/A

Switching

:

N/A
Features
Through-Deck or Through-Bulkhead Installation
Pump Head Adjusts To Fit Suitable Space
Best For Boats Under 40 Feet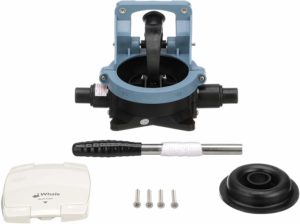 BEST HAND PUMP
Back in the days of sail, sailors would spend part of their watch "on the pumps", manually pumping water out of the bilges. Electric motors usually do that work now, and the command "man the pumps" is not something any of us are likely to hear. Still, any electrical system can fail, and if you need an electric pump you need a manual backup. 
The Whale Urchin is a proven, reliable option that's become an automatic purchase for many sailors. It's compact, unobtrusive, and out of the way until you need it, which we all hope you never will! The Urchin is designed for boats under 40 feet. If you have a larger vessel or want higher capacity, look at the Whale Titan, which can move up to 28 GPM.
Note that the rated 14.5 GPM is based on a pump rate of 70 strokes per minute, and it takes a very motivated sailor to sustain that rate. On the other hand, if your power has failed and you're taking on water, motivation is likely to be pretty high!
Seaflo Submersible Automatic
Specs
Flow Rate

:

750 Gallons Per Hour (GPH)

Submersible

:

Yes

Automatic

:

Yes

Switching

:

Internal Float Switch
Features
Fully Automatic: Turns On When Water Accumulates
No Power Use Until Water Is Present
Anti-Airlock Protection
Can Run Dry Without Burning Out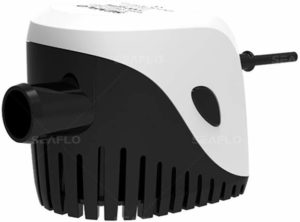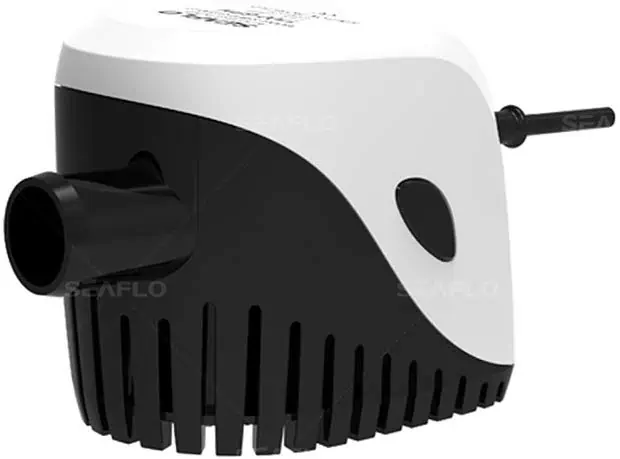 BEST BUDGET PUMP
If you're looking for an affordable no-nonsense pump, Seaflo has delivered the goods. This pump has substantial capacity, is fully submersible, and needs very little attention: the internal float valve turns it on when there's enough water in the bilge to pump (around 1.5 inches), turns it off when it's no longer needed, and does not draw battery power to run a sensor. You just need to keep the intake screen clear (as with any pump at any price) and do periodic checks to make sure the pump is running. This is a solid value for the small boat owner.
Most reviews of these pumps are very positive, but they are inexpensive units imported from China and a few users have reported receiving defective units. Check yours as soon as it arrives!
Rule LoPro
Specs
Flow Rate

:

900 Gallons Per Hour (GPH)

Submersible

:

Yes

Automatic

:

Yes

Switching

:

Electronic Sensor
Features
Low Profile Design For Tight Spaces
Choice Of Discharge Ports Fits Multiple Hose Sizes
Rotating Discharge Body To Fit Any Space
Backflow Prevention Valve


BEST COMPACT PUMP
Many sailboat bilges are low and narrow, and getting a conventional pump into a position where it has access to the lowest point in the bilge can be a real challenge. The Rule LoPro is designed with a low, flat profile that allows it to fit where other pumps won't and a rotating discharge body that lets you adjust the hose position to fit the available space. Those features make the LoPro an ideal choice for initial pumping in any boat with narrow, inaccessible bilges. 
Pair this with another unit mounted higher up and you'll have full protection! Rule is a dominant name in the bilge pump market and is known for its high-quality products. The LoPro is no exception, but as with any pump, its life will be shorter in a dirty, oily bilge, and it needs to be installed and wired carefully. Rule's electronic sensor system relies on a brief pulse of power to check for pressure on the impeller blades every 2.5 minutes. This could cause battery drain and recurring noise issues, though in practice few users seem to notice!
Attwood Tsunami
Specs
Flow Rate

:

500, 800 or 1200 Gallons Per Hour (GPH)

Submersible

:

Yes

Automatic

:

No

Switching

:

Float Switch (Sold Separately)
Features
Patented Shaft Seal Prevents Leaks
Tinned Wiring Prevents Corrosion
High-Quality Bearings, Brushes, Alloys, And Magnets
Replaceable Motor Core For Fast Servicing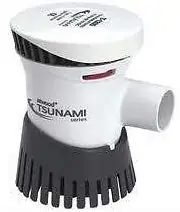 BEST OVERALL VALUE
Attwood Marine delivers a clear winner in the Tsunami, a rugged, simple machine that's available in 3 sizes: 500, 800, or 1200 GPH. A rugged polymer casing resists damage from the chemicals, fuel residues, and detergent residues so often present in bilge water, and there's special attention paid to sealing shafts and wiring against water intrusion.
Attwood takes an unconventional approach to switching. The lack of an internal float switch might seem like a disadvantage, but switches are often the first part of a pump to wear out, and if the switch is internal, a worn-out switch means replacing the pump. The Tsunami allows you to choose an external float switch and replace it when necessary, and the easily replaceable motor core allows you to replace a worn motor rather than replacing the entire pump. This modular approach combines with the high quality of the components to provide a longer lifespan and allows you to keep spares for key components on hand to keep your pumps running.
Rule 4000
Specs
Flow Rate

:

4000 Gallons Per Hour (GPH)

Submersible

:

Yes

Automatic

:

Yes

Switching

:

Electronic Sensor
Features
Quick Release Strainer For Fast Cleaning
Vibration-Free Design For Reduced Noise
Ignition Protected For Use On Gasoline-Powered Vessels
2" Output Hose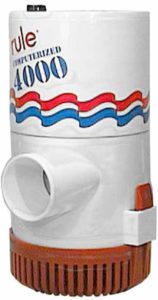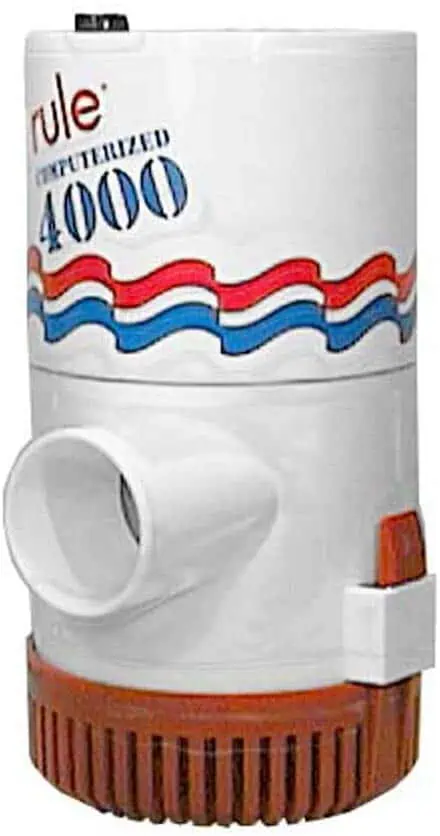 BEST LARGE CAPACITY PUMP
Rule dominates the market for large-capacity bilge pumps, and it's likely that many of the larger boats in your local marina are relying on the Rule 56S to keep their bilges dry. This pump packs a lot of power into a compact package and has a reputation for quality, durability, and reliability. 
Rule's electronic sensor system relies on sending a brief pulse of power to the pump every 2.5 minutes to check for pressure on the impeller blades. Some similar systems generate complaints about pulses of noise and batteries drained by repeated pulses, but Rule has perfected its technology to a point where noise and battery drain are minimal. It's not the cheapest pump out there, but if you own a large pleasure boat, you're going to be more concerned with reliability and power than you are about price, and this pump delivers both!
THINGS TO CONSIDER WHEN BUYING A BILGE PUMP FOR SAILING
Before you start shopping for bilge pumps, get a sense of what you'll need. Different boats need different pumps in different arrangements. Many sailors prefer a low-profile pump in the deepest part of the bilge backed up by a higher capacity pump mounted a bit higher, designed to provide more capacity if the primary pump can't handle the load.
If your boat has more than one compartment below the waterline, you'll need pumps in each one. If you're not sure what type of pump and what capacity you need, consult your boat manufacturer's recommendations or ask for advice from more experienced boaters. Keeping water out of your boat is too important to leave up to chance or a guess!
KNOW YOUR BILGE
The bilge is the lowest portion of a boat's hull (bottom). It's where any water inside your boat goes, and it needs to be pumped out regularly. Many bilges have more than one compartment. Before you look at pumps, you should inspect your bilges and know what you need to keep dry.
Remember that bilge pumps are designed to remove water that enters your boat through slow leaks or over the deck. They will not pump fast enough to compensate for major leaks or hull damage!
CAPACITY
How much pumping power do you need? This table provides a rough estimate.
| | |
| --- | --- |
| Boat Length | Minimum Total Pump Capacity (GPH) |
| Below 25' | 600-800 |
| 26'-30' | 800-1000 |
| 30'-35' | 1000-1600 |
| 35'-40' | 1600-2200 |
| 40'-45' | 2200-4000 |
If you're sailing in open water or rough conditions you'll want to be at the high end of the range, and excess capacity never hurts.
Remember that pumps are tested for output with the inflow and outflow at the same level. In practice, you're always pumping water up to a higher level, which reduces flow, especially in sailboats, which have deeper bilges than powerboats. It's safe to assume that actual flow will be around 60% of rated flow, but if you're planning to place a pump in a deep bilge, test it first to make sure it can lift water high enough and maintain an adequate flow rate.
HOW MANY PUMPS?
Most experts recommend that every boat over 16' should carry a minimum of 2 bilge pumps. One is usually paced as low in the bilge as possible, with a larger capacity pump at a higher level to add power if the primary pump is unable to keep up with the water inflow.
If your boat has more than one compartment below the waterline you'll need at least one pump, better two, for each compartment.
CLEAN BILGE, HAPPY PUMPS
Bilges naturally accumulate debris and spills, and many sailors are less than careful about keeping them clean. The bilge isn't anyone's favorite part of the boat, and inspection and cleaning aren't fun. Do it anyway: debris in the bilge can clog pump intakes and spilled fuel or chemical residues from cleaning can damage pumps. If you keep your bilges clean, your pumps will last longer and will be less likely to fail when needed.
INSTALLATION
Bilge pumps operate under difficult conditions: saltwater immersion is not friendly to electrical connections! Many bilge pump failures trace back to improper installation, so if you're not absolutely sure that you know what you're doing, seek professional help and get it done right.
LEARN MORE
West Marine offers detailed advice on choosing a bilge pump, and Practical Sailor has a good list of installation and maintenance tips.
FEATURES EXPLAINED
FLOW RATE
Flow rates are expressed in Gallons per Minute (GPM) or Gallons per Hour (GPH). European products may cite specifications in liters per hour or minute.
As noted above, manufacturers test output with intake and outflow at the same level. You'll always be pumping water up, so your functional output will be less than the rated output. Your electrical system can also affect output: many pumps are tested at 13.6v, and if your batteries are putting out less you'll have a lower flow rate!
SWITCHING
Automatic bilge pumps switch on as soon as they detect enough water to pump, and turn off when the water is reduced to levels below the detection threshold. This is usually achieved through a float valve or an electronic sensor. Some electronic sensors may require power to detect water, which can place additional demand on batteries.
Manually switched bilge pumps can either be switched on when you want to pump water or connected to an external float switch.
AIRLOCK PROTECTION
Some pumps can be "airlocked" if air enters the system. Many manufacturers use anti-airlock systems to assure that this doesn't happen and to eliminate the need for pump priming.
BACKFLOW PROTECTION
Sailboats are designed to heel, and aggressive heeling may place bilge pump outflow ports below water level. If this happens siphon action may bring water into the boat. Installers often use an upward hose loop to reduce the chance of backflow, but some manufacturers also add backflow protection valves.
READ MORE
For more of our top sailing gear recommendations, check out these popular buyer's guides: